If you're planning a birthday in the coming weeks, then how about going for an ever-popular winter-themed birthday party?
It's the perfect theme for a first birthday because you will be able to throw a Winter Onderland party and treat your guests to a magical couple of hours.
Whatever you may be celebrating, be it a birthday, baby shower, or even a wedding, if it's during the winter you really can't go wrong with this theme!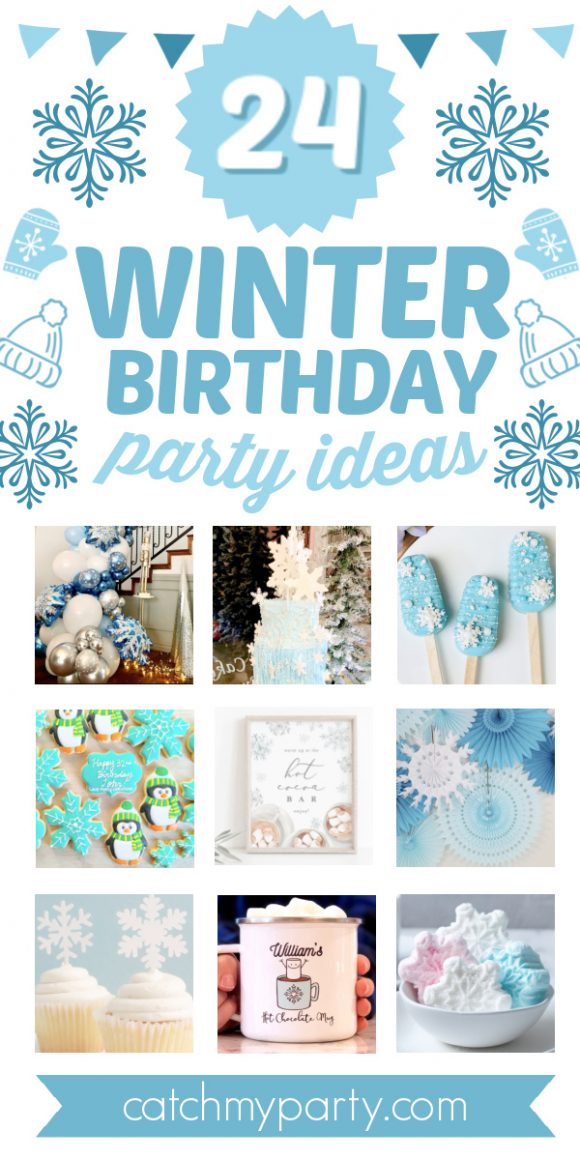 So, if you love snowflakes, then get in from the cold and take a look at these 12 fantastic winter birthday party supplies to help you plan a incredible birthday!
We've got amazing ideas for invitations, cakes, party favors, cookies, decorations and more! Take a look…
Come In From the Cold and Check Out These 24 Fantastic Winter Birthday Party Supplies!
Download our adorable set of FREE winter wonderland party printables
They are perfect for any winter birthday, or another winter-themed party you may be thinking of throwing.
The set includes a bunch of goodies such as some party circles, invitations, a banner, a welcome sign, and lots more…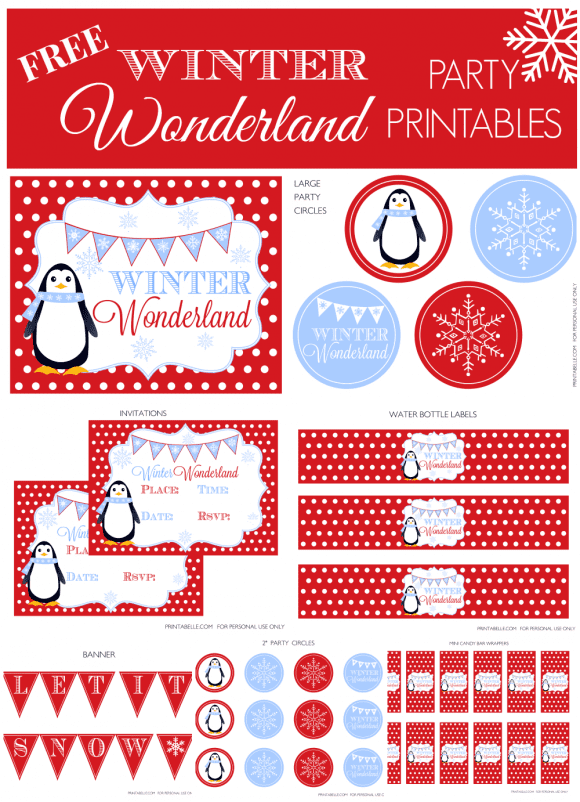 This print-at-home winter birthday party invitation is suitable for both boys' and girls' winter wonderland parties.
The beautifully illustrated snowflakes add so much sparkle to the design.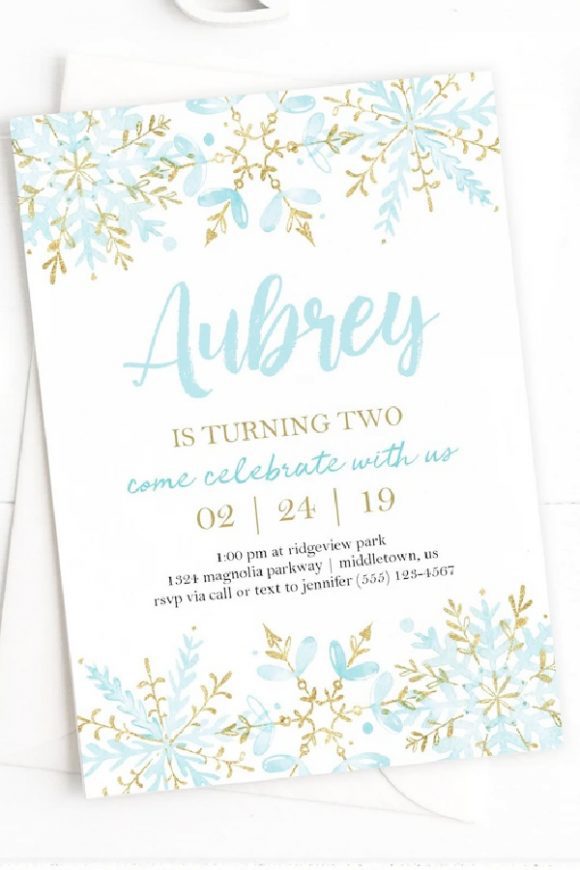 If your daughter celebrating her first birthday, this gorgeous pink and gold winter wonderland party invitation, is just what you need.
It is beautifully decorated with delicate snowflakes and pretty flowers. You couldn't wish for a more magical party invitation.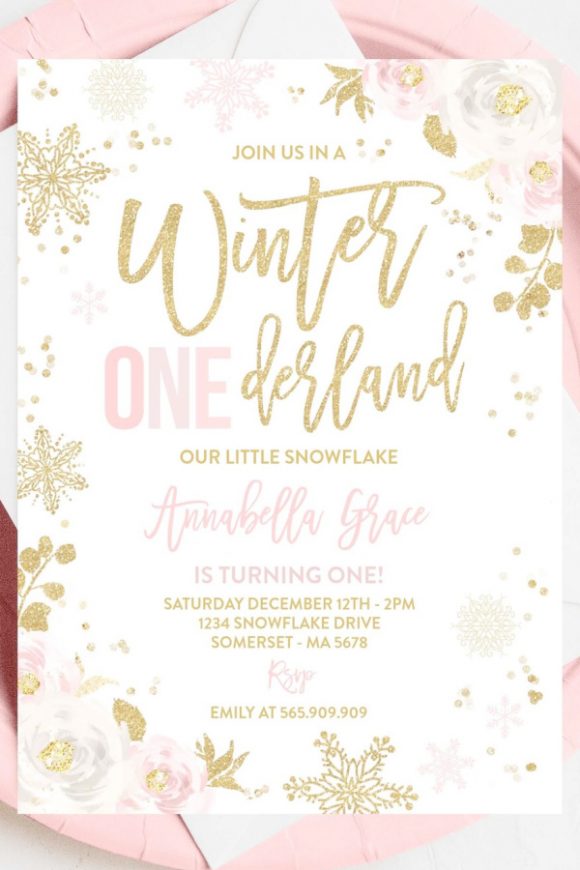 Set the scene for your little boys' 1st birthday with this impressive winter "onederland" party invitation.
You've just got to love the adorable woodland illustration and a deer looking up at the snowflakes.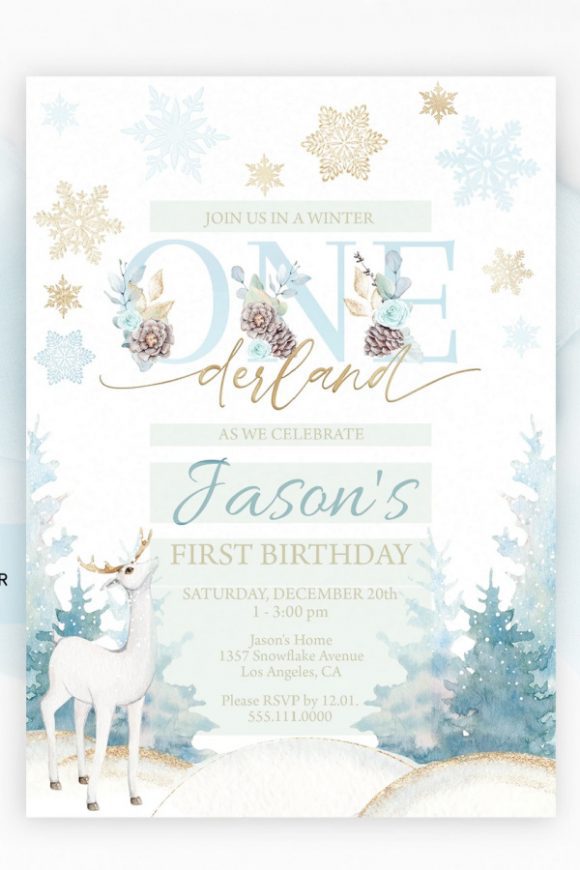 If your daughter is celebrating a quinceanera during the cold winter months, then this sparkly snowflake party invitation it's just what she needs to invite her friends to such a memorable birthday party.
Love that the design includes an elegant evening gown.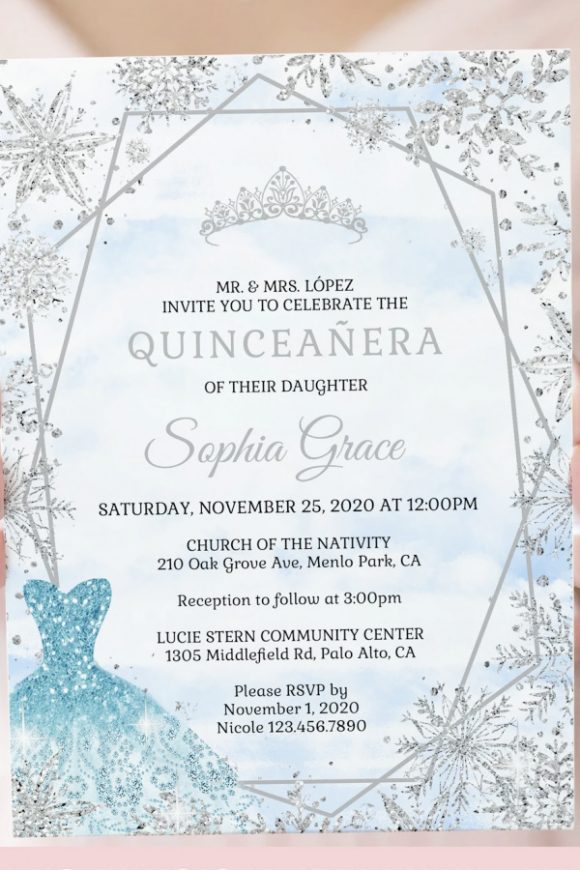 Place this exquisite Winter Wonderland-themed 'welcome poster' at the entrance of your party to greet your guests as they arrive at your party.
The sparkly silver and blue snowflakes give this poster such a magical feel.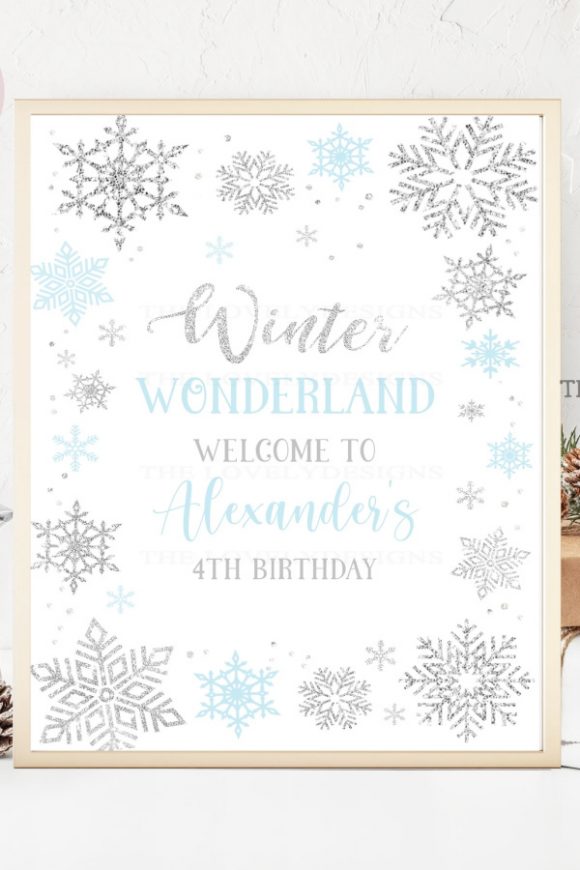 Your guests will be blown away when they set their eyes on your magnificent birthday cake decorated and topped with these fabulous fondant snowflakes.
Use them to decorate your birthday cake as you wish. I have no doubt, whichever way you use them, your birthday cake will be a true show stopper.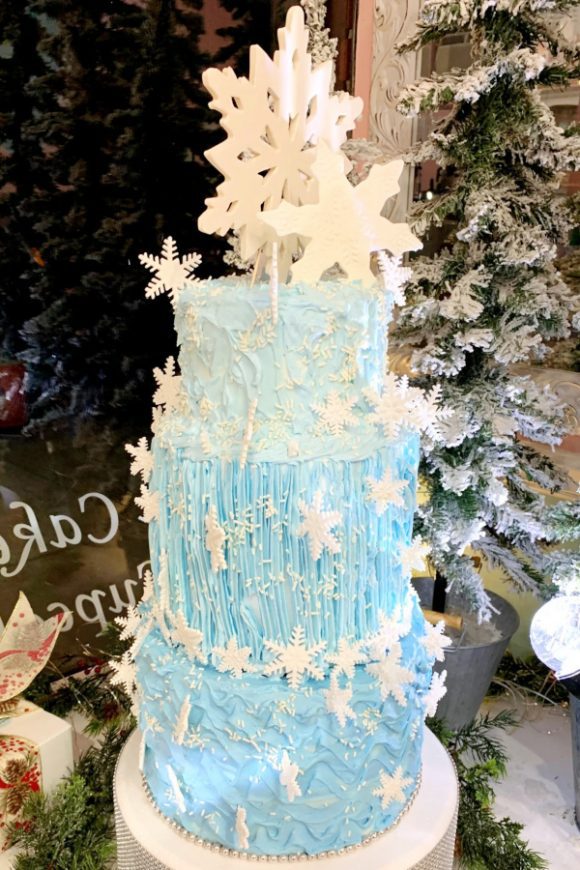 Take a look at these fun winter-inspired sugar-coated cookies.
They are all so delicate and beautifully decorated that I'm sure guests will have a hard time taking a bite out of something so cute!
Treat your guests to these wonderful pale blue cake pops decorated with lovely white fondant snowflakes.
They will look gorgeous on a plate on your dessert table.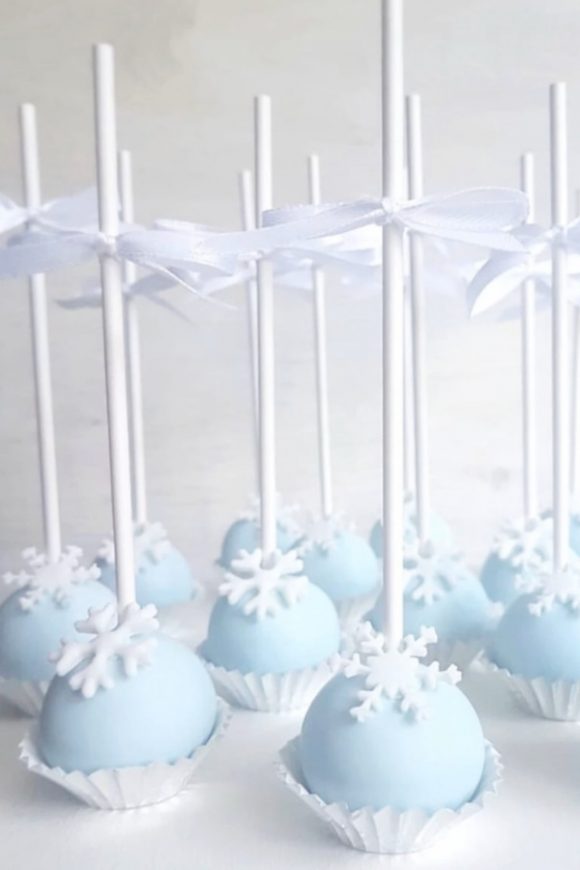 Add a wintry feel to plain old frosted cupcakes with these pretty snowflake toppers.
Your guests will be so impressed!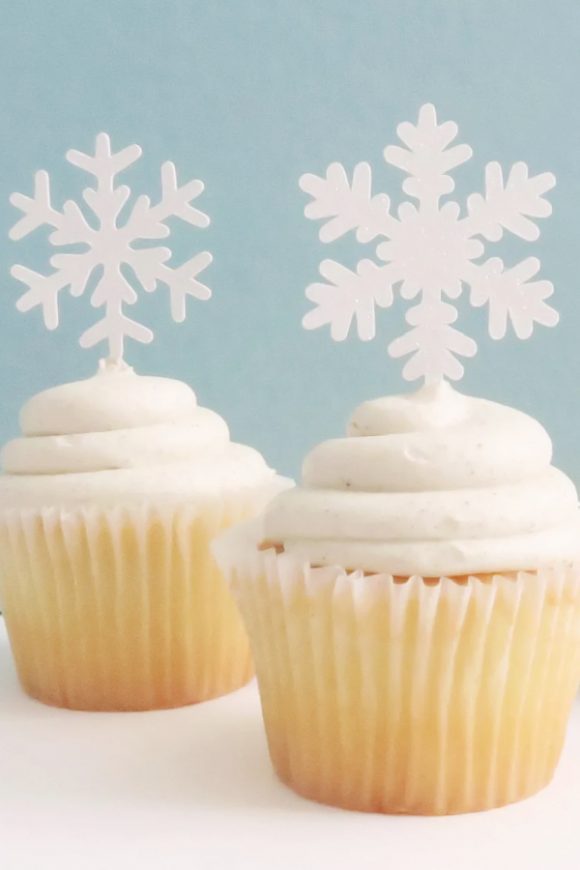 Cover your backdrop wall with a bunch of these fantastic paper fan snowflakes for an amazing party decoration that is sure to make your party pop!
Love the different shades of blue!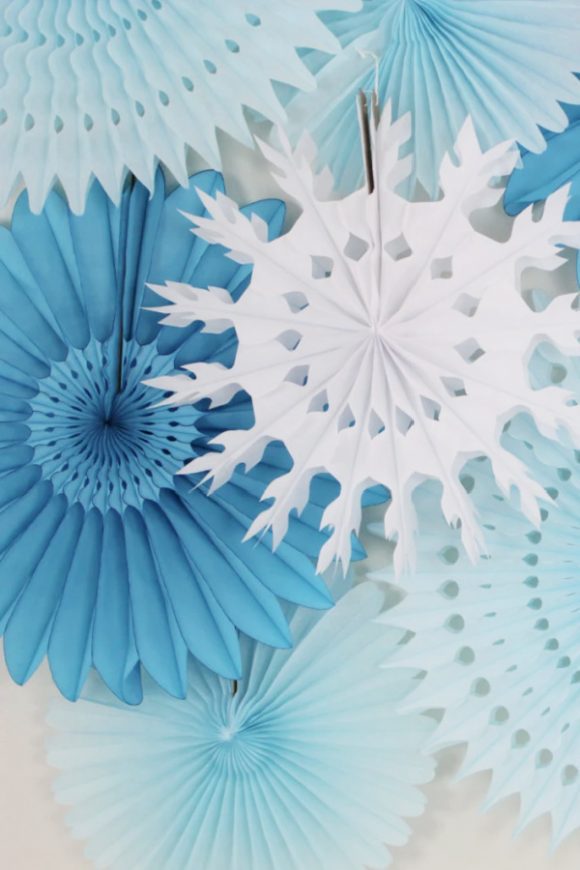 Kids love marshmallows so these pink, white, and blue ones are sure to be a big hit at your party.
Place them in a dish, or jar, and add them to your hot cocoa bar so your guests can use them to decorate their hot chocolates.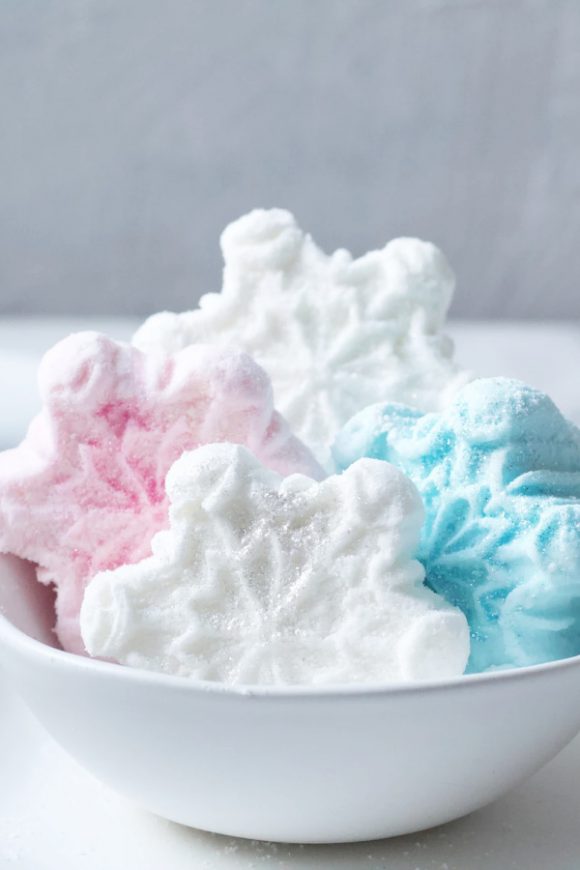 Cakecicles are so on-trend right now. They are a great alternative to cake pops and just as impressive.
Take a look at these gorgeous pale blue ones decorated with snowflakes and sprinkles. Aren't they perfect?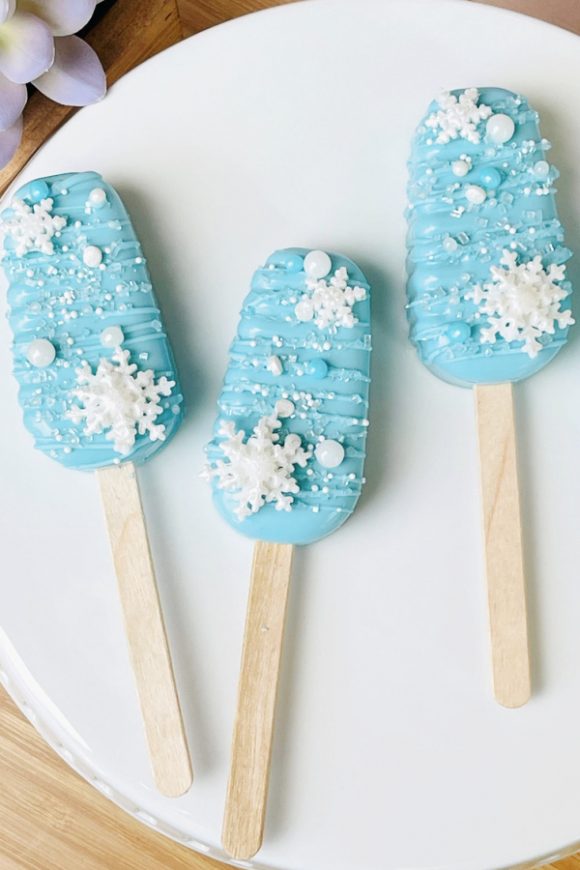 A balloon garland is a must-have at a party, which is why this fabulous blue and white snowflake balloon garland is just what you need to decorate your winter-themed birthday.
It's a perfect way to transport your guests into a wonderful wonderland!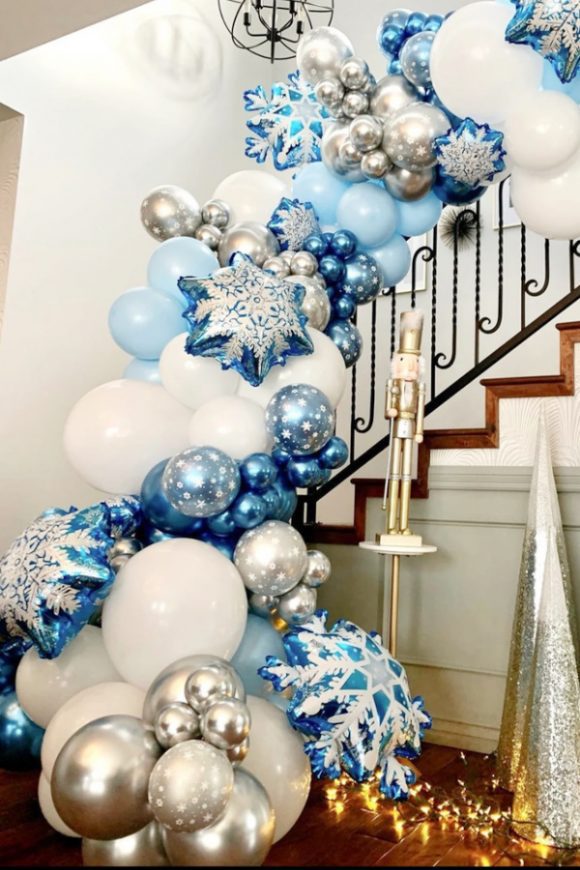 Decorate the walls of your party with a bunch of these pretty snowflake garlands.
They are a quick and easy way to transform your space and give it a winter wonderland vibe.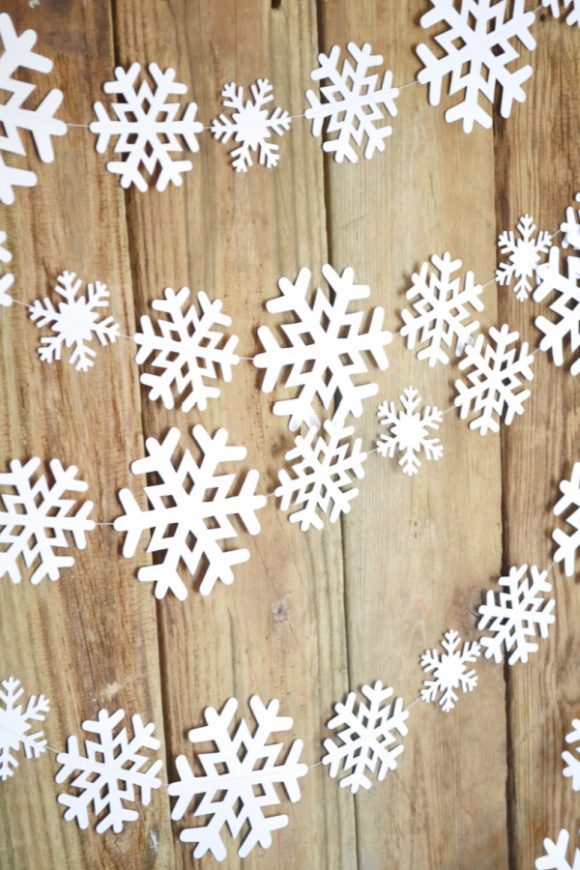 A hot cocoa bar is such a cool idea for a winter-themed celebration.
There's nothing better than sipping on a delicious hot chocolate when the weather outside is frightful and you are nice and warm at a delightful birthday.
Place this fantastic snowflake-filled hot cocoa sign as a backdrop to your bar.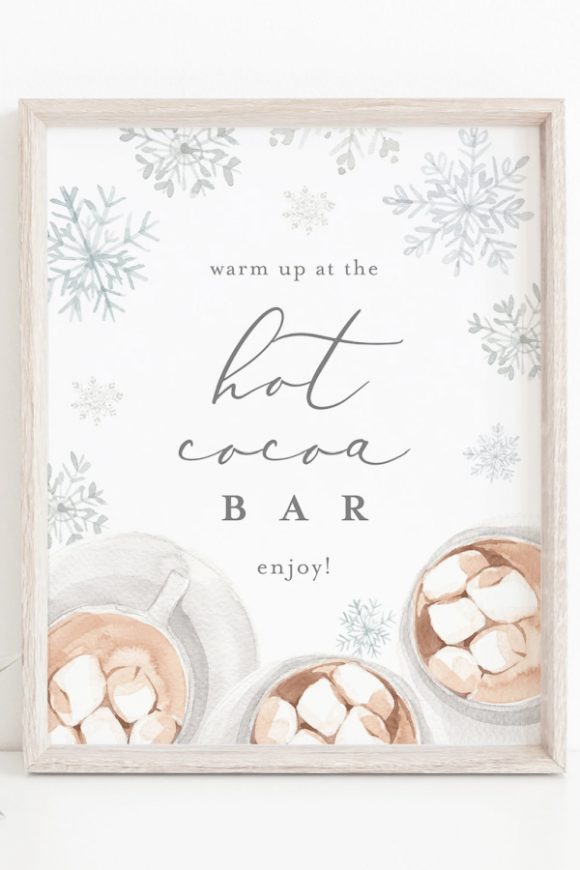 Your guests are going to love these pretty paper cups decorated with glittery snowflakes.
They are wonderful for serving drinks, especially at your hot cocoa bar.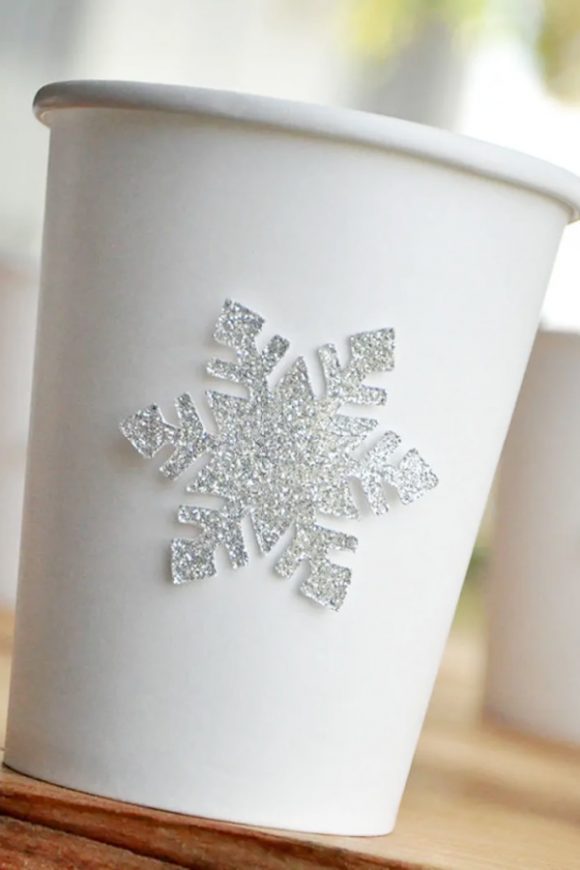 You really can't go wrong with these snowflake paper plates at a Winter Wonderland birthday party.
They are so on theme and perfect for that delicious slice of birthday cake.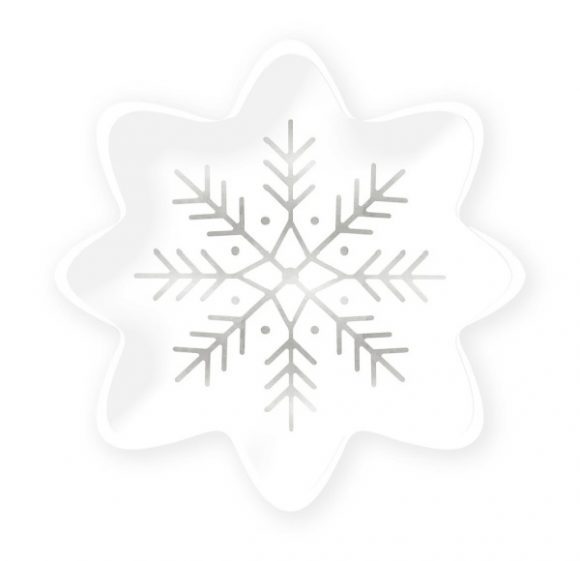 Add these gorgeous snowflake napkins to your table settings to complete the look and give your party a winter vibe.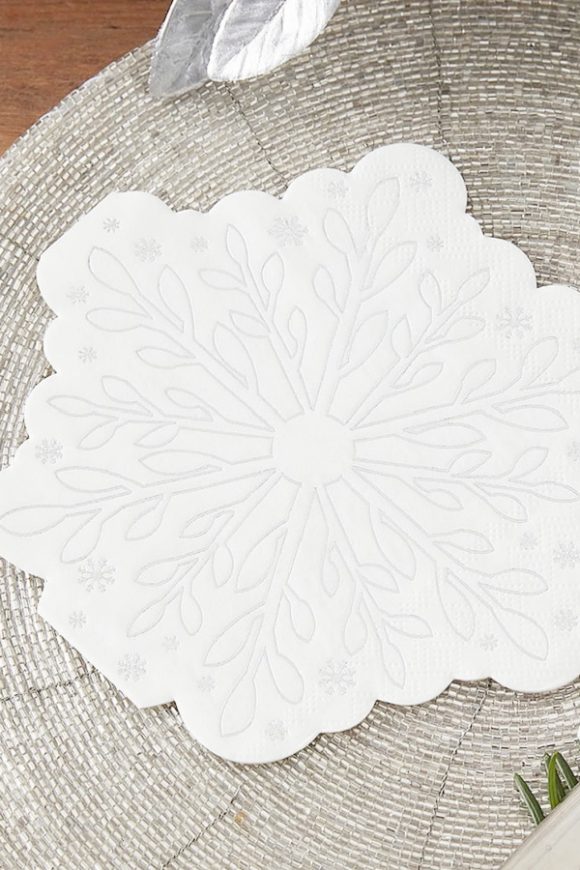 Let your kids have loads of laughs with this fun pack of winter woodland photo booth props.
They'll have a blast fooling around and you can bet the photo will be so cool!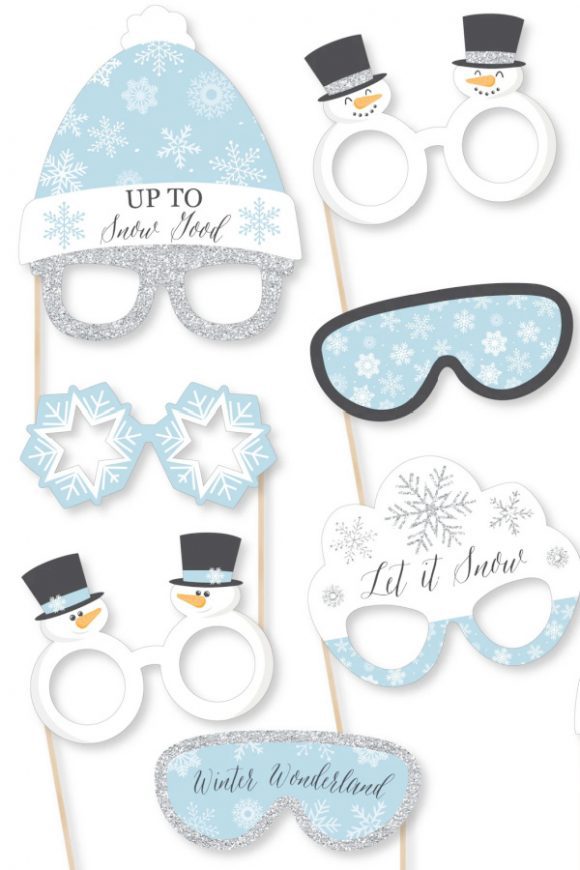 Keep the kids entertained with a fun winter-themed game of bingo.
What is not to love about the cute wintry illustrations!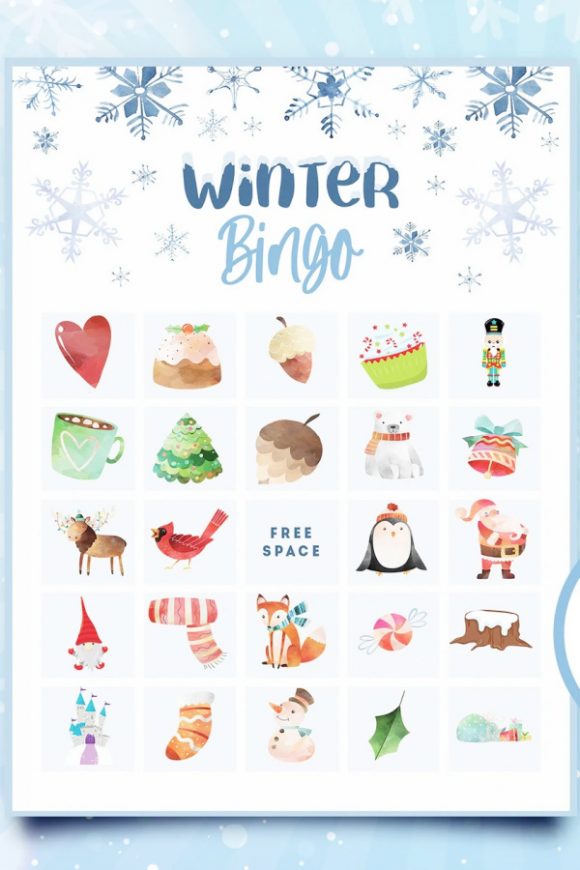 Send your guests home with a sweet reminder of your winter-themed party by treating them to this delicious pack of hot chocolate.
The pack includes everything they need for that perfect mug of hot cocoa, such as marshmallows and chocolate chips!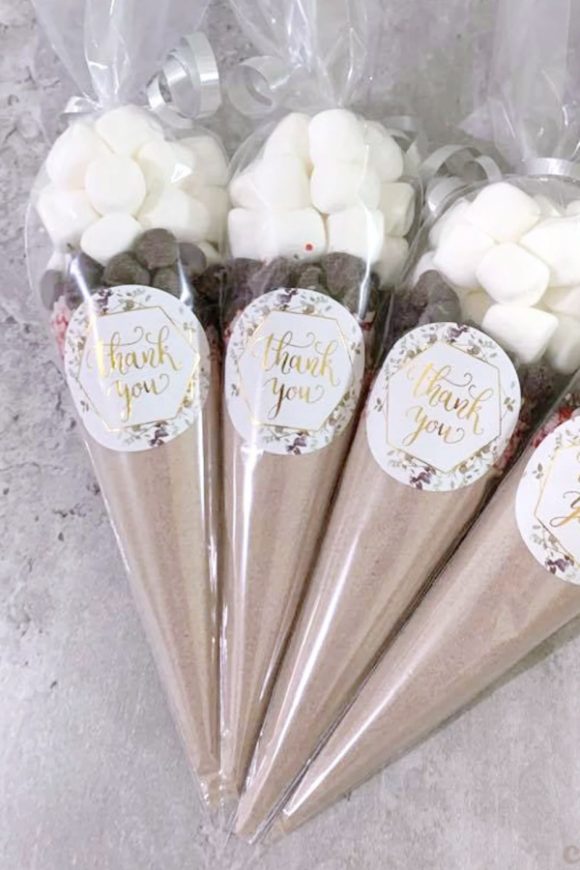 Finding the perfect party favor for a winter birthday can be a little tough but do not worry because we have got you covered with two great ideas.
First of all, we have these fun personalised hot cocoa mugs that your guests can take home with them and keep as a reminder of your awesome party.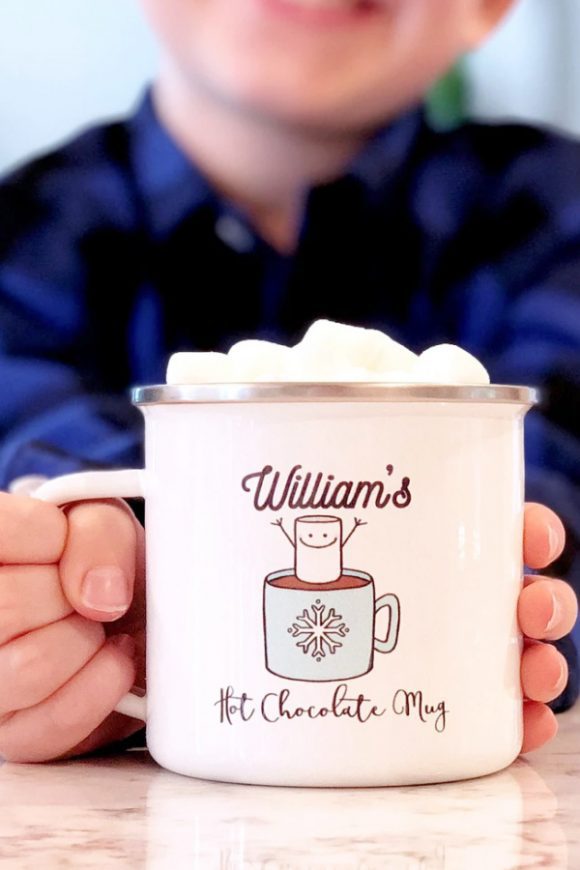 To finish off we have these pretty snowflake bars of soap that are the perfect party favor for a young girl's party.
It will leave their skin feeling clean and soft, and the hints of candy floss, hot chocolate, and Christmas spice smell so sweet!
Each one is frosty white and decorated with silver biodegradable glitter.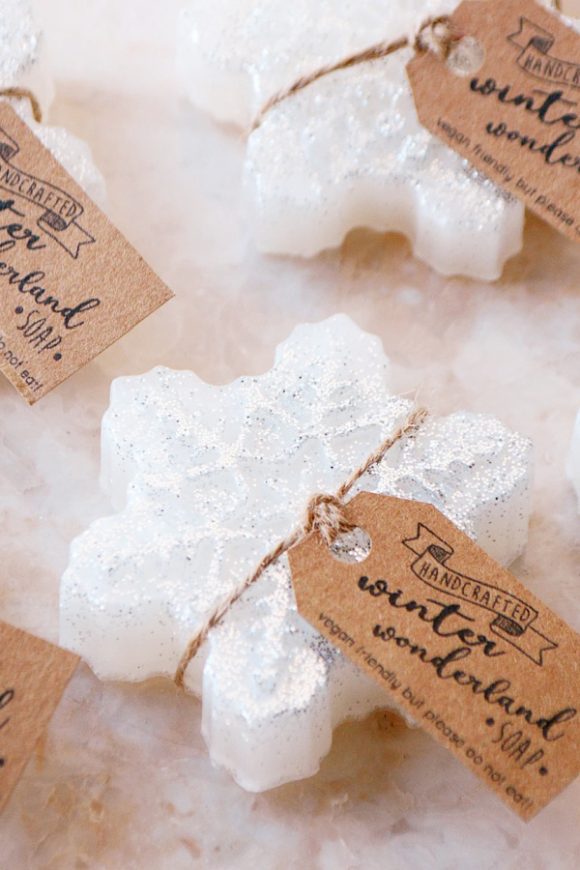 ** Some links are affiliate links.**
For more inspiration, check out all these fantastic Winter party ideas on our site, and check out these Winter party supplies from vendors with listings on Catch My Party!
MORE WINTER POSTS YOU'LL LIKE!
Need Winter party ideas?