Every little boy is a prince, so it's only fitting that prince parties are such a popular theme for a variety of boys parties, such as birthdays (especially 1st), baby showers, and baptisms.
It's a fabulous theme for an elegant party, that works beautifully in blue and sparkly gold.
So, if you're planning a party for your little prince, look no further. We've the 12 most elegant prince party ideas for you!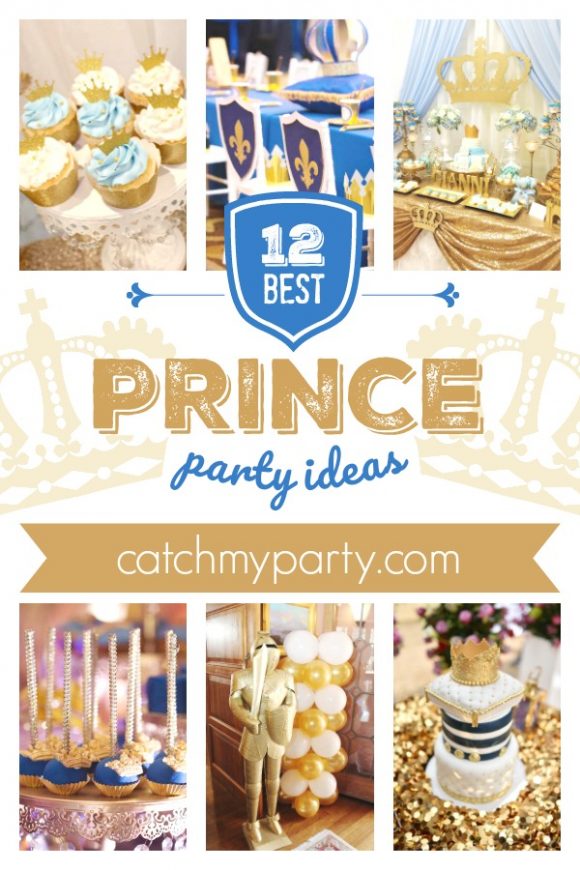 We've beautiful ideas for a prince cake, a prince dessert table, some prince party decorations, and so much more!
Be Blown Away by the 12 Most Elegant Prince Party Ideas!
Let's start off our prince party ideas with a dessert table that knocks it out the park.
The backdrop with the blue drape and gold crown, and all the floral arrangements create such an elegant settings. I love it!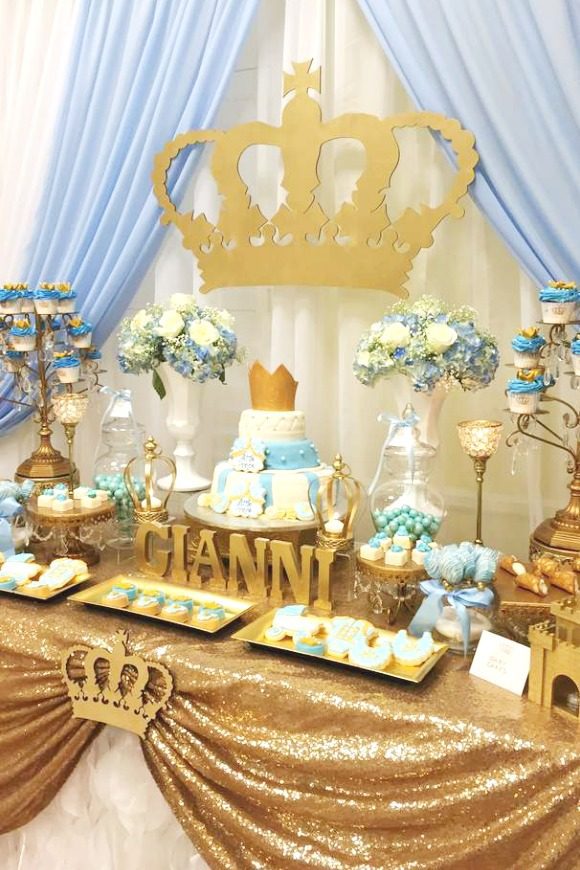 WOW! Just look at this amazing prince themed tiered cake.
It's a true regal work of art with a gorgeous pillow and a spectacular fondant crown topping it.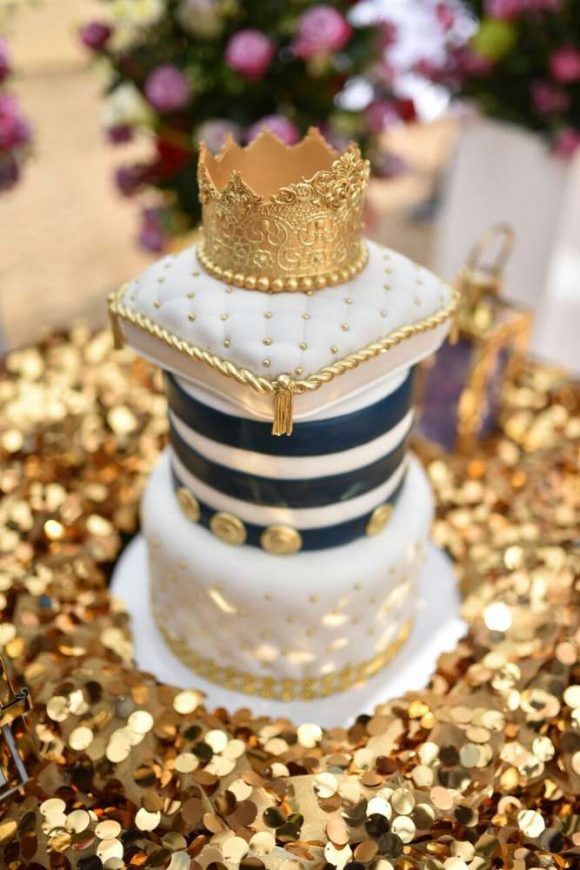 These prince cupcakes are so cute and so simple to make yourself.
Simply add these wonderful sparkly crown toppers to a batch of blue and white frosted cupcakes and you're good to go.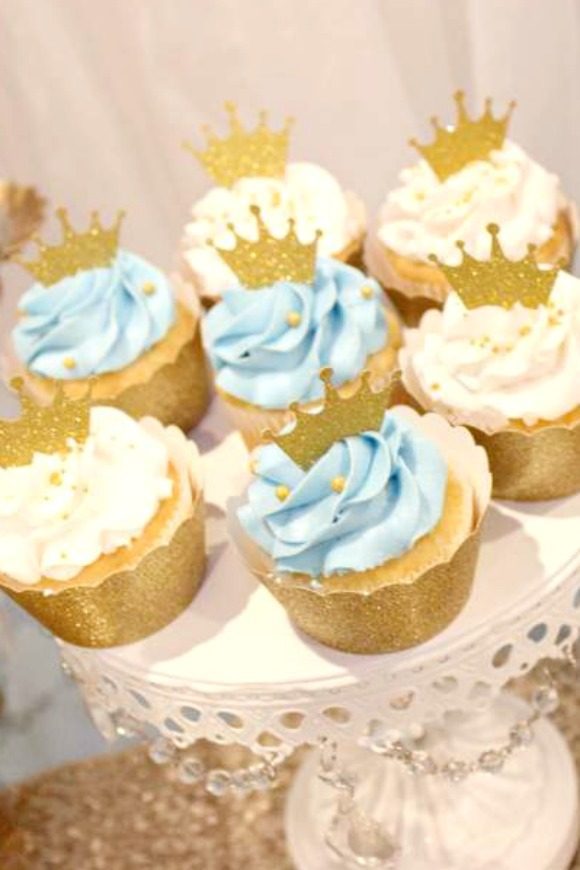 Cookies are always a hit at parties and these prince cookies are no exception.
The gold details on the cookies give them such elegance. I love the prince jacket one!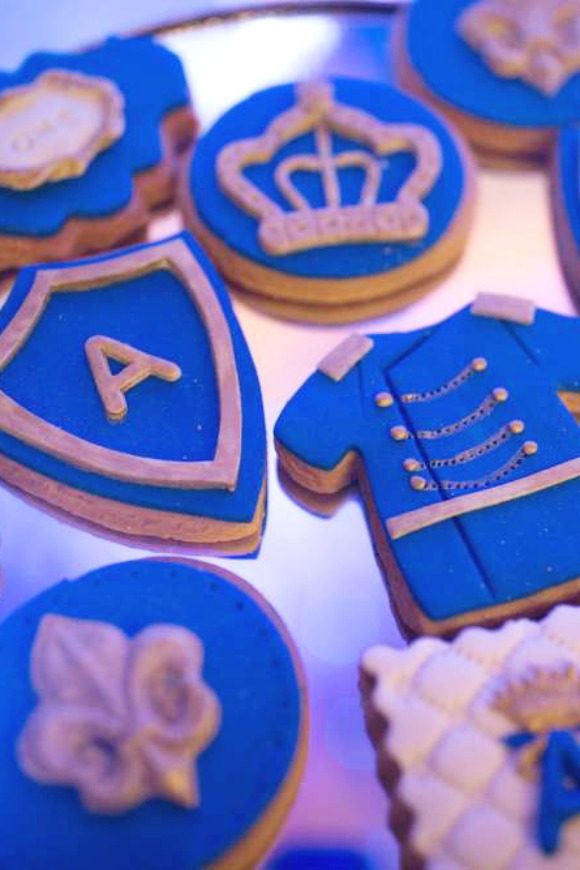 You won't want to miss these beautiful blue cake pops decorated with a wonderful gold crown.
The gold sparkly cake pops sticks are fantastic and add so much grace to the cake pops.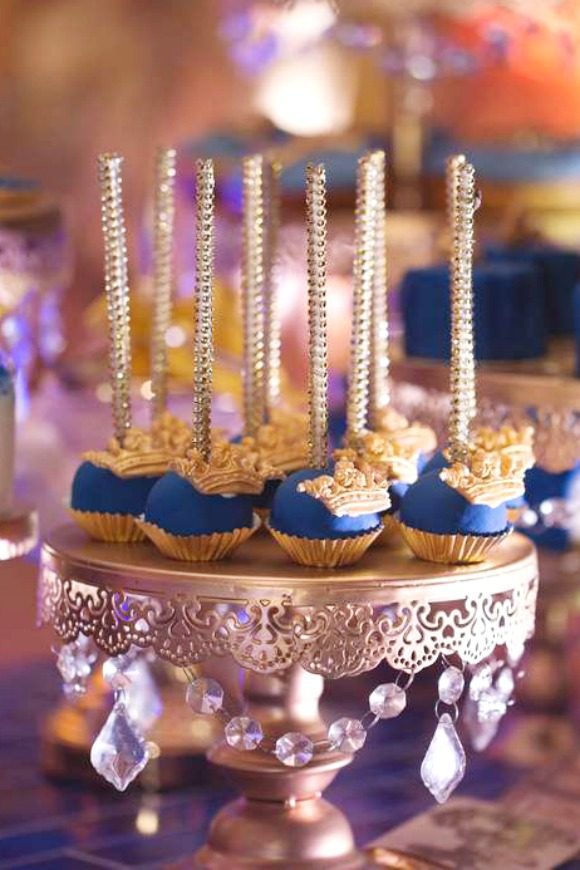 Party drinks don't have to be boring. Spice them up by simply adding glitter to the outside bottom of each bottle and tying a blue ribbon around it. Finish it off by gluing a gold lettered monogram on it.
The blue and white paper straws decorated with little crowns makes these bottles fit for a prince.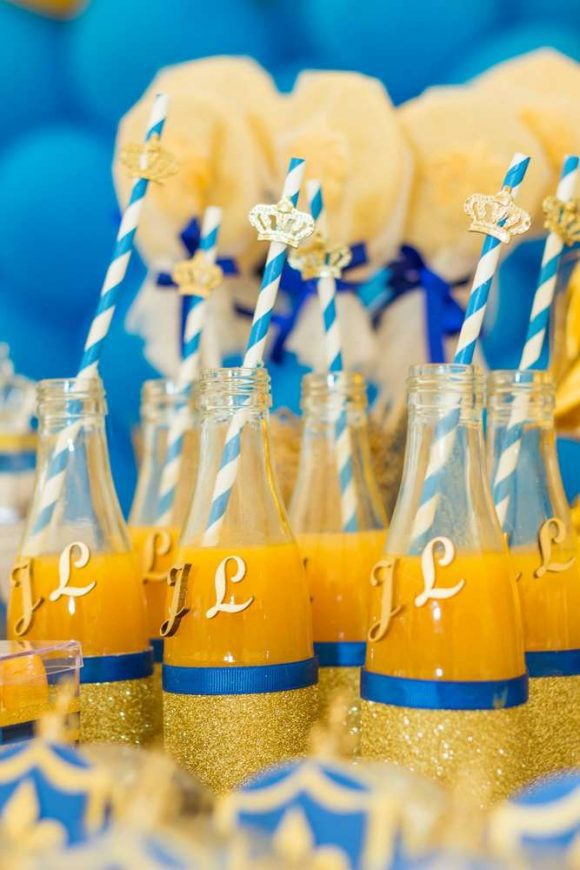 The ultimate prince party decoration has to be this knight in shinning armor!
It's an excellent addition that looks amazing at the entrance to a prince party.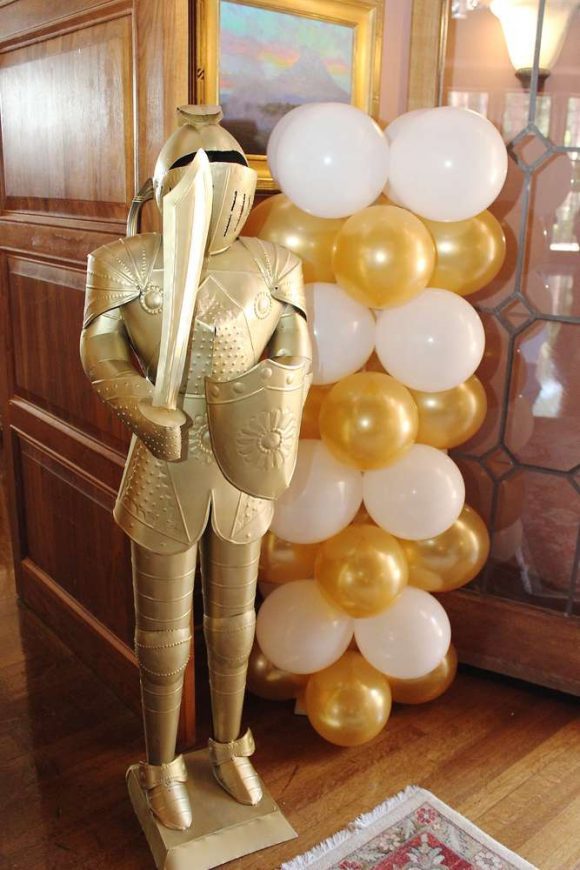 Impress your guests will some spectacular prince table settings like these.
Love the gorgeous crown party favors that allow each guest to be a prince, even if only for a day.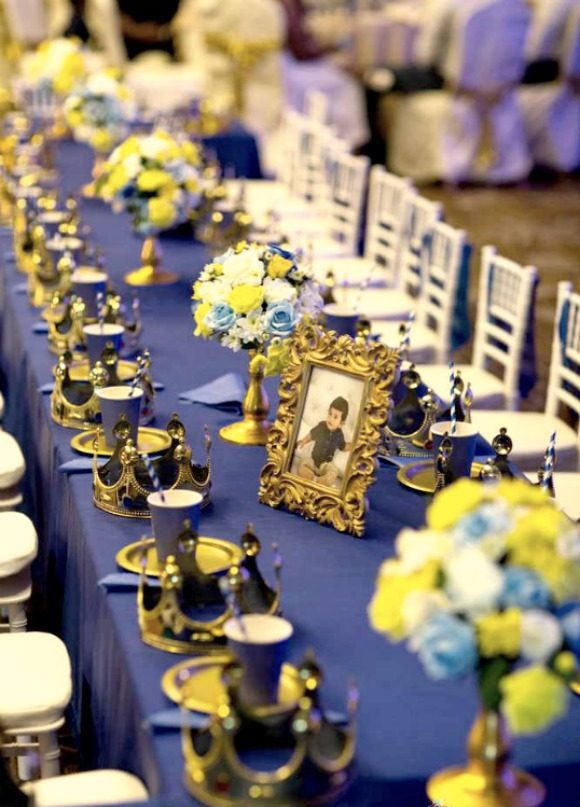 Prince parties are very popular as  a 1st birthday party theme for boys.
Each little prince deserves to sit on their own throne, and this highchair is perfectly decorated with a fun garland.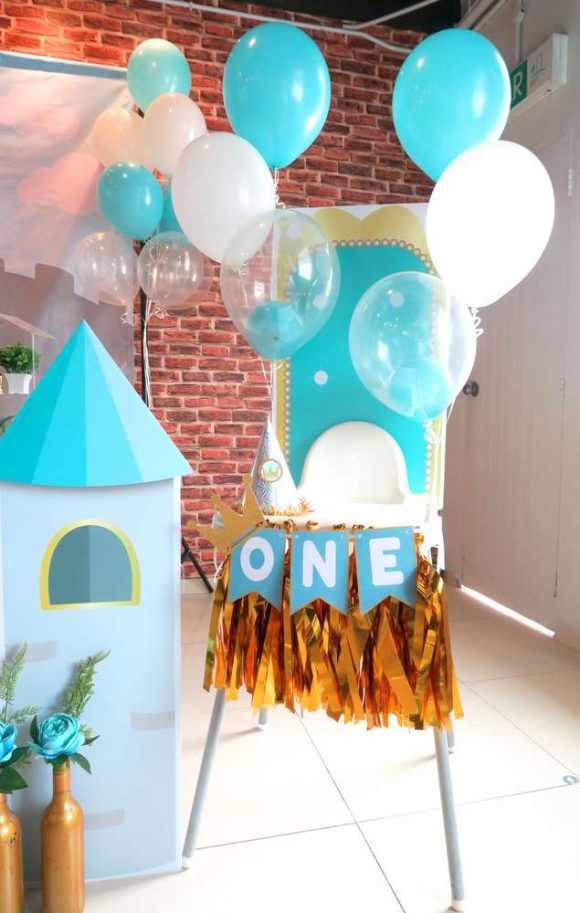 All princes need a crown and this crown centerpiece is just what you need as a party decoration at your party.
Place flowers in the center and you've got yourself a incredible prince party decoration.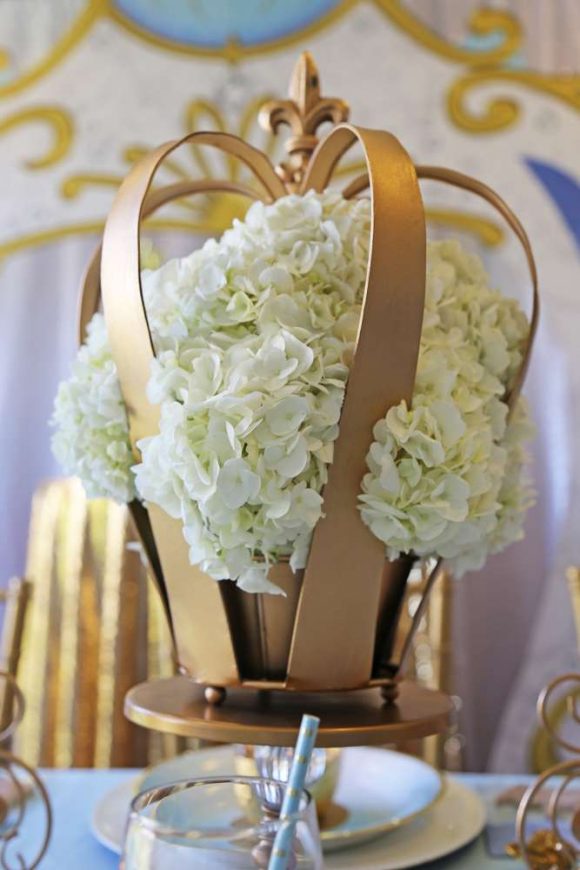 Carry your prince party theme through to your table settings.
These chairs are wonderfully decorated with an elegant shield giving the party a magical royal touch.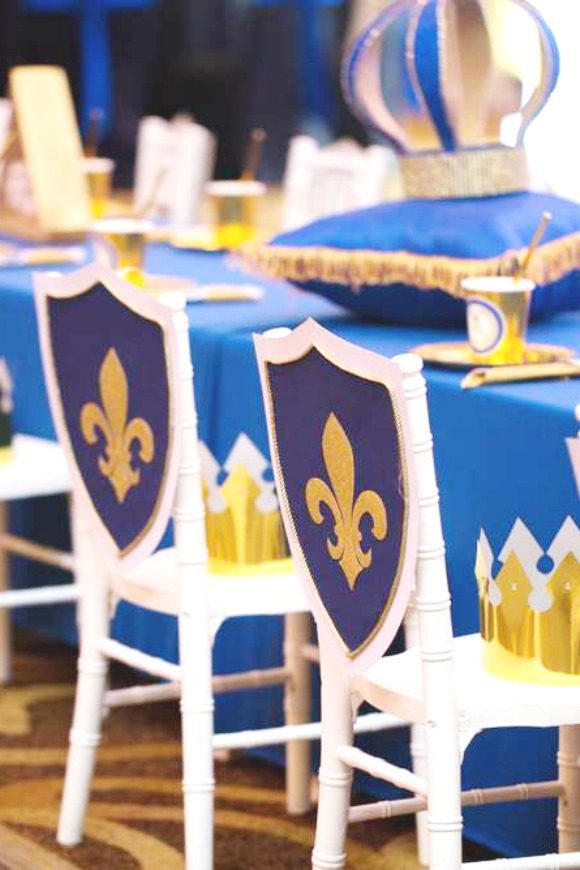 Send your guests home with a cute prince party favor box full of goodies.
You can add some delicious candy or even some sword birthday bracelets.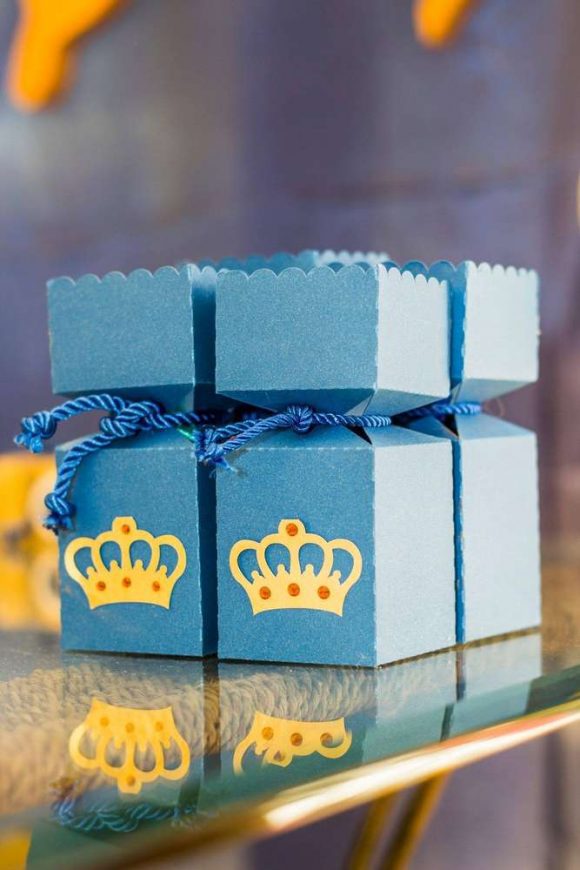 For more inspiration, check out all these amazing Prince parties on our site, and check out these Prince party supplies from vendors with listings on Catch My Party!
Some of these links may be affiliate. If you click and buy, we might make a small commission at no cost to you.
Need more Prince party ideas?
Need more Prince birthday party printables?