Unicorn cakes are the stars of all unicorn parties!
There are so many magical cake designs to choose from that picking the perfect one can be quite daunting.
To help you sieve through the many options out there, we have gone through all unicorn parties on CatchMyParty.com and selected the 16 best unicorn cakes we could find.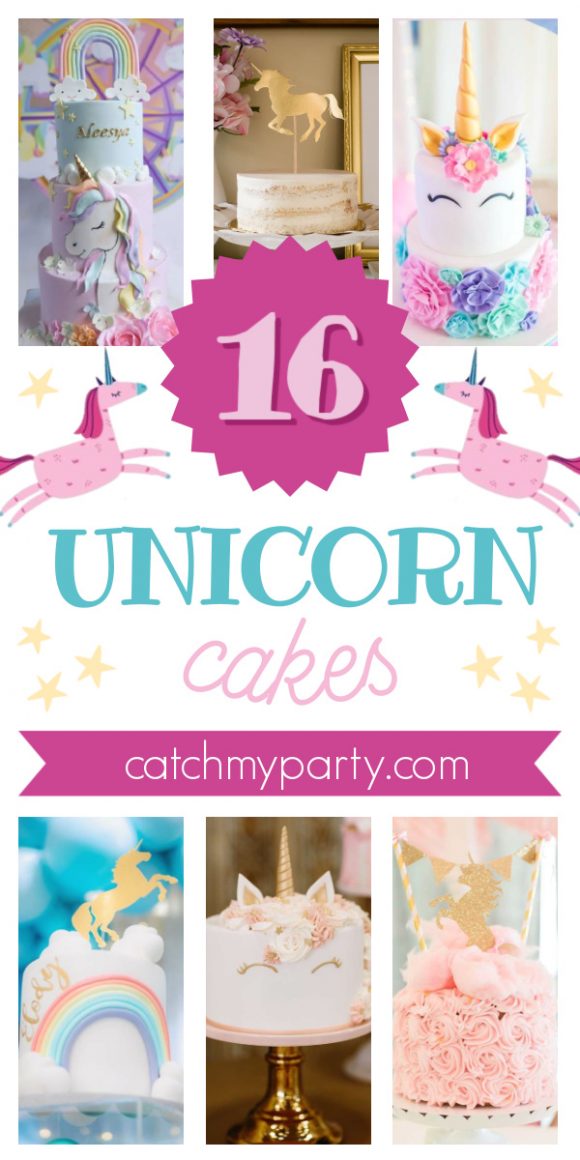 Scroll down to look at the most amazing unicorn cakes we could find!
Take a Look at These 16 Magical Unicorn Cakes!
To start off we have this wonderful unicorn birthday cake with a ruffle bottom tier, a middle drip tier, and a top unicorn tier.
A gold fondant horn and ears complete the look and give this cake its unicorn look.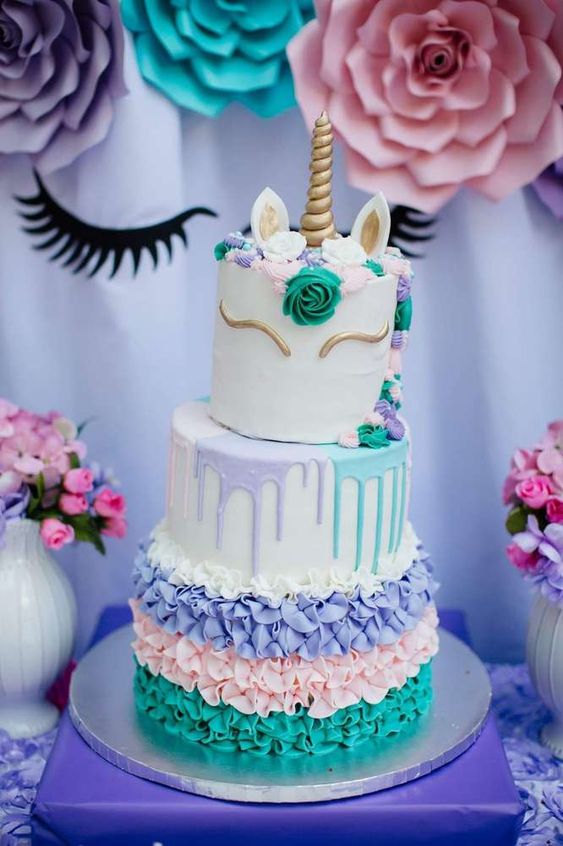 Our next cake is a work of art. The gradient rainbow sugar paste icing covering this cake is absolutely stunning, as is the fondant unicorn and its rainbow mane.
This cake's special touch is the pretty colorful stars that decorate it all over.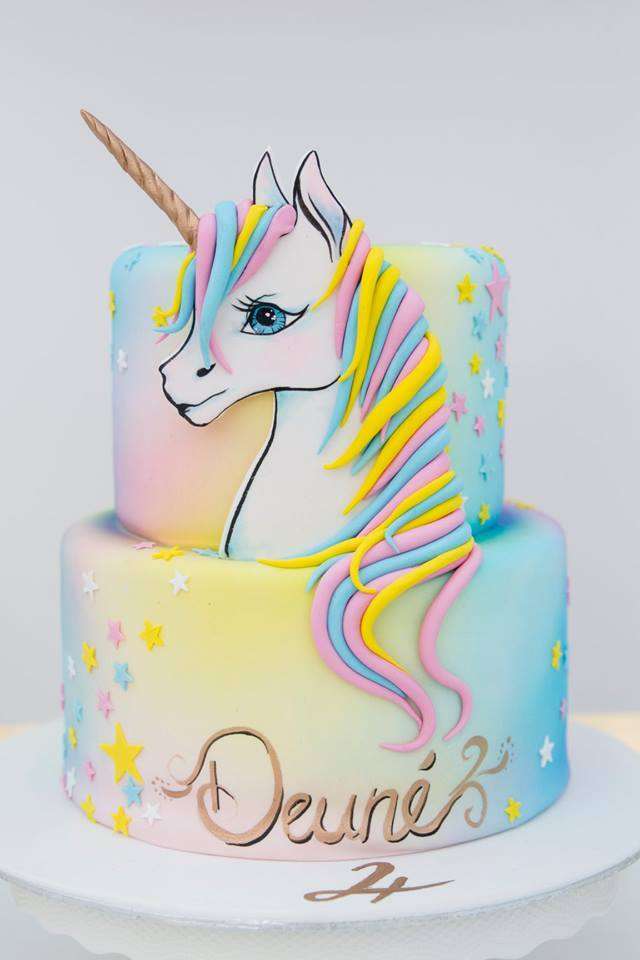 You'll be so blown away by this amazing floral rainbow unicorn birthday cake.
What could be more magical than a cake covered in stars, a unicorn, flowers, and topped with a gorgeous fondant rainbow?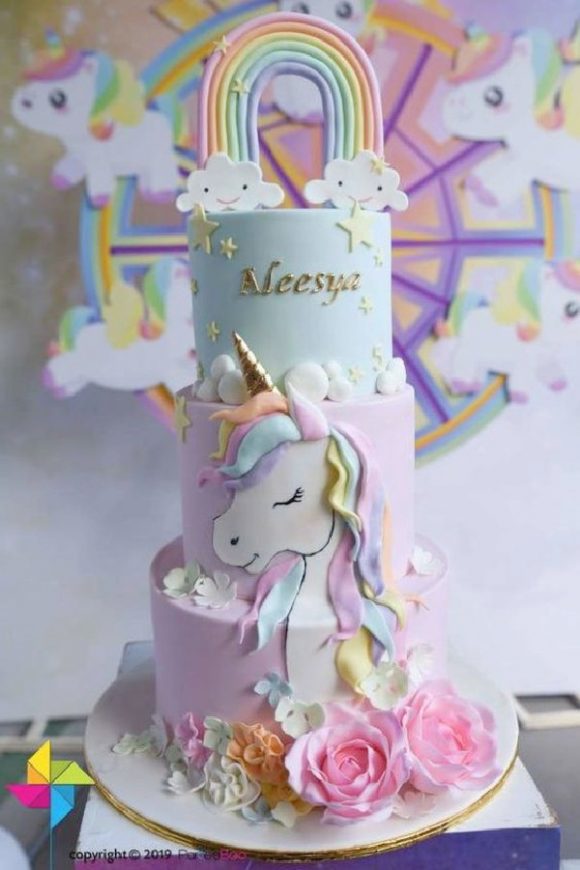 This pink frosted unicorn birthday cake is such a delight.
Decorated with colorful wings and topped with unicorn ears and a gold horn it will make all little girls smile.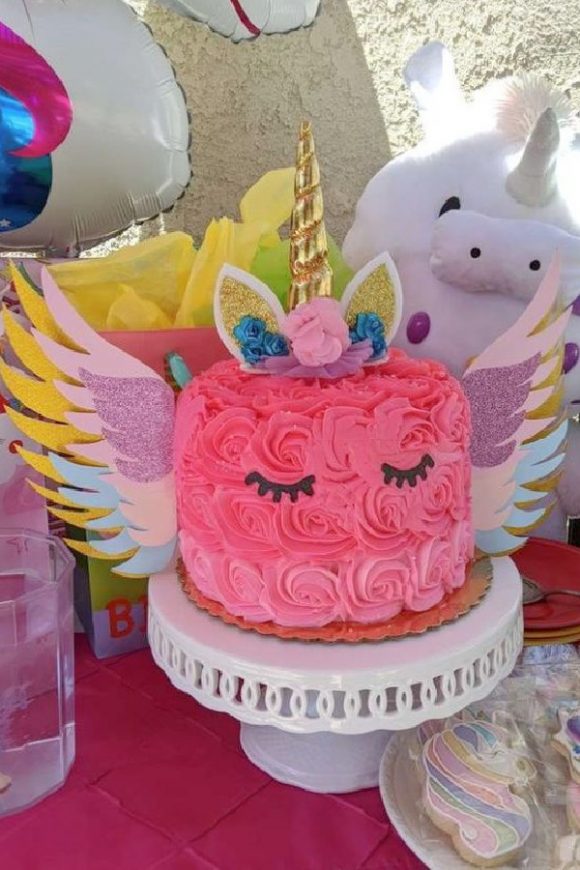 This is no typical unicorn cake, decorated with fresh flowers and an impressive purple marble bottom pier, this cake is gorgeous!
If you want to copy the look but can't get a hold of beautiful fresh flowers, you can always use the prettiest silk ones you can find.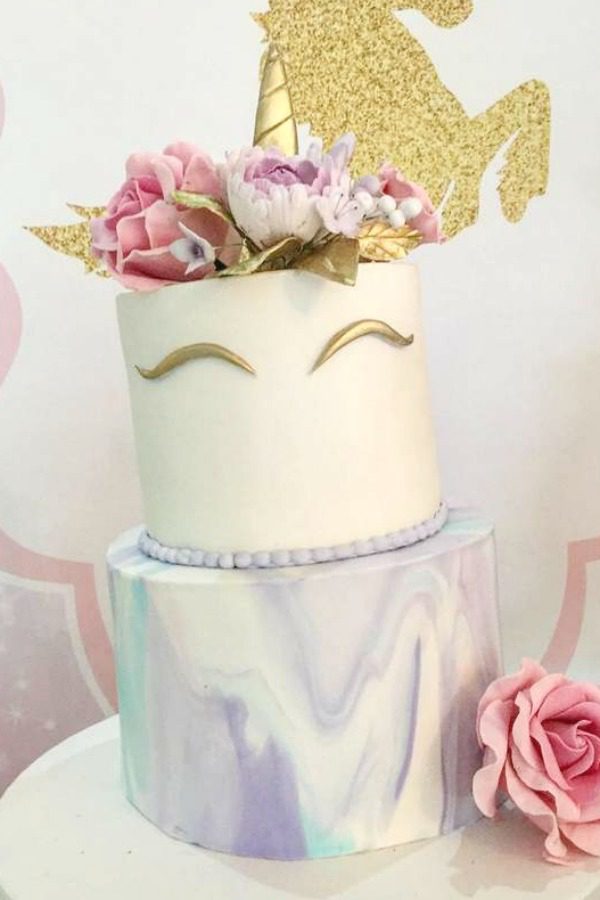 Rainbows and unicorns are the best of friends, so how about mixing both of the best worlds and having a fabulous pastel rainbow unicorn cake?
You are going to love the fondant pastel rainbow unicorn cake with the most amazing meringue mane!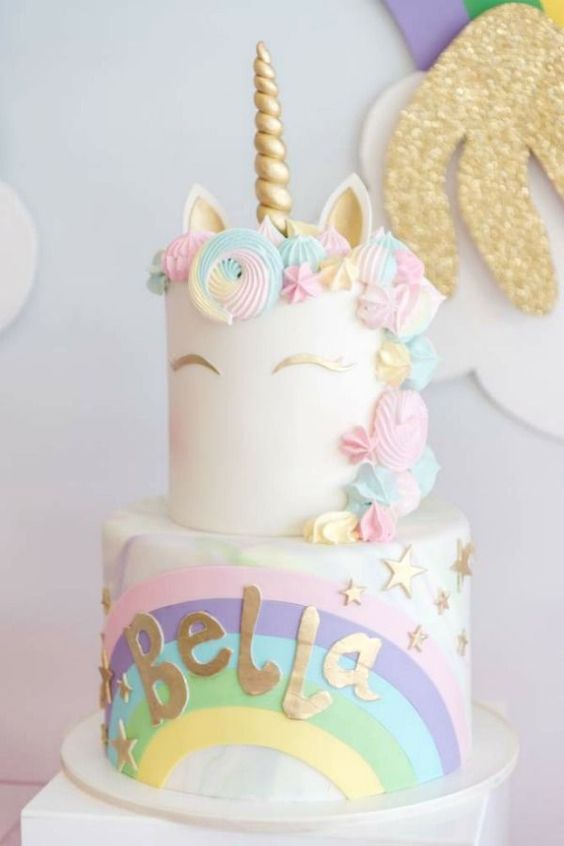 A cake doesn't have to have lots of tiers to catch your guests' attention.
This simple white frosted cake with unicorn eyes, a colorful buttercream piped mane and some gold ears and a horn is just as impressive!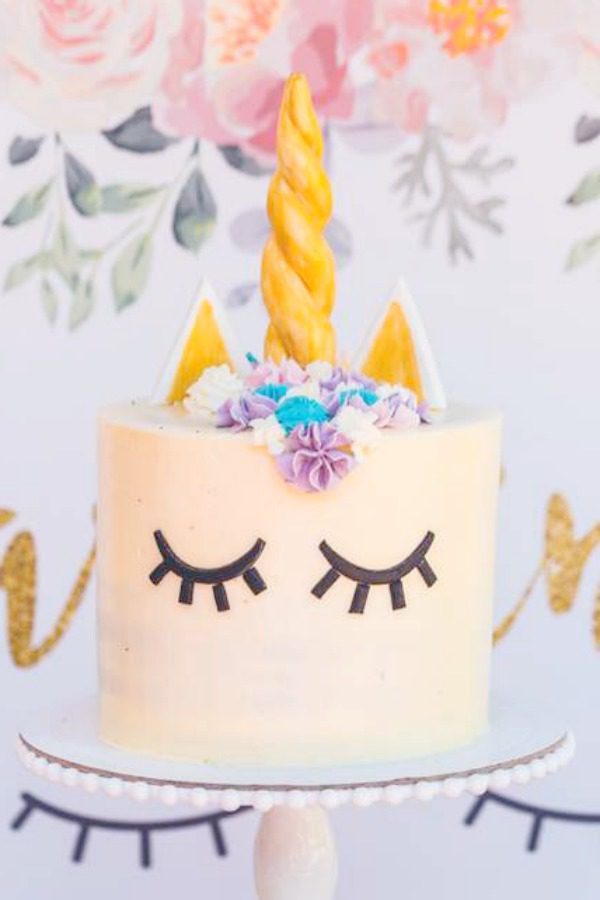 Wow! You're not going to believe your eyes!
This unicorn cake with a fondant floral bottom tier and a gorgeous fondant floral mane will blow you away.
This cake design is perfect for a Mexican-themed unicorn fiesta!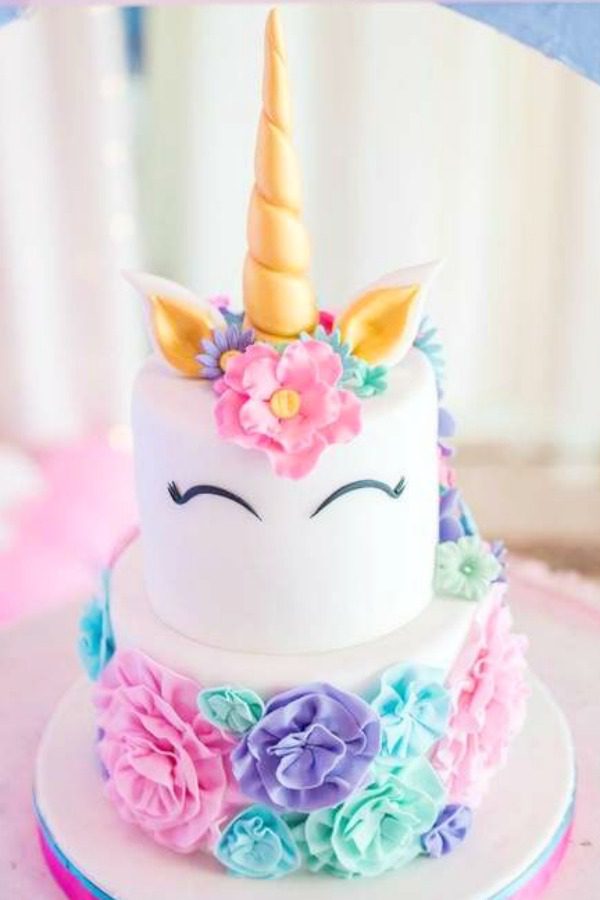 Take your guests on an under-the-sea adventure with a mermaid-inspired unicorn cake.
The bottom tier with the stunning fondant scales is a dream!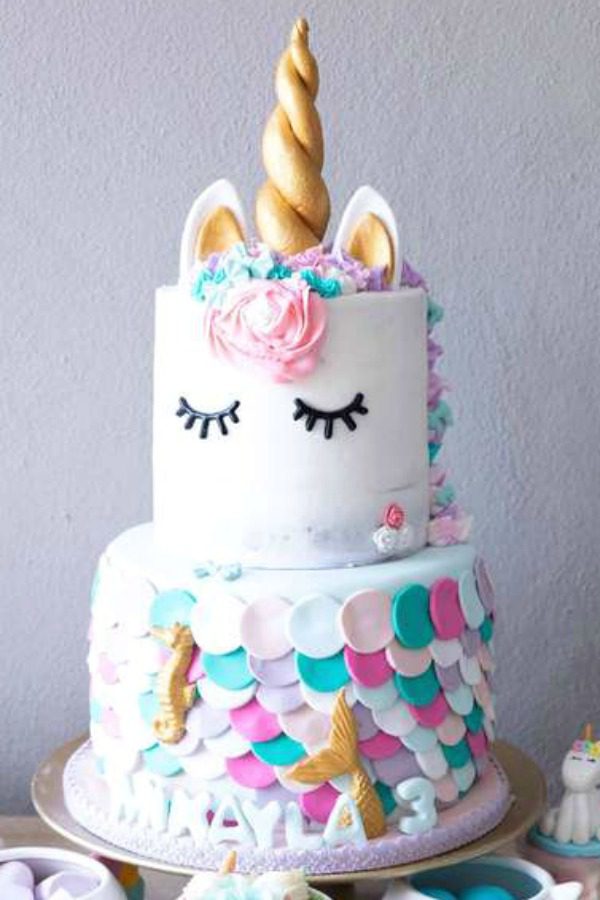 Similar to the previous single-tiered unicorn cake, this one has more of a delicate loo
The gorgeous mane going halfway around the back of the cake is amazing!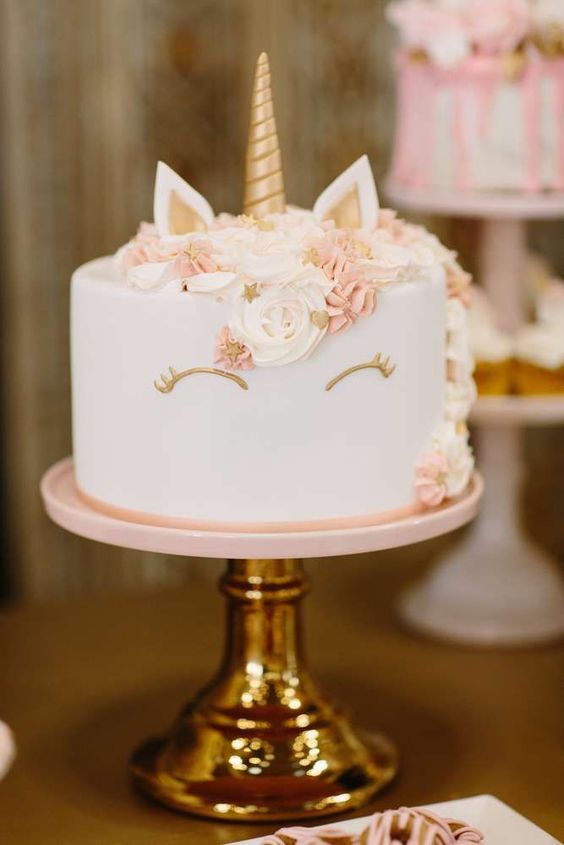 This next cake is different from what you'd expect a unicorn cake to look like nowadays.
This tiered unicorn cake is decorated with a wonderful purple fondant bow, some pretty fondant flowers, the most amazing unicorn on the side, and a colorful fondant rainbow.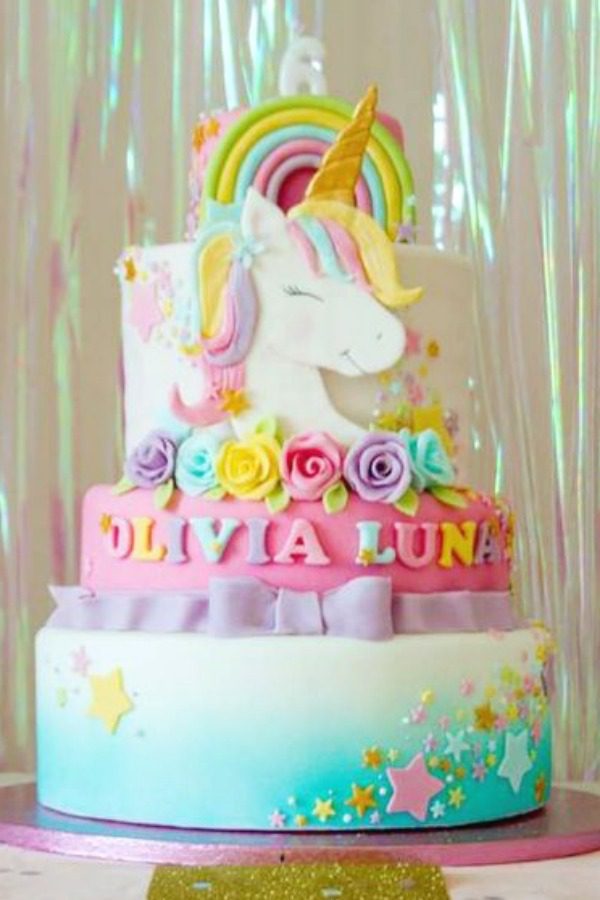 If you're looking for something a little different how about joining two of the most popular party themes… unicorns and hot air balloons?!
This cake is so sweetly decorated with a fondant rainbow, clouds, and pretty gold stars. The perfect surprise for your guests!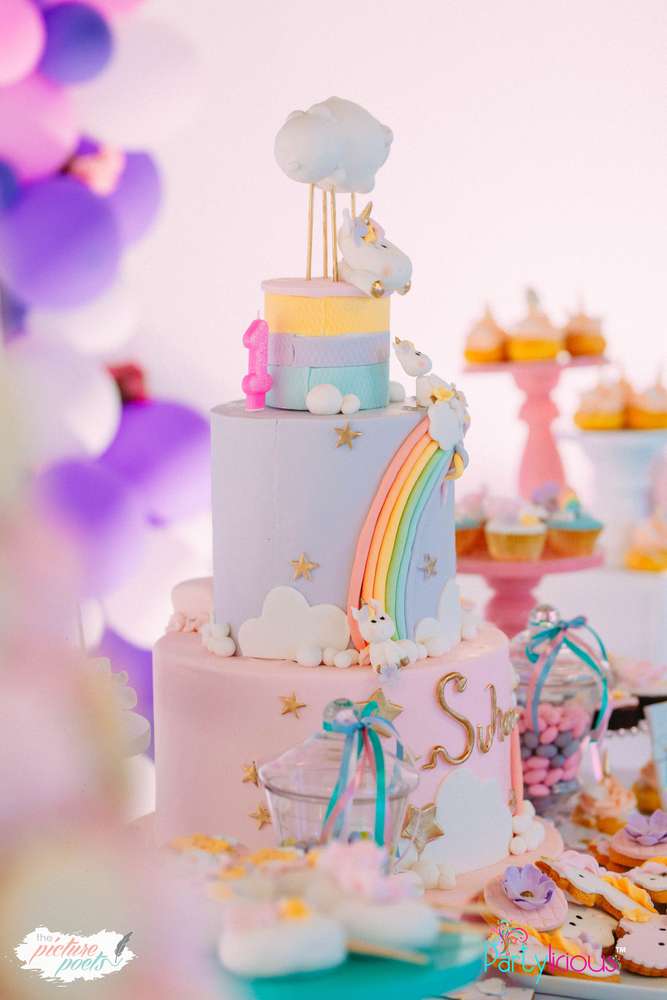 This next unicorn cake is also completely on trend with some pretty little colorful fondant flowers making up its mane.
What more can a girl wish for?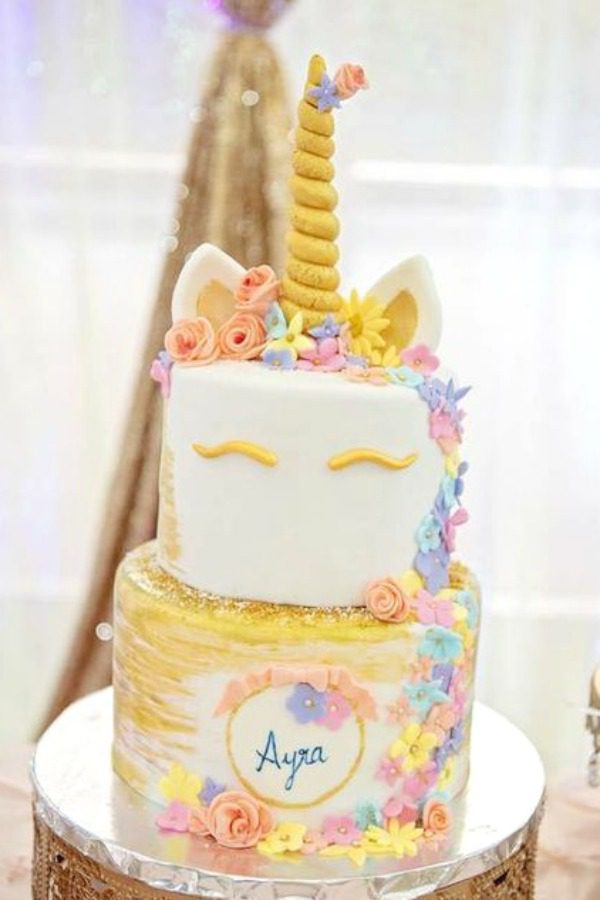 Don't miss this modern single-tier unicorn cake.
Decorated with a beautiful rainbow across it and topped with some fondant clouds and a gold unicorn silhouette, this cake may at first look very simple but it is indeed impressive!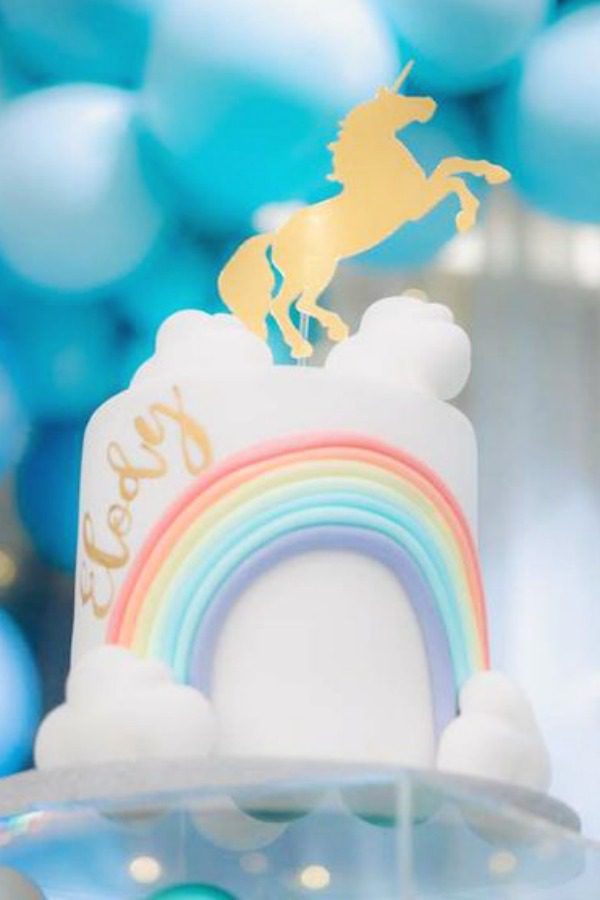 If you're looking for the perfect unicorn birthday cake with a rustic touch then you are going to love this naked cake topped with a unicorn silhouette.
What a magical cake!
You can always have a unicorn-themed cake without going full-on unicorn and by simply transforming a beautifully frosted cake (like this gorgeous pink one, decorated with cotton candy) and adding a gold glitzy unicorn topper.
You can bet you'll still have an amazing showstopper of a cake!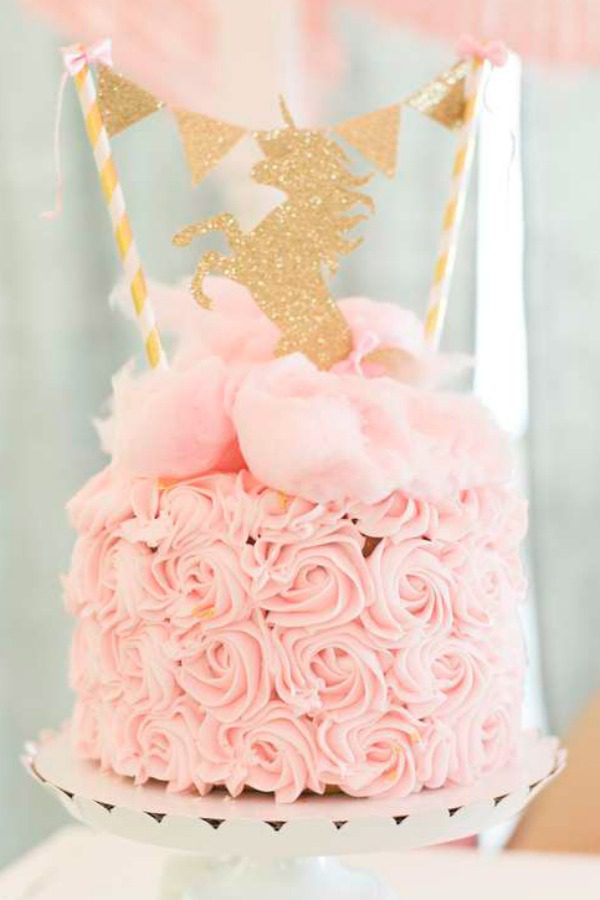 ** Some links are affiliate links and we may make a small commission if you click and buy.**
Need more unicorn party ideas and unicorn crafts?
For more inspiration, check out all the stunning unicorn parties on our site, and check out these unicorn party supplies from vendors with listings on Catch My Party!