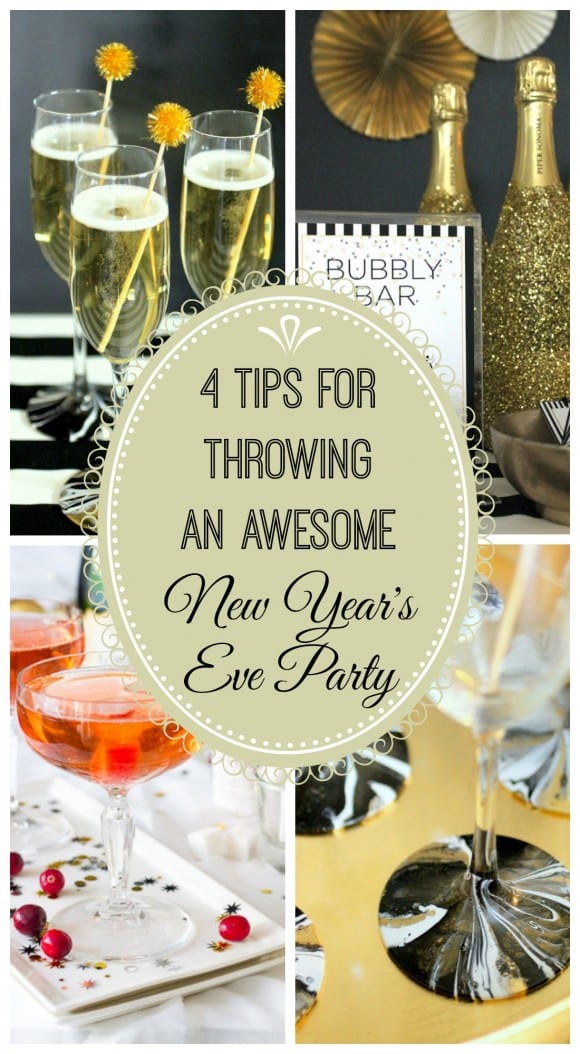 The end of the year is approaching, and I wanted to bring you these 4 easy tips for throwing an unforgettable New Year's Eve party! When you think of New Year's Eve you think champagne… So take a look at these new and exciting ways to make your party a bubbly hit!
TIP #1 – Pick the perfect champagne
Here's an simple-to-understand champagne guide to find the champagne that's right for your party. The guide explains everything — types of champagne, levels of sweetness, and color. After reading it, you'll never forget the difference between brut and extra brut again!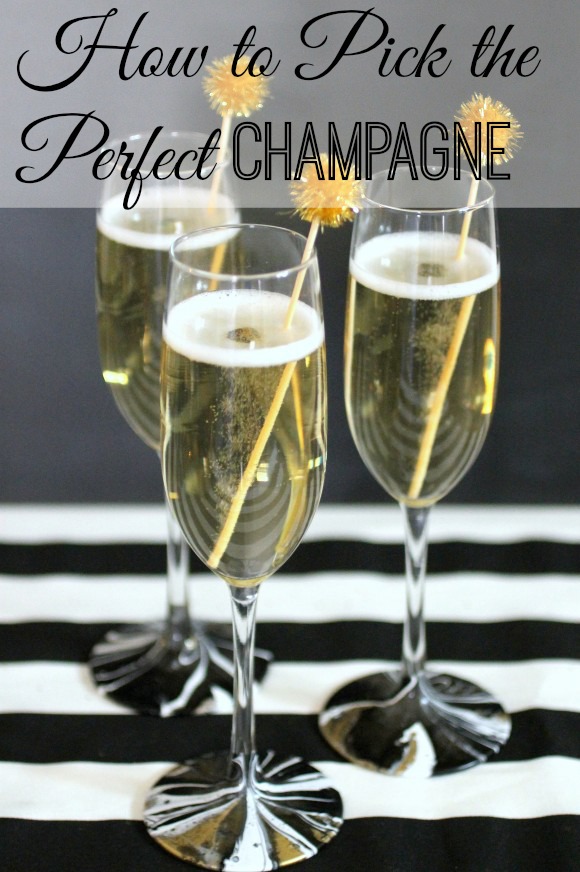 TIP #2 – Set up a "champagne bar" with free printables!
How about setting up a "bubbly champagne bar" using our free New Year's party printables. Now your guests can compare, taste, and even personalize their champagne drinks themselves.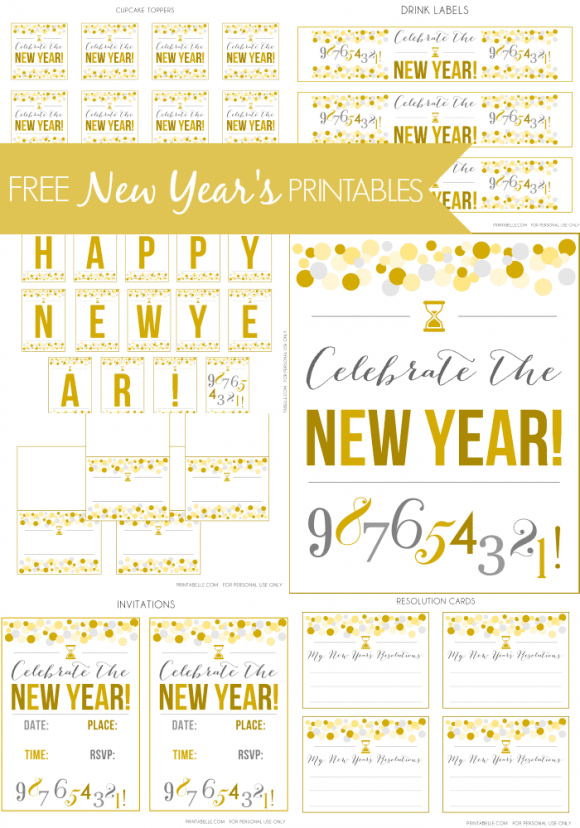 Tip #3 – Serve signature champagne cocktails 
Instead of just serving straight up champagne, how about serving some fun and interesting champagne cocktails to wow your guests.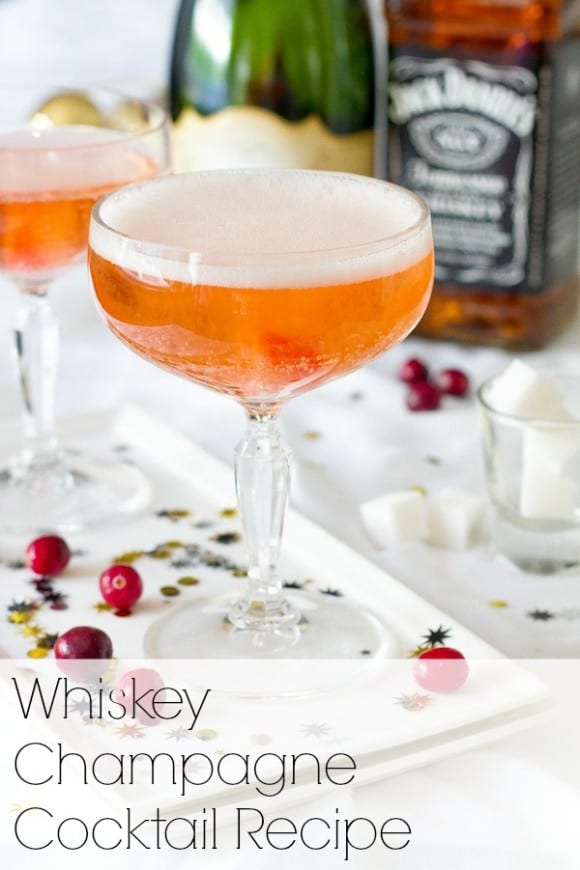 Whiskey Champagne Cocktail Recipe
Ingredients
1.5 ounces Jack Daniels Whiskey
2-3 ounces Korbel Champagne
1 sugar cube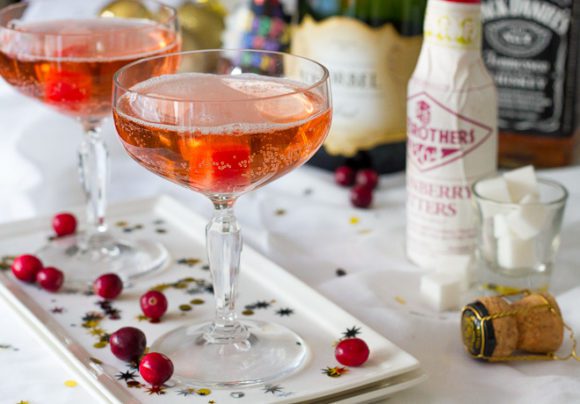 Directions
Place a sugar cube in the bottom of a champagne flute and splash it with bitters.
Add the whiskey then the Champagne. Enjoy immediately while the sugar dissolves.
Makes 1 drink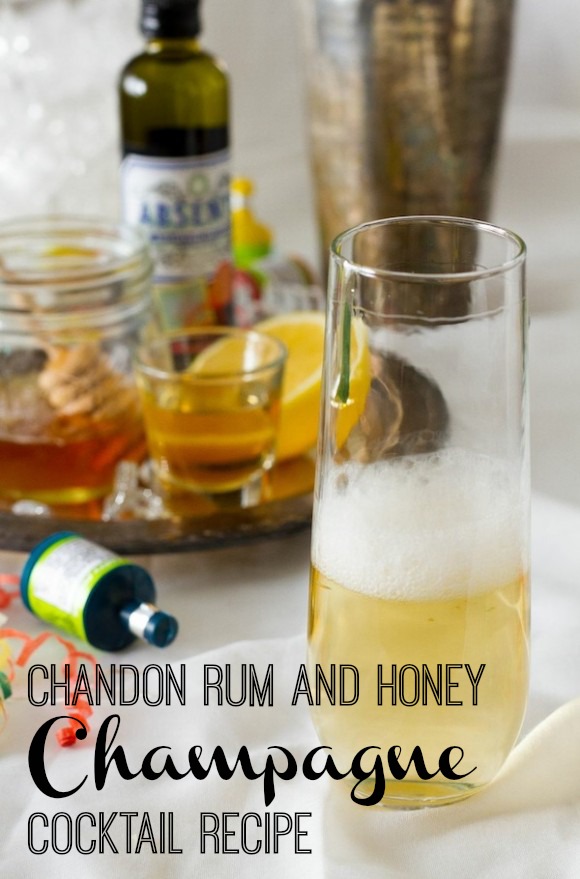 Chandon Rum and Honey Champagne Cocktail Recipe
Ingredients
3 ounces Chandon Extra-Dry Riche
1/2 ounce 10 Cane rum
1/2 ounce lemon juice
1/4 ounce honey
Directions
In a cocktail shaker, combine ice, rum, lemon juice, honey, and absinthe. Shake for 10 seconds.
Strain into a flute and top with the Chandon Extra-Dry Riche.
Garnish with a drizzle of honey.
Makes 1 drink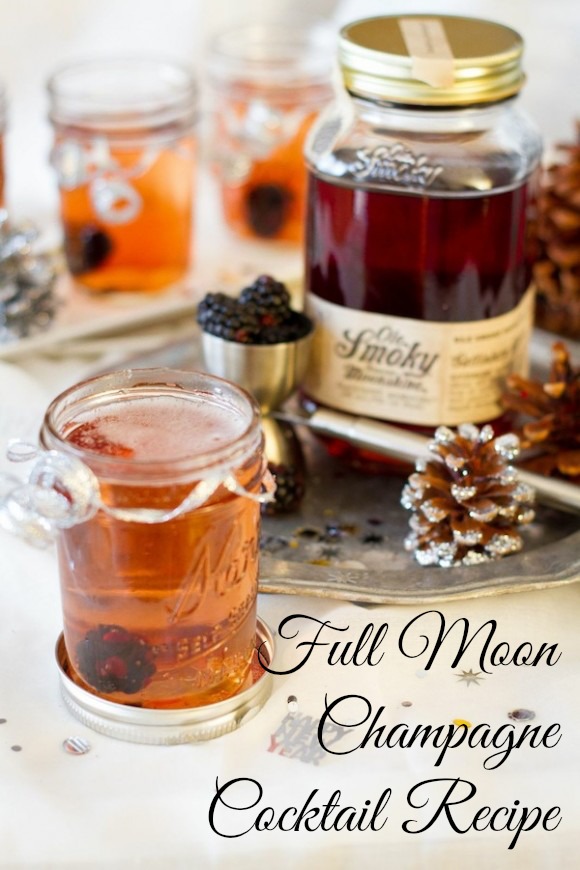 Full Moon Champagne Cocktail Recipe
Ingredients
Ole Smoky Blackberry Moonshine
Ole Smoky White Lightnin'
Ole Smoky Peach Moonshine
Champagne
Sour mix
Blackberry garnish
Directions
Mix equal parts of the three Ole Smoky moonshines and champagne with three parts sour mix in a Mason glass. Garnish with blackberries.
Makes 1 drink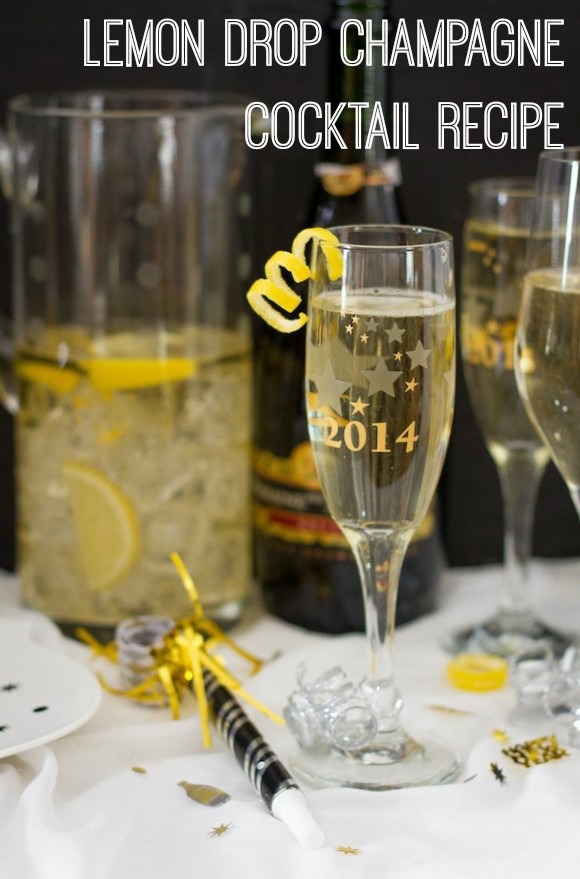 Lemon Drop Champagne Cocktail
Ingredients
750 ml (1 bottle) Domaine Ste Michelle Sparkling Brut
8 ounces Russian Standard Vodka
8 ounces simple syrup
6 ounces lemon juice
Lemon slices and twists
Directions
Add all liquid contents to a pitcher with ice. Stir slowly and add cut lemons.
Pour punch into champagne flutes and garnish with lemon twists.
Makes 1 drink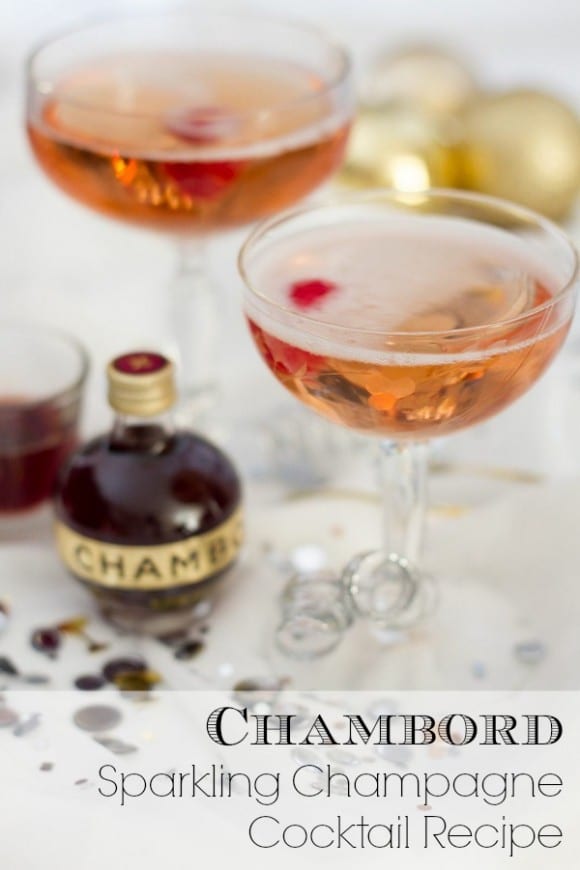 Chambord Sparkling Champagne Cocktail
Ingredients
1.5 ounces Death's Door Gin
3-4 ounces Mumm Sparkling Wine Cuvee
1/2 ounce Chambord
1 fresh raspberry garnish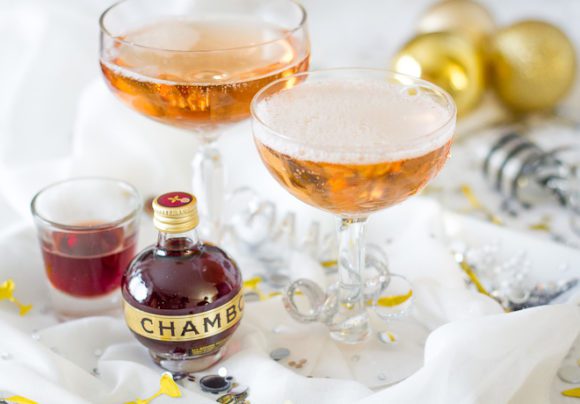 Directions
Pour gin, champagne, and then Chambord into a champagne flute. Garnish with a fresh raspberry.
Makes 1 drink
TIP #4 – Create ambiance with these easy DIYs from Evite
Add sparkle to your decor by glamming up your champagne bottles. And give your party an edgy modern look, by adding some marble touches to your stemware.
New Year's Eve: DIY Sparkly Bottles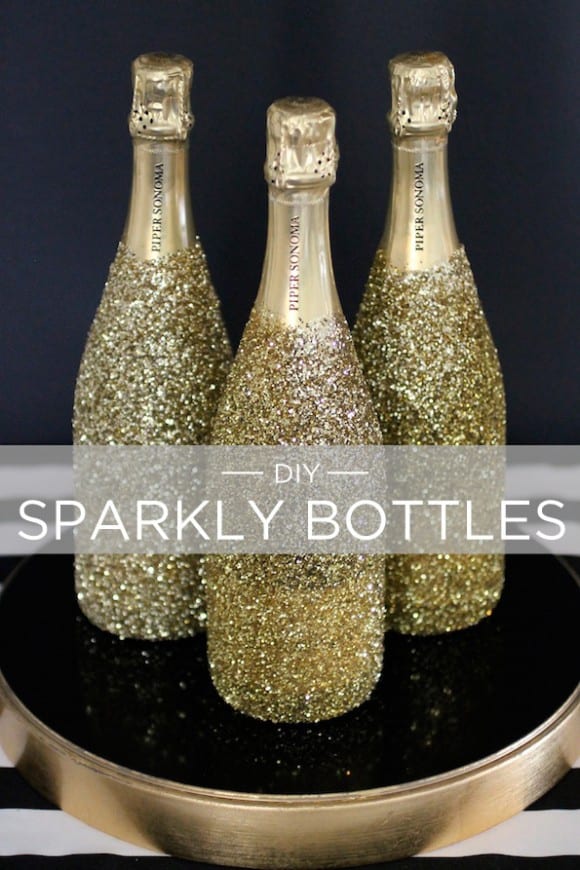 New Year's Eve is under three weeks away! Whether you're serving cocktails such as our Chambord sparkling Champagne cocktail or straight bubbly, everything looks more glamorous in a bottle as sparkling as the wine inside — and we make it easy with this quick DIY.
Materials:
Bottle of Champagne or sparkling wine
Super 77 adhesive spray
Craft glitter
Latex gloves
Drop cloth or old sheet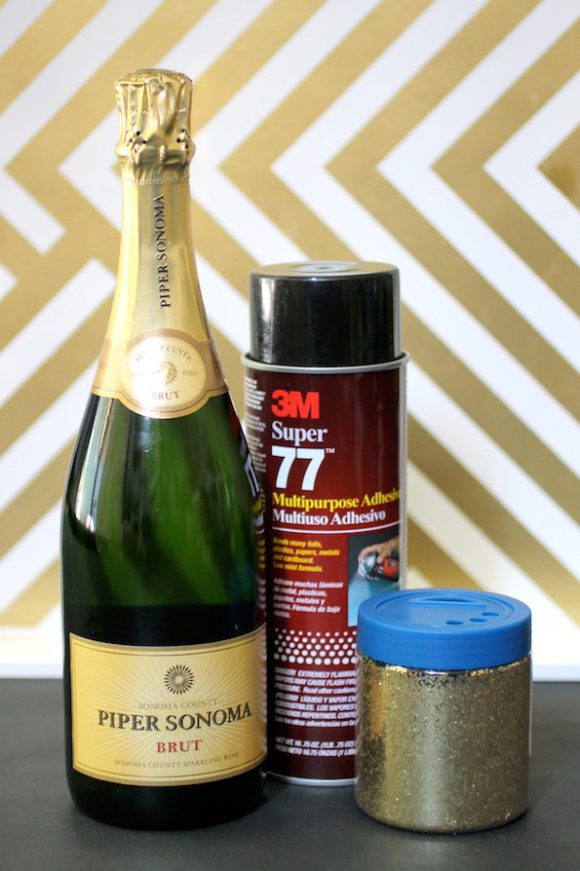 Wear gloves and only apply spray adhesive in a well-ventilated area. Put down a drop cloth or old sheet before spraying.

Step 1: Put on gloves. In a well-ventilated area over a drop cloth, spray the portion of the bottle facing you with adhesive (you'll do one section at a time to ensure the adhesive stays sticky). Be sure to leave the top third of the bottle clean so you can pop the Champagne!
Step 2: Sprinkle glitter over adhesive. Repeat spraying the adhesive and sprinkling the glitter all around the bottle until it's completely covered in glitter.
Step 3: Shake off excess glitter, then display! Feel free to put sparkly bottles on ice. Some glitter will come off when the ice melts, but that just makes the ice bucket that much more festive!
DIY Marble-Dipped Stemware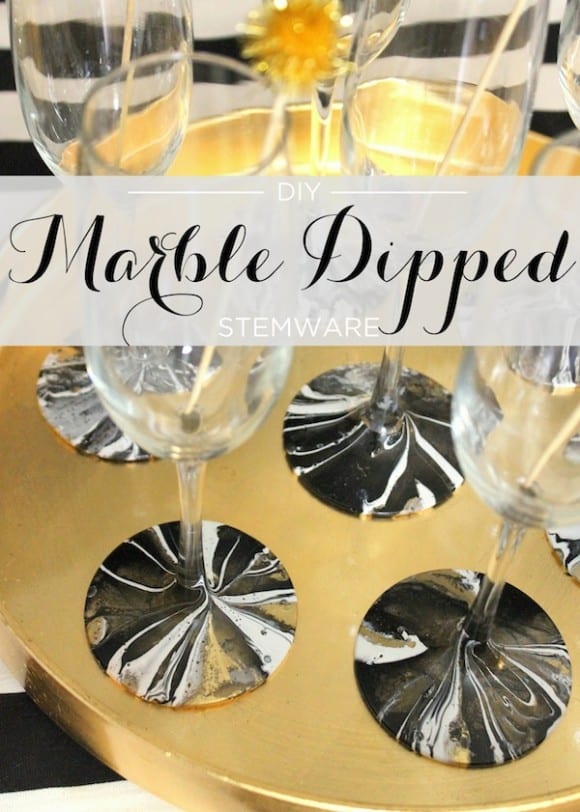 We've been loving the marbled nail polish trend so much that we decided to try it out on our stemware! This marble-dipping technique is super quick and fun, and the spray paint won't flake off (just remember to hand-wash these glasses once they're dipped). Parties offer a time to celebrate and dress up, so why not dress up your bar as well with this New Year's Eve DIY?
Materials:
Champagne flutes
Large plastic bin
Water
Spray paint in black, white, and gold
Latex gloves
Wood skewer
Drop cloth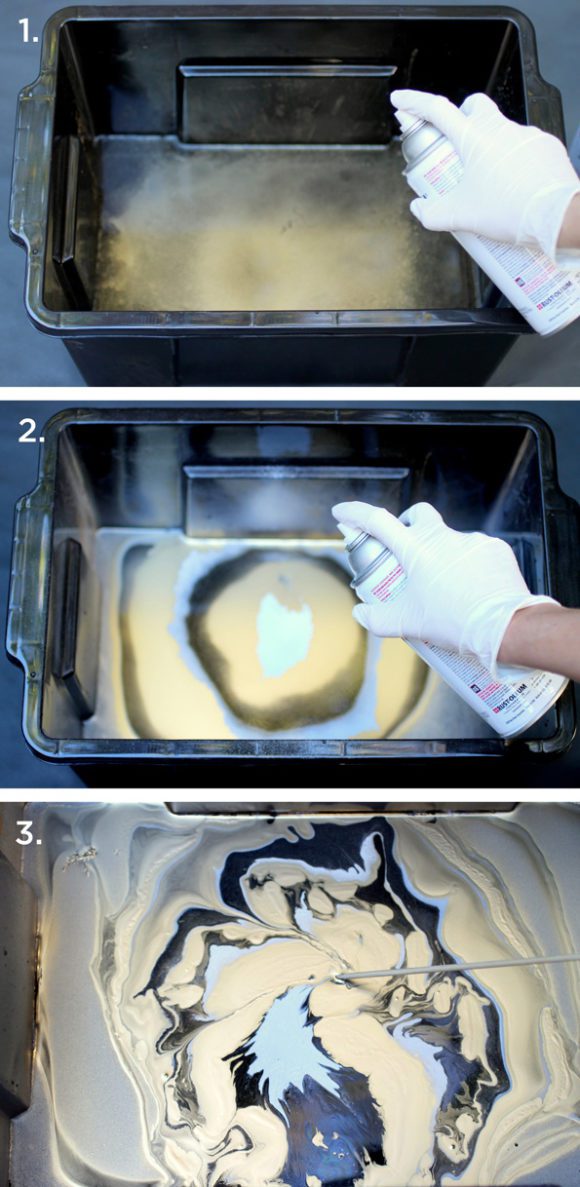 Step 1: Fill plastic bin with three to four inches of water, then start spraying the surface of the water with one of your paint colors.
Step 2: Spray circles in the center of each layer of paint, rotating colors.
Step 3: Use a wood skewer to swirl the paint and create your desired marbled design.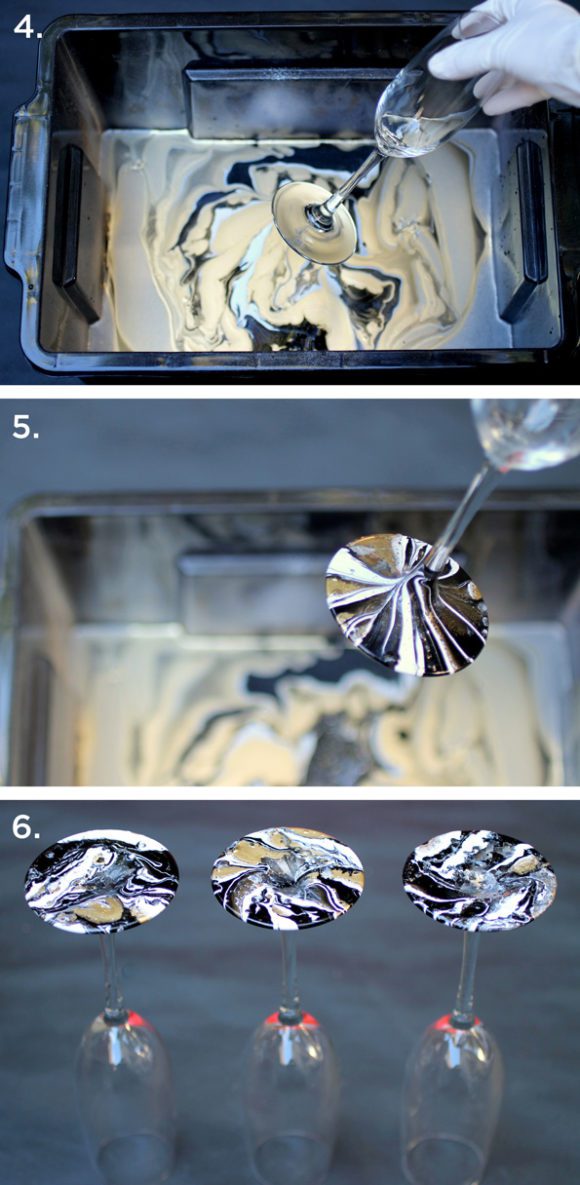 Step 4: Holding the top of a clean, dry champagne flute, dip the stem into your bin.
Step 5: Submerge the bottom of the glass (making sure not to hit the bottom of the bin), then pull it out quickly. Hold the glass over the bin for a minute to let any excess water drip off.
Step 6: Let stemware dry upside down overnight.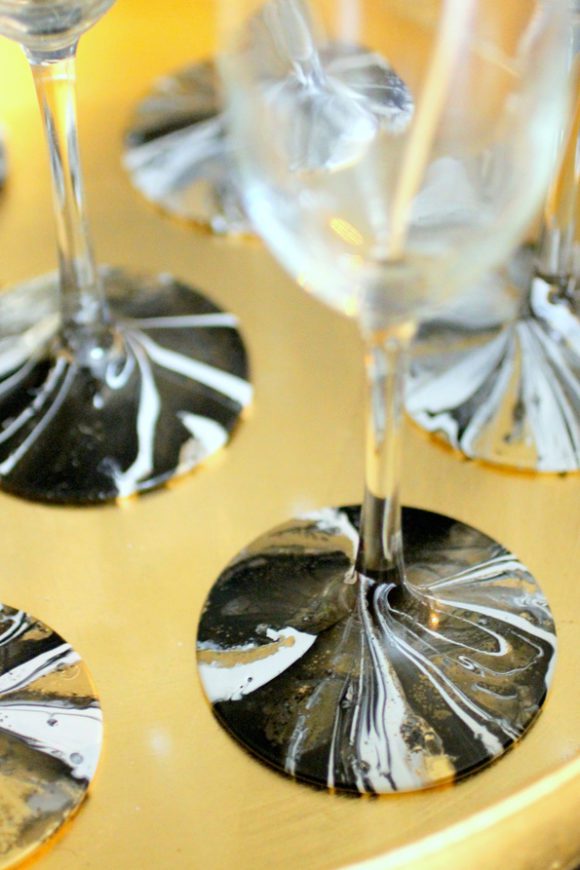 We, at Catch My Party, wish you a festive, fun New Year's, and a fantastic year ahead! And please add your New Year's Eve parties to our site. We'd love to see and show off what you do!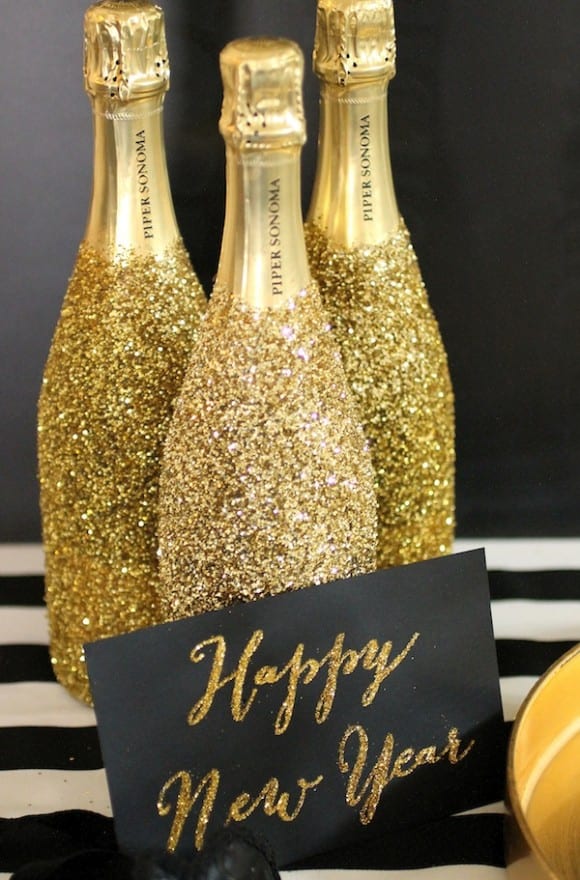 For more inspiration, check out these amazing New Year's Eve parties from our site and our New Year's Eve party ideas Pinterest board.