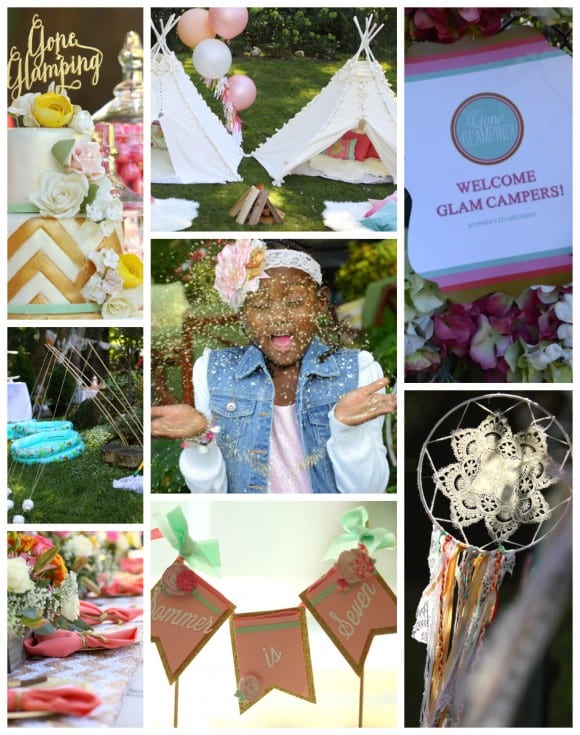 Here are 7 tips for throwing an amazing fabulous Gone Glamping Birthday! from Elizabeth G.
1. What was the inspiration for your party?
The inspiration for this party came from my daughter wanting to go camping but "not with all the bugs mommy"! She had recently received a teepee as a gift and pretty much lived in it and her camping desires grew stronger, yet somehow her ideas for decorating the teepee way fancier than any campsite I'd ever seen. From there, I knew she was a glamorous camping type of gal all the way! We decided to combine camping with all the girly, sparkly, glam elements she loves- minus the "roughing it."
2. How long did it take to put together?
We generally have a few ideas as soon as one birthday ends, but this year she had so many… It wasn't until she received the teepee that we nailed down the theme. Once I had that, I would say it took me the better part of 2-3 months to craft and finalizing everything. I hand cut each banner, glittered every mason jar, and looped every strand of yarn on the dream-catchers in addition to dozens of other party tasks. This party was surely a labor of love, but totally worth it!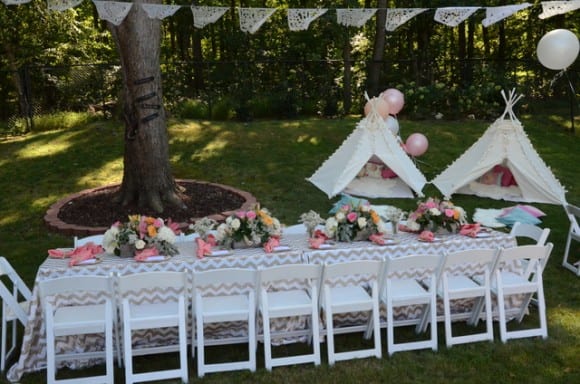 3. What food/drink did you serve?
The glampers had a fancy bbq menu that consisted of Fruit Skewers, Smoked Turkey, Chopped Brisket, Pulled/Grilled Chicken, Baked Beans, Green Beans, Mac & Cheese, and Potato Salad. For dessert, there was a custom S'mores bar in addition to the dessert table full of the birthday girls favorite sweet treats for the glampers to choose from! There was personalized homemade trail mix, powdered doughnuts in burlap pouches, strawberry glitter gumballs, peach salt water taffy, fruity candy sticks, vanilla and raspberry macaroons, cookies and cream cupcakes, custom monogrammed cookies, and of course CAKE- luscious caramel and lady-pink raspberry lemon to be exact!
4. What activities did you have?
The glampers had so much to do! There was face painting, tug of war, potato sack racing, a manicure station, custom bracelet and door knob hanger craft projects, dancing, karaoke, the great glamp scavenger hunt, and of course fishing! The birthday girls dad came up with a genius idea for the glampers to go fishing- because what camping adventure would be complete without fishing! I must admit, it was the hit of the party!
5. What was your budget?
I would say this party was a bit pricey due to the number of guests we had this year. Between the party details, food and extra rentals, I was able to keep it under $600 but that was with thrifting and hand crafting a lot of details myself. I can usually whip together a party for next to nothing, but we wanted to splurge a bit this year since it was the Big 7!
6. What was your favorite moment?
Hands down, my favorite moment was when I handed the birthday girl a mound of glitter and asked her to jump up and throw it everywhere! She looked at me in utter disbelief as we have been very careful to try NOT to get glitter everywhere while crafting. I assured her that there would be no consequence and to go wild with the glitter… OH WOW, did I get what I asked for or what! She had a ball showering herself in sparkle and we caught it all on camera… After that, she ran over to me and showered me with glitter while giving me the sweetest hug and kiss ever! The joy on her face was worth all the glitter in the world!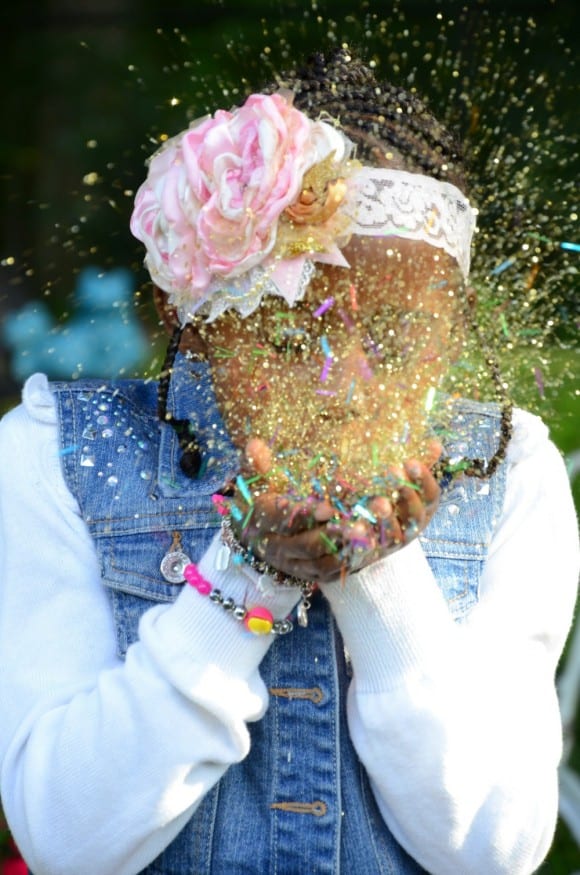 7. Do you have any advice for someone who wants to throw a similar party?
My advice to anyone who would want to throw a party similar is to make it your own! Personalize, personalize, personalize! Infuse your party with as much detail and personality possible. The memories are in the details! Just be sure to take a moment to step back and take it all in… Observe the smiles on your guests faces, share in it, and actually enjoy your own party!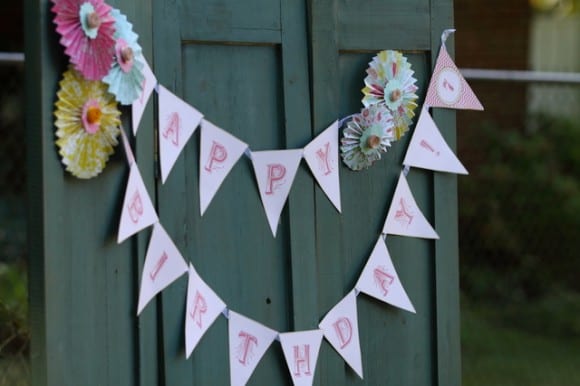 Don't forget to check out the rest of the awesome Glamping Birthday!