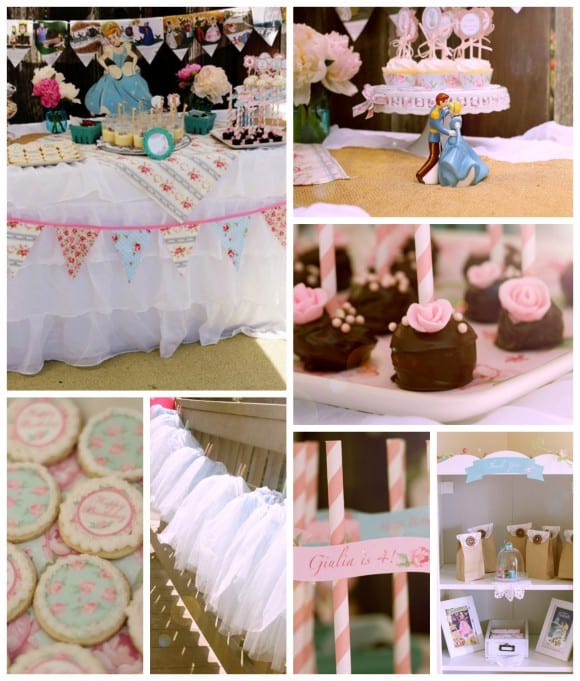 Here are 7 tips for throwing an amazing Shabby Chic Cinderella Birthday from Elena at World Wide Party.
1. What was the inspiration for your party?
My daughter is now in her "Cinderella" phase and of course she wanted an all-Princess party for her 4th birthday. A couple of months before her birthday, I found two beautiful vintage wooden wall decorations: one of Cindererella and the carriage, and one of the first original Little Golden Book of Disney's Cinderella (1952). It was really interesting to see how the drawing changed through the years and as a graphic designer- I fell in love with the first editions and used that for my inspiration.
From there I created all the decorations and the invitation with something like a shabby chic vintage style and Cinderella's silhouette with a rose.
2. How long did it take to put together?
I started to collect vintage decorations, fabrics and other details 5 months before the party. I have usually a big box where I put everything I think might be useful or nice for the party. The last month I put everything together and created the color palette and the graphic design.
3. What food/drink did you serve?
We are from Italy and we just moved to San Francisco last summer. I decided to prepare all of the party food and the dessert Italian specialties. Along with macaroons I had rose shaped cake-pops, mini cupcakes, and personalized "Pasta Frolla" cookies that I hand made. Cantucci (cookies with almonds that are made for enjoying with a great sweet liquor wine, the "Passito di Pantelleria") were served as well as a homemade Zabaione cream with fresh fruits.
For the lunch I prepared "Pasta Fredda" (pasta salad): vegetables presented on cupcake liners with tomatoes, shredded grana cheese, mozzarella di bufala and basil. I also made home-made polenta cubes grilled with cheese and mini meatballs with tomato sauce. The wooden tray featured Prosciutto Crudo, Bologna, Salame Calabrese and some cheeses like Gorgonzola, pecorino and Grana padano with olives and bruschetta. Needless to say – no one left hungry – we are Italian!
4. What activities did you have?
I prepared a table in a corner with all the accessorize for the little princesses and the little princes charming in order to get "ready for the ball." The girls could wear tiaras, jewelry, take a magic wand and wear a personalized tutu, while the boys had matching bowties and a sword. After a little dance party, a magic Princess came to our house to entertain the kids with some fun games and a tricks!
5. What was your budget?
I spent around $800 for food and decorations (I made everything by myself and am a good cook!) plus $190 for the Princess.
6. What was your favorite moment?
The "cake time" is always my favorite moment. We sing Happy Birthday in English and Italian…and looking at my daughter's eyes while blowing her candles, made my heart melt!
7. Do you have any advice for someone who wants to throw a similar party?
I would suggest reading some old Cinderella Books, I learned so much and got my inspirations from them. It is amazing how the drawings changed through the years and I spent a lot of time with my daughter reading all those different versions. I'm, in fact, a Cinderella historian now!
If you are inspired, please check out the whole Shabby Chic Cinderella Birthday! Thanks, Elena, for all your insights!