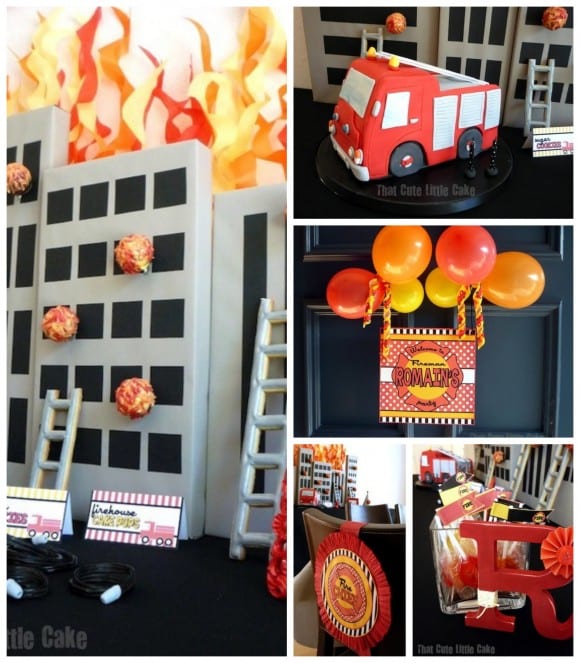 Here are 7 tips for throwing an amazing Fireman Birthday Party from Virginie at That Cute Little Cake.
1. What was the inspiration for your party?
My son loves Fireman Sam so I knew he would probably like a Fire engine cake ! It so happens that in one of my cake decorating books, there is a picture of a Fireman Sam's truck cake. He was so excited when he saw it that I knew it was THE cake !
2. How long did it take to put together?
Only 2 weeks ! But I had a very clear picture of what I wanted from the start. I am lucky to have party and craft shops close by, so I was able to get my supplies quickly.
3. What food/drink did you serve?
We had a small lunch of sandwiches, vegetables and crisps followed by treats from the dessert table: Ladder cookies, Fire cake pops and a Fire truck birthday cake.
4. What activities did you have?
Because our little guests were so young (2 years old) they mainly played outside.
5. What was your budget?
I spent very little for this party. Most of the decorations are made from tissue paper which is very inexpensive. I always try to bake treats myself to keep my budget under control.
6. What was your favorite moment?
When we got to cut the cake, my little boy was so excited!
7. Do you have any advice for someone who wants to throw a similar party?
If you are going to craft a lot, start early !!! It's easier to do it little by little than to have many late nights at the last minute…!
Now make sure to check out the whole Fireman Birthday Party! Thanks, Virginie!