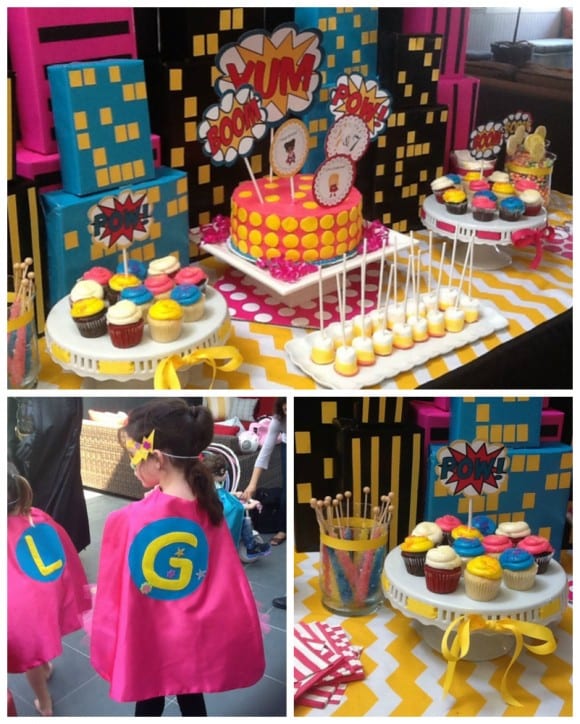 Have you ever thought about throwing a girl superhero party? Well Katie G from The Perfect Party did just that, and it was awesome. Read her 7 tips for throwing her Girls Gone Superheroes Party here!
1. What was the inspiration for your party?
The family that I threw the party for are huge superhero comic strip fans, so I decided to take what is a popular boy theme and do a vintage, girly version of it! It was a hit for the whole family! 🙂
2. How long did it take to put together?
It took about six week of planning and about two weeks to design all the backdrops, etc.
3. What food/drink did you serve?
Food: breakfast foods from Panera (bagels/cream cheese, souffles, fruit); Drinks: Coffee bar, Juice Bar, and Mimosas; Sweet Bar: cake & cupcakes from Susie Cakes and a large candy station that was also a take home item.
4. What activities did you have?
I hired a Batman/Batgirl Duo to come teach the kids how to be a superhero. They all were awarded badges at the end. Other activities, were a "decorate your cape and mask station" (each child got both to wear during the party and take home as their favors), photo backdrop station (I created a life size Gotham city backdrop for the kids to take pics in front of).
5. What was your budget?
My budget was about $3,000 for everything.
6. What was your favorite moment?
Right before the guests arrived, seeing the girls' faces as they walked around looking at everything. Also, seeing how much fun all the kids had from beginning to end!
7. Do you have any advice for someone who wants to throw a similar party?
There is so much superhero stuff out there, so it's a fun theme to get really creative with! Just keep your eyes peeled  for cute things that you can add to your decor, etc
Thanks, Katie! Love the message of girls being superheroes in their own right!
Check out the whole Girls Gone Superheroes Party here.