75 Fun and Colorful Mexican-Themed Party Ideas
If you are throwing a Mexican fiesta don't miss all the 75 fabulous Mexican-themed party ideas we've rounded up for you.
There are so many popular themes to choose from when planning a Mexican party, such as a summer fiesta to a Day of the Dead party, or even a Frida Kahlo one! In all honesty as long as you serve delicious food and cocktails, and lots of vibrant colors your really can't go wrong!
We've rounded up so many amazing ideas that your party is guaranteed to be the talk of the town!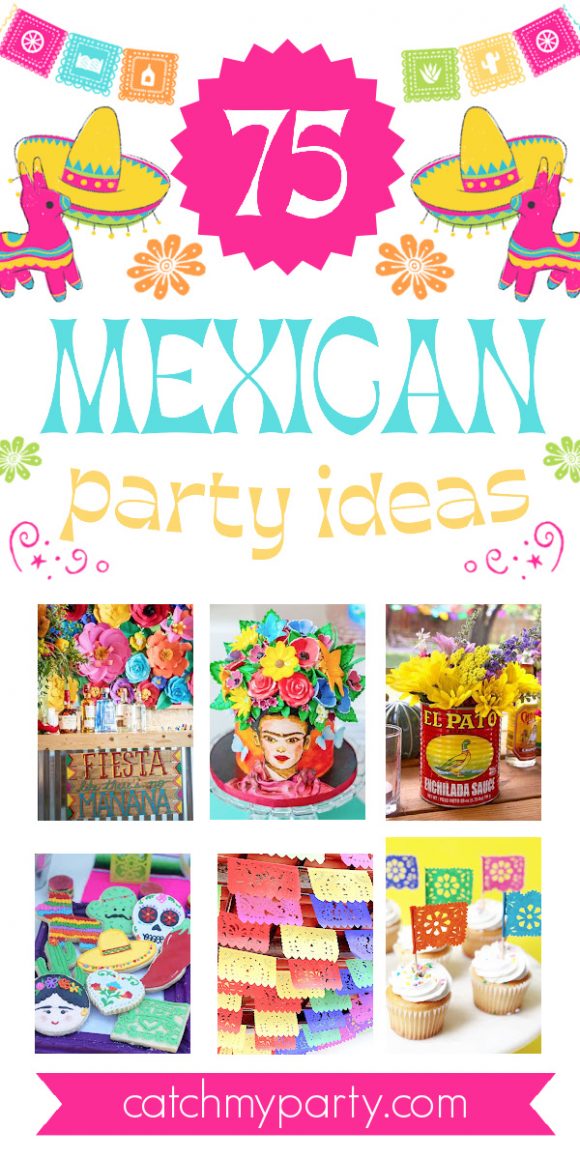 We've included so many Mexican party ideas, such as ideas for fiesta party decorations, party food, free printables, and so much more!
Check out these amazing Mexican party ideas below…
75 Fun and Colorful Mexican-Themed Party Ideas
There's no better way to get everyone in the mood to party than with a colorful party invitation oozing a Mexican fiesta!
The black background makes all the vibrant colors pop and is a great way to kick off the party celebrations.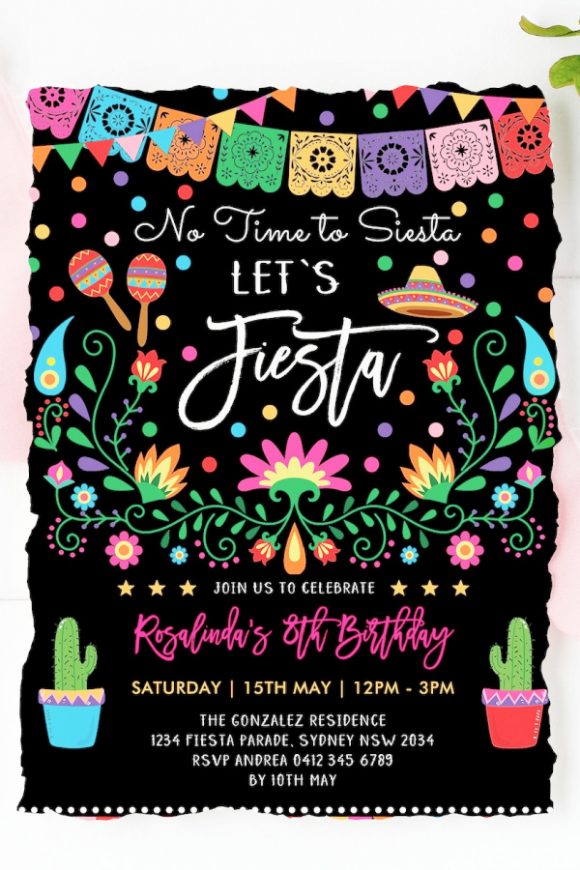 If you are throwing a Cinco de Mayo fiesta then this party invitation is just what you need!
Your guests are going to be so excited and counting down till the big day.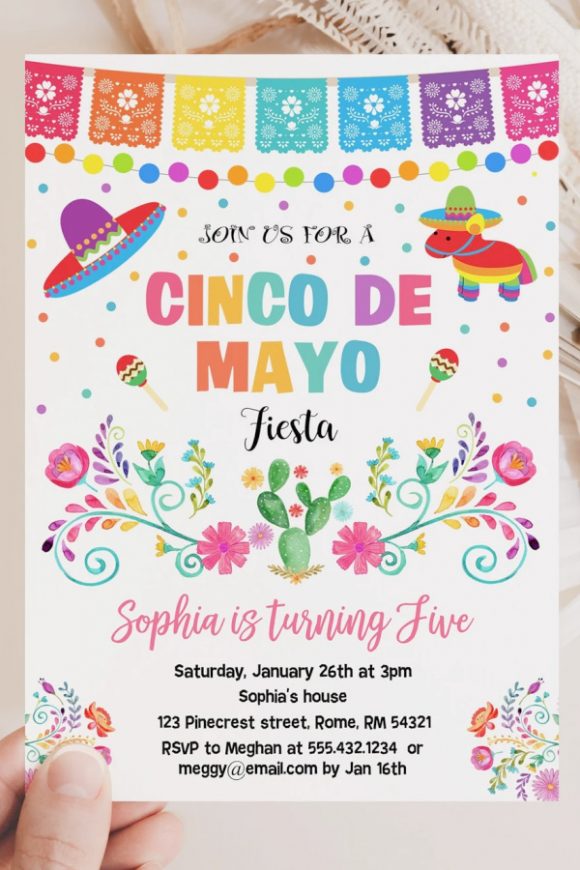 If you are thinking of throwing a Dia de Los Muertos party instead of a regular Halloween one this year then you really don't want to miss this fun party invitation.
The design has everything you need, from colorful bones to a traditional skull, and a vibrant papel picado banner.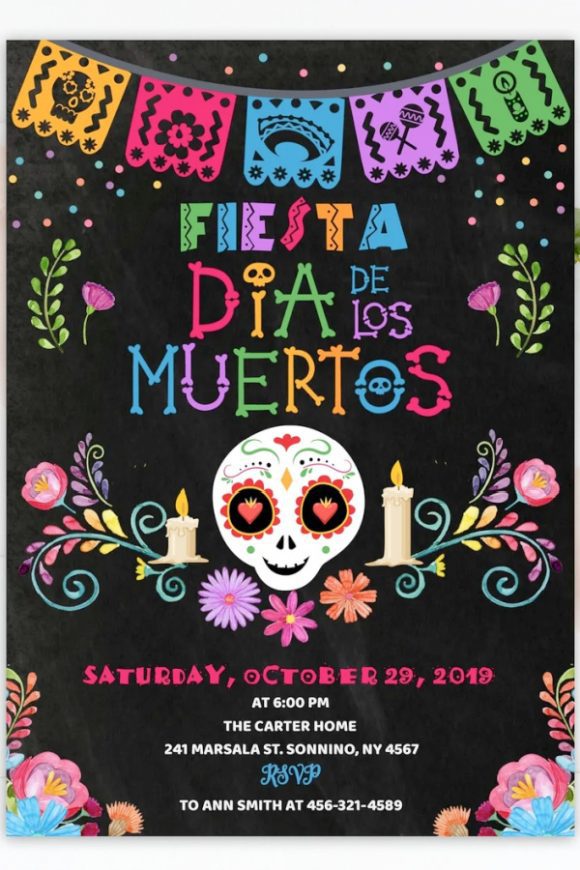 If you love tacos and margaritas and are stuck on a birthday theme, how about throwing a Mexican fiesta?
This digital party invitation is a quick and easy way to spread the word and invite your family and friends to an unforgettable bash!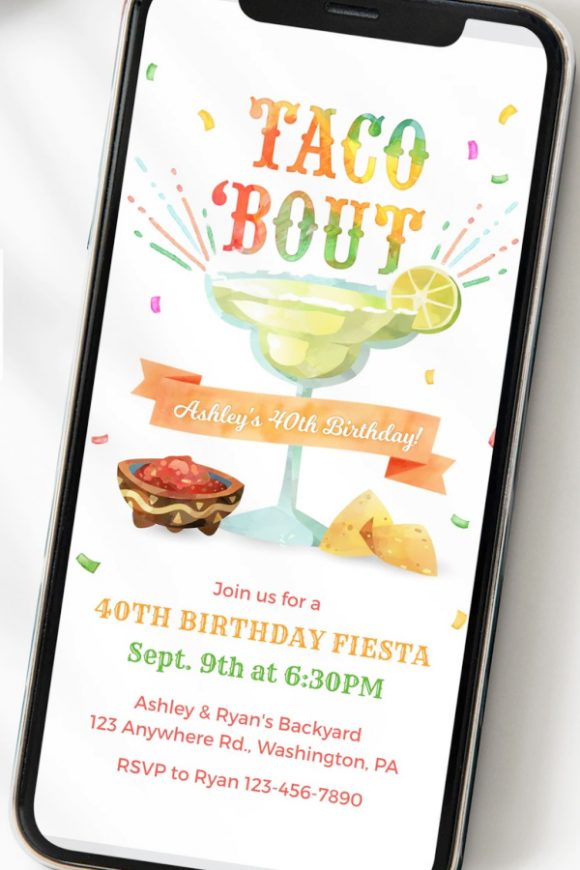 The perfect way to decorate a Mexican party is undoubtedly with loads of bright, bold colors.
Use as many as you can and you really can't go wrong. Frame your dessert table with a multicolored balloon garland and you'll instantly have a Mexican fiesta!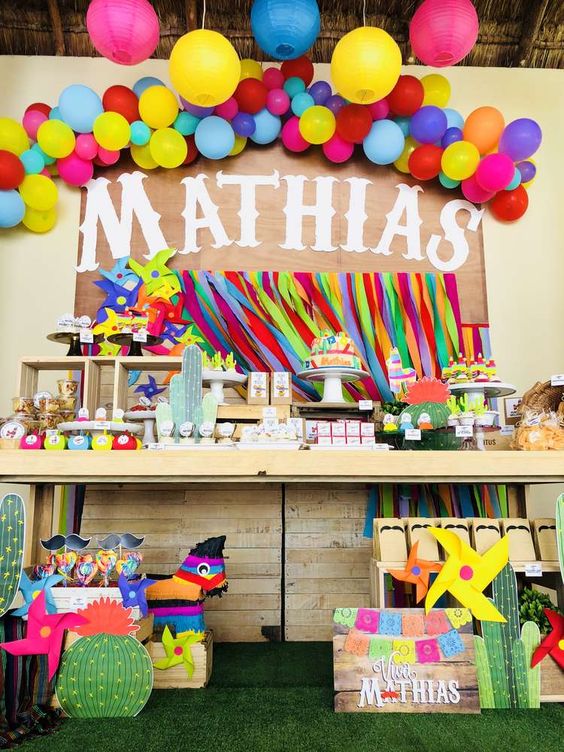 Celebrate Cinco de Mayo with a glorious party that will go down in history!
Spice up your dessert table with a colorful fringe backdrop that matches your cake, and feast on a taco platter.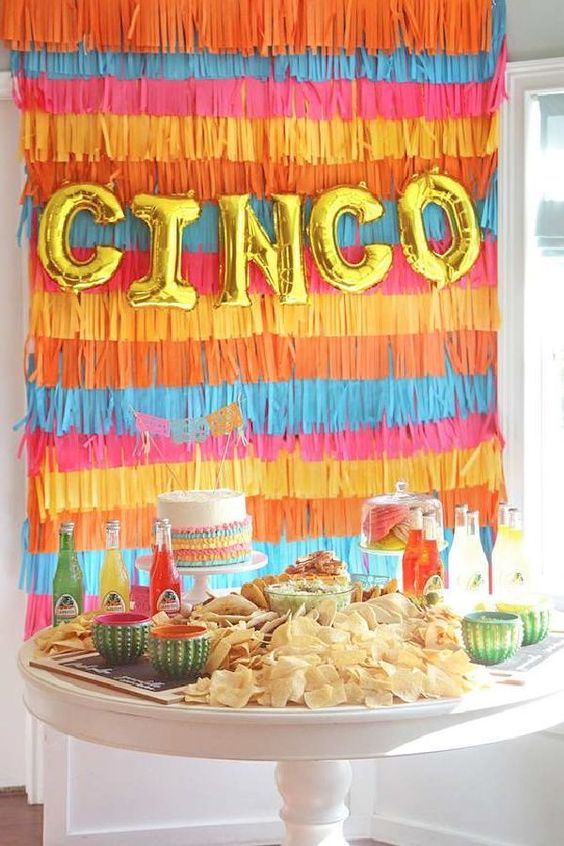 The Cactus is an important historical and cultural symbol throughout Mexico, and are a staple in Mexican cuisine, which is why it's also a fiesta fun party theme!
Let the cactus take center stage at your party and decorate with as many cactus-themed party decorations as you can find, such as pinatas, centerpieces, and balloons.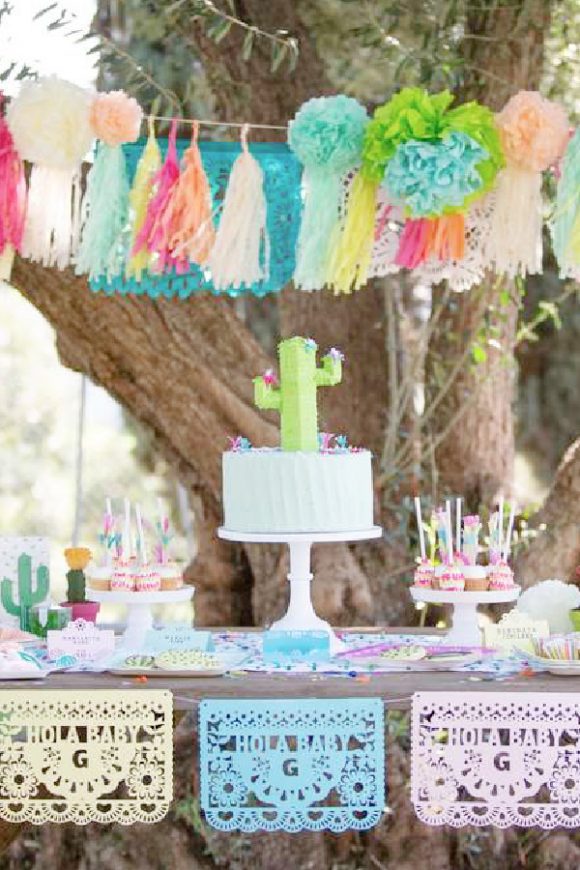 There are so many types of parties you can go with when throwing a Mexican fiesta.
Disney's Coco is one of my all-time favorite movies. Its beautiful story demonstrates just how important our families are, and how remembering them keeps them alive even after they've passed.
The movie celebrates everything about the culture behind Dia de Los Muertos and Mexican heritage, so, if you love the movie as much as I do you'll jump at the idea of throwing a Coco-themed fiesta full of music and life!
A cool idea is to incorporate an altar into your dessert table, with offerings and photos of the Coco characters that have passed.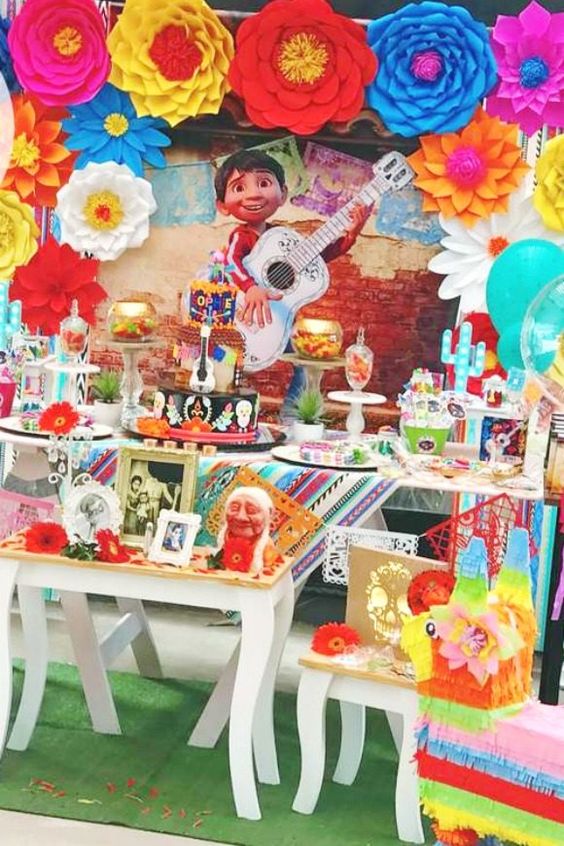 Dia de Los Muertos is a traditional holiday celebrated all over Latin America, where everyone honors the life and death of their loved ones, with offerings at an altar.
It's a wonderful holiday to celebrate as an alternative to Halloween where you can go all out and soak up a bunch of Mexican traditions, party food, and cocktails!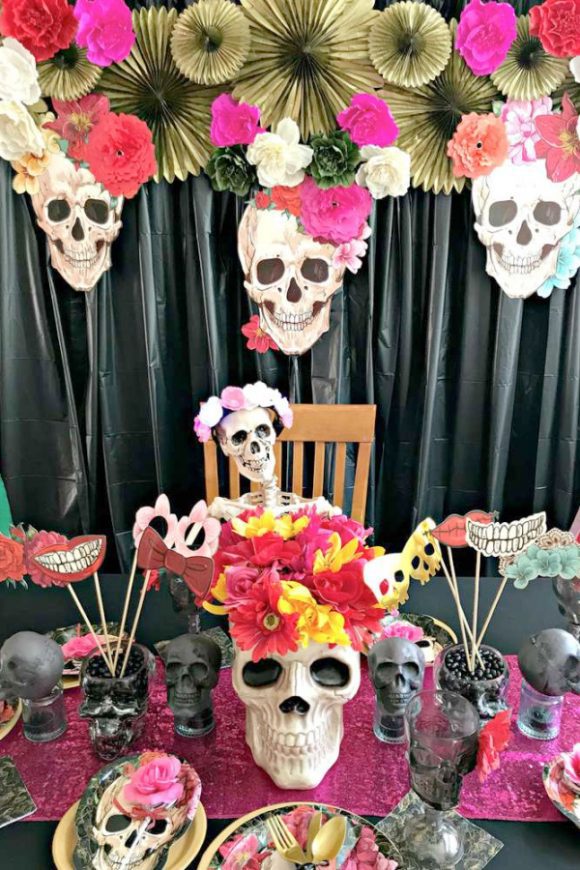 Mexican parties are all about bright colors so make sure your Mexican-themed cake is as bright as they come.
A ruffle cake is a great choice, especially if it matches your dessert table backdrop. Finish it off with a fun papel picado cake topper and you're good to go!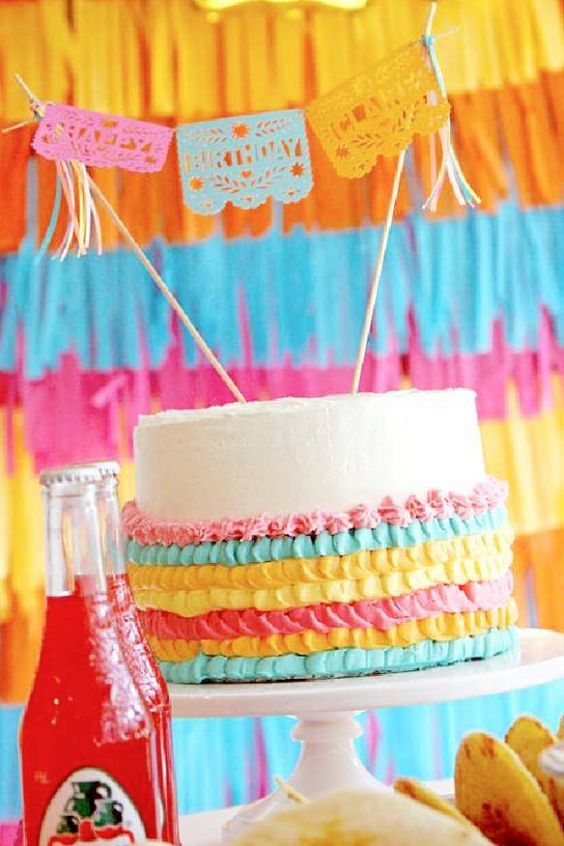 Everyone is going to love singing 'happy birthday' to you around this magnificent Mexican-themed birthday cake.
Nothing says mexican more than a colorful pinata, which is why this mini donkey pinata is the perfect cake topper to finish off your cake.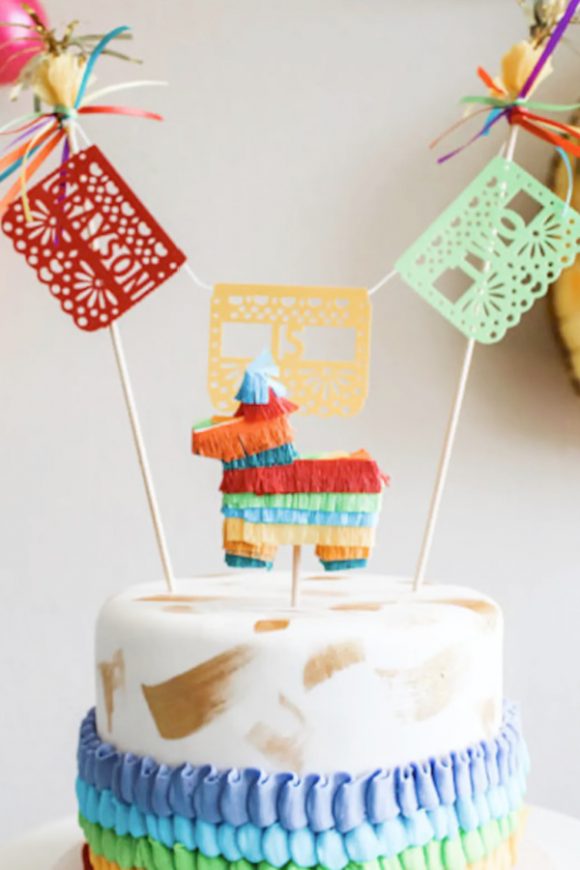 There is so much beautiful and delicate embroidery throughout Mexico that it makes total sense to imitate it when decorating the birthday cake at your Mexican fiesta!
Top it with gorgeous fresh flowers and maybe even a cactus! Your guests are going to be totally blown away.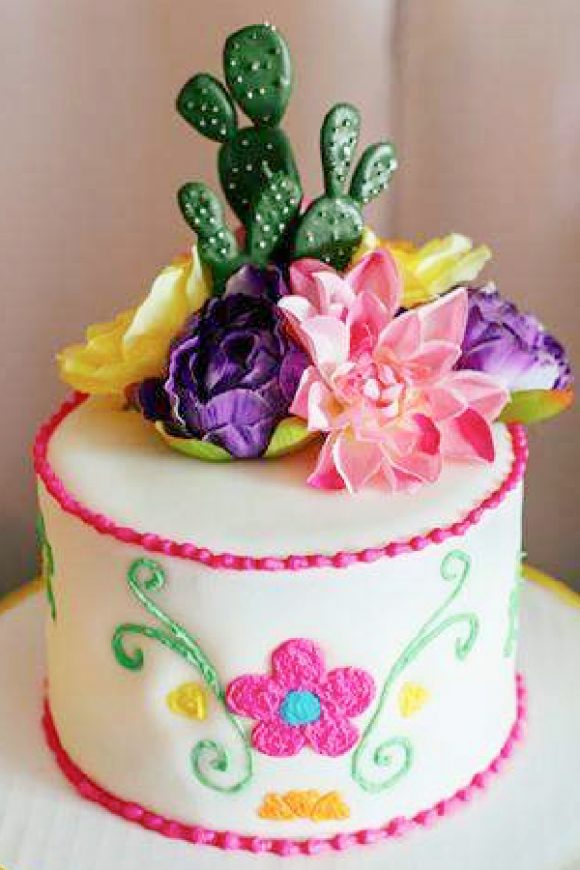 The Mexican artist Frida Kahlo is famous for her fabulous artwork and also her floral headbands.
Create a showstopping Frida Kahlo-themed birthday cake and top it with an amazing display of colorful and vibrant fondant flowers. Don't forget to also include a butterfly or two in the mix.
Believe me, your guests are going to be so impressed.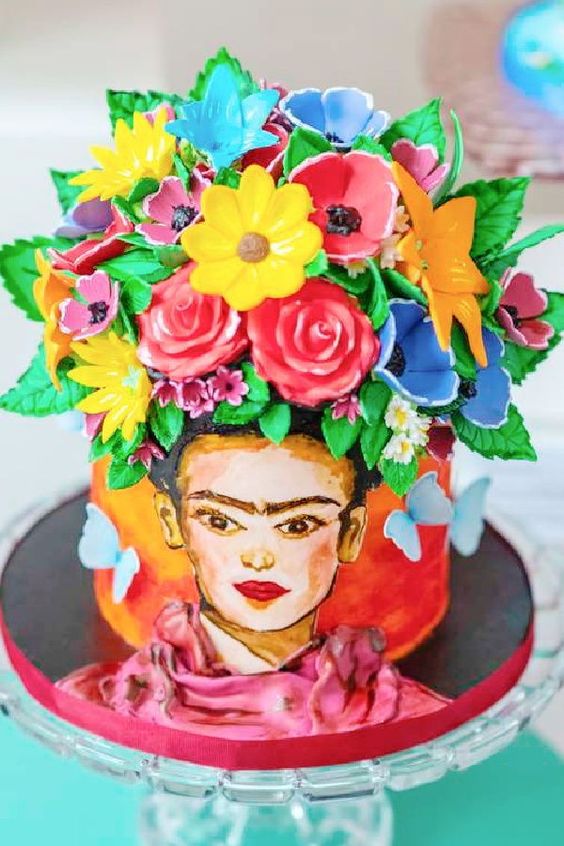 Sugar-coated cookies and parties go hand in hand, so treat your guests to a fun mix of Mexican-inspired cookies like these.
Included in the batch is a sombrero, cactus, chili pepper, pinata, and more.
You bet everyone is going to be scrambling for one!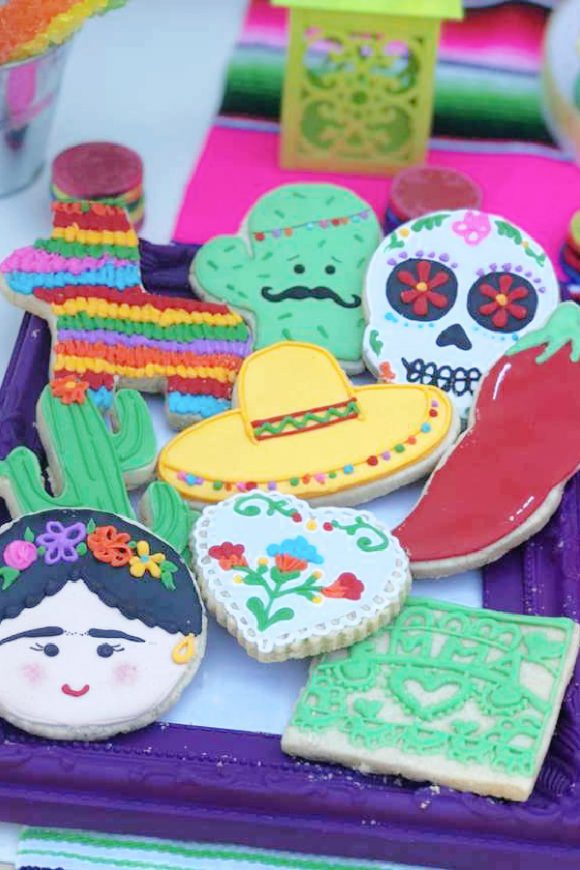 Mexican sombreros are a traditional party of Mexican culture which is why these awesome cookies are perfect for your fiesta!
You can imagine just how cool they'll look on a plate on your dessert table, right?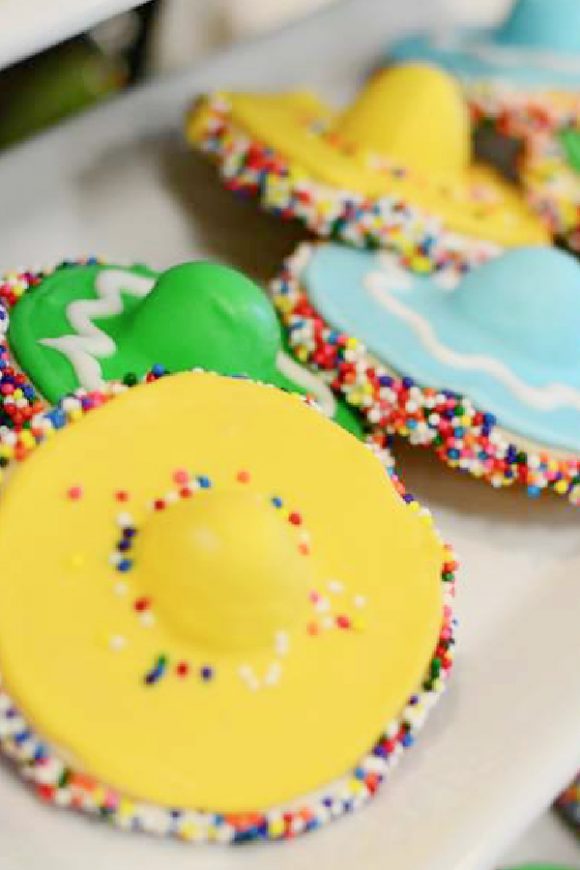 If you're having a Mexican-themed party you might want to consider serving a traditional Mexican sweet treat.
Pan dulce is a delicious brioche-like sweet bread with a colorful crispy streusel topping, scored to resemble a seashell.
They are typically eaten for breakfast and accompanied with hot chocolate, but anytime is a great time for something sweet!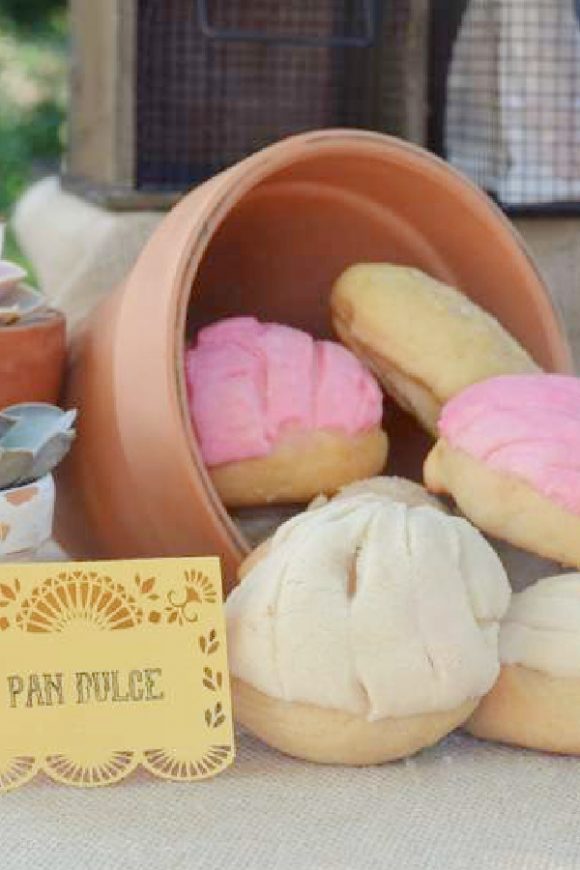 Don't miss these gorgeous cake pops topped with pretty colorful flowers.
They look similar to the flowers Frida Kahlo would wear in her headbands and the flower traditionally found in Mexican embroidery.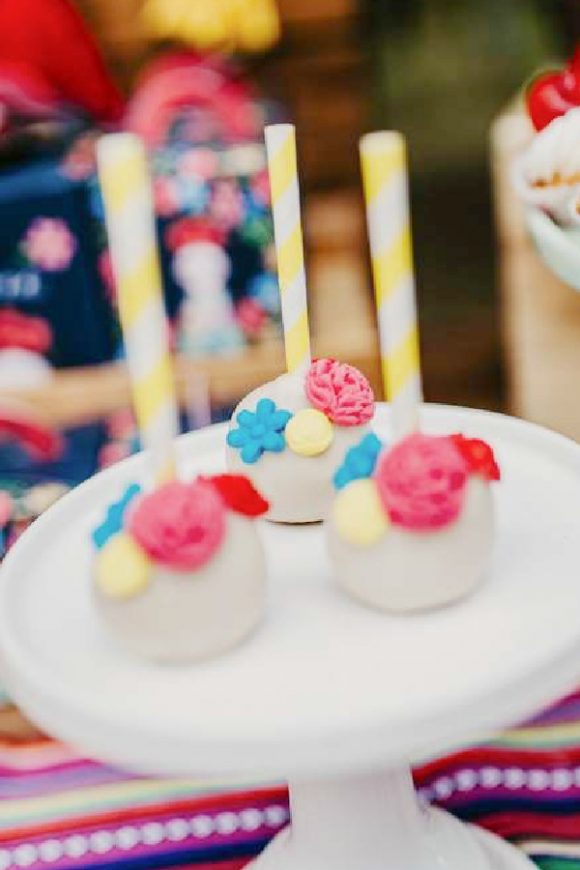 I have a quick and easy recipe for cookies for a Mexican fiesta that your guests are gonna find incredibly yummy!
These lime margarita cookies have the tang of lime juice and the kick of tequila. What's not to love, right?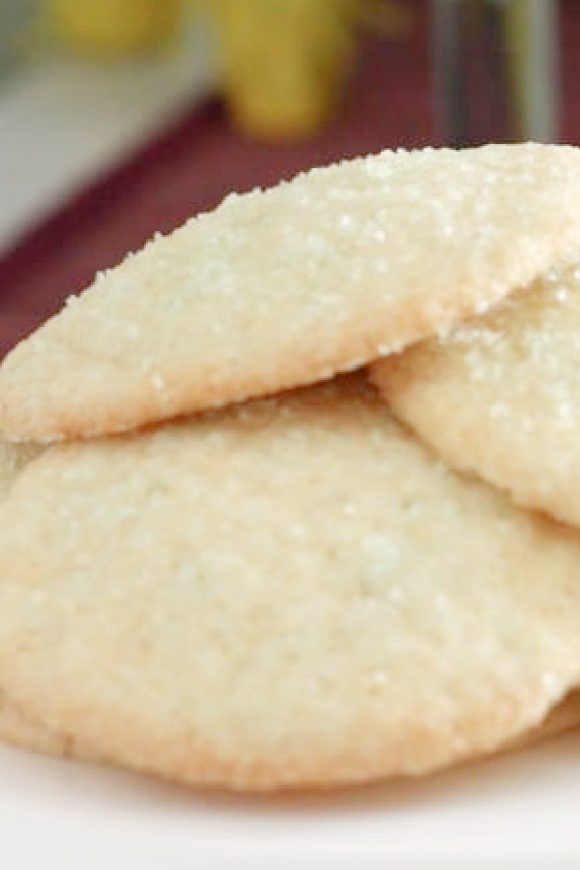 These day of the dead skull toppers decorating these cupcakes are so much fun and just what you need for your fiesta.
Even if you aren't celebrating Dia do Los Muertos you can still serve them at your party as they are totally on theme.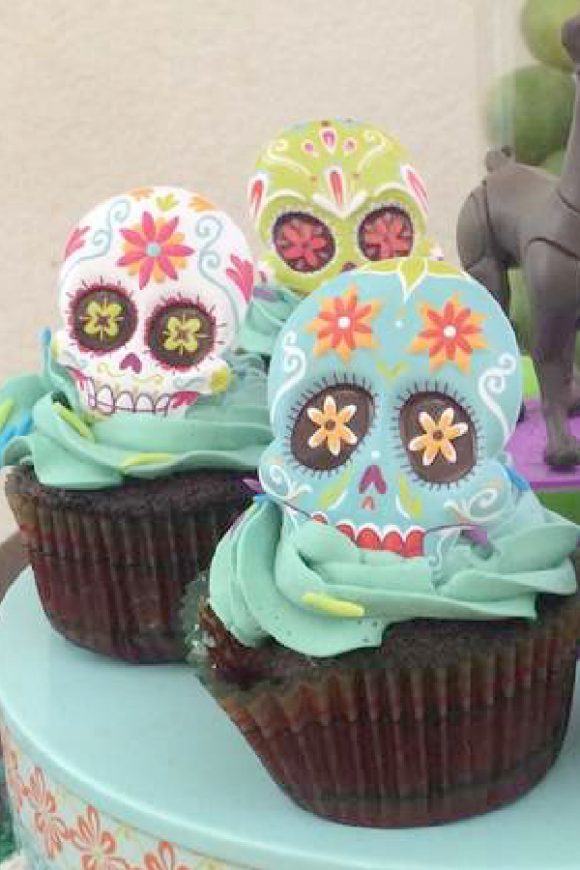 Surprise your guests with these cute cactus cupcakes.
Frosted to perfection to look like a cactus, these cupcakes most definitely impress!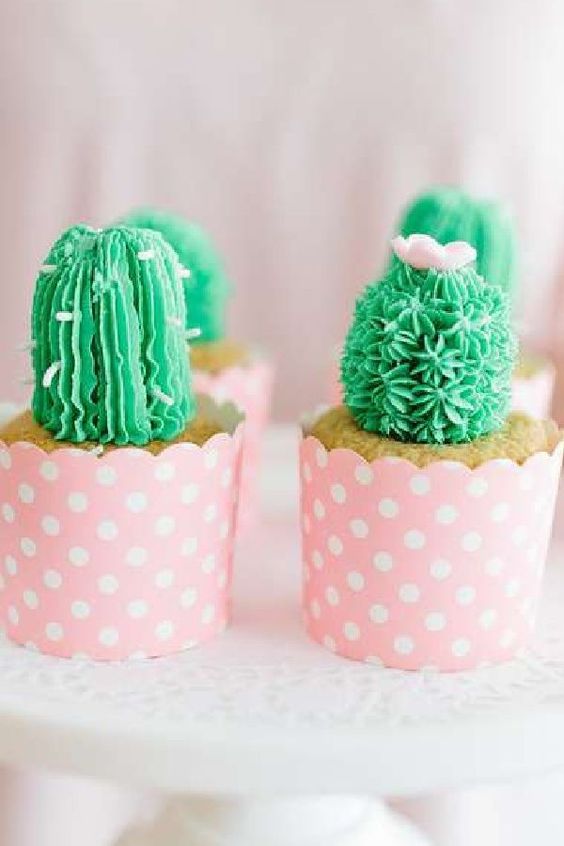 If you can't resist a delicious margarita then these quick and easy cupcakes are just what you need at your Mexican party.
Decorate your simple frosted cupcakes with some colorful sprinkles and a wedge of lime and you're done!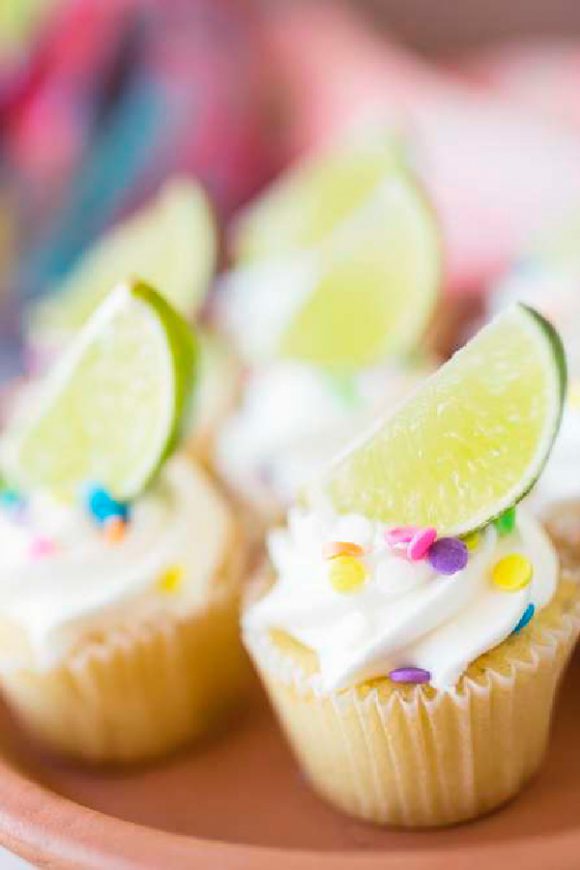 Another super quick fix to transform your regular store-bought cupcakes into Mexican ones is again decorating with colorful sprinkles and then topping them with delicate Papel Picado toppers.
They'll look incredible on a plate.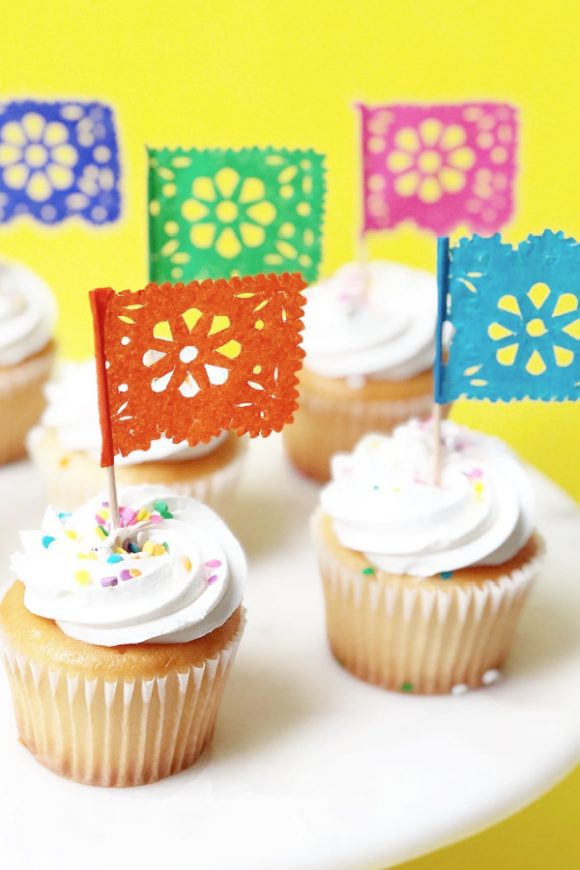 If you love fried dough then you're gonna churros! A popular Mexican dessert covered in sweet cinnamon sugar! They are deliciously crunchy on the outside and soft and fluffy on the inside!
Serve them in individual cups with dipping sauce, such as chocolate or caramel.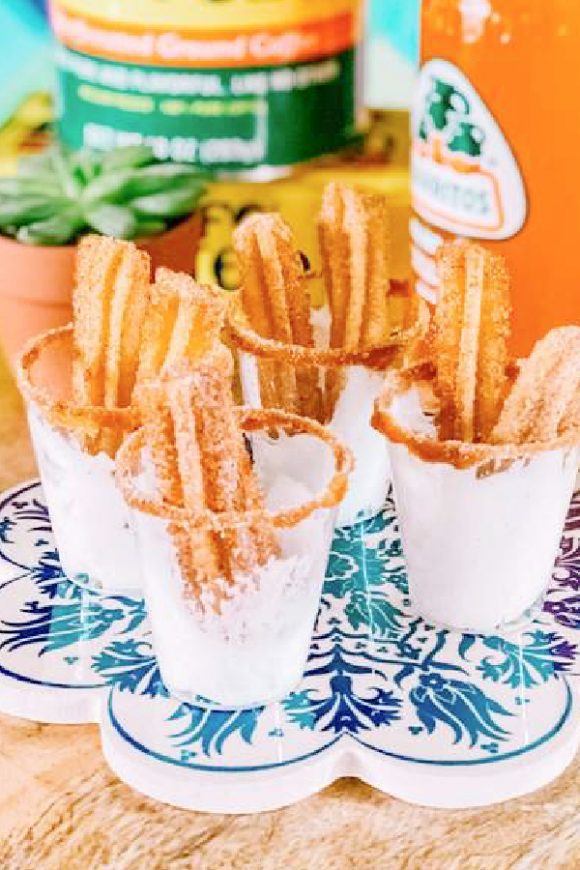 If you are celebrating a Bridal Shower or Mexican-themed wedding, how about serving some gorgeous heart-shaped churros?
They look absolutely adorable!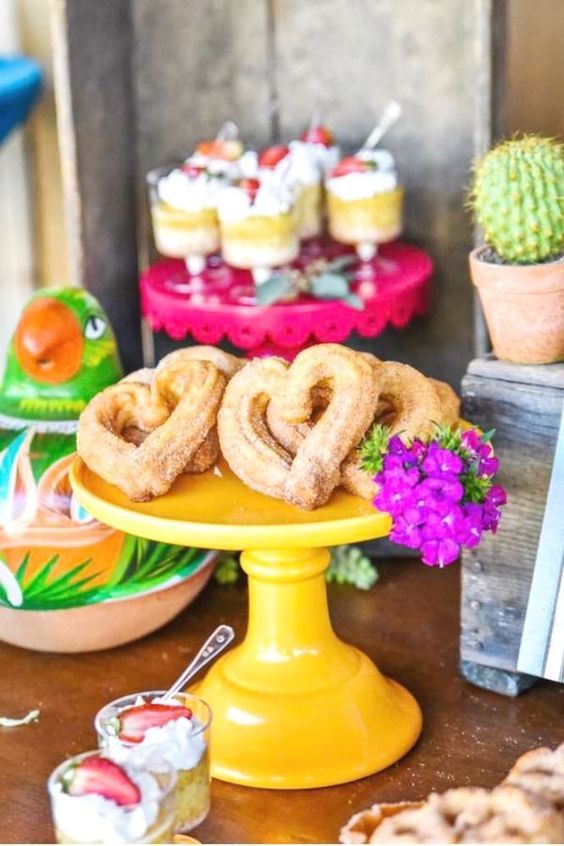 Transform regular donuts into cactus-themed ones for your party.
Dip them in green icing and add with either sprinkles or drops of white frosting.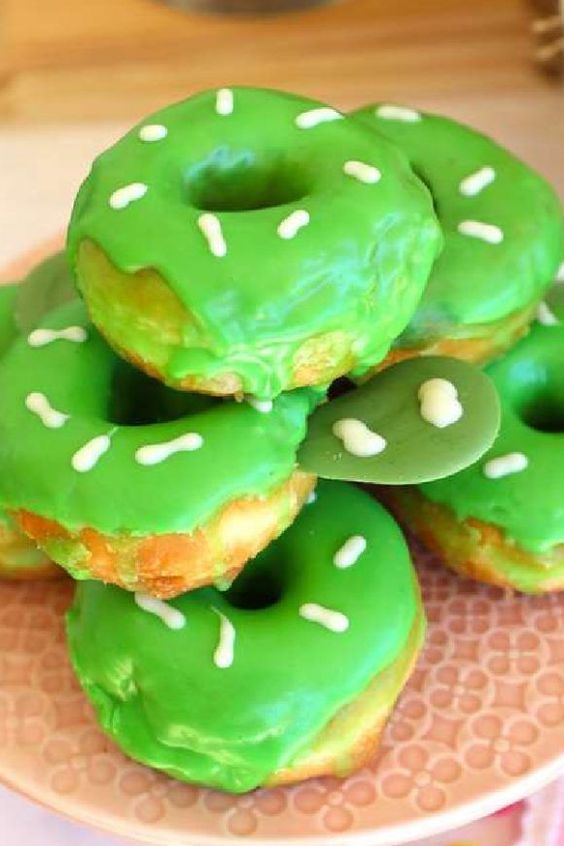 Treat your guests to some cups of refreshing fresh fruit.
You can add whichever fruit you have at hand, such as pineapple, mango, and cantaloupe. Don't forget to add a wedge of lime to squeeze over the fruit.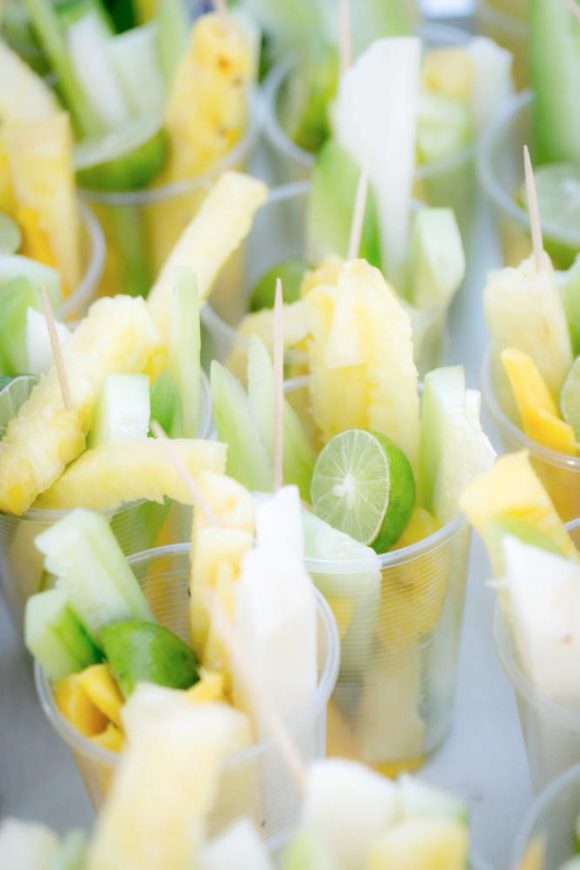 You can't have a Mexican party without guacamole and chips. It's one of the easiest recipes ever that is a sure crowd pleaser!
Grab your largest platter and place a bowl full of guacamole in the center surrounded by loads of chips for your guests to dip into.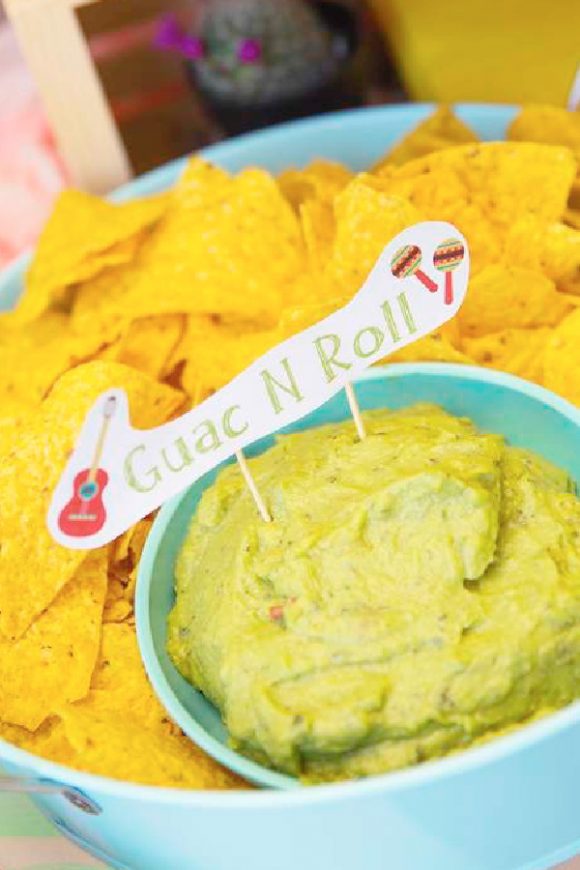 If you are looking for an innovative way to serve salsa you'll love this next idea!
Place salsa in individual cocktail glasses and hand them out to your guests.
They are going to love to mix and mingle at your party while digging into their own glass of salsa.
Don't forget to add some chili peppers for some extra heat!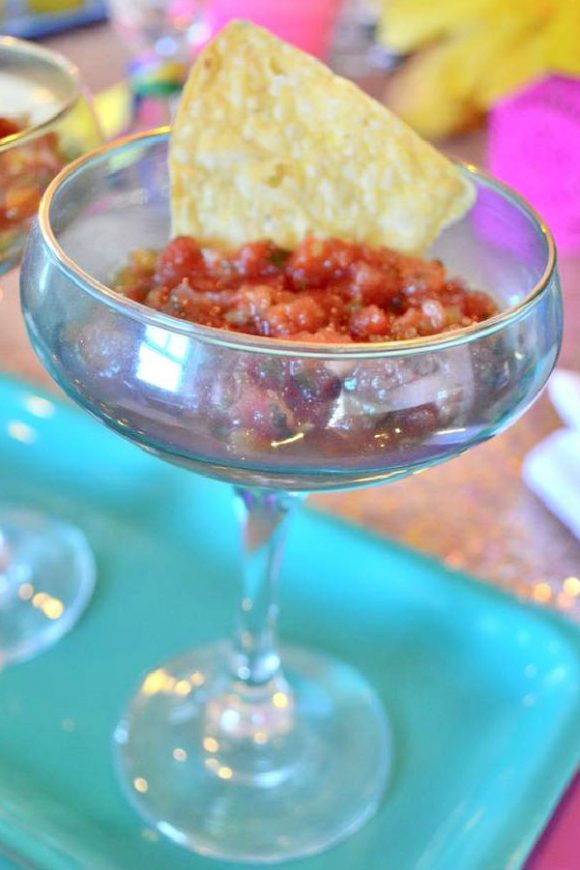 Mexican food is absolutely delicious and is a big part of the fun of throwing a Mexican-themed party.
Treat your guests to mouth-watering Mexican delights such as ceviche, tacos, burritos, and Mexican rice. 
Another cool idea is to create a taco bar with a bunch of essentials like sour cream, guacamole, salsa, cheese, etc…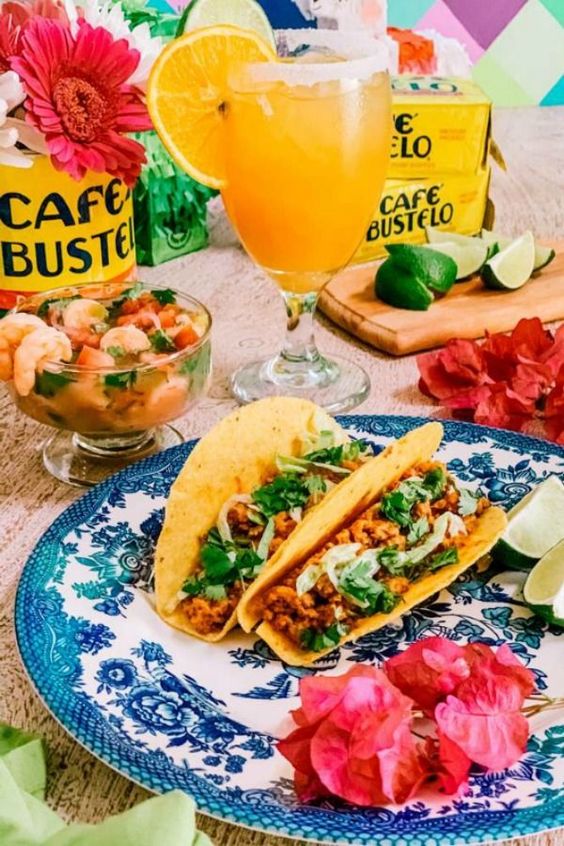 Along with your tacos and burritos, another great party food to add to your menu are some healthy salads.
This black bean and sweet corn salad is a great side dish that your guests will be dying to dive into.
If you love dips, then you are going to love this ultimate Mexican dip with 7 layers of flavor!
Included are refried beans, guacamole, sour cream, cheese, tomatoes green onions, and black olives. What more could you wish for?
Don't forget to serve loads of chips too!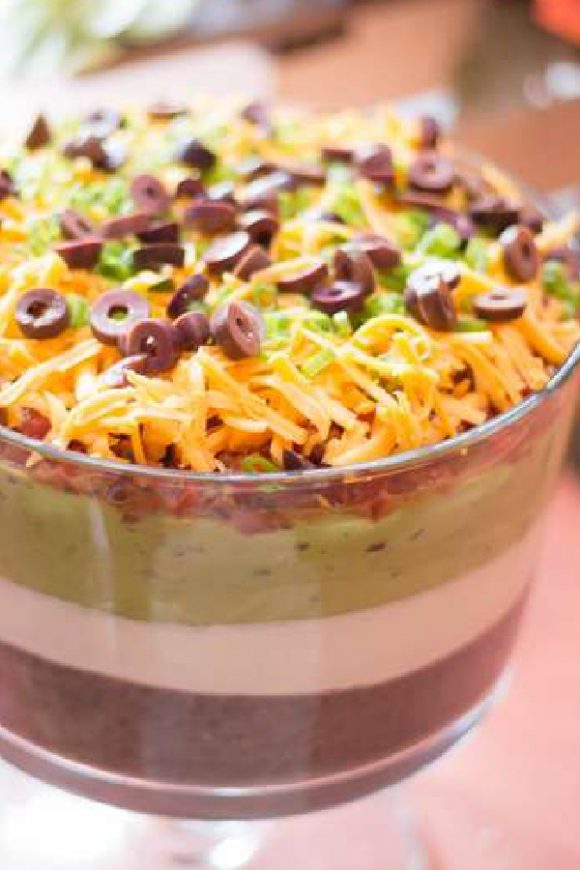 These papel picado food cards are spot on and just what you need at your party to identify your selection of party food.
They will definitely contribute to your Mexican vibe and are a stunning party decoration.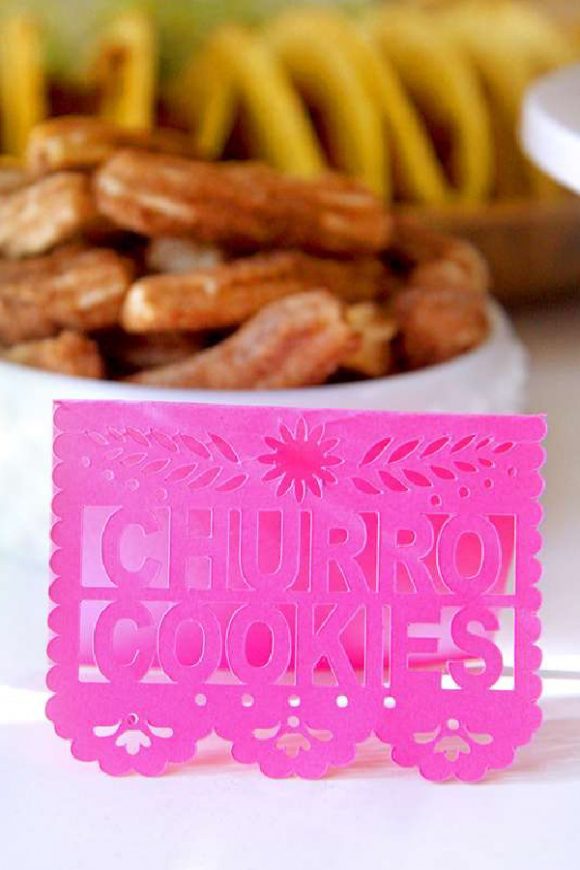 Many would argue that the best part of a Mexican fiesta are the drinks, so how about setting up a bar at your Mexican party with cocktails and shots.
Go all out and decorate your bar with large, colorful paper flowers and play mexican music so your guests will feel like they are in Mexico.
The rainbow if fiesta colors will bring your guests so much joy!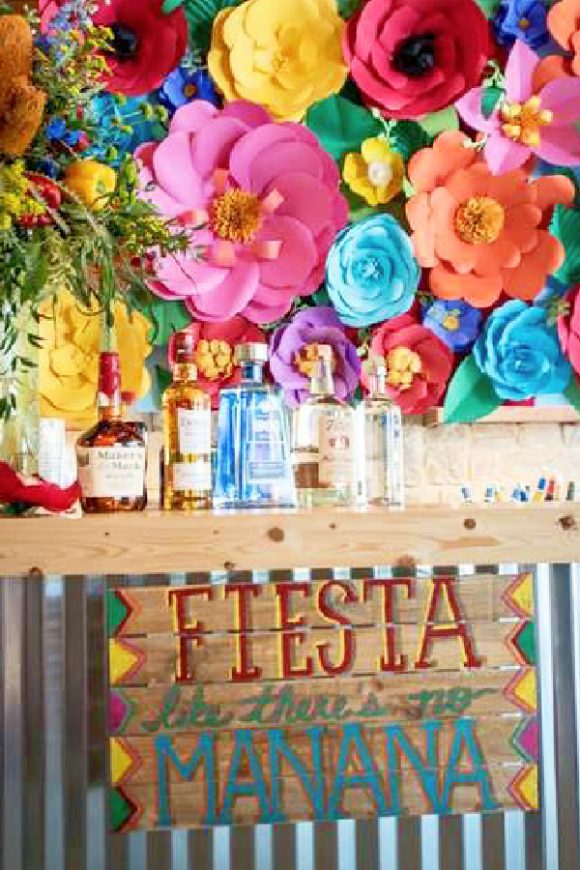 There are so many fun ideas when it comes to serving drinks, be it adding vibrant colored paper straws or even rimmed colored sugar to your margaritas.
Another excellent idea that is sure to impress your guests is to serve margaritas in mason jars and tie them with some colorful yarn and a pretty bow.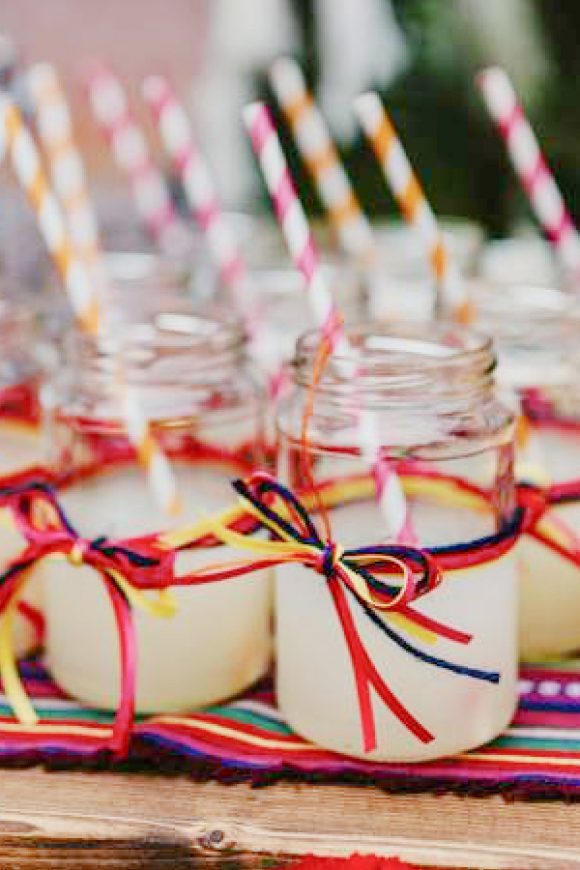 There is nothing better than a delicious margarita during the hot summer months.
Add a twist to the classic cocktail by serving different flavored ones at your party.
Set up a margarita bar with a bunch of different flavors, such as strawberry, mango, peach, passion fruit, or even watermelon!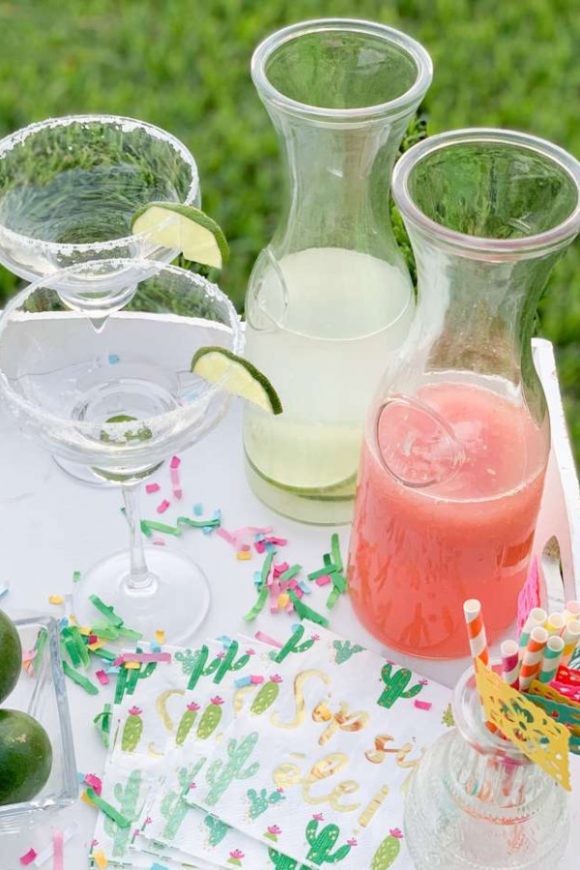 Surprise your guests with a wonderfully flavored popsicle in their margarita!
It's such a cool way to serve this popular drink and a fun way to make it a little more exciting.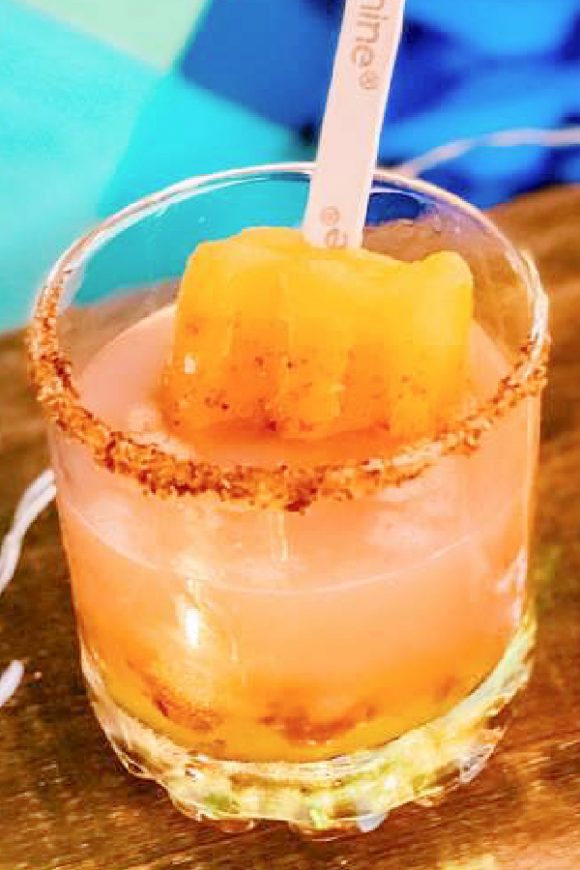 Looking for a twist to a regular margarita? Then check out these mouth-watering skinny margarita lime jello shots and serve them at your fiesta!
Each shot looks like a lime slice but are much more delicious.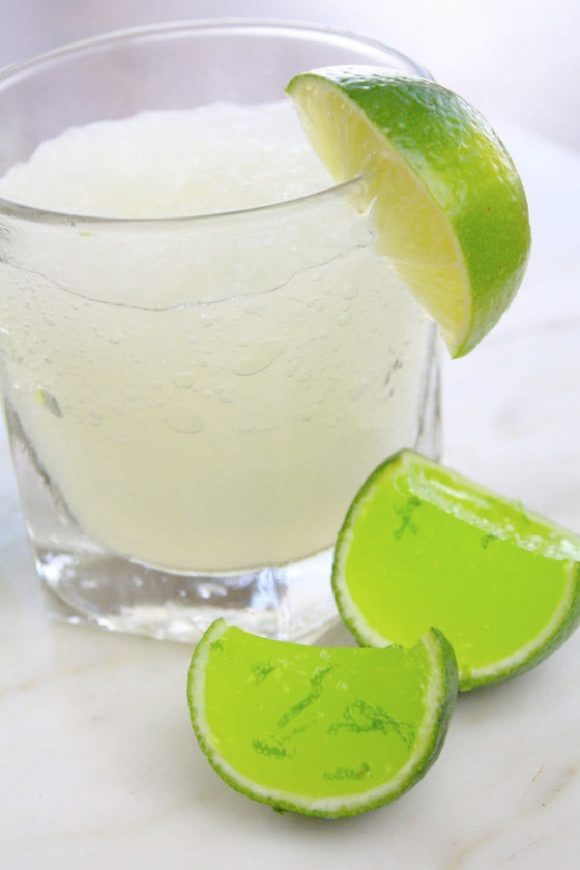 One thing that is guaranteed to get everyone in high spirits is to throw a fun tequila tasting party.
Your guests are going to jump at the opportunity to spend a night sampling a bunch of different tequilas!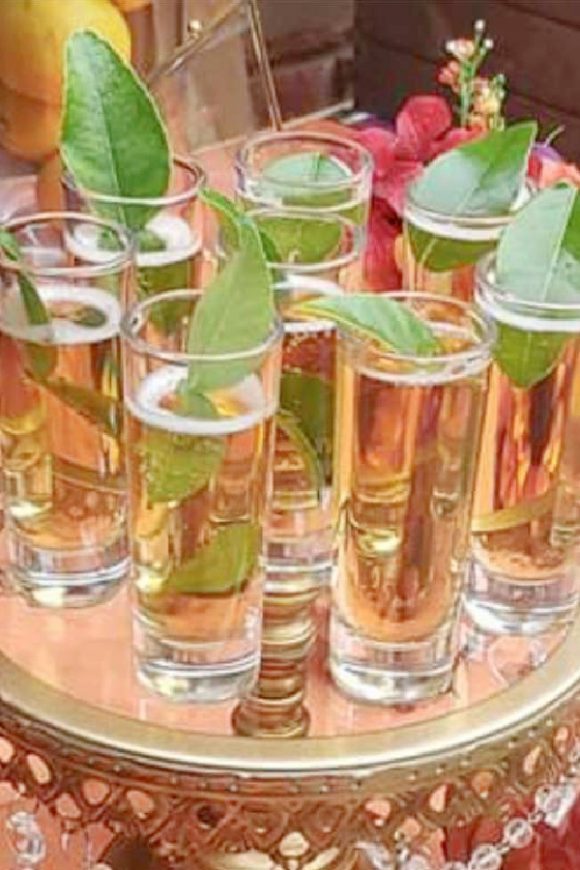 It's not a Mexican party if you don't have some nice cold Corona beers on ice.
There's nothing better than cracking open a bottle while having Mexican cuisine and listening to some traditional mariachi music!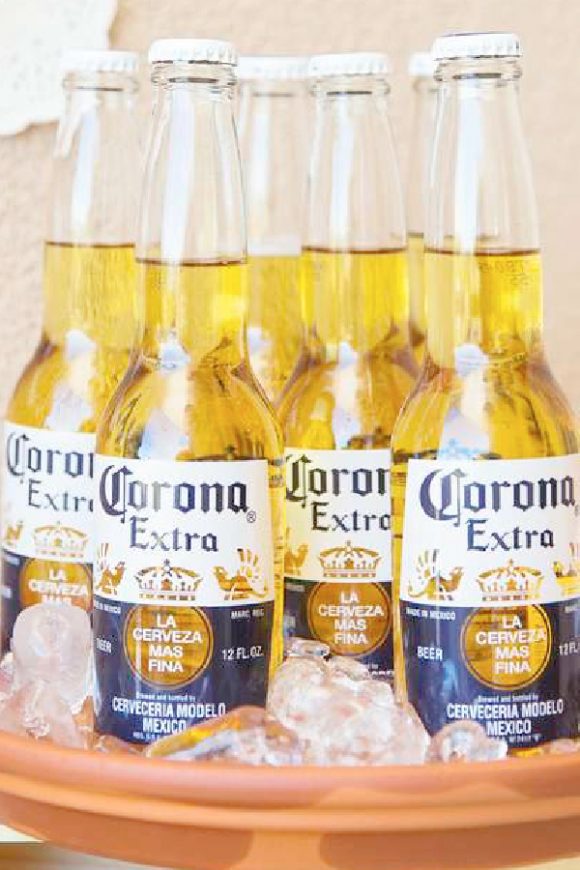 If there's one thing in common in all the Mexican fiestas on CatchMyParty.com it's that all serve Jarritos!
Jarritos is the most popular soda in Mexico and is a great treat for kids at your party!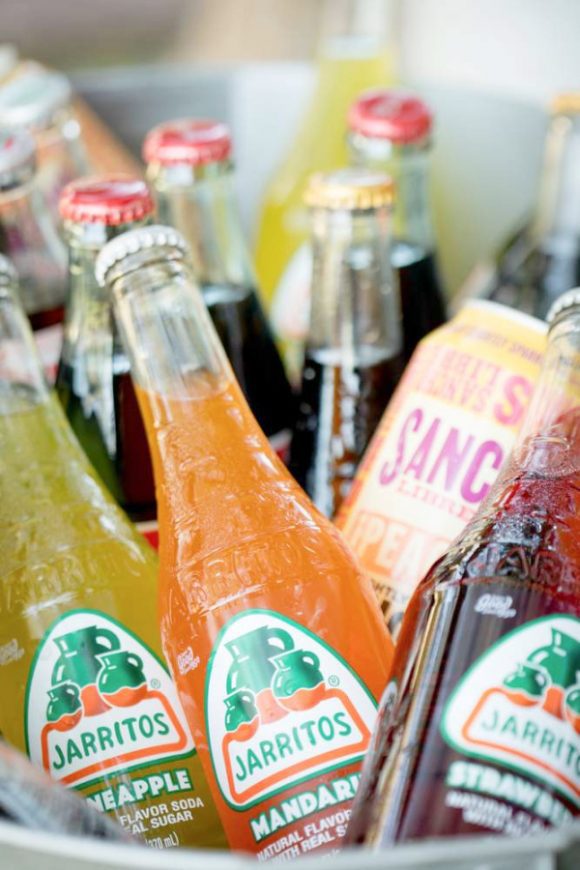 Check out this great idea to welcome your guests to your fiesta.
Place a colorful 'hola' poster at the entrance of your venue to welcome everyone in to what will be a party to remember!
The gorgeous design is reminiscent of traditional Mexican embroidery.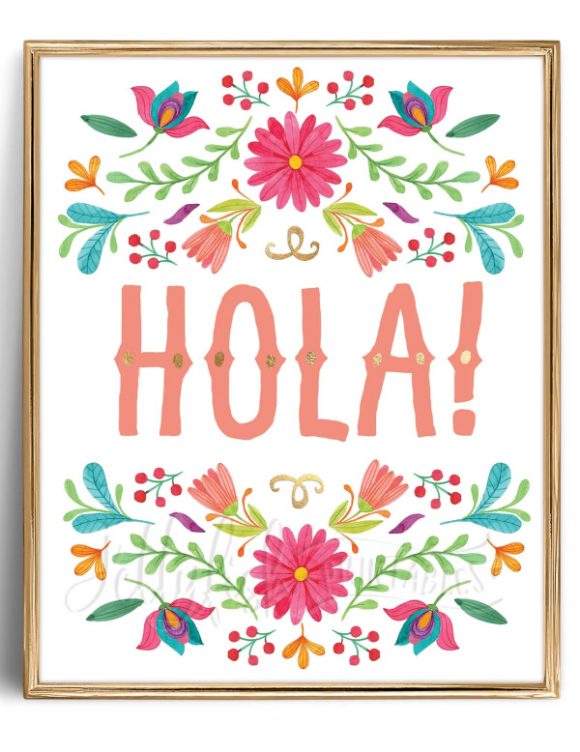 If you are on a tight budget and planning a Cinco de Mayo party, then you don't want to miss these fabulous FREE Cinco de Mayo party printables with a modern vibe.
The set includes: 2″ and 4″ party circles, buffet tags, and water bottle labels.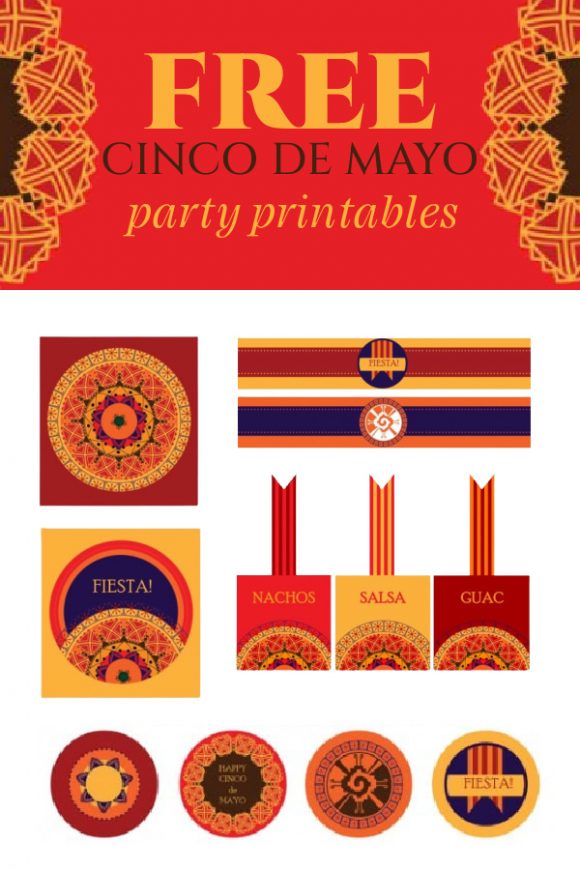 We also have these FREE fun and festive Cinco de Mayo party printables for you to use to decorate your party!
This set includes: a 5×7 invitation, party circles, drink flags, water/beer bottle labels, and a "Cinco de Mayo" banner.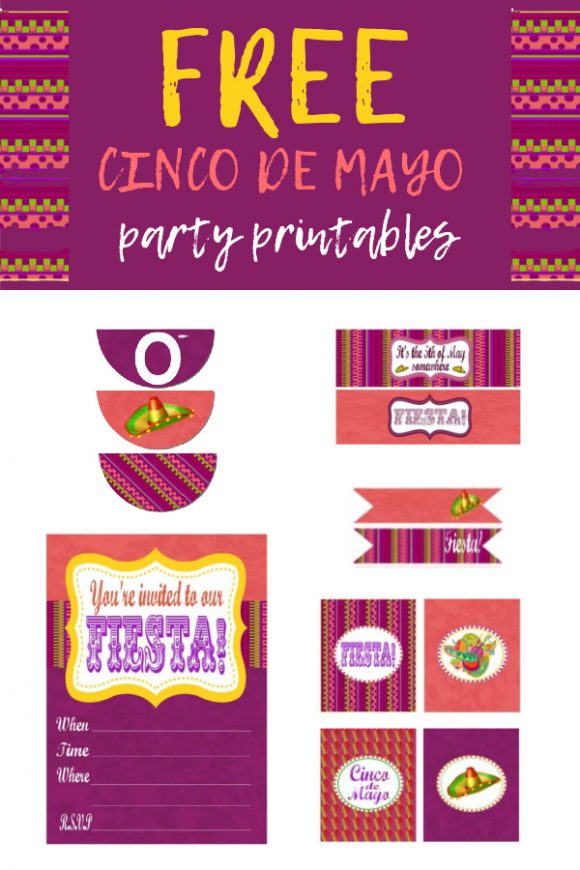 If you are throwing a taco party then these FREE printables with a Mexican vibe are just what you need!
The set comes with a 'Taco Bar' sign and a bunch of editable food labels, that you can place beside each different food, so your guests know exactly what to pick.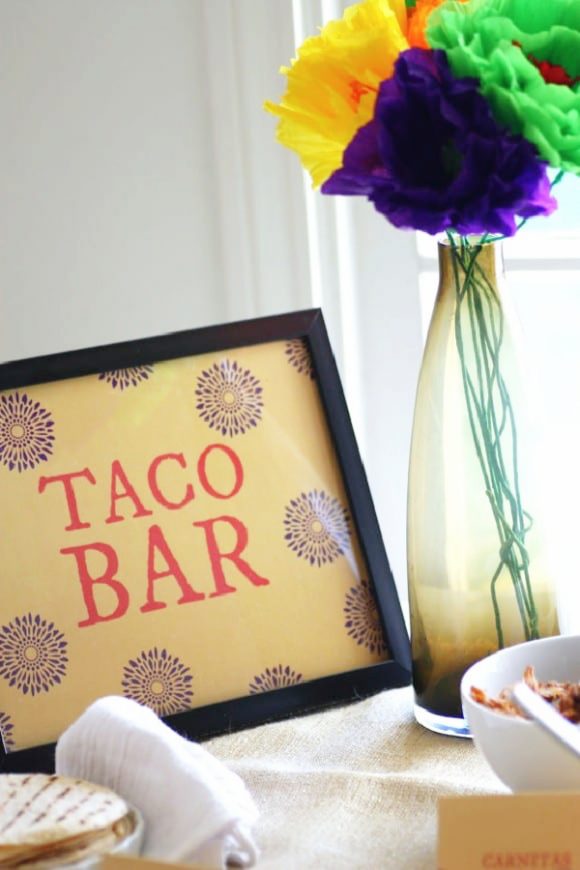 If you are having a Mexican party then Papel Picado is a must-have.
Made from colorful tissue paper, Papel Picado is a traditional Mexican decorative craft that involves cutting out elaborate designs and patterns onto sheets of tissue paper. The sheets are then assembled to create a vibrant colorful garland often found on the streets of Mexico, especially during celebrations and holidays.
You can easily find Papel Picado at Mexican party supply sections in stores or simply click on our link.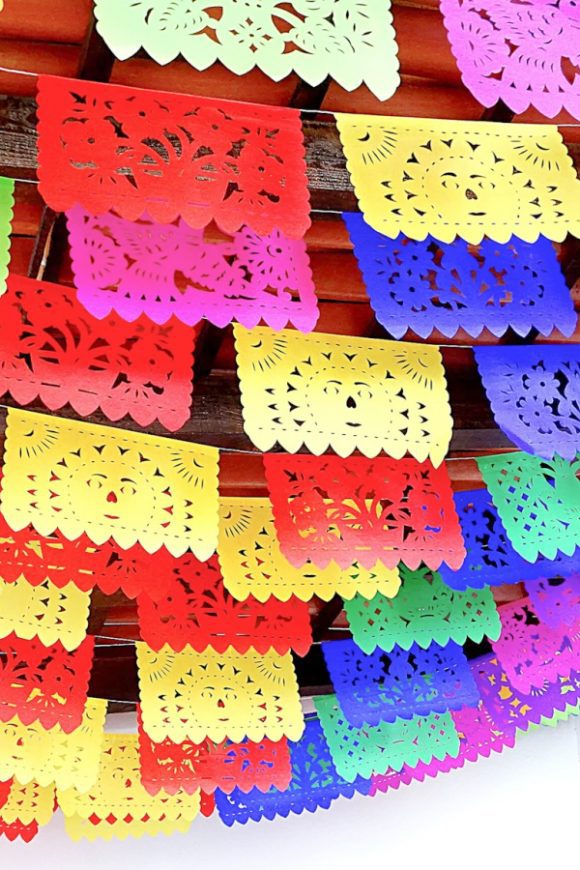 There are so many fun touches you can add to your party to give it a vibrant Mexican vibe! 
A simple way to create a beautiful backdrop for your dessert table would be to frame it with a colorful balloon garland and have strips of colorful streamers hanging from it.
It's also a great photo booth backdrop too!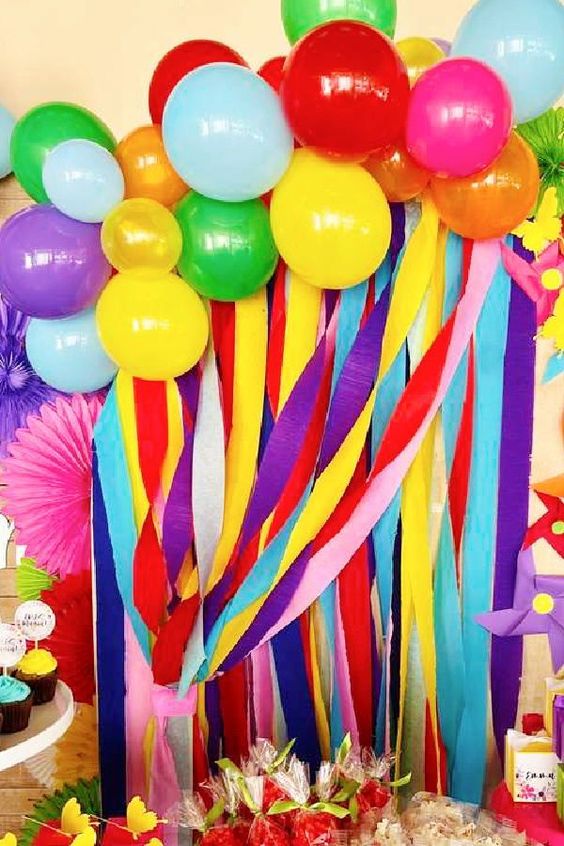 Another fun way to add some Mexican flair to your fiesta would be to decorate it with these bold colorful paper fans.
Again, you can use them to create a backdrop for your dessert table or your photo booth.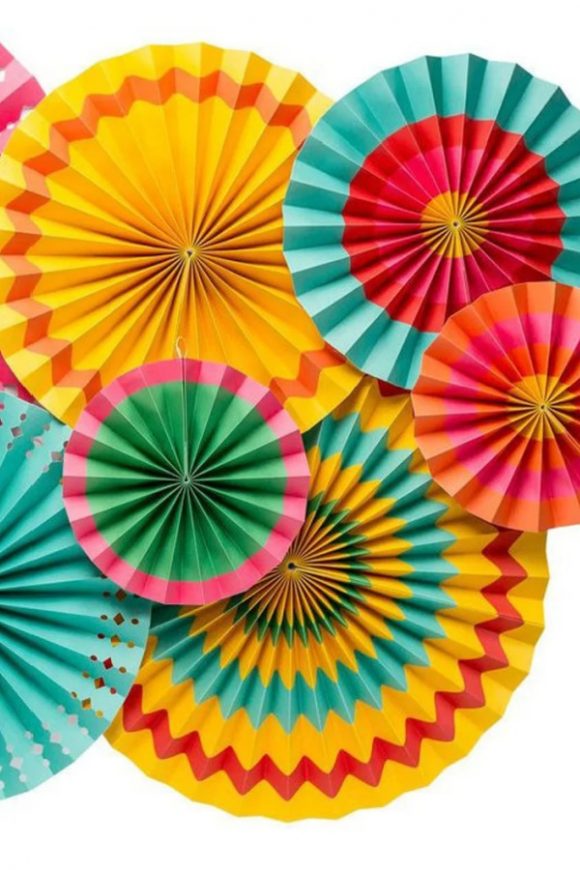 If you are looking to truly replicate Mexico then these gorgeous paper flowers are just what you need! They are perfect for decorating a dessert table, photo booth, or even a bar.
Made from delicate tissue paper, these beautifully crafted flowers come in a number of colors, such as hot pink, yellow, red, turquoise, orange, and purple. Included are some green aloe tissue paper leaves and some darker green cardstock leaves.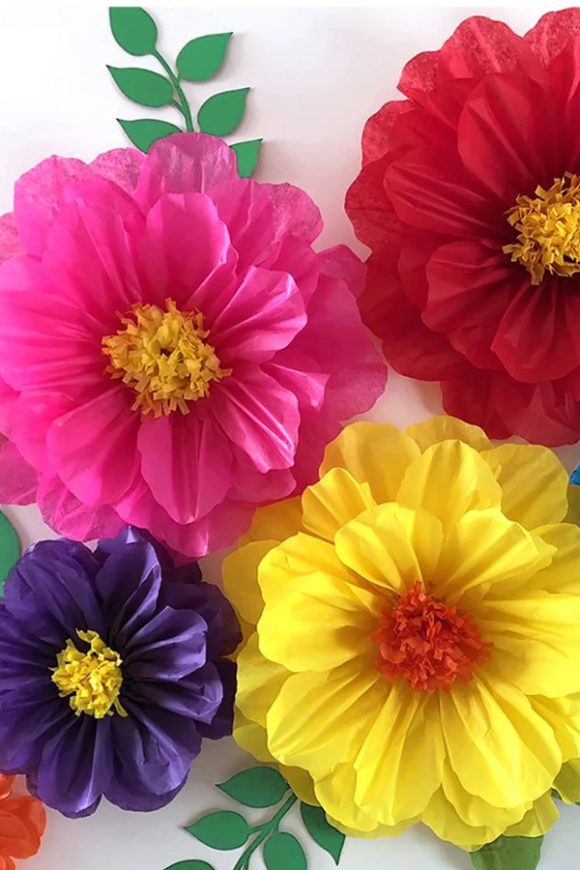 Balloon garlands are an essential party decoration for anyone thinking of throwing a party!
If you are planning to have one at your Mexican fiesta then this is the one you want!
The foil 'fiesta' balloon looks absolutely fabulous and will really make your party decorations pop!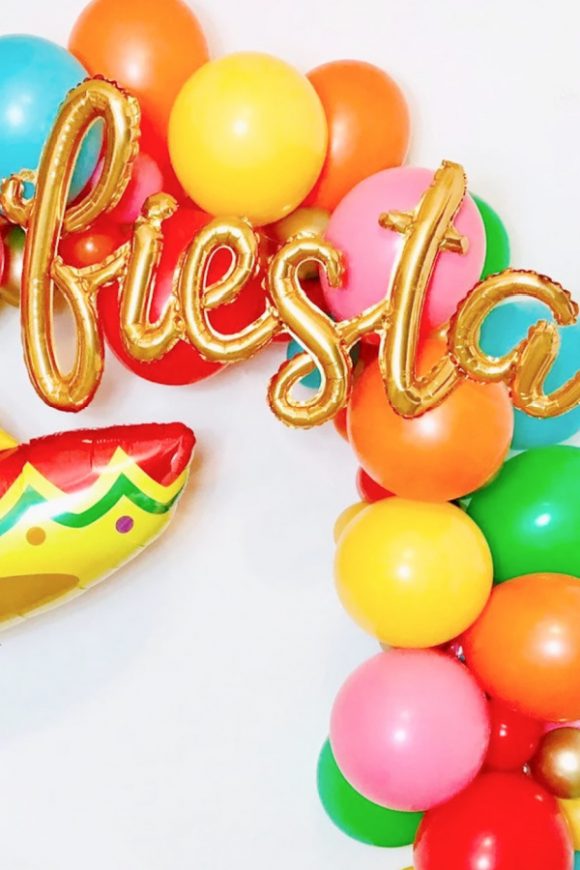 This Frida Kahlo balloon is such a sweet decor idea that will look amazing at your party, especially if your theme is Frida Kahlo.
To start off with you'll need a large matte peach round balloon. Use a black marker to paint her hair, eyebrows, and eyelashes, and a pink marker for her cheeks. Add a rainbow balloon tassel tail and attach some different colored colorful tissue paper to resemble her headband.
The finished look is so impressive!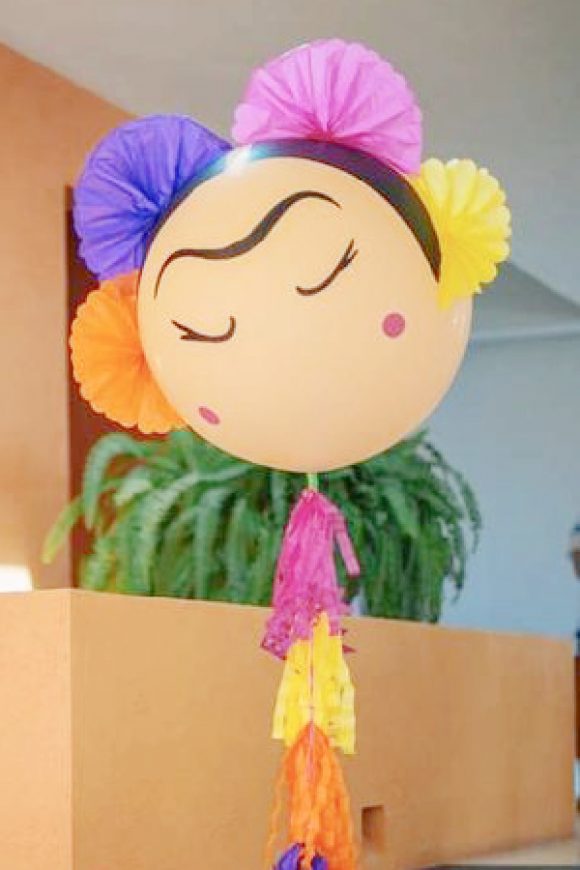 Another fun idea would be to transform some regular green balloons into some cactus.
They are super easy to put together! You'll need 3 green balloons, 2 small ones and 1 larger one. Use a marker to draw the cactus spines and then attach the smaller balloons to the larger one with some double-sided tape. Finish off your party decoration by adding some little red tissue paper flowers to each of the smaller balloons and you are good to go!
It really is that easy to create your own cactus balloons!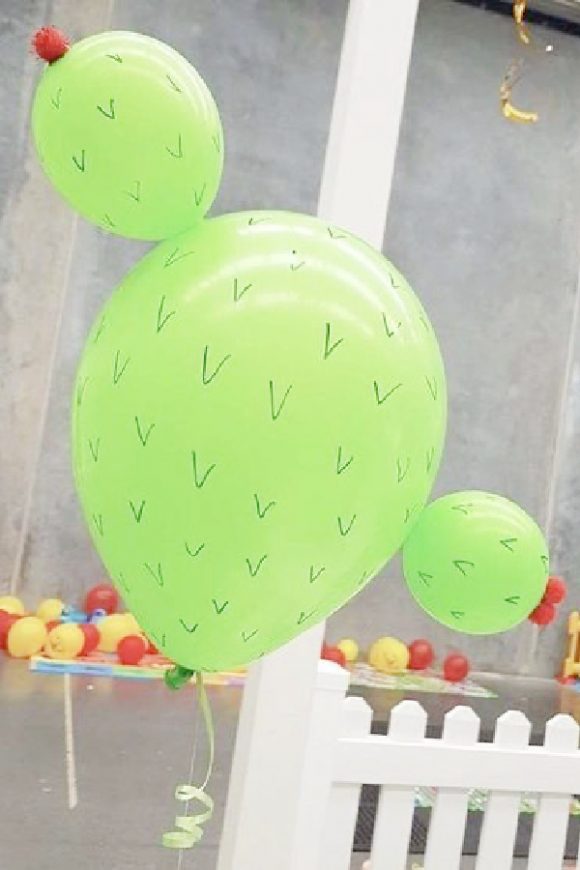 The best Mexican party decoration you could have that is totally hassle-free and that will look awesome at your fiesta are these Mexican-themed foil balloons.
The set comes with a cactus, chili pepper, sombrero, and last but not least, a margarita! What more could you wish for?
Scatter them around your venue and you're done!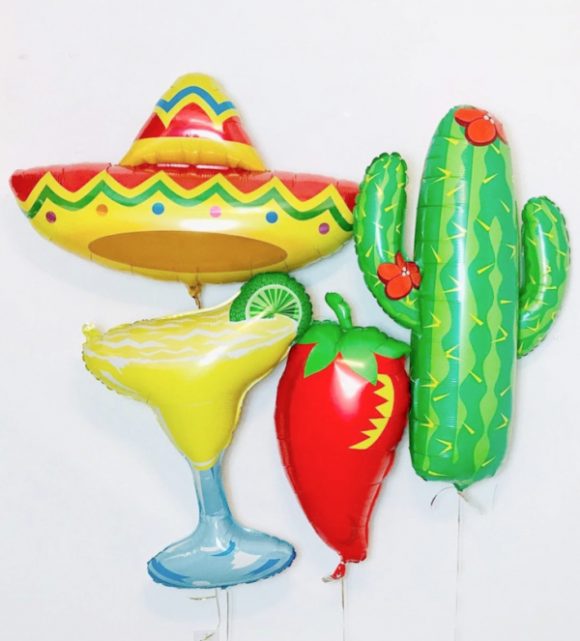 Use some vintage Mexican tin cans as vases for your floral arrangements and decorate your table settings with them.
Add some pretty colorful flowers to each tin and before you know it your party will be bursting with color!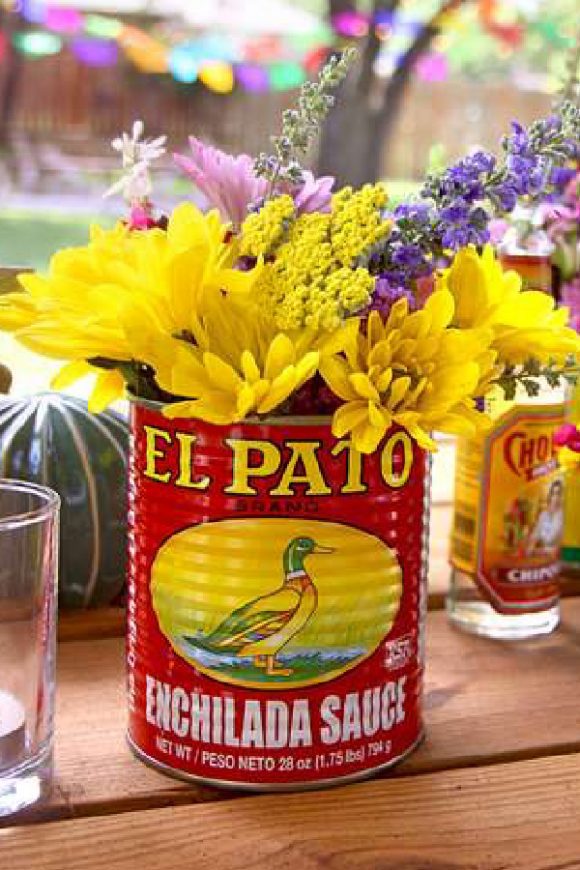 Another cool fiesta-themed centerpiece for your Mexican party would be a cactus and mini piñata. 
They'll look incredible and give your party such an awesome Mexican vibe!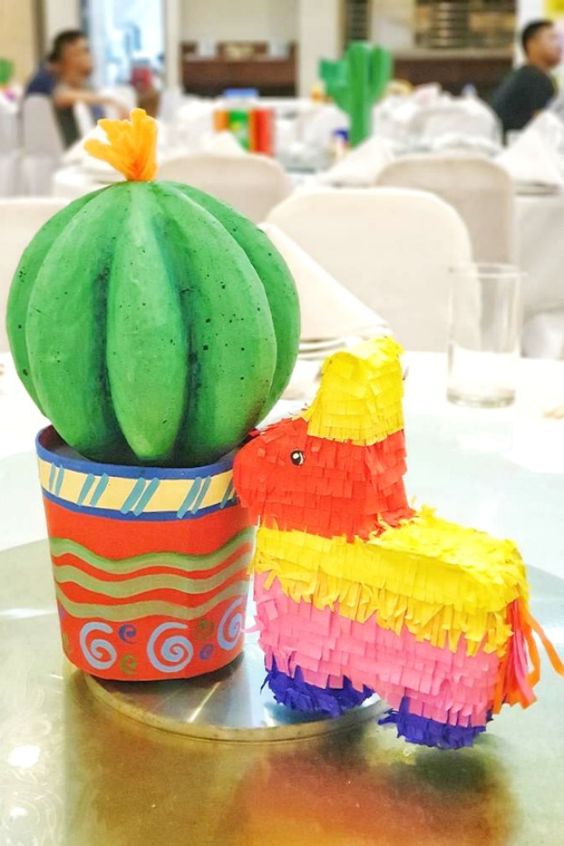 Day of the Dead is such a wonderful holiday and a beautiful tradition in Mexican culture.
Fill some skull vases with colorful fresh flowers and give your party a burst of life!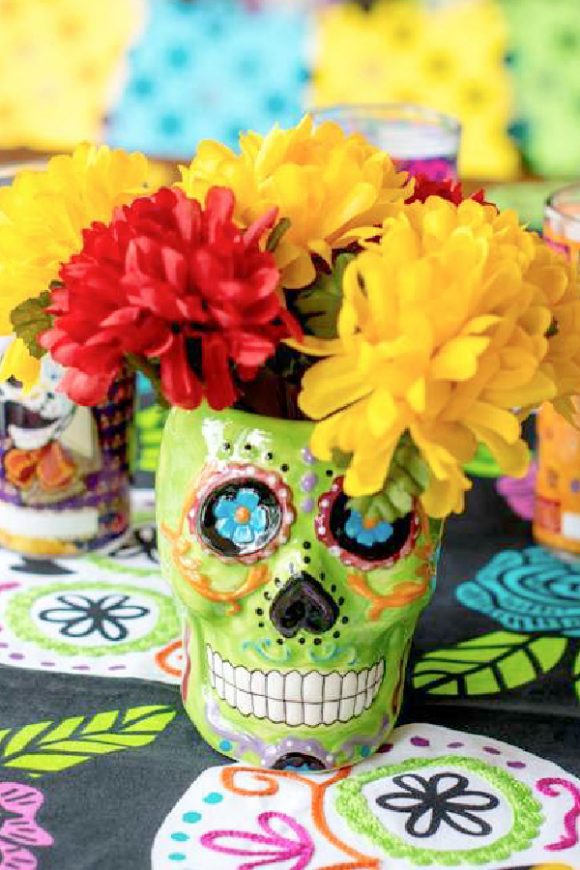 Create a fabulous tablescape at your Mexican-themed party by using some beautifully hand-crafted wooden plates, some wildflowers, and some colorful Mercado party favor bags.
Believe me, your guests are going to instantly be swept off their feet!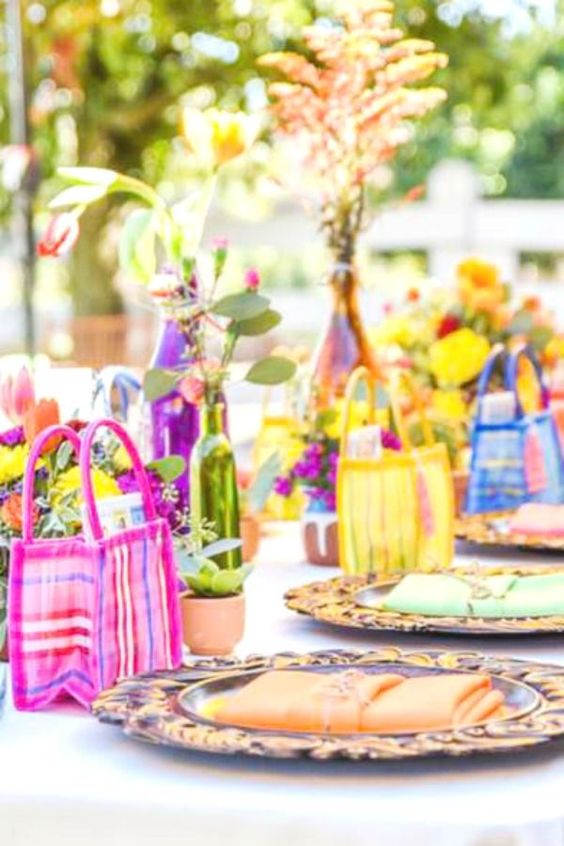 On the other hand, you could create some lovely table settings by adding a bunch of colorful Mexican patterned paper plates and a vibrant table cloth.
As long as you add lots of color you really can't go wrong!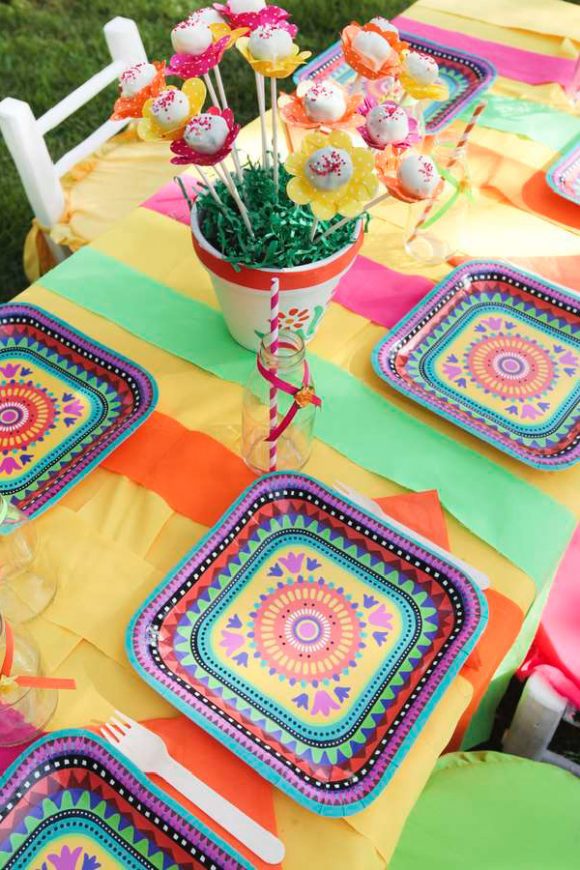 Taco Tuesday can literally be whenever you want, and is a great theme for a Mexican fiesta!
Many would agree that there really is nothing better than a good street food taco, so grab a bunch of these cool taco truck plates to use at your party.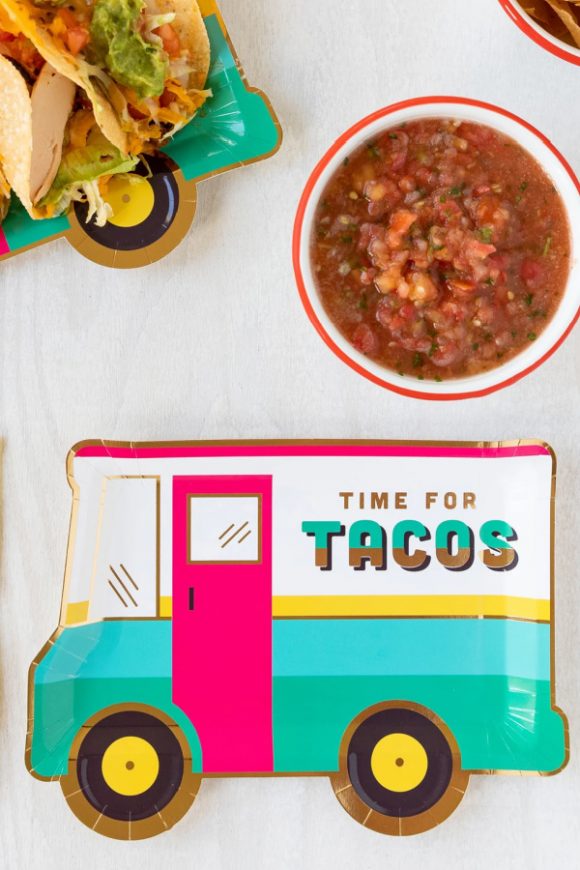 These vibrantly colored napkins will give your fiesta an authentic Mexican touch.
Made from beautifully woven fabric, you can use them either as napkins or to wrap your tortillas in to keep them warm.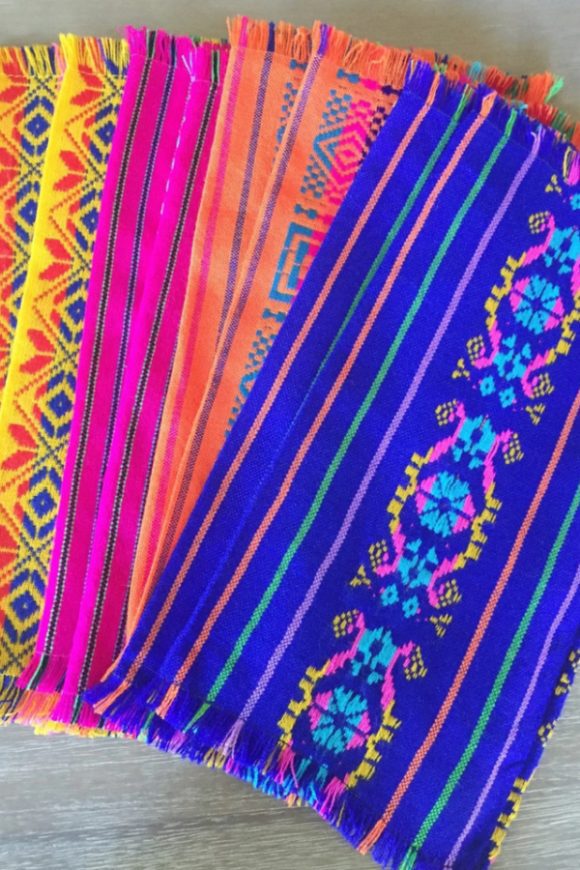 Keeping kids entertained at a party can be a challenge in itself, so try adding a Mexican twist to some popular games that you know for sure will be a hit.
For instance, set up a pin the tail on the donkey. Kids are gonna love having a go at pinning the tail in the right place. Whoever gets the closest, obviously wins.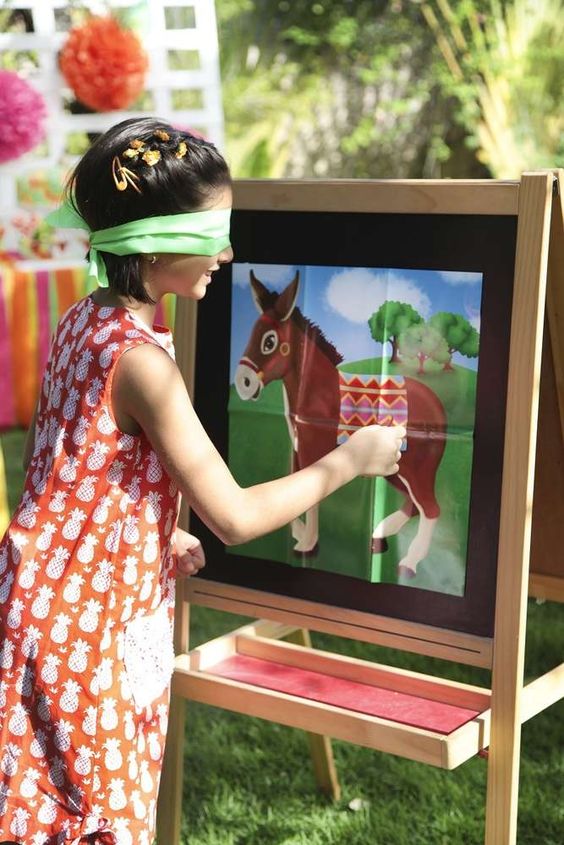 Another traditional game that is sure to be a hit is a bean bag toss.
Place some large sombreros at a distance from each other in a vertical line and let each of your guests have a go at trying to aim into them. Whoever scores the highest points wins!
This Mexican fiesta party game is guaranteed to keep your guests happy!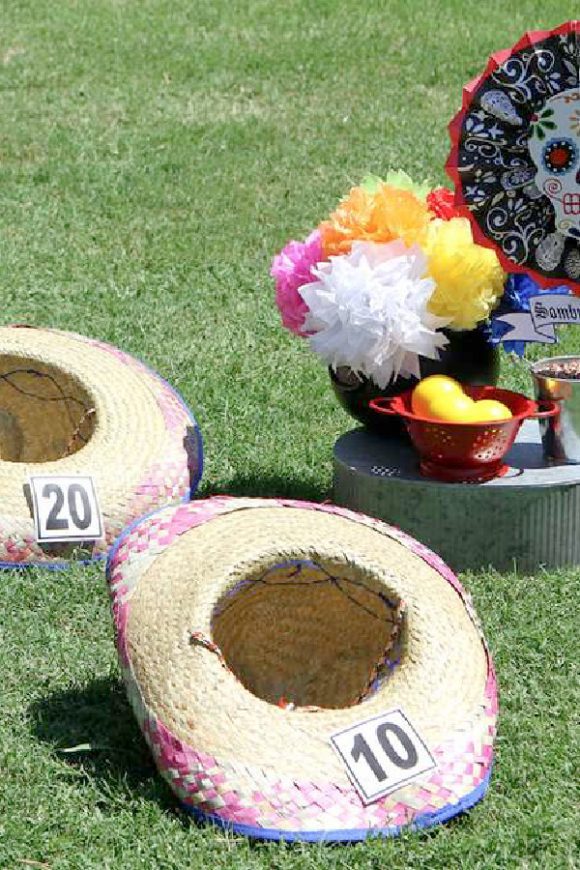 Kids love getting their faces painted. There's something so magical in being transformed, even if only for a couple of hours.
If you decide to offer your guests the opportunity to get their faces painted, how about treating them to some day of the dead designs?
They are perfect if you are planning on having a photo booth, especially at a Day of the Dead party!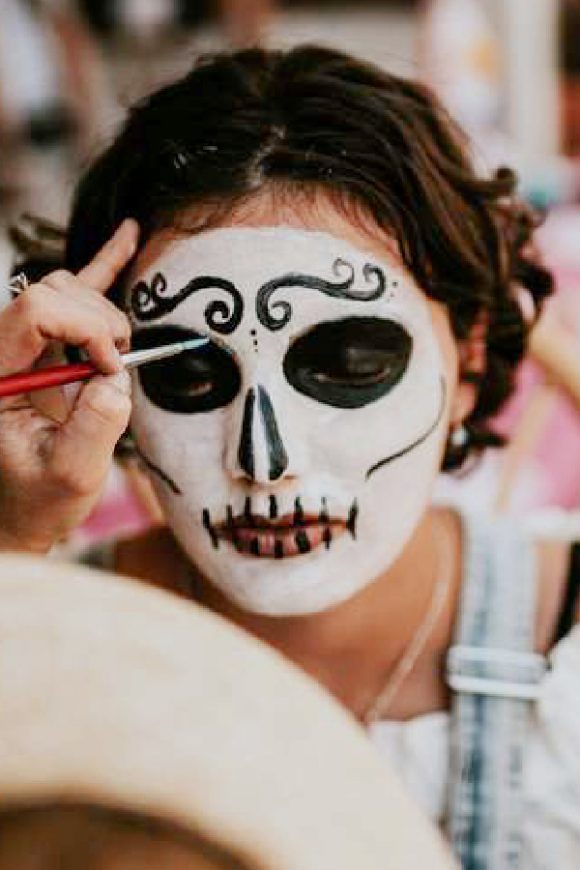 Make the most of the happy atmosphere at your Mexican fiesta and set up a photo booth with a bunch of fun props. 
It's always a laugh to make silly poses with your friends while someone is clicking away and taking photos!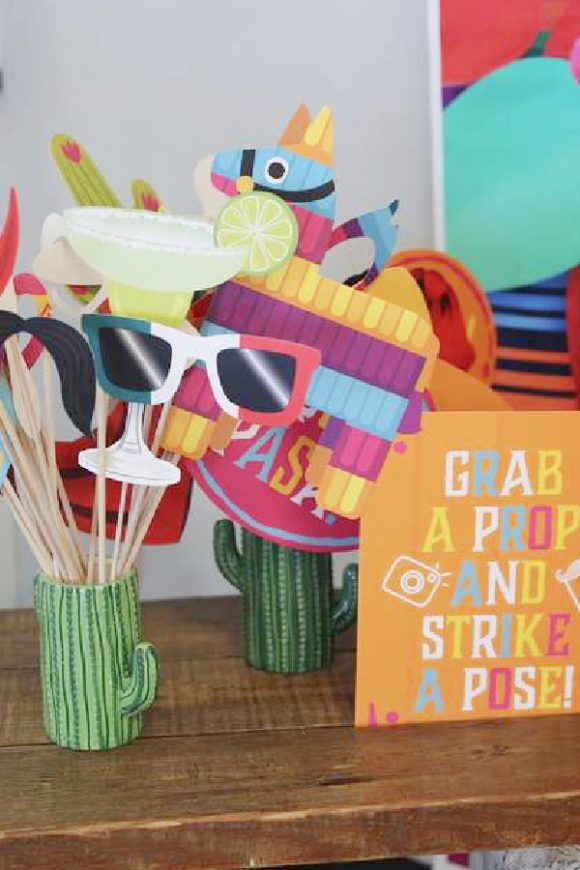 You could also go all out and create a fancy dress stand where everyone can grab a Mexican-inspired costume, such as a sombrero or a huipil, and embody Mexican culture.
You can be guaranteed your guests are going to have an amazing time and your photo booth will be one to remember!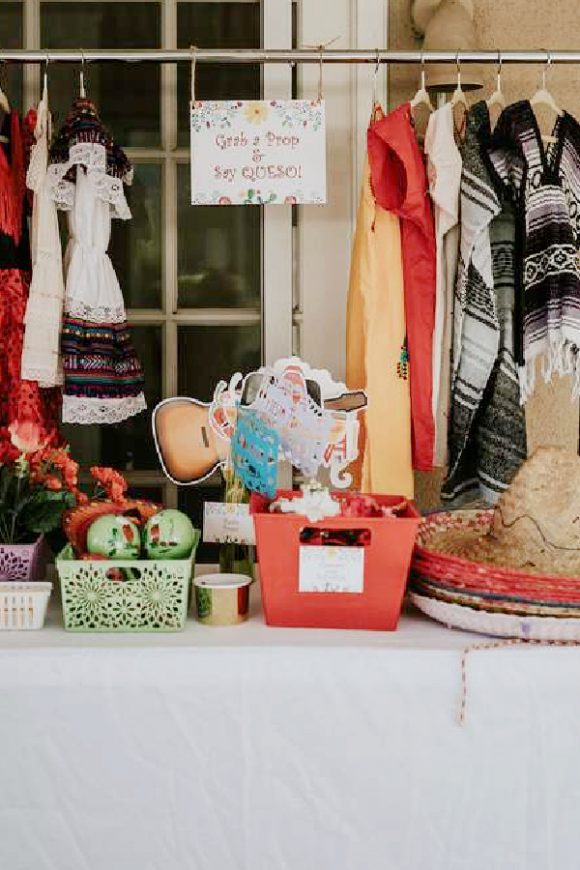 No Mexican fiesta birthday party is complete without a photo booth.
Set up a beautiful backdrop with bold vibrant colors and maybe use a balloon garland, or some paper flowers to decorate it.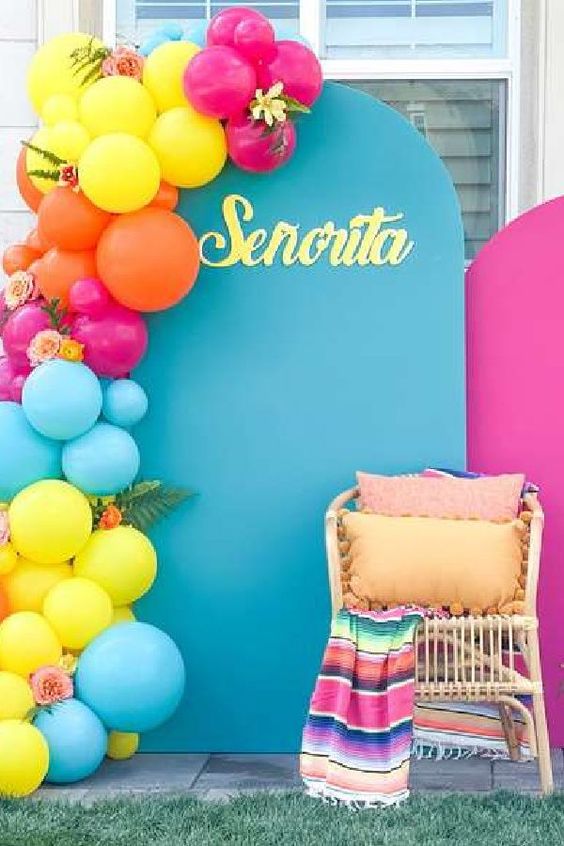 When planning a party it can be a little overwhelming picking the best Mexican fiesta party supplies. 
Piñatas are great. Not only are they a traditional part of Mexican culture, but they are also an excellent way to keep kids happy and to decorate your party.
A cactus-style piñata is a great option for a fiesta and is sure to be a smash!
On the other hand, another great option, especially for a girl, or if you are throwing a Frida Kahlo party is a Frida Kahlo piñata.
It's an absolutely amazing party decoration and will look incredible beside a dessert table or as part of a photo booth!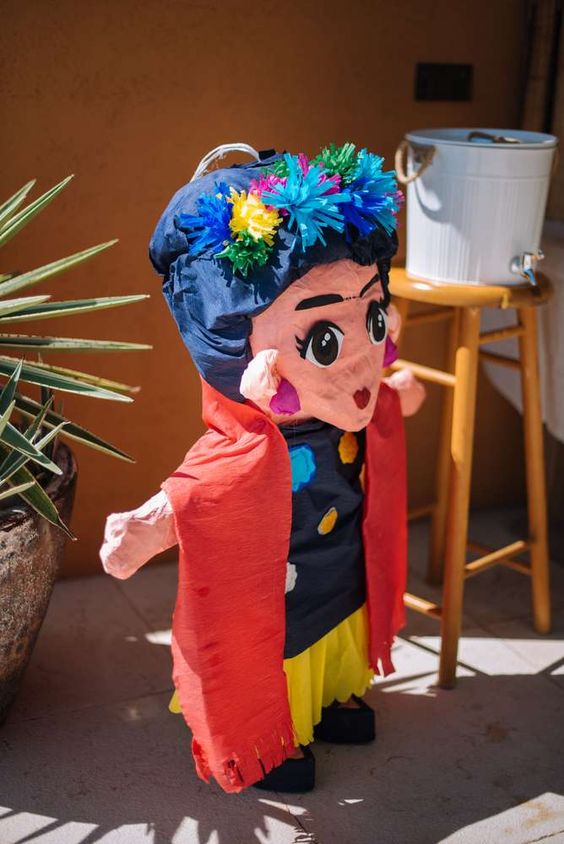 Picking the perfect party favor can sometimes be a little tricky. Don't worry though, we've got you covered!
Treat each one of your guests to their very own cute cactus, that they can take home with them to decorate and look after.
Make sure you add a sweet label!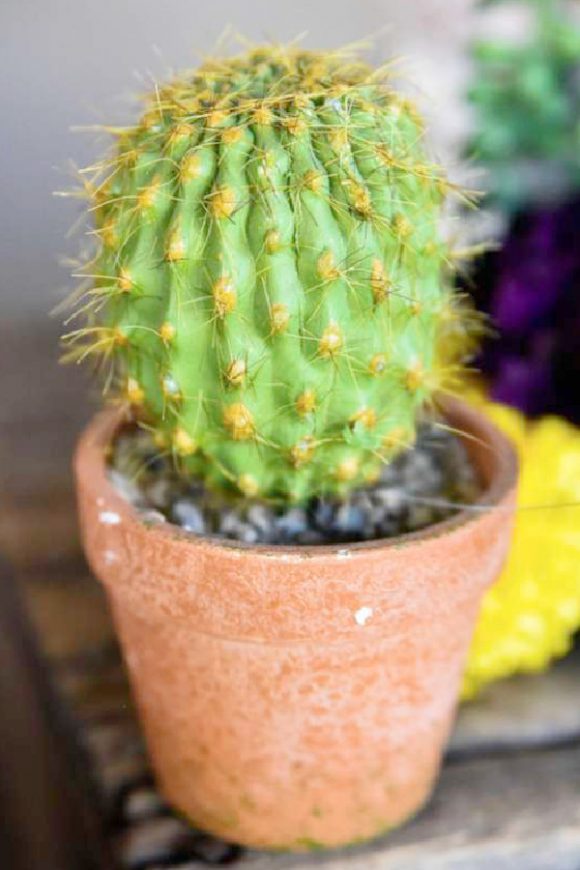 Girls are going to love this next party favor!
Send them home feeling pretty with a gorgeous Frida Kahlo-inspired floral headband.
It doubles up as a cool photo booth prop too!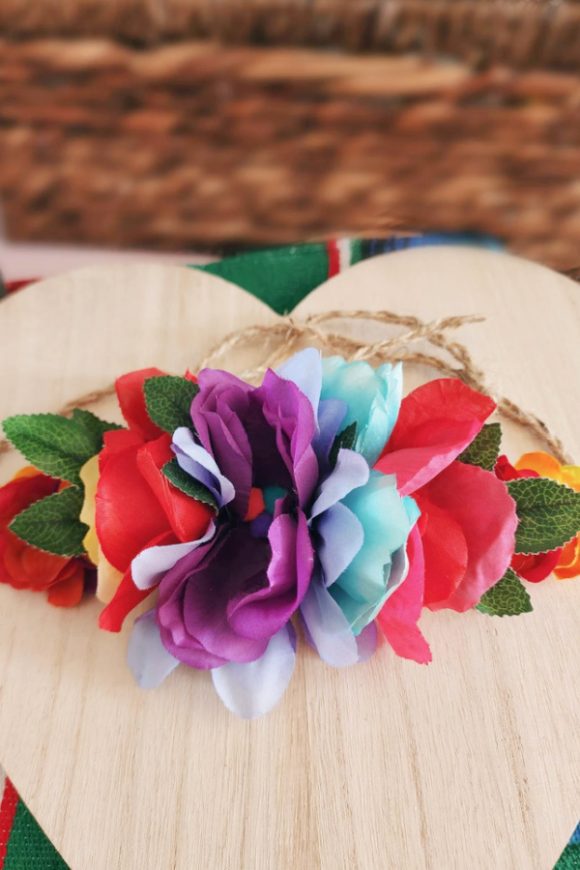 Tattoos are always sure to please, and these fiesta-inspired ones are no exception!
The sheet includes a bunch of fun Mexican-inspired designs, such as some tacos, sombreros, maracas, and many many more!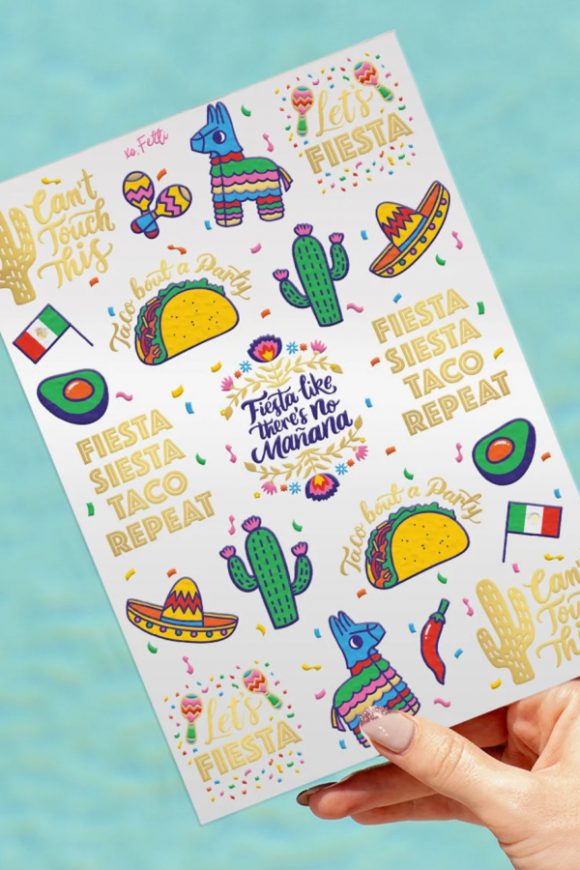 These Frida Kahlo dolls are so impressive and make the most adorable party favor ever!
Wow! Imagine being a little girl and taking home your very own Frida!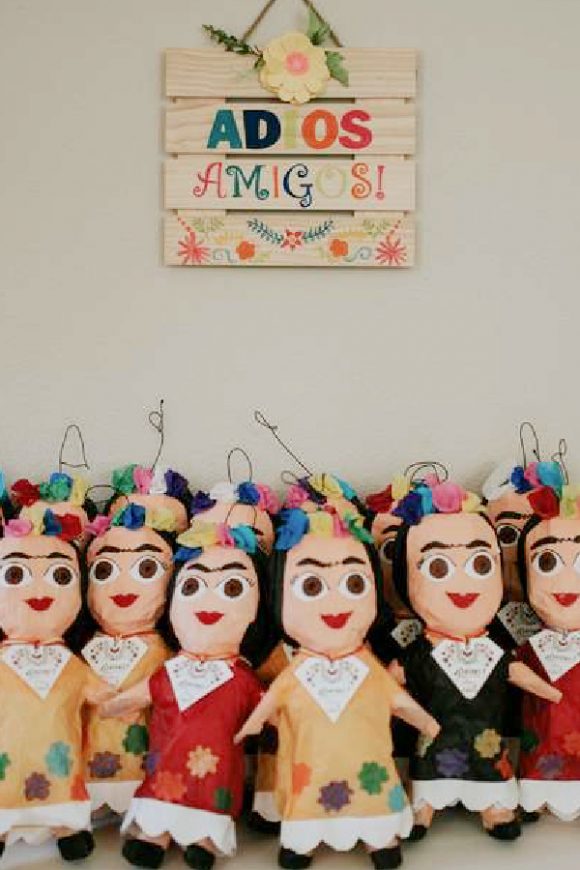 This next party favor is sure to offer endless fun.
Everyone is gonna have a great excuse to make some noise with a lovely hand-painted maraca like these!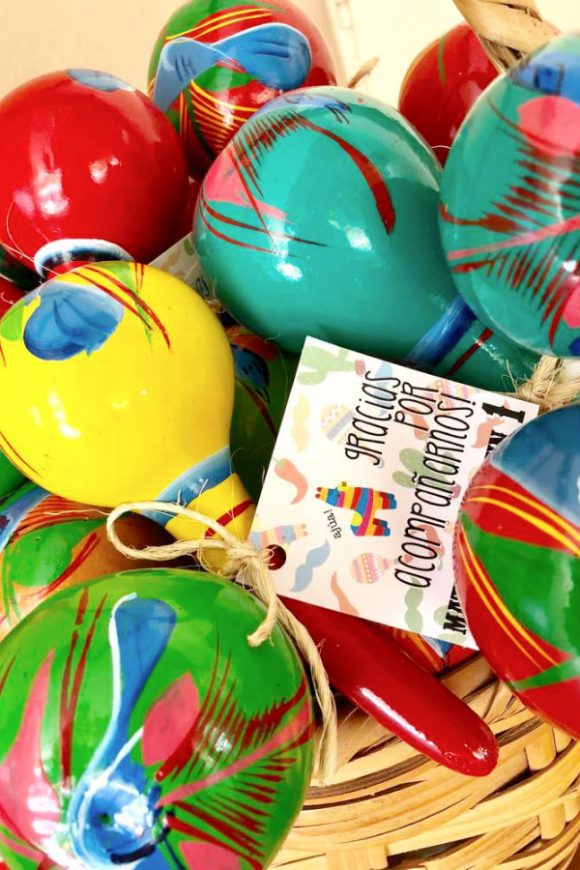 If you are stuck on a package for all your party favor goodies you won't want to miss these awesome mini piñata party favor boxes.
They are so on-theme and will be such a delight for your guests to open!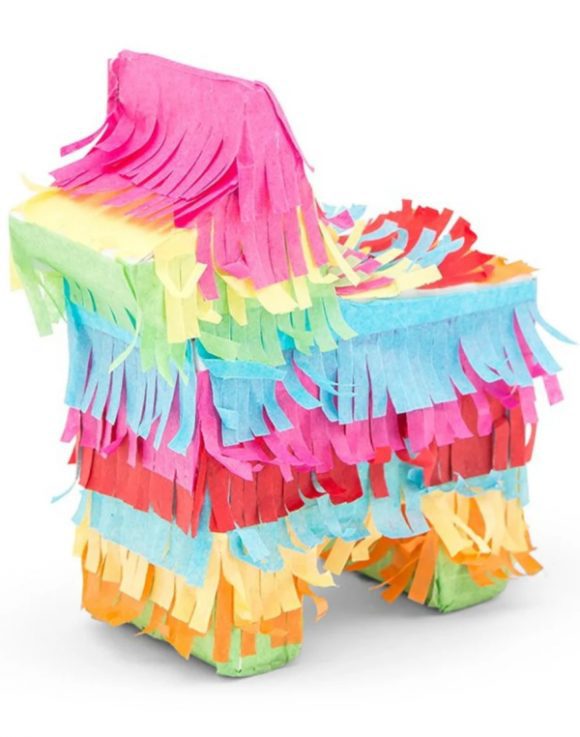 These mini Mexican Mercado bags are great to fill with party favor goodies or even to decorate your fiesta!
These recyclable plastic mesh bags are traditionally used in Mexico when shopping at the local markets.
Last but not least, decorate each of your party favor bags with a beautiful Papel Picado-inspired label.
It will give your party favor bag the perfect finishing touch you're looking for!
For more inspiration, check out all these amazing Mexican parties on our site, and check out these Mexican party supplies from vendors with listings on Catch My Party!
Some of these links may be an affiliate. If you click and buy, we might make a small commission at no cost to you.
Need Mexican party and recipe ideas?