LOL Surprise Dolls parties are a huge hit with young girls everywhere, which is why they are such a popular theme on CatchMyParty.com and perfect if you have a little girl that loves the dolls.
So, if you're planning a LOL Surprise Dolls birthday party then let us help you find the perfect LOL Surprise Dolls cake!
We've gone through all LOL Surprise Dolls birthday cakes on our site and picked out the 12 best for you to choose from…
 Are You Looking for the Best LOL Surprise Dolls Cake?!
Let's start off our round up post of LOL Surprise Dolls cakes with this cute spotty tiered one.
The bottom tier is a black and white spotty one and the top one is purple and decorated with lots of fun LOL Surprise Dolls.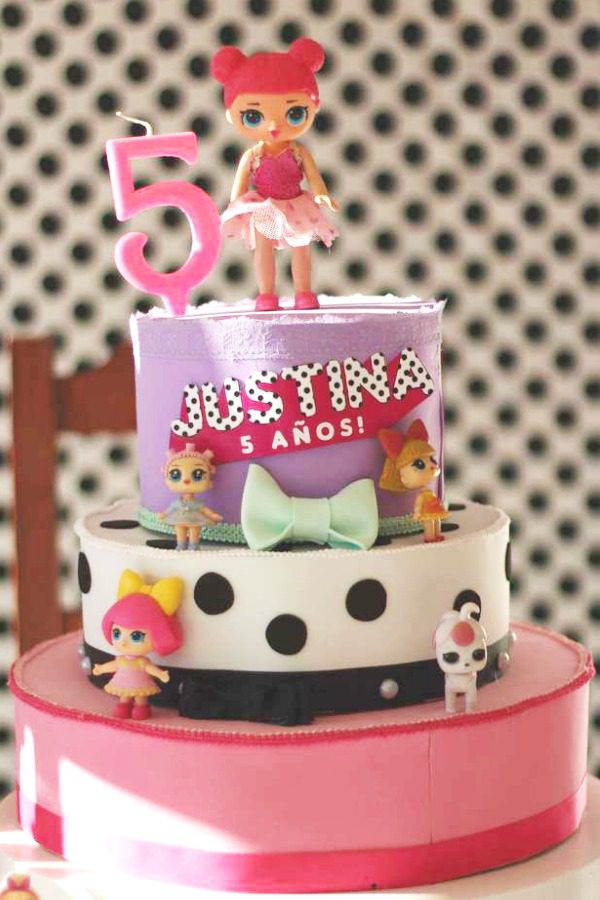 If you're looking for something a little different how about an actual 'LOL Surprise Doll' birthday cake.
This LOL Surprise Doll head cake is so creative and an absolute showstopper that will look amazing on your dessert table!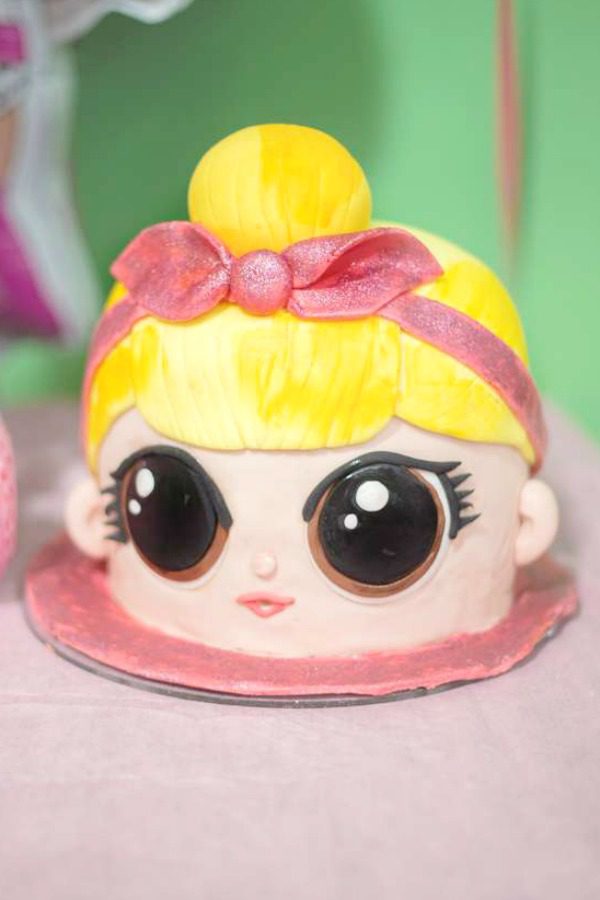 We've so many beautiful cakes for you to go through and we really think you're going to love this next one.
It's a gorgeous turquoise birthday cake covered in bright pink drip icing and topped with lots of delicious candy and some LOL Surprise Dolls.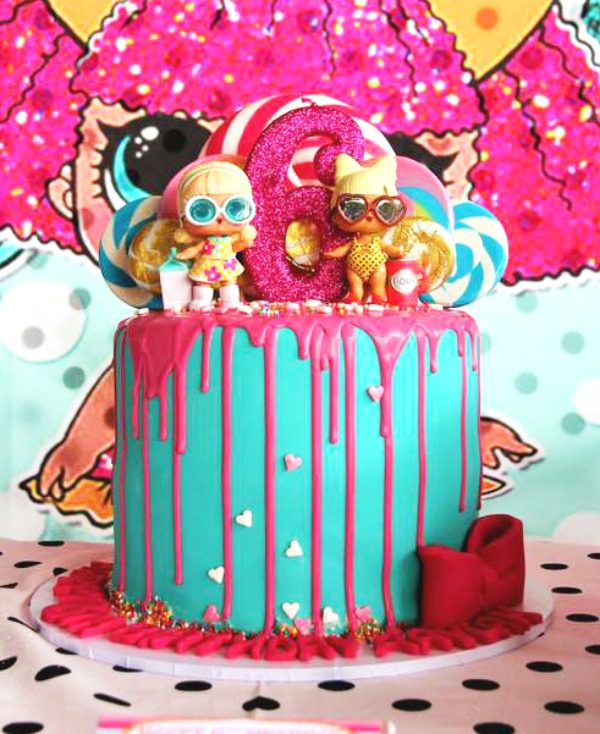 If you want to make a statement, you're sure to make one with this fantastic birthday cake decorated with a LOL Surprise Dolls signature zipper!
It couldn't look more adorable! The large pink fondant bow topping it is absolutely perfect!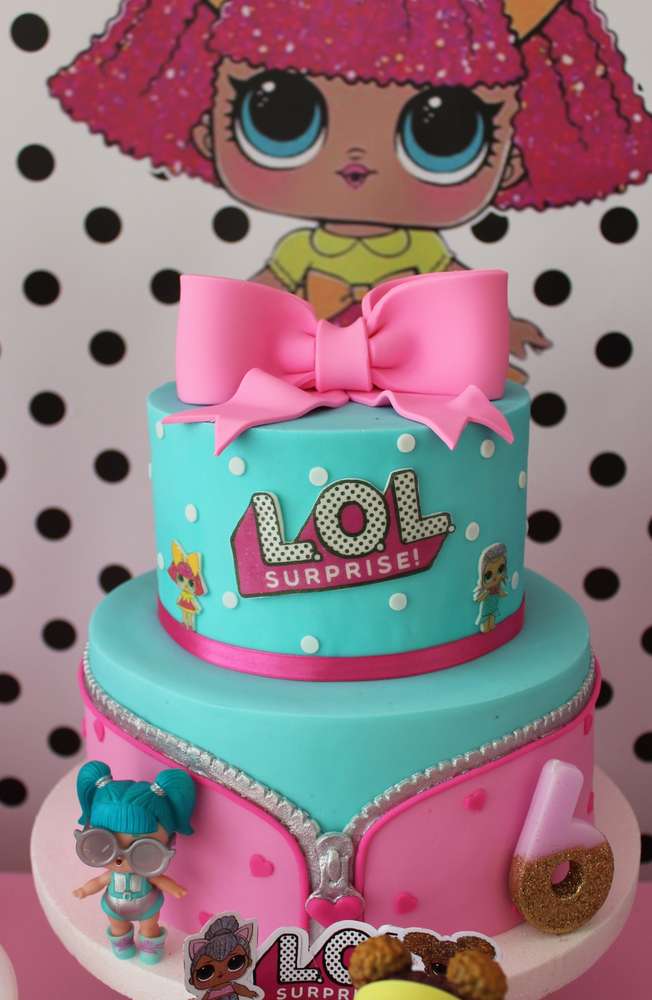 This next LOL Surprise Dolls birthday cake is equally as impressive!
Like the previous cake, it also features the zipper and large pink bow but it has a chic gold middle tier that makes is dazzle.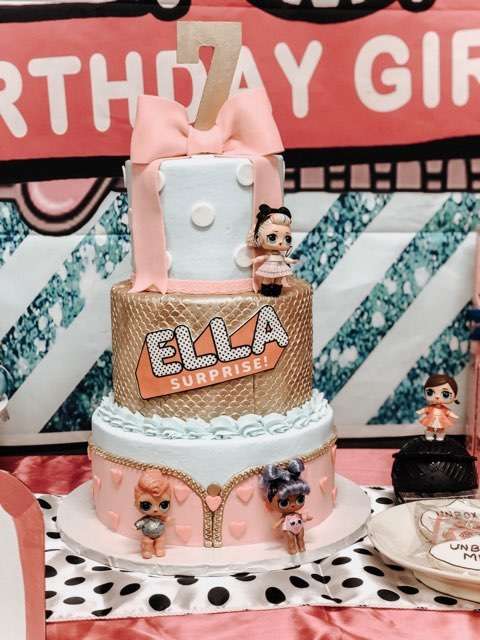 Birthday cakes are always the main attraction at a birthday party and this LOL Surprise Dolls cake will have your guests mesmerized.
Similar to the previous tiered zipper cakes, this one has 3 tiers that take center stage on the dessert table!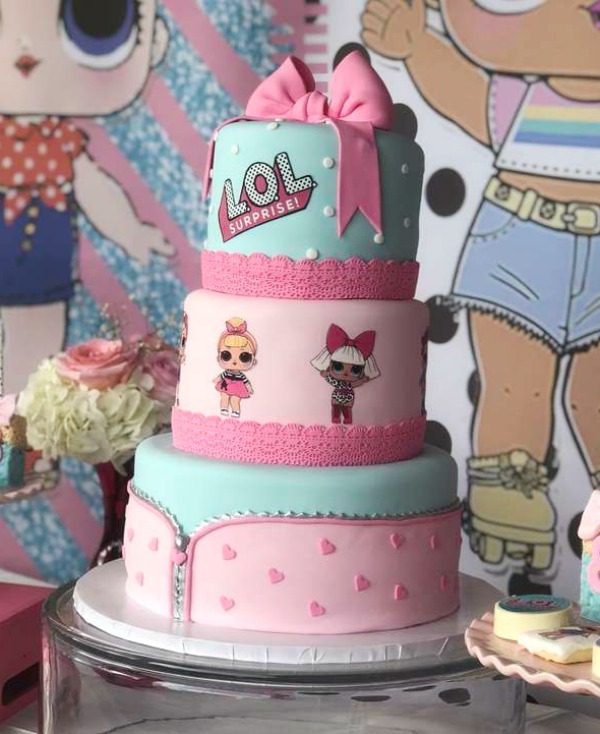 We've also got a deconstructed tiered birthday cake that will warm the heart of any LOL Surprise Doll fan.
Each colorful cake is placed on a separate cake stand at a different height creating a wonderful visual experience!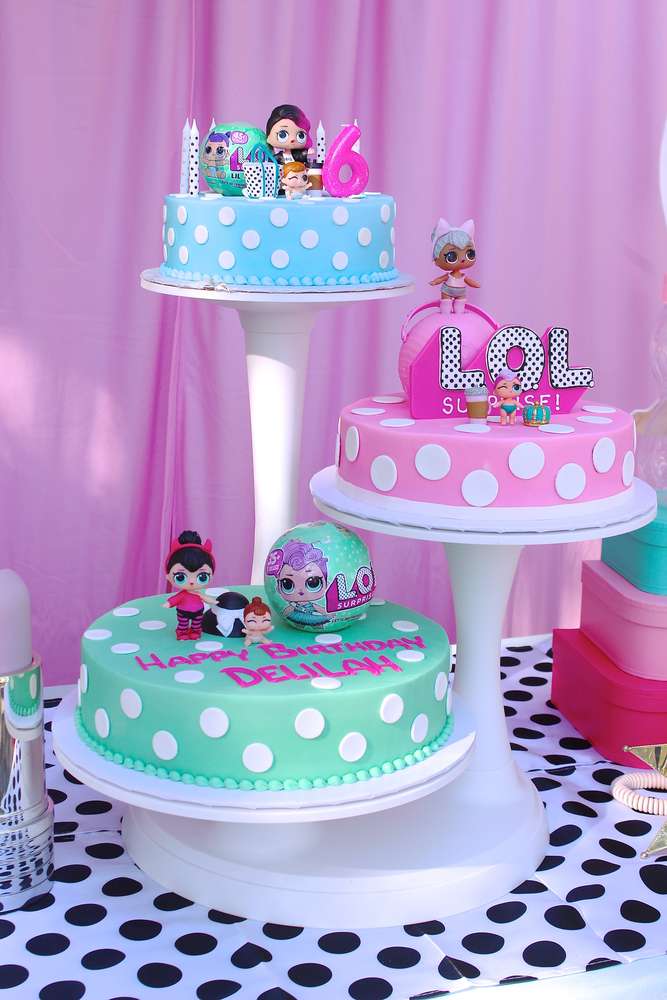 You can't have a LOL Surprise Dolls birthday cake and not include a LOL Surprise Dolls ball!
This birthday cake is so girly and just oozes everything a LOL Surprise Doll fan will love, such as a glorious large pink fondant bow slap bang in the middle of it.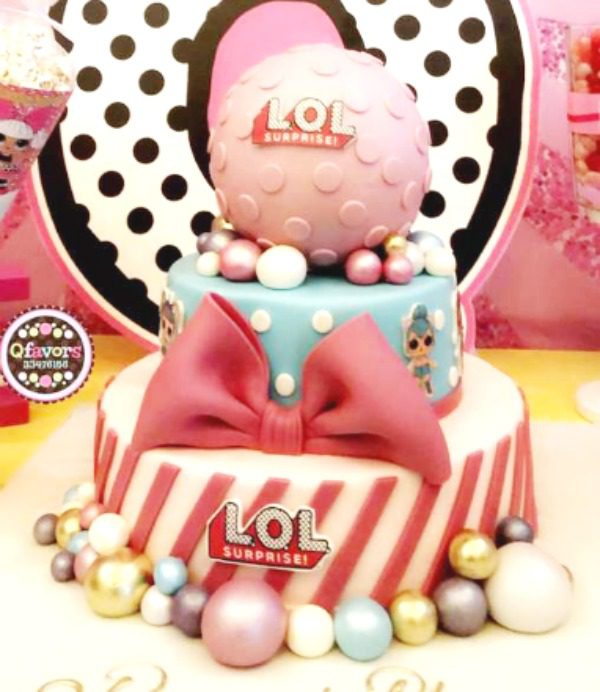 WOW! This zipper LOL Surprise Dolls birthday cake is lovely, with it's fondant lacey decorations and pastel colors.
You can bet it will put a smile on your daughter's face!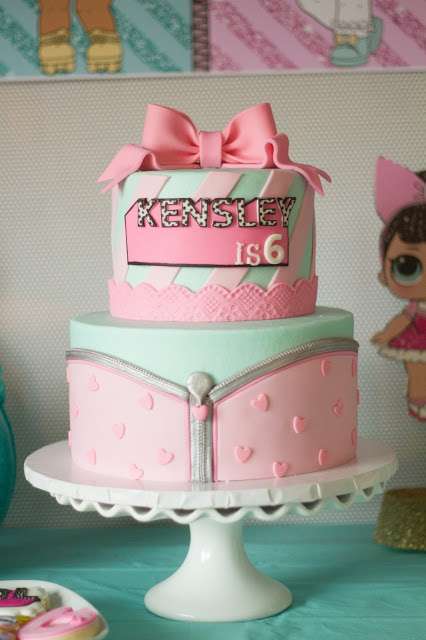 How about surprising the birthday girl with a fun LOL Surprise Dolls birthday cake like this one.
Not only is it covered in confetti as it's also decored with some LOL Surprise Dolls and a massive pink fondant bow!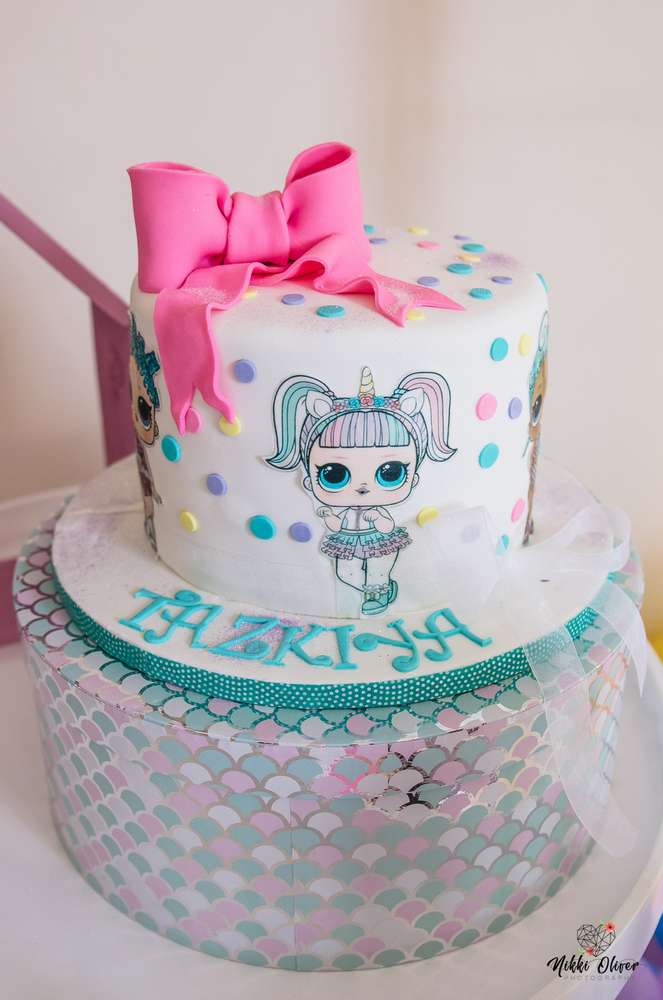 If creating a zipper LOL Surprise Dolls are too daunting for you then this one may be just what you're looking for.
It's a lot simpler in design and the effect is just as beautiful!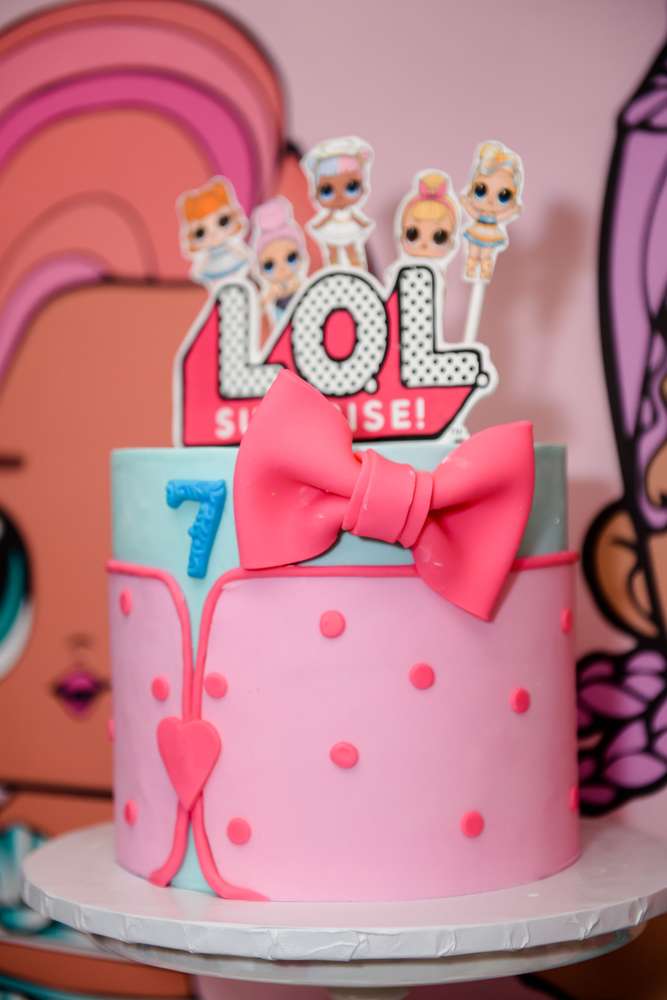 If you're hosting a mermaid-themed LOL Surprise Dolls party then don't miss this fabulous under the sea birthday cake.
It's so beautiful with its blue ombre frosting, pretty shells and little gold seahorses.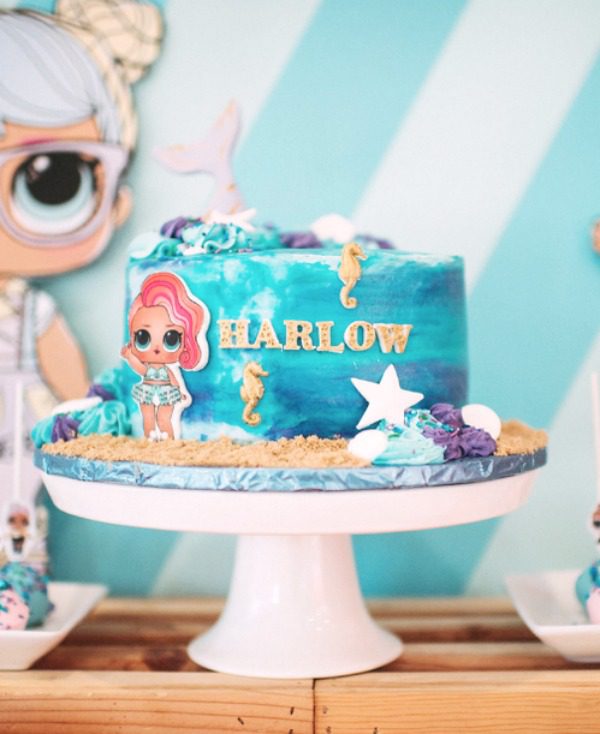 For more inspiration, check out all these amazing LOL Surprise Dolls parties on our site.
Also check out these LOL Surprise Dolls party supplies from vendors with listings on Catch My Party!
Need more Girl birthday party ideas?