Welcome to the world of Super Mario party supplies! If you're looking for a great video game party theme, you've come to the right place!
Get ready to immerse yourself in the captivating world of Super Mario and create an unforgettable gaming adventure for both kids and adults. From colorful invitations to eye-catching decorations, we've got everything you need to throw an epic Super Mario party. So, gather your friends, power up those controllers, and let the fun begin!
Make sure you check out our fantastic collection of awesome Super Mario party ideas that will take your celebration to the next level!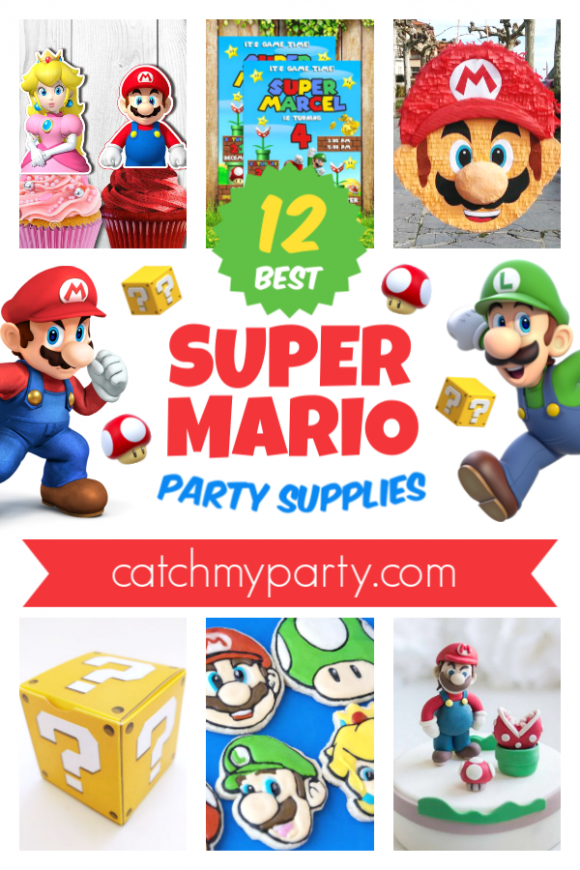 We've found ideas for Super Mario invitations, cupcake toppers, Super Mario party favor boxes, Super Mario cookies, decorations, and so much more!
Reasons to Love These Super Mario Party Supplies
They capture the nostalgic charm of the classic Super Mario game, bringing back fond memories for both kids and adults.
The variety of Super Mario party supplies ensures a cohesive and immersive party experience for all attendees.
From invitations to decorations, these party supplies help create an authentic Super Mario atmosphere, enhancing the overall theme.
The Super Mario party favor boxes make for exciting and memorable party giveaways, delighting guests of all ages.
With Super Mario cookies and cupcake toppers, you can add a delicious and visually appealing touch to the party treats.
The availability of additional Super Mario party ideas will help you expand and personalize your party experience even further.
15 Awesome Super Mario Party Supplies
Super Mario Party Supplies FAQ
How can I incorporate Super Mario characters into the party decorations?
You can use Super Mario character cut-outs, posters, and wall decals.
What kind of snacks can I serve at a Super Mario party?
You can serve Mushroom-shaped cookies, gold coin candies, and Yoshi fruit skewers.
Are there any Super Mario-themed crafts I can incorporate into the party?
You can create Super Mario-themed origami, make DIY Mario hats, or design personalized mushroom keychains.
Can I find Super Mario-themed costumes for the party?
Yes, you can dress up as Super Mario characters like Mario, Luigi, Peach, and Yoshi or provide costume accessories for the guests.
How can I create a Super Mario-inspired photo booth?
Set up a backdrop featuring Super Mario scenes and provide props like mustaches, hats, and character cutouts for guests to pose with.
How can I transform the party space to resemble a Super Mario level?
Use props like green pipes, question blocks, brick walls, and blue skies as backdrops to create a Mario-themed atmosphere.
Need more Video Game party ideas?
For more inspiration, check out all the stunning Super Mario party ideas on our site.
Disclosure: This post may contain affiliate links that won't change your price but will share some commission. We are participants in the Amazon Associate Services LLC Program, an affiliate advertising program designed to provide a means for us to earn fees by linking to Amazon.com and affiliated.