If you are planning a graduation party for your little one, don't miss these 41 best preschool & kindergarten graduation party ideas we've rounded up!
Our babies are growing up so fast, and I'm a firm believer in celebrating milestones, so make sure you check out all awesome ideas for inspiration, so you can give your child a graduation day to remember!
For more school-inspired party ideas that can help you throw a graduation party don't miss our 10 must-haves for a back-to-school party!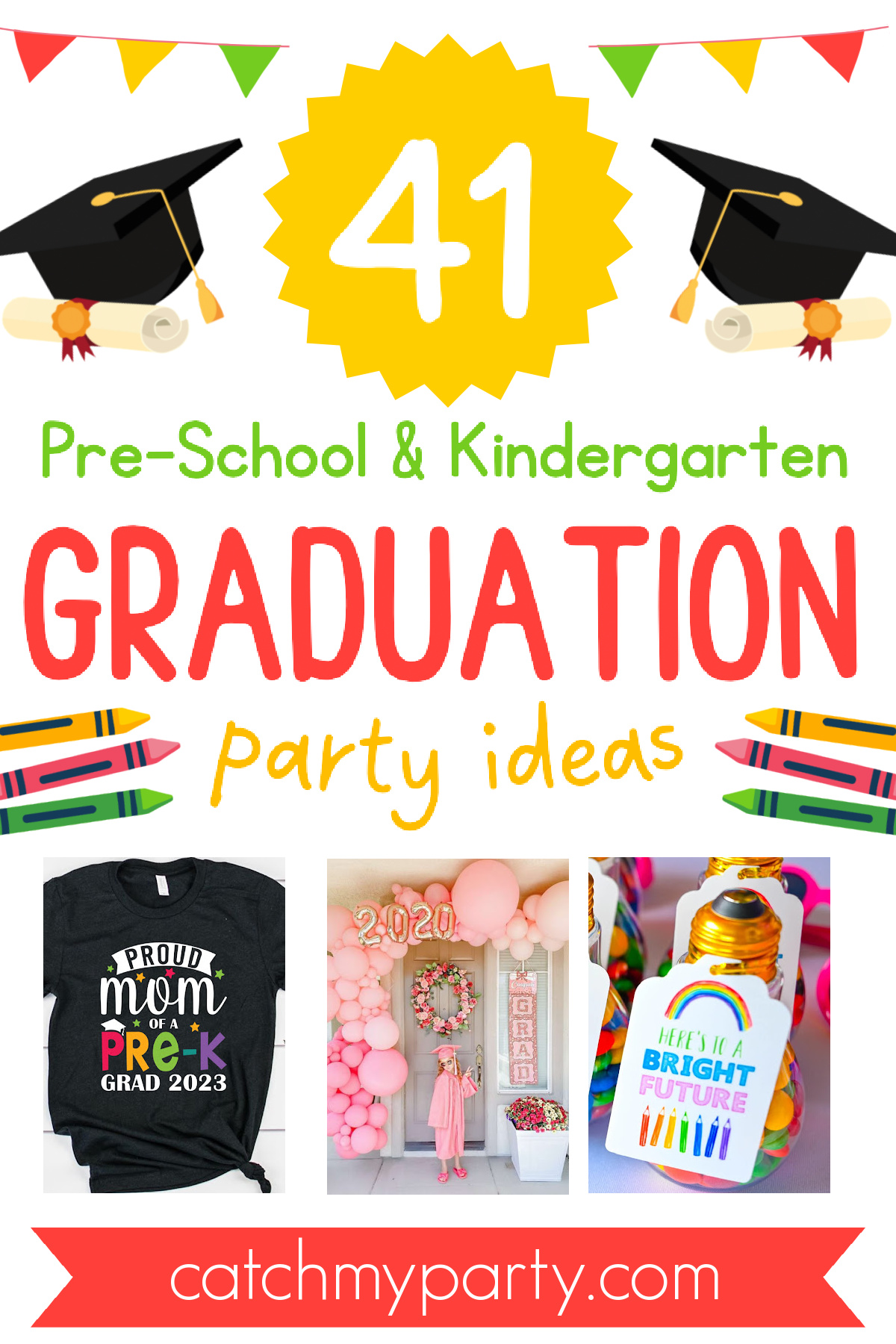 We've got ideas for graduation cookies, treats, decorations, party favors, t-shirts, and we've got "last day of school" free printables for photo ops of the special day.
Be sure to check out our recipes for fun graduation foods, such as graduation diploma treats, graduation cap treats, apple cake pops, and graduation cap cakes.
We've great graduation crafts that are perfect for decorating your graduation party. Hang our school-inspired wreath on your front door, or place our tissue paper graduation decoration on a dessert table!
Reasons to Love These Graduation Party Ideas
They are tailored to their interests and abilities of young children, making the party more enjoyable and easier to plan.
They celebrate an important milestone in a child's academic journey.
Many of these party ideas can be easily customized to fit your child's interests, personality, and preferences.
Many of these party ideas are simple and inexpensive, which can make them a great option for parents on a budget.
41 Best Preschool & Kindergarten Graduation Party Ideas!
Preschool & Kindergarten Graduation Party Idea FAQs
How to make a preschool and kindergarten graduation special?
1: Hold a graduation ceremony for the graduates, complete with caps and gowns, speeches, and diploma presentations.
2: Take individual and group photos of the graduates in their caps and gowns, and with their families.
3: Give the graduate a special gift to commemorate their accomplishment.
Where should I hold the graduation party?
You can throw a graduation party at the preschool or kindergarten campus, a local park, a community center, or even at home.
What kind of activities should I plan for the party?
Treat your guests to fun activities such as face painting, balloon animals, photo booth with props, or an arts and crafts stations where they can decorate graduation caps or create their own diploma.
Should I invite parents to the graduation party?
Yes! It's also a great opportunity for parents to socialize and celebrate their children's accomplishments.
What fun graduation treats can I serve at my graduation celebtration?
Keep the food simple and kid-friendly, such as sandwiches, fruit and veggie platters, pizza, popcorn, cupcakes, snack mix, and fruit juice.
Need more ideas and free printables?
For more graduation inspiration, check out these amazing graduation parties and FREE graduation party printables from our site! Wishing you a great end to your kids' school year!