If you're planning a TikTok birthday party, you will not want to miss these 25 best TikTok party ideas that we have rounded up for you from our site, Catch My Party.
TikTok is a massive hit on social media and a worldwide phenomenon, which explains why it's one of the most popular party trends at the moment.
If you spend hours on TikTok or have a daughter that does, this post is for you!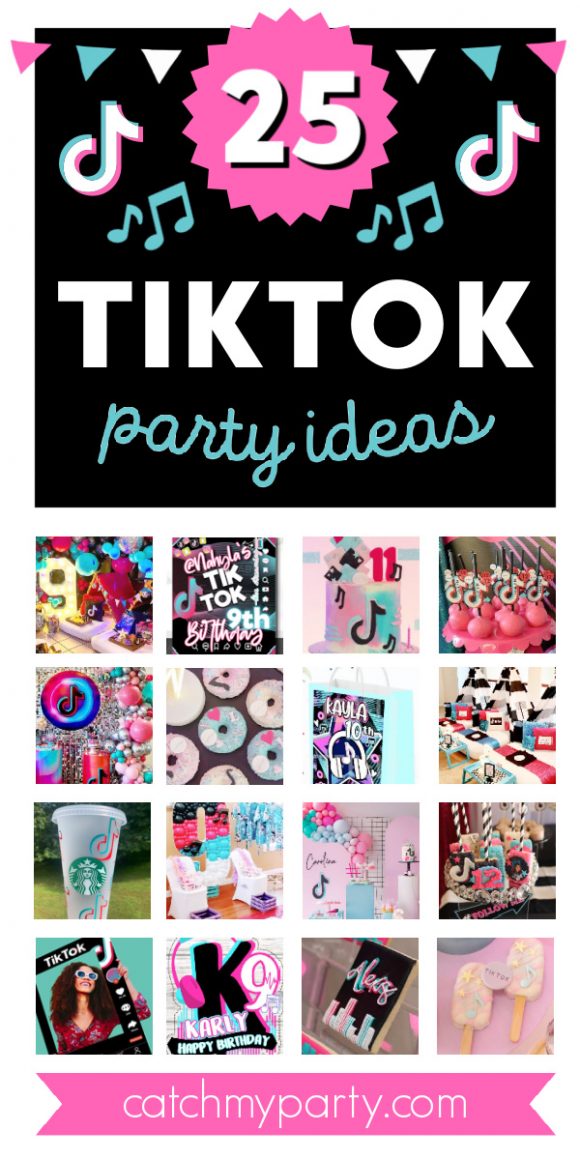 The 25 Best TikTok Birthday Party Ideas Ever!
Take a look at the incredible TikTok party ideas we've put together to help you in your TikTok party planning!
We've ideas for dessert tables, cakes, party decorations, and much, much more…
TIKTOK PARTY PRINTABLES
If you're on a budget and looking for some inexpensive and easy party decorations for a TikTok birthday, we've got you covered.
Just download our FREE TikTok party printables. Our set includes welcome posters, cupcake toppers, water bottle labels, favor tags, and more.
All you need to do is print the downloaded files, cut them out, and assemble them. It couldn't be easier!

TIKTOK DESSERT TABLES
This disco-inspired TikTok dessert table is so much fun!
The silver turquoise and pink balloon garland is amazing and looks fantastic up against this mirrored sequin backdrop.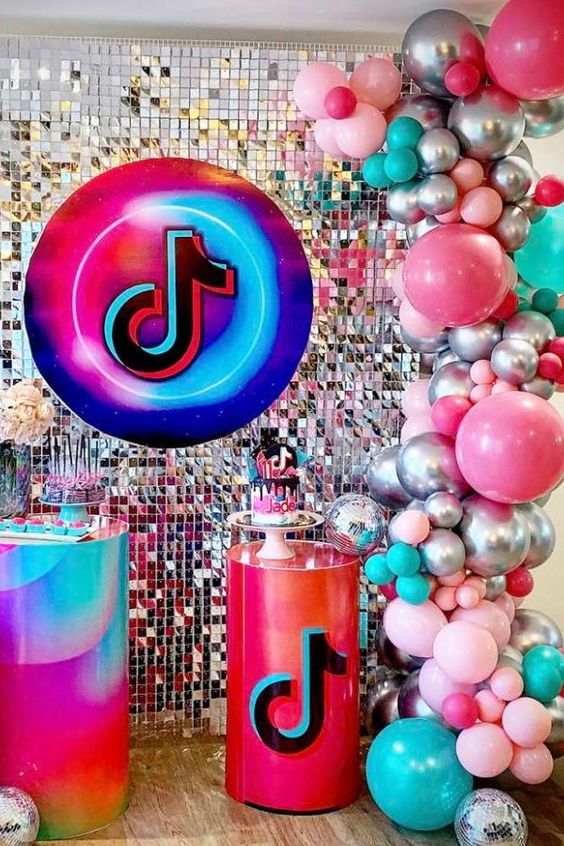 This next dessert table is fantastic, too!
You are going to love the balloon decorations. The music note balloons scattered throughout the garland are awesome. The number "9" decoration is made up of pink turquoise and black balloons. It looks fantastic up against the dessert table.
The birthday cake takes center stage and is such a showstopper.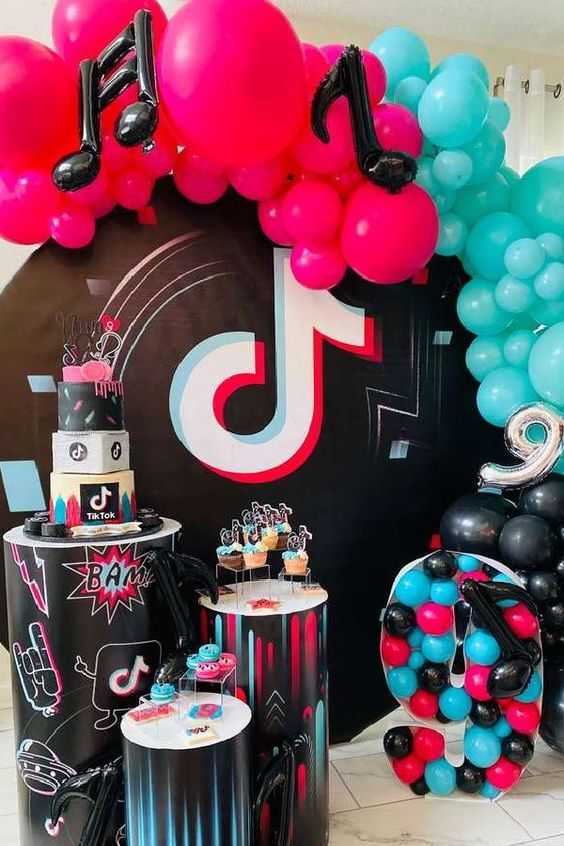 If you can't resist pink then this TikTok dessert table is for you!
This pastel TikTok birthday party is adorable and perfect for younger girls that are on top of their TikTok dance moves.
Love the pastel balloon garland framing the dessert table!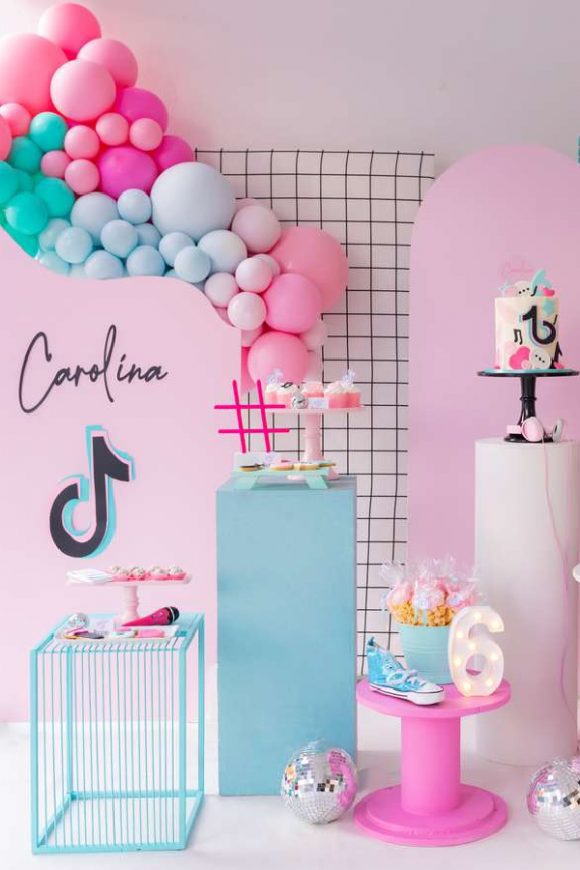 TIKTOK CAKES
A birthday cake is always expected to blow everyone away.
This is the case with this pink and turquoise ombre birthday cake, decorated with the TikTok logo and musical notes, and topped with the number 11.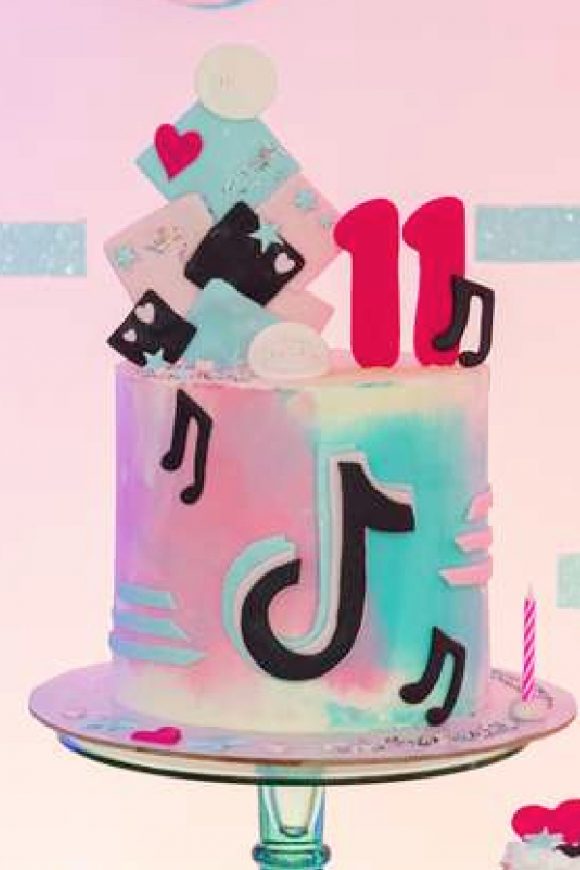 This next tiered birthday cake is so much fun.
Covered in tiny musical notes, topped with headphones, and decorated with a large TikTok logo, take is everything a TikTok fan could wish for.
Try and recreate this cake with these fondant music notes.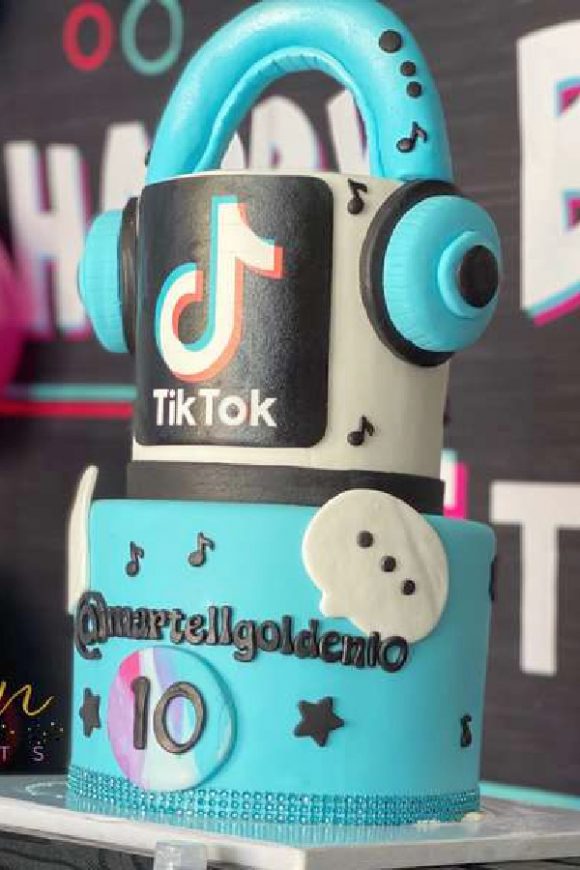 TIKTOK PARTY FOOD
Don't want to miss this cute mix of TikTok-inspired cookies. We have some personalized cookies and another that is savage!
Make your own TikTok cookies with the help of this TikTok cookie cutter.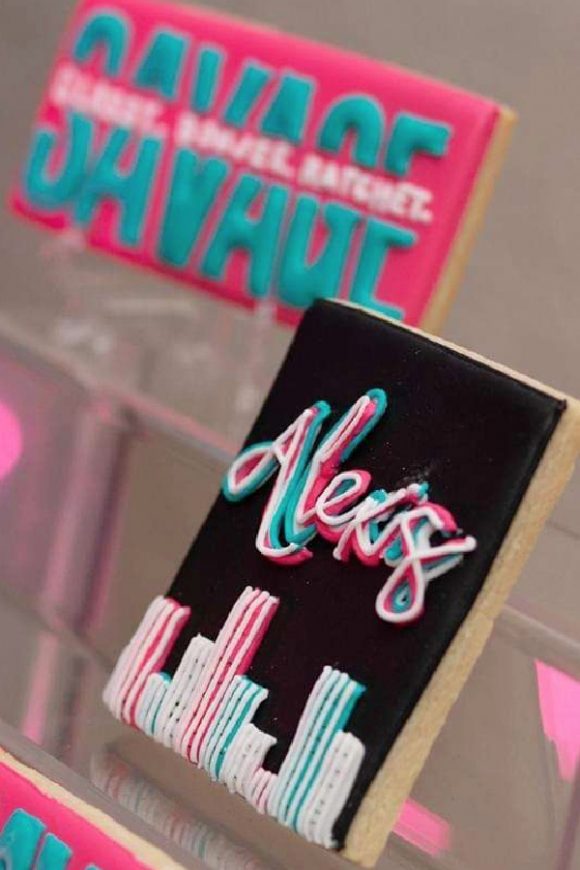 Everyone loves a cupcake, and these are no exception.
Each one is topped with turquoise, white, and pink frosting, and has this fab sparkly TikTok logo topper decorating it.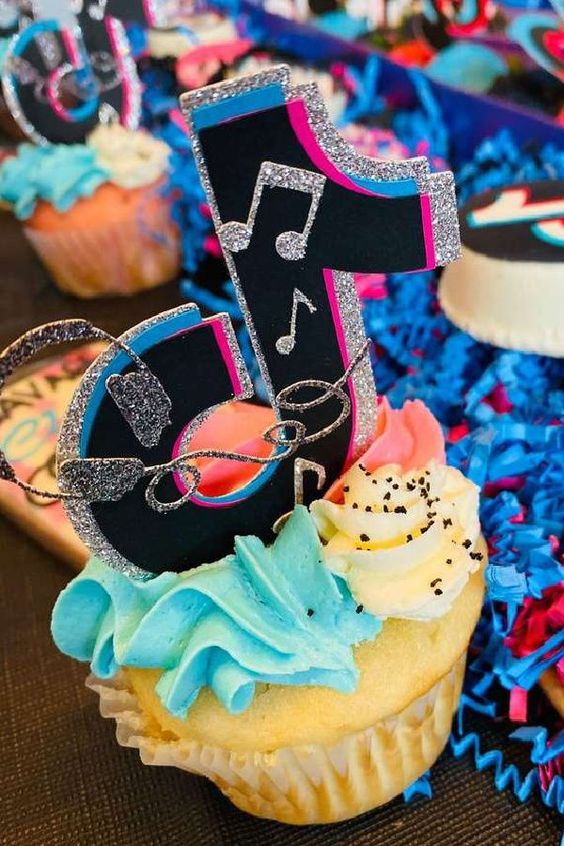 Cake pops are also big hits at parties.
The ones below are perfect for a TikTok themed party. Each one is bright pink and is decorated with a TikTok logo on the stick.
What more could a TikTok fan ask for?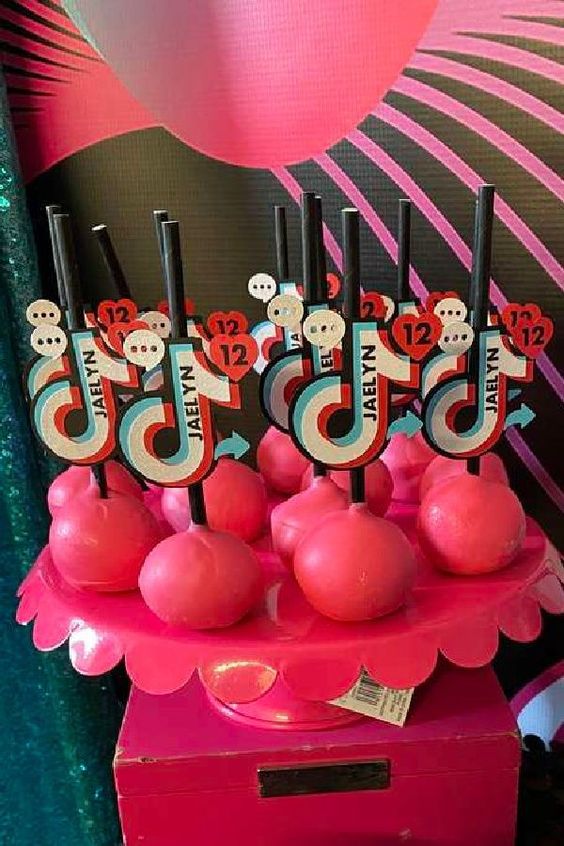 Check out these fun sparkly cake pops decorated with tiny fondant earphones.
They are just what you need to serve your guests and are the perfect addition to your TikTok-themed birthday party.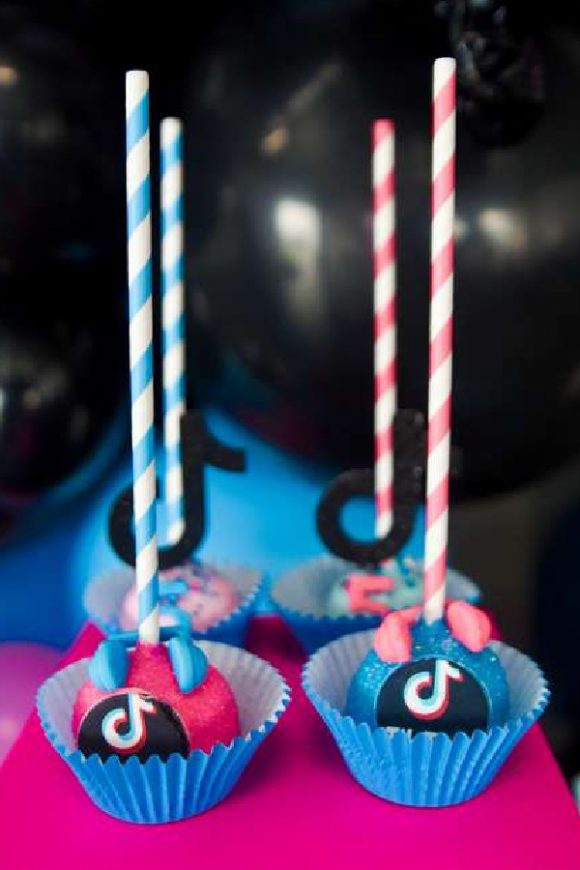 Cakecicles are the new cake pops!
They are so much easier to make and just as delicious.
Make your own by drizzling some white cakecicles with pink-colored chocolate and decorating them with music notes and stars.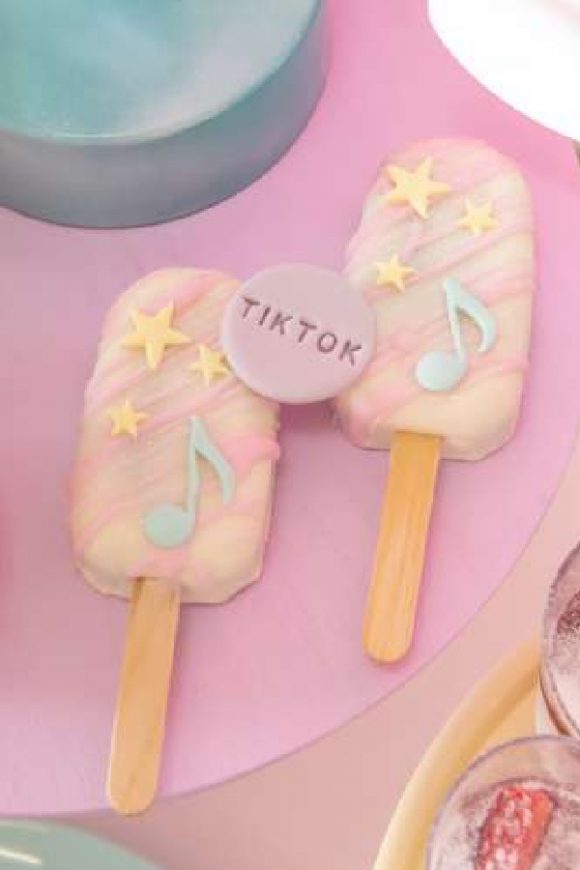 Another fun party food to serve at your birthday party are some TikTok-themed Krispie Treats.
Stick a cake pop stick or even a straw into your Krispie Treats and dip them into white, black, pink, or blue chocolate. Decorate them with a fondant TikTok logo, stars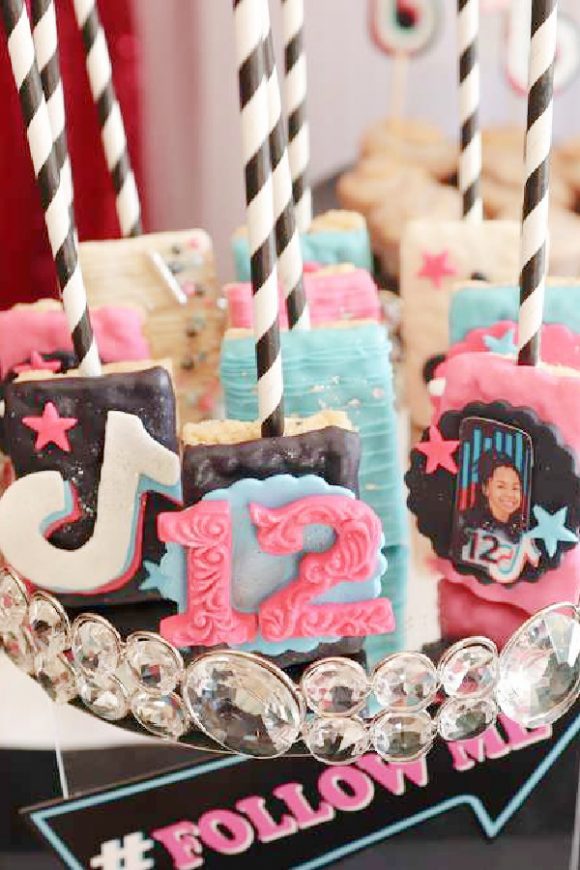 WOW! If like me you love donuts, then you don't want to miss these awesome TikTok-inspired ones.
They look absolutely fantastic on a plate and your guests are going to devour them within minutes.
If you'd like to make your own, be sure to use either pink or blue frosting and decorate them with these TikTok-colored sprinkles.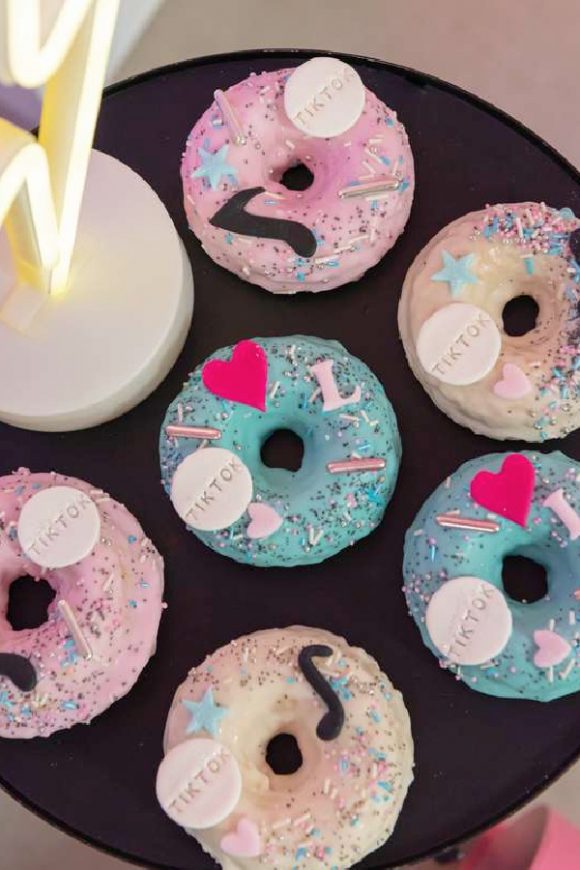 TIKTOK PARTY DECORATIONS
This TikTok-themed backdrop is such a cool party decoration.
You can either place it behind your dessert table or use it as a backdrop for your photo booth.
Whichever way you choose to use it, you can never go wrong.

Balloon decorations are so on-trend at the moment. Everyone seems to have a balloon garland, a balloon wall, or as in the image below, a balloon designed to look like the number nine.
Love the TikTok-inspired color scheme and the black foil music note balloon finishing it off.
It's the perfect party decoration to place, either at the entrance of your party or right beside your dessert table.

Decorate your party with a bunch of these TikTok logo-inspired foil balloons.
You can place one at either end of the dessert table, for instance, or you can have them scattered around your venue.
Either way, they are great party decoration.

If you're looking for the perfect TikTok centerpiece, look no further.
This personalized TikTok-inspired cutout is an awesome party decoration, that will look amazing decorating your table.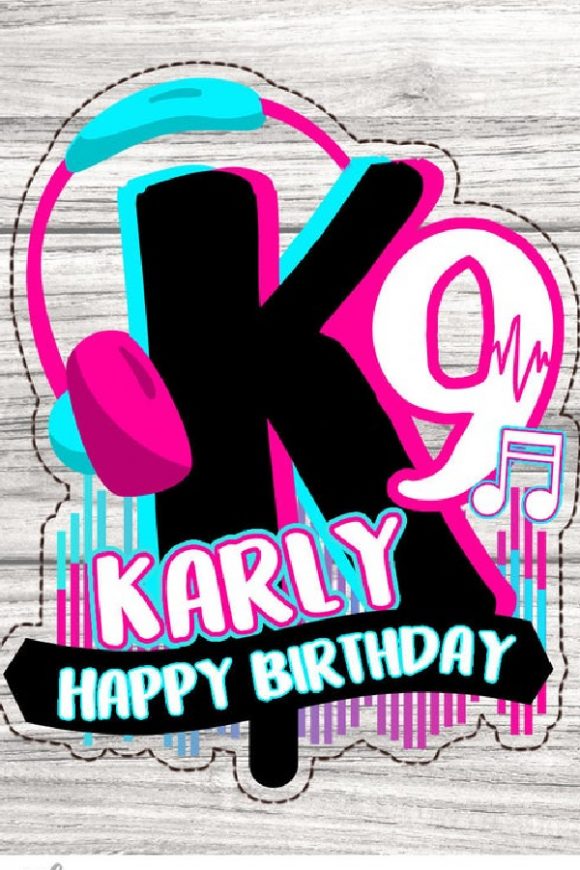 TIKTOK TABLE SETTINGS
Check out these glam TikTok-inspired table settings.
The cut-out TikTok logo centerpieces look fantastic on this table, with a bright pink tablecloth and black TikTok paper plates.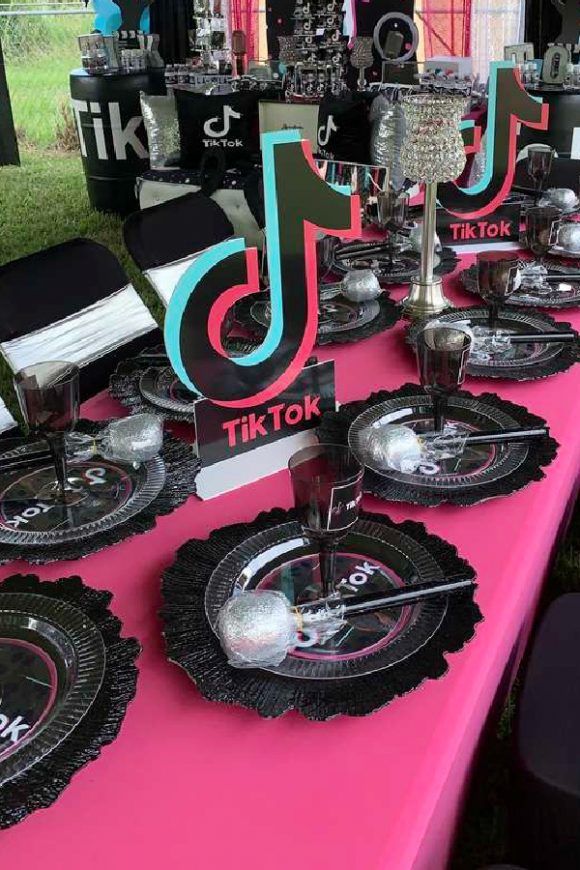 Sleepovers are always a great idea.
There is nothing better than a fun night with girlfriends. So set up some teepees with some pillows and blankets, and a bunch of other TikTok goodies that double up as party favors, for your guests to take home following the party.
Love the disco ball balloons included in the awesome balloon garland! They are the perfect party decoration when your guests practice their latest dance routines to their favorite songs!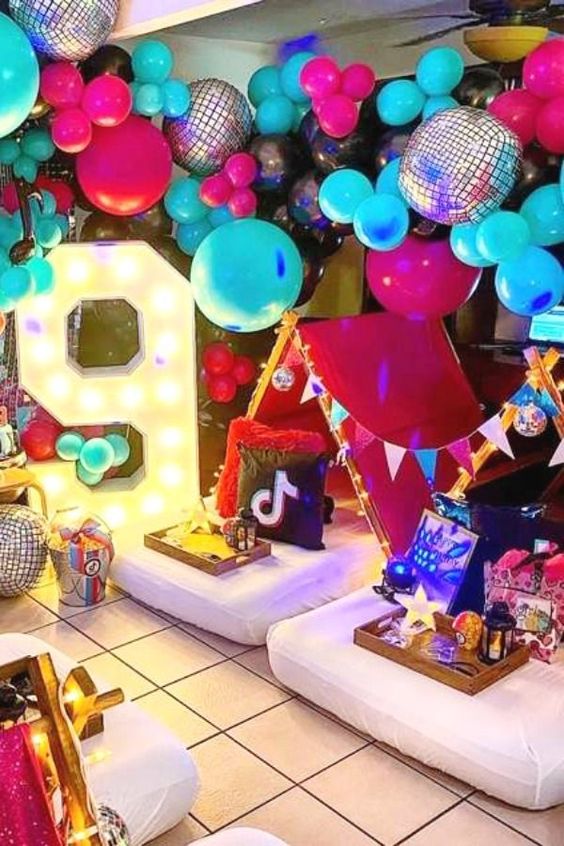 These black and white striped teepees are perfect for a TikTok slumber party.
Place some awesome pink, black or blue cushions on each mattress, along with some other TikTok-themed goodies for your guests, and you really can't go wrong.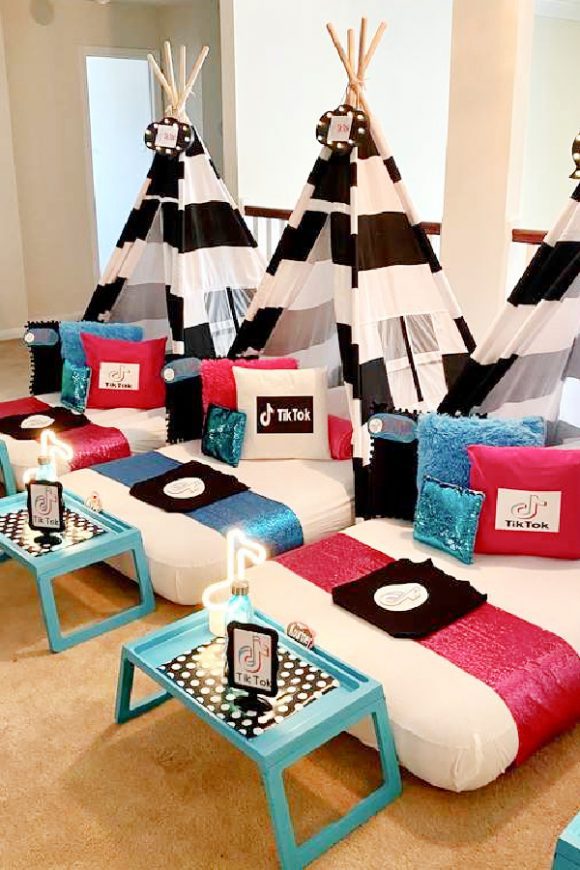 Every girl loves some pampering, so how about treating your guests to some love and attention with a spa-themed TikTok party.
Offer them the opportunity to get a facial and a manicure and you can bet they'll be in heaven.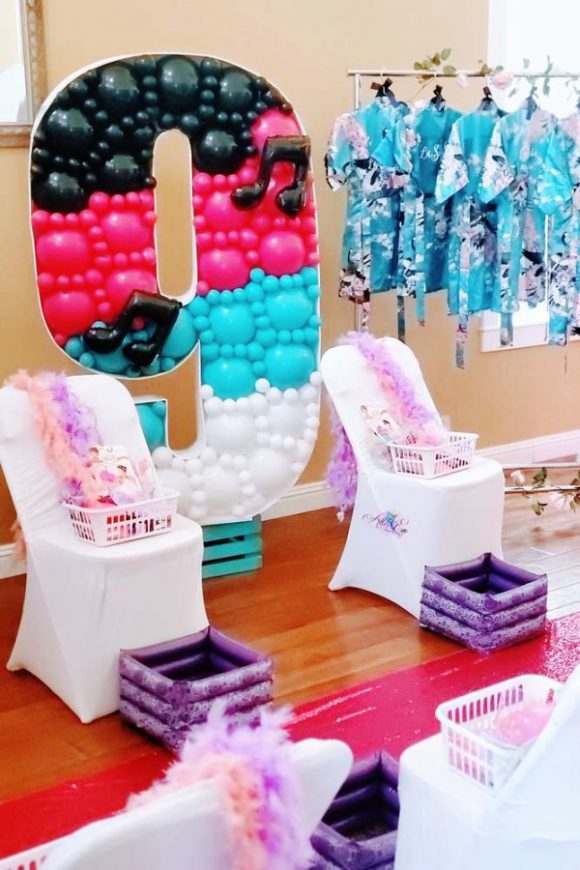 TIKTOK PHOTO BOOTH
Photo booths are always a big hit at parties and such a great idea.
Your guests are going to love striking poses and showing off the dance moves while having their photos taken. In fact, there's nothing a TikTokker love's more than showing off!
Photos make a wonderful keepsake of the big day.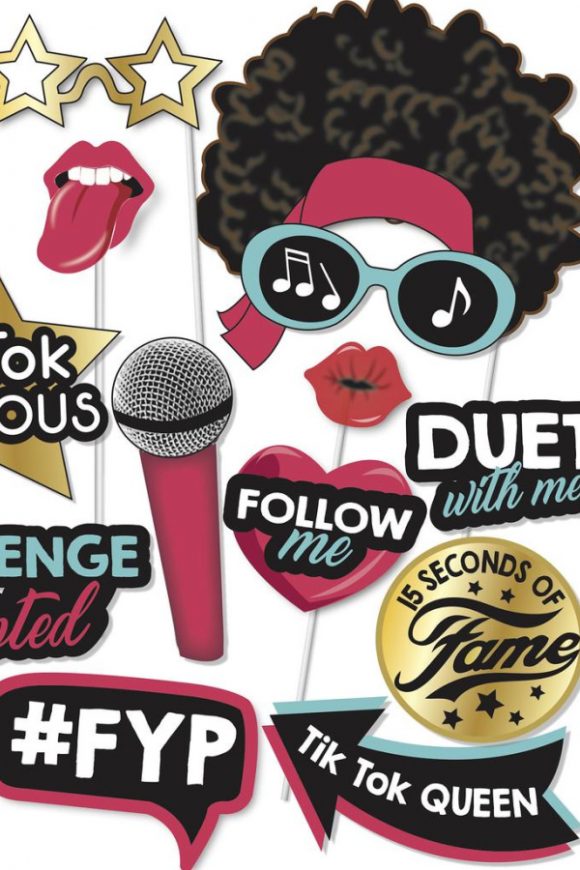 This TikTok photo booth frame it's just what you need for your photos.
Your guests are going to love fooling around and doing their dance moves. With this frame, your photos will be that extra bit special.
To make your photos even more fun have your guests, use previous TikTok photo booth props in your shots too.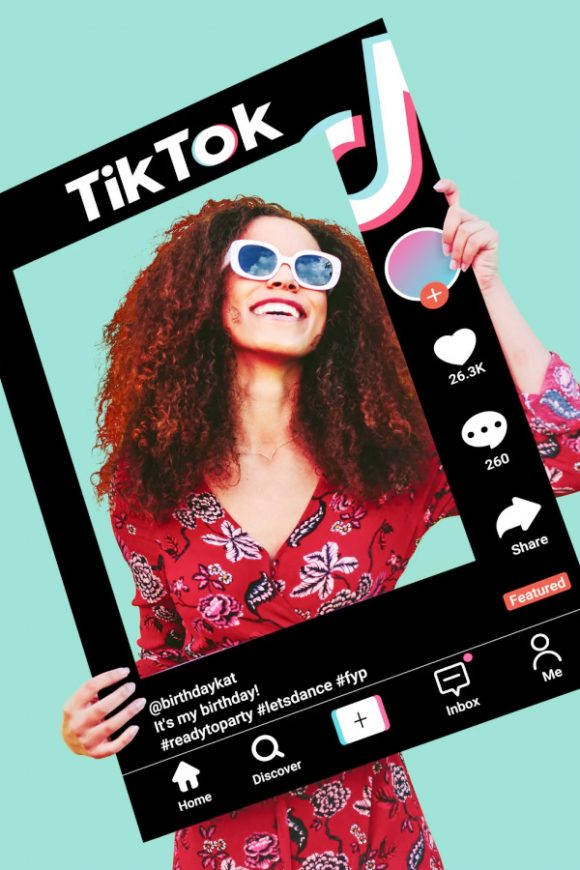 TIKTOK PARTY FAVORS
You know how much people on TikTok love to show off their favorite Starbucks drinks!
So we've found the perfect party favor for a TikTok fan…Starbucks TikTok cups!
Your guests are going to love sipping their fancy coffee drinks out of them!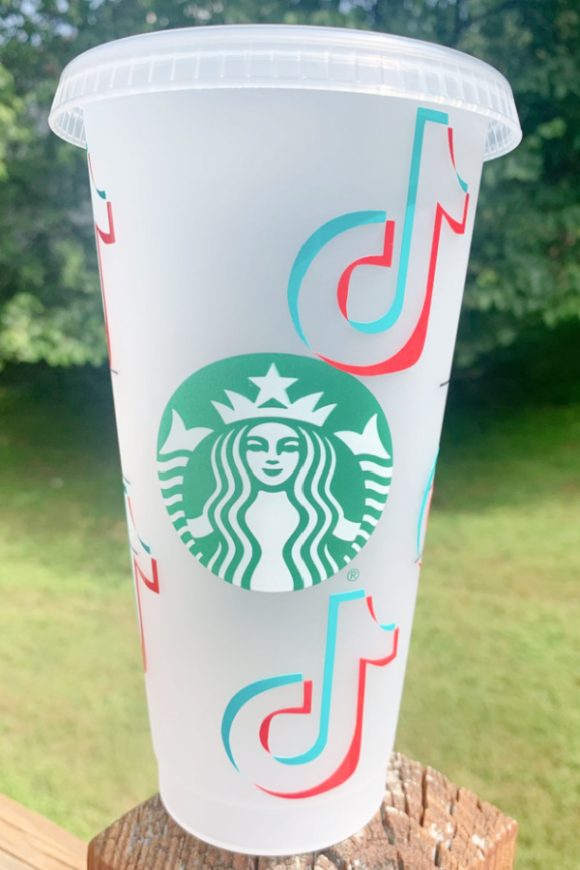 To finish off, we have these fabulous TikTok-themed labels that you can stick on paper bags to create TikTok party favor bags that you'll want to fill with goodies for your guests to take home.
Each box is personalized and has a large pink bow.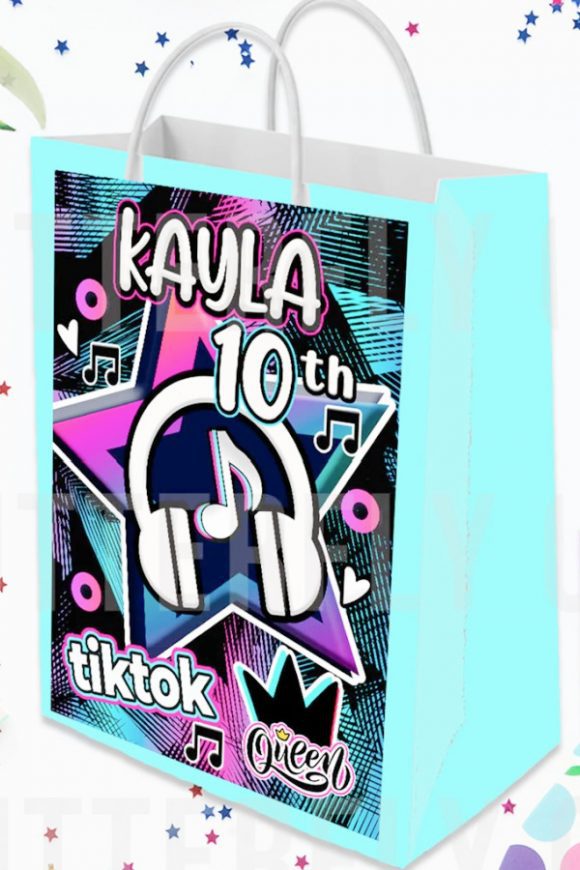 Be sure to download our FREE TikTok party printables to decorate your party, and check out our awesome TikTok gift ideas and TikTok party supplies.
Also, we have more wonderful ideas for TikTok parties and TikTok party supplies on our site, so don't miss them!
Need more TikTok party ideas?
**Some of these links may be affiliate links.