This week we have the privilege of sharing the best drive-bt boy baby shower supplies for all those of you planning a baby shower during these strange times.
Last week's drive-by girl baby shower supplies post was so popular that we just had to to a boy version for you this week!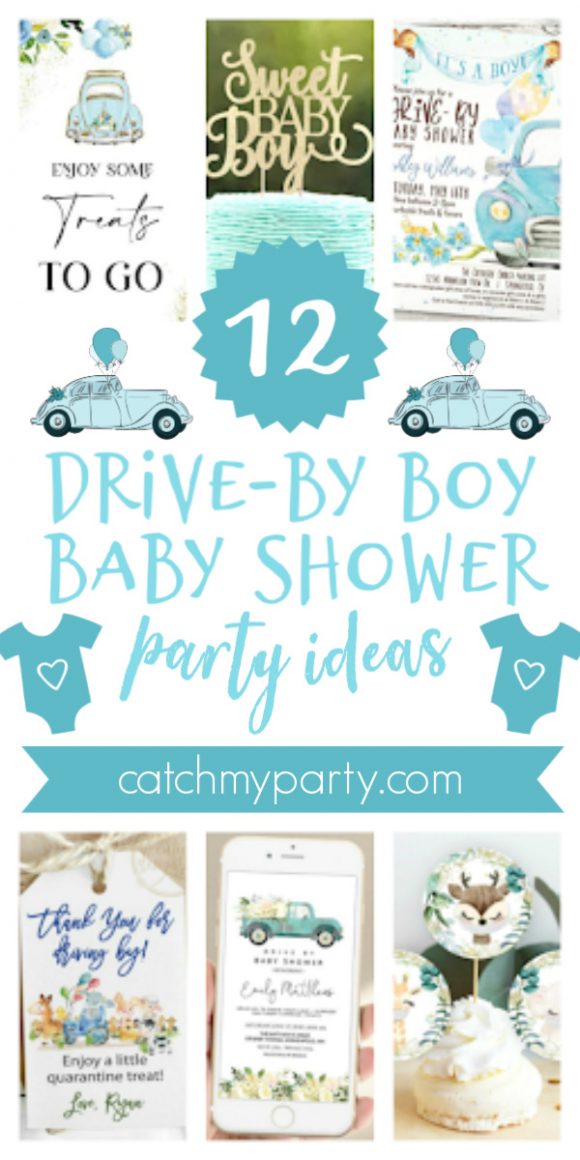 We've got so many fun ideas, such as a drive-by baby shower party invitation, some drive-by signs, cupcake toppers, a baby shower photo booth frame and so much more.
Get ready to make some noise!
Take a Look at the 12 Best Drive-By Boy Baby Shower Supplies!
As soon as you've settled on a date the first thing you'll want to do is get the invitations out.
This drive-by baby shower invitation is so delightful. Your guests are going to be so impressed.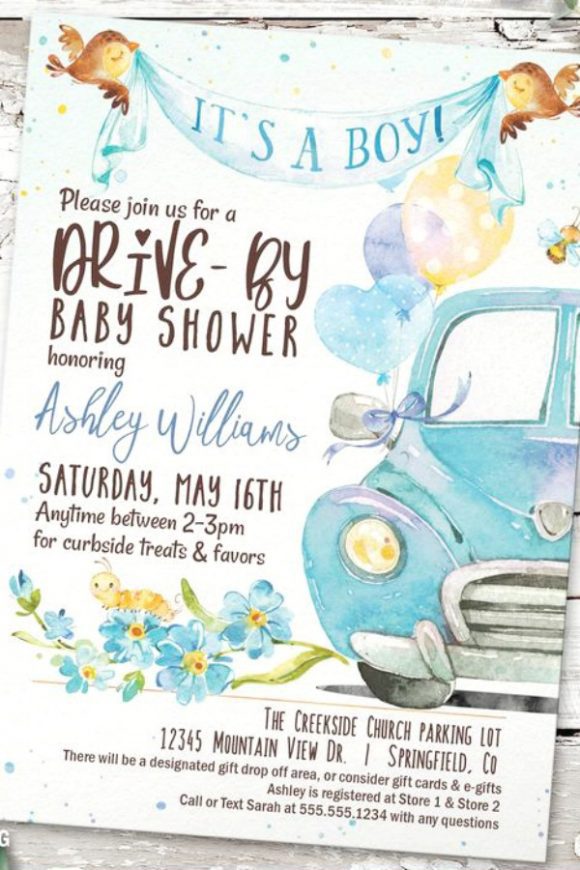 If on the other hand, you want to send your family and friends a digital invitation we've got just what you're looking for!
This beautiful vintage truck full of flowers is perfect.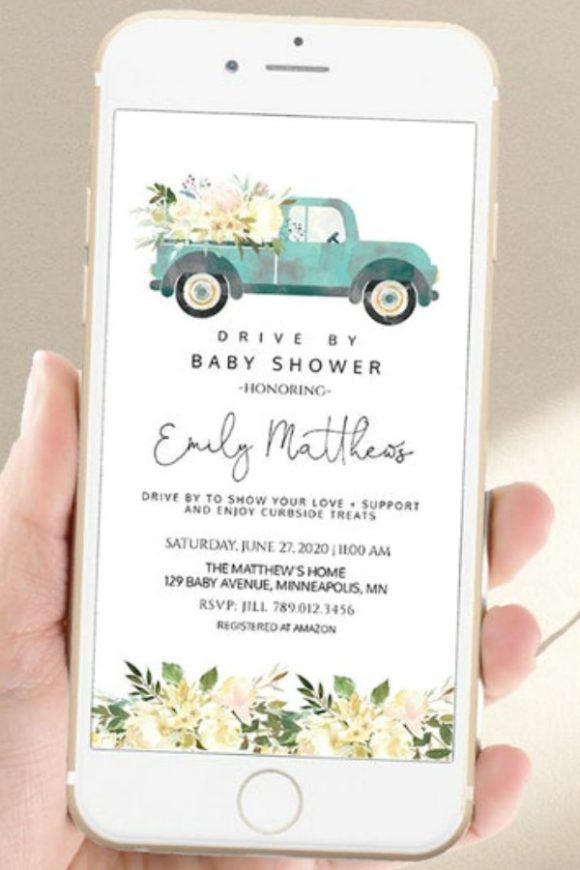 This pretty gold 'sweet baby boy' cake topper once placed on a cake creates (as it should)  a baby shower show stopper.
You couldn't wish for a quick and easier solution.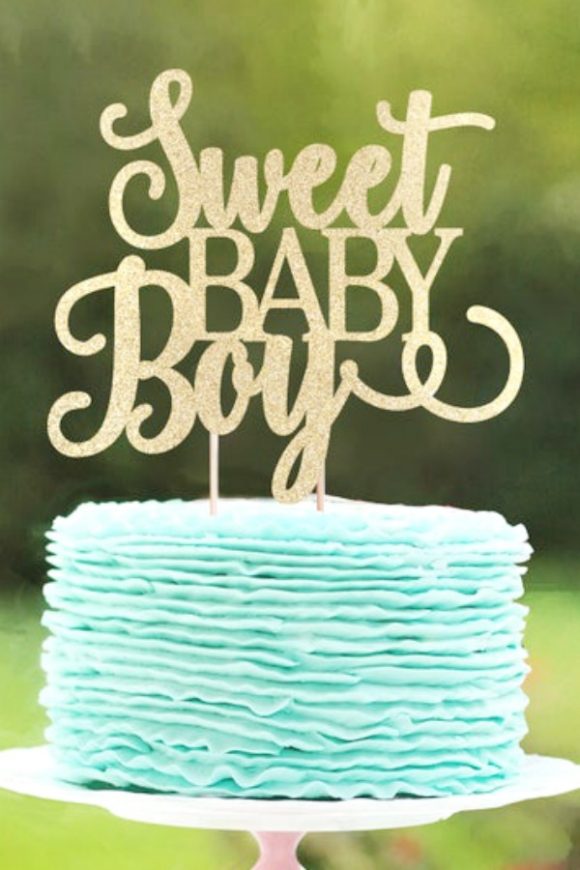 These beautifully illustrated cupcake toppers are so heartwarming.
Each one has an animal in a mask on them and they look fantastic on a bunch of homemade or store-bought cupcakes.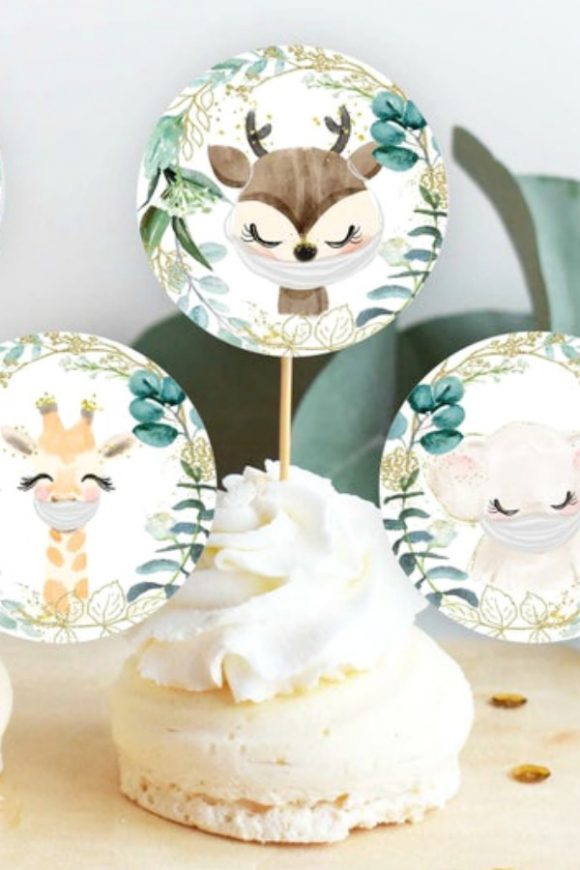 This bunch of boy baby shower banners is just what you need to decorate your shower.
The pack includes 6 paper balls, an 'Oh Baby' 13″ letter foil balloons ( 13in each letter), an 'It's A Boy' banner, and tassels in different shades of blue.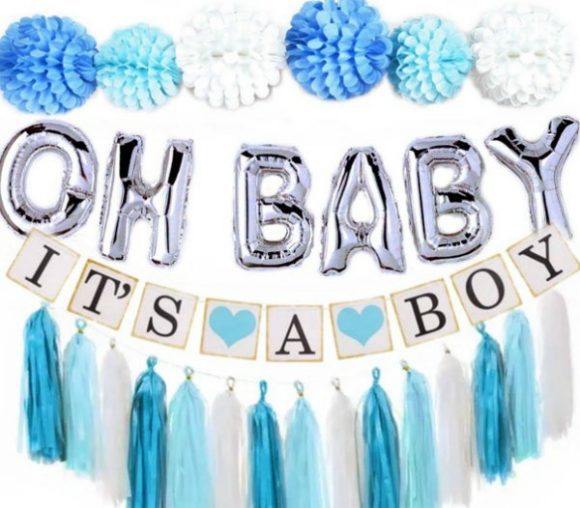 If you want a party decoration that doubles up as a keepsake then you have to get a chalkboard drive-by boy baby shower poster.
It's such a wonderful way to keep a record of the important stages of your pregnancy that you may otherwise forget.
Make sure you hold onto them. They are truly precious!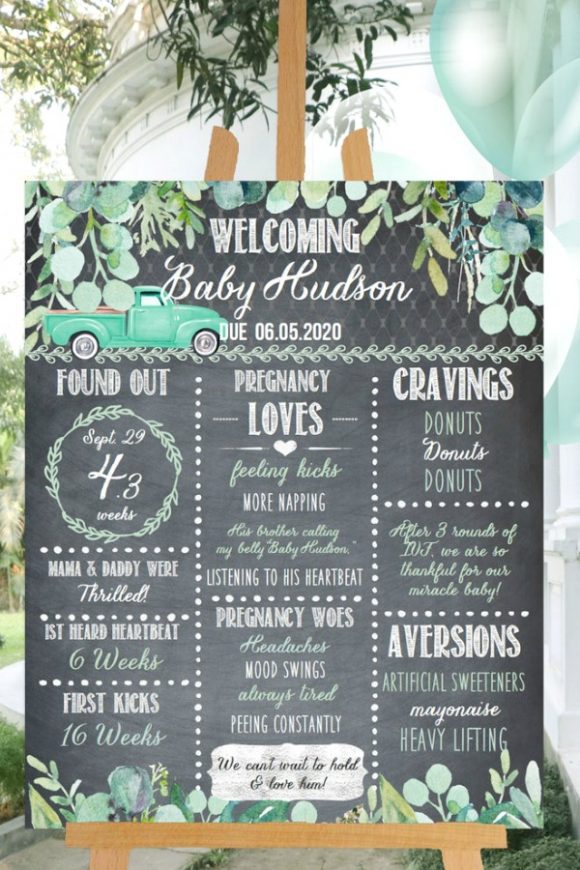 Let all everyone know you're celebrating a drive-by baby shower by placing this adorable sign on your front lawn.
It has such a festive touch to it with the line of cars decorated with balloons.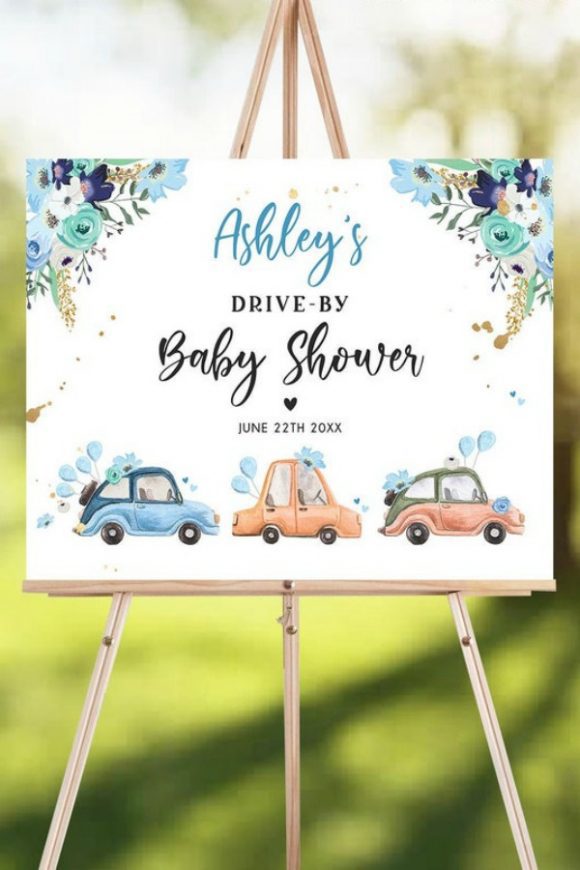 Let your family and friends know where to drop off cards and gifts when then drive-by.
Reserve a parking spot where they can leave their car for a short time while they jump out to leave their gifts.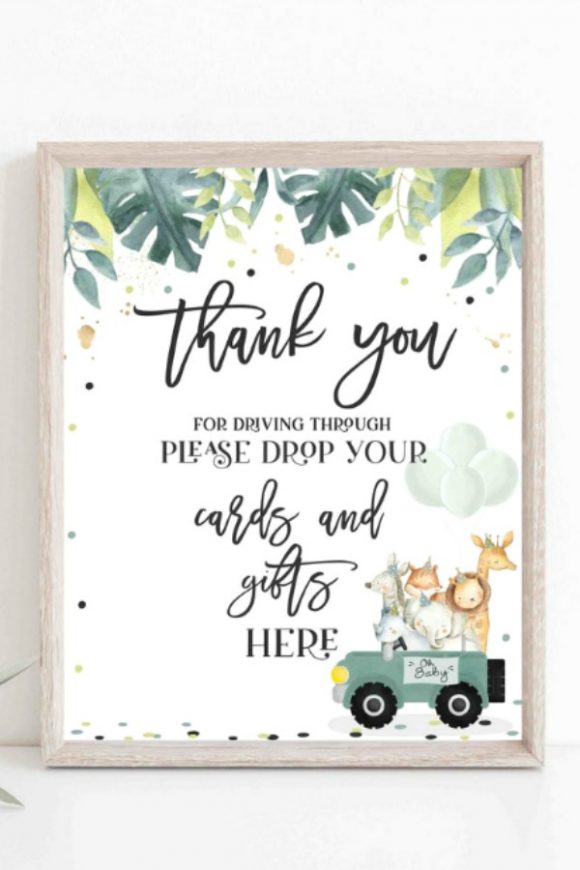 Show your guests just how appreciative you are for all their love by creating a place on your doorstep with party favors for them to take back home with them.
This sign is just what you need to indicate where they can pick up their treats.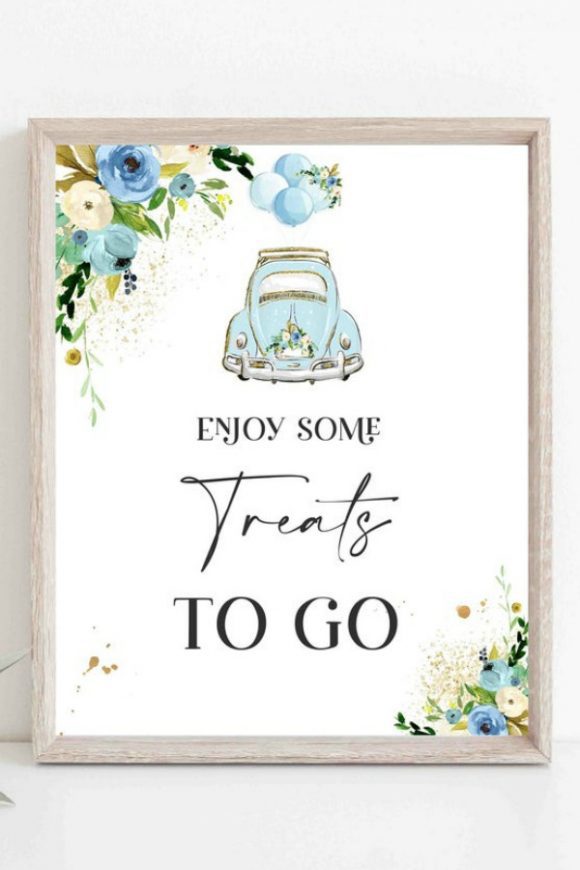 Add one of these gorgeous drive-by baby shower tags to your party favors for ultimate cuteness!
Love all the beautifully illustrated fam animals.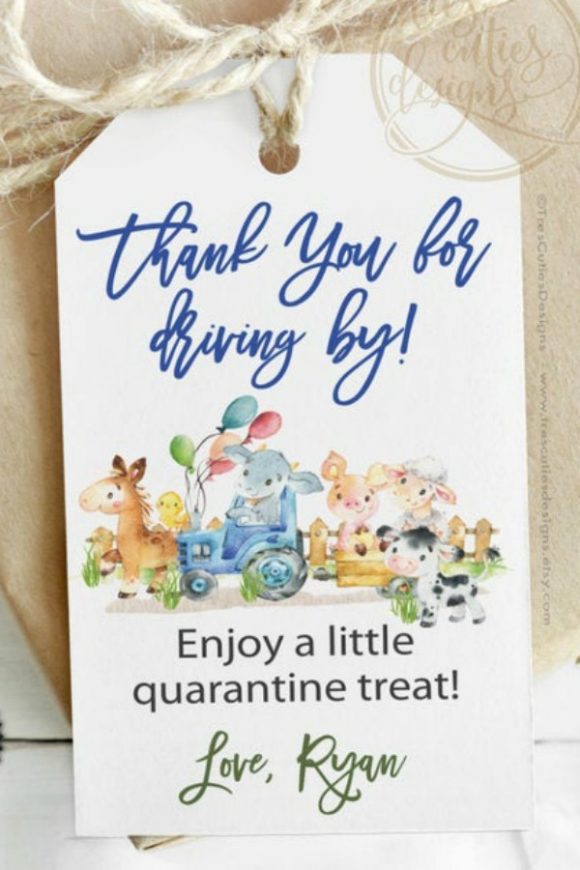 It's hard to have party games at a baby shower parade but you can turn this prediction card into a sweet gift for the Parents-to-be.
Send the editable PDF file to all the guests for them to fill out with the best advice and wishes for the new parents.
Once filled out ask them to send it back to you and have them printed out into a book that you can drop off as a gift to the Parents.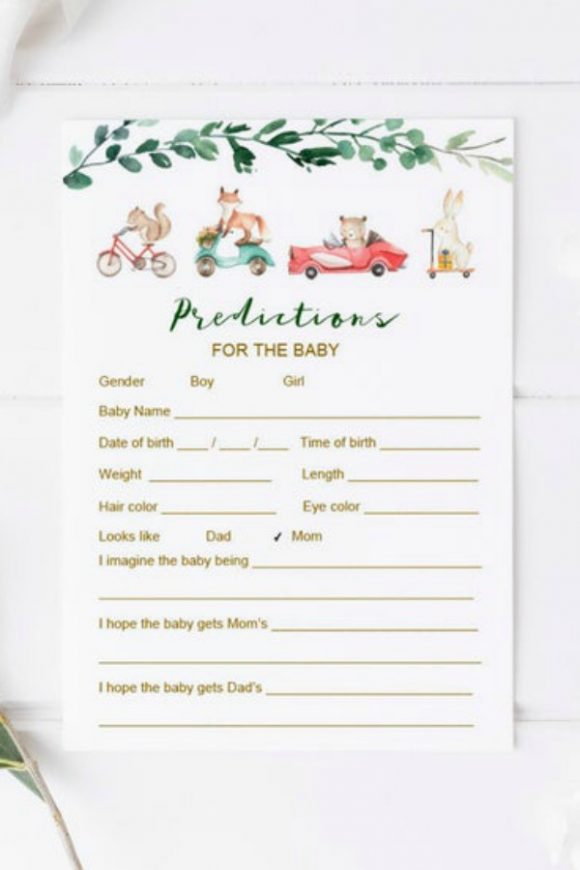 To finish off our list we have this wonderful drive-thru baby shower photo booth frame.
The photos you take are going to be for the ages!
Social distancing may not be any fun at all but you are going to look back at your photos with your little boy and you'll remember the crazy times we are living in right now.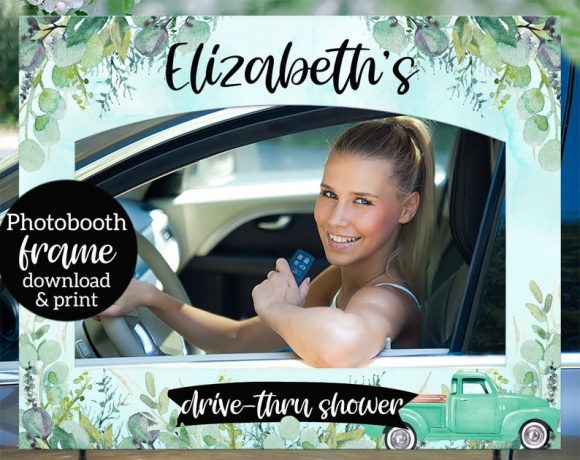 Some of these links are affiliate links. If you click and make a purchase, we may make a small commission at no cost to you.

MORE POSTS LIKE THIS YOU'LL LIKE:
Need more ideas and free printables?