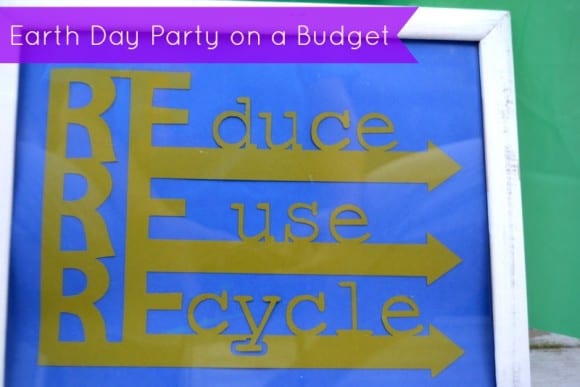 Hello everyone – it's Melissa from My Party Passion – continuing with my series on Mini Parties On a Budget! Today I want to share with you the Earth Day Celebration I threw for my kids on a budget of virtually zero! Impossible? Well, I used all elements from our home and bought nothing new. Talk about recycling and reusing!
To start, I wanted to have something round on the table to signify the Earth and the recycling cycle so I used my grape vine wreath for that. I added a little ceramic bird to represent the animals. Using a plastic green table cloth left over from our St. Patrick's Day party was a no-brainer.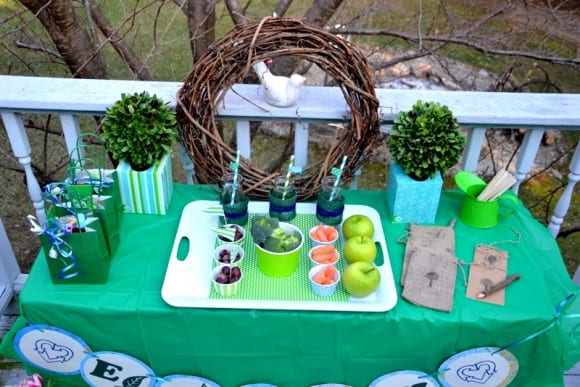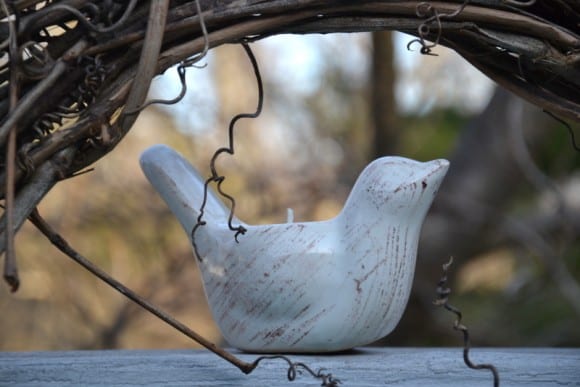 One of my favorite ideas and elements is reusing these Puffs Tissue Boxes to put our little "trees" in (from Pottery Barn).  They were the perfect colors to go with our Earthy blues and greens.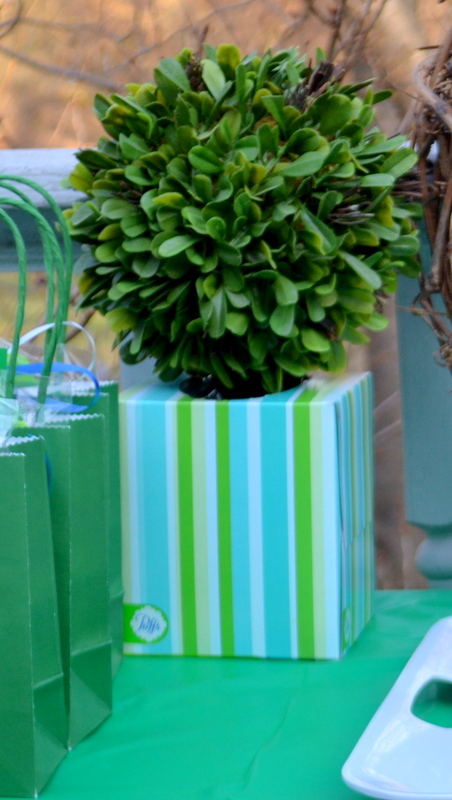 Probably my next favorite recycling idea is our Earth Day Banner. The girls helped me assemble this fun banner. Using an old book of maps (see the DIY on Catch My Party) and my Silhouette machine, we were able to put together this fun Earthy banner.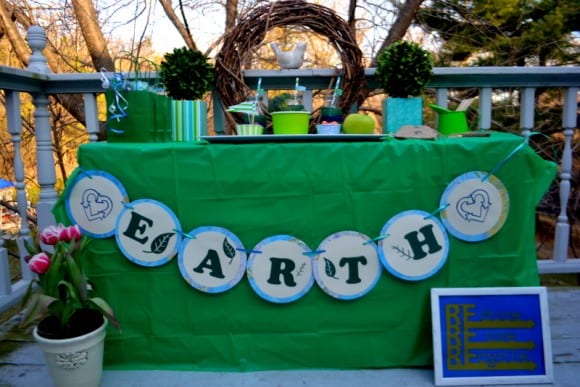 The children feasted on fresh grapes, apples and carrots (sadly no one touched the broccoli lol). They did not miss the "sweets" at all.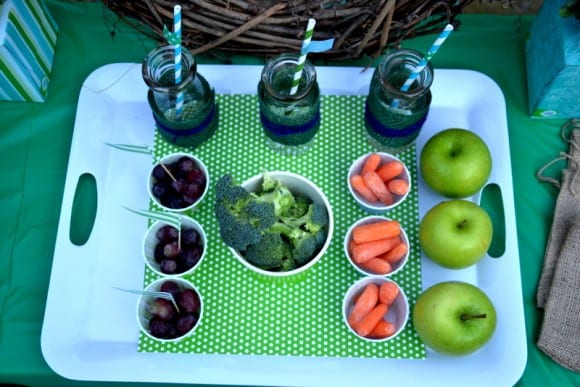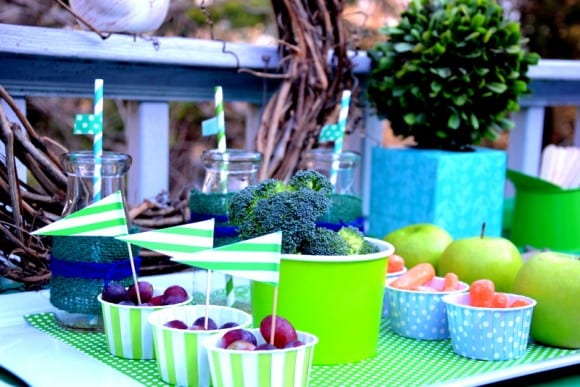 Coming up with a "favor" for them was easy!  I had bought these adorable sunglasses at a craft store months ago (less than a dollar a piece on clearance) and knew that I would use them someday.  Perfect fit with flowers and bugs on the glasses!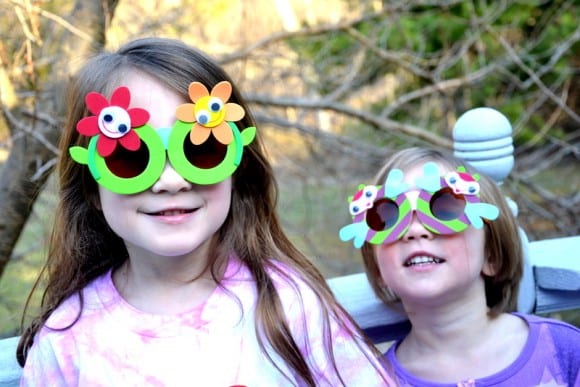 The next favor that I came up with (wanted an Earthy type of favor) was also using recycled materials.  I had made these cute nature notebooks for my daughter's Woodland Party last year and I thought how perfect to recreate them for this party.  I used a brown lunch bag, a stamp and some jute twine. It was so easy and pairing it up with a twig pencil was perfect!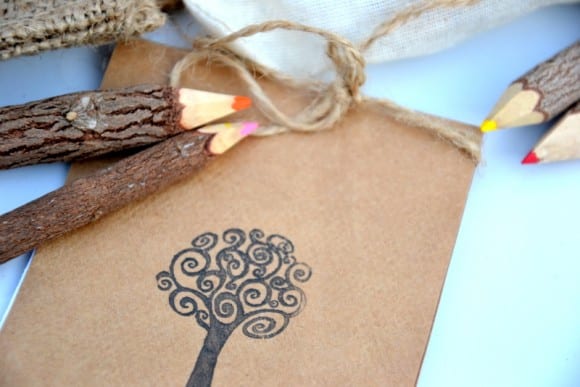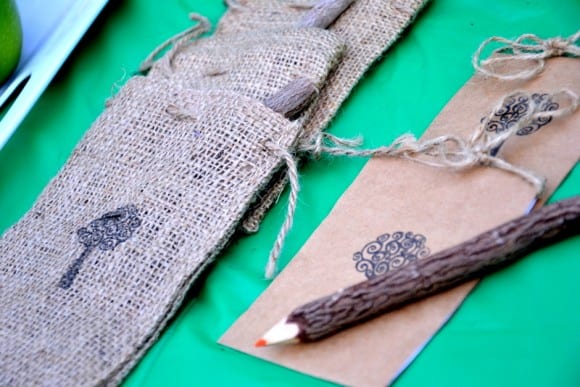 My mini Earth Day party did not cost me a penny as I had everything in our home already.  However, you can easily go to the dollar store and get most of these party supplies and throw your own for less than $ 10!
Here are some great resources for you to help celebrate Earth Day in your home:
Free Earth Day printables on Catch My Party – an earth-friendly party sign, party circles, and an "Earth Day Rocks" banner.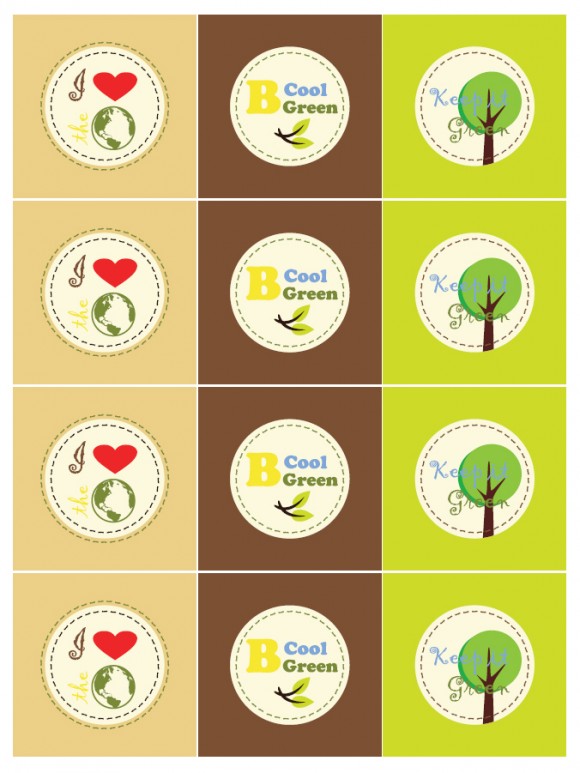 Ideas for How To Throw A Mini Planting Party: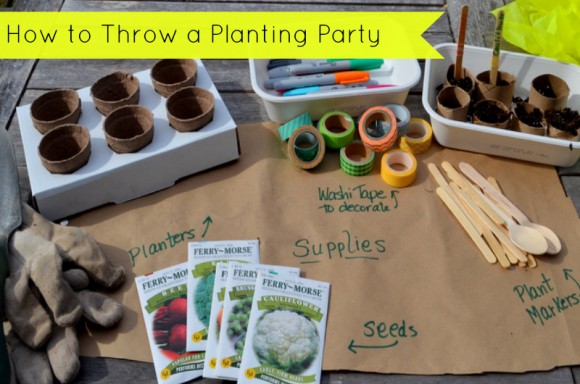 Plant Protectors Club – FREE From the EPA They have downloadable products and fun products you can order on line for FREE!
We LOVE this resource and pull it out often in our home school!
Arbor Foundation – you can order 10 trees FREE when you join for $ 10 (6 month membership). They will arrive to your home in the season in which they can be planted.  This is a GREAT way to teach the children about our Earth and planting!  Invite 10 friends over and these would make excellent take aways at $ 1 a piece!
Thanks for stopping by. I hope you found some great ideas and resources for celebrating our Earth!  Until next time – Party On Friends!
Thank you, Melissa, what a way to have fun and teach our children to be mindful of the earth! To learn more about Melissa, visit her at My Party Passion.