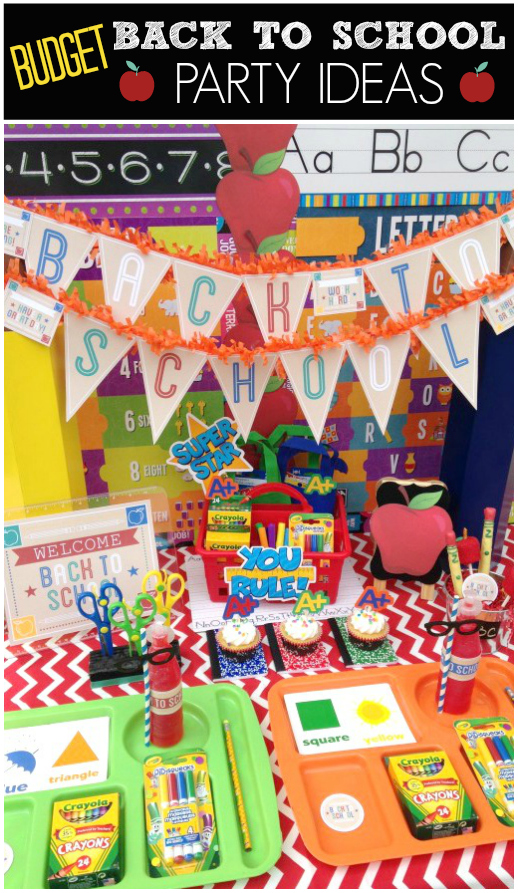 Another school year is about to start! I always like to celebrate back to school to get my kids excited,  so. I found this free back to school printable set, and scoured my local Dollar Tree for fun & inexpensive items for our own celebration.
What's nice about the items I chose is the party guests can take home their favors, and use them as their own back to school supplies!
Party Set Up
I love using fabric as a table cover. I used a bright red chevron pattern to display my party spread. Printables, school supplies, sweet treats, and lots of color, brought the entire back to school party to life.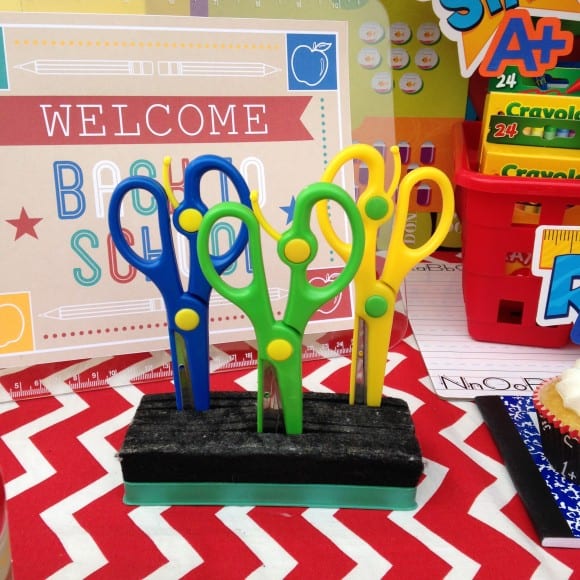 I displayed pairs of scissors inside of a chalkboard eraser. Just a fun, little detail that was eye catching!
Dessert Table Backdrop
I attached two foam boards together and taped classroom themed posters and borders to it. I also found some cute paper apples, and attached them down the middle of my backdrop. The cost for this was less than $5.
I hung the banner between two large decorative pencils that I found a couple years back at Hobby Lobby.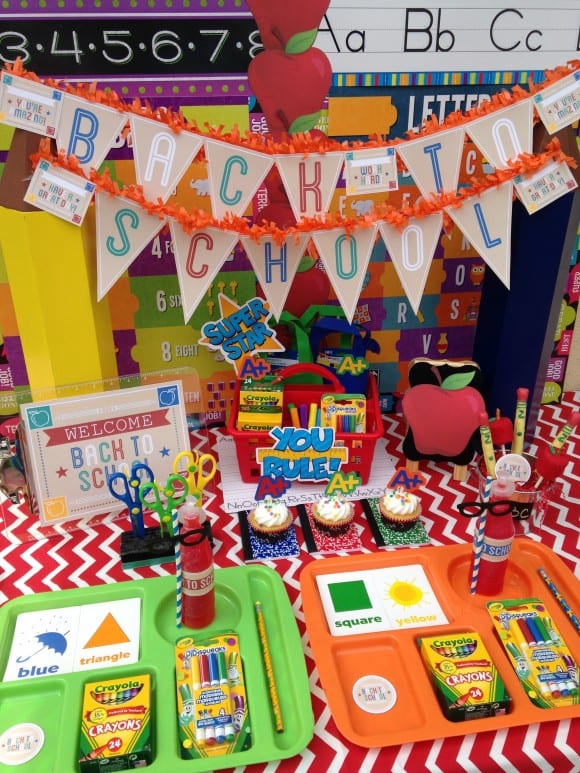 Party Display
I thought it would be fun to display some of the school supplies on plastic lunch trays. Flash cards, pencils, markers, and crayons fit nicely on the trays. I attached paper straws to the juice bottles, and added mini glasses that I found at Michael's.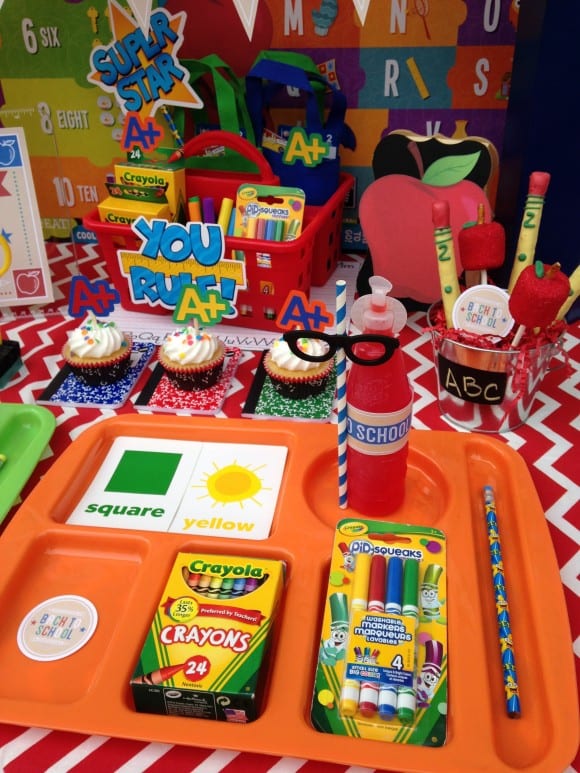 My table centerpiece was a simple plastic caddy that held gift bags filled with scissors & pencil sharpeners. I also added boxes of crayons, and mini crayola markers.
I attached a "super star" cut out to a pencil, and stuck it inside with the gift bags. I also attached a "you rule" cut out to the front of the caddy, that was resting on top of a dry erase alphabet board.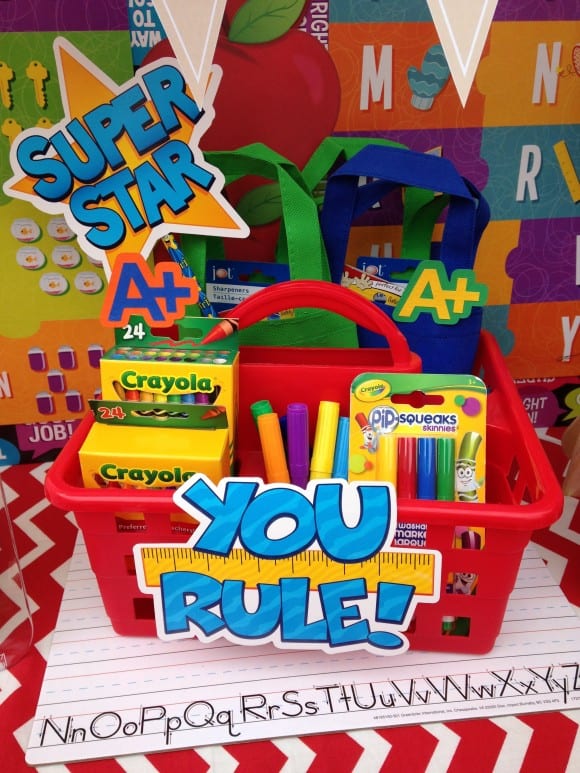 Sweet Treats
Store bought cupcakes are always a quick fix to a last minute party. You can always make the simplest cupcake look enticing, by adding fun little touches. The details can be as simple as adding brightly colored A+ cupcake toppers, and fun themed cupcake wrappers. I found a pack of 3 mini composition books that worked perfectly as my cupcake display.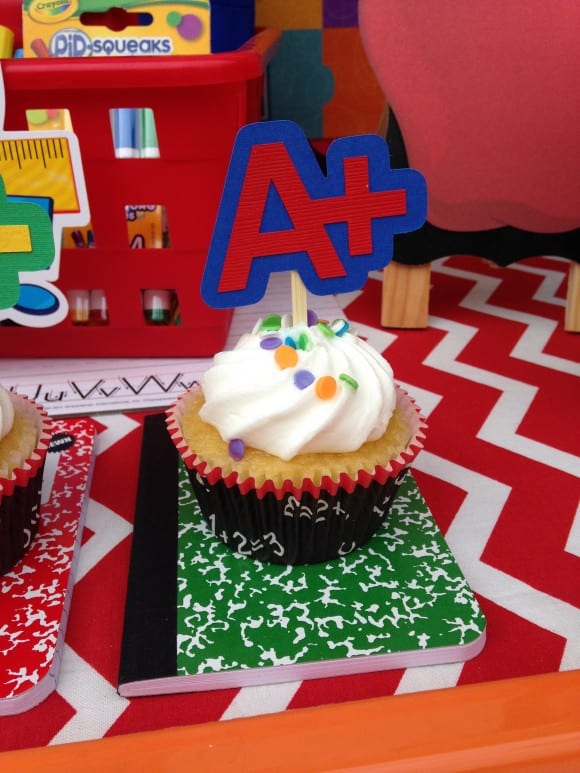 Chocolate covered pretzels that resemble a #2 pencil couldn't be more perfect for a back to school party! And the little marshmallow pop apples are another darling treat to get your guests excited.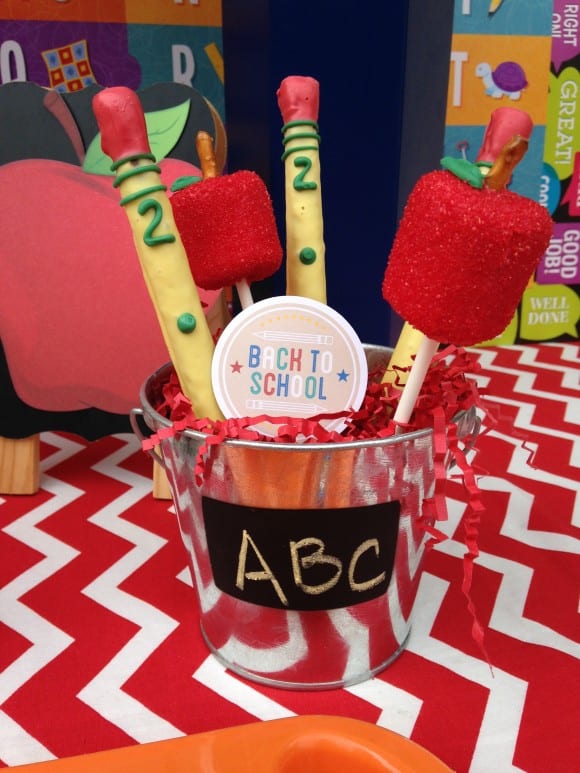 Back to school parties are a fun way to get your kids excited for the new school year!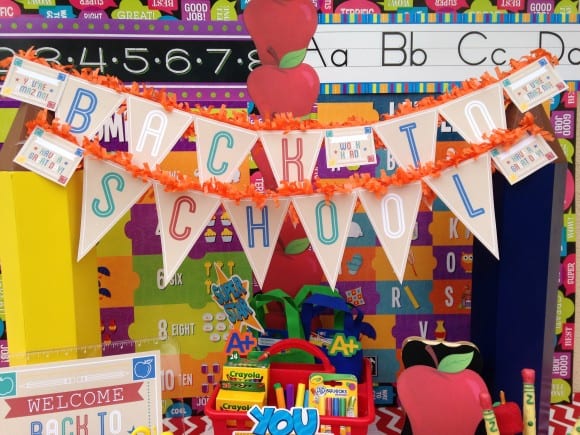 I hope you'll be able to use some of my back to school party ideas for your own celebration!
For more inspiration, check out these back to school parties from our site, plus our free back to school printables, and our back to school Pinterest board.