Baby Shark seems to have sprung out of nowhere and has both little kids and parents alike singing "Baby shark, do do, do do do do. Baby shark" all the time!
All over CatchMyParty, we've seen an increase in cool Baby Shark parties.
They are a huge hit, especially with little boys turning 1.
So, if you're thinking of throwing a Baby Shark birthday party, don't miss these fun Baby Shark party ideas.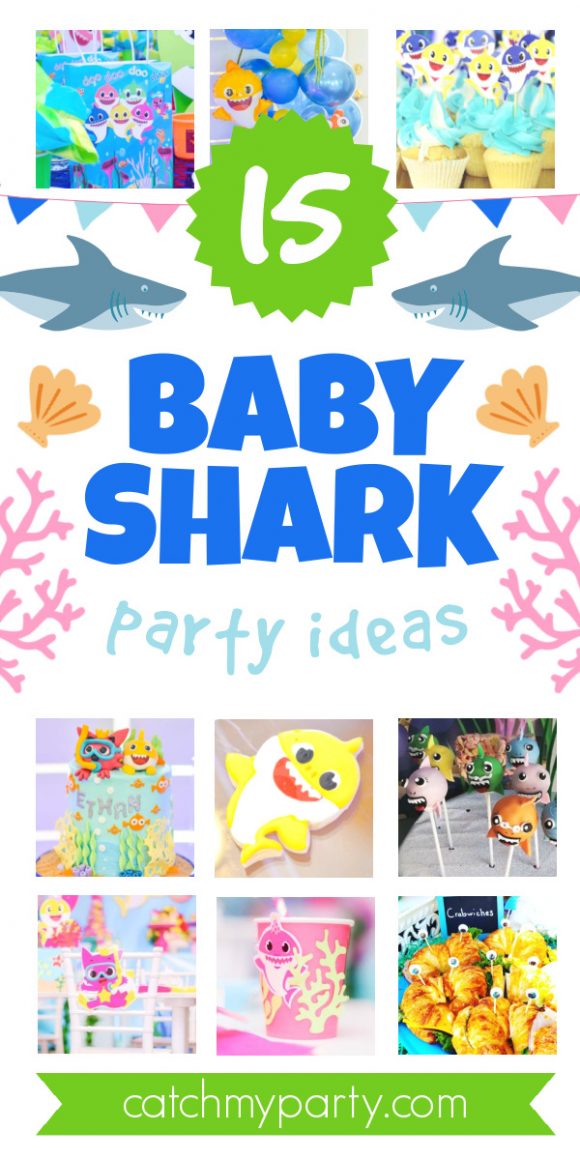 You'll find awesome ideas for Baby Shark cupcakes, dessert tables, cookies, Baby Shark party decorations, party activities, and so much more…
Check out These 15 Awesome Baby Shark Party Ideas!
Treat your guests to an underwater extravaganza with a fun Baby Shark dessert table like this one.
The blue backdrop,  table cloth, and balloon garland help create a unique under the sea ambiance.
Love the cut-out sharks decorating the party.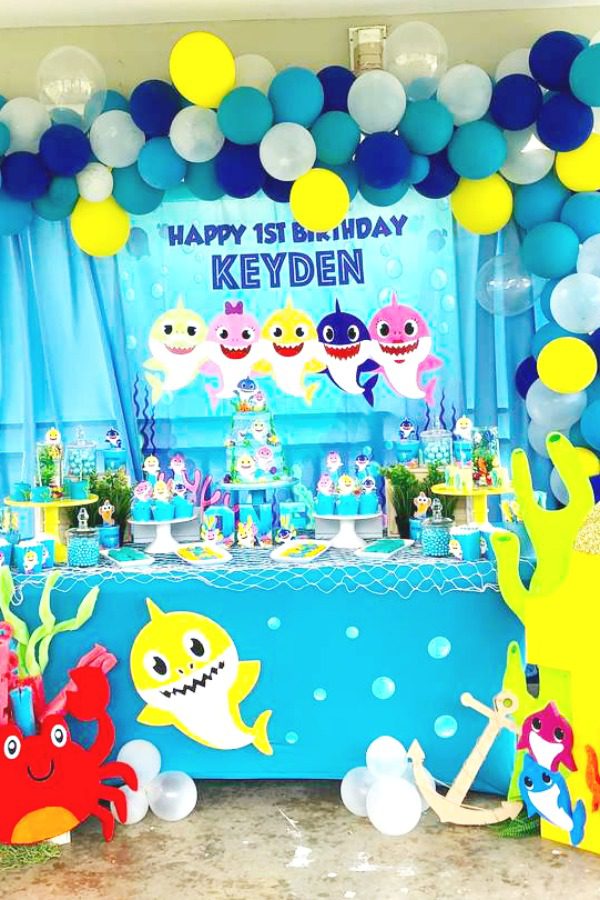 Check out this cool Baby Shark birthday cake covered in ocean flora and topped with some fondant Baby Sharks.
Love that it's placed on a plate full of cookie crumbs made to resemble sand!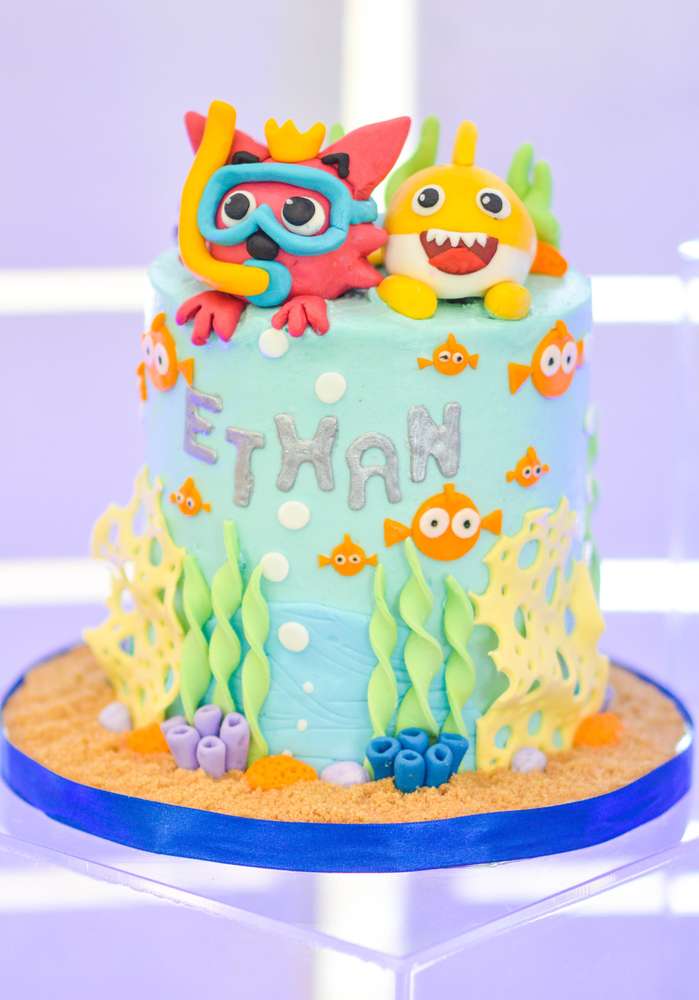 These Baby Shark cupcakes are so easy to make at home!
Get yourself some storebought cupcakes. Decorate them with blue icing and place a bunch of Baby Shark toppers and you're good to go!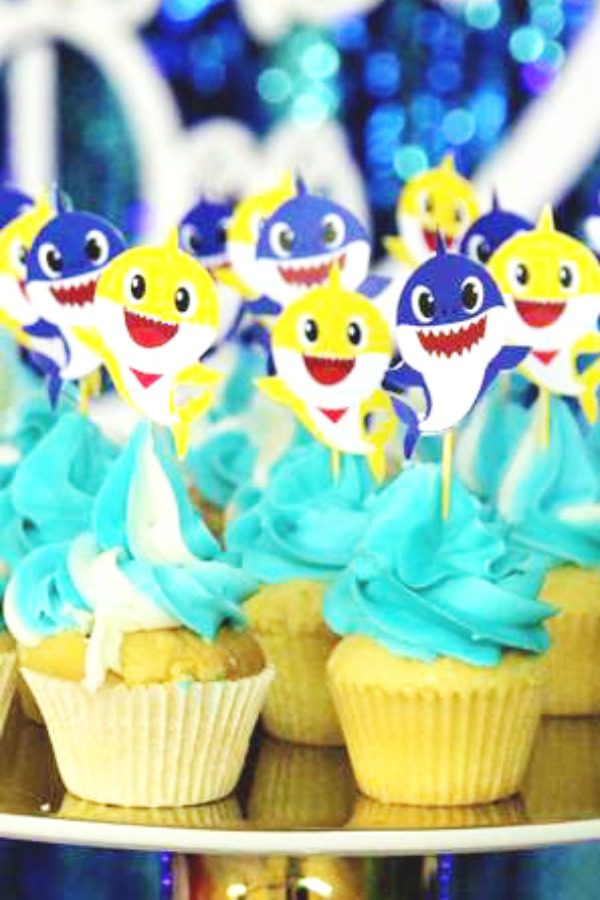 Have you ever seen cuter cookies?
You can bake them yourself with the help of a Baby Shark cookie cutter and decorate them so they look just like the Baby Sharks.
Cake pops are a guaranteed hit with kids. They can't seem to get enough of them!
These Baby Shark cake pops are so much fun and you can bet your guests will be scrambling to take a bite.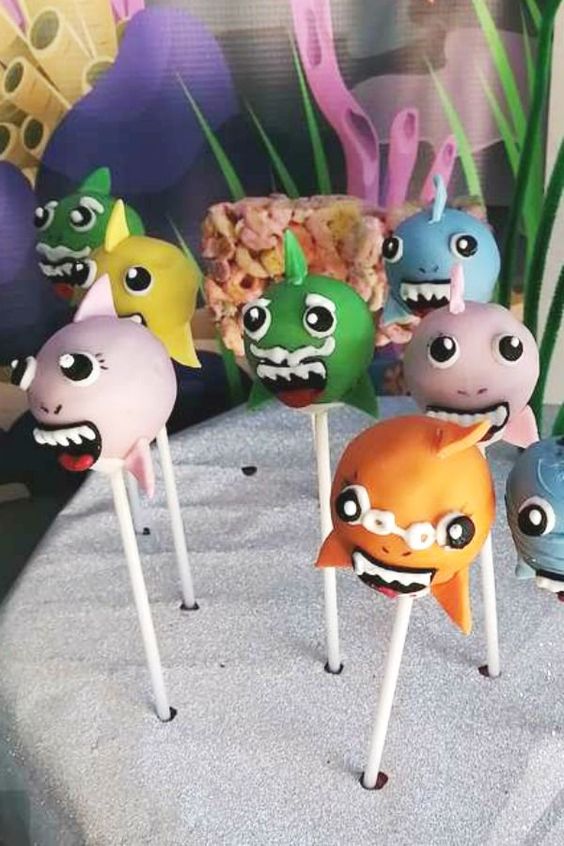 Check out this fun idea for an under the sea party food!
Green chocolate-covered pretzels look just like seaweed.
Make your own by dipping some pretzels into some green candy melts and placing them in a vase with some blue sugar pearls.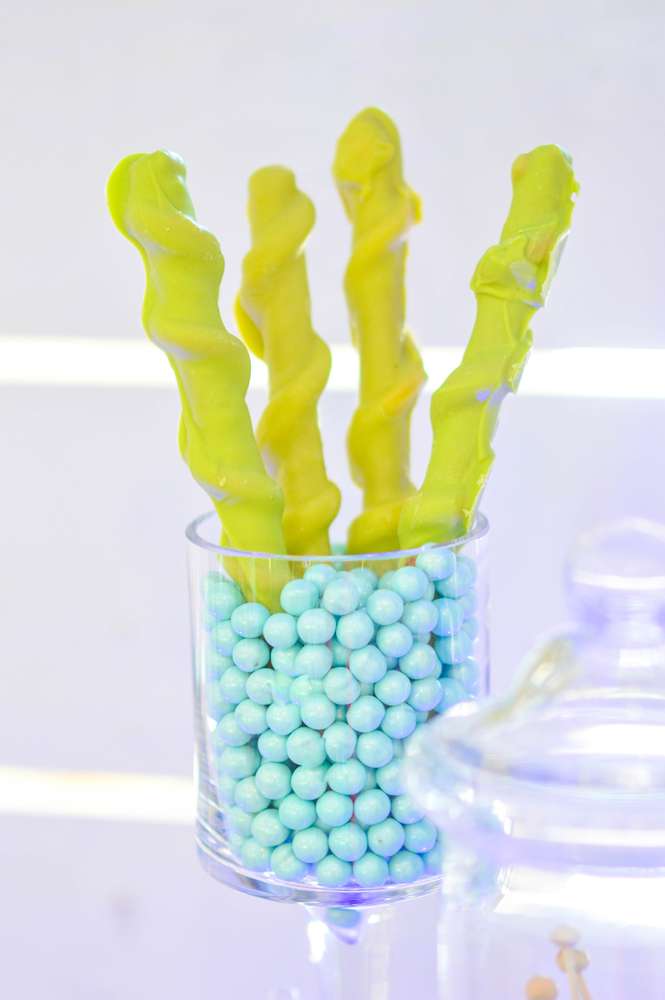 Crabwiches are a fun and easy under the sea party food that you can serve your guests at your Baby Shark party.
Simply make a bunch of sandwiches with some croissants and top them with some self-adhesive googly eyes glued onto the tip of a toothpick and you are good to go!
See? Told you they were easy to make.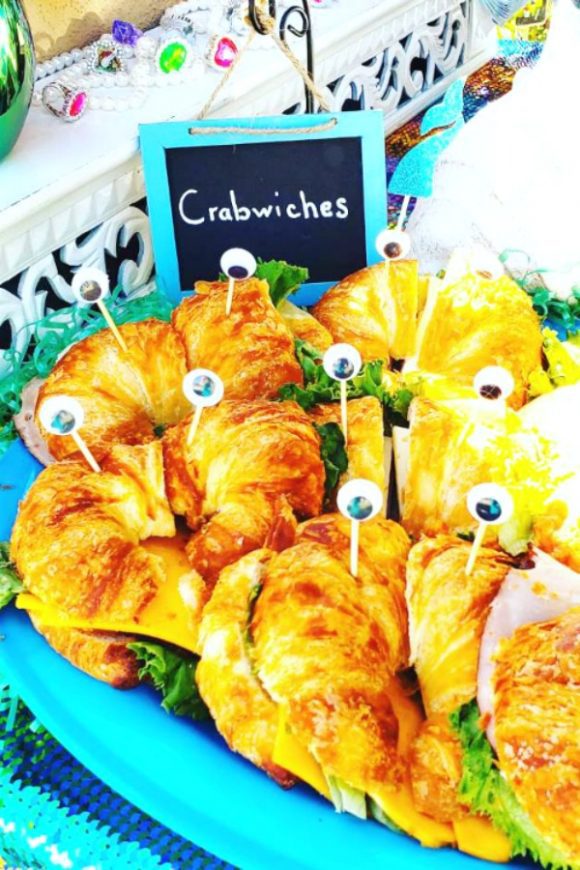 The table settings at this Baby Shark party are fantastic!
The blue table cloth and the mix of green, yellow and turquoise napkins placed in green paper cups transport you deep under the ocean.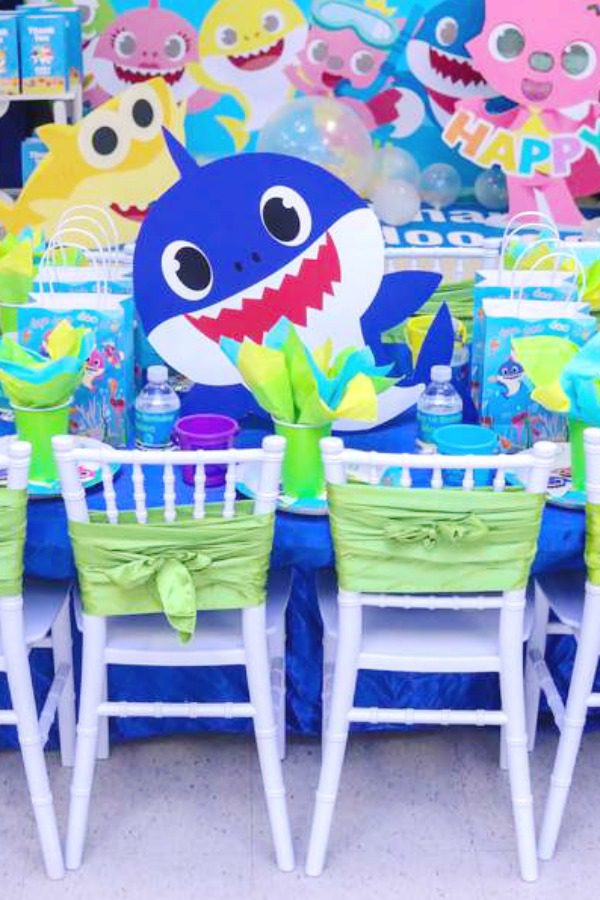 Brighten up your table settings with some cute Baby Shark paper cups that you can decorate and assemble yourself.
Start off with some colored paper cups. Cut a bunch of under the sea fauna from colored cardstock and glue them onto each cup. Finish each one off with a cutout of a Baby Shark.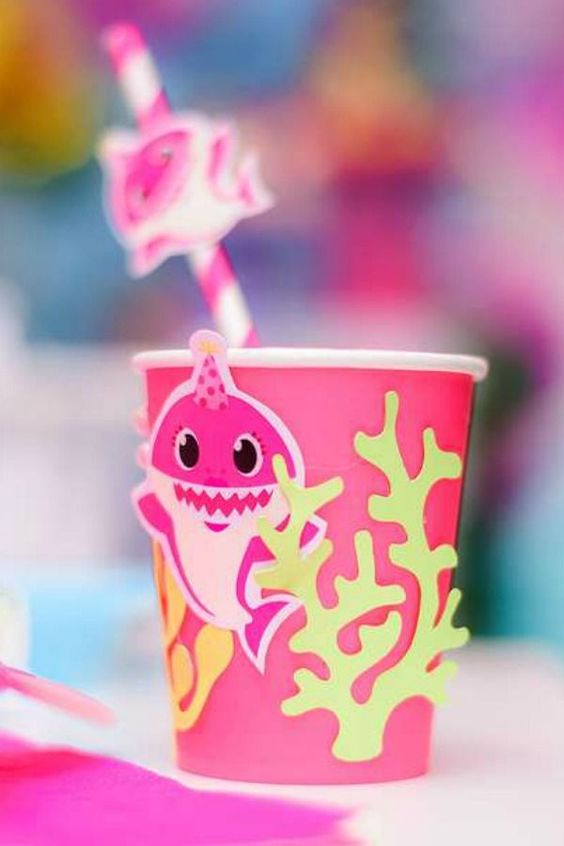 Decorate the chairs at your party with a Baby Shark cut to add to the under the sea vibe.
Adding a different Baby Shark to each chair is a cool idea!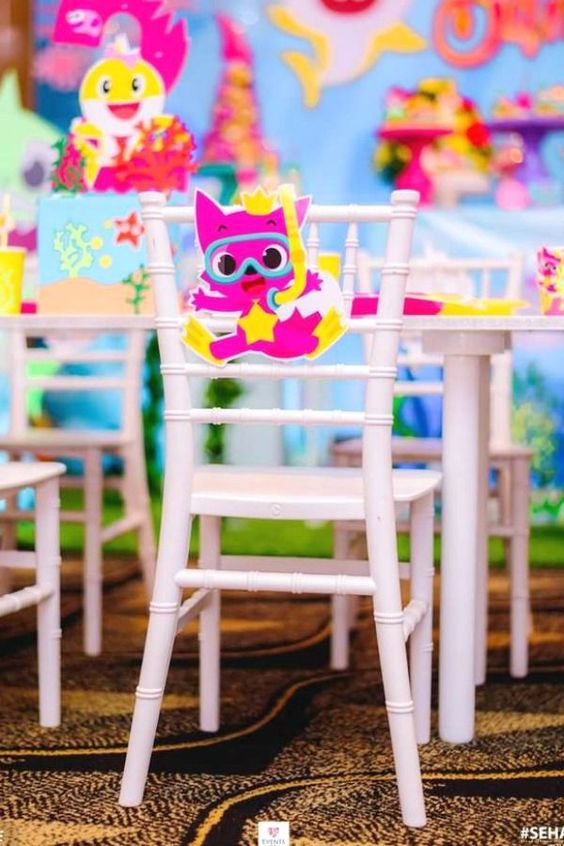 Balloon garlands are the must-have party decoration!
For the perfect Baby Shark balloon garland use a bunch of different shades of blue balloons mixed in with some yellow and transparent ones.
Then, every now and then place a Baby Shark or a fish balloon to the garland to bring it all to life!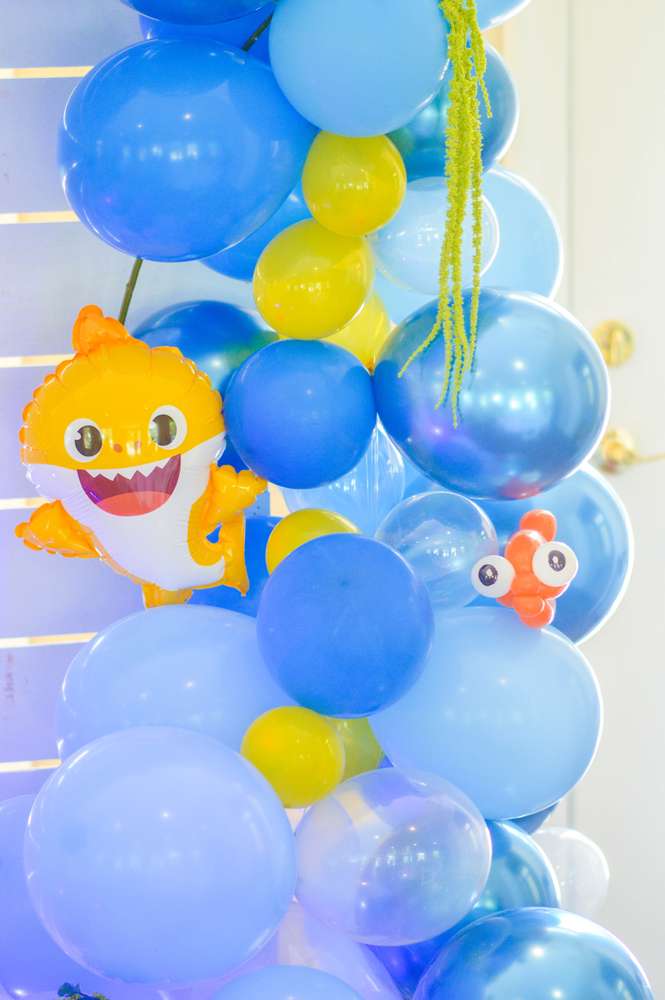 Chalkboard posters are a great party decoration for a birthday party.
They are a cool way to mark important milestones in the birthday boy or girl's life.
Place in a frame on our near the dessert table and after the party is over place it on the child's' bedroom wall as a keepsake.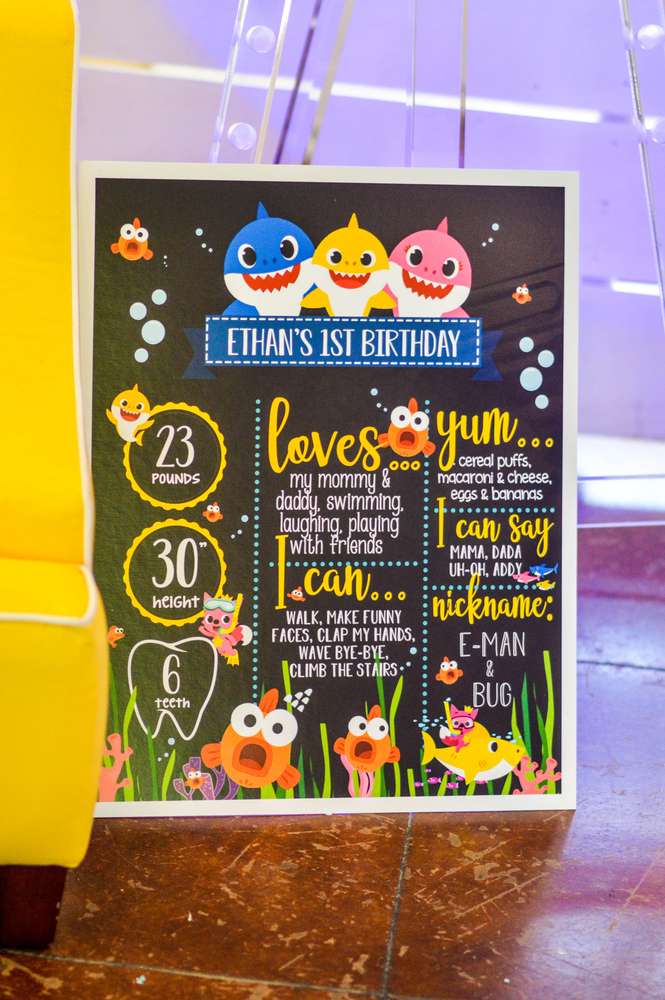 Continue the under the sea theme with a fun centerpiece like the one below.
Made with a bunch of colorful sliced pool noodles glued together and designed to look like ocean flora.
Add some cut out fish and some colorful paper pom-poms and you'll really feel like you are deep under the ocean.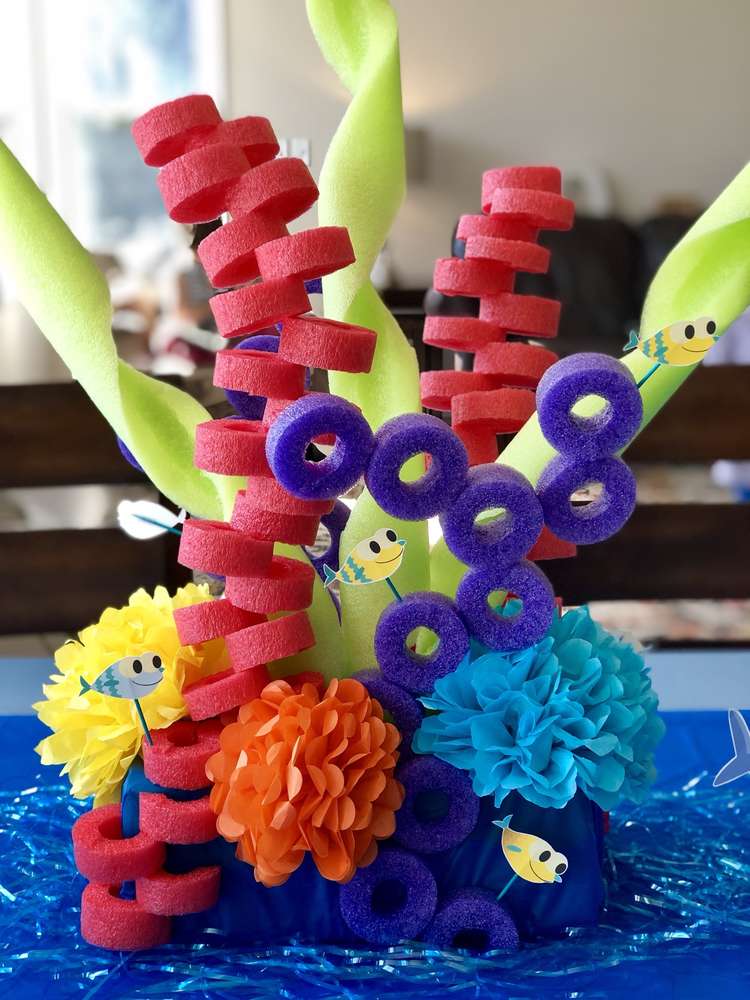 Kids have so much fun playing pin the tail, so how about keeping your guests busy with a fun Baby Shark 'Pin the Tail'?
You can bet they'll have an awesome time.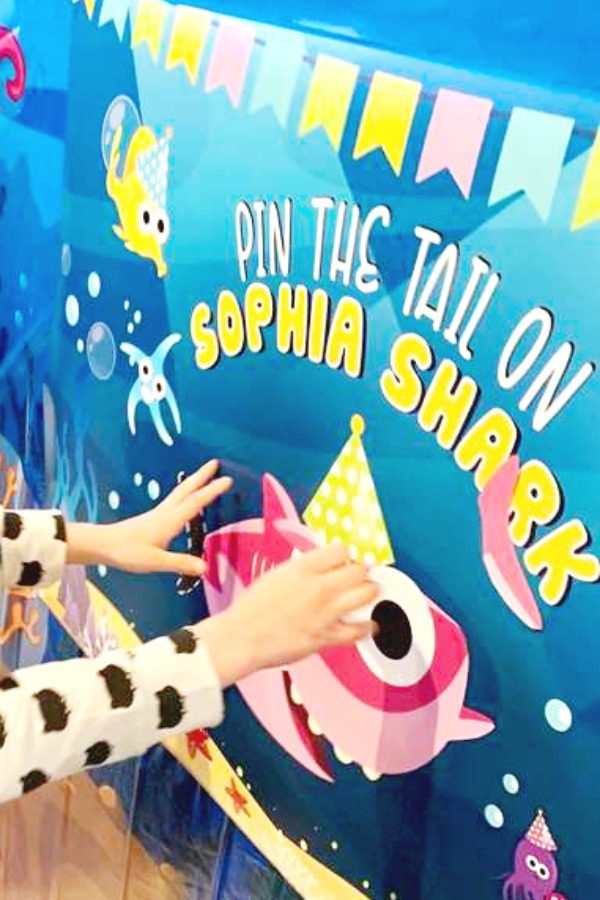 To finish off our list of cool Baby Shark party ideas we have these cute Baby Shark party favor bags that you can bet they'll love!
Fill them with a bunch of Baby Shark themed goodies and they'll be going home with a massive smile on their face.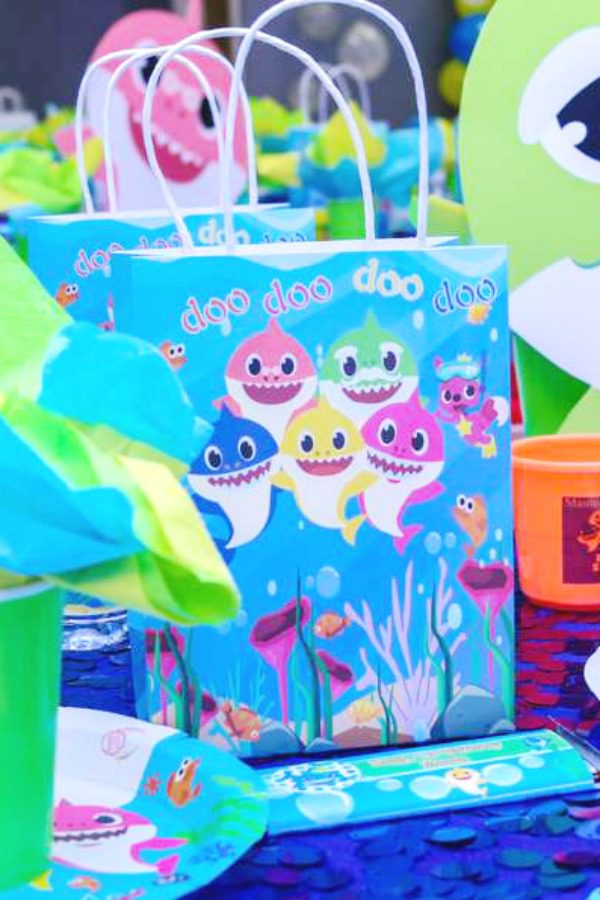 For more inspiration, check out all these fantastic Baby Shark party ideas on our site, and check out these Baby Shark party supplies from vendors with listings on Catch My Party!
MORE BABY SHARK POSTS YOU'LL LIKE:
Need Baby Shark party printables?