Bounty asked me to come up with recipe that would work at a football tailgater or home football party, so I'm happy to share my crispy spicy baked chicken wings. These are seriously the perfect finger food. Just make sure you've got Bounty for cleanup because you'll need it!
The secret to the recipe is baking the wings at high heat. This way, the skin get crunchy while the center stays nice and moist. And the sauce you toss them in is light, spicy, and has a touch of sweetness.
Crispy Spicy Baked Chicken Wings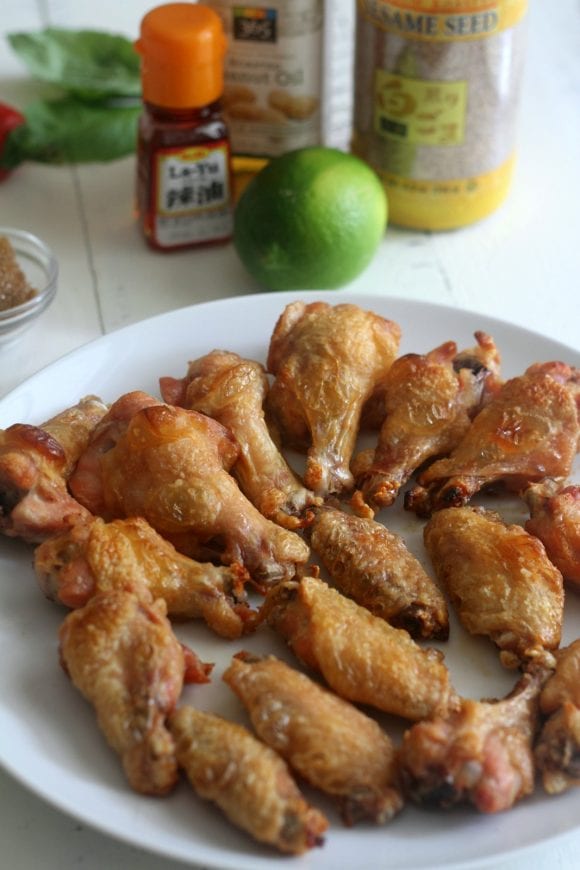 Crispy Spicy Baked Chicken Wings
Time: 40 minutes
Servings: 8
Ingredients:
For the wings
2 1/2 pounds chicken wings
1 tablespoon vegetable oil
1 teaspoon salt
For the sauce
1 1/2 tablespoons peanut oil
1/4 teaspoon chili oil
1 teaspoon sesame oil
1 tablespoon lime juice
2 tablespoons brown sugar
1/4 teaspoon salt
1 teaspoon soy sauce
For the garnish
1 tablespoon basil
1/4 teaspoon chopped red jalapeno pepper
1 tablespoon sesame seeds
Directions:
Preheat the oven to 500F. Toss the wings in a bowl with 1 tablespoon of vegetable oil (we used peanut oil), and a teaspoon of kosher salt. Spread the wings out on a baking sheet and cook until the skin is golden and crispy, about 30 min.
While the wings are baking, you can make the sauce. Add the peanut oil, chili oil, sesame oil, lime juice, brown sugar, salt and soy sauce to a large bowl. Whisk until the sugar has completely dissolved.
When the wings are done, toss them in the bowl with sauce, then move them to your serving tray. Sprinkle with the sesame seeds, and garnish with chopped basil and diced jalapeno pepper.
And here they are, so delicious!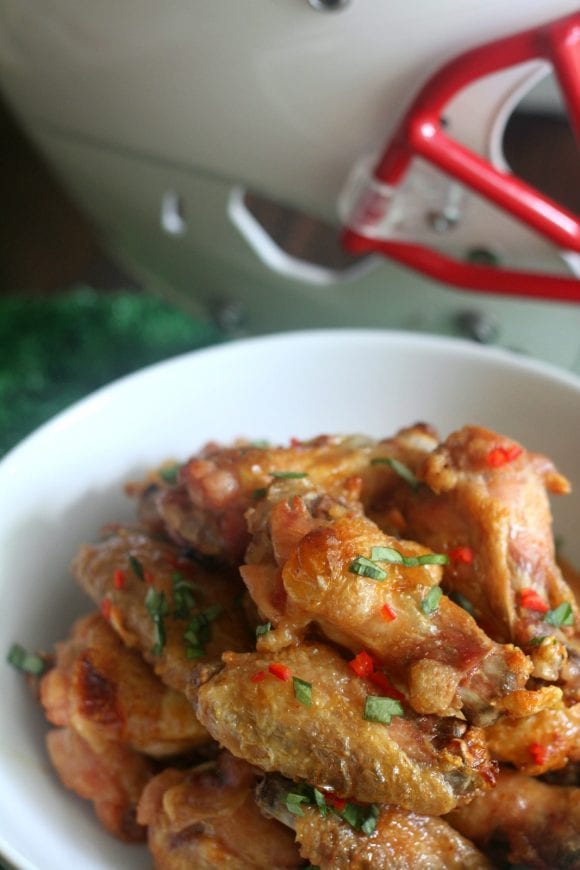 Just looking at these makes me hungry! And go Stanford Cardinal!