All kids go through a phase when they are fascinated with dinosaurs and love to learn all about them, which is why dinosaur parties are one of the favorite boy party themes on CatchMyParty.
It's such a great theme for a birthday or even a baby shower!
If you're planning a dinosaur party don't miss all the awesome dinosaur party supplies we've rounded up to help you plan the best party ever!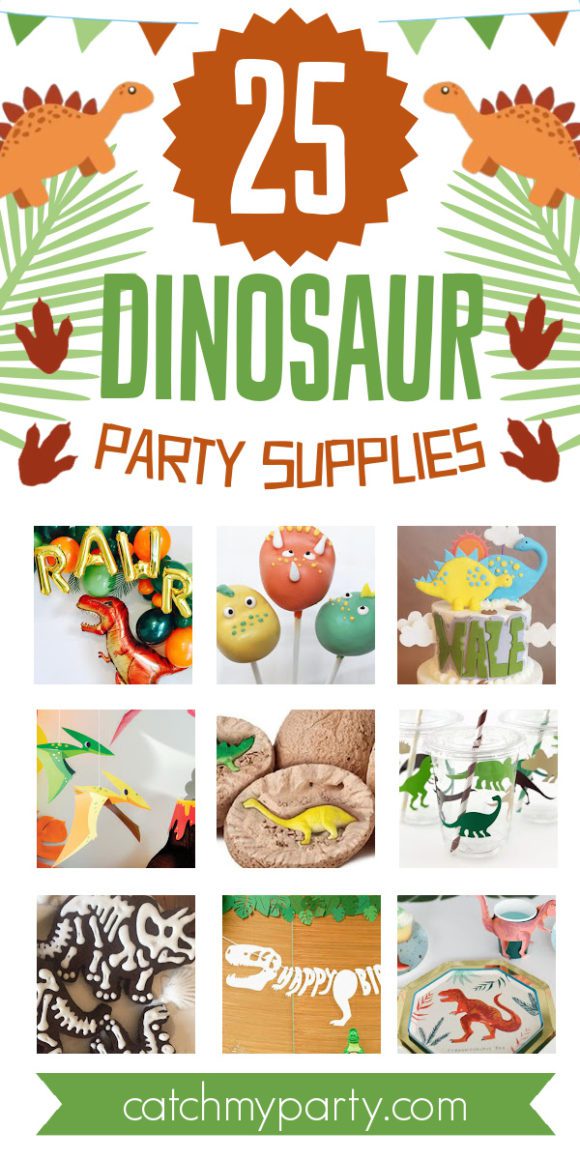 We've got so many cool ideas for dinosaur party supplies, such as some FREE dinosaur party printables, some party decorations, a dinosaur cake topper, some dinosaur photo booth props and so much more.
These 13 Dinosaur Party Supplies Will Make You Roar!
Digital party invitations are a quick and easy way to spread the word and invite your guests to your party.
Check out this fantastic dinosaur digital party invitation. With just one click you are able to reach everyone and let them know all the details about your celebration.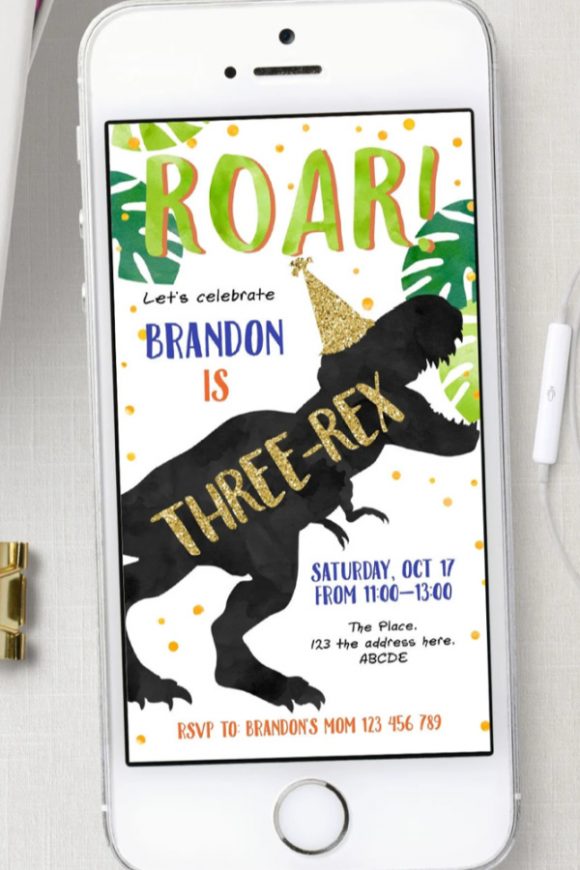 These fondant dinosaur cake decorations are perfect to transform a regular cake into an eye-dropping showstopper.
The kit comes with a number of fab fondant dinosaurs and other dinosaur-themed decorations that you can use to decorate your cake.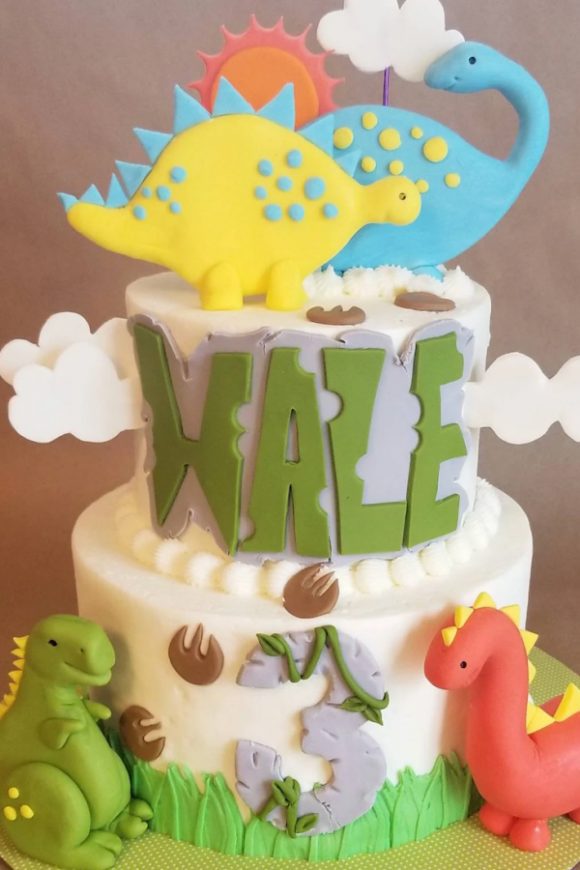 This green sparkly T-Rex cake topper is just what you need to turn a regular frosted cake into a show stopper.
Create a dinosaur-themed birthday cake with no effort and in no time!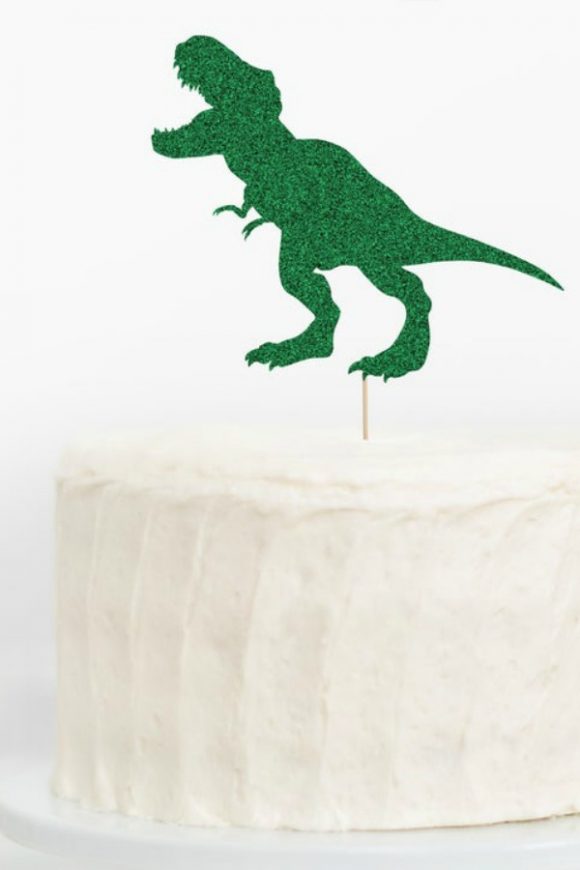 Will your guests be brave enough to pick up a cupcake with one of these menacing dinosaur cupcake toppers?
The pack comes with 3 different dinosaurs. A tyrannosaurus rex, a triceratops, and a diplodocus.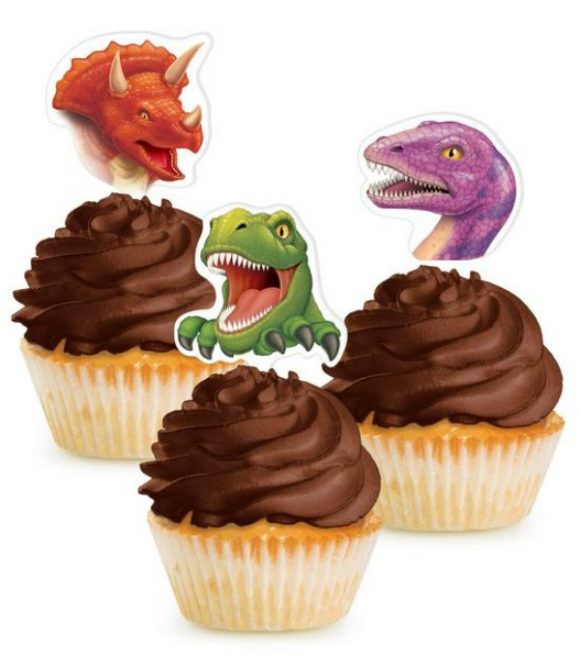 These dinosaur skeleton cookies are such a cool addition to your party.
Get yourself this set of 3 dinosaur cookie cutters and bake yourself a bunch.
I'm sure kids will be scrambling to take a bite.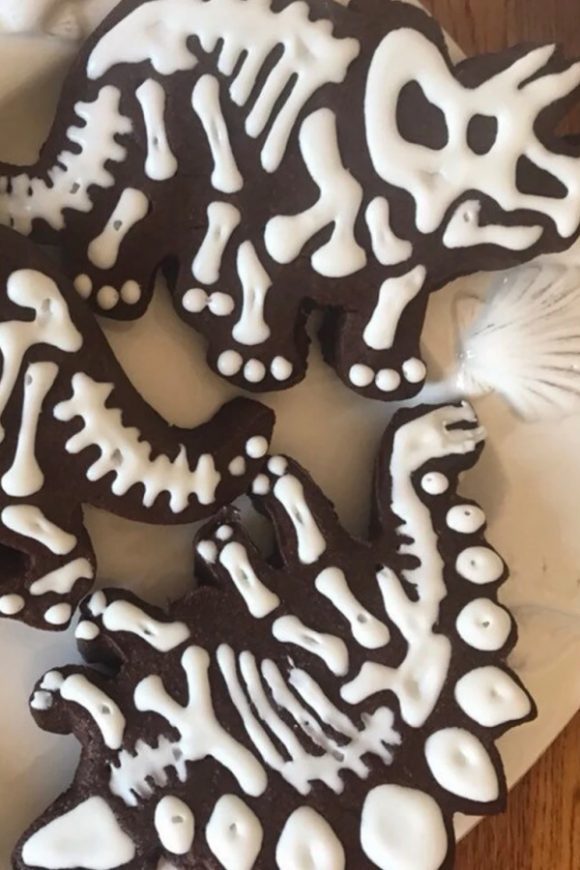 Cake pops are always assure hit with kids at a party.
If you are looking for some dinosaur cake pops look no further.
These dino cake pops are just what you need to brighten up your dessert table and delight all your guests.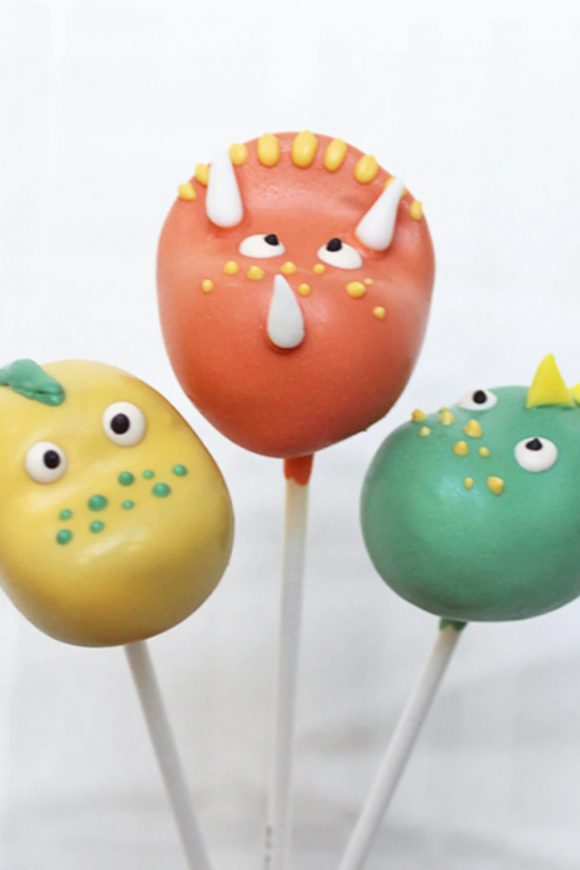 Create the perfect dinosaur-themed table settings with the help of these amazing paper plates decorated with dinosaur motifs.
They will make your party look so on -theme and will contribute to creating a dinosaur vibe at your party.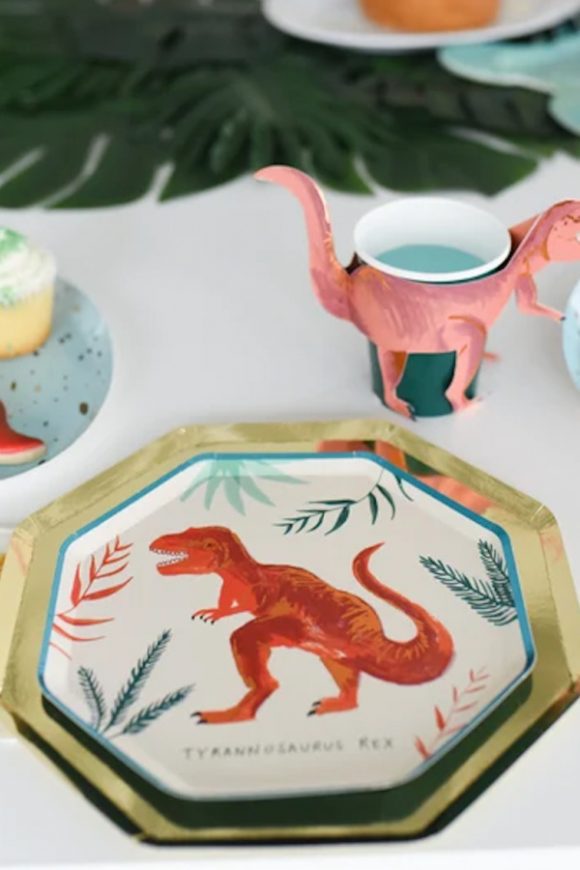 Add these fun dinosaur cups to your party to enhance the dinosaur experience.
Covered in a bunch of different dinosaurs, kids are gonna love them.
Remember to add a name to each cup so that each child knows which one is his/hers.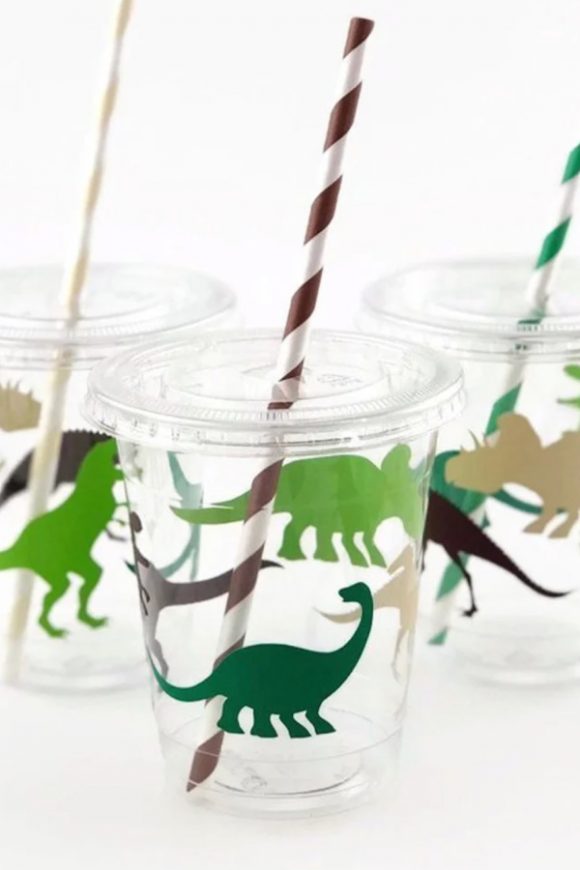 For a quick and easy party decoration place this fun dinosaur backdrop up against your dessert table.
This 'rawr-some' backdrop can be personalized with your child's name and age.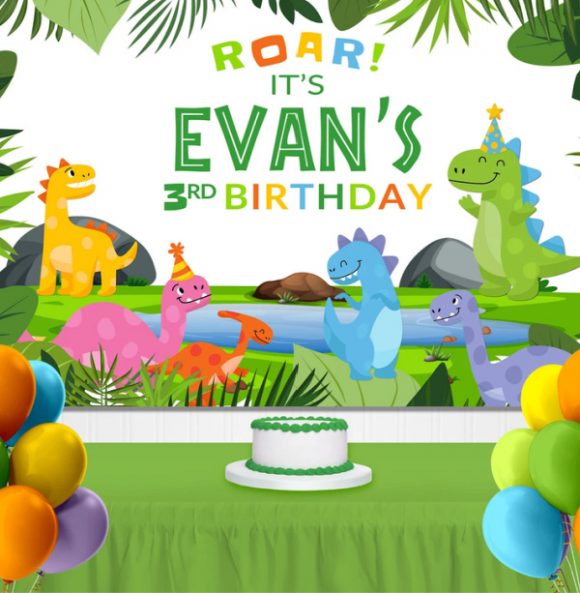 Give your party a prehistoric vibe with this lush paper leaf garland.
You can either hang it on a wall or on the dessert table.
Wherever you place it will take your party to a whole other level.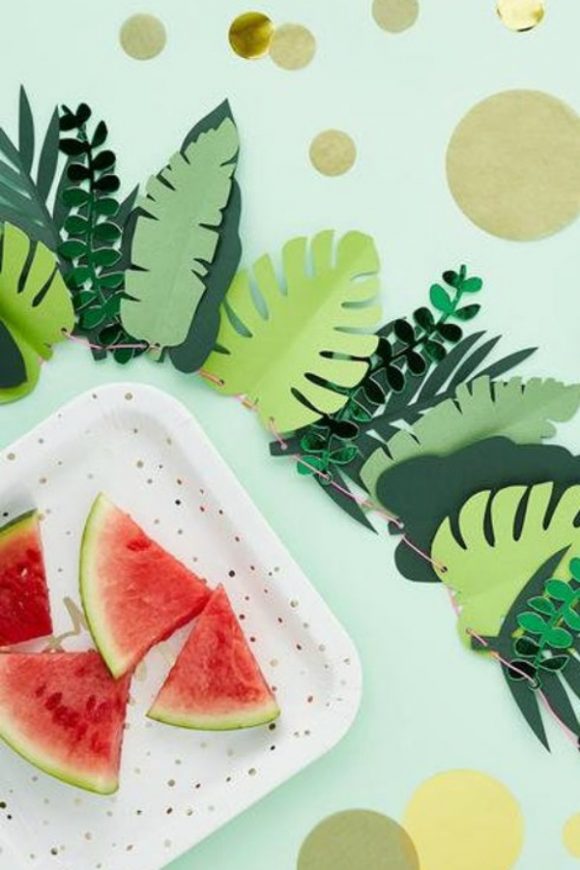 Another fantastic party decoration is this dinosaur 'happy birthday' banner.
It comes pre-assembled so all you have to do is hang it up making it a hassle-free party decoration!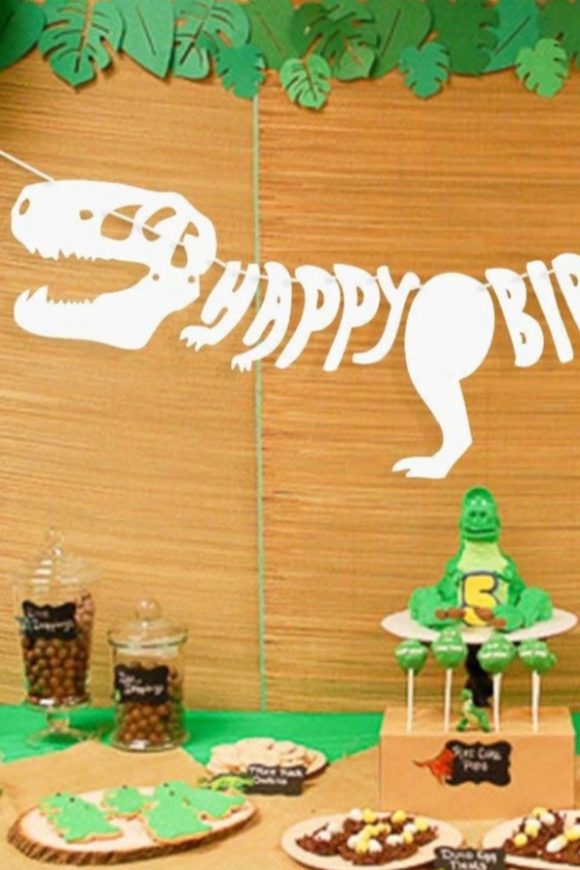 Hang a bunch of these pterodactyl dinosaurs from your ceiling, mantelpiece, or entryway to decorate your party and have your guests feel like they are really among dinosaurs.
They are so bright and colorful and are a wonderful dinosaur party decoration.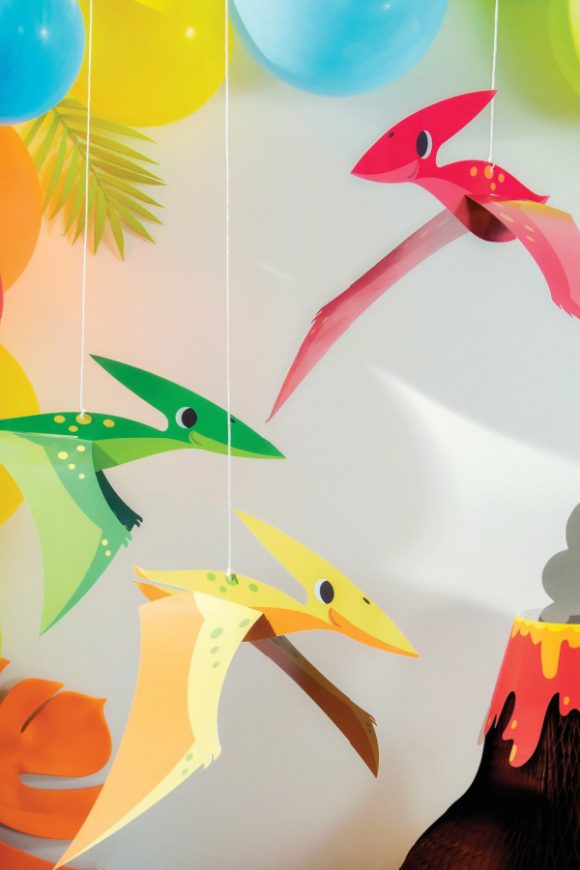 Balloon garlands are everywhere nowadays and have become a must-have party decoration.
Add this stunning dinosaur balloon garland to your dinosaur party and you'll be right on trend!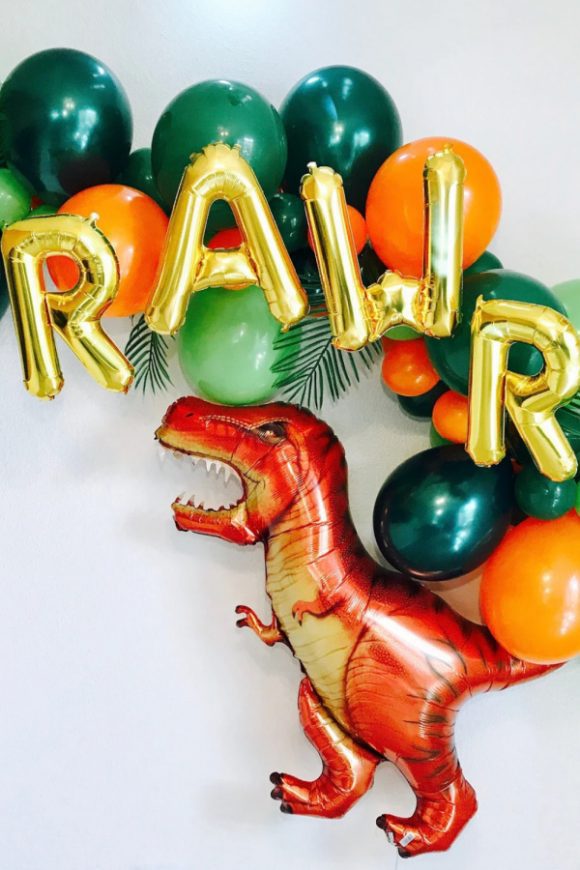 Welcome guests to your party with these awesome dinosaur footprints at the entrance to your party!
Who could have guessed they'd be walking in the footprints of dinosaurs!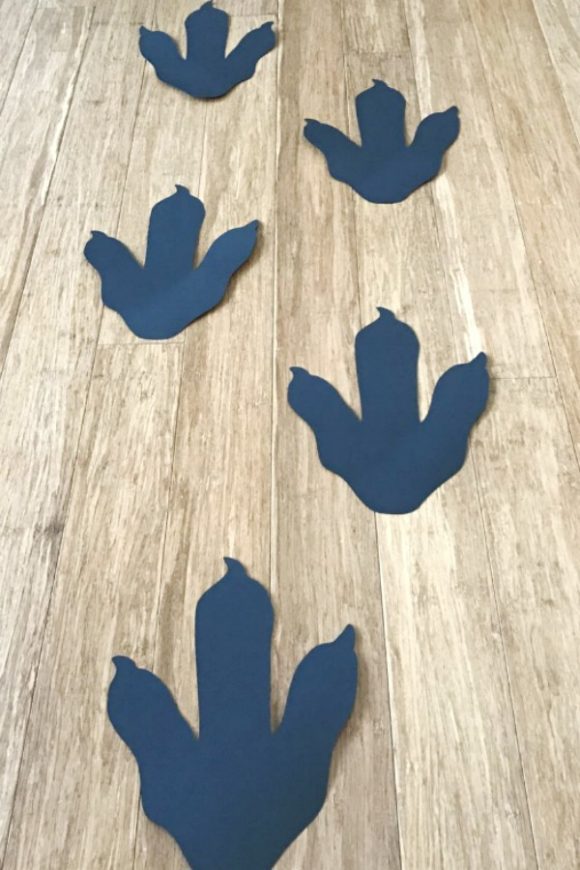 Kids love to bash a pinata to bits so they can catch all that falling candy.
This dinosaur egg is so much fun and doubles up as a cool party decoration too!
Finding the perfect party favor is always a challenge but don't worry. We've found just what you need.
A fun pack of 40 colored and metallic dinosaur-themed tattoos temporary tattoos.
The pack includes some hand-drawn dinosaurs, such as a T – Rex, Stegosaurus, Pterosaurs, Triceratops, and Brontosaurus, and some other fun designs.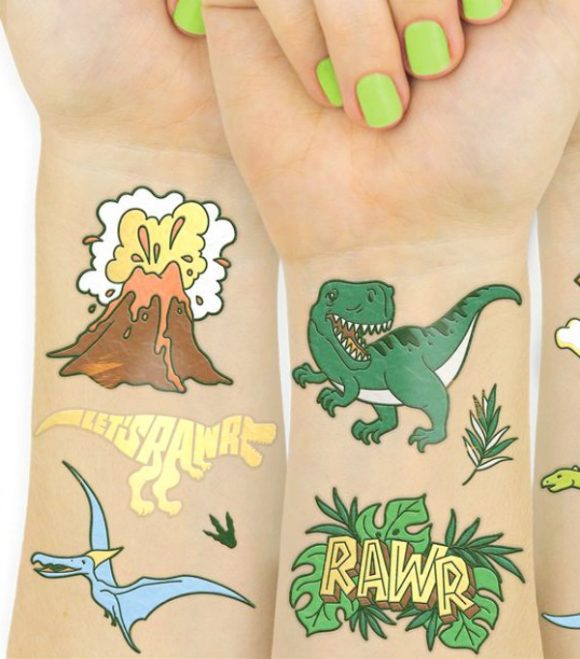 Kids are gonna go crazy when they set their eyes on these dinosaur tales.
Tie them around their waists and have them run around roaring away to their hearts' content.
They are a great photo booth prop and double up as a fun party favor.
You can also use them to decorate chairs and add to your table settings.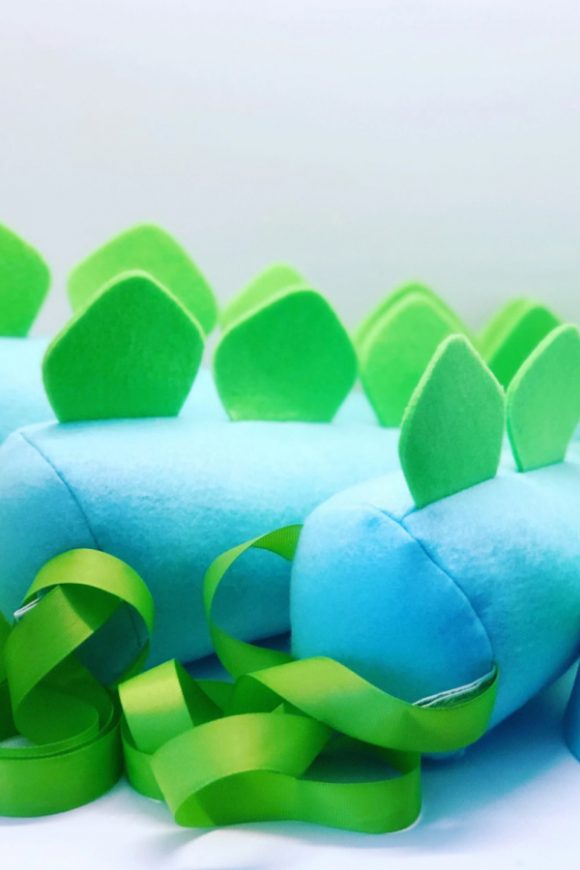 Finding fun ways to entertain kids at a party isn't always easy.
These 'paint your own' dinosaur cookies are great party activity for your guests. They'll have a blast painting theirs before gobbling them up.
You can also add one to your dinosaur party favor bag and let kids take one home.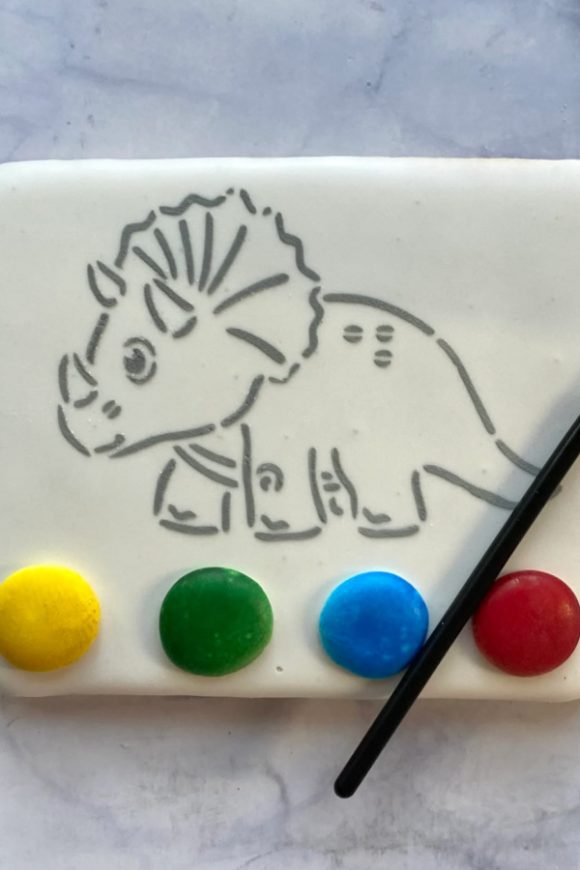 This dinosaur activity sheet is also a great way to keep kids busy. They're going to love coloring it in and figuring out the puzzles.
Use them as placemats and keep kids entertained while they're all seated and waiting for the party food.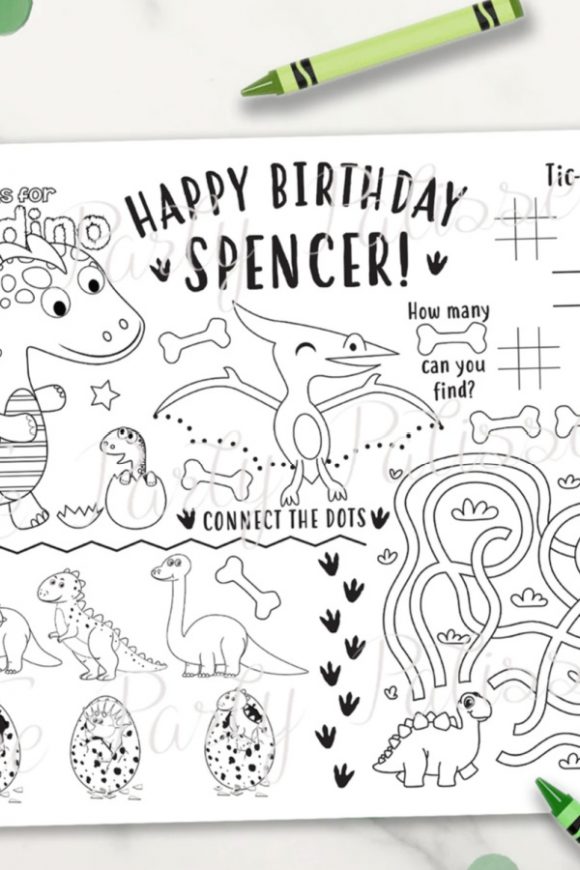 Kids are gonna go crazy with this dinosaur egg dig kit. It's such a fantastic party activity and perfect for a dinosaur party.
There's nothing better than digging away until finally finding a dino! You can either have kids do them as a party activity at your dinosaur party or you can use them as a party favor. You really can't go wrong.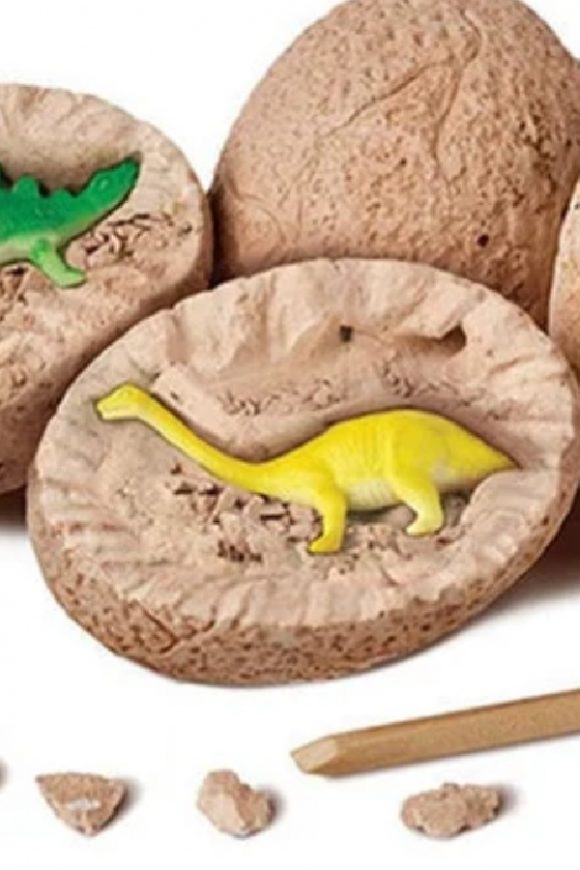 A photo booth is always a laugh. People love to fool around and have their photos taken.
Add these dino-themed props in the mix and you are going to have yourself a bunch of memorable photos!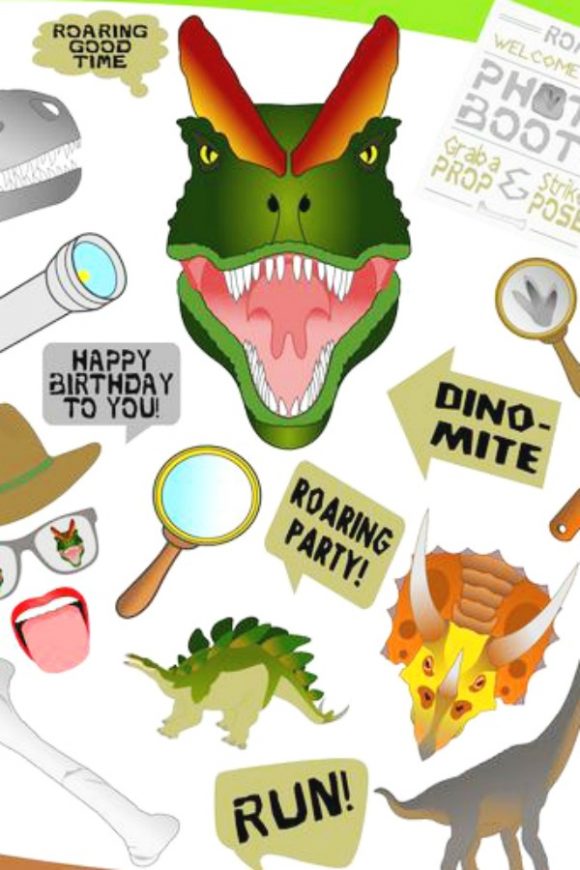 Parties are all about creating unforgettable memories so have your friends' ROAR as they have their photo taken with this excellent photo booth frame.
You can bet you'll have loads of fantastic photos to look back on.
Send kids home with an awesome dinosaur bubble party favor.
There's nothing better than blowing away to your heart's content and see bubbles flying around, so you can be sure they are gonna be a hit!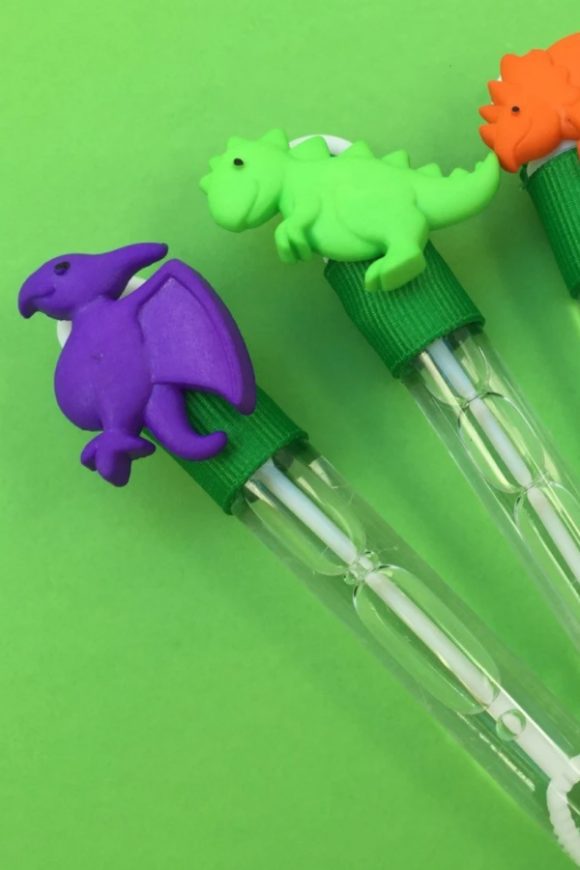 Send your guests home with a smile on their faces with one of these dinosaur party favor bags full of goodies!
They'll be a roaring success with your family and friends.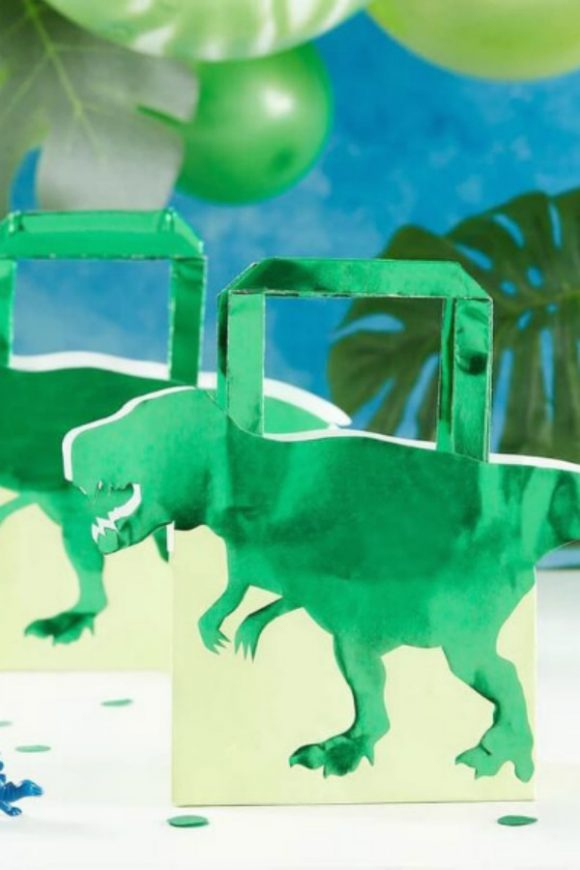 We've saved the best for last… our FREE dinosaur party decorations!
The set includes a bunch of stuff you can use for your party.
Just download the set, print, cut out and assemble, and you are good to go!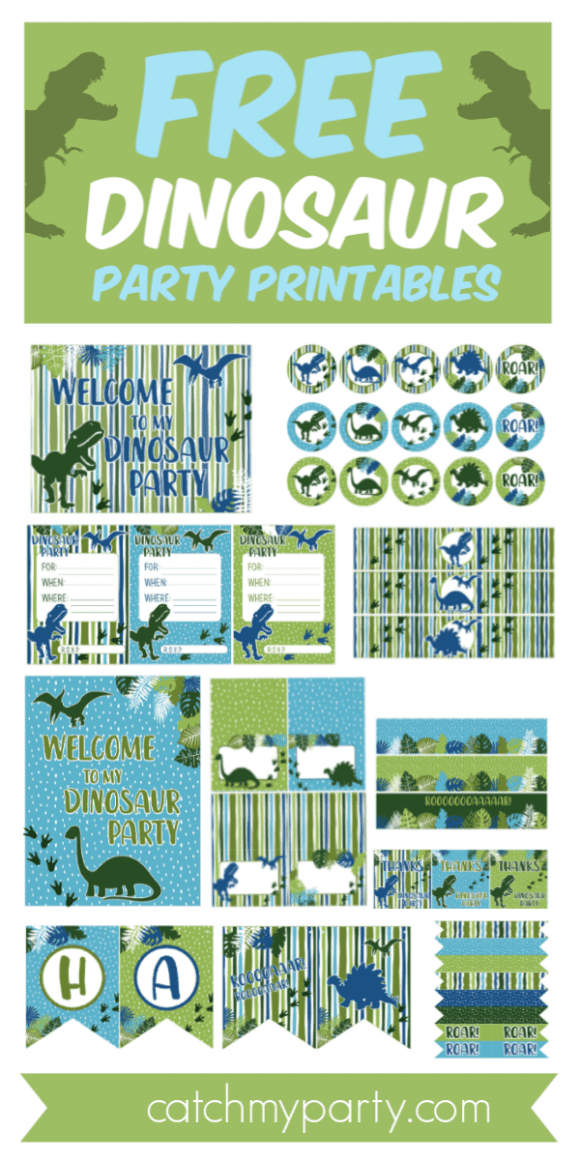 For more inspiration, check out all these fun dinosaur birthday party ideas on our site, and check out these dinosaur party supplies from vendors with listings on Catch My Party!
MORE DINOSAUR POSTS YOU'LL LIKE:
Need Dinosaur party ideas?
Some links are affiliate links. If you click and purchase we might make a small commission at no cost to you.