Every little girl dreams of being a Disney princess like Cinderella, Belle, Ariel or any of the others. Each have there own personality and charm, making Disney princess parties super popular on Catch My Party.
So, if you're planning a princess party for your little Disney fan, you must see our 12 Disney princess party invitations. We got all the princesses covered!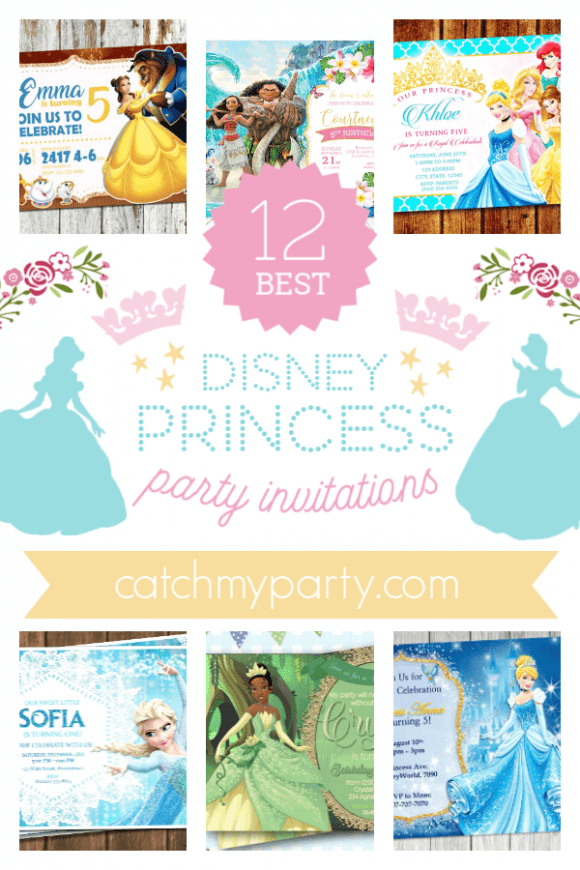 We've got Disney princess party invitations for the most popular Disney princesses such as Cinderella, Belle, Snow White, Moana, and many more. Scroll down and enjoy!
The Best Disney Princess Party Invitations!
The only way to start off our list of Disney princess party invitations is with an invitation that includes a bunch of Disney princesses, such as Belle, Cinderella, Snow White, and many more.
It's the perfect choice for anyone who can't decide on which princess they want their party to be themed with, or if they simply love all of them!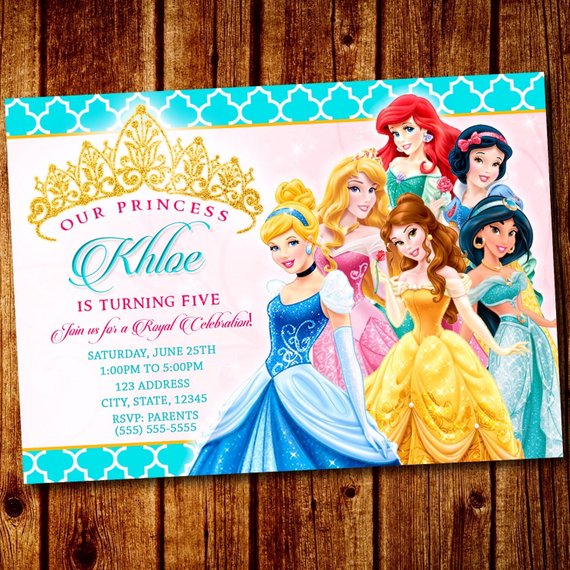 If you love Cinderella, you are going to be blown away by this magical invitation.
The sparkle in it will make anyone feel like a princess even before the party has begun.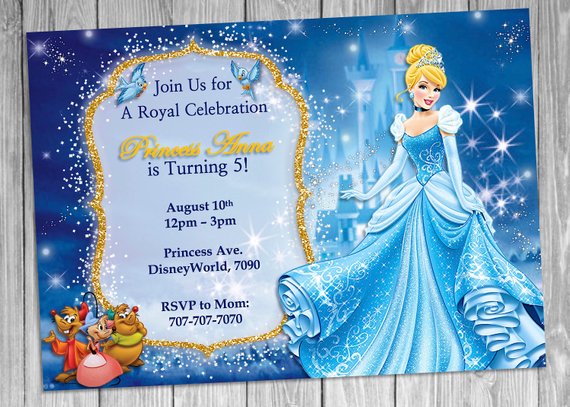 Beauty and the Beast is such a popular party theme, that an invitation like this one is just what you need to get your guests excited about your party!
It's wonderful that the design includes all our favorite Beauty and the Beast characters, such as Belle, the Beast, Mr. Potts, Chip, Lumière and Cogsworth.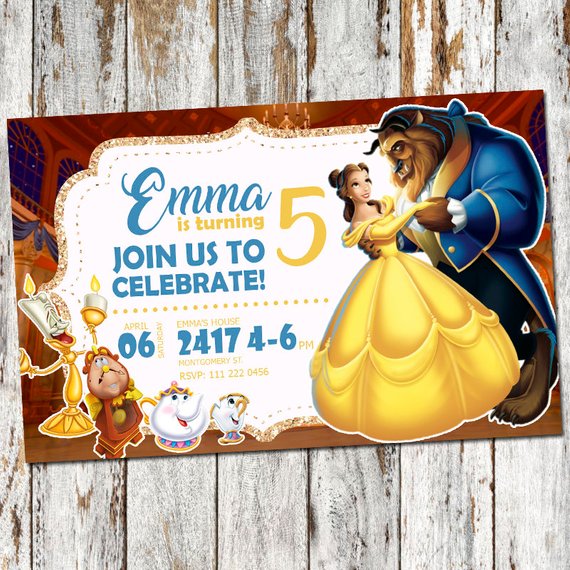 If you're planning a Frozen birthday party, then you won't want to miss this stunning Elsa invitation.
I love how she creates a snowflake with all the party information. What a fantastic design!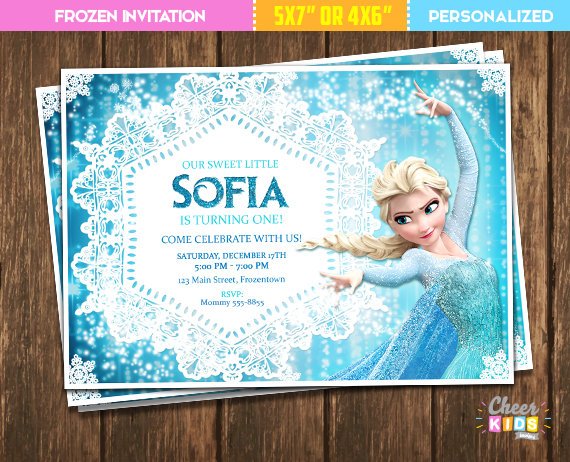 Princess Ariel in The Little Mermaid is the best of both worlds — princess and mermaid! Both are such big trends that when mixed together they make the perfect party theme.
The colors of this invitation are so beautiful and bright. Who can resist?!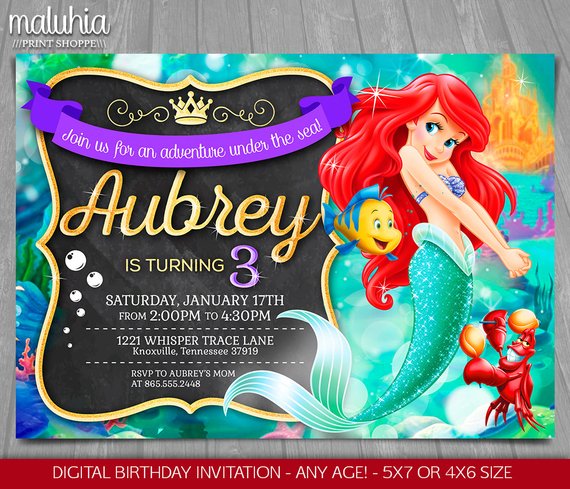 This Rapunzel invitation will fill your guests' hearts with delight!
The way in which the design uses an old fashioned scroll for all the party details is such a beautiful and original touch!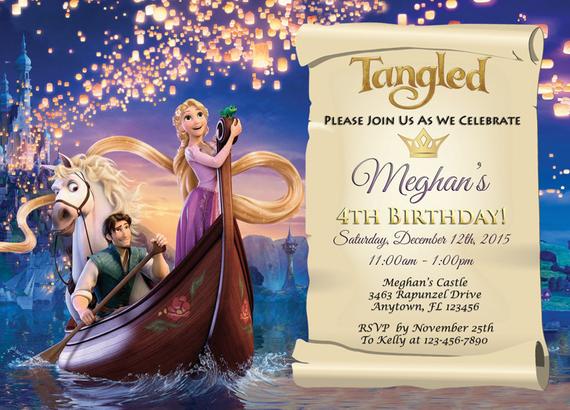 Snow White is a longtime Disney favorite and a beloved princess.
This Snow White princess party invitation includes the 7 dwarfs and the evil stepmother queen, and  is most certainly the fairest in the land!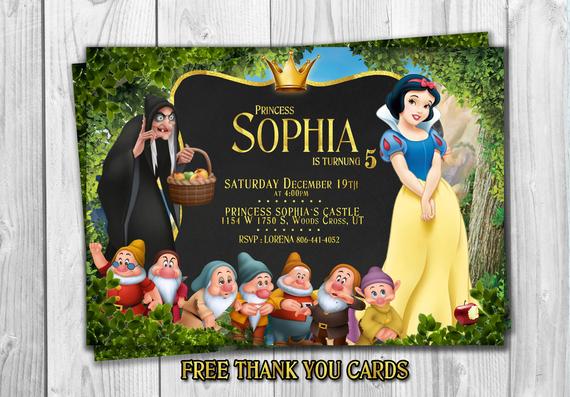 Many young girls have fallen in love with and are so inspired by Tiana, the first African American princess. So, it's only natural that The Princess and a Frog is such a popular princess party theme.
This Princess and the Frog party invitation just oozes elegance and beauty!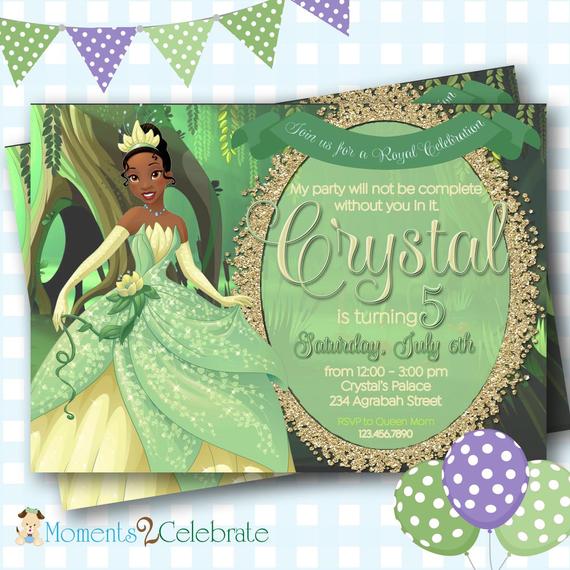 You can bet you're guests will be under a spell once they set their eyes on this splendid Sleeping Beauty invitation.
It has everything a little girl loves. Lots of pink and even a princess!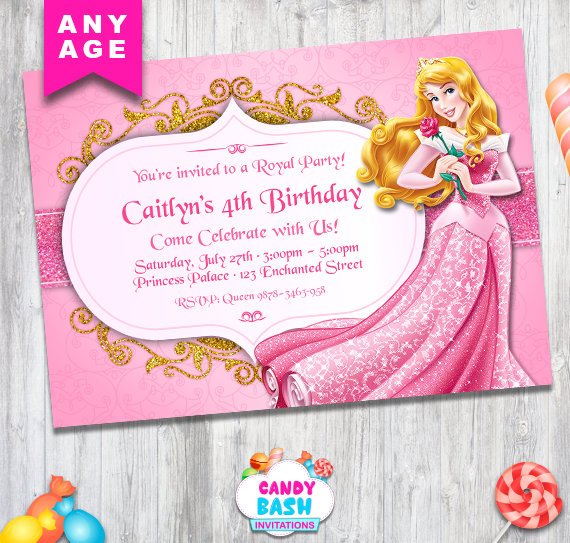 Moana is the latest of the Disney princesses. She shies away from being your typical princess to being more of an adventurous, fearless, and determined one. Characteristics that I'm sure we'll all agree, are what we wish our daughters to be.
If your daughter loved the movie Moana and has a birthday coming up over the summer, then this party invitation is just what you need!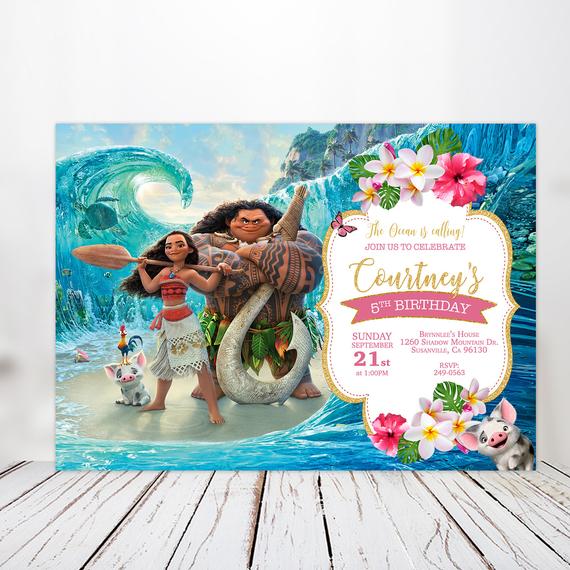 Sofia the First is the first Latina princess, with whom may young girls identify.
This beautifully designed Sofia the First invitation is guaranteed to be a hit with fans of the Disney Junior princess!
Elena of Avalor is another Latin princess admired by young girls.
If you're planning a princess party with lots of Latin flair, then this party invitation is exactly what you're looking for!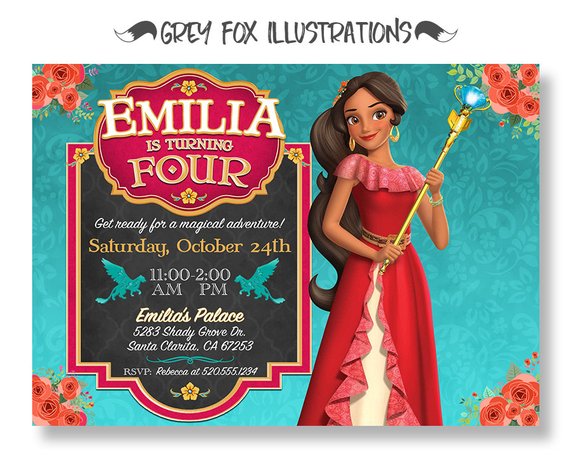 Need more princess party ideas?
Need princess craft ideas?
Need princess recipes?
Need free princess party printable decorations?
For more inspiration, check out all the stunning princess parties on our site, and check out these princess party supplies from vendors with listings on Catch My Party!
**Some of these links may be affiliate.