As you may know from reading my blog, I'm a huge fan of personalized anything at parties.
So when I saw these personalized pedestal letters spelling out "Tyler" in the middle of the dessert table at T's Summer Stripes Sprayground Birthday Bash, I had to know how Zoila made them.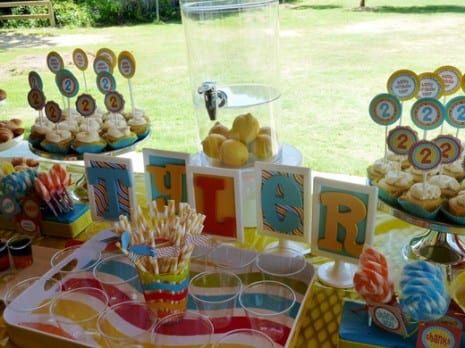 Here is her easy tutorial, so take it away Zoila!
Festive Pedestal Name Display Centerpiece: (Or as I like to call it: Finally Getting Use Out of Those IKEA Frames in the Back of the Closet)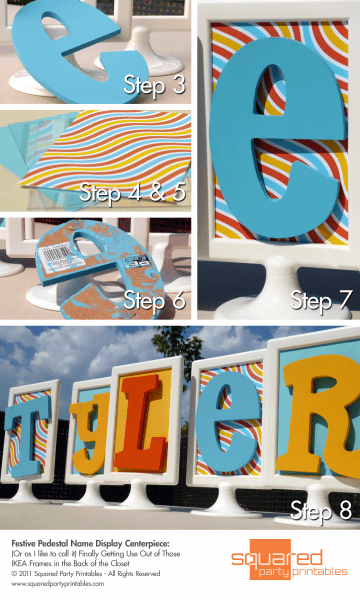 Materials Needed:
Wooden or cardboard letters suitable for painting – approximately 5" high (we found ours at Michael's)
Craft paint
Coordinating patterned or solid / textured cardstock
ZOTS™ 3D clear adhesive dots
IKEA® TOLSBY double-sided pedestal frames – only $0.99 each
Paper trimmer or scissors
Paint brushes
Step 1:
Plan which color you will use and which cardstock pattern / solid you will use as a backing for each letter. (Much easier to sort everything out before you are putting them together.)
Step 2:
If you haven't already done so, setup your frames by attaching the pedestal and peeling the protective cover off BOTH sides of each of the clear plastic protectors.
Step 3:
Prep and paint your letters (front, sides, and nooks and crannies) in coordinating colors for your party theme. No need to paint the backs of the letters. Depending on how light or dark your letters are going to be, you may need
a white base coat or several coats of paint. (We did about 4 coats per letter using a basic all-purpose, water-based paint.)
Step 4:
Trim your cardstock to fit the frame at 4.125" x 6.125". Each frame will use two pieces of cardstock, front and back.
Step 5:
Insert the front and back pieces of cardstock on the outside of the plastic protectors. In other words, the two photo protectors will be sandwiched in between the two pieces of cardstock. Make sure the cardstock faces outward. The letters will be adhered to the cardstock, not the frame itself.
Step 6:
Once your letters are dry and ready to adhere, place a 3D glue dot at the top and bottom of the letter.
Step 7:
Press onto the cardstock that is to be the front of the frame. (Be mindful of where you are positioning the letter as these glue dots are a bit hard to reposition.) The letter should float a bit in front of the frame and if the letter is wide enough, will be layered over the frame. Repeat for each of the letters.
Step 8:
Enjoy the oohs and ahs when people admire your craftiness.
Thank you Zoila for this easy tutorial! To learn more about Zoila and see her beautiful printable designs, check out Squared Party Printables.
If you haven't seen the rest of T's Summer Stripes Sprayground Birthday Bash check it out.  What a fabulous summer dessert table, love all the vibrant colors.