Nicole W throws the most beautiful parties and comes up with the cleverest of ideas. Here is her simple tutorial on how to make a kiddie table.  I think this is brilliant!
So you're hosting a party for children.  You want to make the party inviting, friendly–just their size.  But you have regular folding tables and don't want to go rent special shorter tables and chairs for your party.  What to do?  Use this simple tip and instantly convert your regular folding tables into ones just the right size for kids.
All you need are cinderblocks and your folding tables.
Step 1
Put cinder blocks on the ground.
Step 2
Put unfolded folding table on top.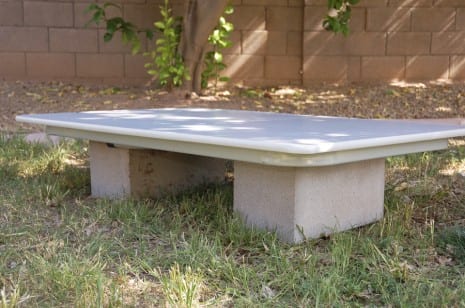 Yep, it's that easy.  The cinderblocks raise the tabletop to the perfect height for children to sit on the ground around the table.  Add a tablecloth.  Use pillows or inexpensive placemats for sit-upons if you wish.  I used 99 cent placemats from Ikea to make my little seats.
Kids from 2 to 12 all sat around the table at the butterfly party and happily did arts and crafts.  It's appealing to the little ones.  You can squeeze more kids around the table.  I didn't risk my 2 year old falling off a big-girl chair.  What's not to love?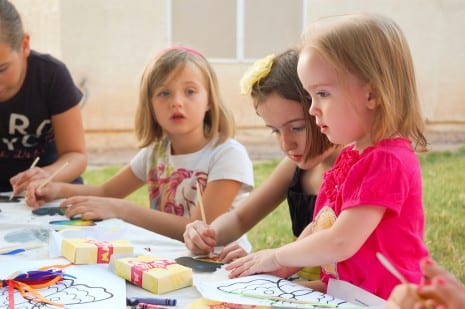 Thank you Nicole. As I said before, such a simple, inexpensive, and clever idea.
Please check out Nicole's other incredible parties on our site, you will be blown away, and also take a look at her blog, Tradewind Tiaras and you will see that throwing insanely great parties is not even her day job. 🙂