I last featured Pamela S's Aly's "I Love Art" Party in a recent party on a budget post. She threw the whole party for $100 and one of the ways she did it, was to make her own favors.
For the little kids she made homemade "art supply"  favors (I know, great!), and for the older kids, she made these chocolate painters' palettes. So cute. Well, here's how…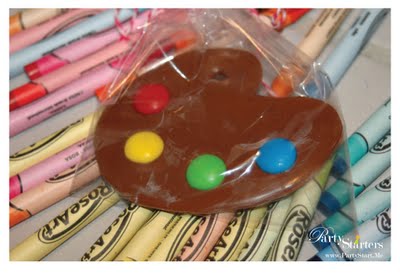 I made these chocolate painter's pallets for the older kids who wouldn't go for all of the "art supplies", which went over very well.
I created a template which you can download  for free.
I printed out my template, placed it on a cookie tray and covered it with wax paper.
In a double boiler I melted chocolate then placed the melted chocolate in a piping bag.
With the piping bag I traced the outline of the palette on the template then filled in the outline with more chocolate.
I used the back of a spoon to smooth each palette out then placed a red, yellow, green and blue M&M onto the soft chocolate to resemble paint drops.
When finished, I popped the tray into the fridge to harden the chocolate.
Once they were hard, I wrapped each pallet in a plastic bag and tied it up with bakers twine.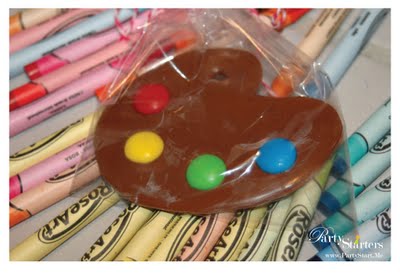 Thank you, Pamela. I especially love the idea of using M&M's as the splotches of paint!
If you haven't already, check out the rest of Pamela's beautiful party. And to learn more about how she pulled this whole party off, check out her blog, Party Starters.