When I saw the tissue paper tassels Kristy of The Purple Pug used to decorate her son's Mario Kart Mustache Mania Rave, I fell in love.
I had to ask  if she'd put together a tutorial on how she made them. Look how fresh and exciting they are!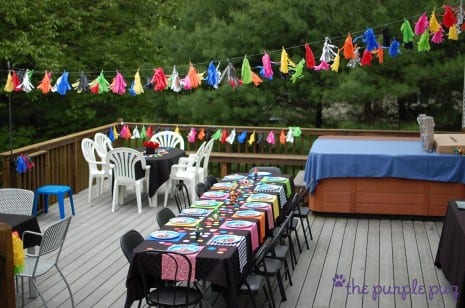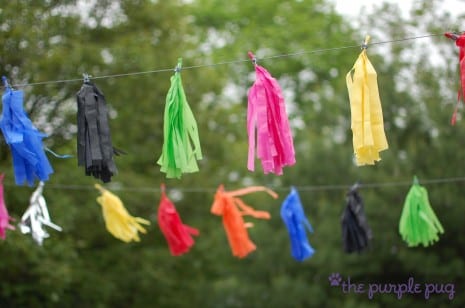 Well, Kristy so kindly said yes, so without further ado, take it away my uber-talented party friend…
Tissue tassels and tassels in general will be taking over the party world. Trust me.
I  crush hard on the charm of Confetti System. Love and Adore. Seriously + Ridiculously.
Alas, true love comes at a high price. Mama cannot afford to bedazzle her deck with the fabulosity of authentic Confetti System-so she set out to create a similar look and feel of it all. Not that my junk could ever be in the Confetti Class-I was just inspired beyond to create some cute.
I created a passel of tassels for my little chimp's Mario Kart Mustache Mania Rave. Super easy, inexpensive and so much fun + festive impact.
Supplies
Cutting mat
Tissue paper (you can use any tissue paper, metallics,

cello, fleece, etc.)

Rotary cutter
Scissors (if you do not have a rotary cutter)
Tape
Twine or string
Rope or ribbon to string tassels on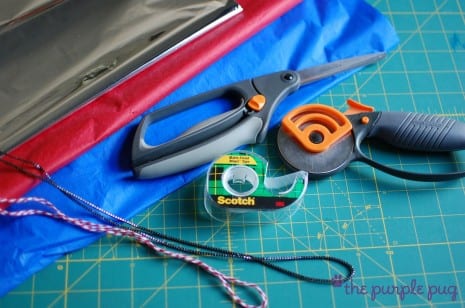 Step 1 – For ease, I started with a square size, 20 inches by 20 inches, but you can make these any size or varied sizes.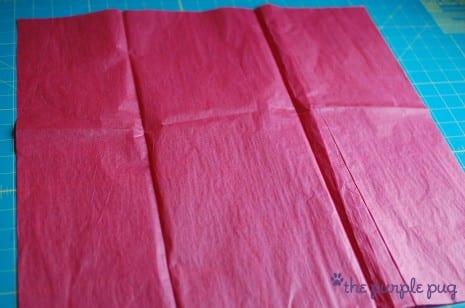 Step 2 – Cut the 20″ x 20″ paper in half so you will have two sheets of 20″ x 10."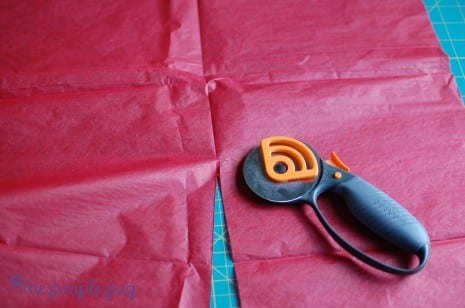 Step 3 – Stack the two sheets on top of each other. The 20 inch side should be horizontal to you. I place some kind of marker up top so I do not cut too far. You need to leave about an inch or so up top. I used a junky pencil for photo purposes. Once you are a pro, you can ditch the marker – you will be able to gauge when to stop.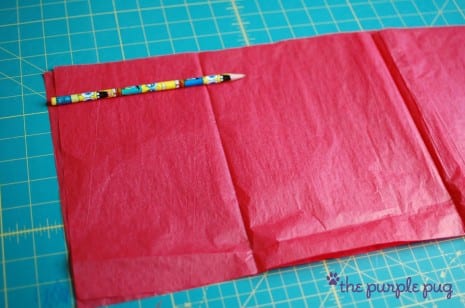 Step 4 – Take your rotary cutter and cut strips about 1/2 inch wide up to the marker spot. Do this the entire length of the tissue. You are cutting through both pieces of tissue stacked on top of each other. If you are not using a rotary cutter, do the same with your scissors. Much easier with a rotary, but you can use scissors in a pinch.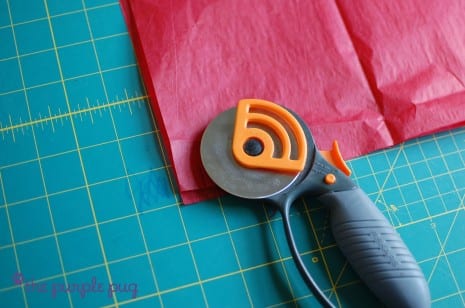 Step 5 – Does not matter if you goof and make a wider or narrower strip. No one will notice. More charming anyway. You could also probably do more than two sheets at a time with a rotary, I just used two to keep it contained.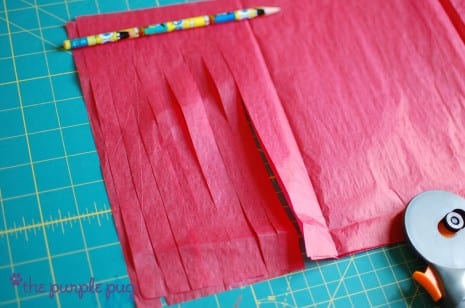 Step 6 –  Separate the two layers you just cut.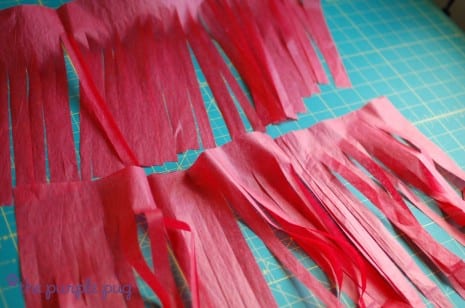 Step 7 – Take one of the layers and now turn it vertically to you.
Step 8 – Fold in half.
Step 9 – Fold in half again.
Step 10 – Now you will start at the end closest to you and fold in 1/4-1/2 inch section. If you try to roll or twist, the tassels with get all tangled.
Step 11 – Next, you can roll the end a little and secure with tape wrapped around the center.
Step 12 – Cut string or twine into 8″ or so sections.
Step 13 – Wrap around center of base several times. Leave twine of each side. This is how you will tie to attach to garland rope or ribbon.
Step 14 – Secure tassels to rope or ribbon or you could add them to a stick. Hang them independently, bunch them, etc.
There you go! Tissue tassel cuteness!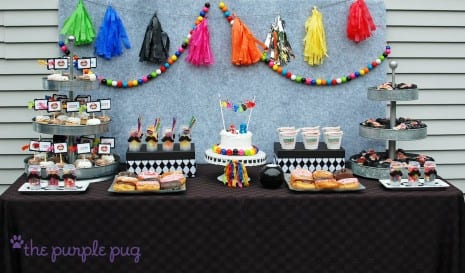 For this tissue tassel mini cake bunting, I used the exact same technique-just tiny:)
I will be using this adorableness for the 4th of July:)
Thank you, Kristy! And I agree with you that we will no doubt be seeing many more tissue tassels around the party blogosphere.
To see all of Kristy's handmade party goods and get more fabulous party ideas, take a look at her blog, The Purple Pug.  And while you're at it, take a look at the insanely creative parties Kirsty has added to Catch My Party.