Did you know Fifty Shades Darker, the next installment in Fifty Shades series, is opening in theaters just in time for Valentine's Day?
In honor of the movie, I was asked to host a Fifty Shades Darker cocktail party for my 3 best girlfriends! I know, tough job, right? 🙂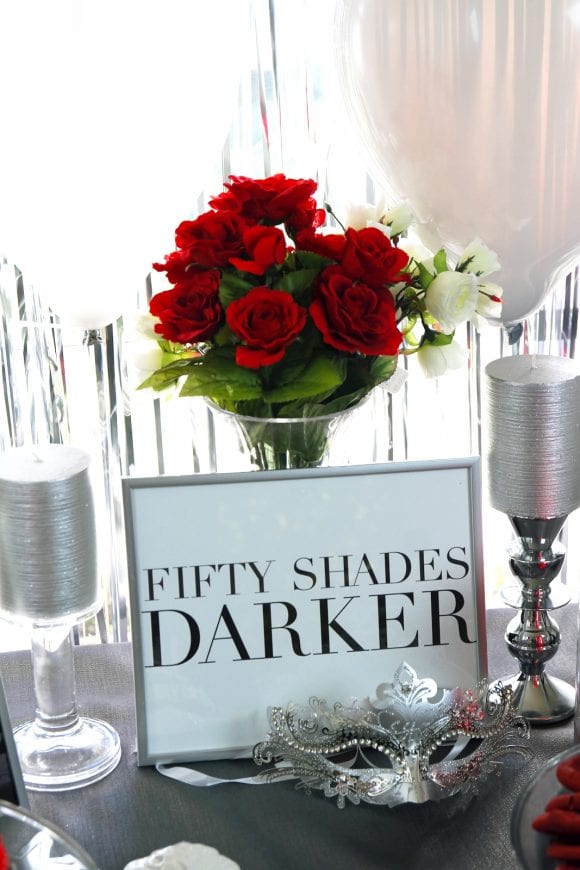 Universal even sent me a box of goodies to help!
If you're excited about the movie, and thinking of hosting your own opening night party for your girlfriends, check out this blog post!
I've included easy party hacks, a "Black Mask" mocktail recipe, and free printable signs to help you decorate.
Overall Concept
Since there's a big masquerade party scene in the movie, it felt right to give my party a masquerade theme. I wanted my party to feel decadent, fabulous, fun, and mysterious.
Here, my friend, Wendy, and I are being very mysterious!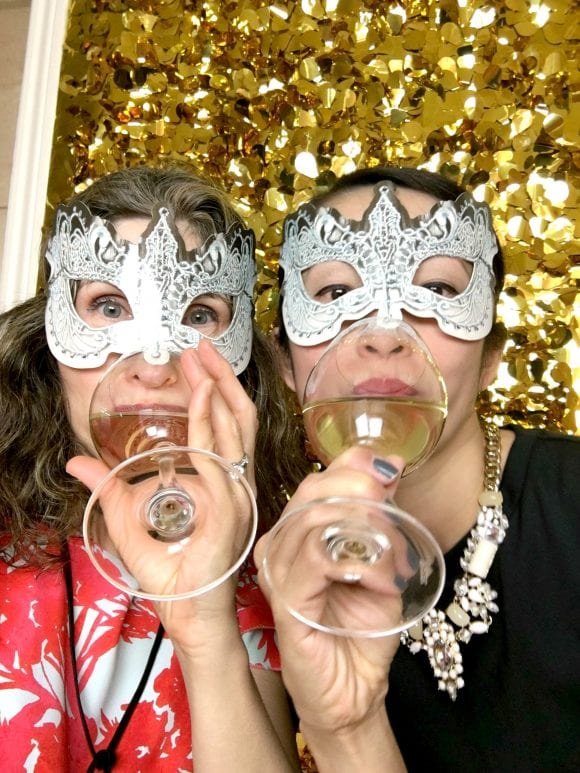 Because I didn't have a lot of time to pull this party together, I headed to my local Safeway to stock up on desserts. It's almost Valentine's Day, so they had a huge assortment of yummy treats.
I chose these pink and red cupcakes because I wanted to add some pops of color to my grey table.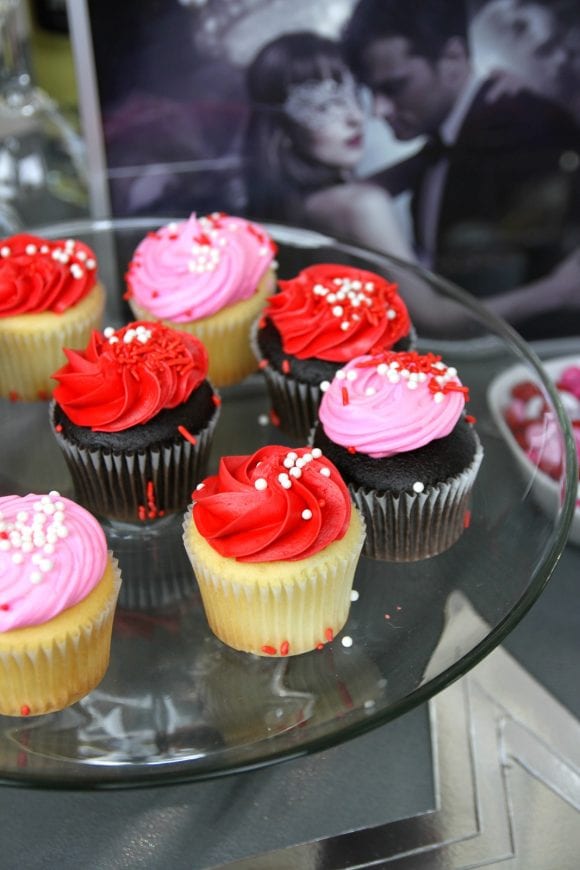 I also put out red velvet cookies with red Reese's Peanut Butter hearts, plus gigantic chocolate chip cookies dipped in chocolate.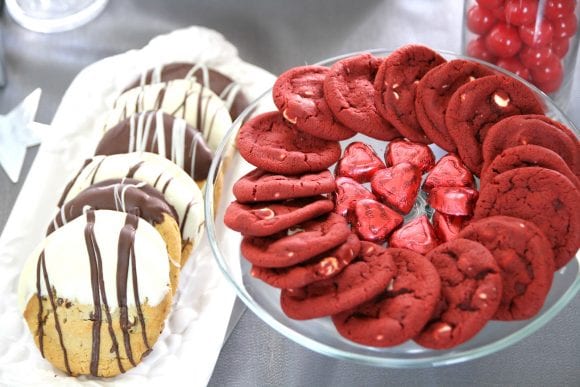 And if there was such a thing as a sexy cake, I'd say this was it!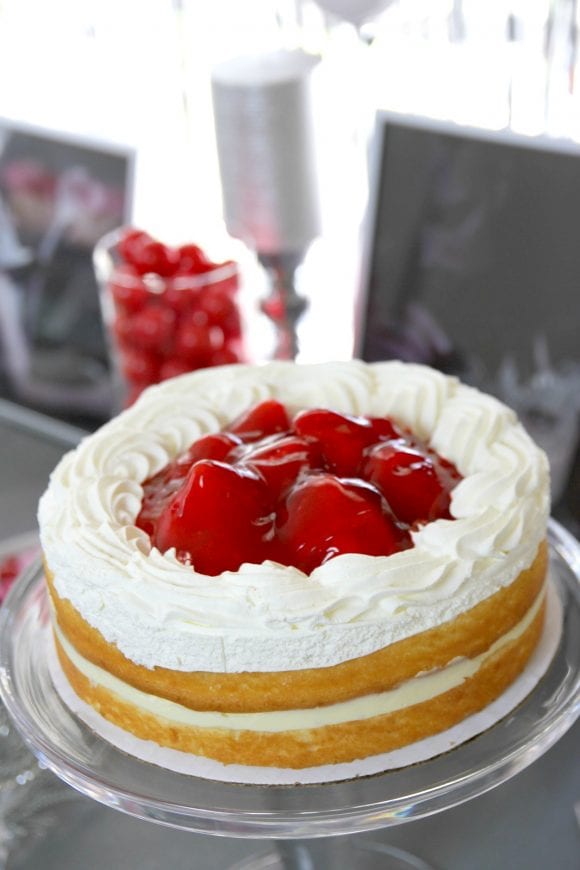 To set the tone for my party, I bought this silver masquerade mask (affil) and placed it front and center on my table.
I also printed out two photos from the movie and the Fifty Shade Darker logo, put them in three silver frames, and used them to add drama to my table. I've included them here for you to download for your own party.
I always like to add gumballs to my dessert tables. Gumballs add a touch of whimsy, so I loved how these red ones looked displayed in a vase. (Note on gumballs: people will actually put them in their mouths and chew them! I think it's a childhood thing. :))
To finish off my table, I added red and white roses (which play a role in the movie), two grey candles, and silver stars.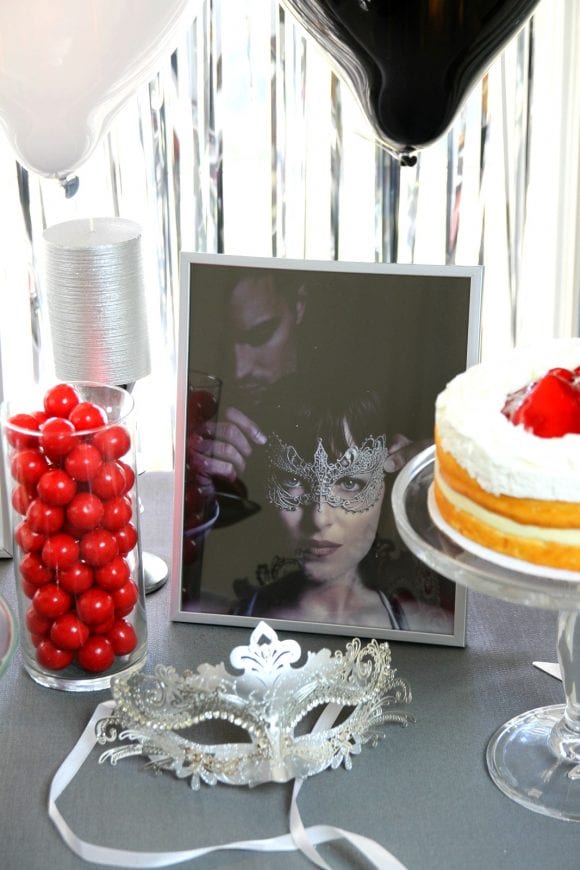 The grey and black balloons and silver streamers came care of Universal.
I had a helium tank lying around (it's what happens when you're a party blogger), so I blew up the balloons and displayed them in front of the streamers to create my dessert table backdrop.
In the movie, Anastasia wears a grey ostrich feather jacket over her metallic evening gown, so I thought this grey ostrich feather trim would be a perfect touch around my table.
I also bought a pack of 4 red tissue paper pom poms, placed them on the floor to lined the bottom of my dessert table.
I'm loving this new trend of pom poms or honeycomb balls at the bottom of a dessert table — adds such a pretty visual detail.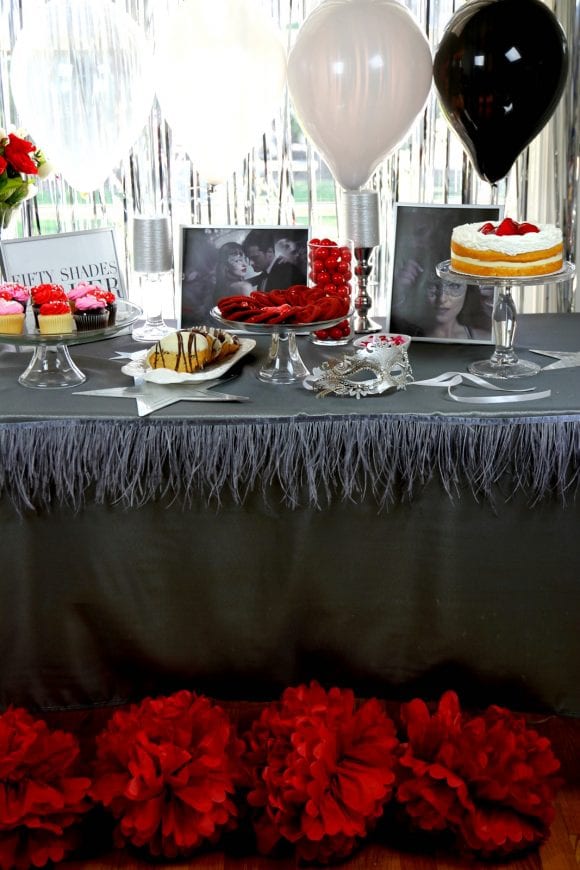 Universal also sent me some Fifty Shades of Grey wine.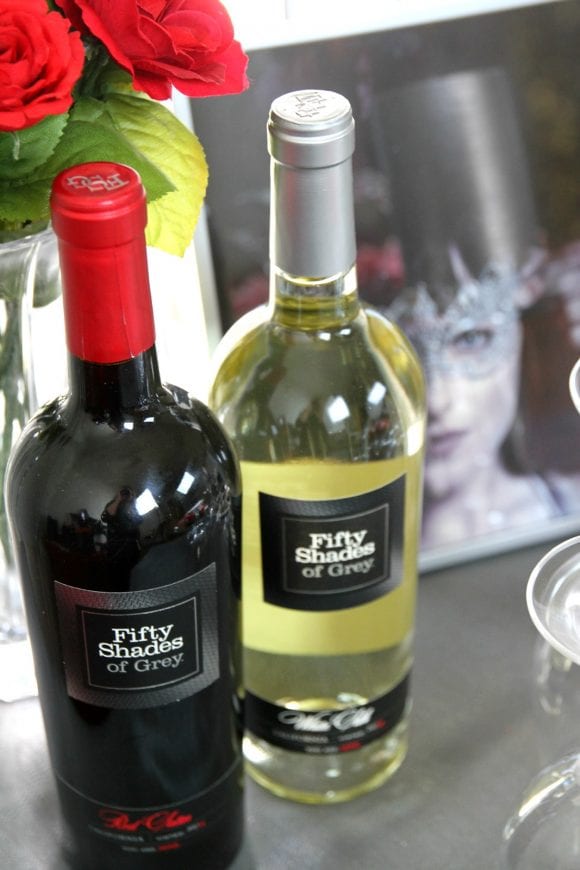 Big hit!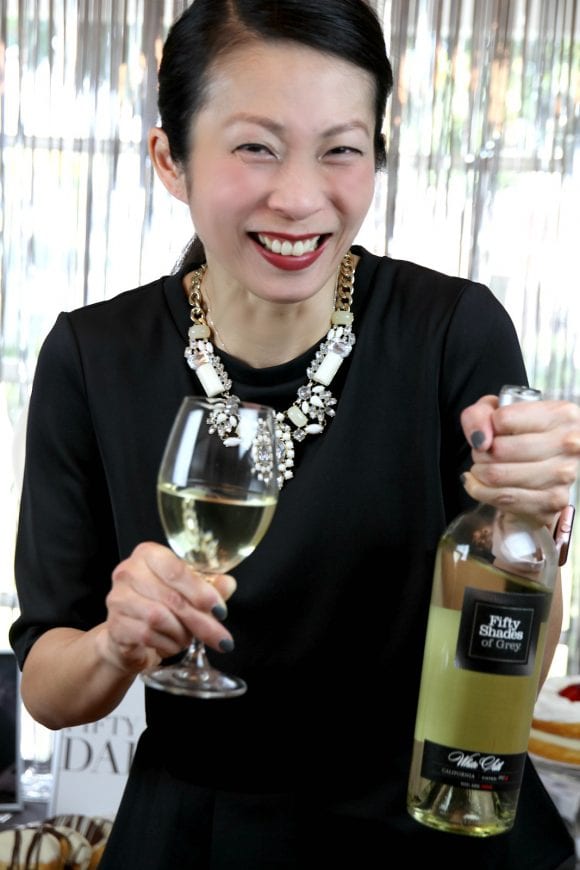 In addition to wine, I also served a signature cocktail.
Signature cocktails are a great way to add a personal touch to your party, because you can make them unique and tie them into your theme.
For this party, I made a cocktail that I called "The Black Mask." It's a vodka tonic with two special ingredients – activated charcoal (to turn the drink black) and white pearl dust (to give it shimmer).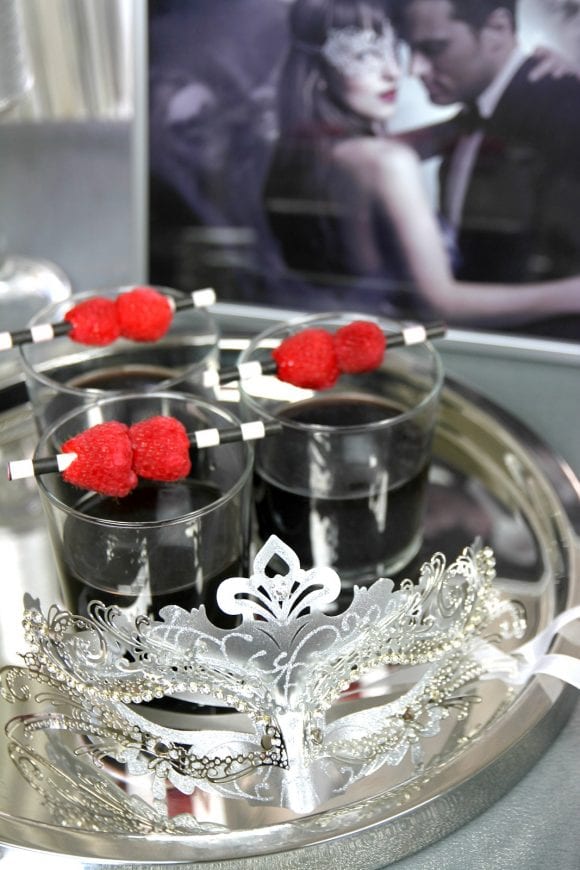 Black Mask Cocktail
Ingredients:
2 parts vodka
4 parts tonic
1 part black cherry juice
1 opened activated charcoal capsule per drink *special ingredient* (affil)
1 sprinkle of pearl dust per drink *special ingredient* (affil)
Raspberries for garnish
Directions:
Fill your glass with ice.
Pour in one opened activated charcoal capsule.
Pour vodka, tonic, and black cherry juice into the glass and mix well.
Sprinkle pearl dust and mix.
Place raspberries on a paper straw and serve.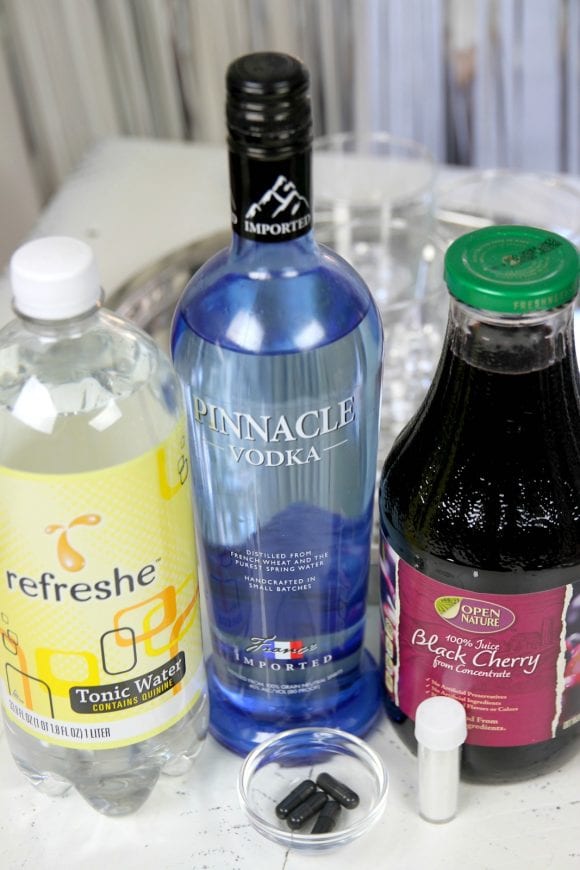 Can you see it looks like it's shimmering?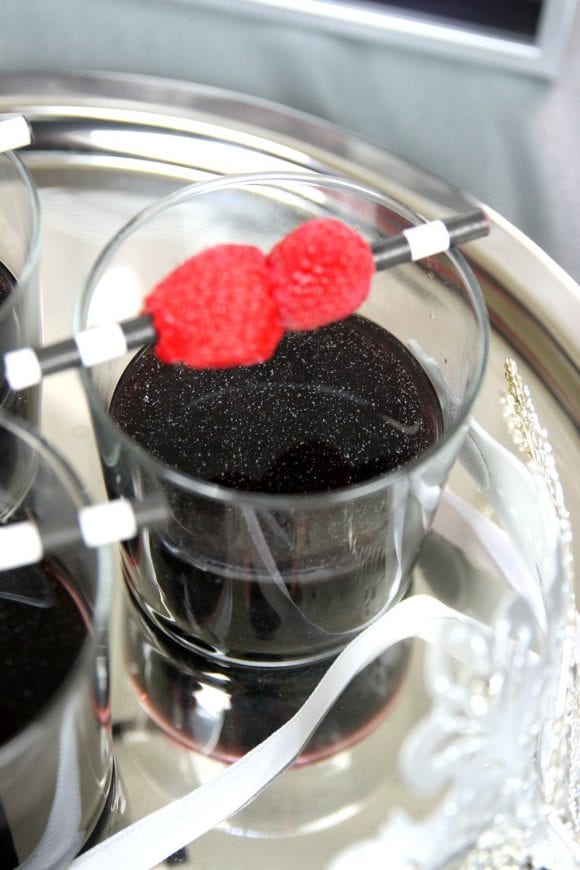 Here was one of the highlights of the party. Universal sent me awesome party favors to give to my guests.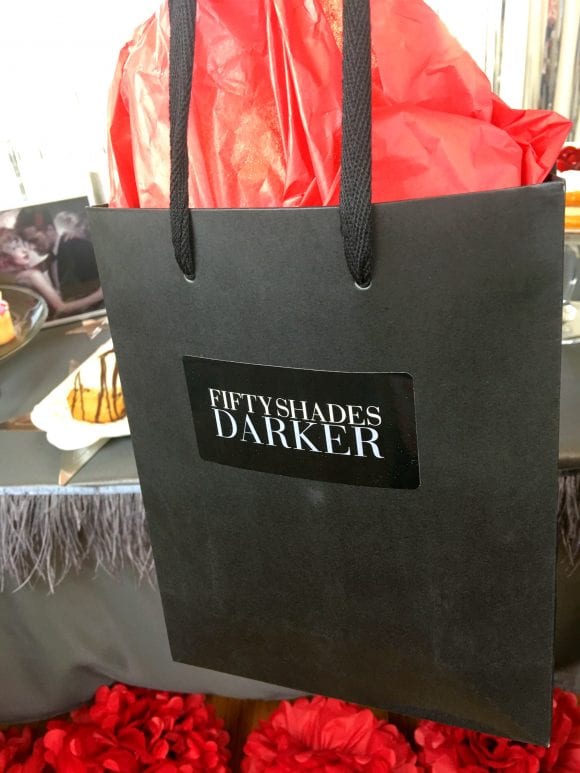 Each guest got to go home a copy of the Fifty Shades Darker book, an Anastasia lip balm, a makeup case, a paper masquerade mask, and a tee shirt that says, "Slip into something a shade darker."
What a way to spread some of the sexy love from the movie!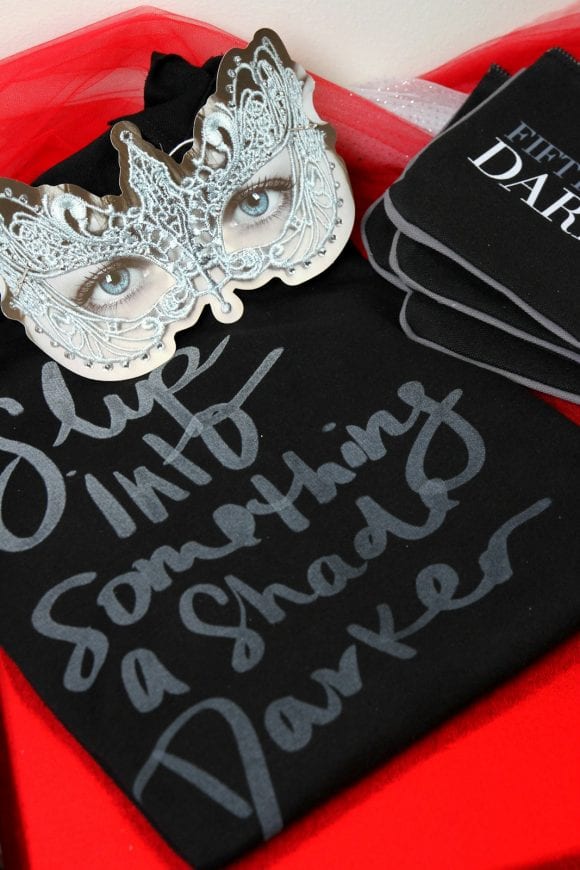 At the end of the night, we even read some of our favorite passages and tried to keep a straight face. 🙂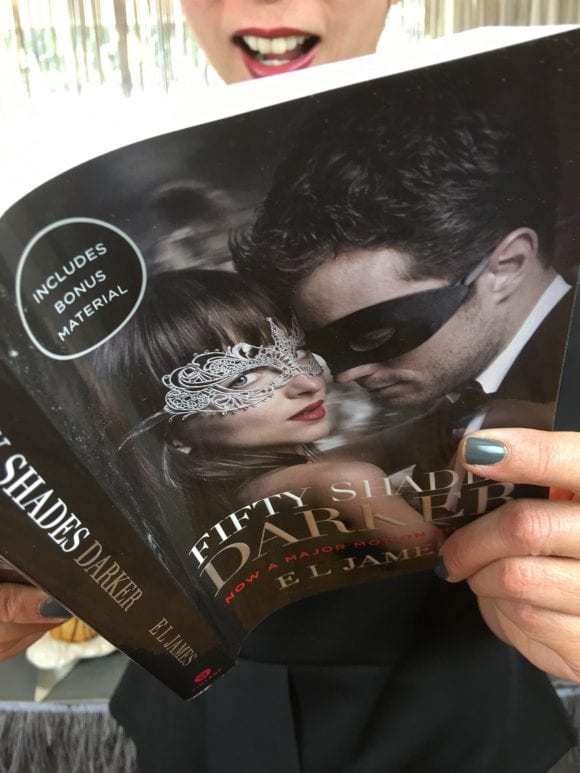 So there's my party in a nutshell. We all had a blast!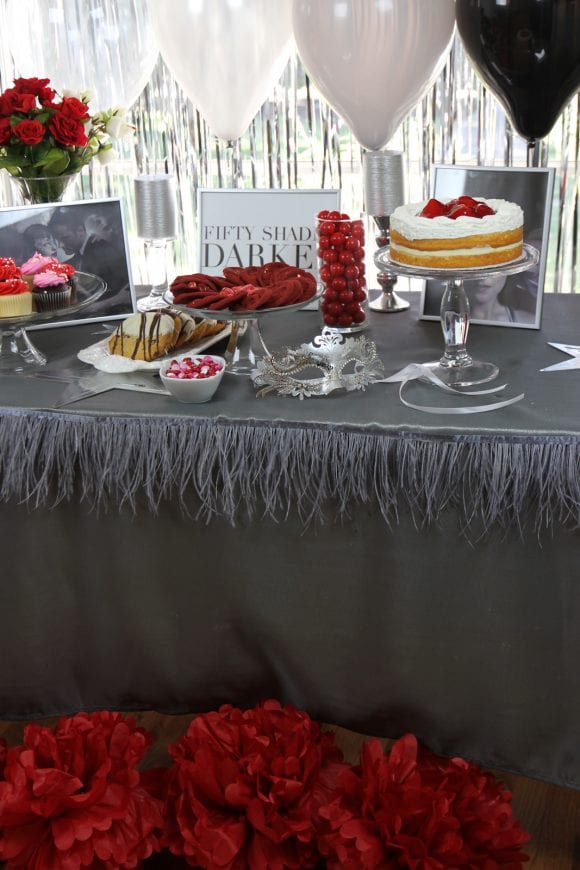 Lots of desserts was eaten, lots of cocktails were imbibed…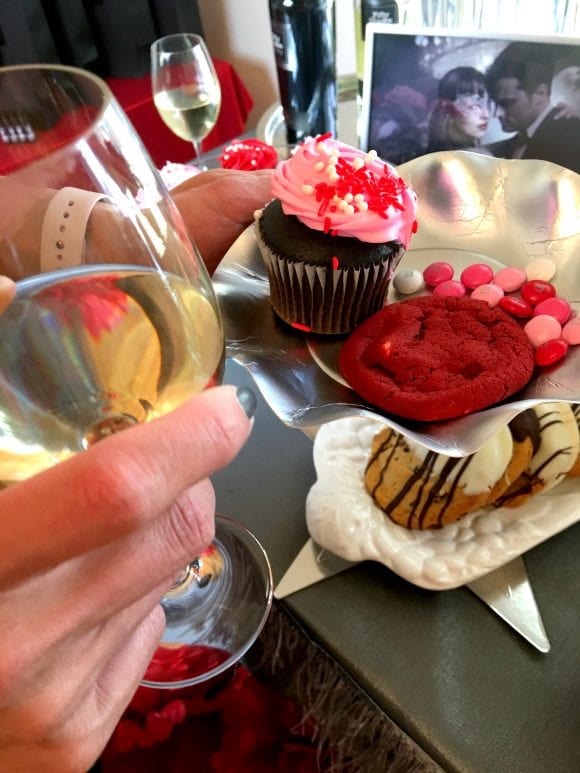 And lots of fun girl-time was had by everyone!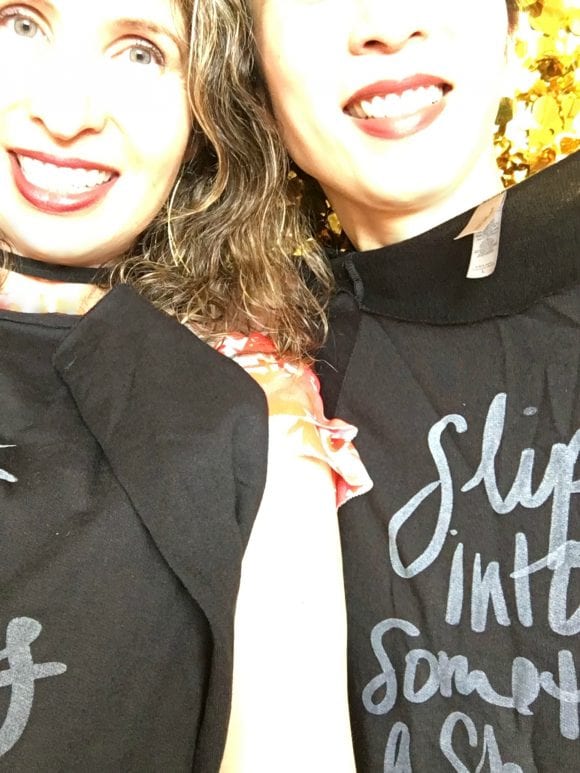 If you host a Fifty Shades Darker viewing party for your girlfriends, please add it to Catch My Party. I'd love to see what you do!
Also, check out the viewing party I styled for the first movie, Fifty Shades of Grey!