We were inspired to put together a Fifty Shades of Grey Ladies' Night Party in honor of the movie opening Valentine's Day weekend. I have to admit I'm excited to see it. What woman couldn't use a little sexy escapism in her life?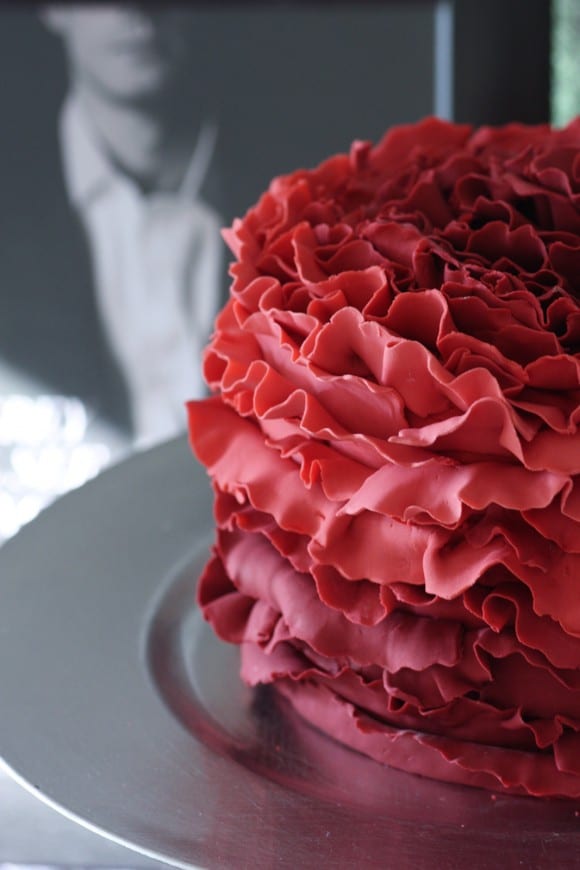 If you and your girlfriends are planning to see the movie together, how about hosting a little soiree beforehand? Below are some ideas to inspire you, plus we've included a set of Fifty Shades of Grey free printables to help you decorate.
Okay, I must admit, this was a fun assignment! I knew I wanted the party to feature a decadent dessert table and a signature cocktail. I wanted everything to feel lush and romantic, in deep shades of red and grey. And I wanted a slight touch of danger.
First I asked Michelle at Printabelle to design our themed party printables. We came up with tented food cards (6 themed + 2 blank), cupcake toppers, wine glass flags with quotes from the movie, and a "Mr. Grey Will see you now" welcome sign.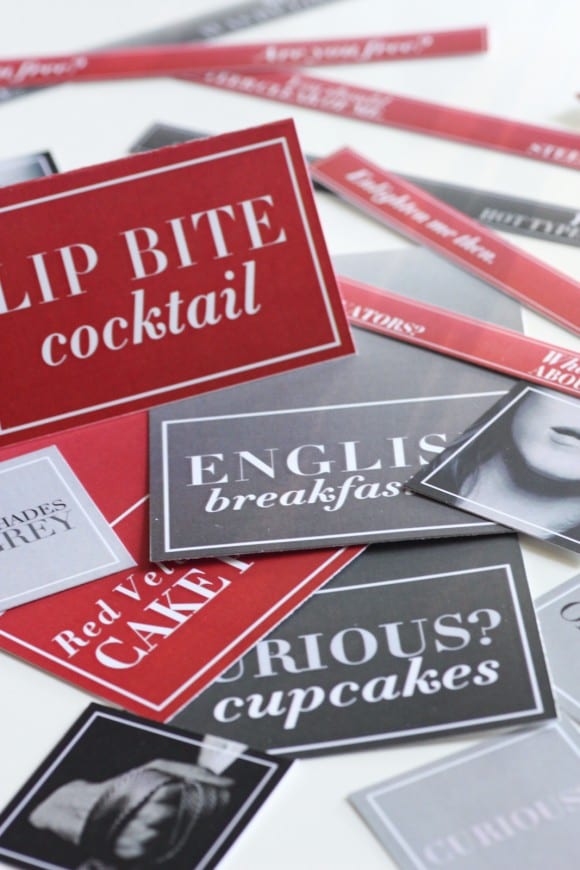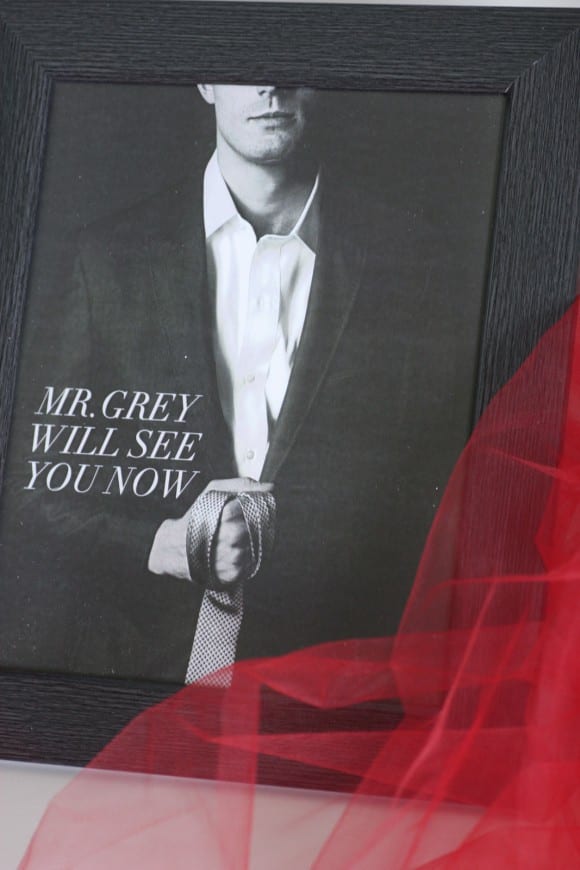 Free printables are my secret weapon for pulling any party together. The best thing about them is that you can print as many as you need (I recommend printing on heavy photo paper), and it creates a cohesive look. I promise your friends will be impressed!
Download the free Fifty Shades of Grey printables here!
Next, I started working with Arianna at Crokantie to design the cake, which I knew would be my centerpiece. I love the romance and softness of an ombre ruffle cake, but to make it feel more impactful, we decided to do it in red. She blew me away with what she created. It was a work of art!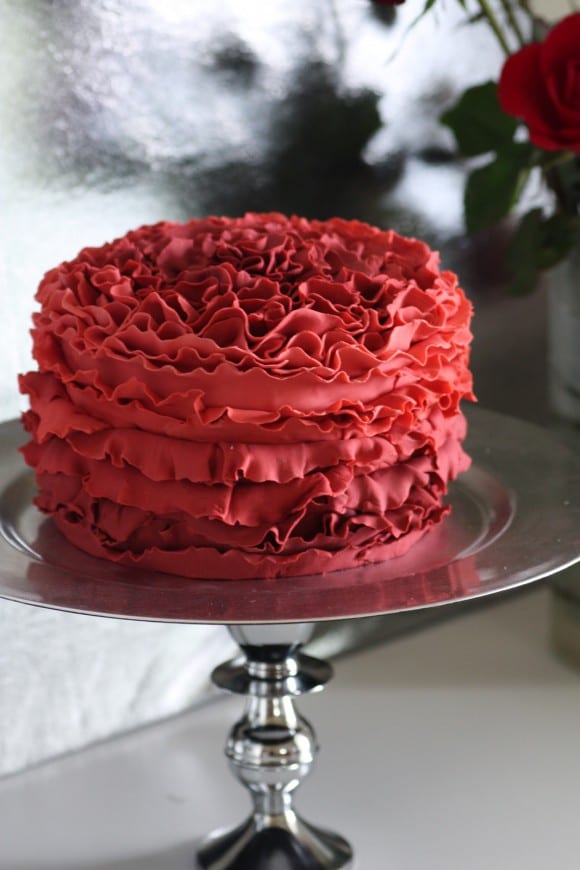 She also designed these fun "red velvet room" cake pops.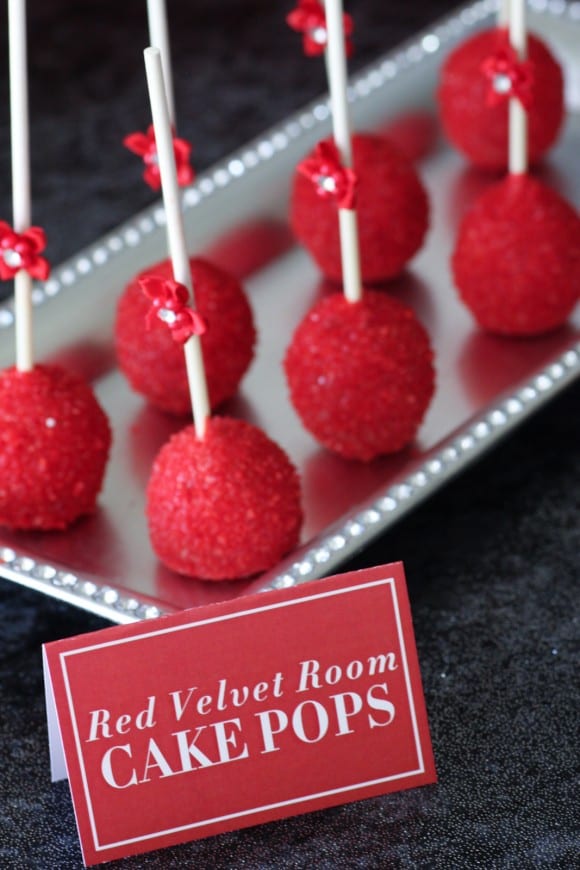 And she designed these grey ombre "curious?" cupcakes. I placed the cupcakes on red licorice spirals, added cupcake toppers, and skinny red ribbon to them to decorate. I love that the toppers show both Anastasia's famous lip bite and Christian's grey tie.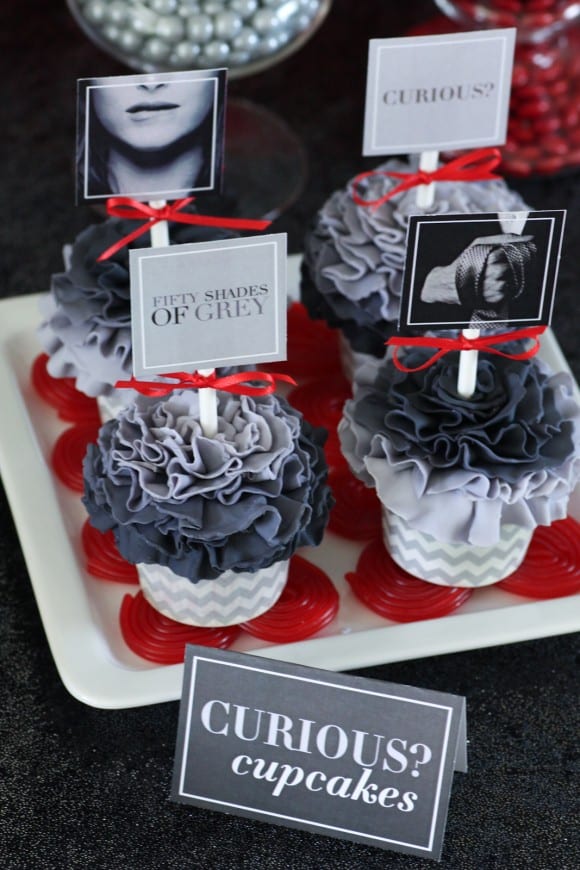 I also wanted to add some themed sugar cookies as another "wow" factor to my table.
I asked Jeanna from the Truffle Pop Shoppe to designed some cookies and she did an unbelievable job!
She used quotes from the movie and iconic images — the grey tie, the Charlie Tango helicopter, the infamous red room key — to create such a mood. Honestly, these were almost too pretty to eat. Almost…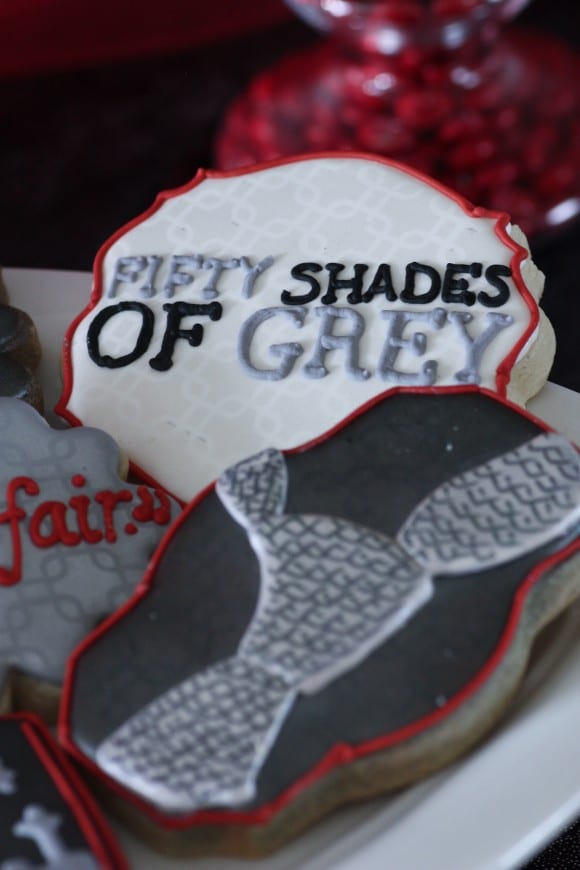 For my final touches, I bought two different types of stretchy velvet fabric. For the dessert table backdrop, I covered two foam core boards in my silver velvet fabric and used a deeper sparkly grey velvet for my table cloth.
I also used red tulle to line the back of my dessert table. Tulle is so inexpensive and versatile, my favorite dessert table fabric. I use it to add an ethereal look, which in this case, softened the cool grey.
I put out fresh red roses, and two apothecary jars filled with grey and red candies (a great way to add color and height to your dessert table). Here's what my whole table looked like.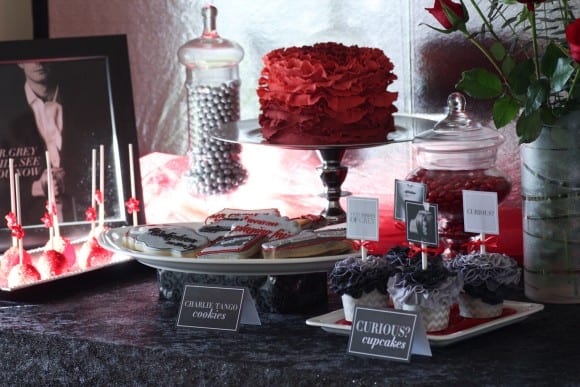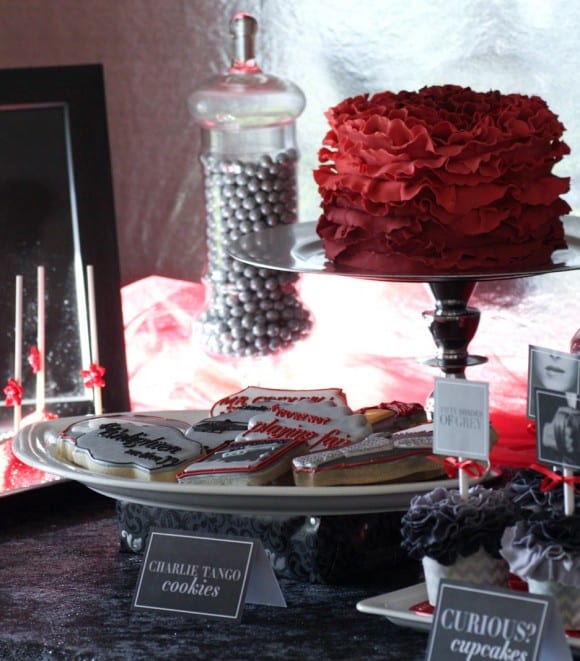 For my signature "Lip Bite" cocktail, I wanted something deep red, like the color of blood. The cocktail consisted of blood orange juice, pomegranate juice, vodka, and sparkling water. In one word… yummy!
Lip Bite Cocktail Recipe
2 oz. blood orange juice
2 oz. pomegranate juice
1 oz. vodka
1 oz. sparking water
Garnish with pomegranate seeds, blood orange slice, paper straw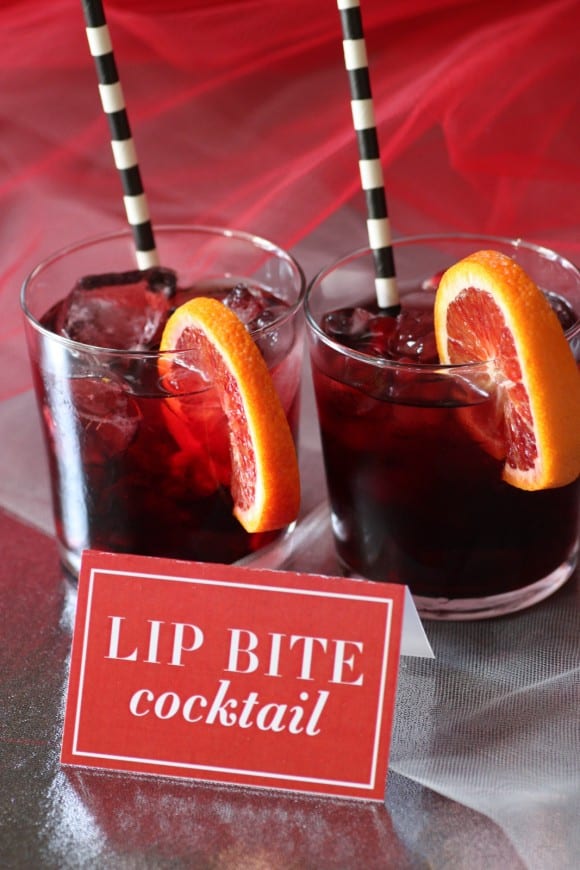 I embellished my wine glasses with printable wine glass flags. The great thing about wine glass flags is that aside from adding flair to your glasses, they work as wine glass markers so your guests won't mix up their glasses during the party.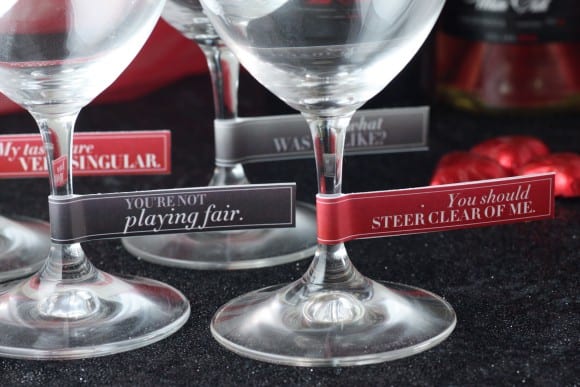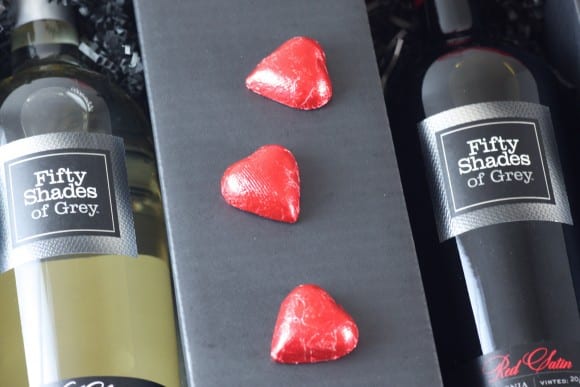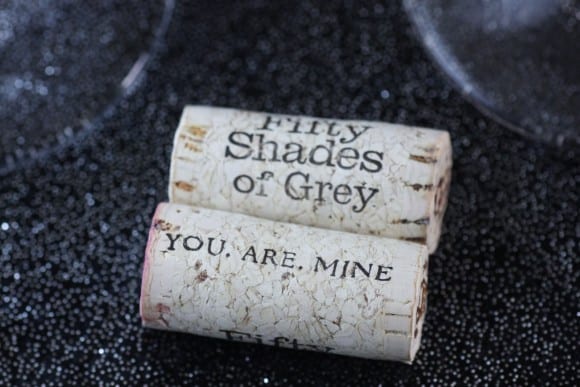 As my homage to Anastasia, I served some English breakfast tea (her favorite) in mini glass tea cups. It was a sweet little detail that fans will notice.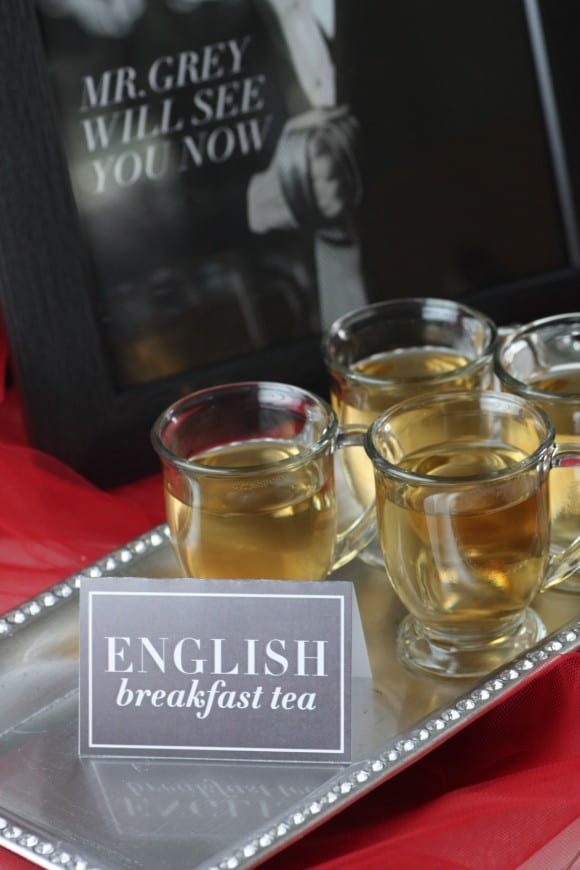 And finally, for party favors — I love to send my guests home with something fun to remember the party by — I saw these Fifty Shades of Grey nailpolish kits from O.P.I., and knew these were the perfect touch of glam. They feature six limited-edition colors inspired by the movie. I tied red ribbons around the boxes and placed them at the end of my table.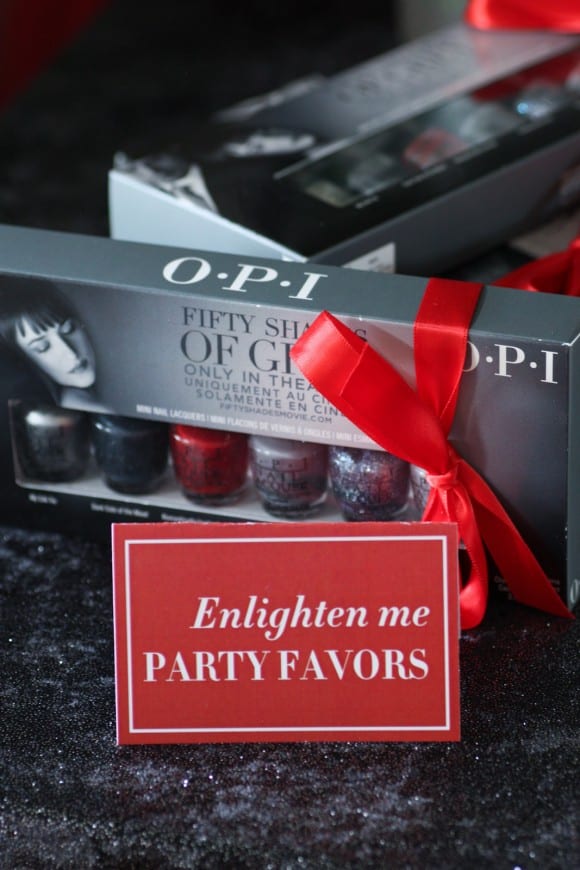 And here are some more photos from the shoot. I had an awesome time putting this together, hope it shows!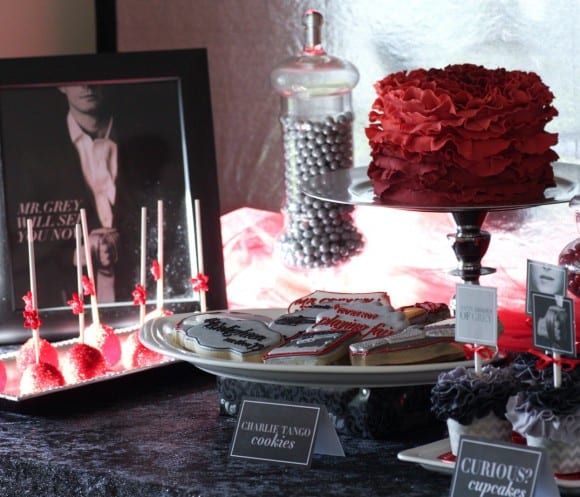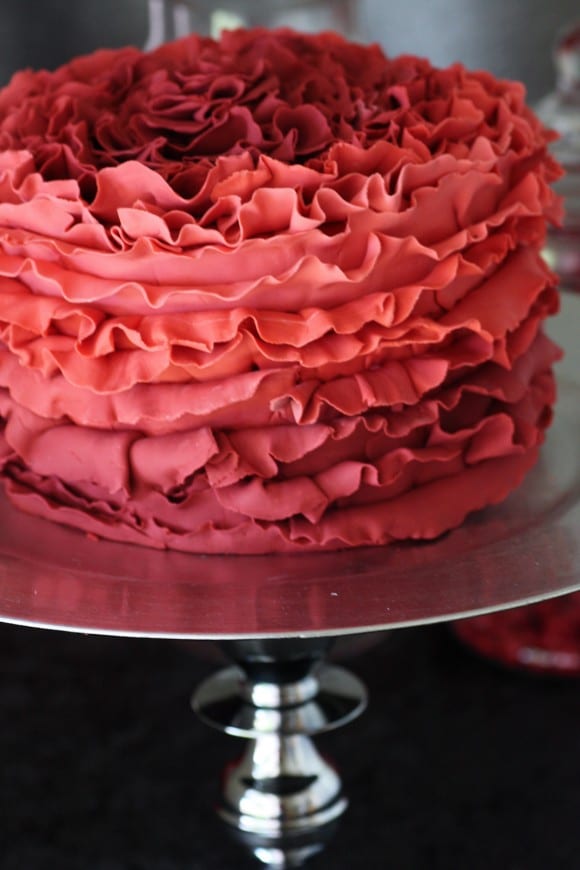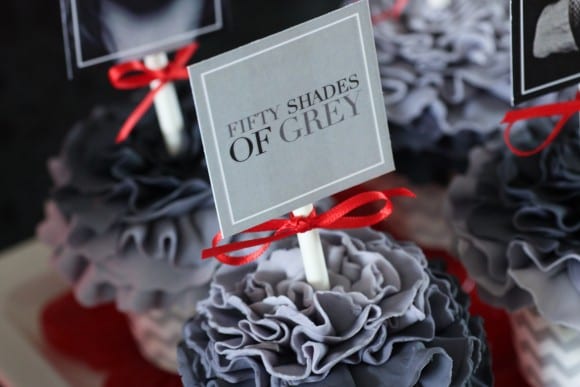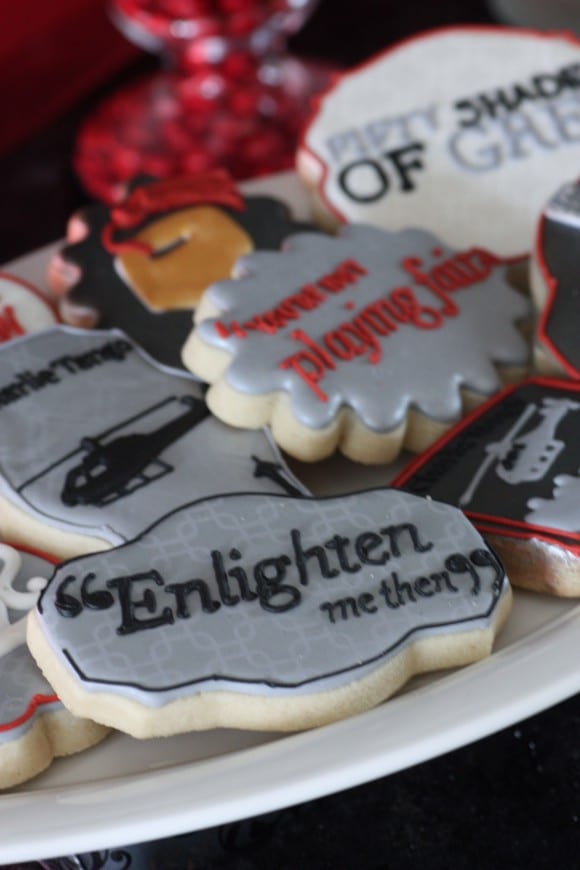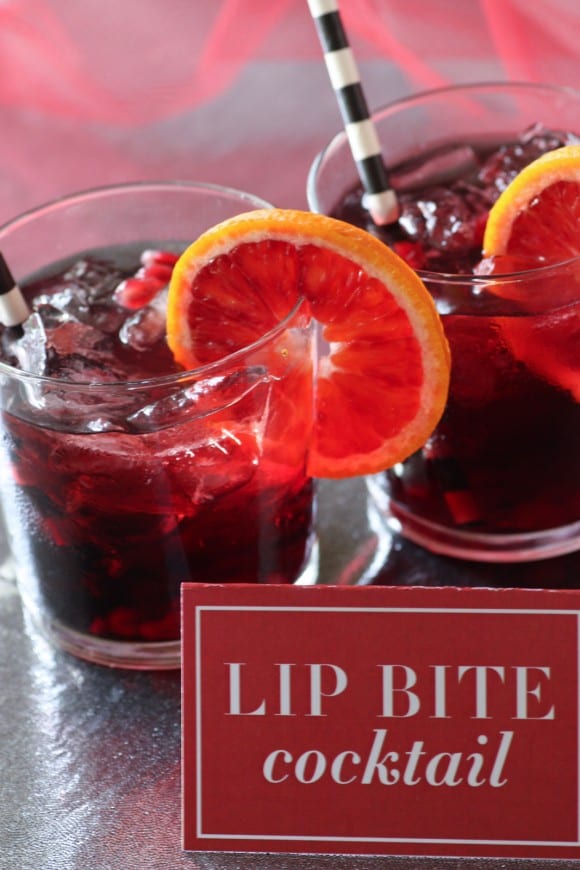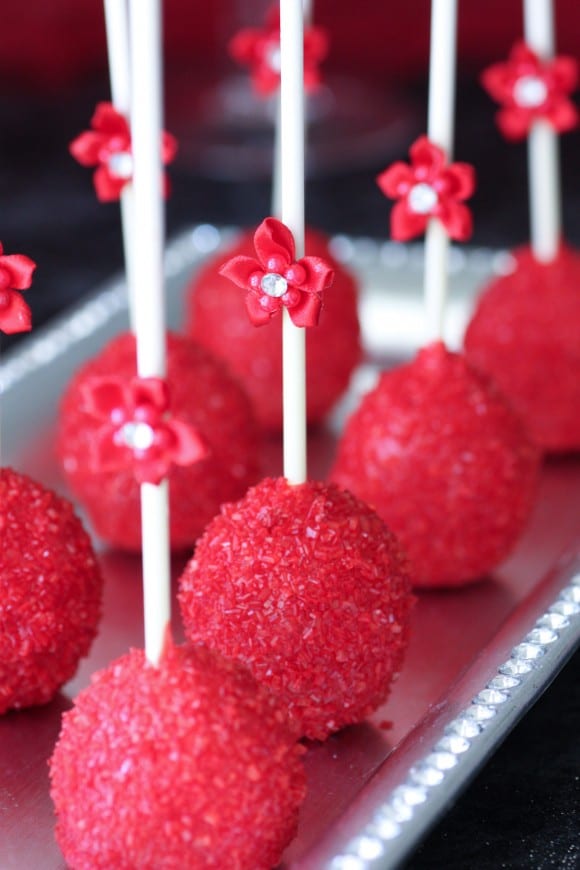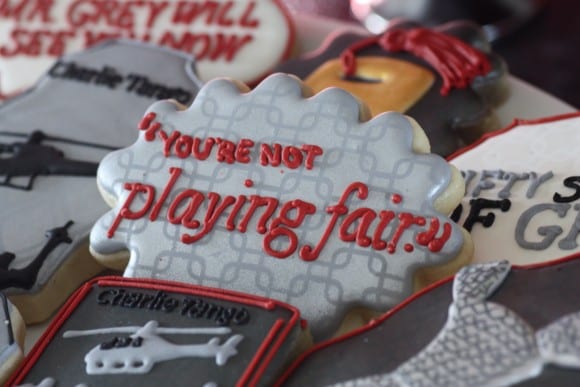 If you host your own Fifty Shades of Grey party, I'd love to see it, so please add it to our site!