There are so many trends out there such as unicorn and llama parties, but one of our all-time favorite summer party themes has to be flamingo birthday parties.
Popular with kids and adults alike, your guests will feel like they've arrived in the tropics once they've set foot at your party!
So, if you're planning one this summer, don't miss the best flamingo party supplies that we've rounded up to help you plan a perfect birthday party!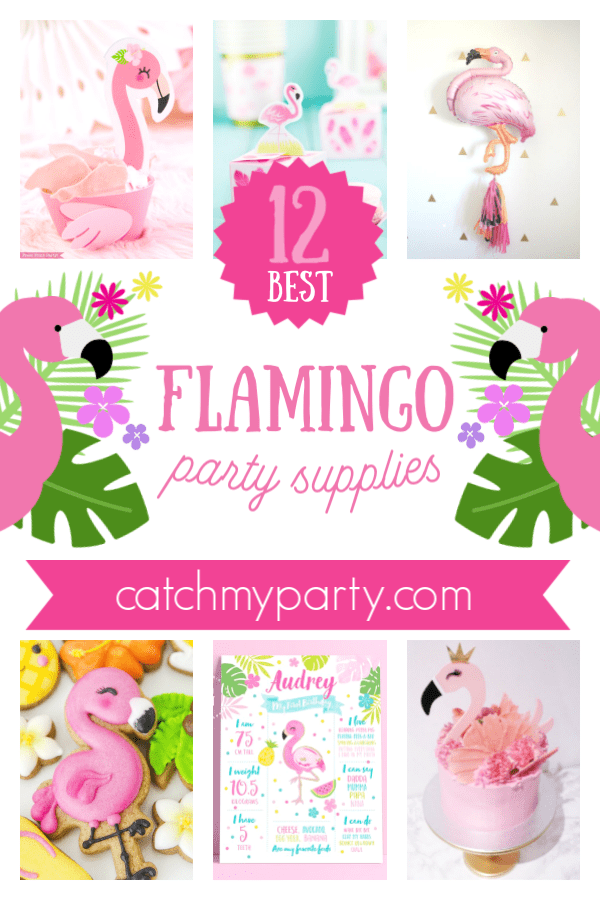 We've got so many delightful flamingo party supplies for you. You'll find ideas for flamingo party invitations, cupcake wrappers and toppers, flamingo birthday favors, party decorations and so much more!
Just scroll down to have a look for yourself!
Have a Perfect Party with the Best Flamingo Party Supplies!
Get ready to "flamingle" with this flamingo themed party invitation that has everything you need to kick off your party celebrations!
Taking center stage is a beautifully illustrated flamingo, surrounded by lush green leaves and tropical flowers.
Check out this bright and colorful flamingo birthday party milestone poster.
It's a wonderful flamingo party decoration with all the important milestone moments marked out and will look amazing placed on the dessert table or hanging on a wall at the party.
The coolest thing about it is that it doubles as a fabulous keepsake. Perfect for a nursery or child's bedroom.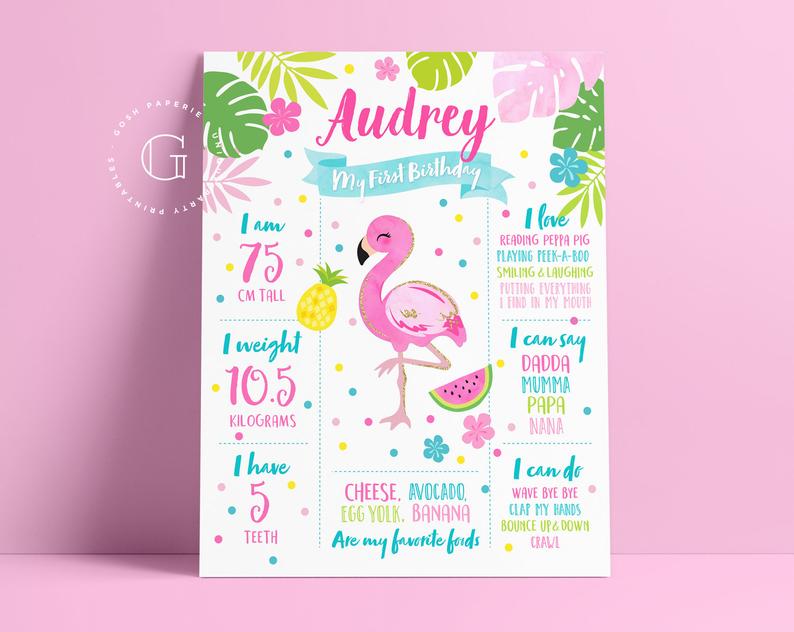 You won't believe the amazing flamingo cake topper we've found to help you create the ultimate showstopping flamingo birthday cake!
With literally no work at all,  you can quickly transform a pink frosted cake into a mindblowing flamingo cake.
Each piece is made of pink acrylic plastic, that you can reuse over and over again! All you need to do it wipe them clean and you're good to go!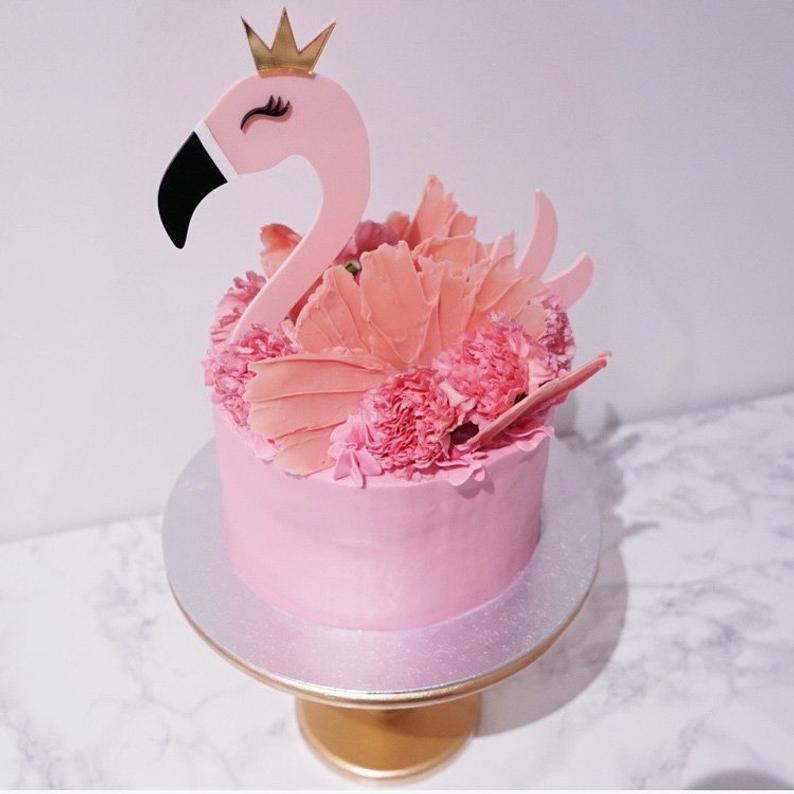 Easily create cute flamingo cupcakes with these adorable flamingo toppers and wrappers.
Decorate the pink frosting on your cupcakes with broken bits of pink chocolate for the perfect flamingo party food!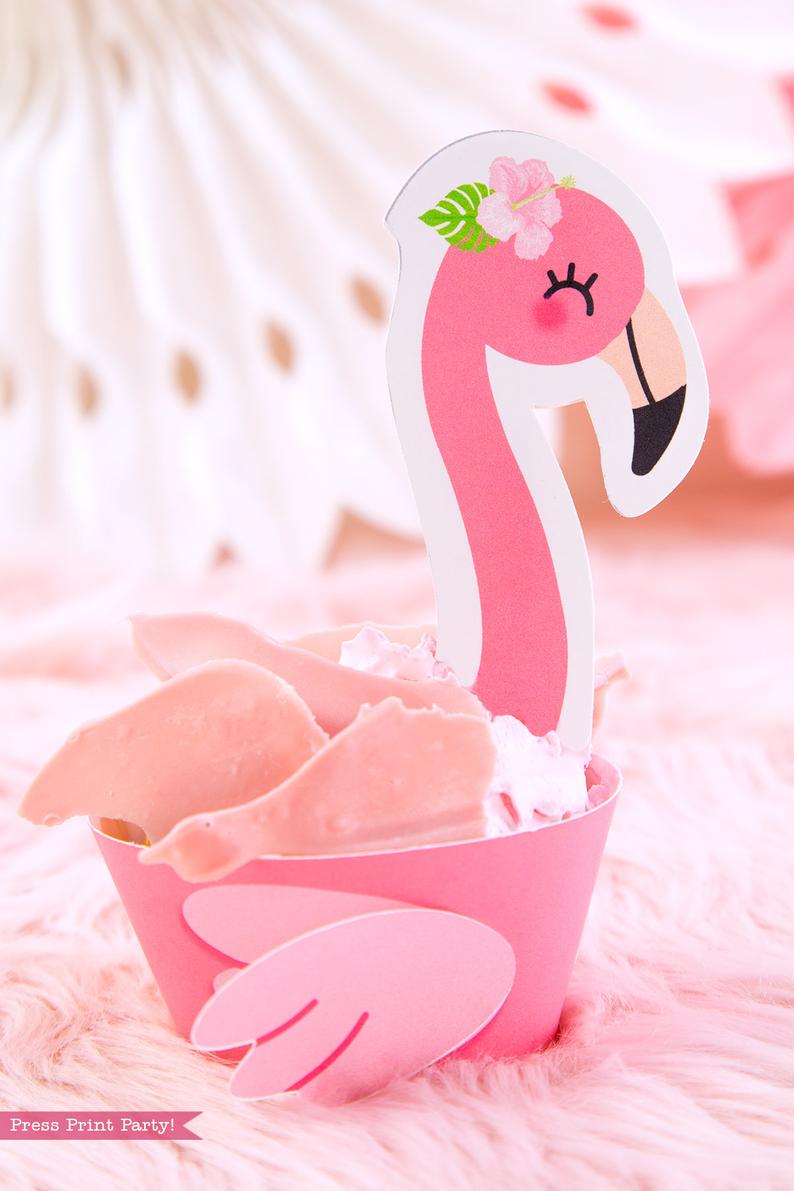 If you're planning on putting your baking talents to use and making your own cookies, this fun cookie cutter is just what you need!
Imagine just how cute a plate full of these pretty flamingo cookies will look on your dessert table.
You can bet there won't be a crumb left at the party!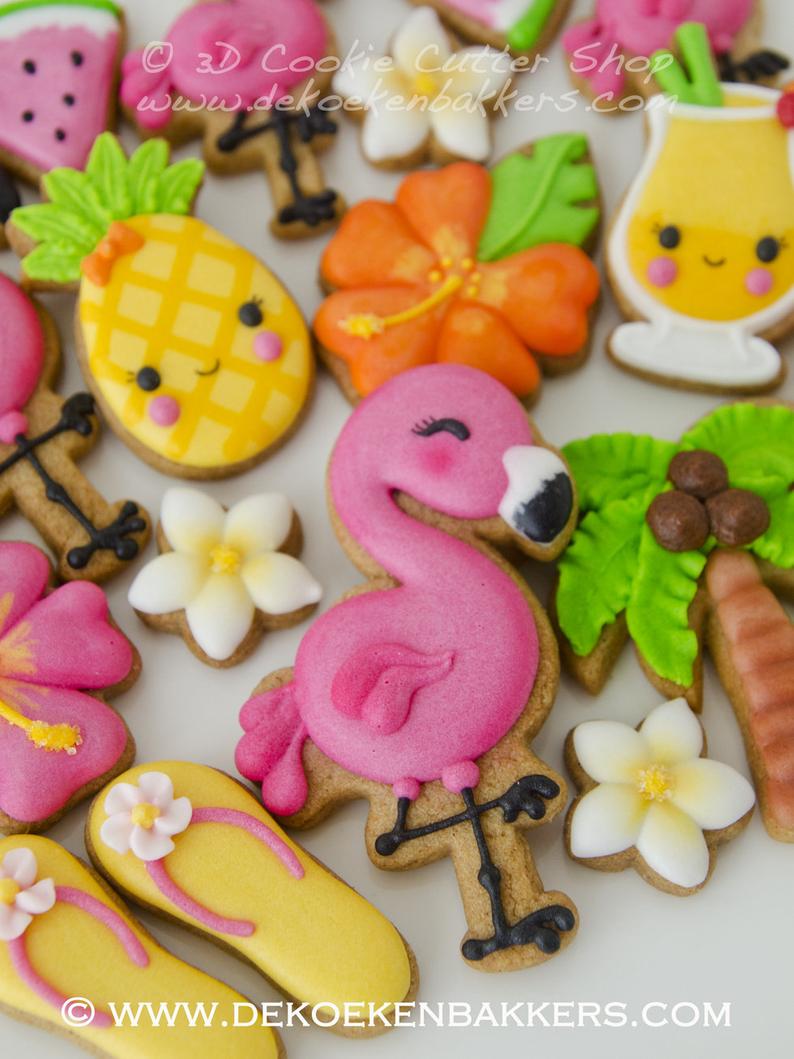 Take your guests to tropical shores with this gorgeous flamingo backdrop!
It'll look lovely decorating your dessert table, with flamingos on each side and beautifully illustrated tropical flowers.
Finish it off by personalizing it a name and age!

Add some tropical vibes to drinks and cocktails at your party with these bright pink flamingo straws!
The flamingo honeycomb toppers will take any drink to another level making them a fun and easy party decoration.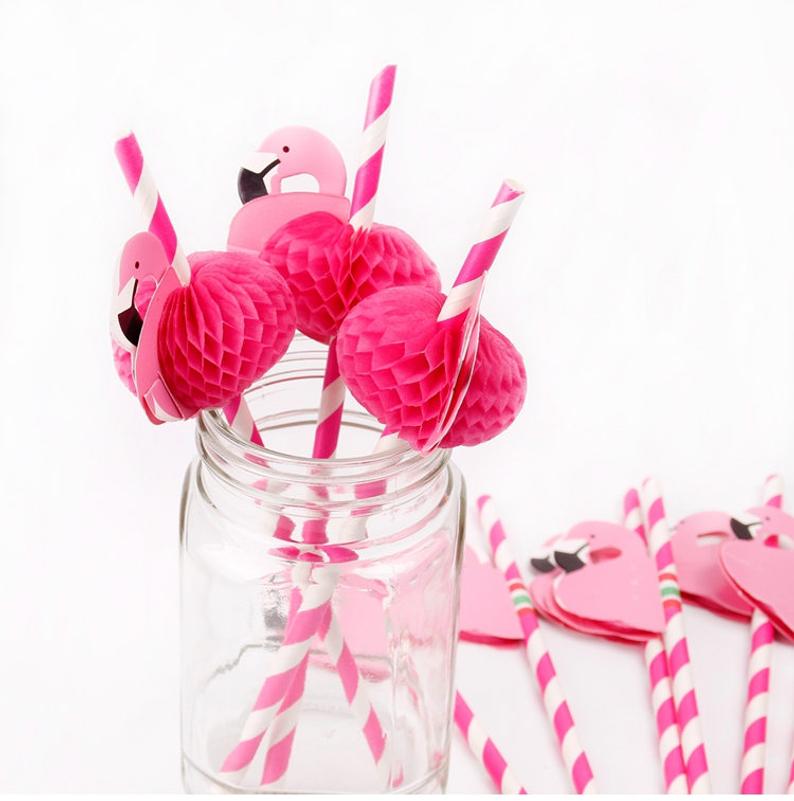 There's not a child out there that doesn't love bashing a pinata to bits and catching as much candy as humanly possible!
We're so happy to have found this wonderful flamingo pinata, that not only ticks that off your list, but also doubles as an awesome party decoration.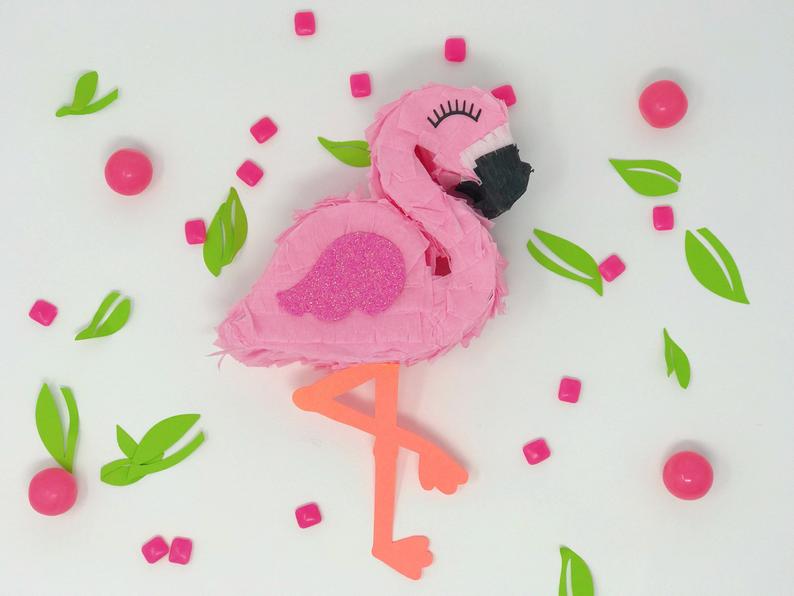 If you're looking for the perfect flamingo party decoration, feast your eyes on this flamingo balloon. It's gorgeous!
For a cool flamingo party decoration, place one at either end of a dessert table. Love the pink, orange, and black tassel.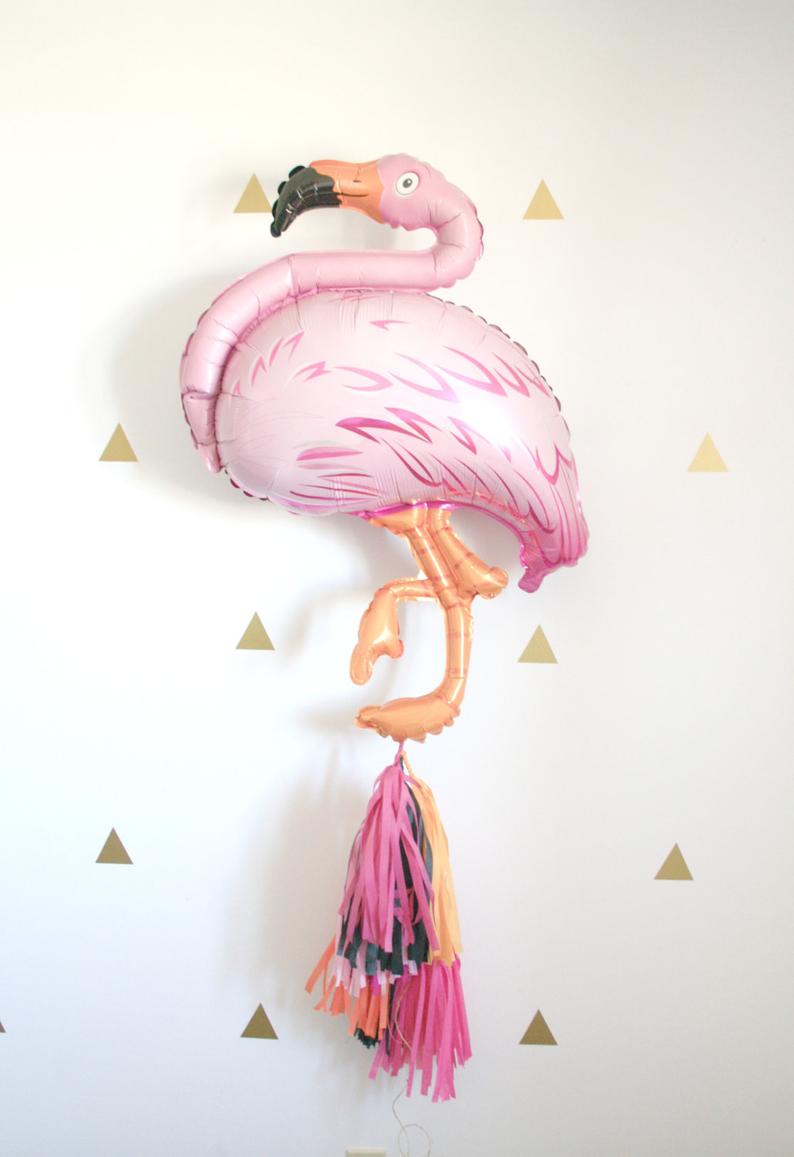 A photo booth is always a big hit at a party! Everyone loves fooling around while having their photos taken. So, make sure you take lots of fun tropical shots with these cute flamingo photo booth props.
Your guests are going to love looking back at them and reminiscing what a wonderful time they had at your party!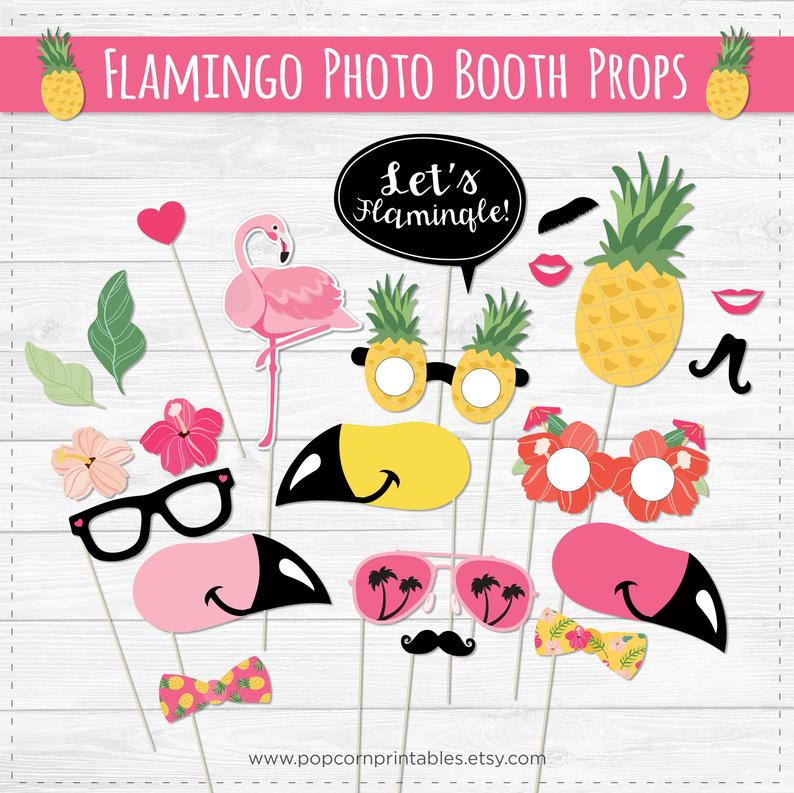 Send your guests home with the ultimate flamingo fashion accessory, that they are going to wear all summer!
This flamingo bracelet and necklace are the perfect flamingo party favor that your guests won't want to take off.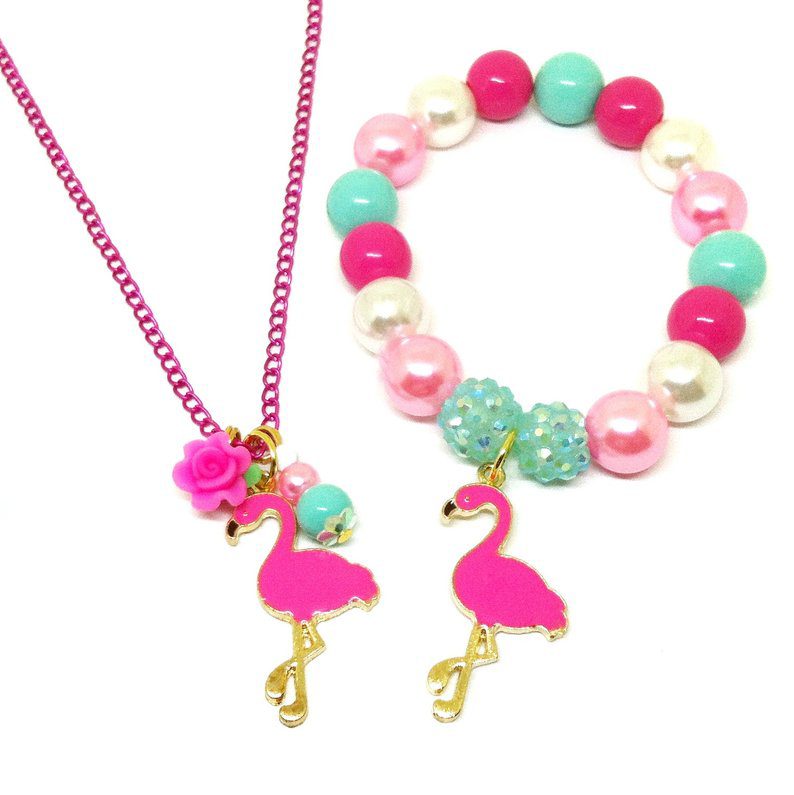 To finish off our list we've found this cute flamingo party favor box that is just perfect for the flamingo necklace and bracelet we suggested.
They'll look wonderful if you place one on each plate at your party, making them a gorgeous addition to a flamingo tablescape.
Your guests will surely leave with a smile.
** Some links are affiliate links and we may make a small commission if you click and buy.**
Need more tropical summer party ideas?
Need free tropical summer party printable decorations?
Need summer party food ideas?
For more inspiration, check out all the stunning flamingo parties on our site, and check out these flamingo party supplies from vendors with listings on Catch My Party!