If you are throwing a Fortnite birthday party, then you are probably looking for some fabulous Fortnite cake ideas.
Look no further. We've rounded up our 17 best Fortnite cakes to help you pick the perfect one for your party!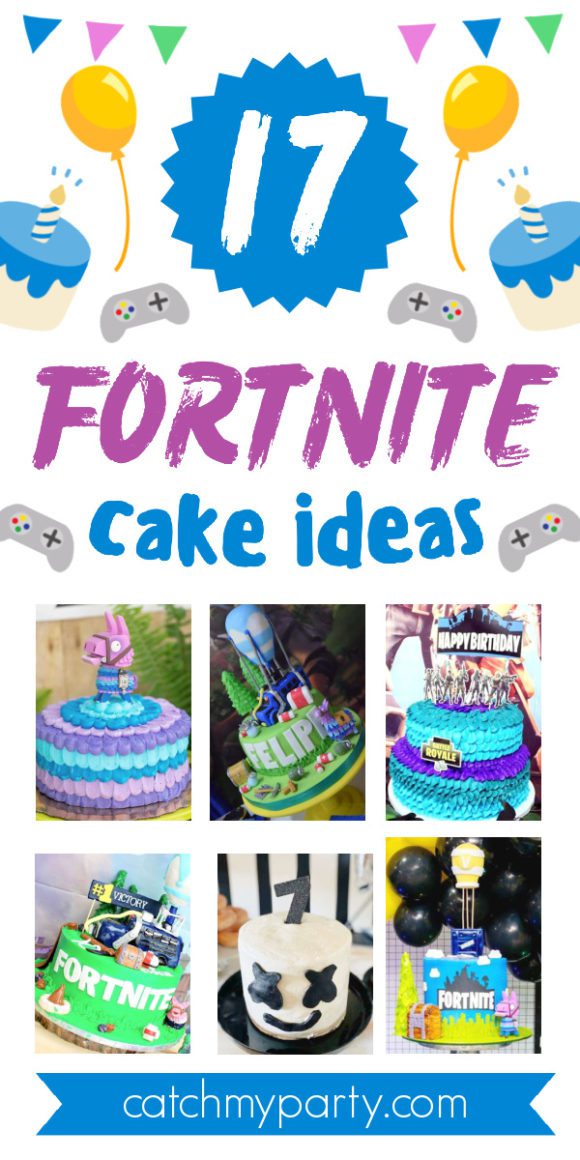 We've so many great ideas for Fortnite cakes. We've got Loot Llama cakes, Battle Royale cakes, slurp cakes, and so much more!
17 Fabulous Fortnite Cake Ideas!
Singing happy birthday and blowing out the candles on the birthday cake is always a key moment of any birthday party.
All your party guests will be thanking the bus driver as soon as they set eyes on this cool Fortnite Battle Bus-themed birthday cake.
Decorated with a bunch of fondant Fornite essentials you couldn't wish for a more perfect Fortnite-inspired cake!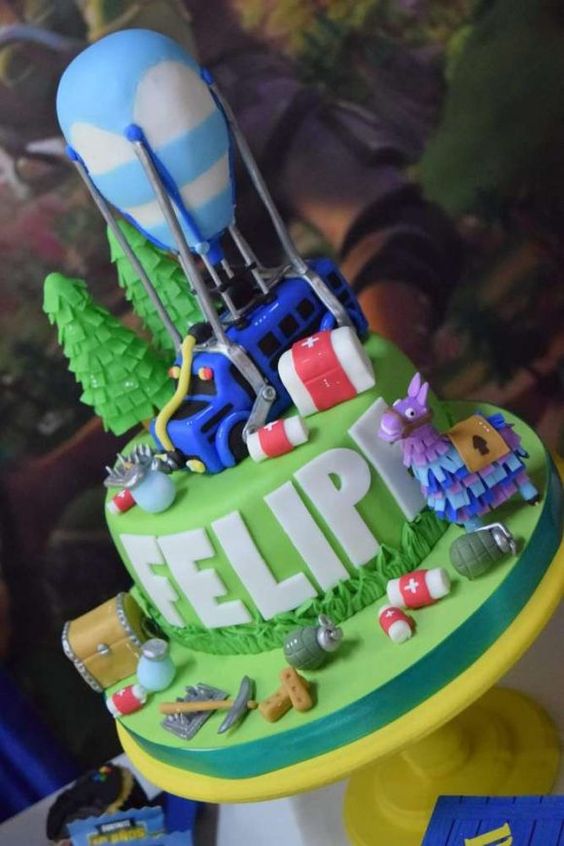 This Loot Llama cake will have everyone grabbing their pickaxes wanting to break it open.
The frosting on the cake is decorated to look just like the Loot Llama and adding on as a topper is a great way to finish it off.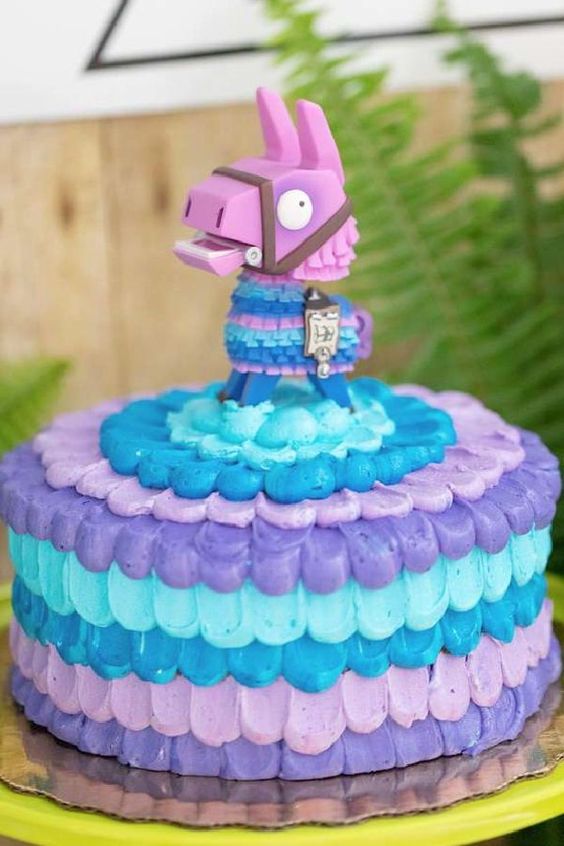 You can bet you'll be winning dubs with this Fortnite Battle Royale-inspired birthday cake!
Decorated with fondant key elements from the game, such as the blue bus and a treasure chest, this cake is a Fortnite Fans dream!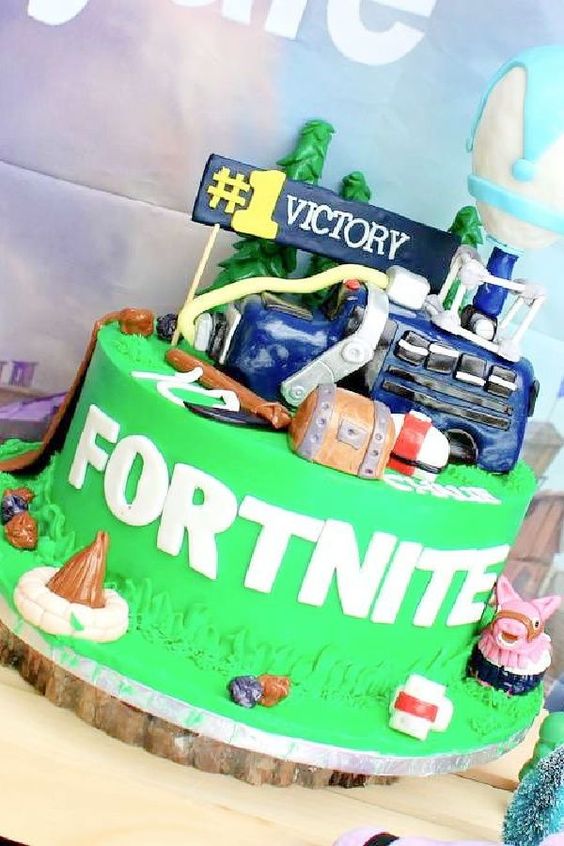 Your little boy, and his guests, are going to want to take a bite out of this delicious slurp-inspired birthday cake to gain some shield.
This cool custom birthday cake covered in turquoise frosting is decorated with florescent green drip and sprinkles. Add a Fortnite logo topper and you are good to go!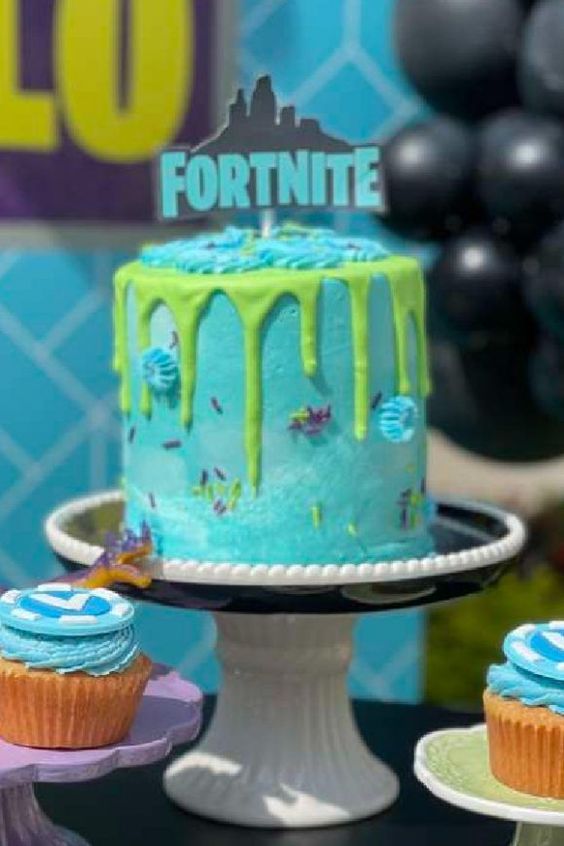 You don't have to be an expert cake decorator to work on this Marshmello-inspired cake!
Covered in white frosting and decorated with some black fondant eyes and mouth, this easy cake is perfect for such a special occasion!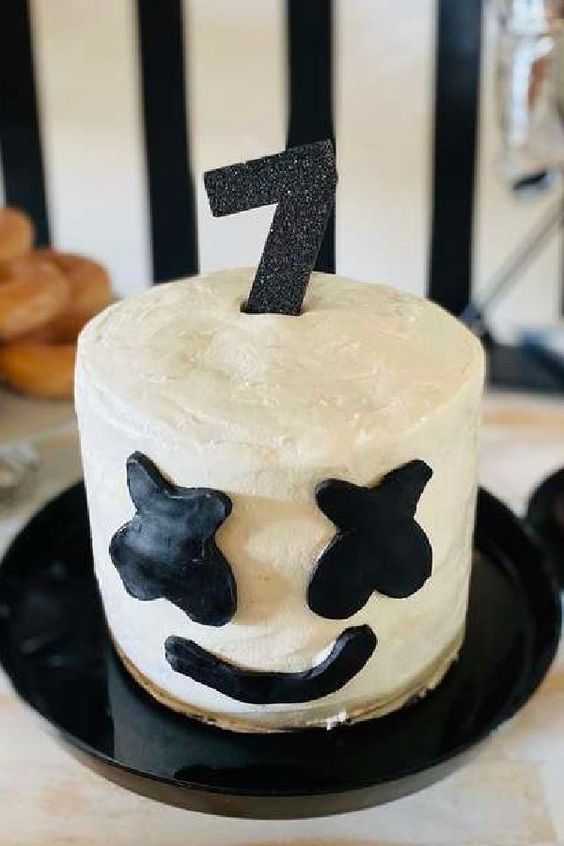 Don't worry if you are not a professional cake maker. You can still muster up an amazing Fortnite-themed birthday cake by simply topping the cake with some fondant pieces from the game.
Decorate the bottom of the cake with green frosting to make it look like the Fortnite Island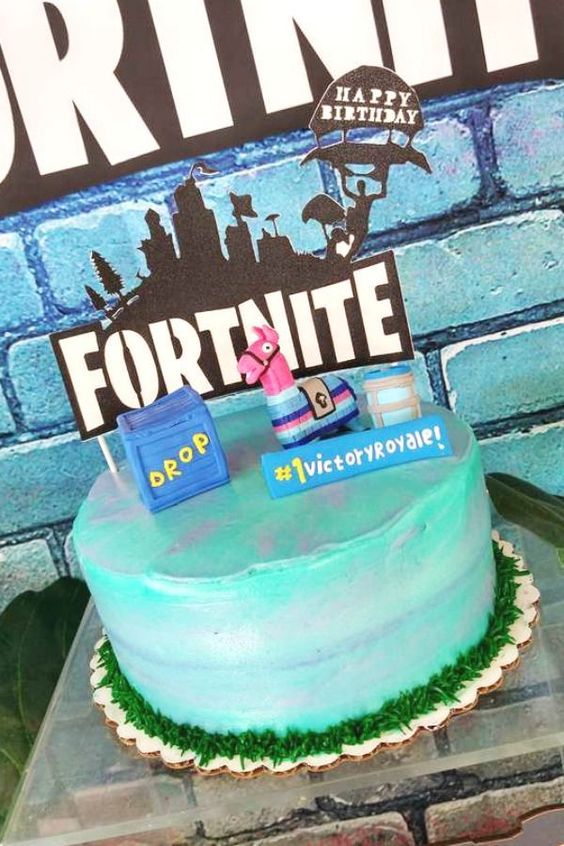 There's something so special about making your own DIY Fortnite cake for your birthday boy. 
Add a treasure chest, and a loot llama, and top it with a supply drop. You really can't go wrong!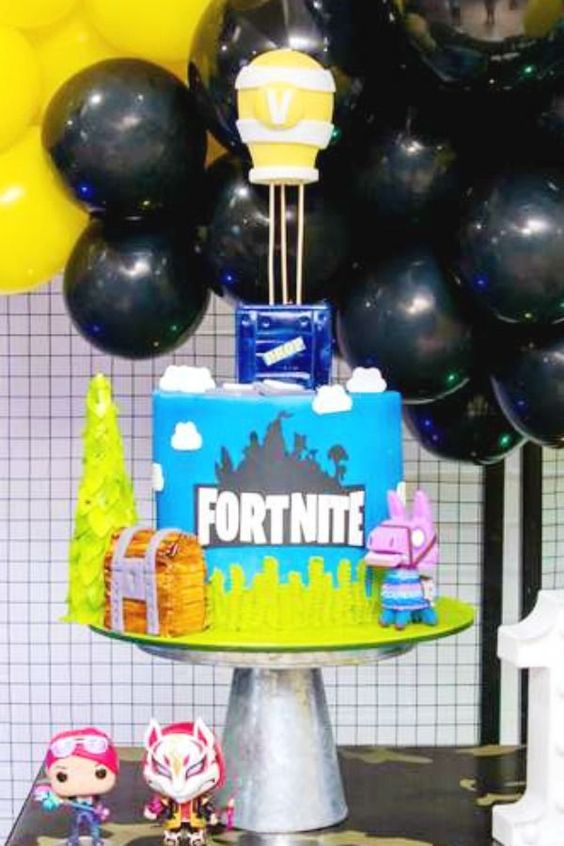 If your kid is a fan of the Fortnite game, there is no doubt they'll love this Fortnite-themed cake.
Add a bunch of Fortnite cake decorations and cut out the word Fortnite with some white fondant.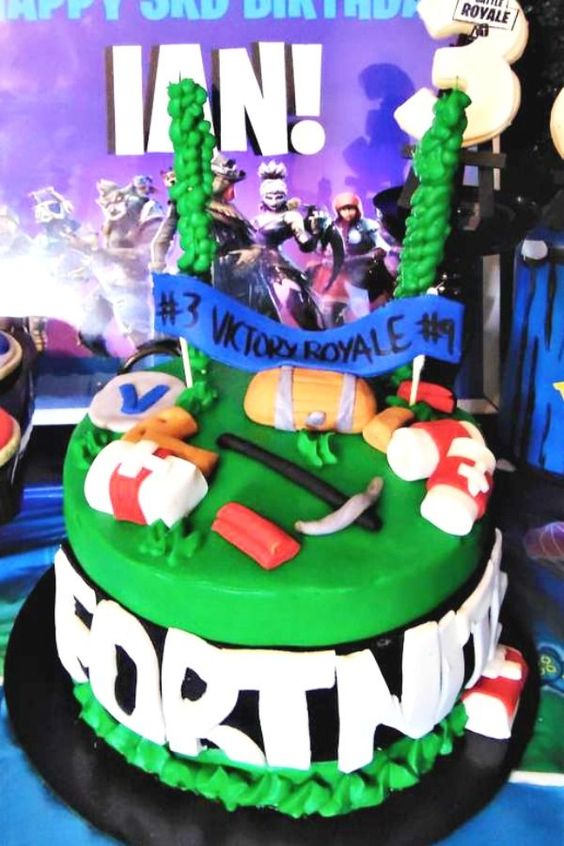 This awesome Fortnite building-inspired cake is perfect for anyone that doesn't like to play zero build and wants to crank some '90s.
Use cookie cutters to cut out some black and white fondant letters to decorate your cake.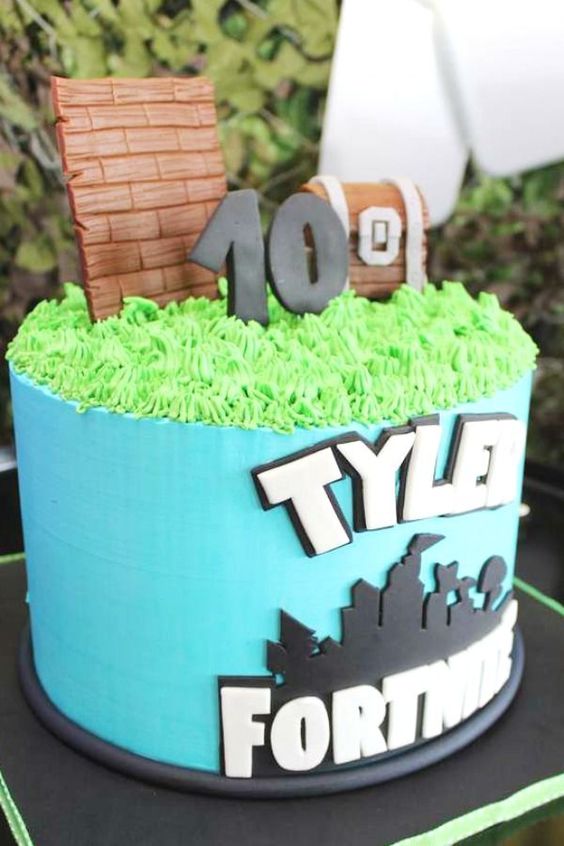 Fortnite Save the World is all about fighting hordes of husks which, for a fan of this game, is a great theme for a birthday cake.
Use cupcake toppers of Fortnite recruits and save the world heroes to top a two-tiered ruffled loot llama-inspired cake.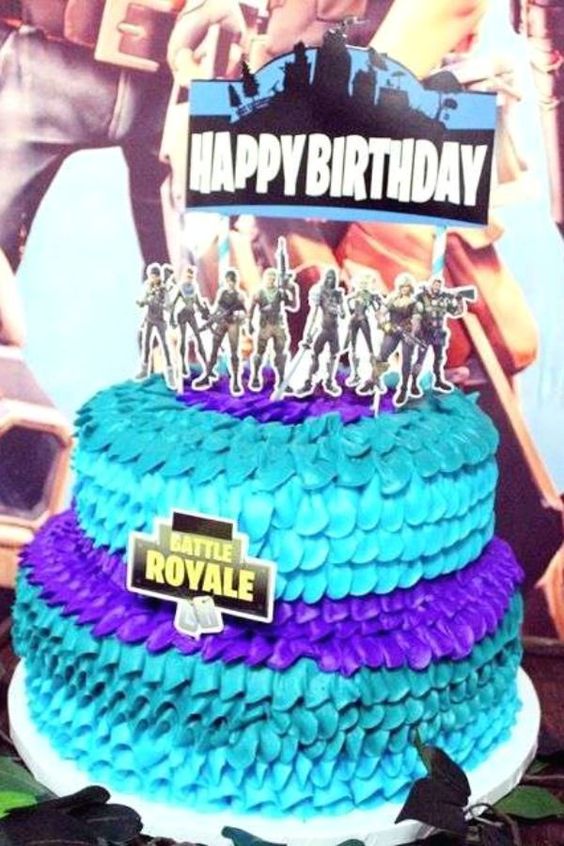 If your kid enjoyed the Fortnite Rainbow Royale event, he and his party guests are going to love a colorful Fortnite-themed birthday cake like this one on his special day.
All you need to do is decorate a colorful cake with a fondant loot llama and a supply drop.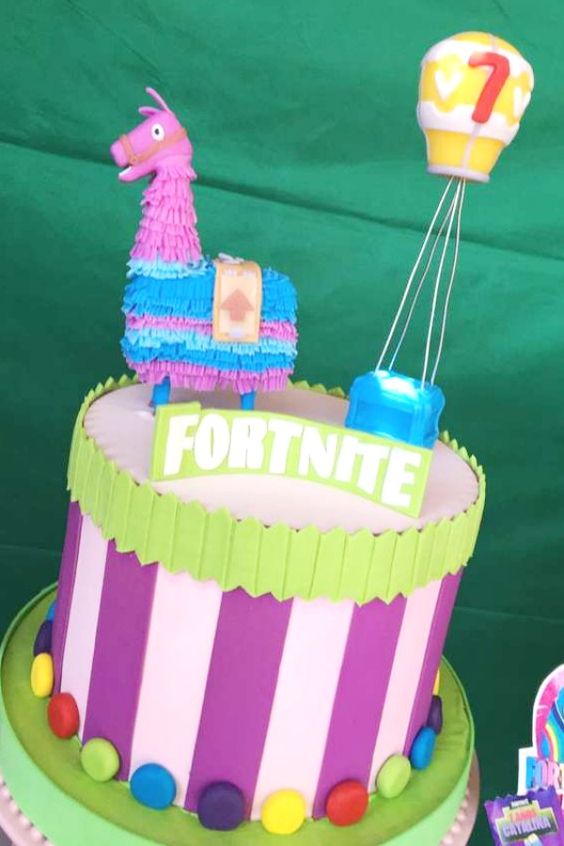 The Fortnite Halloween season was such a big hit that you can bet a fantastic season 6-inspired birthday cake will be too.
Decorate with a Fortnite Chapter 1 season 6 battle pass and make this the perfect cake by adding some fondant Fortnite essentials.
How cool is this awesome Fortnite supply drop-topped birthday cake?
Good luck finding a better custom cake than this one inside a supply drop at your Fortnite party.
If you want something a little different for your Fortnite birthday party check out this cool rainbow smash pickaxe-inspired cake.
It's one of the original Fortnite pickaxes and a regular at the item shop.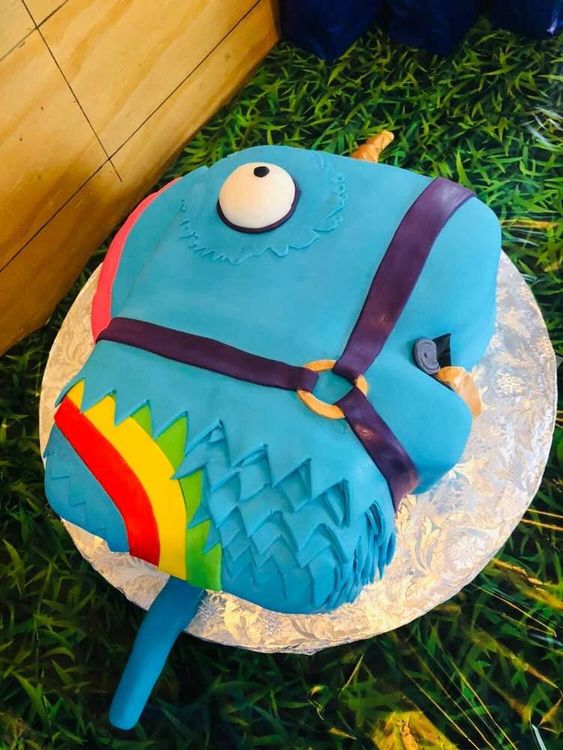 Ammo boxes are all over Fortnite so how about using them as the theme of your birthday cake?
Create a Fortnite military-styled cake by decorating a regular chocolate cake with some green frosting and a bunch of fondant ammo.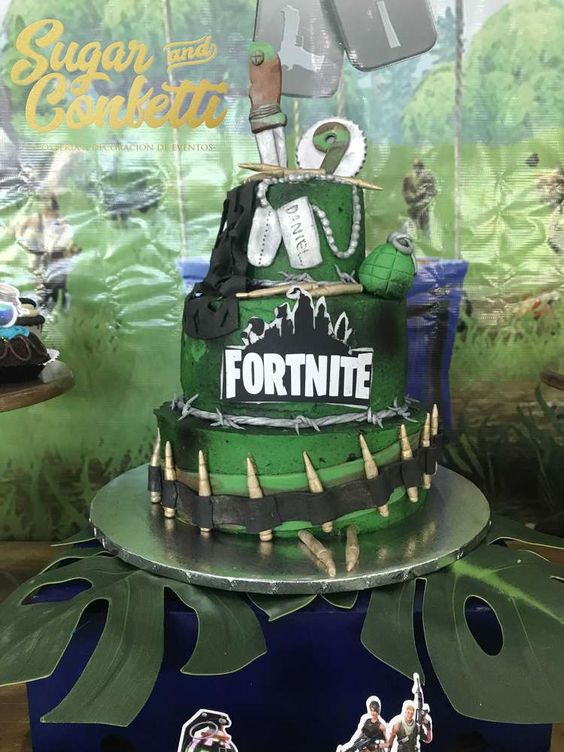 Our lives can be so busy and overwhelming that sometimes all we need is a quick and easy solution for a birthday cake.
If this is your case, how about stacking up a bunch of donuts and adding some Fortnite cake toppers to them?
The end result is really cool and creative!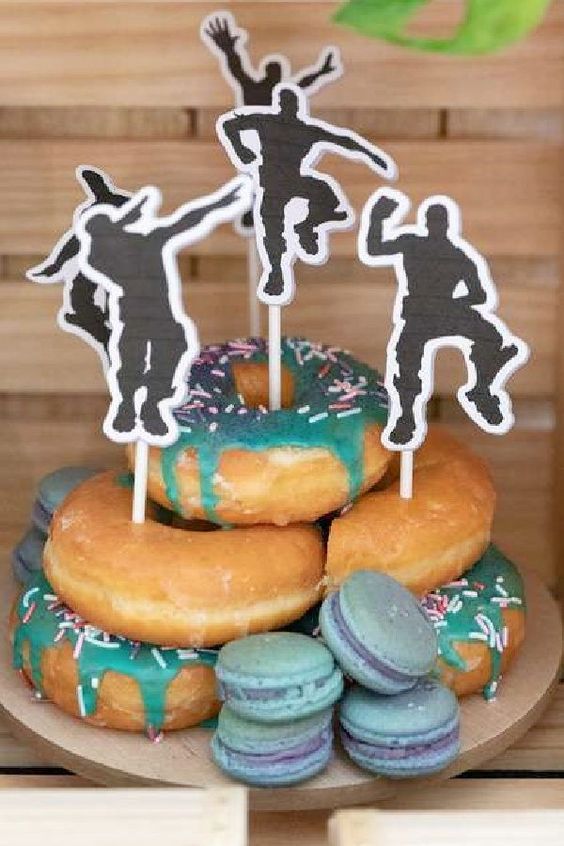 If your kid loves Fortnite as much as he does other video games you could always treat him to a Fortnite-inspired gaming birthday cake.
Decorated like a loot llama this final cake has a gaming-themed topper with makes it the perfect cake for a gamer!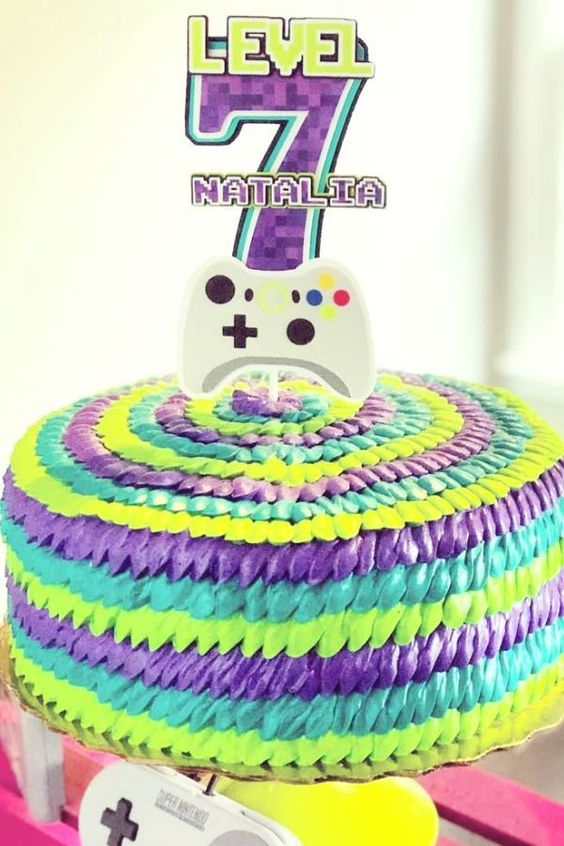 ** Some links are affiliate links and we may make a small commission if you click and buy.**
Need more Fortnite party ideas and crafts?
For more inspiration, check out all the stunning Fortnite birthday parties on our site, and check out these Fortnite party supplies from vendors with listings on Catch My Party!