If you're looking for a fun and easy party theme for kids and adults, think about throwing a game night party.
Something about playing physical games, has a unique way of bringing people together. Don't be surprised if the night ends with everyone standing around cheering!
I enjoy hosting game night parties at our house, so I thought I'd share tips on how I do it.
TIP 1 – Get fun games!
I put out a mix of old-school games like Scrabble, Sorry, and Life, and some newer games like Coup, Forbidden Island, Abandon Ship, Castle Panic, Q-bitz, and Quirkle (my favorite of the bunch)!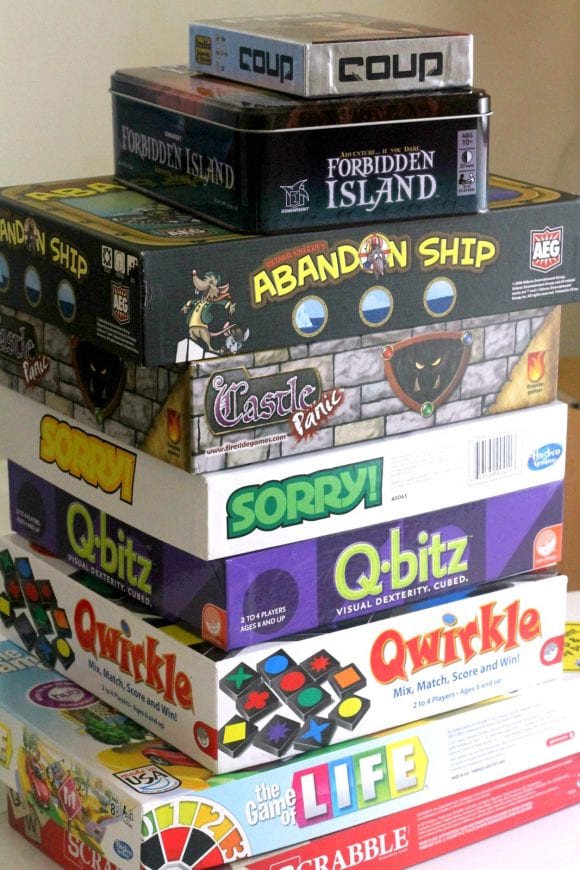 TIP 3 – Snacks, snacks, snacks!
Here's what we served:
Jalapeno Cheddar Quinoa Puffs — these have a nice, spicy kick
Barbecue Potato Fries — these bring lots of crunch and smokiness
Heavenly Light Popcorn — salty and satisfying, perfect for kids
Blueberry Lemon Almond Crunch — nice mix of sweet, sour, and crunchy
Berries and Nut Clusters — sweet and salty flavors in big clusters
Pistachio and Almond Blend– high quality pistachios and almonds mixed together
In fact, as part of our game night, we all voted on our favorite snacks. Scroll to the bottom of the post to see which snacks won!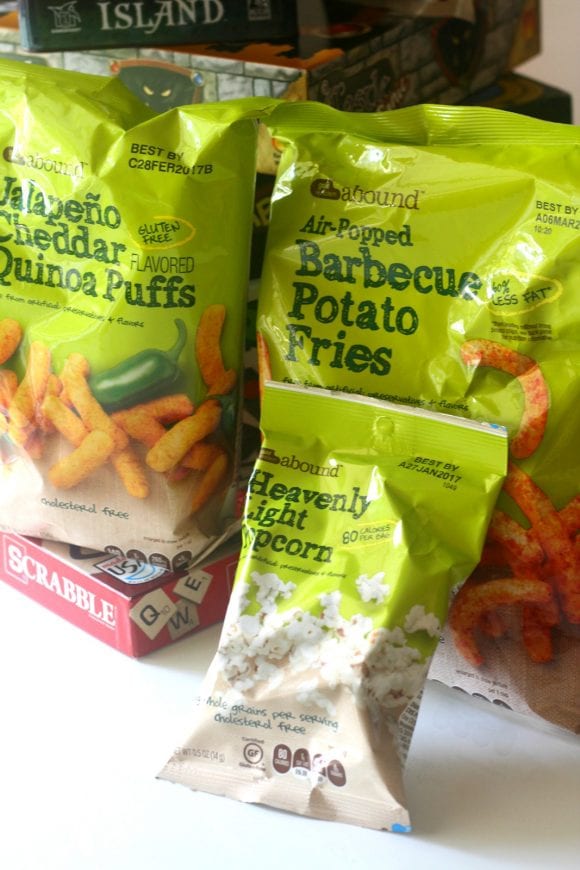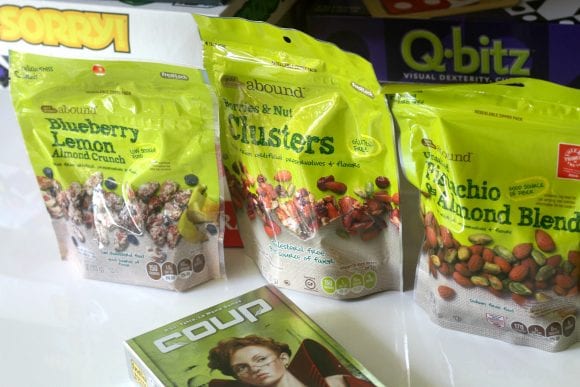 TIP 2 – Keep the games as structured or open-ended as you like
I like to make my game nights fluid, and let people pick the games they play in groups of their choosing. The other way to go is to have a more formal setup, where everyone plays the same game and there's a winner at the end.
I find that if there is a big spread in ages, it works best to let people pick their own games. If there are only a few people at your party, or everyone's around the same age, setting up a tournament can be great fun.
Get Our Game Night Party Printables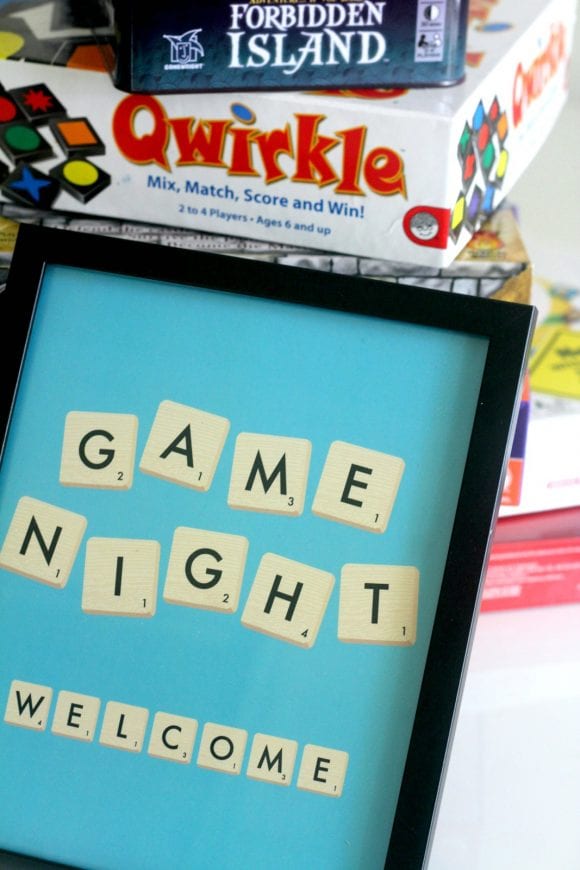 TIP 4 — Make it casual
I like to place snacks and drinks out, and let everyone graze. This way people can focus on their games, and still have tasty food to nosh on.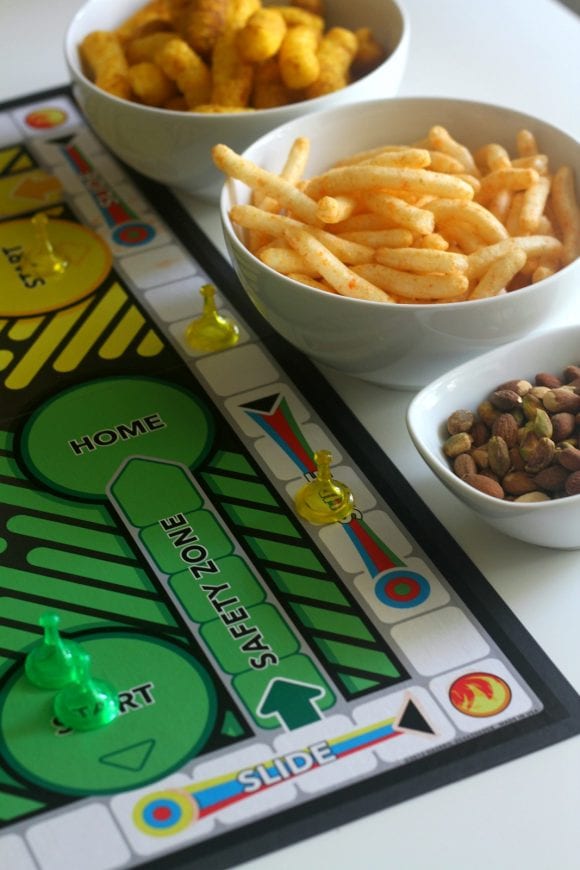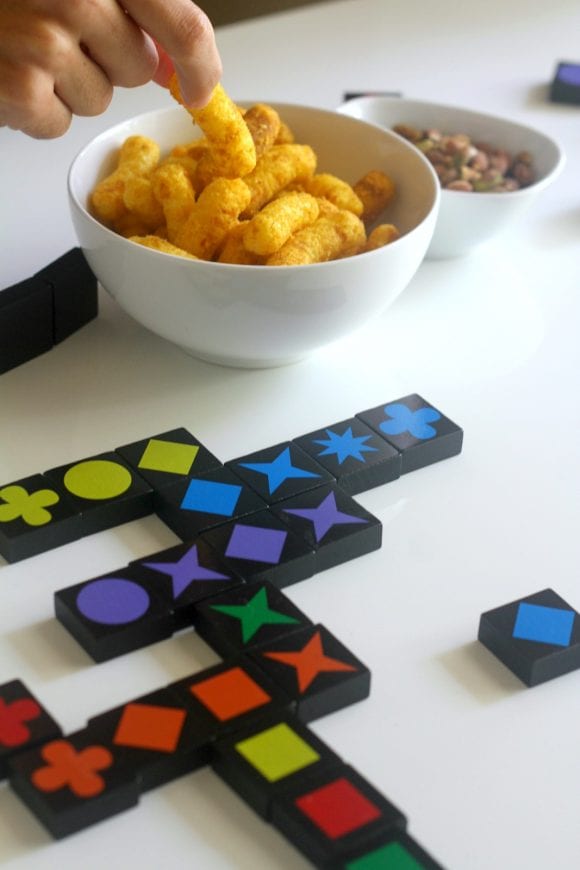 Hands down, the favorite game our guests played was Coup. It's a pretty easy card game to learn, but what makes it so engaging, is the bluffing. Are your opponents lying or telling the truth?!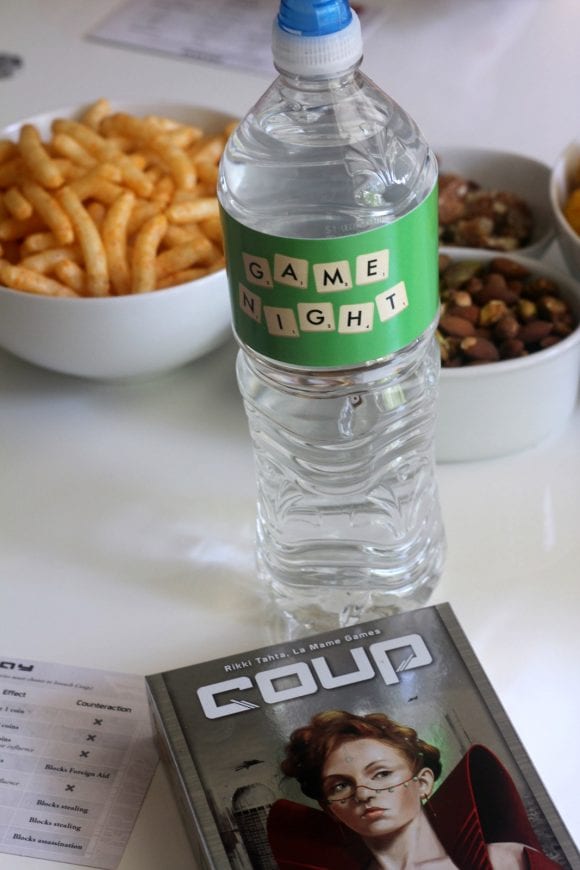 Tip 5 – Decorate with our free Game Night printables
To add easy and inexpensive decor to your party, download our free Game Night party printables. Just print them out and decorate!
I used the water bottle labels, cupcake toppers, welcome sign, and tented food cards, but the collection has so many other great items you can see here.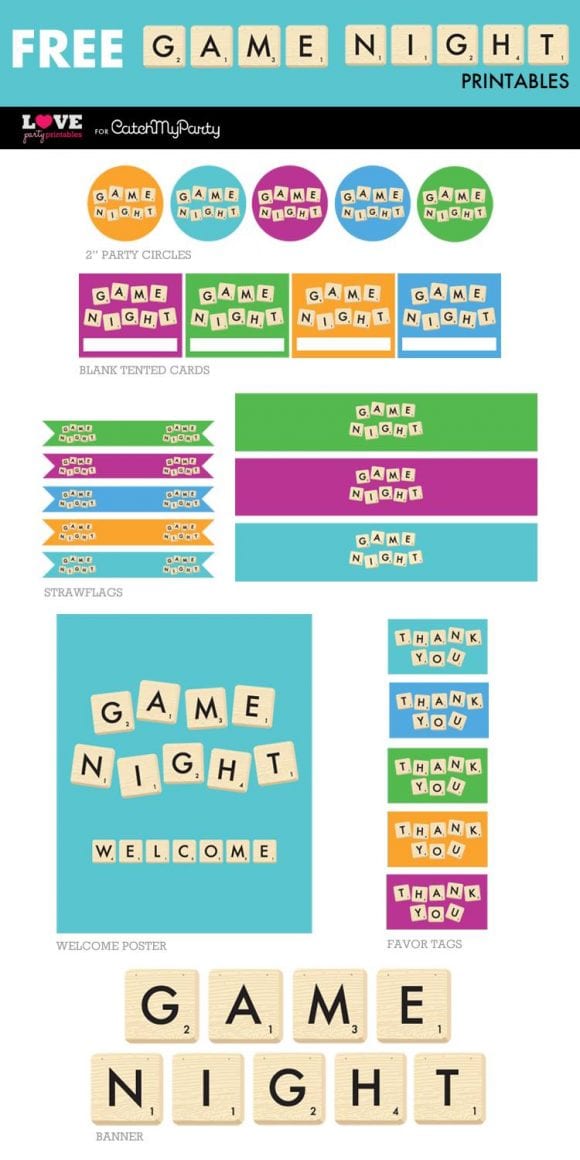 As part of our tasting contest, I used the printable tented cards so people could taste all the different treats!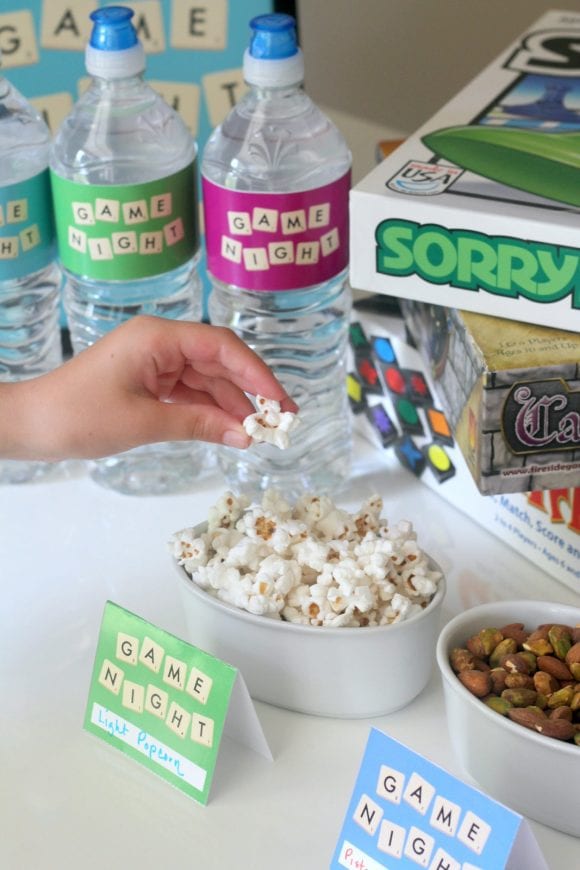 TIP 6 – Finish off the night with something sweet
I bought cupcakes at the grocery store, printed out some cupcake toppers, attached them to lollipop sticks, and served adorable cupcakes at the end of the night!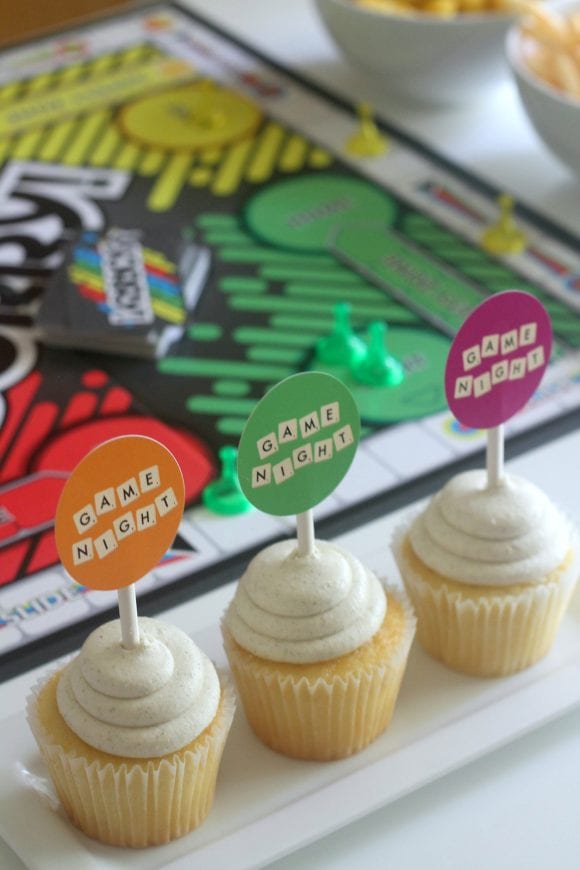 And now, to reveal the winners of our tasting contest. In first place… the Heavenly Light Popcorn! I think because your party had lots of kids the popcorn won hands down.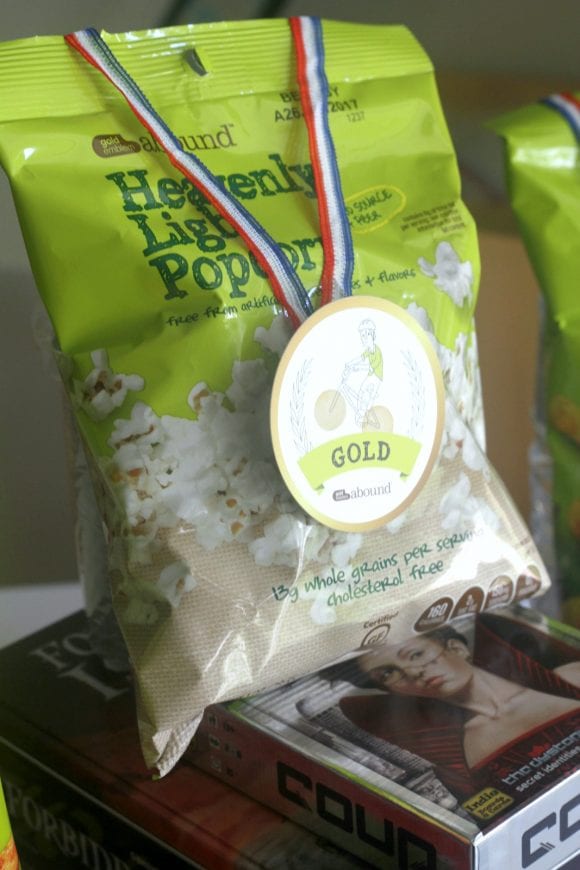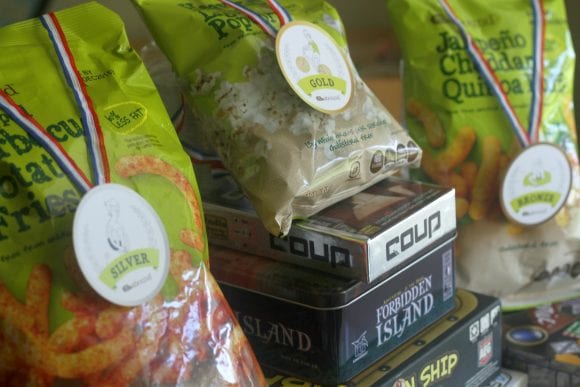 The silver medal went to the Barbecue Potato Fries, and the bronze medal went to the spicy Jalapeno Cheddar Quinoa Puffs (these were popular with the grownups! My personal favorite was the Pistachio Almond Blend, but I was unfortunately outvoted. 🙁
Having something like the snack tasting contest added to the overall fun of the night, because it got people talking and comparing. Otherwise, I recommend adding a DIY popcorn bar or make-your-own sundae bar to your party. It will give it another touch of fun!