The movie Fifty Shades Darker was released on iTunes this week, and will be available on Blu-ray & DVD May 9.
Could there be a better excuse to stay in and slip into something darker this weekend?

The release comes with over 13 minutes of steamy footage not seen in theaters (woot!), plus 30 minutes of never-before-seen bonus content, including cast interviews, behind-the-scenes features, and a sneak peek at the next installment in the series, Fifty Shades Freed.
So in honor of the iTunes and Blu-ray & DVD releases, why not host the ultimate Fifty Shades Darker Girls' Night In Party and watch the Unrated Edition with your besties?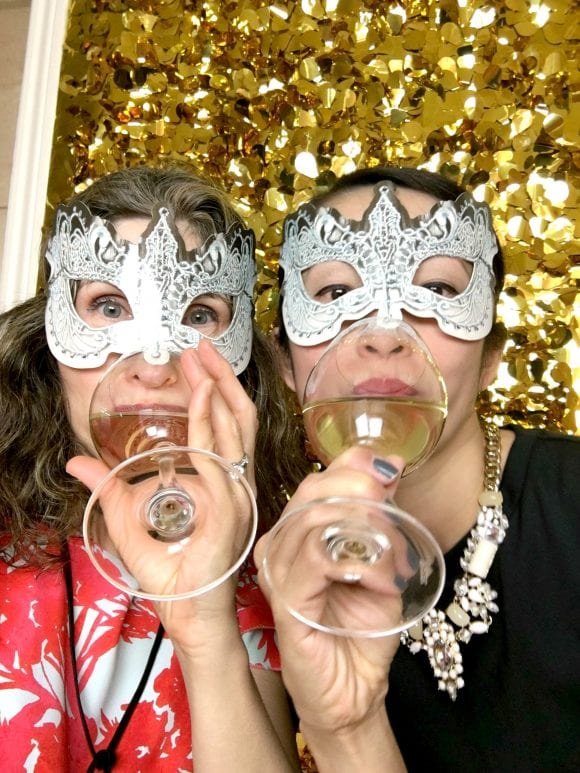 Check out how I hosted my Fifty Shades Darker party. Plus, scroll down because we're giving away free printables to help you set up your own party!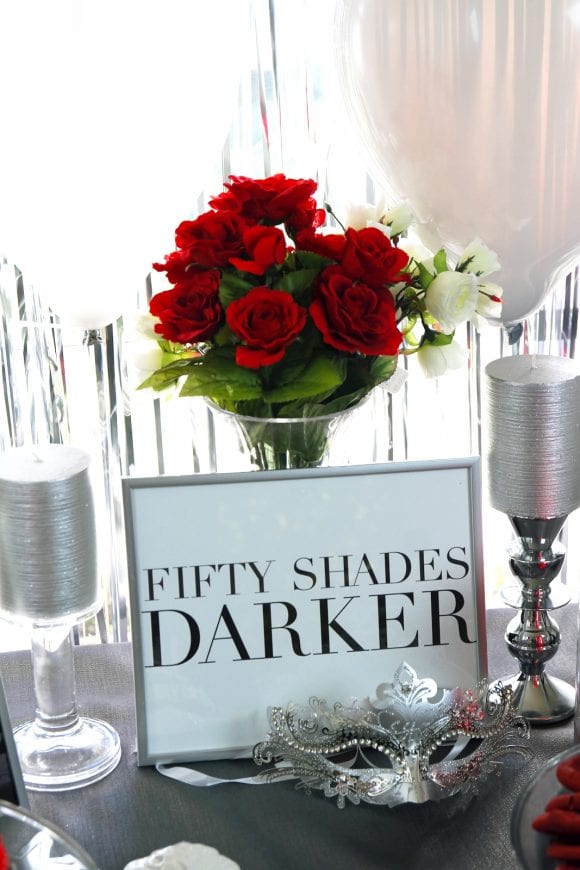 For my party, Universal sent me a box of goodies!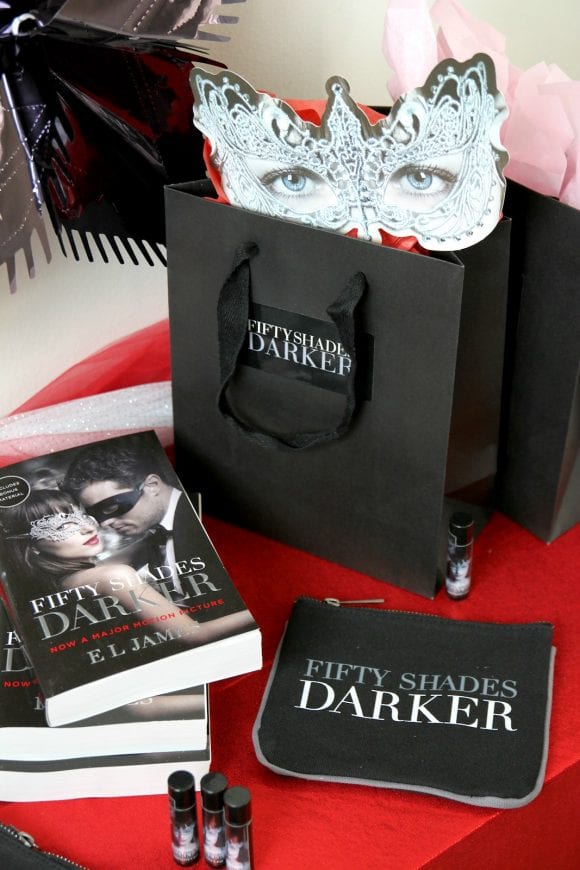 But no worries if you don't have swag. I'm sharing my easy party hacks, a "Black Mask" cocktail recipe, and free printables to help you decorate your own party.
Dessert Ideas
Because I didn't have a lot of time to pull this party together, I headed to my local Safeway to stock up on desserts. To make things easy, I wanted this to be a cocktails and dessert party.
I chose these pink and red cupcakes to add pops of color to my grey table.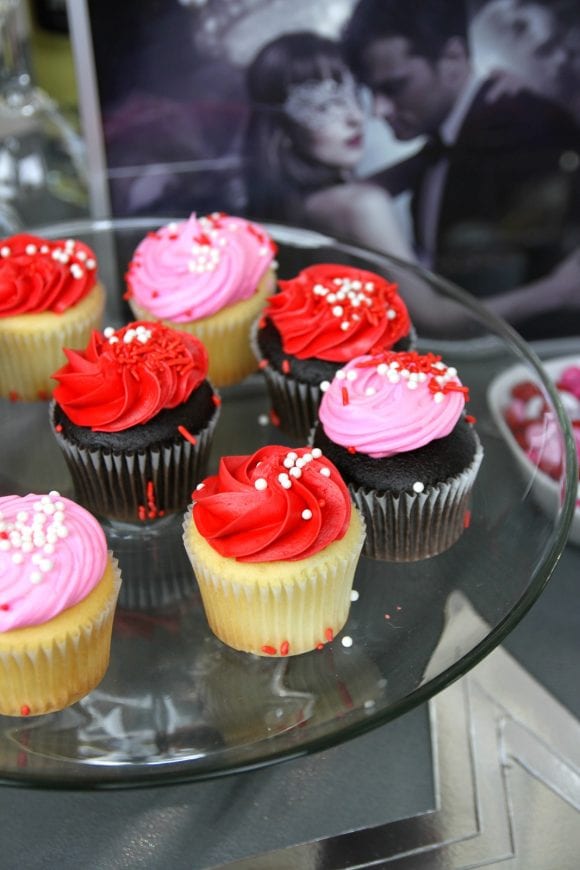 And if there was such a thing as a sexy cake, I'd say this was it!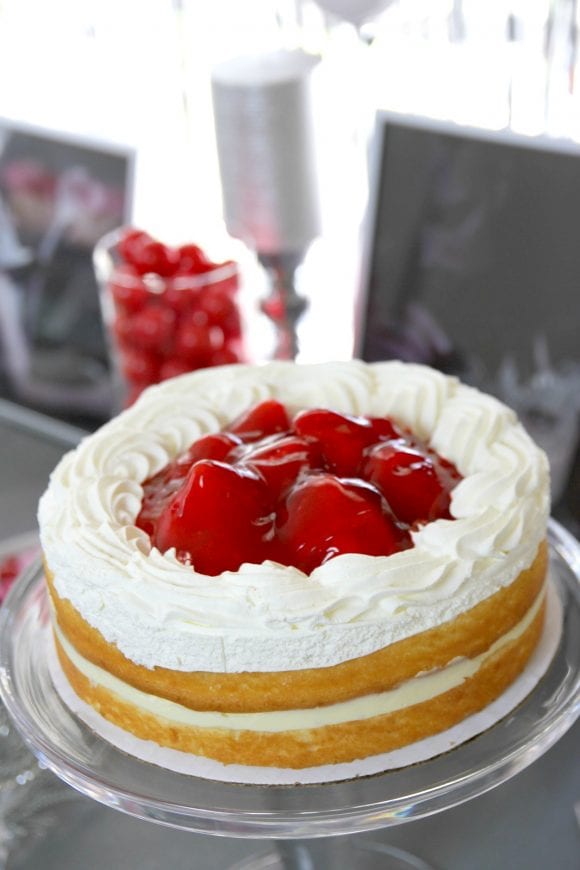 To set the tone for my party, I bought this silver masquerade mask (affil) and placed it front and center on my table.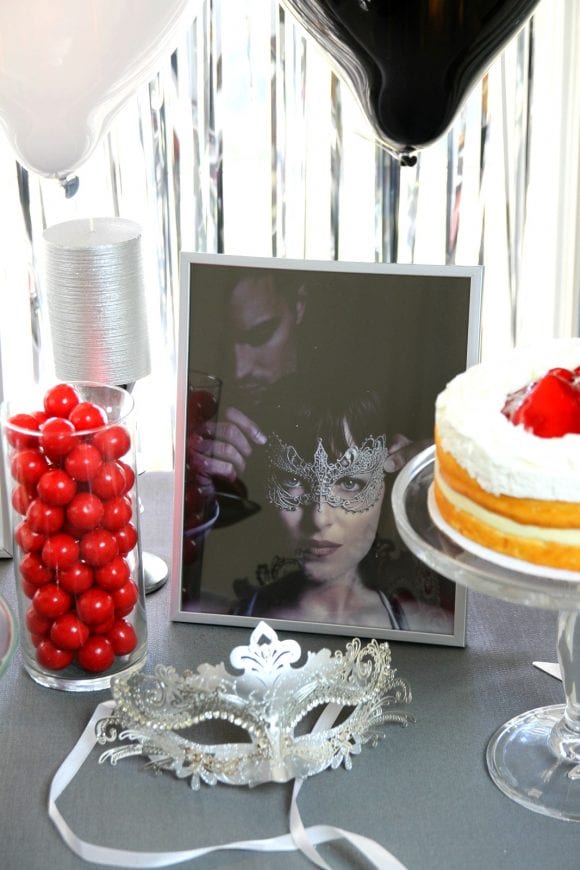 I also printed out two photos from the movie and the Fifty Shade Darker logo, put them in three silver frames, and used them to add drama to my table. I've included them here for you to download for your own party.
I always like to add gum balls to my dessert tables. (Note on gum balls: people will actually put them in their mouth and chew them! :))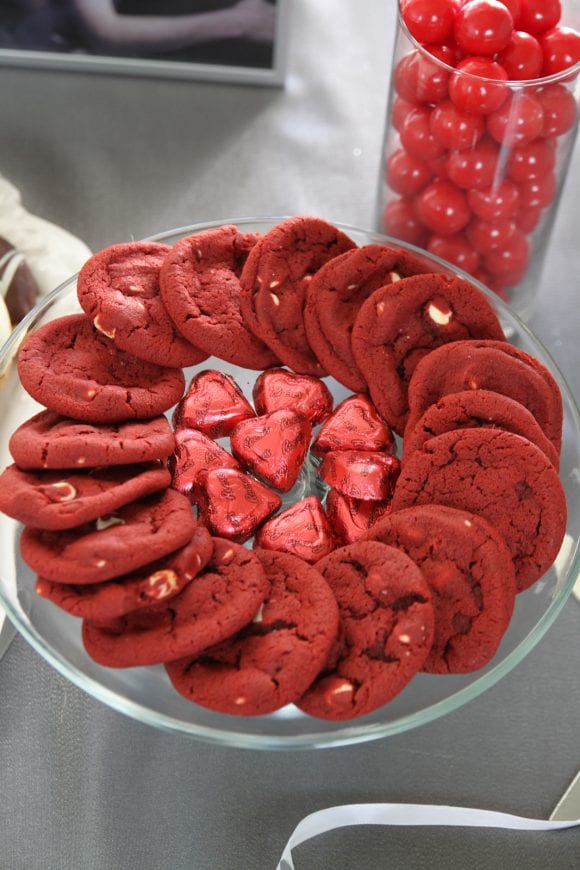 The grey and black balloons and silver streamers came care of Universal.
I had a helium tank lying around, so I blew up the balloons and displayed them in front of the streamers to create my dessert table backdrop.
In the movie, Anastasia wears a grey ostrich feather jacket over her metallic evening gown, so I thought this grey ostrich feather trim (affil) would be a perfect touch around my table.
I also bought a pack of 4 red tissue paper pom poms, placed them on the floor to lined the bottom of my dessert table.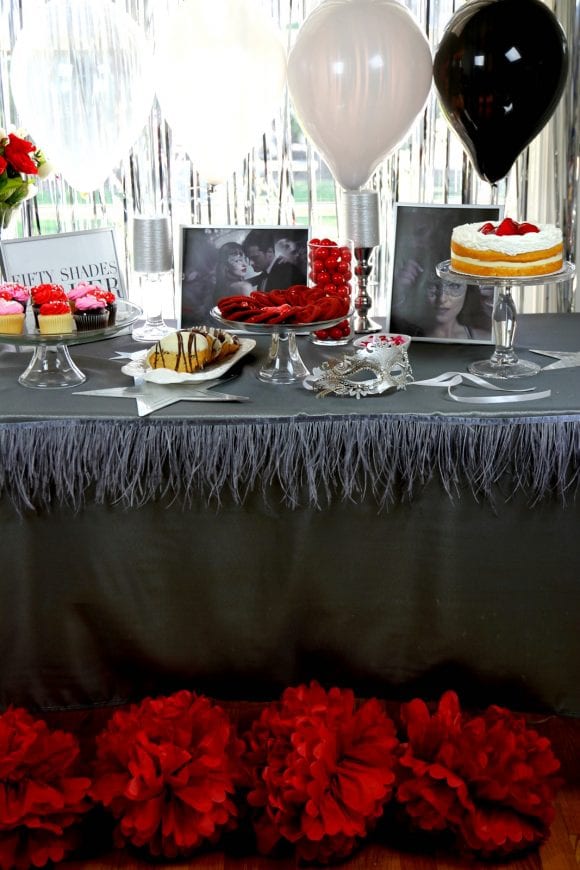 Universal sent me some Fifty Shades of Grey wine.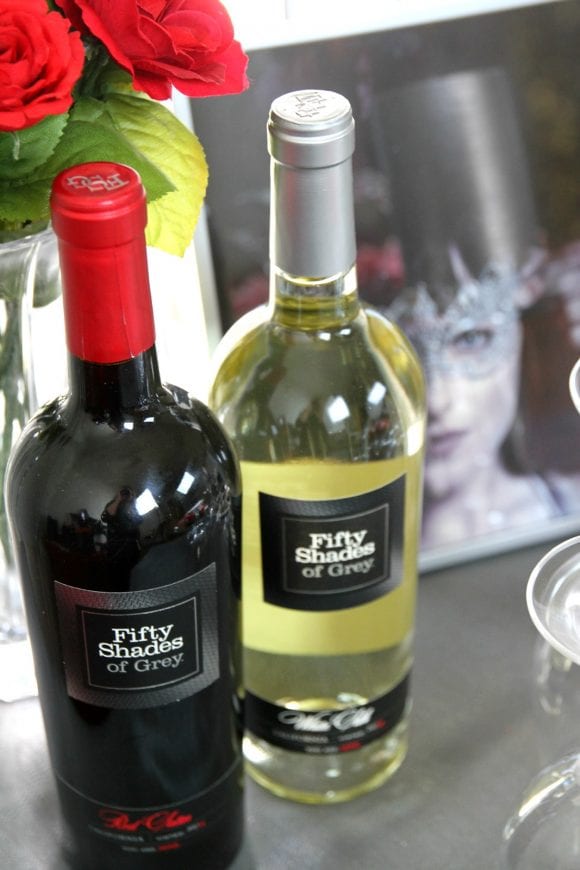 Big hit!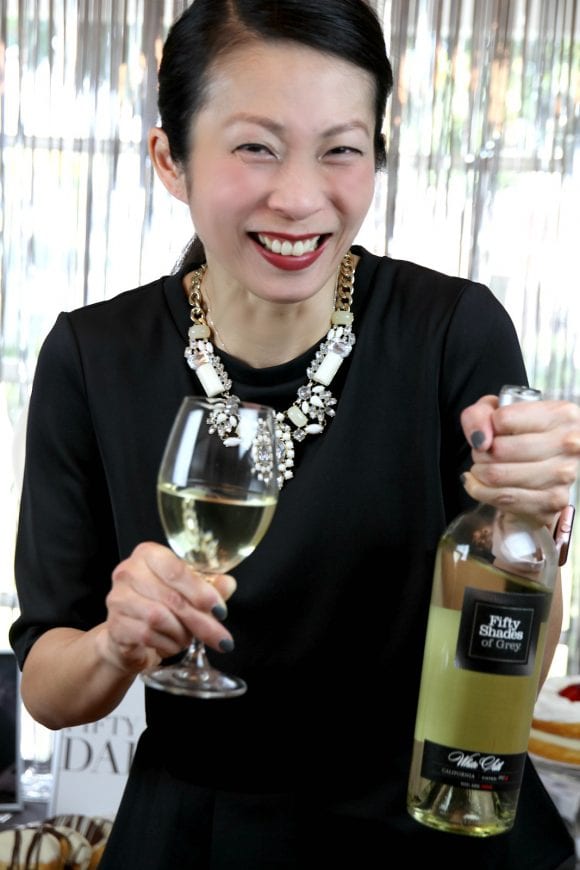 In addition to wine, I also served a signature cocktail.
I call this cocktail "The Black Mask." It's a vodka tonic with two special ingredients – activated charcoal (to turn the drink black) and white pearl dust (to give it shimmer).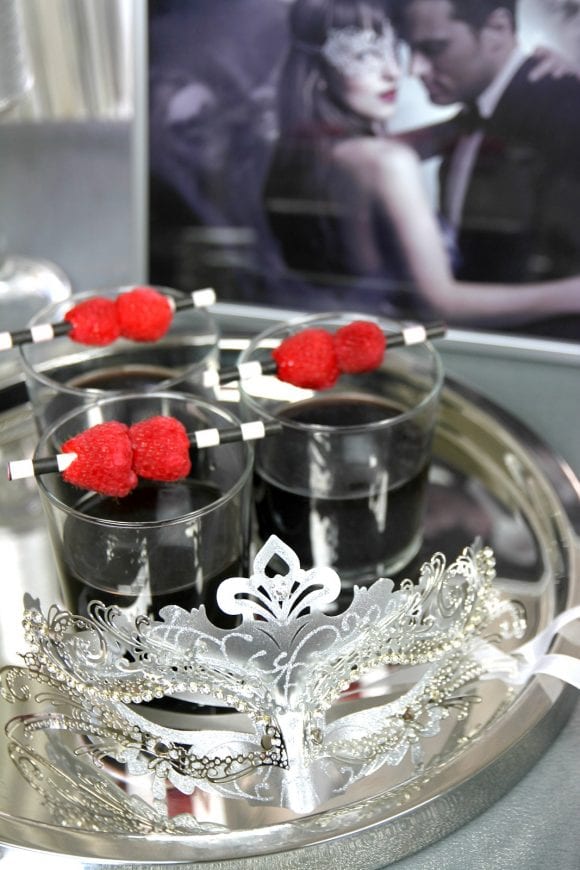 Black Mask Cocktail
Ingredients:
2 parts vodka
4 parts tonic
1 part black cherry juice
1 opened activated charcoal capsule per drink *special ingredient* (affil)
1 sprinkle of pearl dust per drink *special ingredient* (affil)
Raspberries for garnish
Directions:
Fill your glass with ice.
Pour in one opened activated charcoal capsule.
Pour vodka, tonic, and black cherry juice into the glass and mix well.
Sprinkle pearl dust and mix.
Place raspberries on a paper straw and serve.
Can you see it looks like it's shimmering?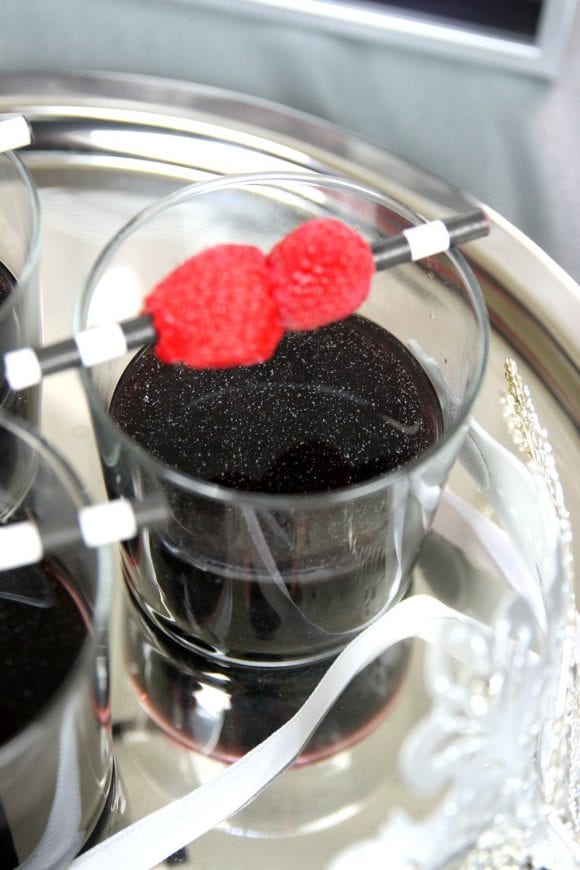 Here was one of the highlights of the party. Universal sent me awesome party favors to give to my guests.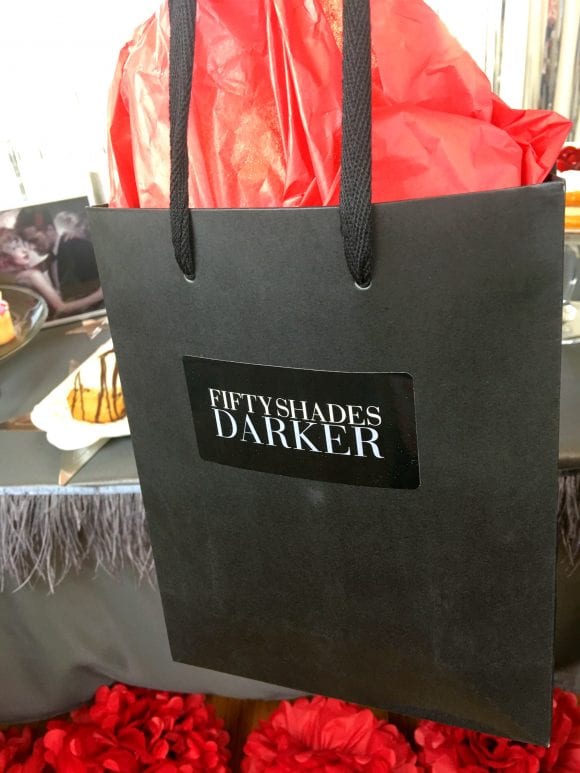 Each guest got to go home a copy of the Fifty Shades Darker book, an Anastasia lip balm, a makeup case, a paper masquerade mask, and a tee shirt that says, "Slip into something a shade darker."
What a way to spread some of the sexy love from the movie!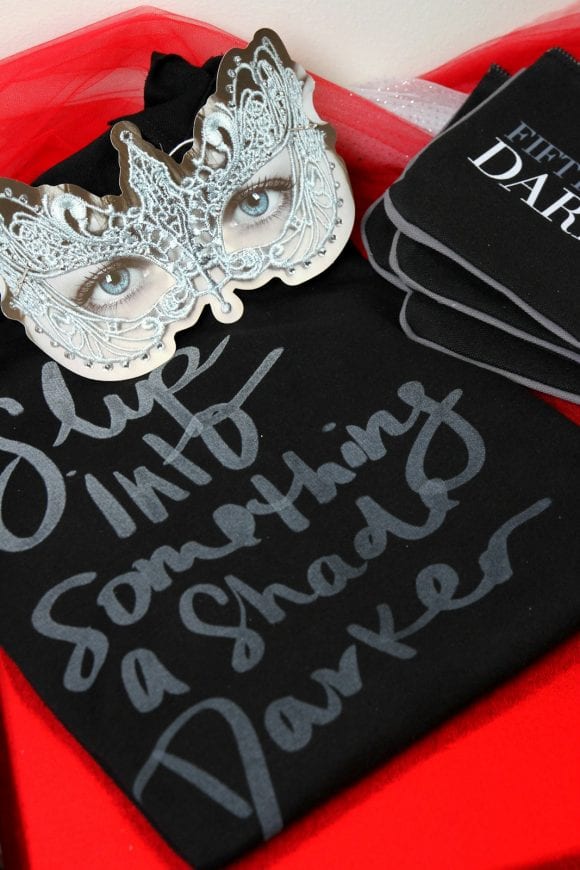 At the end of the night, we even read some of our favorite passages and tried to keep a straight face. 🙂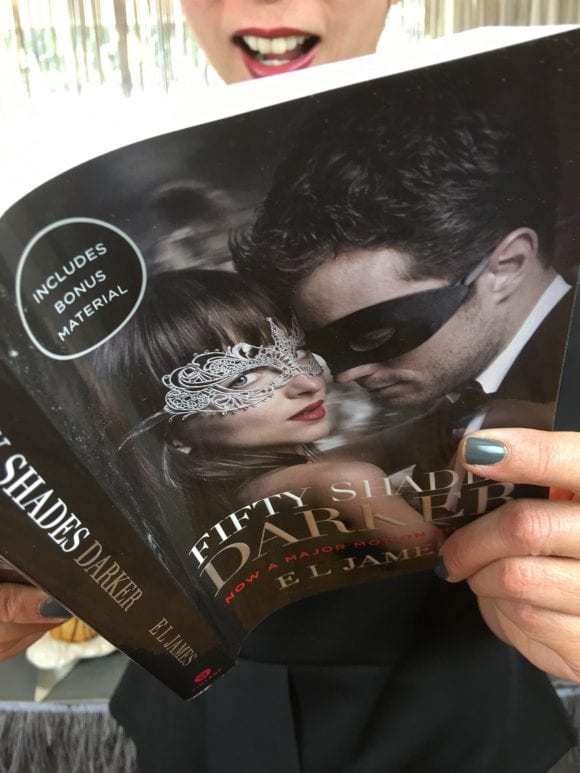 So there's my party in a nutshell. We all had a blast! Lots of desserts was eaten, lots of cocktails were imbibed…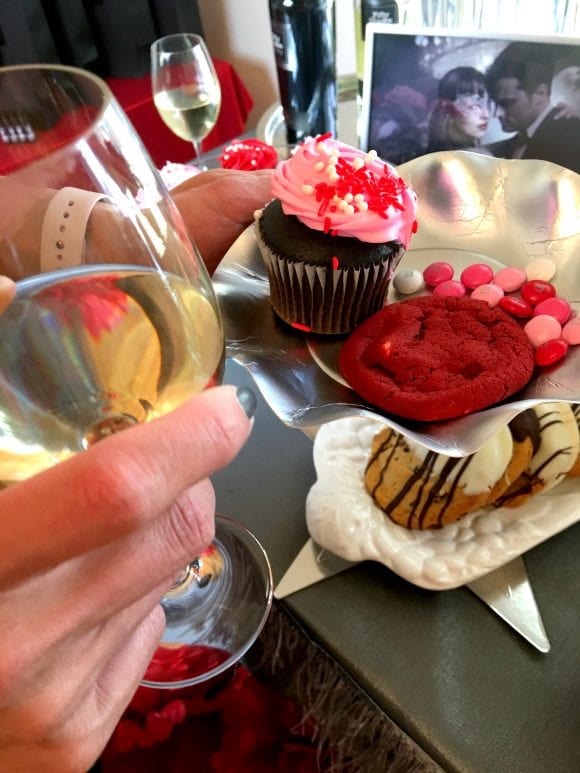 And lots of fun girl-time was had by everyone!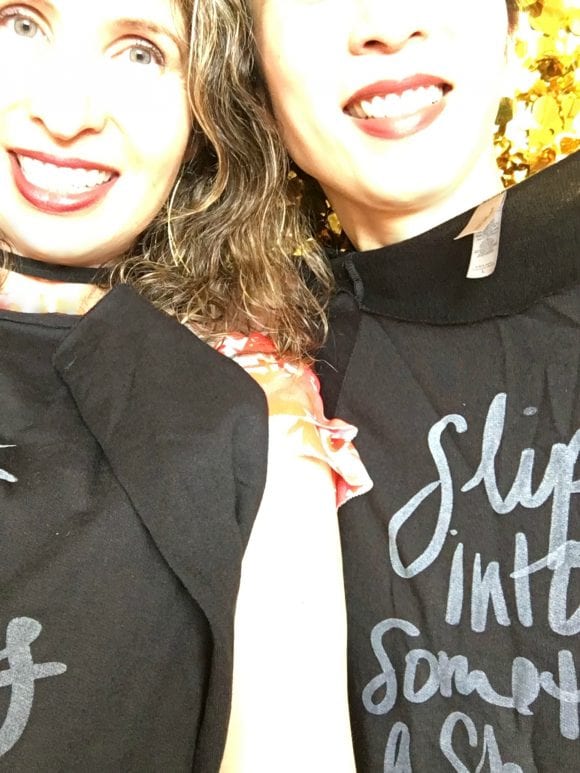 Jamie Dornan and Dakota Johnson return as Christian Grey and Anastasia Steele in Fifty Shades Darker, the second chapter based on the worldwide bestselling "Fifty Shades" phenomenon.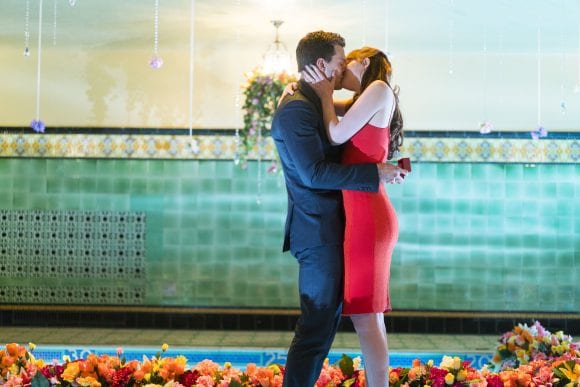 If you need more inspiration to host a girls' night in party, check out the site FiftyShadesNightIn.com, where they are sharing more cool party ideas.
And if you do host a "Girls' Night In" Fifty Shades Darker party, don't forget to share it on social using #FiftyShadesNightIn!
Also, check out the viewing party I styled for the first movie, Fifty Shades of Grey!
Save
Save