If you are an online entrepreneur, a blogger, a social media marketer, or an online influencer, and you're trying to grow your Pinterest and Instagram followers faster, you'd be smart to give MiloTree a try.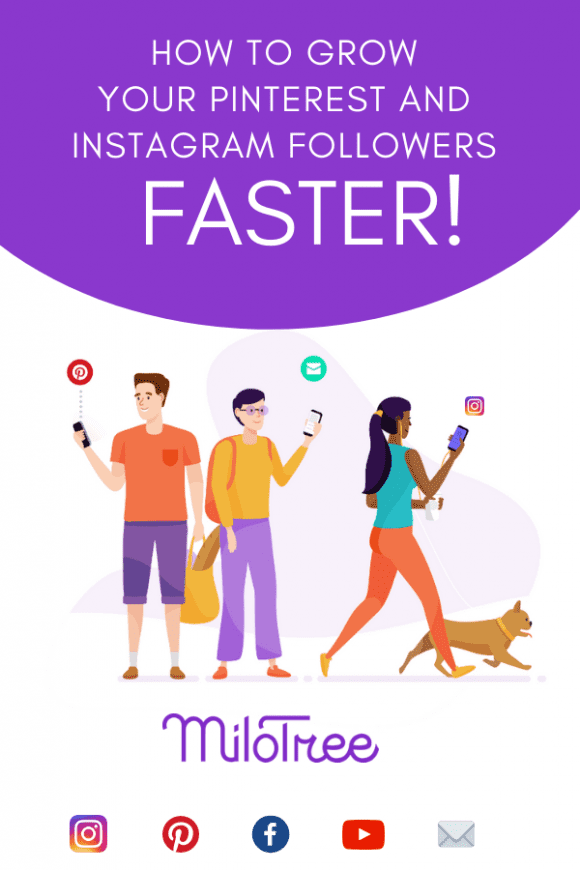 MiloTree is a service that displays pop-ups on your site, asking your visitors to follow you on Instagram, Pinterest, Facebook, YouTube, or subscribe to your list.
We, the founders of Catch My Party, built MiloTree for ourselves, to help us grow our Catch My Party followers on Pinterest and Instagram.
When it worked so well for us (our Pinterest following is approaching 1 million followers, and our Instagram following is over 150k), we rolled it out as a separate business for other online entrepreneurs, marketers, and bloggers to help them get more followers on Instagram, Pinterest, Facebook, YouTube and grow their email subscribers.
We named it MiloTree after our favorite tree in Hawaii. 🙂
How to Grow Your Pinterest and Instagram Followers Faster with MiloTree!
MiloTree is super easy to install. You add it to any site you own (WordPress, Shopify, Squarespace, Weebly, BigCommerce, etc.). We offer a WordPress plugin or simple line of code. It simple. It pops up on your site and asks your visitor to follow you. Plus your pop-ups are populated with your content.
If you want to see it in action, take a look at this video I created.
[iframe https://www.youtube.com/embed/zmNtQRag6Ug 560 135]
If you have any size traffic to your site, MiloTree will convert those visitors into followers and subscribers. And what better social media followers and email subscribers to have, people who have already seen your content and liked it. It's that simple!
Plus, MiloTree is GDPR compliant, won't slow your site down, and Google-friendly on mobile.
MiloTree integrates with all the major email service providers (Mailchimp, ConvertKit, AWeber, MailerLite, ActiveCampaign, Infusionsoft, MadMimi, FeedBlitz, Constant Contact, Ontraport, Campaign Monitor, Drip, Emma, and GoDaddy).
If you don't see your email service provider included, please reach out to us. We're rolling out new MiloTree email service provider integrations all the time.
We are currently offering your first 30-days free, so there's no risk in trying it out! After that, it's $9 per month.
If you have any questions, please contact us. We'd love to hear from you!