It's officially that time of year again, where we can start planning and prepping for a fun Halloween party. Yay, my favorite holiday!
So, to get the ball rolling, check out this quick and easy recipe for some awesome Halloween pretzel rods to serve your friends and family!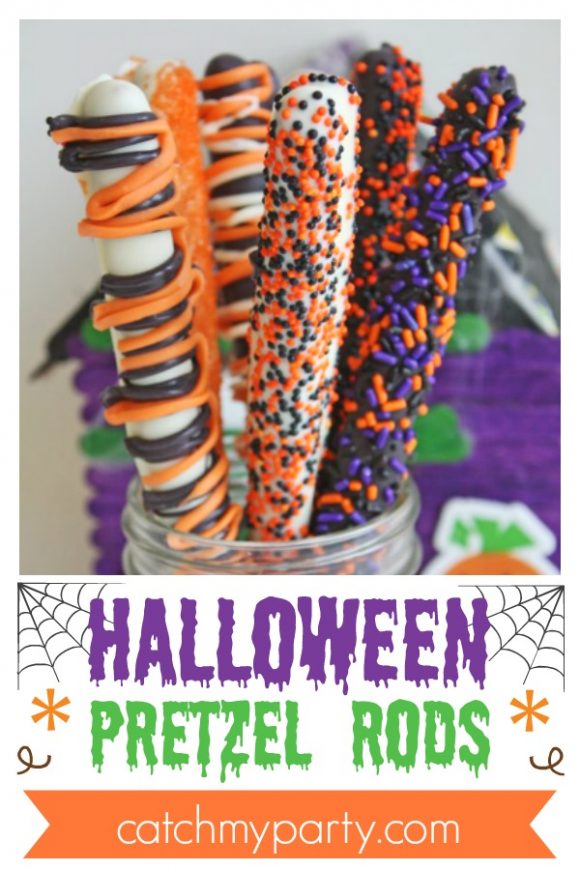 I love salty and sweet, so these pretzel rods are right up my alley when it comes to flavor. And did you know, purple is the newest Halloween color? That's right, it's no longer just orange and black. The purple adds a touch of modern style to everything Halloween.
You can make these halloween pretzels in less than 15 minutes, and your guests (or just your kids) will love them. Here's how…
Make These Quick and Easy Halloween Pretzel Rods!
What you need:
Pretzel rods
Baking sheet
Parchment paper
Ziploc bags
Some of these links may be affiliate links. I may make a small commision if you click and buy, at no expense to you.
Directions:
Step 1:
To start off these cool Halloween pretzel treats line pretzels on a parchment covered baking sheet.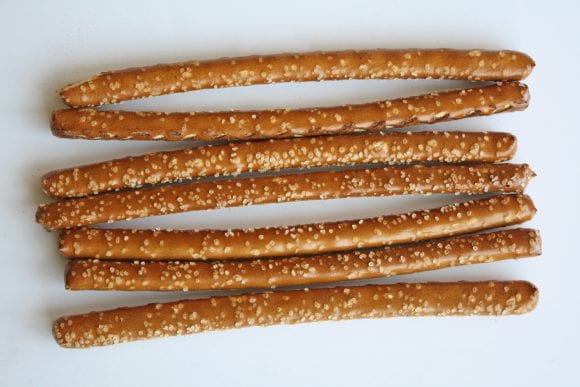 Step 2:
Melt the candy melts in separate bowls in the microwave. Use 50% heat and microwave in 30-45 second intervals. Mixing each time.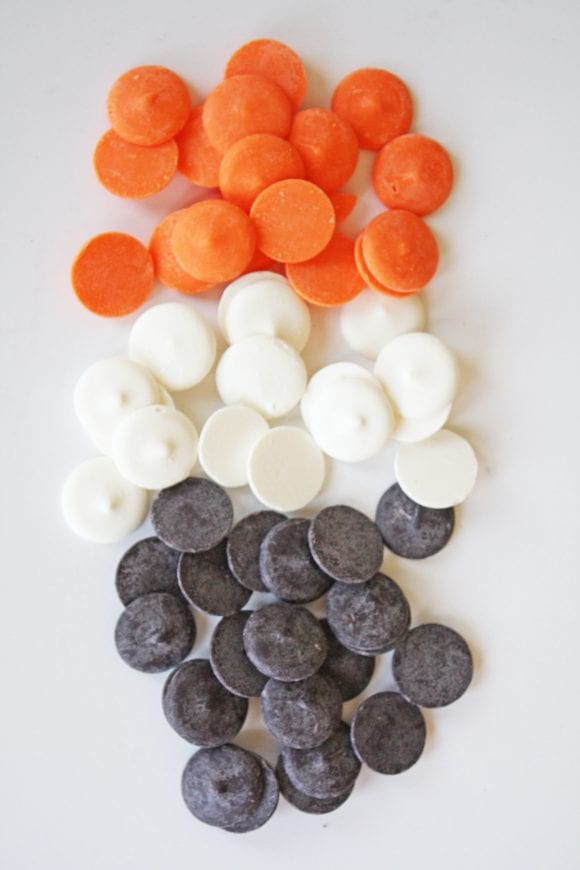 Step 3:
Take a couple scoops of the melted candy melts, in each color, and place them into individual Ziploc baggies. Set aside.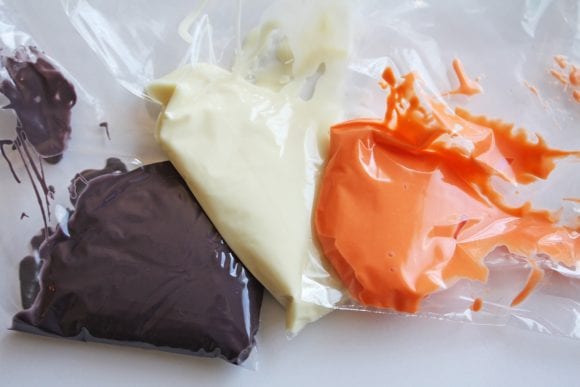 Step 4:
Pour the black and white candy melts into a tall mug. Dip the pretzel into the mug(s) and use a spoon to scoop the melted candy over the pretzel rod. Leave a little space at the top of the pretzel with no candy coating. Tap the excess candy off the pretzel and lay onto the parchment lined baking sheet.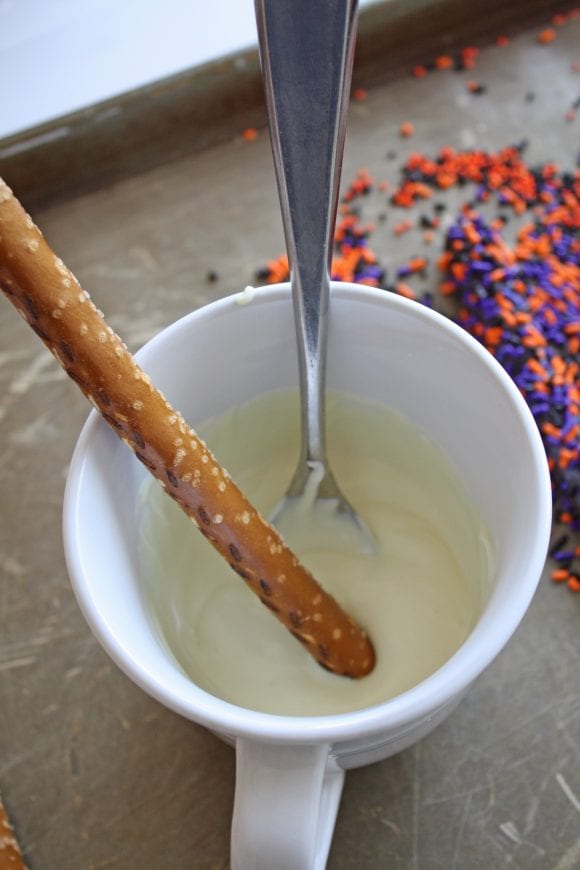 Step 5:
Cover pretzel rods with different Halloween sprinkles. But leave a few bare so you can zig-zag.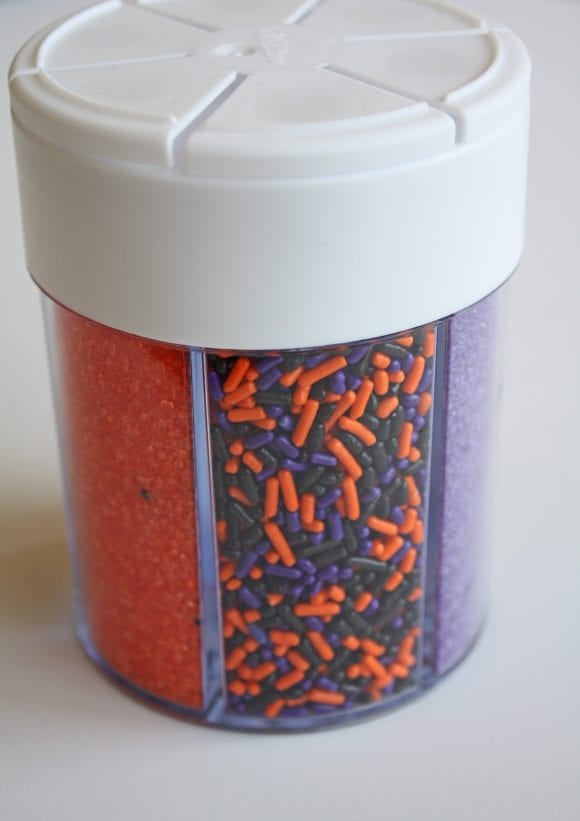 Step 6:
To create the zig-zag design, cut a bottom corner off the chocolate filled ziploc baggies.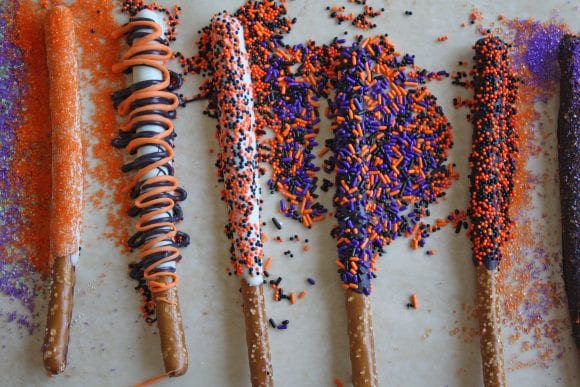 Step 7:
In a back and forth motion, drizzle the colored chocolate over the pretzel rods without the sprinkles. Repeat with each desired color. I love how these look layered!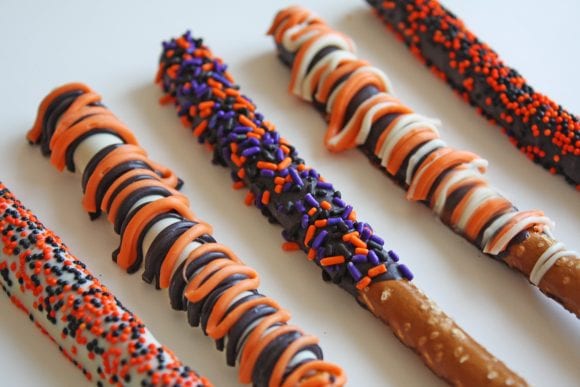 Step 8:
After adding your sprinkles and chocolate zig-zags, chill the pretzel rods until the candy coating sets and is hard. Your decorated pretzel rods are finished and ready to serve!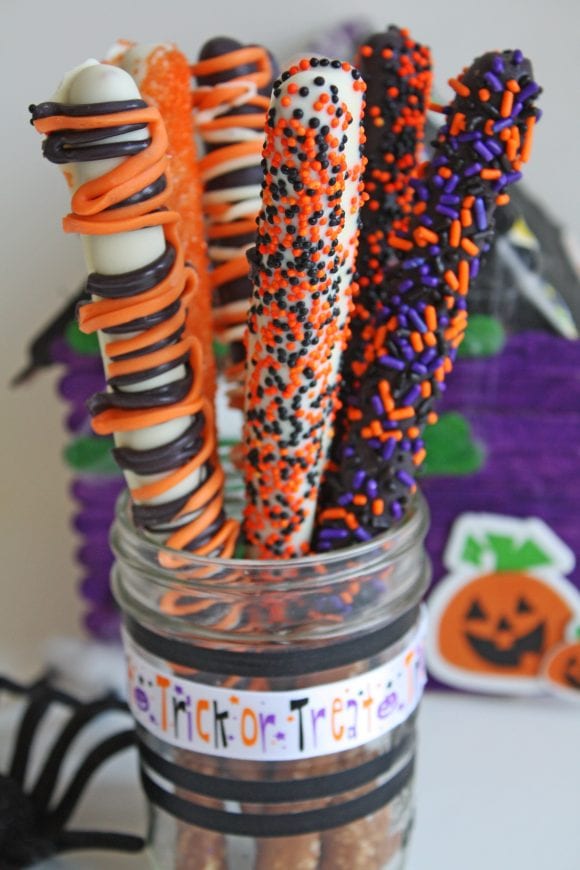 To a salty and sweet Halloween!!
For more inspiration, check out all these spooky Halloween parties on our site, and check out these Halloween party supplies from vendors with listings on Catch My Party!
MORE HALLOWEEN POSTS YOU'LL LIKE!
Need Halloween party ideas?
Need Halloween free printable decorations?
Need more Halloween recipe ideas?
Need more Halloween craft ideas?