Baby showers are a wonderful way for the mom-to-be to celebrate the joy of her new baby. And who doesn't love a gender reveal baby shower party. The moment of the big reveal is such a thrilling one filled with so much excitement and happiness.
With that in mind, we have been searching for the best gender reveal party games to help make your big reveal a fun and memorable experience for everyone!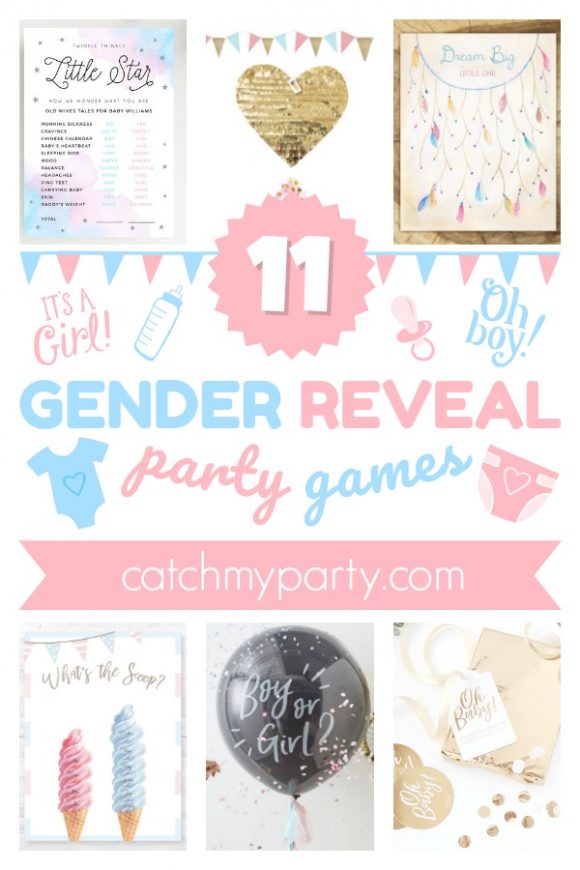 Don't miss the excellent gender reveal party game ideas we've found. You'll find great ideas, such as fun ways to reveal the gender, a gender reveal thumbprint guestbook, some gender reveal scratch off cards, and so much more! Take a look for yourself!
Have Fun with the Best Gender Reveal Party Games out There!
Start off your gender reveal party with this wonderful idea.
As each guest arrives hand them an 'It's a boy' or 'It's a girl' name tag so you can start forming your team pink or team blue.

You can do this gender reveal party game one of two ways. You can either have one balloon that you pop while your guests watch in anticipation, or you can have a balloon for each one of your guests, and have them all pop them at the same time for a shower of pink or blue confetti.
Either way, the look of their faces will be imprinted in your memory for the rest of your life!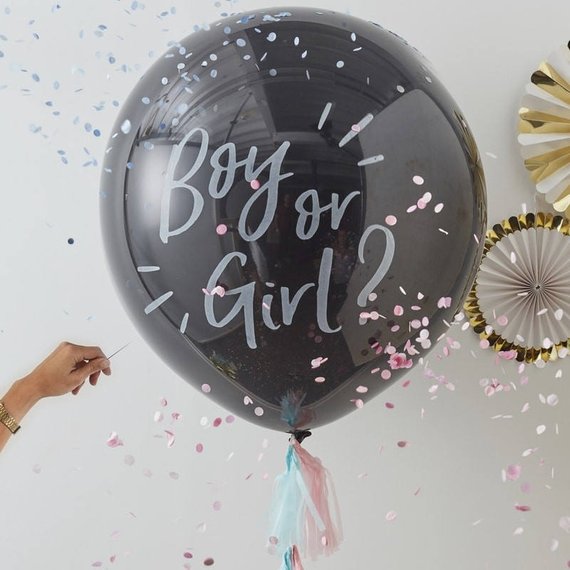 While searching for the gender reveal party games we came across these awesome scratch off cards.
Sit your friends down and have them all scratch their cards simultaneously and just wait to see the look on their faces when they find out your baby's gender!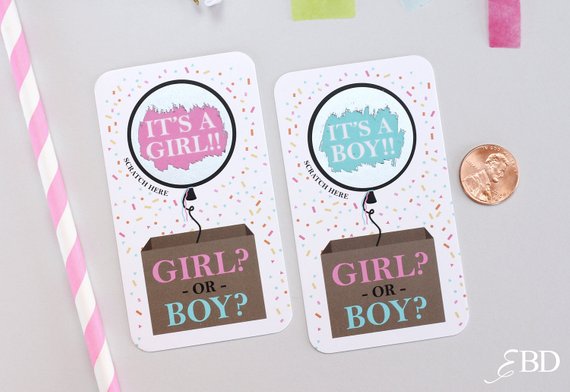 Have fun testing your guests knowledge on old wives tale myths with this awesome party game.
The design of this blue and pink gender reveal game is so cute with the tiny little stars.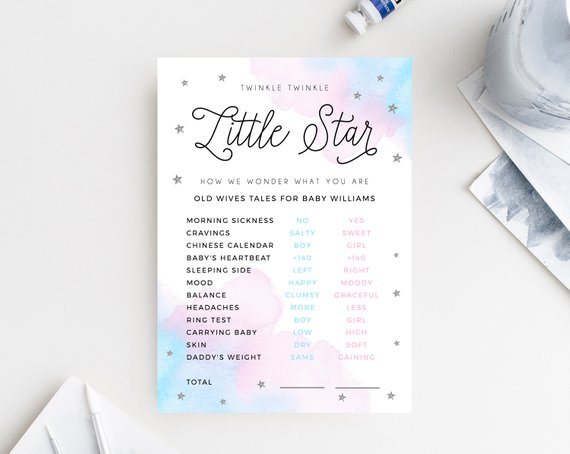 Pinata's don't have to be limited to kids' parties.
They are a fabulous party decoration and even grown ups have a blast watching either pink or blue candy, or even confetti, fall for the skies.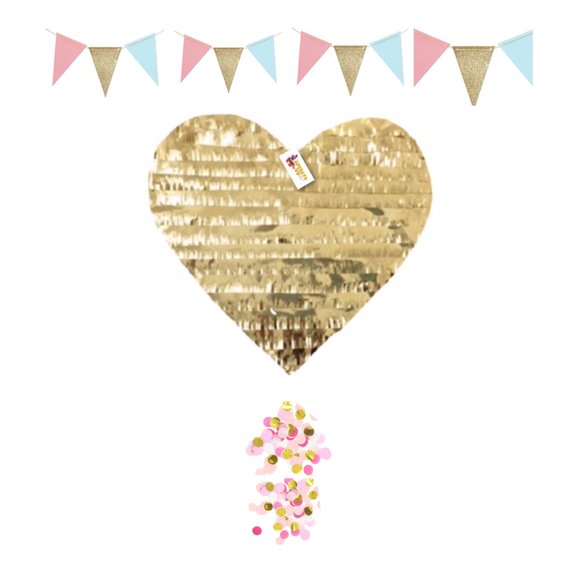 Here's another creative way to have your guests vote on the gender of your baby, which is perfect if your party is during the summer.
The poster starts off with two empty ice cream cones and your guests add pink or blue scoop stickers (depending on their vote). All you have to do is watch the scoops grow.  Now this is what we call a cool gender reveal party game!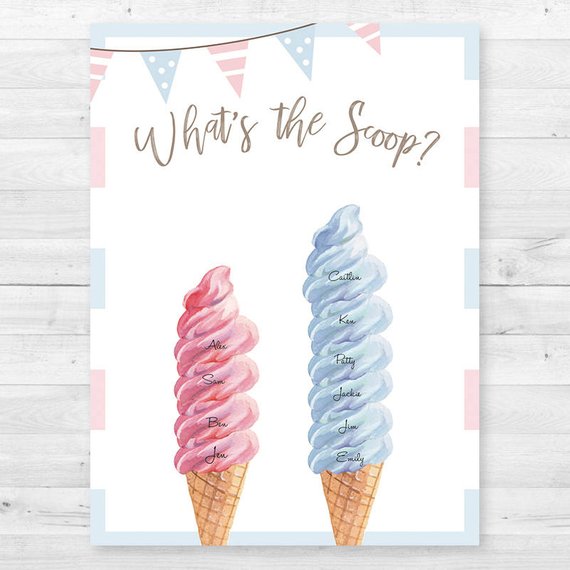 You can always go with a more traditional gender reveal voting board. This one is beautifully designed with a pink and blue watercolor backdrop.
You can either buy some pink and blue stickers and have your guests stick them under the column of their choice, or you can simply have them write their names. Either way it's always a fun party activity and a lovely keepsake.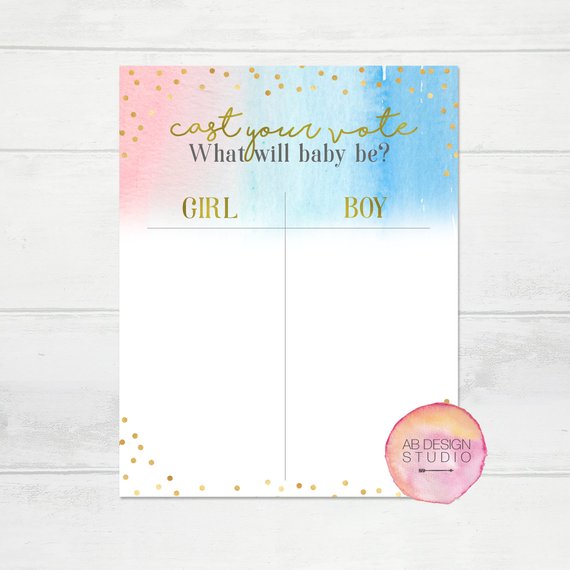 This has to be the perfect gender reveal idea if you're having a boho chic party. It's a gender reveal dream catcher thumbprint guestbook. Have your guests cast their vote on the gender of your baby with either a blue or pink fingerprint that once filled in will create a colorful dream catcher.
It's a beautiful twist on the traditional baby shower guest book that you can hang in your nursery and cherish for years to come.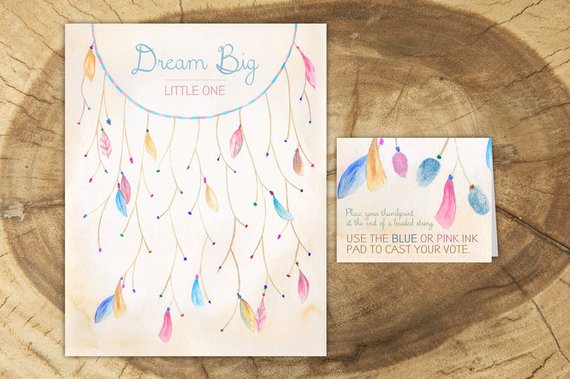 How about a gender reveal party game that is a throwback to when you were a child?
Have a gender reveal pass the parcel where each layer reveals a clue. Your guests will have a blast sitting around watching each other unwrap treats and forfeits. The lucky winner gets their very own pair of fun glasses. The fun is guaranteed!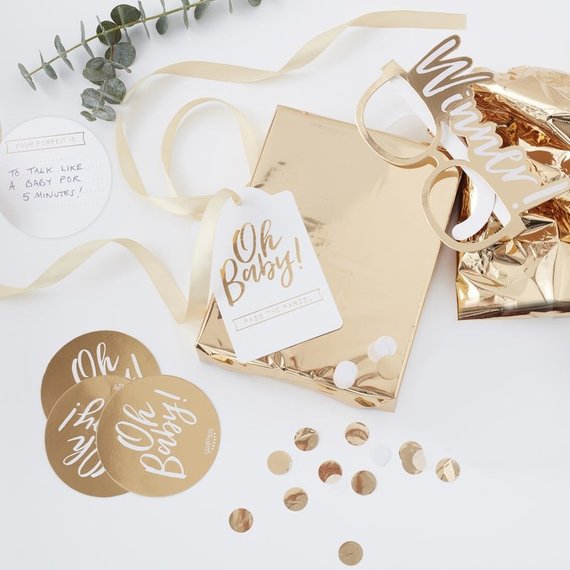 Your guests will have a great time filling in these wonderful gender reveal prediction cards.
Not only will you love reading the cards, as you'll go crazy with the family sketch your guests will have drawn for you.  It'll definitely put a smile on your face and they make a great keepsake!
Our final gender reveal party game is an adorable bee themed gender voting poster and cards.
Hang the poster on a wall and have a bunch of voting cards on a table beside a small box. Once everyone has has cast their vote and placed them in the box, remove them and count the results to see which gender won!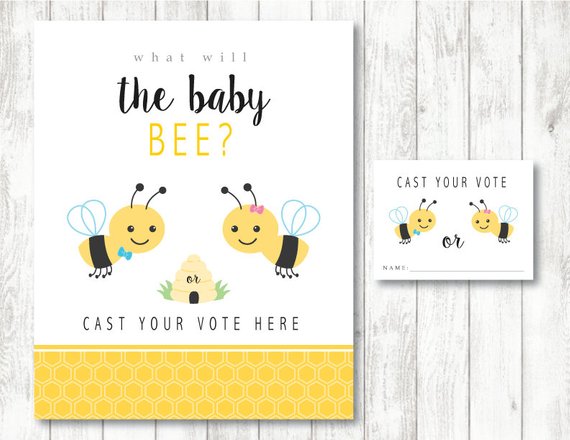 Need more baby shower party ideas?
Need baby shower craft ideas?
Need free baby shower printable decorations?
For more inspiration, check out all the stunning baby shower on our site, and check out these baby shower party supplies from vendors with listings on Catch My Party!
**Some of these links may be affiliate.