Thank you to everyone who shared their wonderful parties with us at  Catch My Party this week. They are all so inspirational, just like the fun and colorful Trolls birthday party we received. You won't believe the Poppy birthday cake. It's fantastic!
Be sure to also check out my 3 favorite parties for more incredible party ideas.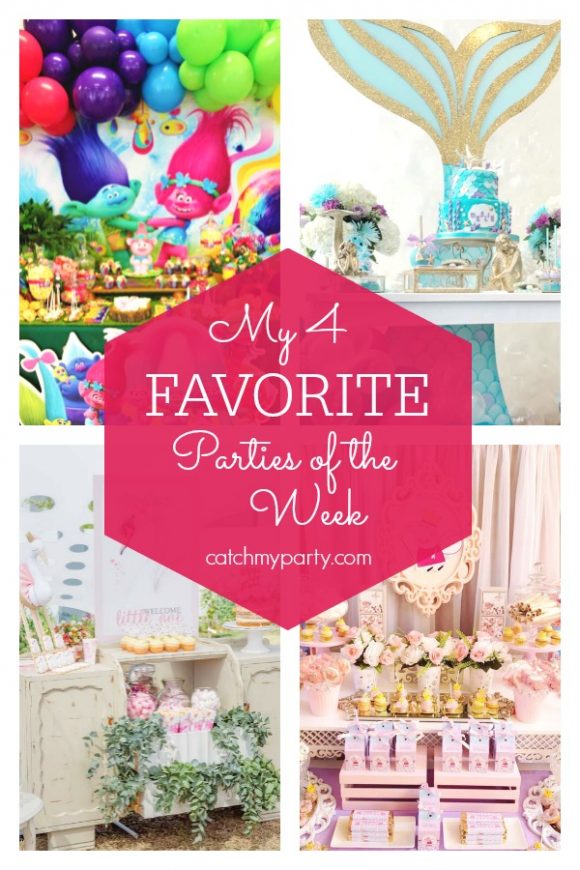 Take a look at our 4 favorite parties below:
Our favorite parties this week include a fun Trolls birthday party, a wonderful mermaid birthday party, a beautiful swan princess themed baby shower, and an adorable fairy Peppa Pig birthday party.
Party 1: Trolls Birthday Party
Rochelle M's Isabella's Trolls 5th Birthday Party
MY FAVORITE PARTY DETAILS:
The fun dessert table with the awesome Trolls backdrop and colorful balloon garland
The fantastic balloon troll hair centerpieces decorating the tablescape
The cute Trolls decorated sugar cookies
The amazing poppy birthday cake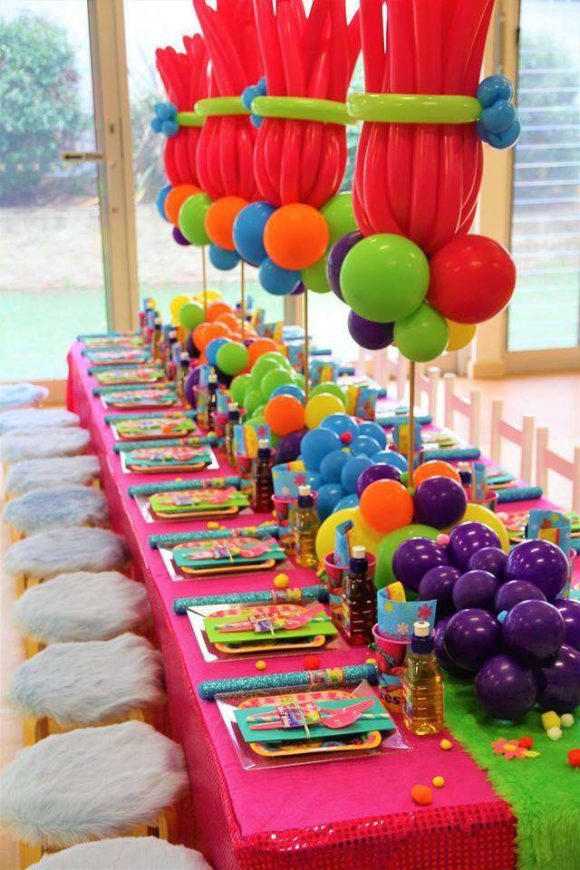 Party 2: Mermaid Birthday Party
My Little Angel Decorations's Deslíe The Mermaid birthday party
MY FAVORITE PARTY DETAILS:
The gorgeous dessert table with the large mermaid tail backdrop
The beautiful tiered birthday cake with the bottom under the sea tier, and a top mermaid scales tail tier topped with a some starfishes and shells
The pretty purple mermaid tail cookies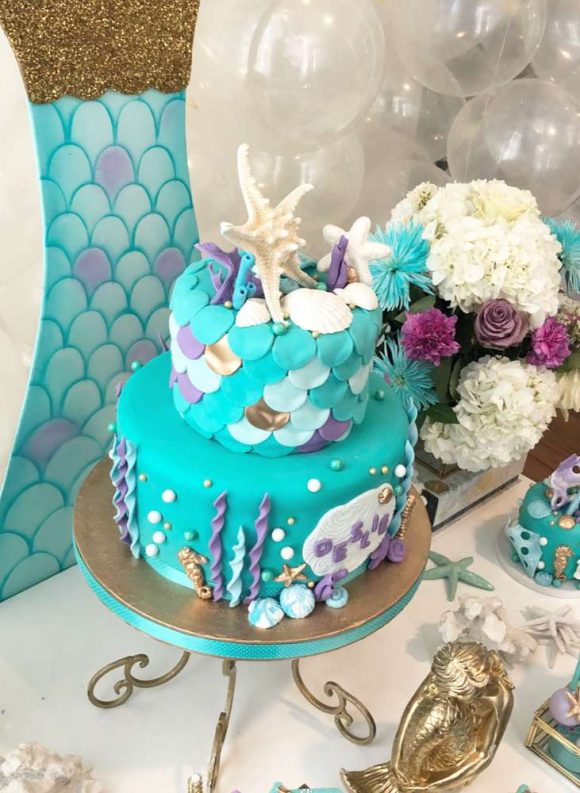 Party 3: Swan Princess Baby Shower
OneFineDayParties' Swan Princess for baby Allegra
MY FAVORITE PARTY DETAILS:
The delicate vintage dresser dessert table with the beautifully illustrated swan backdrop
The gorgeous rustic drip cake topped with beautiful pink fresh flowers
The wonderful swan sugar cookies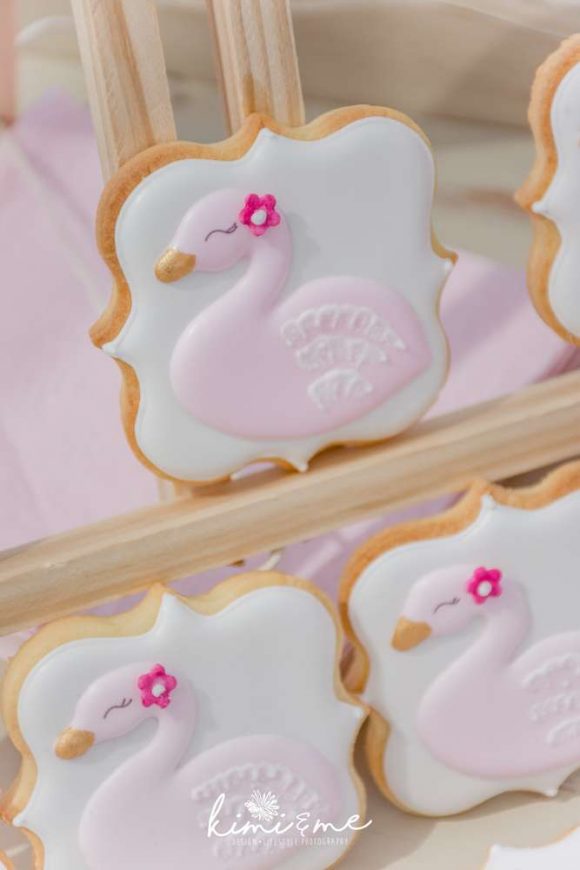 Party 4: Peppa Pig Birthday Party
Carolina V's Fairy Peppa Pig birthday party
MY FAVORITE PARTY DETAILS:
The stunning vintage dessert table with a framed Fairy Peppa Pig backdrop and full of delicious party food
The pretty little cupcakes, ones topped with fondant crowns, and the others with Peppa Pigs
The cute pink cake pops topped also with fondant crowns and fondant Peppa Pig faces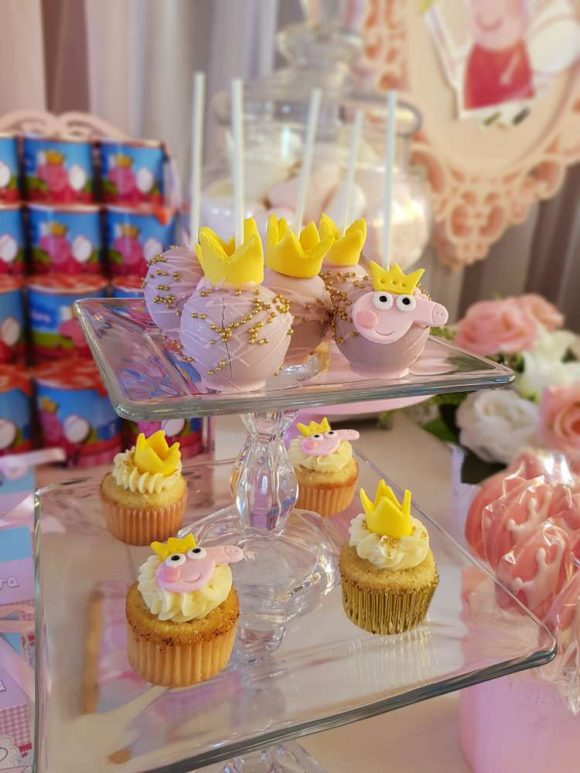 More parties in these favorite party themes:
If you are a blogger or entrepreneur, definitely check out my new podcast!
It's called The Blogger Genius Podcast, where I interview successful bloggers to find out what's working in their businesses. You will learn a ton so subscribe now!!