A hot cocoa party is a great way to kick off the festivities with your family or friends this holiday season. Check out all the fun hot cocoa party ideas we've rounded up to make your party one to remember.
There's something so comforting in a delicious hot chocolate when it's cold outside, so it makes total sense to have a hot cocoa bar at your winter party.
Treat your guests to as many toppings as you can muster together and enjoy some quality time together!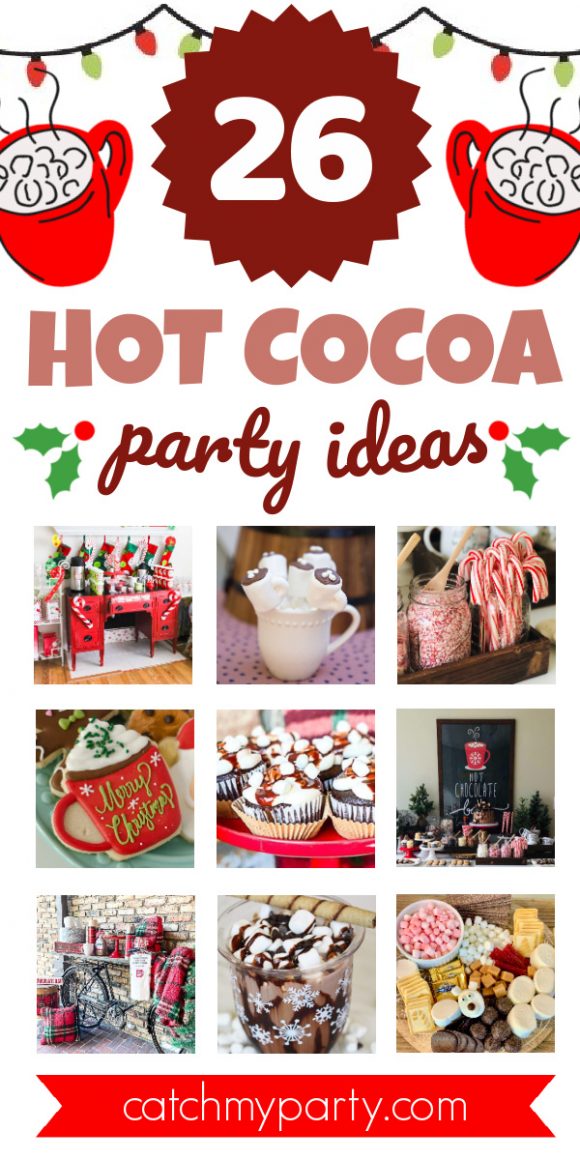 You'll find ideas for hot cocoa party invitations, decor, party food, party favors and so much more…
Don't Miss These Delicious 26 Hot Cocoa Party Ideas!
Download our FREE cookies and hot cocoa party printables and use them to decorate your hot cocoa Christmas party this holiday season.
The set includes some welcome signs, some food tent cards, some cupcake toppers, some water bottle labels, a banner, and a bunch more stuff for you to use!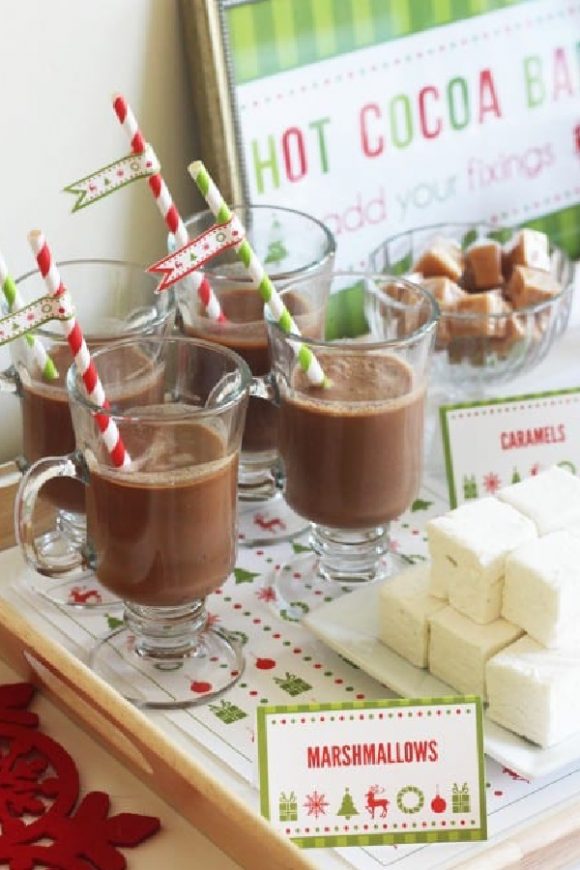 Being invited to a hot chocolate party over the holidays is so much fun.
Make sure you pick an awesome party invitation such as this illustrated one that oozes Christmas and all things sweet.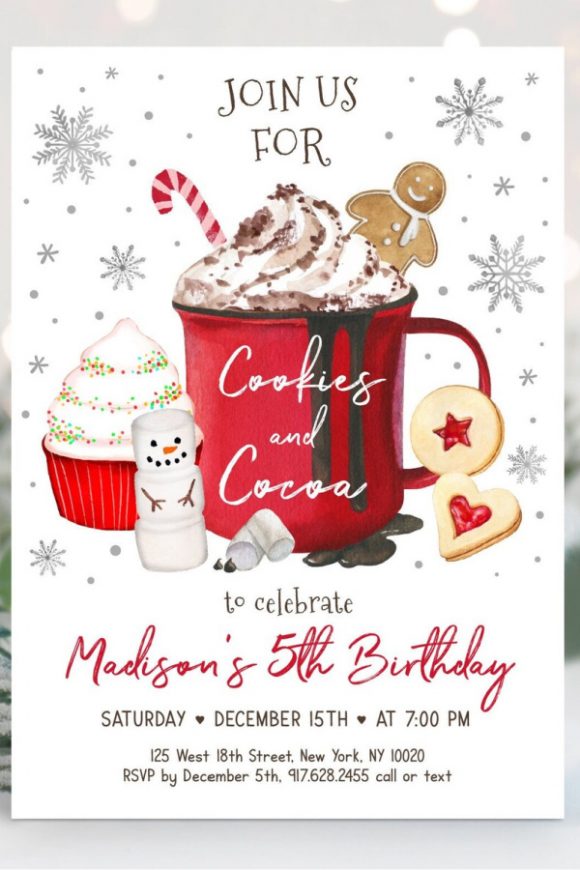 Sending out digital party invitations is so straightforward and practical.
Let your guests know about your party with a cute digital party invitation like this one, that you can send out with the click of a button on your phone. Simple!
It can be so much fun creating a hot chocolate bar for a Christmas party!
Check out this festive Grinch-inspired one. Love the stockings in the background and the fun candy cane decorations.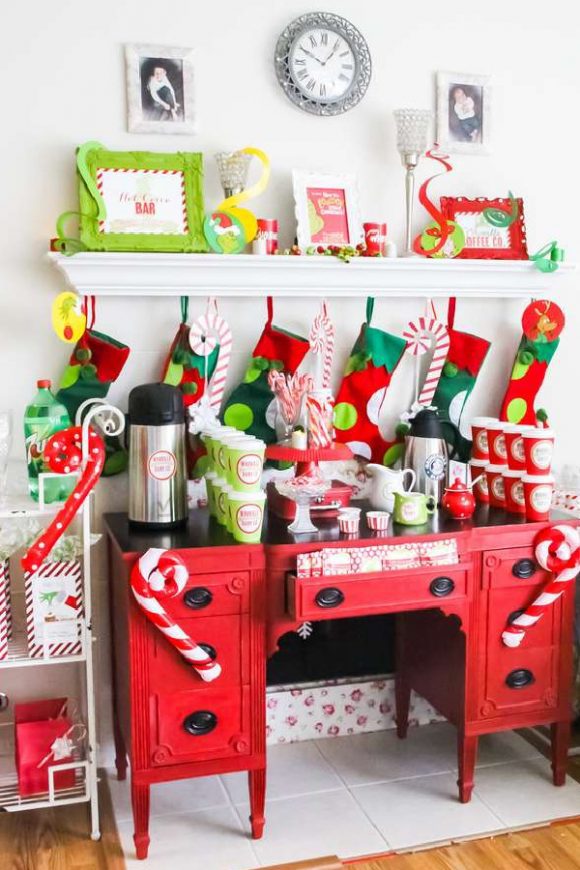 If, on the other hand, you're looking for something more traditional with a rustic feel don't miss this gorgeous vintage bike dessert table decorated with plaid blankets.
It's got such a cozy warm vibe, your guests are going to love it!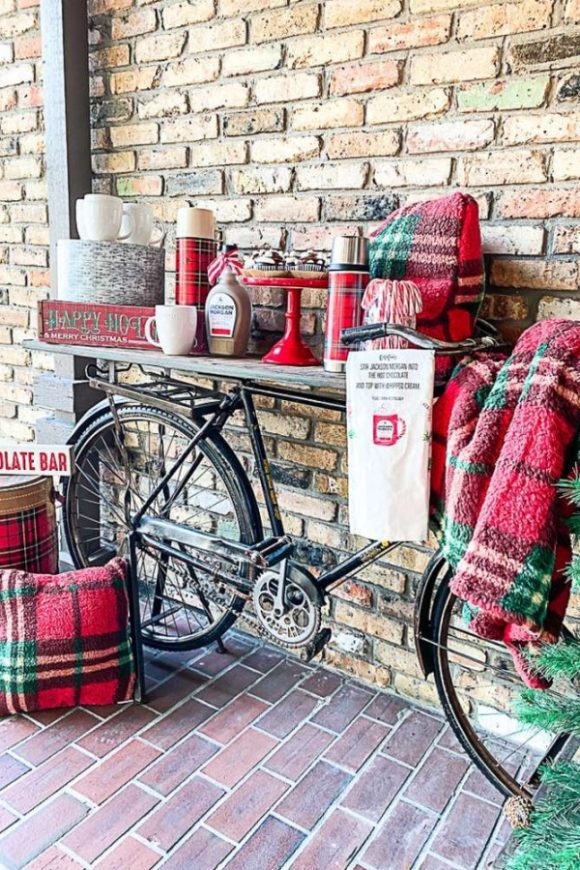 This rustic vintage cart hot cocoa bar is another great example of how to set up the drinks at your party.
Love the greenery garland and balloon decorations.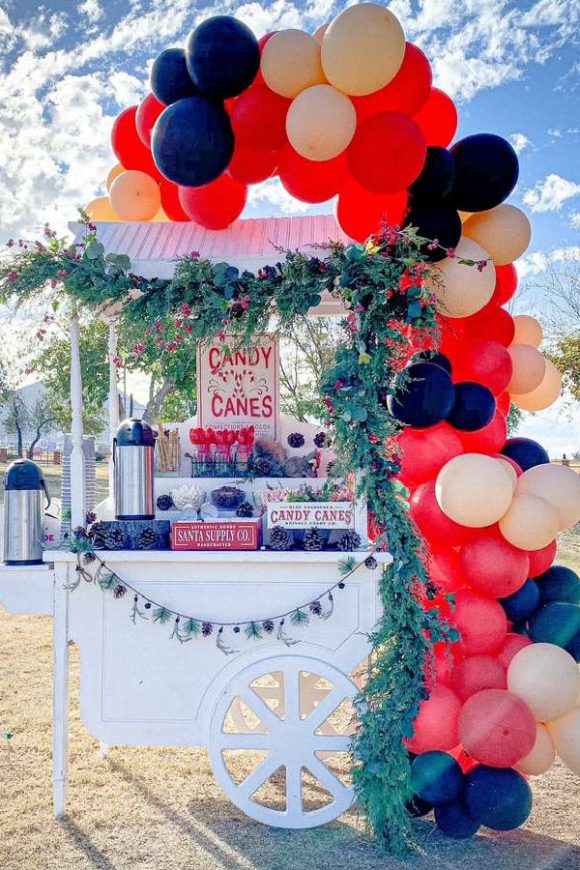 If you love everything coffee and chocolate then you really don't want to miss this Kahlua hot chocolate recipe!
It includes Kahlua, creme de cação, plus all the good stuff, like chocolate syrup, whipped cream, and, of course, marshmallows. Just the sound of it is delicious!
The more topping you have at your hot chocolate bar the better!
Place as many as you can think of in jars or pretty dishes, such as mini marshmallows chocolate chips, caramel bits, finely chopped nuts, whipped cream, chocolate syrup, etc.., and treat your guests to the most delicious hot cocoa or ever!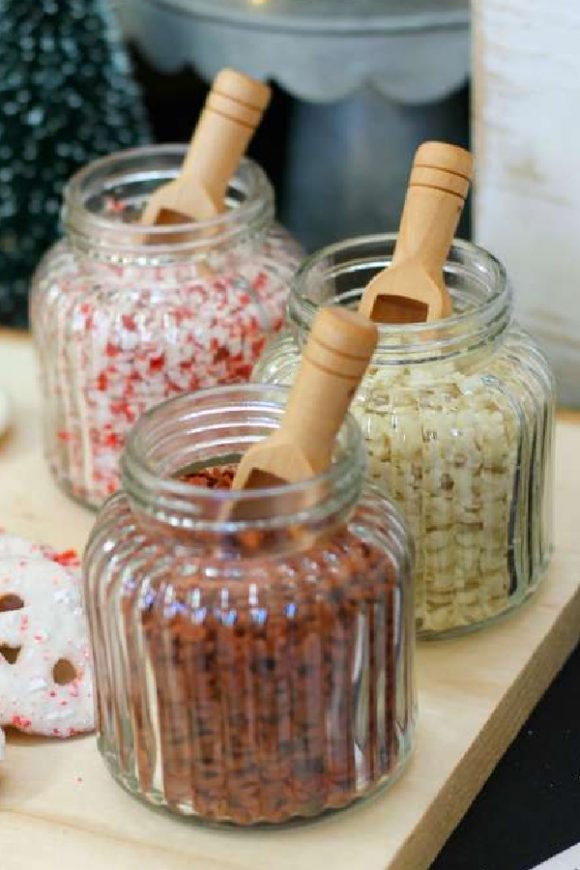 Don't forget to add a bunch of hot cocoa n a stick to your bar.
Add a mix of white chocolate, milk chocolate, and even some dark chocolate ones, so your guests can pick whichever they want for their delicious drink.
Candy canes are a must-have over the holidays and a wonderful addition to a scrumptious hot chocolate.
You can add a bunch of candy canes to your dessert table or even crush up some and place them in a jar so that your guests can sprinkle them over their hot cocoa.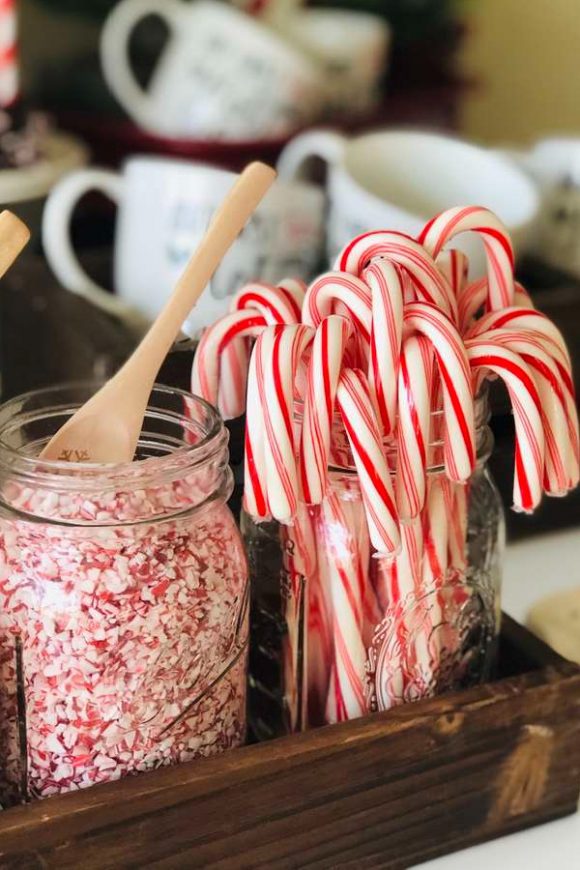 There are so many types of hot chocolate available, such as peppermint flavored, or even dark chocolate, so grab as many different flavored ones as you can and set them out so your guests can make whichever one they like the best.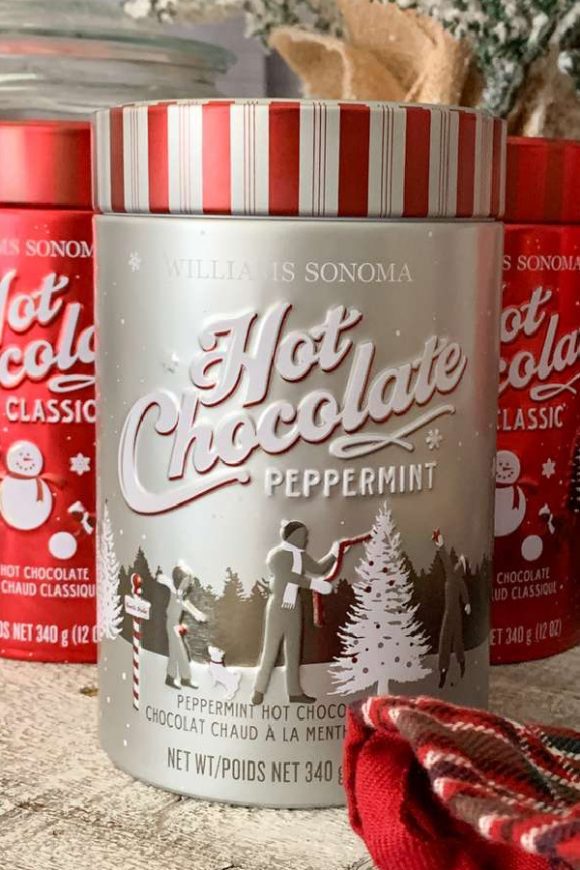 Sprinkles are always so pretty and add so much joy when they are added to food, or in this case, a tasty hot chocolate.
These holiday-inspired sprinkles are just what you need over Christmas. They include snowflake sprinkles, crushed bits of candy cane, and tiny marshmallows. What more could you wish for?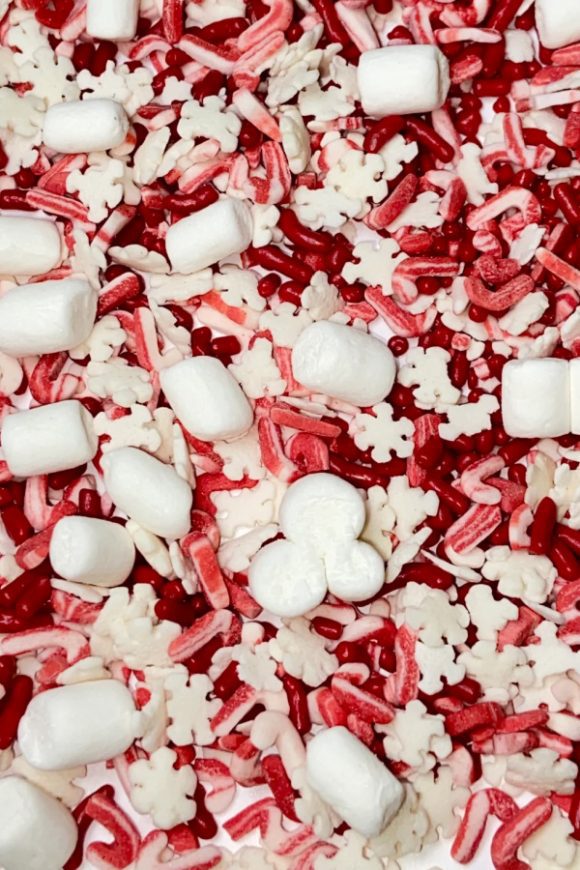 I absolutely love this laid-back, hand-drawn illustrated hot chocolate backdrop that can be added to either decorate your dessert table or your hot cocoa bar.
It totally adds to the holiday vibe and has a chalkboard feel to it.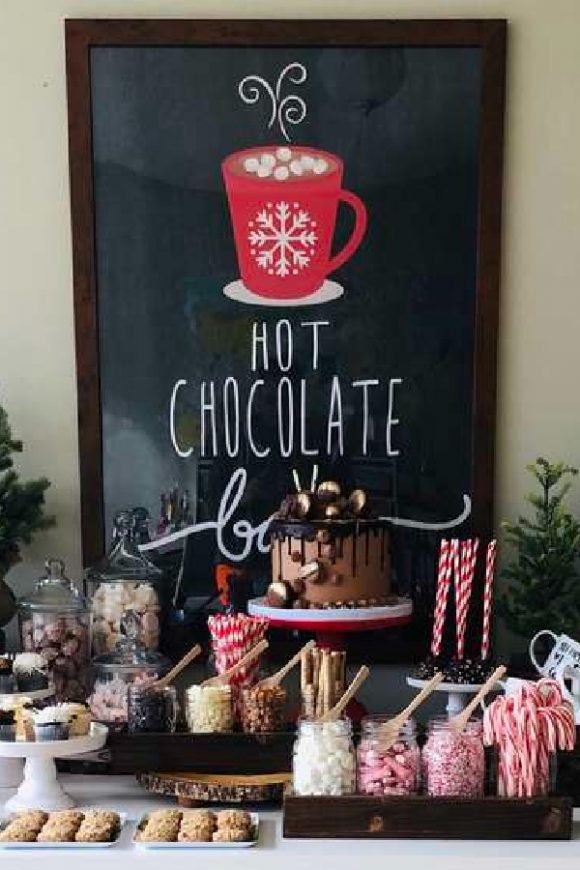 If you're looking for the perfect garland to decorate your hot cocoa a party look no further.
These mugs of hot cocoa are the perfect decoration for your party and will look incredible hanging on your bar or dessert table.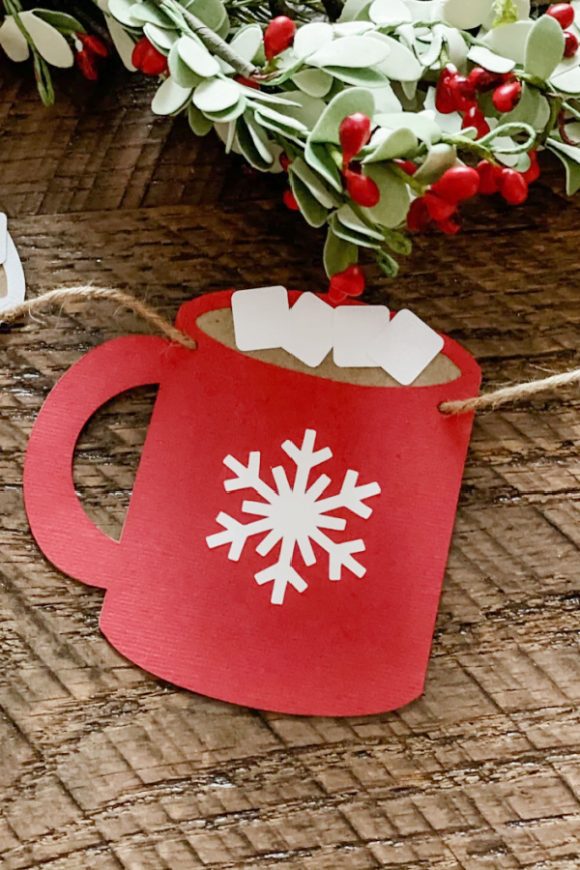 You can't have a hot cocoa party without delicious cookies, right?
You'll be blown away by these hot cocoa-inspired 'Merry Christmas' cookies. They'll look amazing at your party and will be a bit hit with your guests!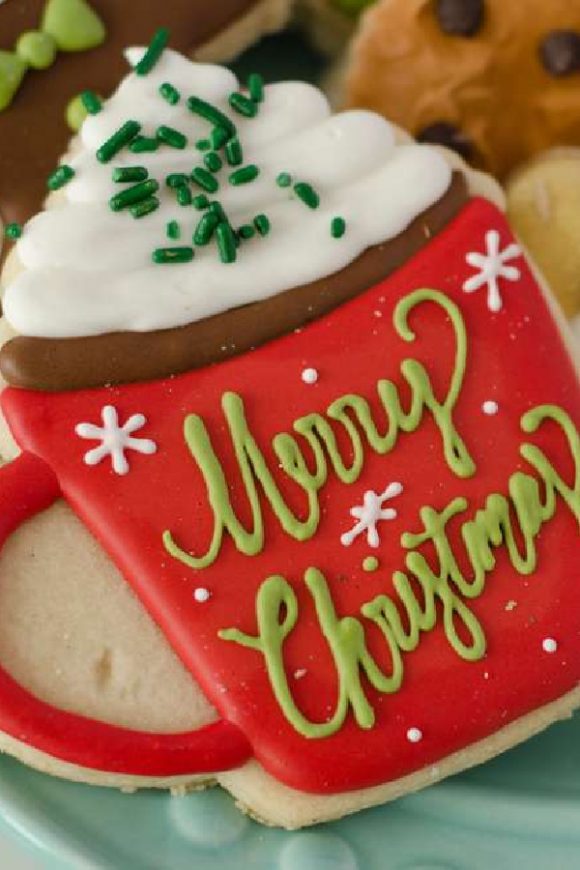 Create some hot cocoa-inspired cupcakes by decorating some chocolate cupcakes with white frosting and topping them with tiny marshmallows and chocolate syrup.
They'll be gone before you know it!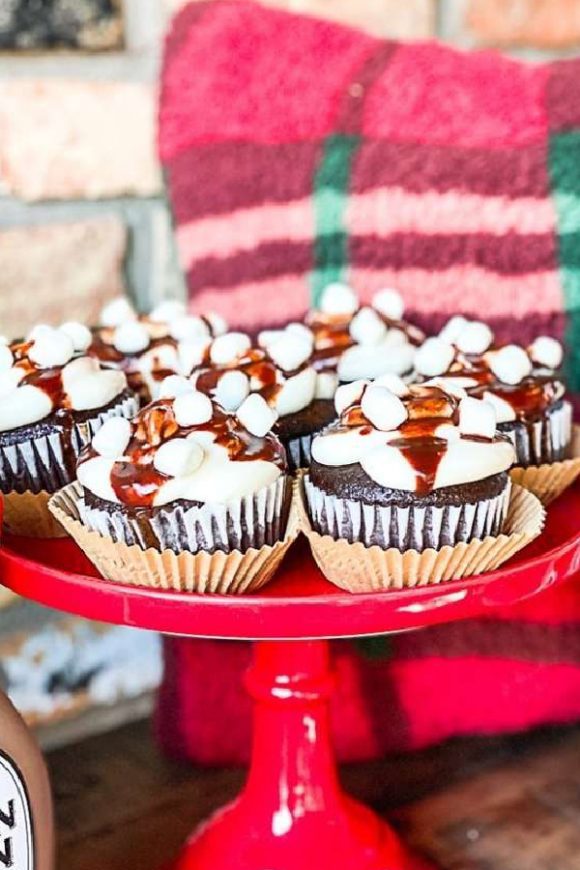 Wow! This chocolate cake drip cake is the ultimate showstopper for your hot cocoa Christmas party.
Covered in everything chocolate, your guests will be begging you for more than just one slice!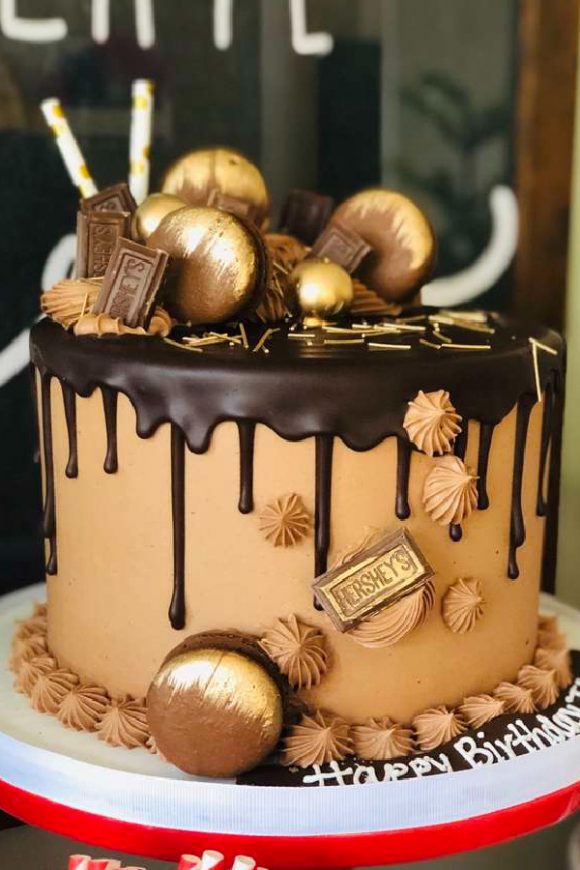 You've got to love these hot chocolate-inspired cake pops.
They look absolutely fantastic and will be a massive hit that your party.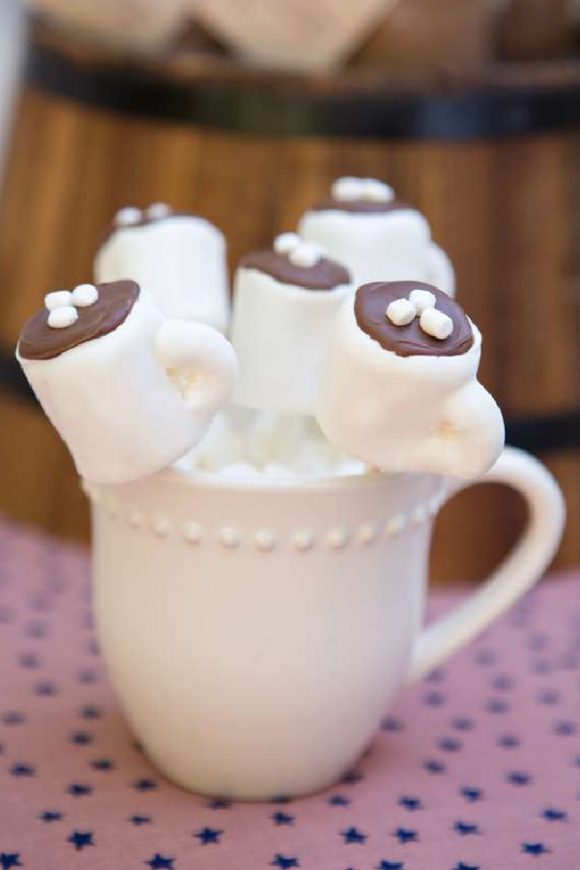 Everyone loves a donut, so how about transforming some chocolate ones into a Reindeer? 
All you need are some red M&M's, some candy eyes, and pretzels, and you are good to go.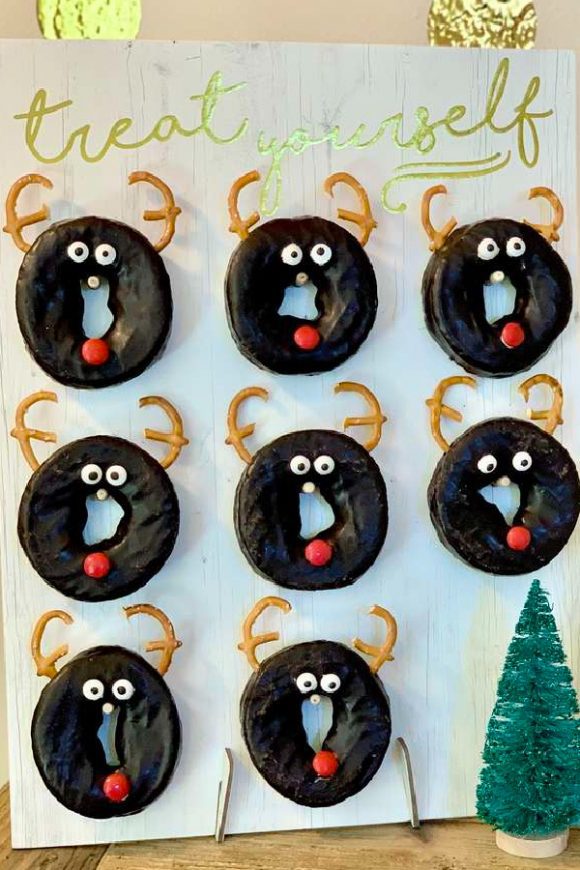 Set out some mugs with some hot chocolate sachets and a polar bear marshmallow treat.
They look absolutely fantastic at your party and your guests are going to find them so much fun!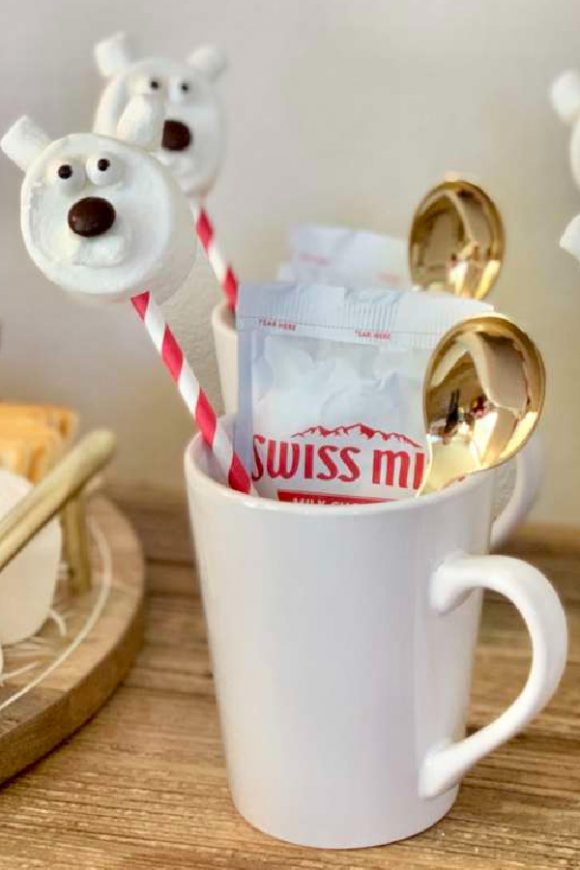 Create a Christmas-themed grazing platter and have everyone help themselves to some delicious sweet treats.
You can add marshmallows, toffees, chocolates, cookies, and whatever else you have around the house. You can't really go wrong!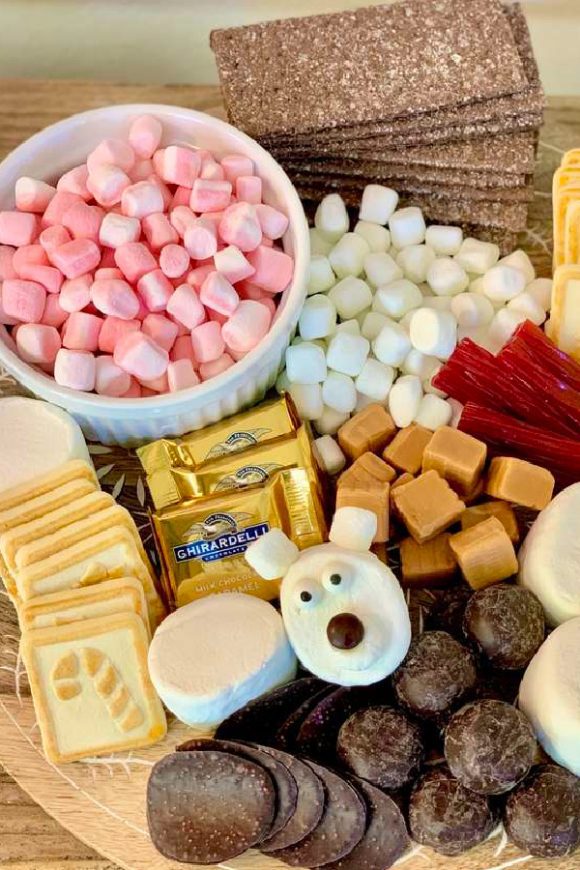 Christmas is such a joyful holiday so bring some of that joy to your table settings.
Use as much Christmas-inspired tableware that you can find and decorate with all things Christmasy, such as Santas, Christmas trees, and snowflakes.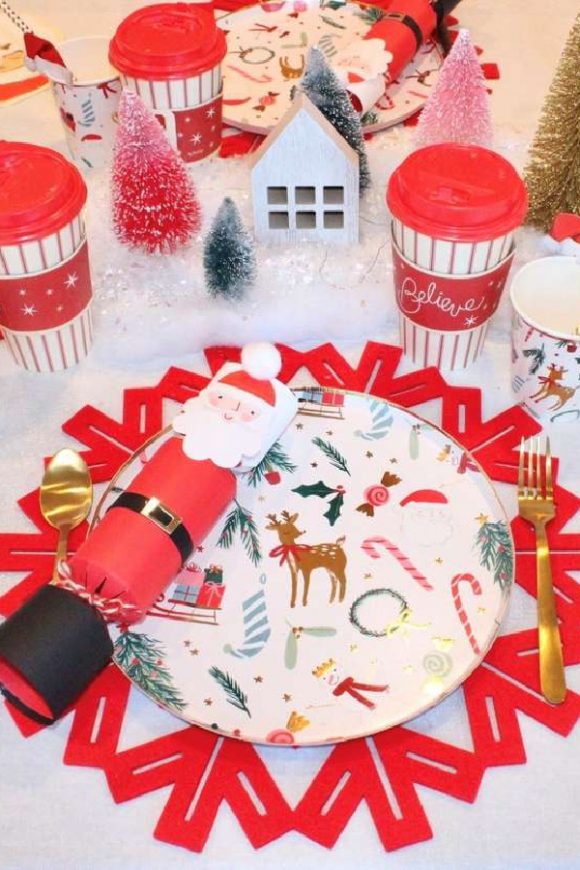 Treat your guests to their very own personalized mug that they can use during your party and then take home with them and use over the holidays.
They make a wonderful party favor!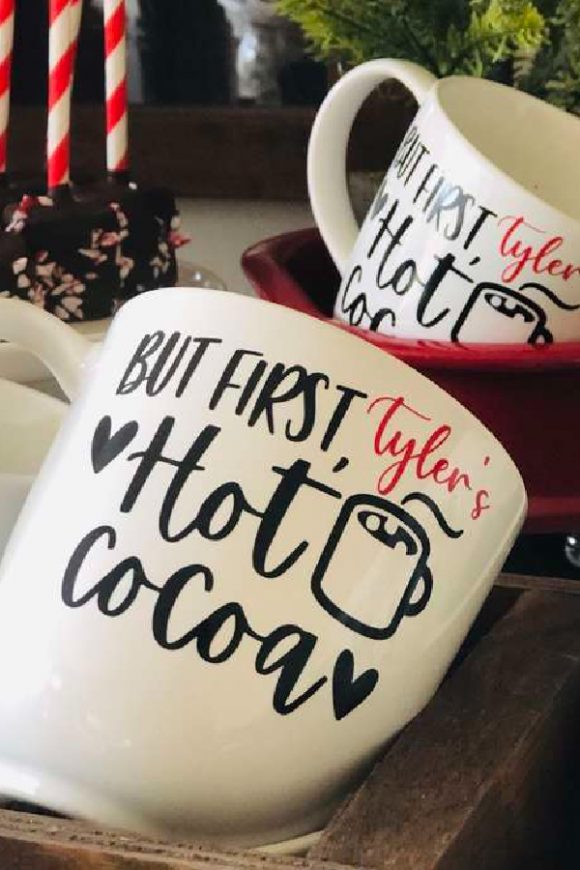 If your party has more of a rustic vibe then how about setting out some mason jars instead of mugs?
They are a great way to serve hot chocolate and look really cool, especially if you decorate it with a Christmas-themed straw.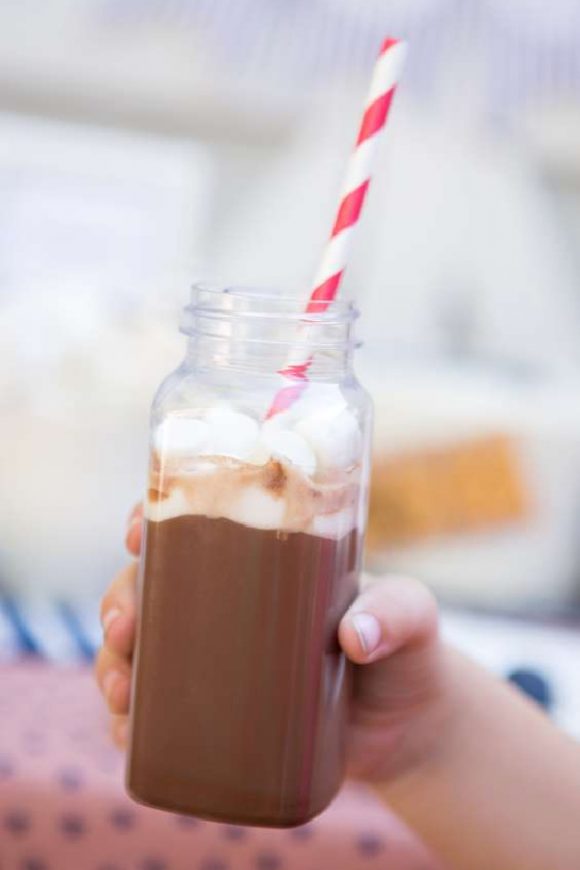 Hot cocoa and cookies go together perfectly, so how about keeping your young guests entertained by setting up a cookie decorating station where they can decorate a bunch of cookies, that they can eat at your party or take home with them?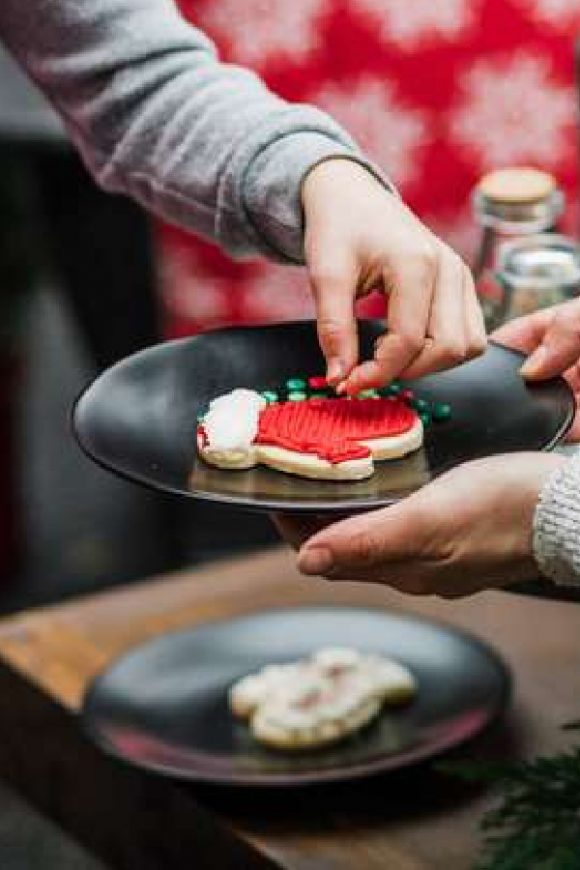 Send your guests home with a 'make your own Christmas cookies' party favor
Place all the dry ingredients in the mason jar and make a pretty recipe label with instructions so they can bake some delicious cookies at home.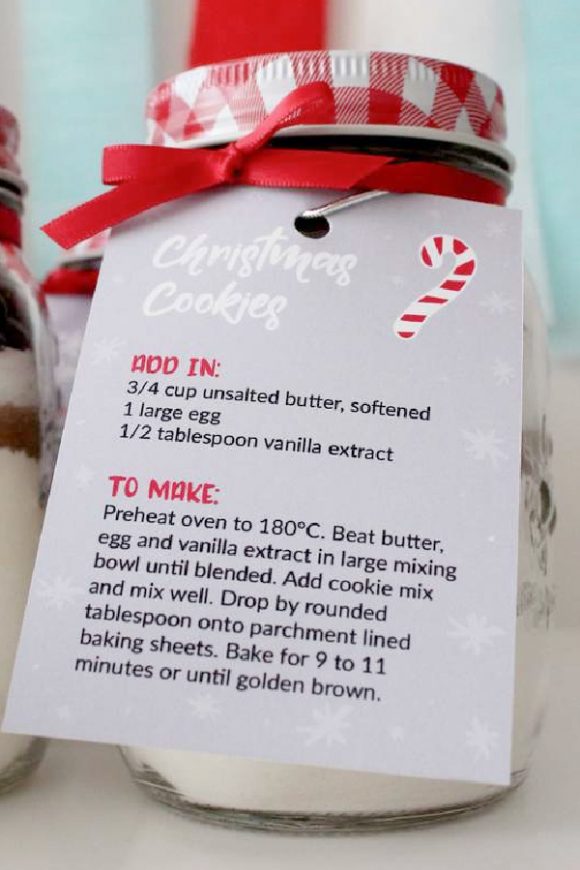 For more inspiration, check out all these fantastic Hot Cocoa and Christmas party ideas on our site, and check out these Hot Cocoa and Christmas party supplies from vendors with listings on Catch My Party!
MORE CHRISTMAS POSTS YOU'LL LIKE!
Need Christmas party ideas?