Today is my big TV debut! I'm going to be on KTLA, a local TV station in LA, to discuss ideas for throwing a royal wedding viewing party. I'm on their morning show and my segment should air around 8:45am.
In case you don't live in LA or miss the broadcast, I thought I'd share with you the ideas I'm presenting today! (Catherine from Design Editor helped with these ideas, so thank you, Catherine.)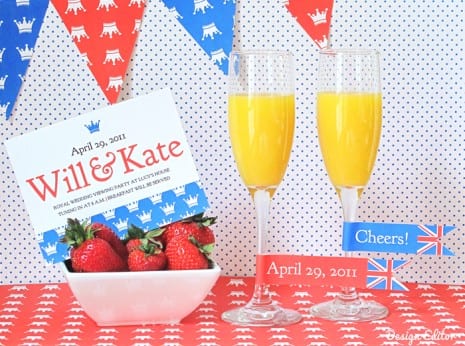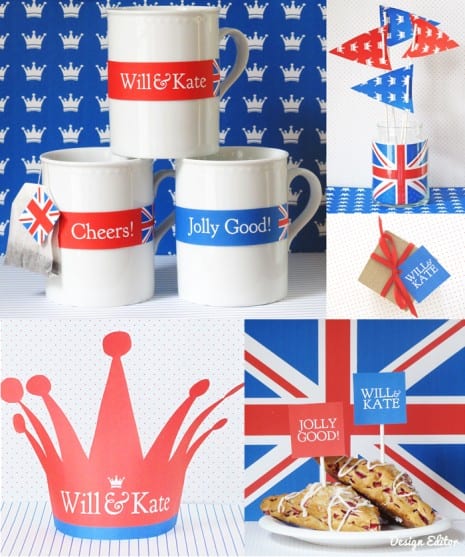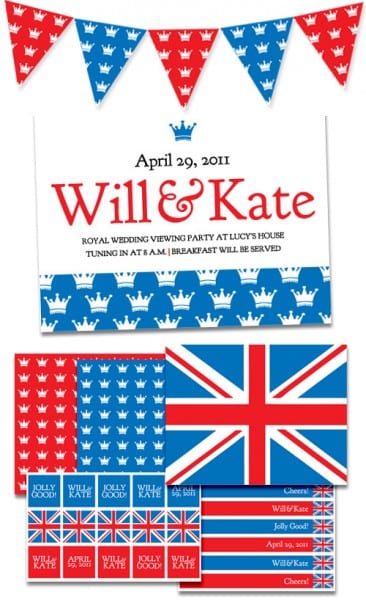 PARTY FOOD
The queen is hosting a breakfast for the royal couple, so how about you do the same? And since many of you might be hosting your parties at 2:00am or DVRing the wedding and hosting them a little later in the morning, what's better than breakfast?
I recommend serving everything buffet-style. This keeps your party focused around the TV and your guests can grab food when they like.
For food, I like scones with British jellies and jams, a fritatta that you can make the night before and serve cold, English sausage ("bangers"),  strawberries and clotted cream, an assortment of British cheeses (my favorite being Stilton), and some petite fours for those looking for something sweet.
For tea, how about setting up a "tea bar" with different teas for tasting. If you're hosting your party in the early morning, what better way is there to keep your guests awake?
Also, how about a signature champage cocktail? A simple one can be made with a touch of pomegranate juice and champagne. This will give you a pretty rose-colored drink and you can call it something fun like, "Kissed by a Prince."
DECOR
Party printables, party printable, party printables!! Catherine from Design Editor designed a great collection of royal wedding printables that we've been giving away free on our blog.
The collection includes an invitation.  So how about writing something on it like: "Wear your favorite PJs or your most regal robe," or "Don't forget your fancy hat," and sending it to your friends.
Drink flag labels can be used to decorate tea cups and champagne stems, or wrapped around napkins as napkin rings.
Labels can be used on favor bags, as toppers glued to lollipop sticks stuck into scones or other desserts, or tied with ribbon to your tea pot or tea cups.
The pennant flags can be strung together with ribbon to create a bunting banner to decorate your table.
And finally, the collection includes a cut-out queen's crown.  You can make a bunch of these and hand them out to your guests when they arrive, along with noise makers, confetti, and party poppers to really get them in the spirit.
Also, British flags bring some regal-ness to your party. If you have one, use it.
FAVORS
I'm  a big believer in sending your guests home with a favor, and my favorite type of favor is an edible one.
I recommend buying some cute favor bags, attaching one of our printable labels to them, then stuffing them with British candy bars, British shortbread cookies, and British Hobnob biscuits.  You can find all these items at Cost Plus. They won't cost an arm and a leg and your guests will depart with a sweet British taste in their mouths.
Happy planning! If you host a Royal Wedding Viewing Party please add your photos to our site. I'd love to show it off!
And again, thank you, Catherine, for your fabulous printables and amazing party ideas.