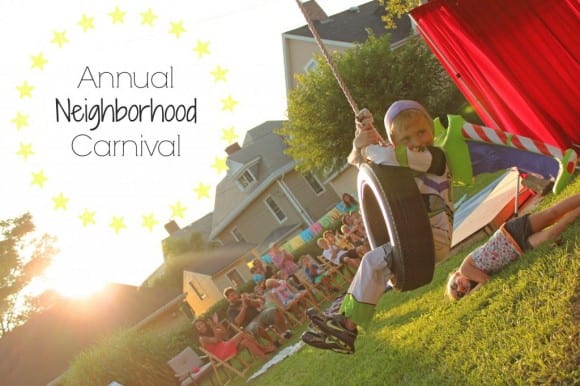 I saw a photo of the amazing carnival the kids in Jenny Dixon's neighborhood put together, and I was so impressed, I asked Jenny, from Craft That Party, to write about it. I  love when neighborhoods come together to do something great (something bigger than its individual parts), and that's definitely what happened here. Here's how Jenny describes it…
As the summer winds down, the children in my neighborhood start practicing their routines for a very special show. The Kids' Circus has been performed in two adjoining backyards for the last four years. To celebrate the 5th anniversary, the kids wanted to make the event bigger and better than ever.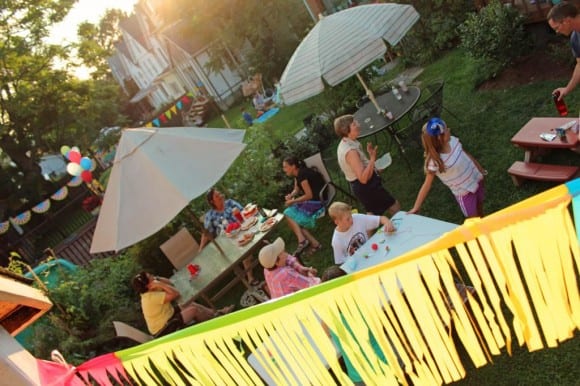 We used four adjoining backyards this year to separate the talent show, food, desserts, and games. Guests were invited to visit each yard to enjoy the various festivities.
The stage was one of our main attractions — the marquee sign with working lights was designed by Shane from Birthday Express just for this event! We covered four wood pallets with two large pieces of wood to create the stage floor and hung red stage curtains over two sets of curtain rods to create the backdrop.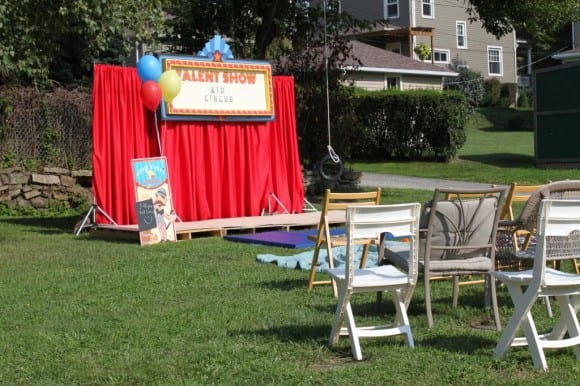 The main show started at 5pm. Guests were asked to move to the main stage. The children had prepared wonderful acts: a fortune teller, lion tamer, fairy dance, gymnastics routines, magic tricks, songs, flying acts (involving a tire swing), bike tricks, and tightrope walking!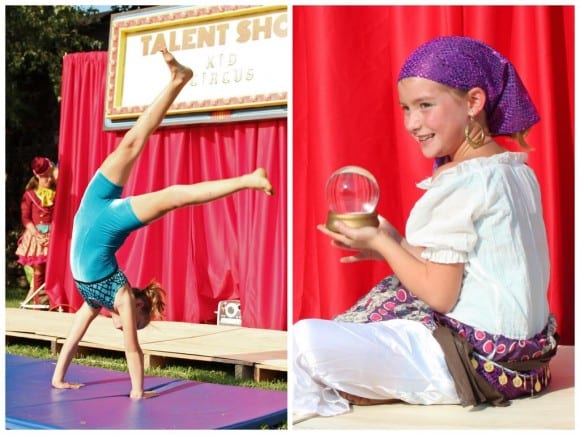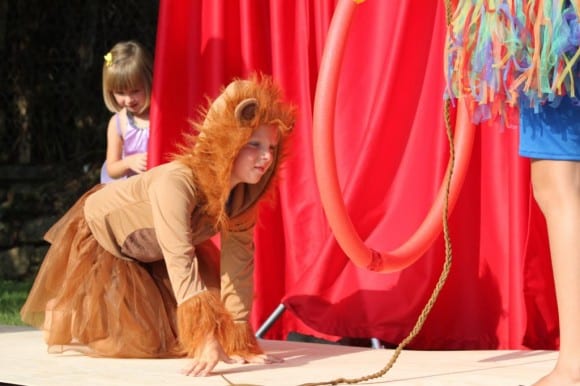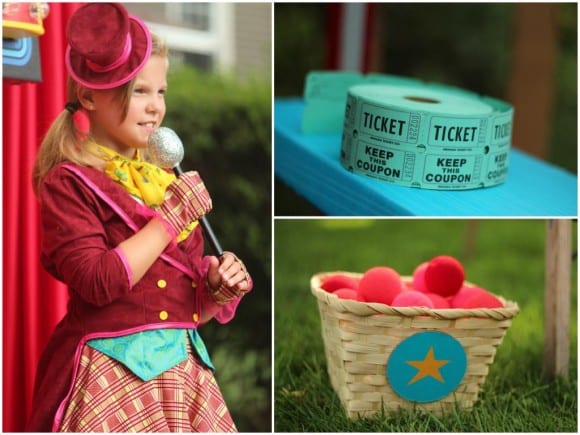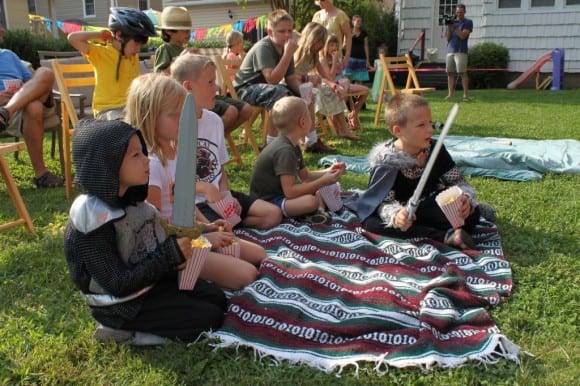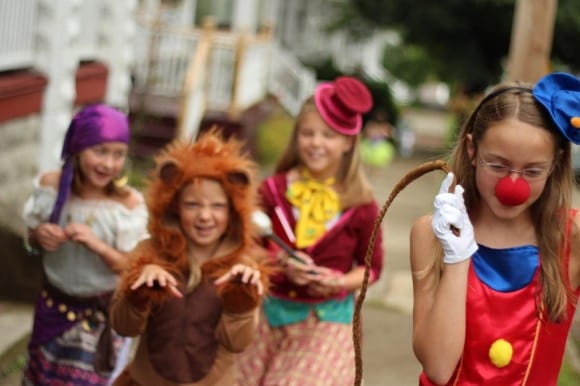 After the show, guests mingled through the backyards to enjoy food, desserts, and carnival games.
The kids enjoyed playing ring toss, duck pond, and clown ball toss. Of course everyone had to get their picture taken with the strong man cut out!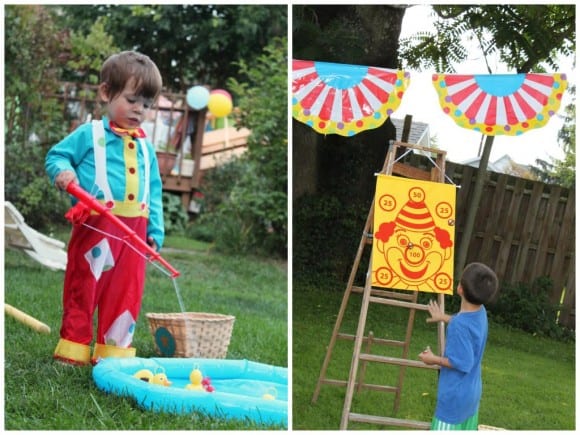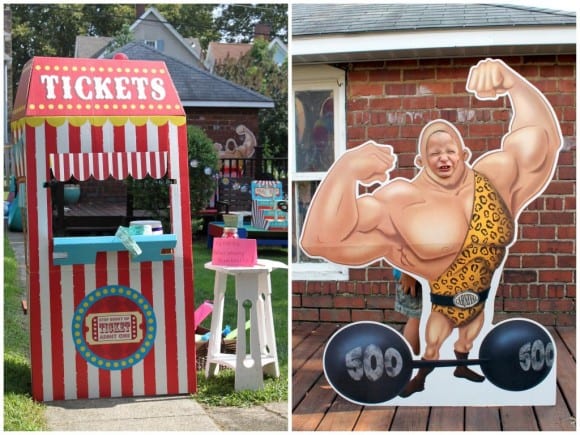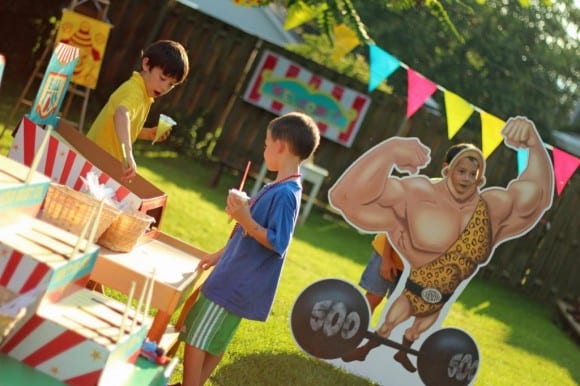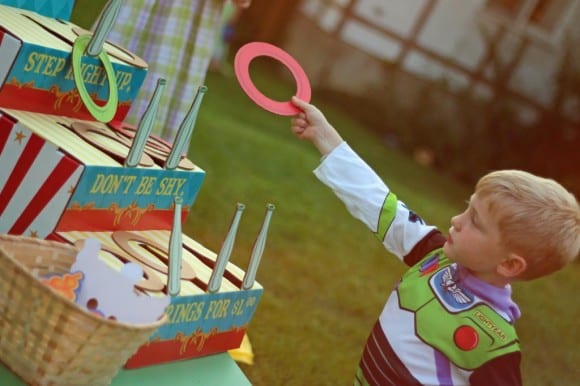 The summer days are short, but the memories made are long and cherished. Seeing our children take ownership of this event, watching their talents grow and blossom each year, and witnessing our neighborhood open their hearts and yards to each other is what community (and summer) is all about.
With the help of Birthday Express and costumes from Costume Express, the kids put on the best show in town!
To learn more about Jenny and read all about her DIY adventures, please visit her her blog, Craft That Party, and on Etsy, Facebook, and Pinterest.
Photo Credits: Allison Duda of A Joy Photography & Jenny Dixon of Craft That Party