Check out these 16 fantastic tips to help you plan a virtual Christmas with your loved ones.
Don't let this year's Christmas stop you from spending the holidays with the people that matter most to you!
We may not be able to do it in person, but with the help of technology, we still get the chance to be together virtually.
How lucky are we to have that ability through our devices, with just a couple of clicks?! It never ceases to amaze me!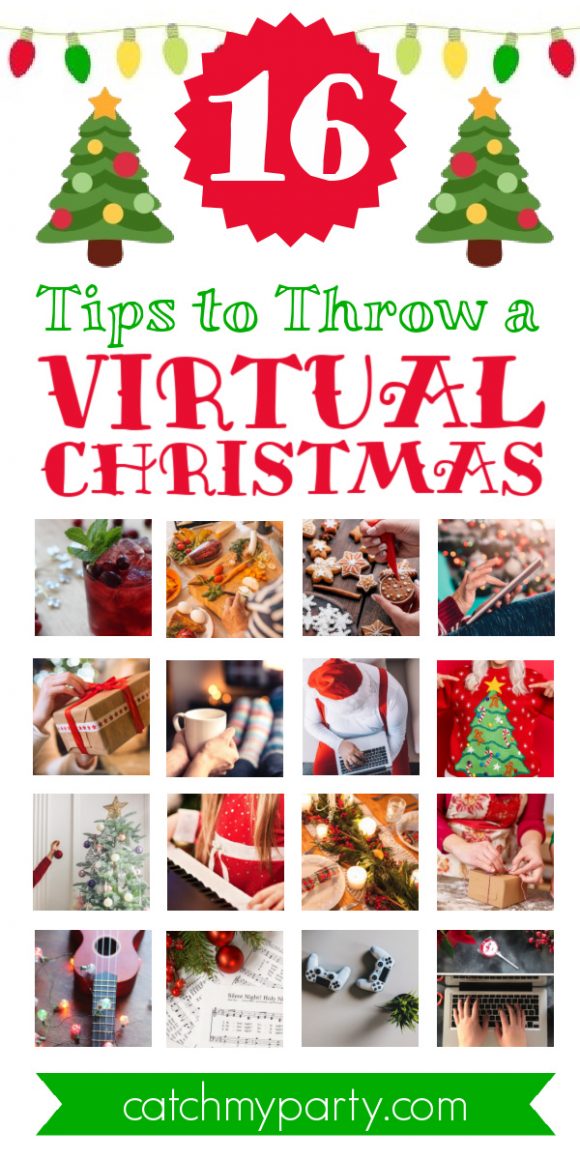 How to Throw a Virtual Christmas!
Things may be different this year, but that doesn't mean that with correct health and safety measures, we can't celebrate Christmas with a few select loved ones.
Who knows, you may actually be creating new family Christmas traditions?!
If you are planning to celebrate Christmas in person, here are some tips for throwing a socially distanced Christmas, and here are some virtual Christmas party supplies to make your celebration safe and enjoyable. But let's get into the virtual Christmas celebration tips…
1: Have Christmas on Zoom or Another Virtual Platform
Christmas is going to be tough for many this year with us not being able to be physically together like we do traditional.
Don't let that stop you from sharing your holiday festivities with family and friends on Zoom or any other virtual party platform (like Google Hangouts, FaceTime, or Facebook Video Messenger).
Set up a place at the table for your laptop, tablet, or phone so you can all share your meal together.
You'll need a master of ceremonies who will set the agenda, and someone else to assist with all the tech.
Decorate your Christmas party with our FREE Christmas printables. We have a bunch you can choose from.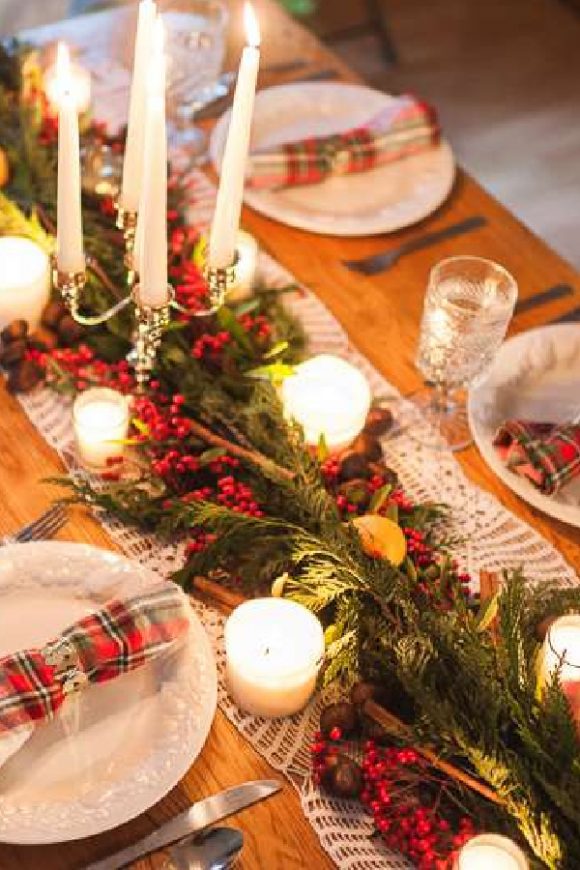 2: Make Your Christmas Meal Together Online
Cooking together and hanging out in the kitchen with a glass of wine for a chat and a laugh is a tradition that shouldn't be lost this year.
Thanks to technology, we can still share these heartwarming moments. Grab a laptop, tablet, or phone and get together online with Zoom, FaceTime, Google Hangouts, or Facebook Video Messenger.
Create and share a menu in advance so you can all cook together like you would do normally, but in true 2020 fashion!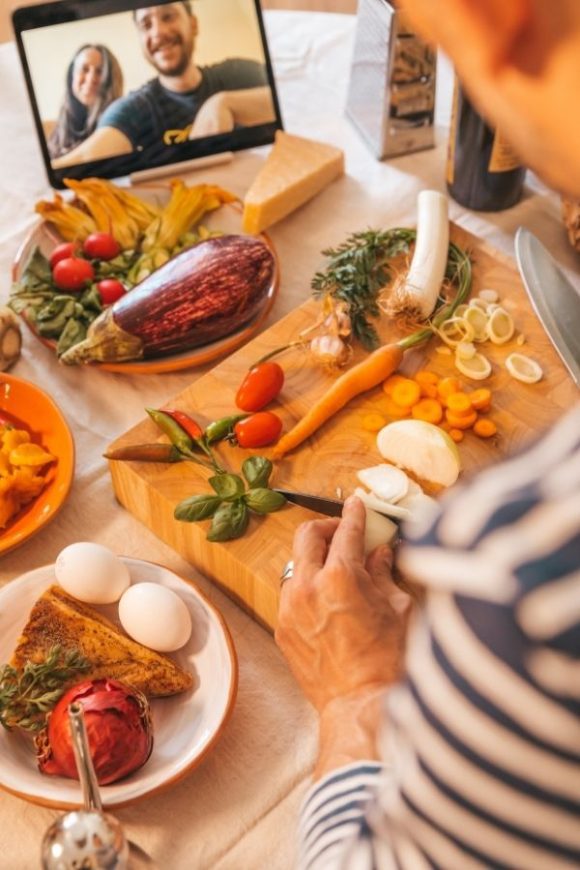 3: Host a Virtual Cookie Decoration Party
Put all those baking talents you acquired during lockdown to good use, and host a virtual cookie decorating or gingerbread house decorating party.
If you and your family or friends aren't bonafide bakers, you could also send out some Christmas Cookie Decorating Kits to get everyone started. The kits come with cookies, piping bags, and a bag of sprinkles.
It's a great activity for kids to do together virtually around Christmas.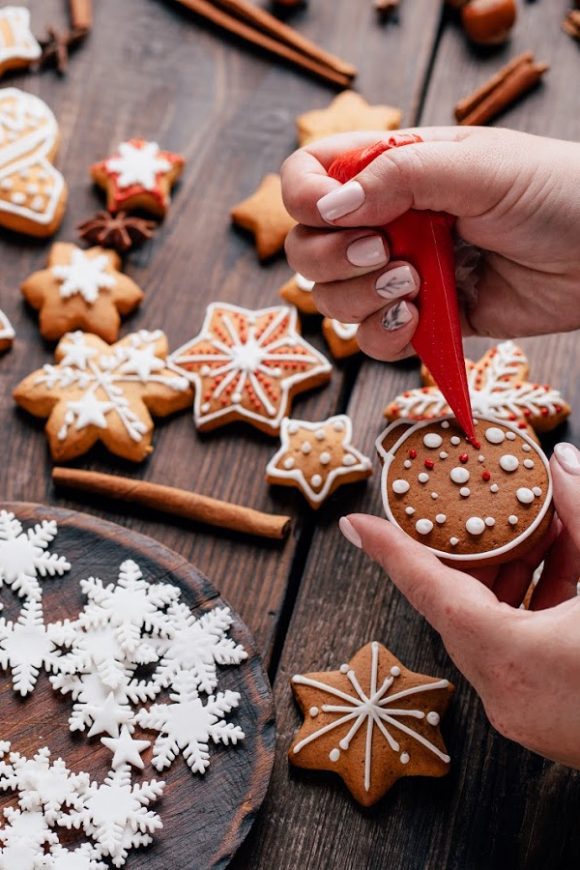 4: Open your Gifts Together Online
Part of the Christmas fun is being able to share the experience of opening gifts together.
This year, you can still do it but with a twist. Set up your virtual platform online and watch everyone's priceless reactions as they open up their magical Christmas gifts.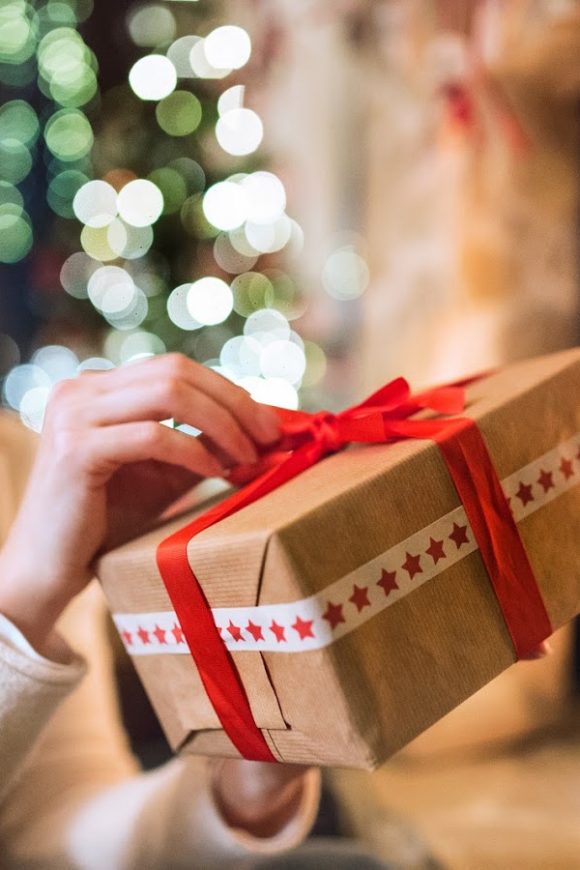 5: Host a Christmas Cocktail Party
Christmas cocktails are a great way to kick off a fab time!
Get together online with your family and friends and host a Christmas cocktail party.
We have a bunch of cocktail recipes on CatchMyParty.com you can share with everyone in advance, so they have everything they need at hand.
Now all people have to do is get mixing and celebrating!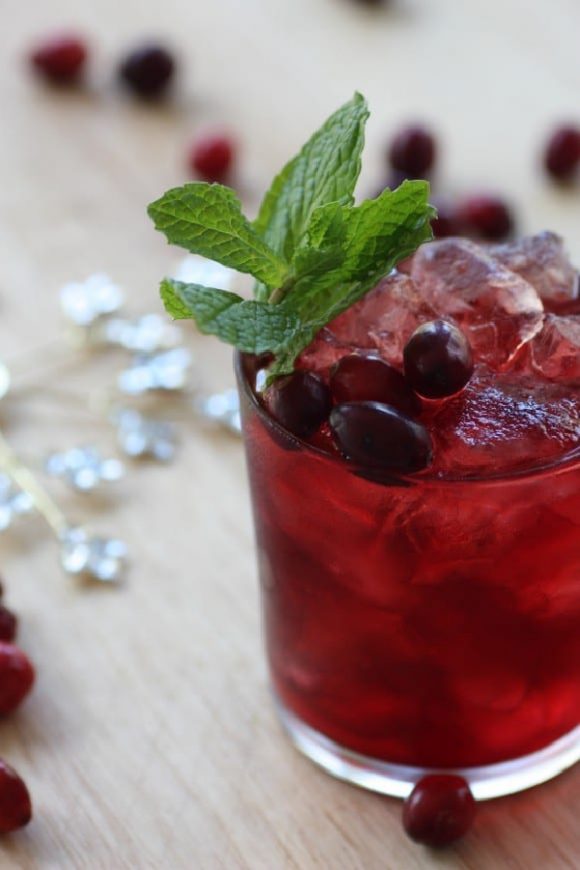 6: Get Dressed up in Fun Christmas Sweaters or Apparel
Dress up this Christmas with a tacky Christmas sweater or other accessories such as a hat or headband.
It's a fun way to get everyone in the Christmas mood and all look ridiculous together!
You could even have a virtual competition to choose who's the best dressed this Christmas.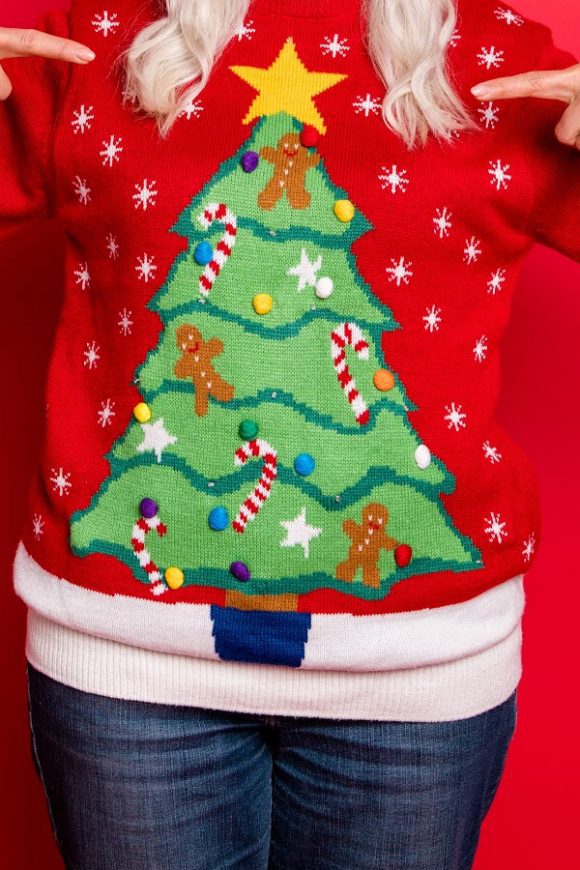 7: Have Kids Show Off Their Talents Online
Make this Christmas about the kids, and have them play an active part in your virtual Christmas.
There's no better audience for a talent show than friends and family, where the kids can show off their abilities, such as singing, playing an instrument, the latest TikTok dance, or even a joke.
As long as they get up and shine, that's all that matters really. It's a wonderful heartwarming activity that you can all share together.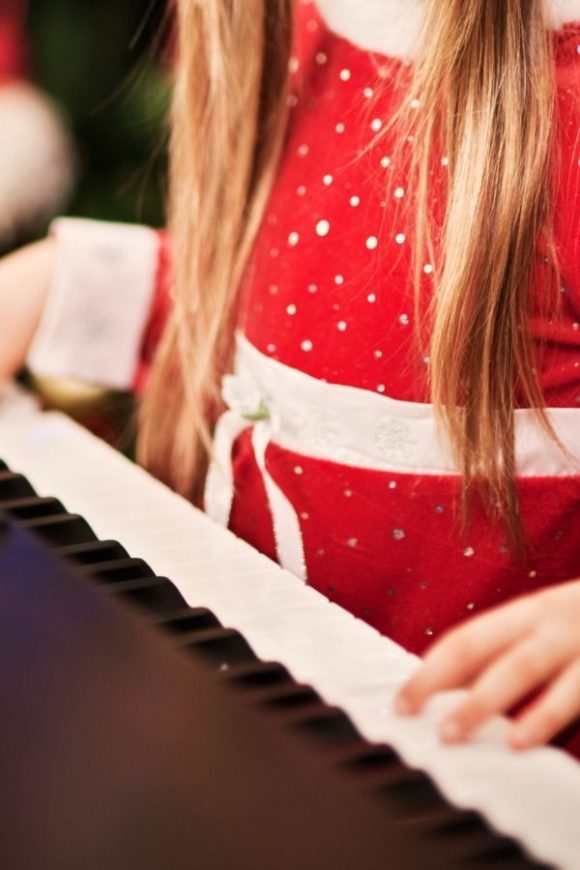 8: Play Online Games
If you looking for ideas for a fun activity you can all do together this Christmas, look no further.
Get together online with family and friends over Christmas for the ultimate online gaming championship!
There are so many fantastic choices: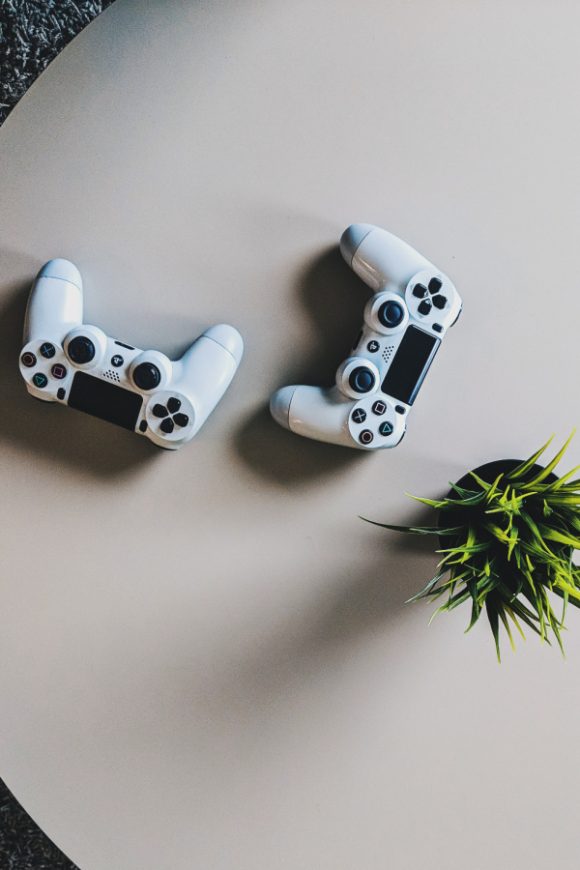 9: Do some Online Caroling
Christmas caroling is such a magical experience and a wonderful activity to share with your loved ones this holiday season.
Work on a list of carols or favorite Christmas songs, and send everyone a file with the lyrics.
Get everyone to practice, and on the big day, everyone can sing along.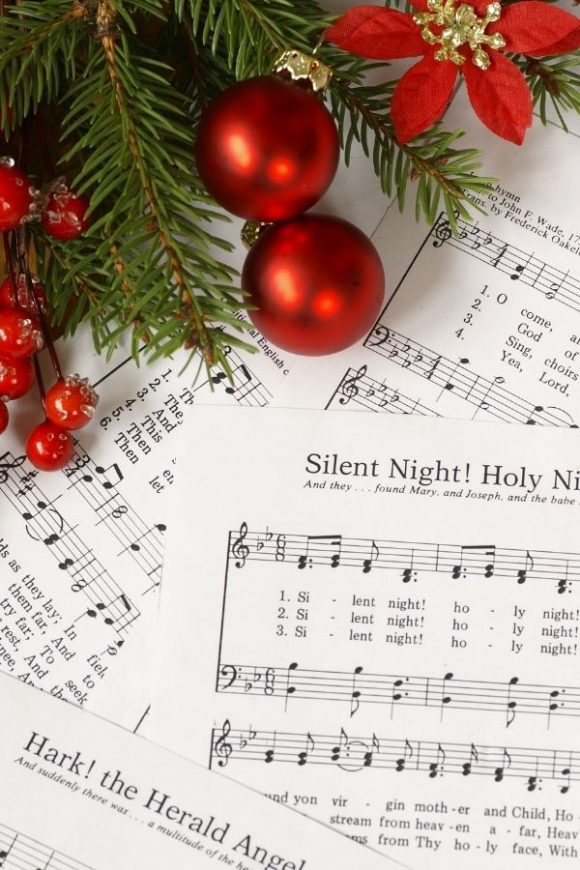 10: Set up a Virtual Surprise Guest Appearance from Santa
Kids are going to love this Christmas surprise!
Get a family member or a friend to dress up as Santa, and have him or her chat with the kids through a virtual platform.
It's all about making memories and ones like these, stay for life!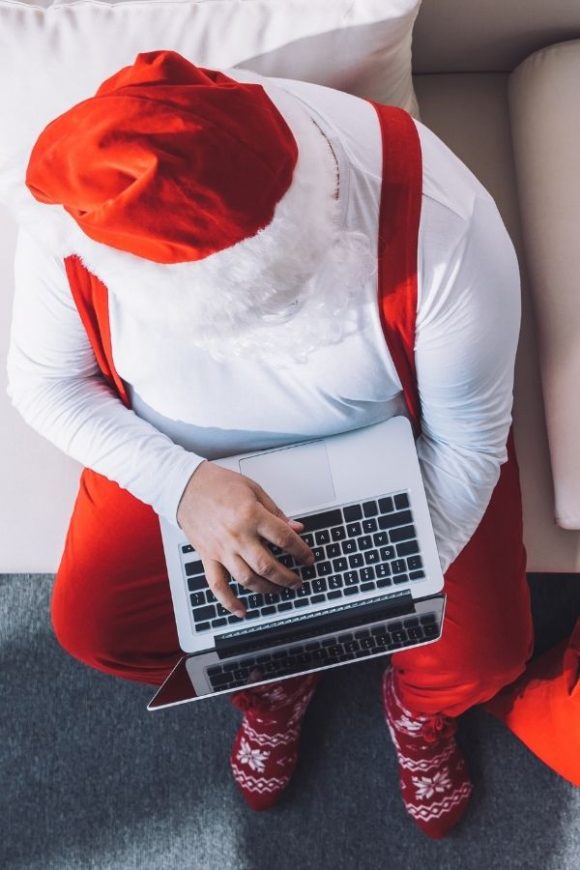 11: Throw a Christmas Tree Decorating Party
Decorating the Christmas tree is such a joy, especially for children.
How about this year making the most of virtual platforms, and have a Christmas rree decorating party?
It's especially heartwarming for vulnerable grandparents who can share the magical moment, even though they can't be there in person.
Check out these beautiful Christmas tree decorations.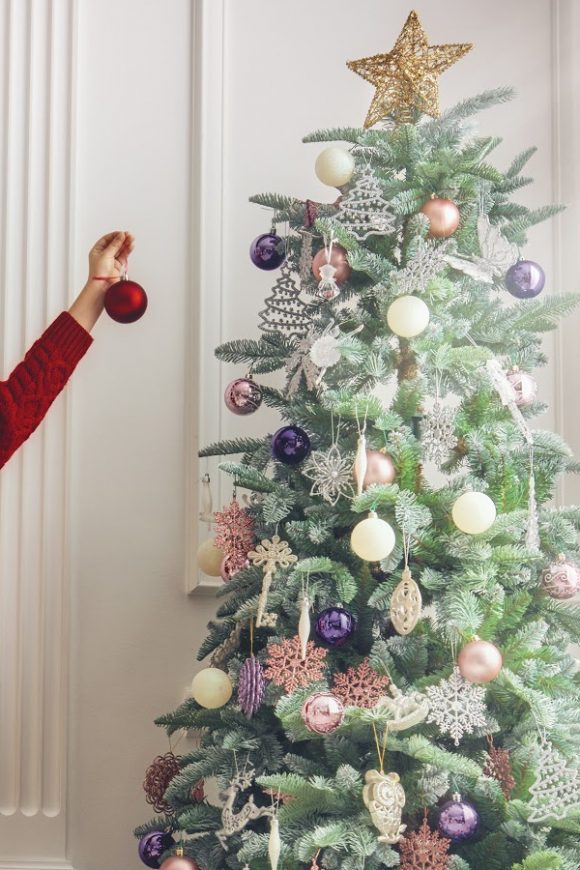 12: Create and Share a Holiday Music Playlist
Christmas music is so uplifting, which is exactly what we need this year.
Create a playlist on Spotify with your favorite Christmas songs, and share it with your family and friends so you can all feel a little closer during the holidays.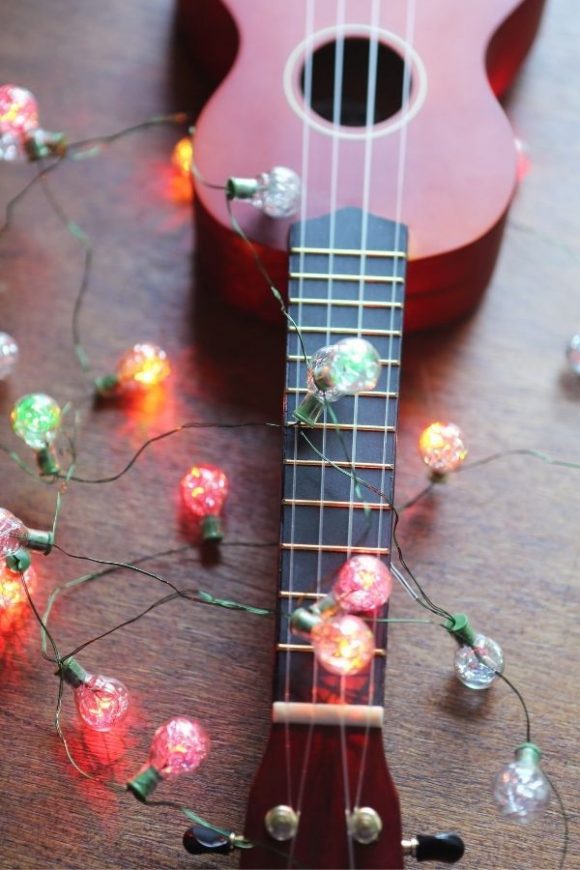 13: Watch a Virtual Christmas Movie Together
Christmas movies are a must over the holidays.
There's nothing better than curling up on the couch and watching a cheerful Christmas movie, be it a classic like It's a Wonderful Life or Home Alone, or the brand new movie Jingle Jangle on Nexflix!
Check out this list of the best Christmas movies to watch over the holidays if you're stuck.
Don't let this Christmas stop you from sharing this moment with family and friends.
Host a virtual Christmas movie night where you all stream the same movie, at the same time, while chatting.
You can use Chrome extensions, Netflix Party if you want to watch a movie on Netflix, or Vemos, which works with Netflix, Disney+, Hulu, YouTube, and Prime Video!
Plus, decorate your movie night with our free Movie Night Party Printables.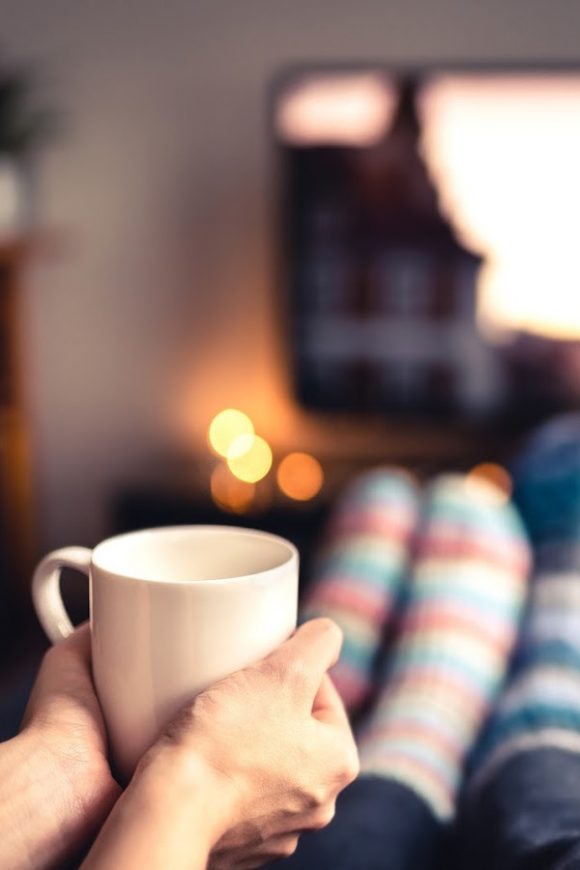 14: Create a Heartwarming Slideshow Online
Let your family know just how much you miss and cherish them this Christmas, by putting together a family slideshow that everyone can play at home.
You can share old Christmas photos and memories and who knows, you may have just created a new Christmas tradition!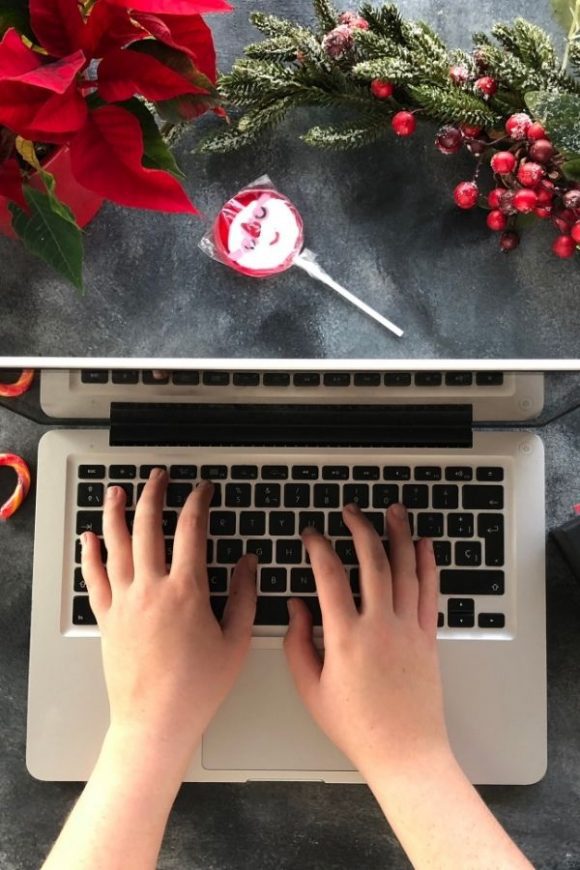 15: Send Your Family Some Christmas Love
If you want to keep it simple just record a lovely video message and send it to your loved ones instead.
Nothing is more special!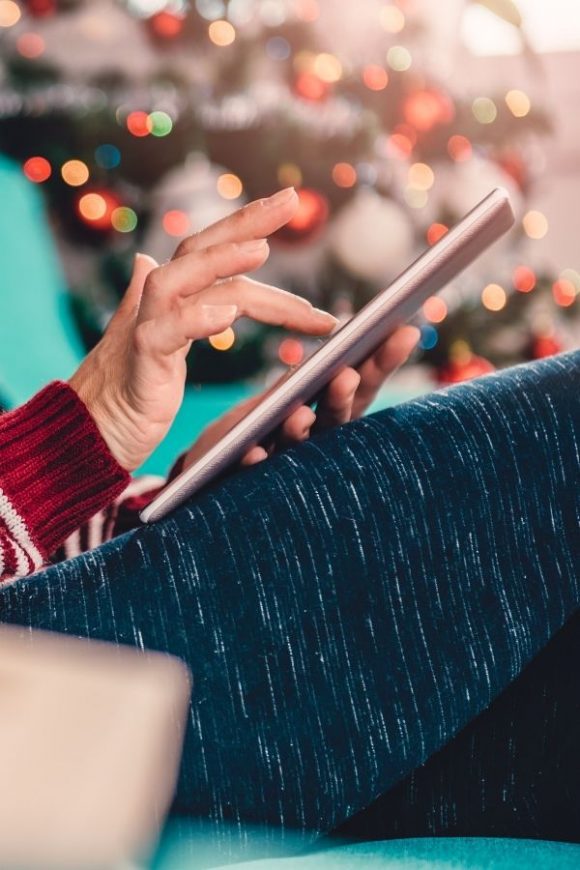 16: Treat Everyone to Christmas Cookies or Treats
If you're a nifty baker, then how about making some delicious cookies or baking something special and having it delivered to your loved ones?
Pack them in pretty boxes or jars and show everyone just how much you care.

We wish everyone a safe and Merry Christmas! Although times are strange, we can still celebrate together, even virtually, and share our deep connections and love. We need that now more than ever!
For more inspiration, check out all these stunning Christmas party ideas on our site, and check out these Christmas party supplies from vendors with listings on Catch My Party!
MORE VIRTUAL POSTS YOU'LL LIKE:
Need more ideas?
Photo of Playstation by Lweendo Hachileka on Unsplash