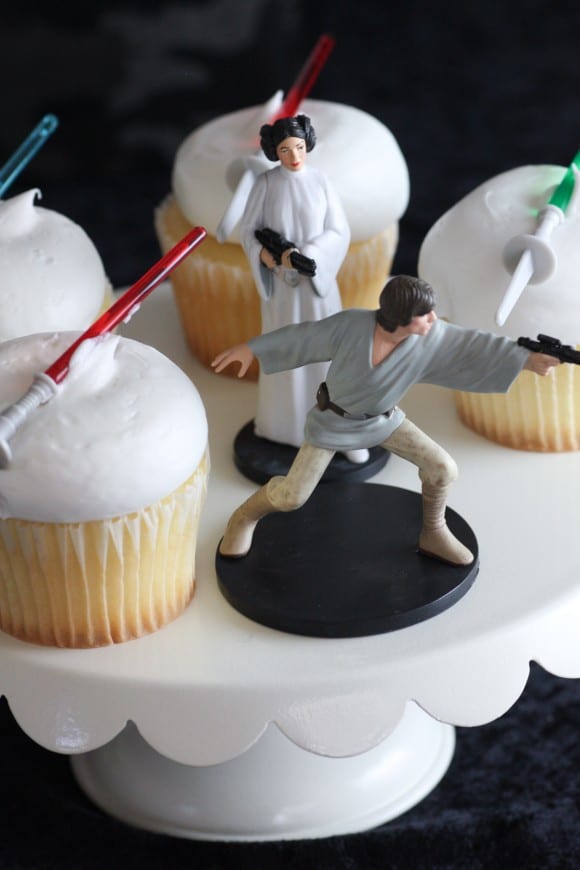 Star Wars is huge in my house. When the two teasers came out for the new movie, The Force Awakens, my husband and daughter rushed to watch them, and watched them over and over again.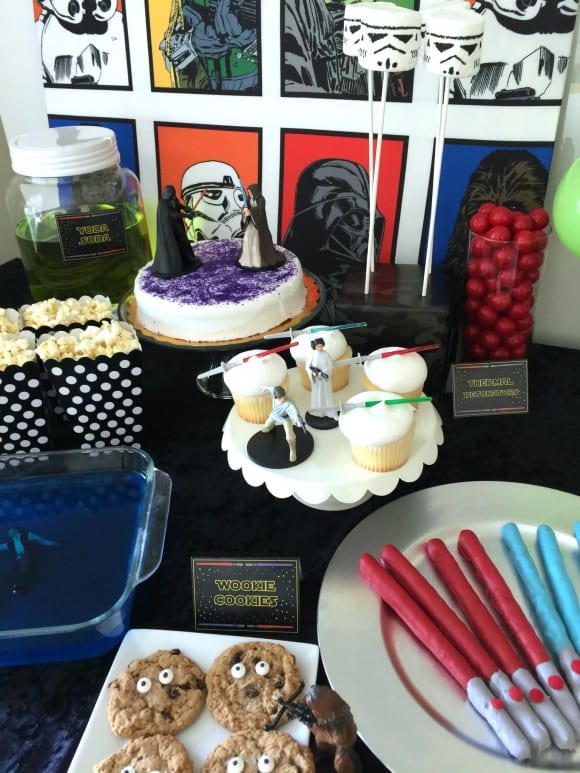 So when Disney asked me to come up with a few ideas for throwing an easy Star Wars party, I was delighted. I didn't have a lot of time to plan, and I wanted to keep my budget small, so here's how I did it… And I think it turned out great.
First, I went to Amazon and I bought these things to decorate (I put in affiliate links, but I promise, they won't cost you anything):

Next, I went to the grocery store, and here's what I bought:
Plain white cupcakes
A plain white cake
Oatmeal raisin cookies
Pretzel rods
Black candy melts
White candy melts
Microwave popcorn
Red hots
Blue Jello
Gatorade
I had a piece of black velvety fabric, so I used it as my tablecloth, and I taped my Star Wars curtains (I only used one) to two foam core boards to make my dessert table backdrop. I loved how it turned out and it was so simple to do.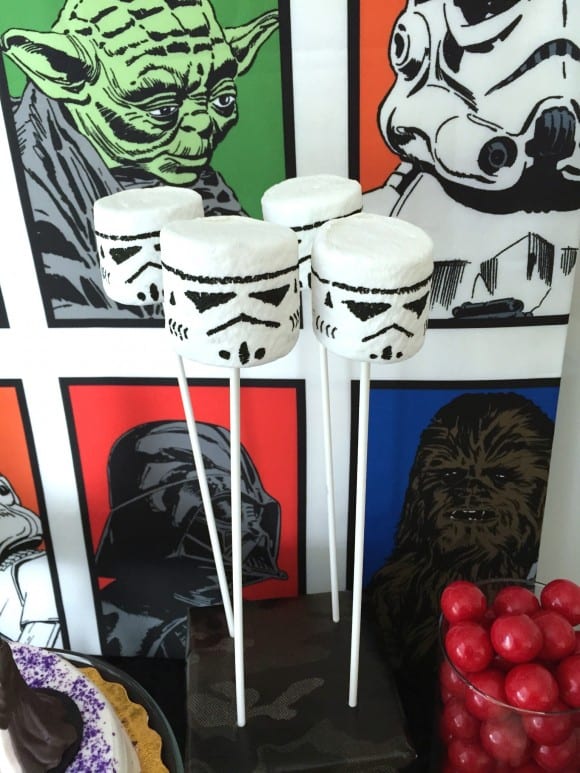 For my cupcakes, I added the light saber cupcake picks and my two favorite characters.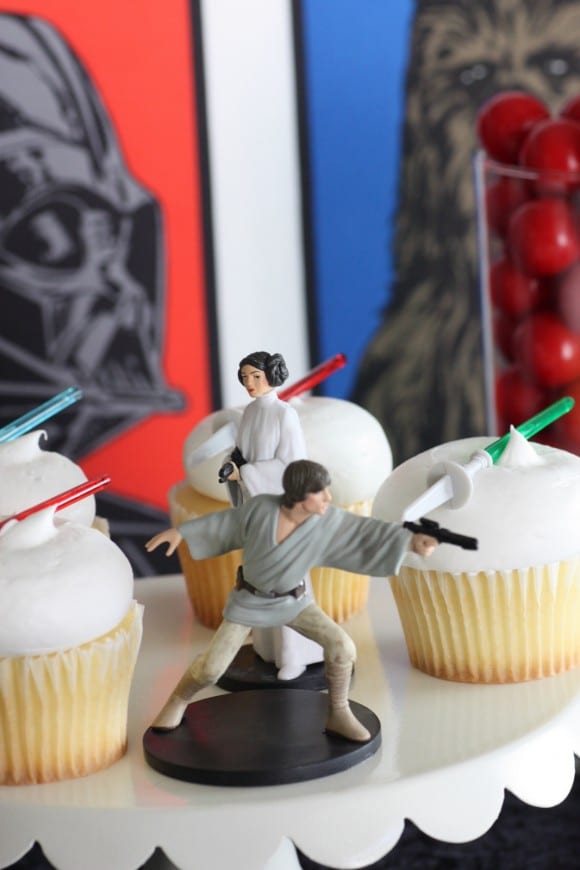 I made these Stormtrooper marshmallows using jumbo marshmallows and my black food writer. To learn how I did them, check out my marshmallow Stormtrooper video. I stuck them into a piece of styrofoam I covered with black wrapping paper.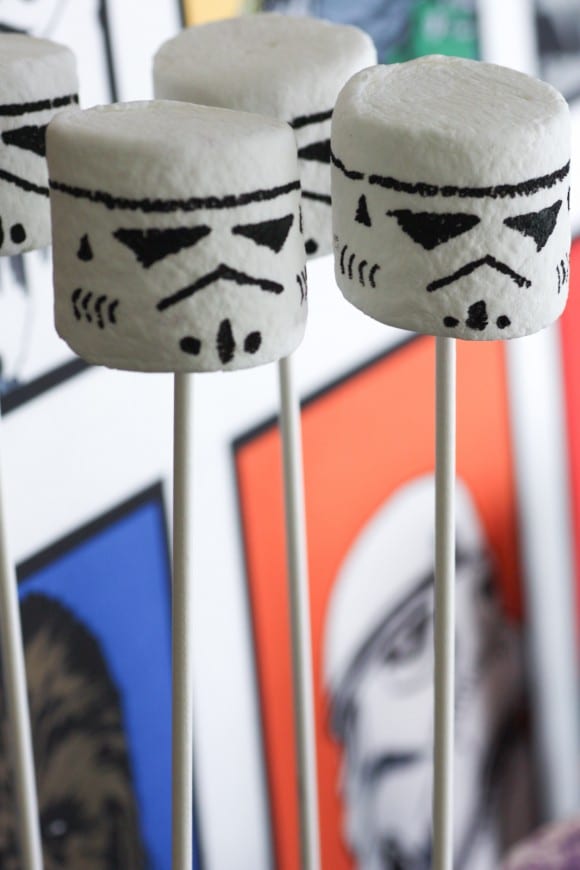 For the cake, I sprinkled the top with purple edible glitter, then set up my battle scene.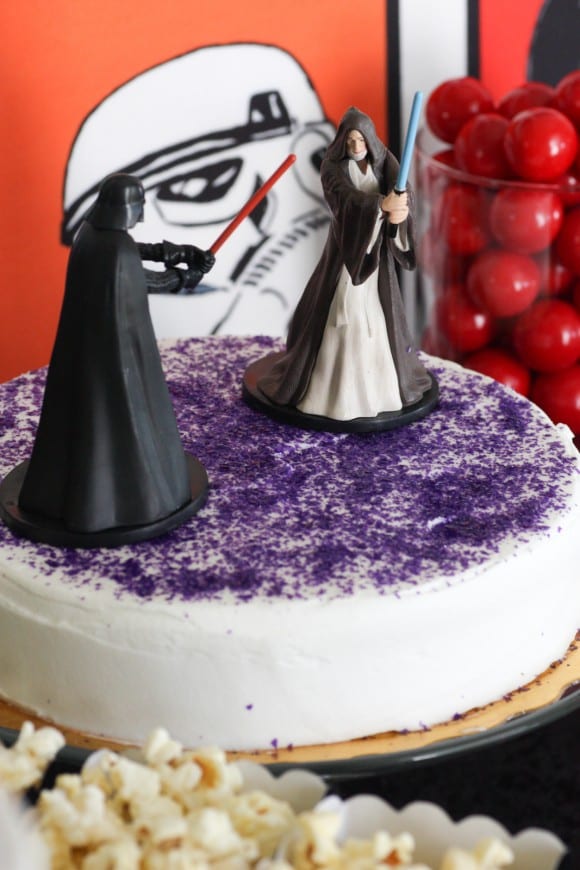 I put Hans Solo in Jello to show him being trapped in Carbonite. Everyone who saw this, loved it.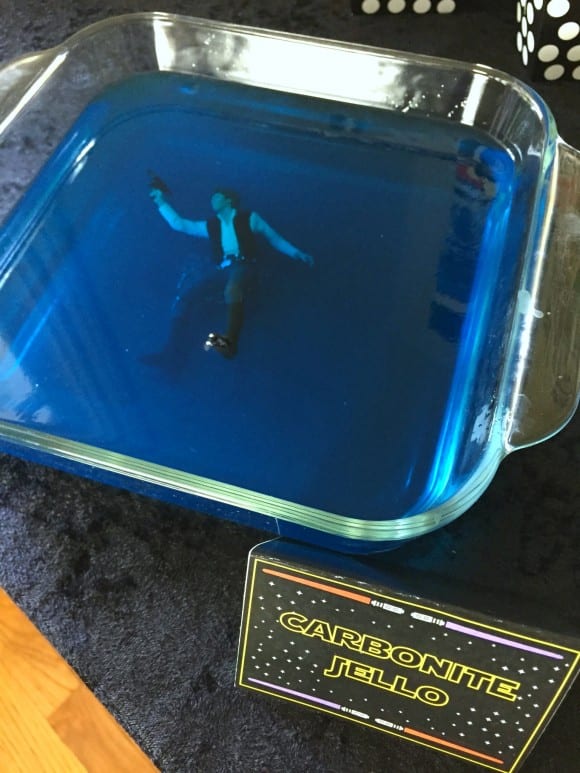 For my lightsaber pretzels, I dipped one side of the pretzel rods in blue and red candy melts, then mixed black and white candy melts together, to make grey, and dipped the other sides in it. Then I affixed red hots for the switch.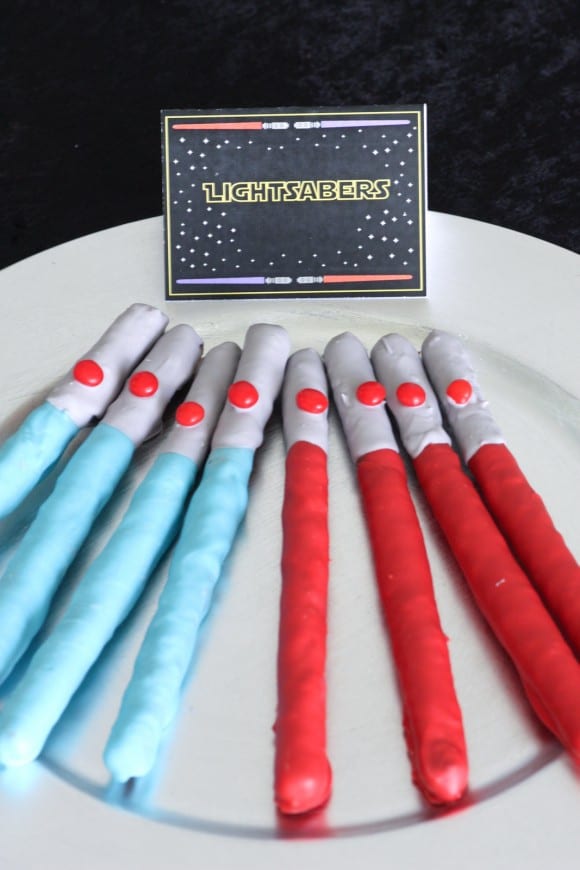 I added candy eyes to oatmeal raisin cookies to turn them into Wookie Cookies.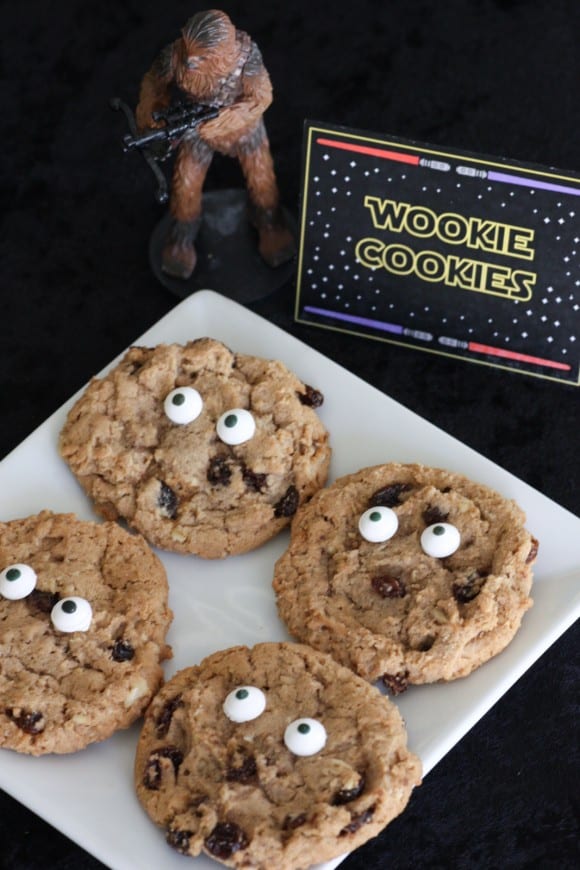 I put red gumballs in a clear vase and called them Thermal Detonators.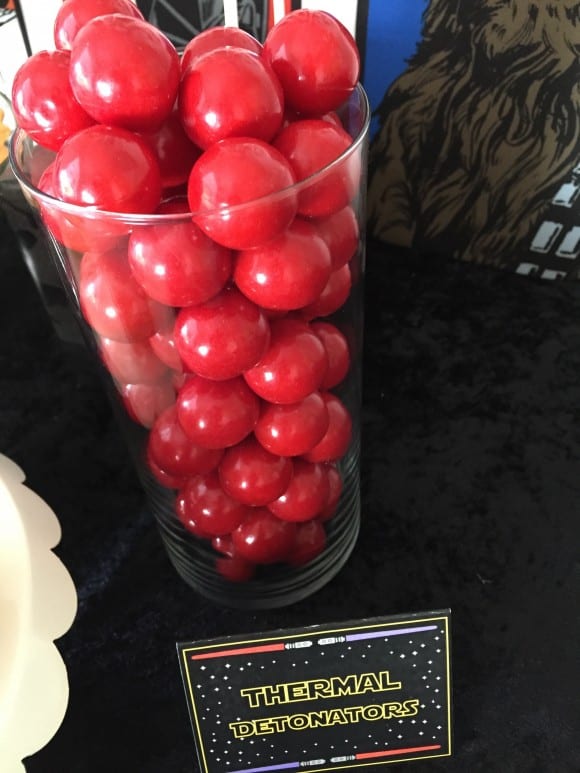 Green Gatorade became Yoda Soda.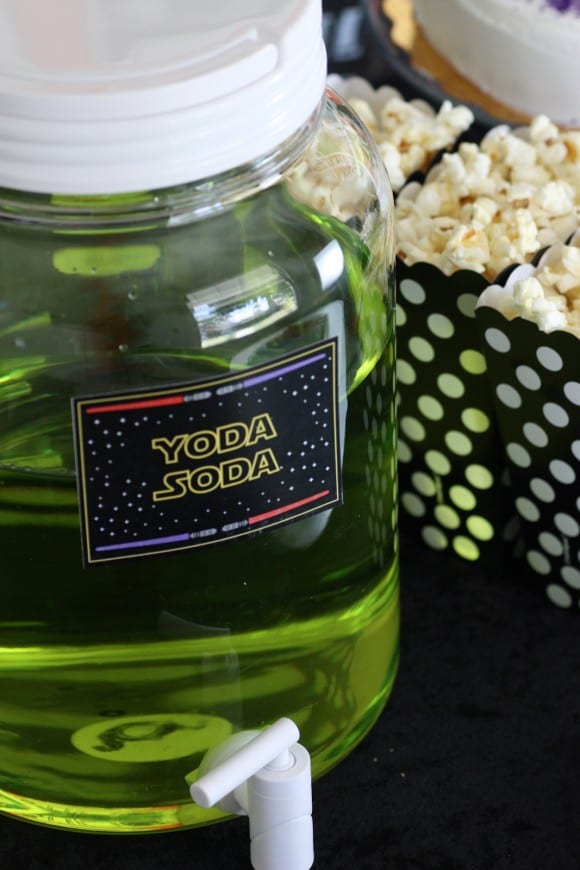 And for party favors, I took bubble wands, painted the handles silver, then I cut little circles out of red tape and added them to the handles.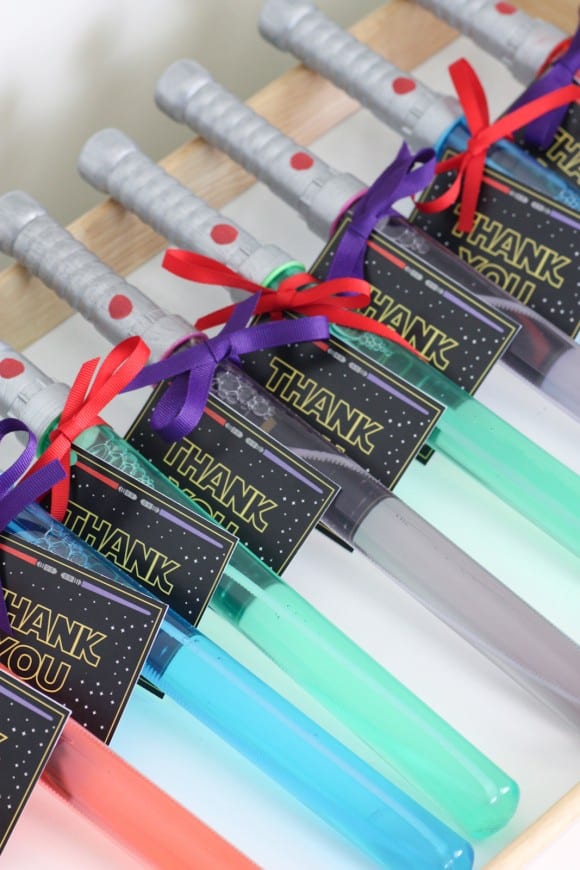 I loved displaying them in front of my cool wall decal.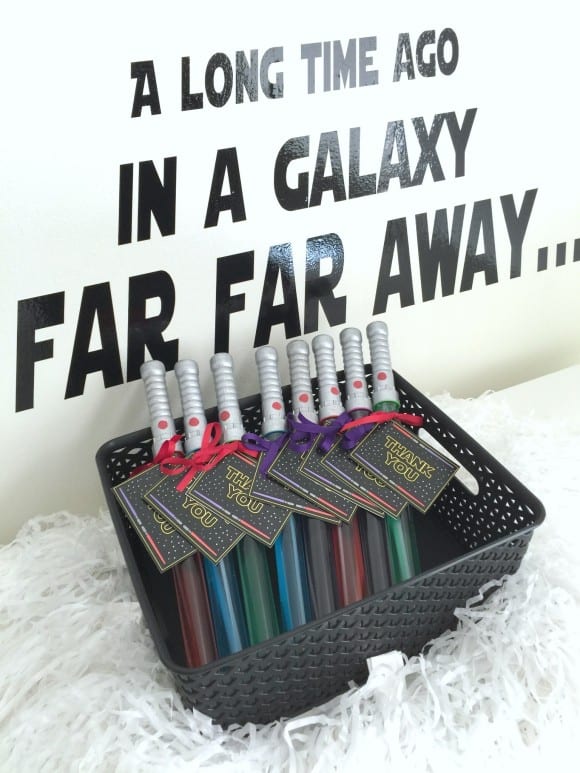 Because I wanted to add a touch of salty to all my sweets, I put out black popcorn boxes and filled them with popcorn. Star Wars is a movie, isn't it. 🙂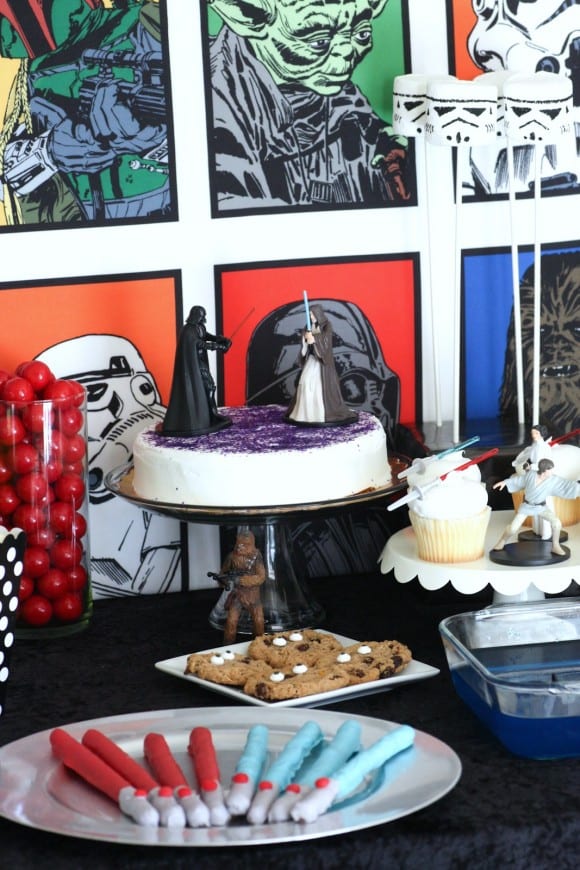 Here are the Star Wars free printables Michelle at Printabelle designed for me. There's a welcome sign, invitations, themed food cards, thank you cards, and cupcake toppers.
Please use them for your parties too!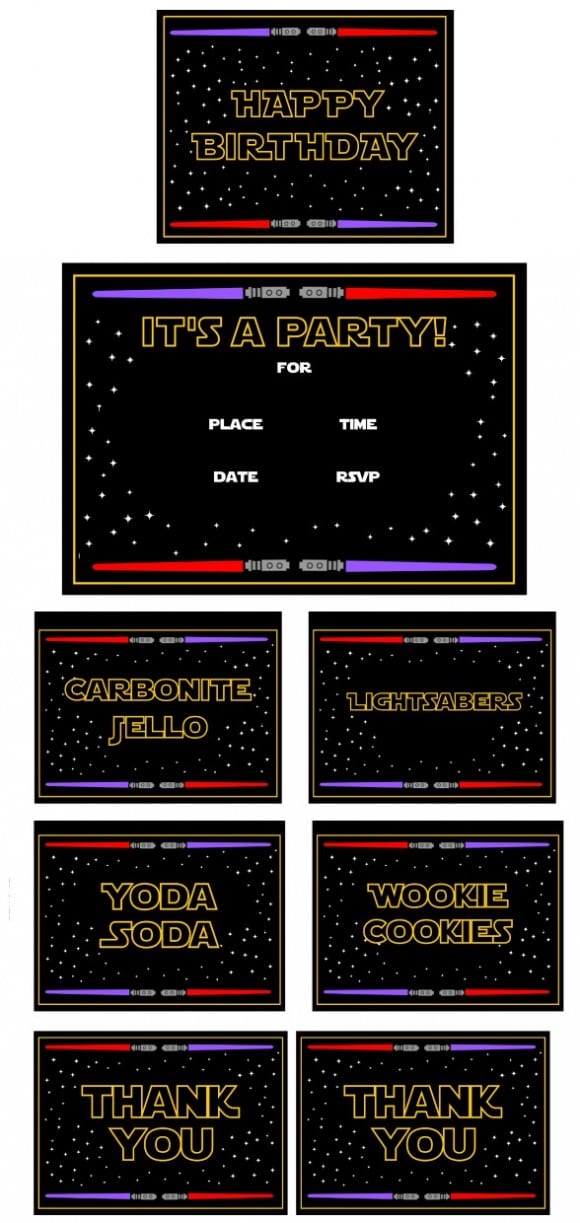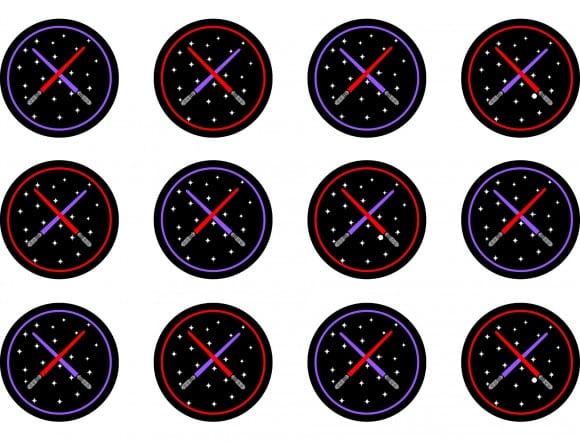 And if you throw a Star Wars party, please add it to our site, so I can see what you do.
For more inspiration, check out these awesome Star Wars parties from our site, and this helpful blog post filled with other great Star Wars party ideas.