Unicorns are without a doubt the biggest trend around at the moment!
Everywhere you look someone is throwing a unicorn party, be it a birthday or a baby shower.
To help you plan yours, we've rounded up the most magical unicorn party invitations we could find!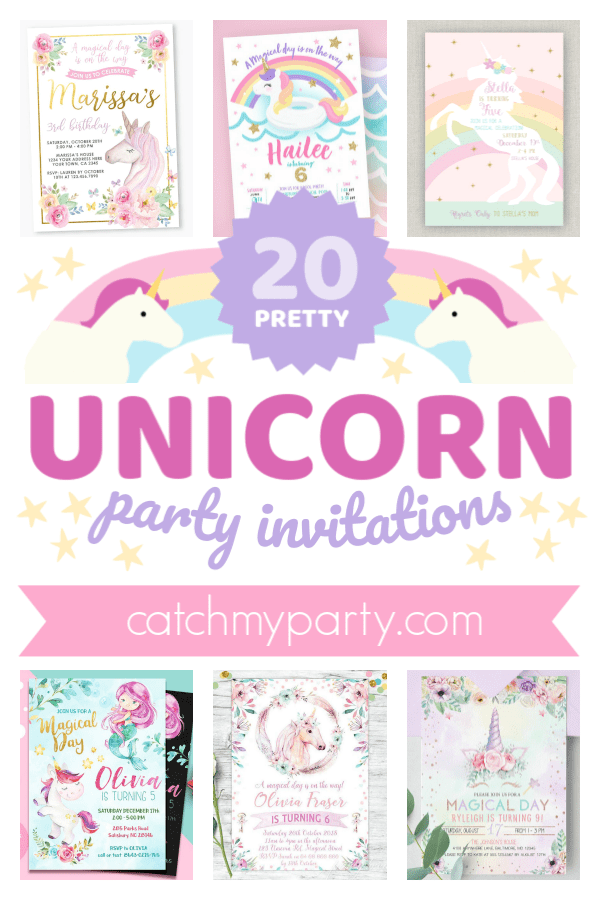 We've found stunning variations of unicorn party invitations such as for a 1st birthday party, a boho unicorn party, a rainbow unicorn party invitation, and so many more…
Scroll down to go through them all!
Look at These Wonderful Unicorn Party Invitations!
To start off our list of wonderful unicorn party invitations we have a dreamy unicorn 1st birthday one.
Everything about it is so cute, from the colorful unicorn, to the rainbow backdrop and the stars and white fluffy clouds decorating the invitation.

So many of the invitations out there are of a pretty unicorn horn and flattering eyes.
There are so many variations of this typical unicorn invitation that it can be hard to hard the perfect one.
Hopefully, you'll love this floral one just as much as we did! It has such a magical touch to it. It must be that magic wand!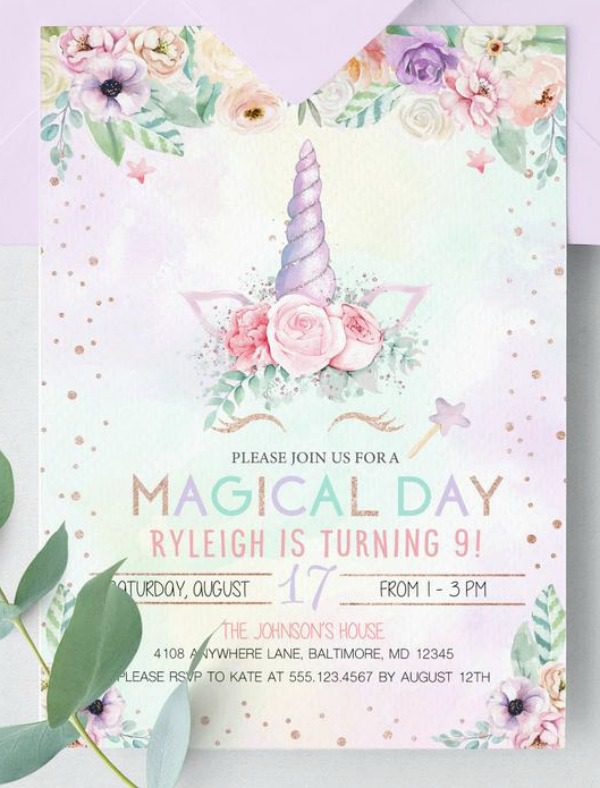 If you're planning a unicorn garden party, then we have a gorgeous invitation that will make your heart skip a beat.
Not only is it decorated with lots of pretty flowers and some stylish calligraphy, as it also has a sparkly unicorn that gives this invitation some dazzle and makes it stand out from all the others out there!
This next unicorn invitation is so delicate and girly!
With gold lettering, lots of wonderful butterflies, flowers, and a beautifully illustrated unicorn, this invitation will have your guests R.S.V.P-ing the second they set eyes on it!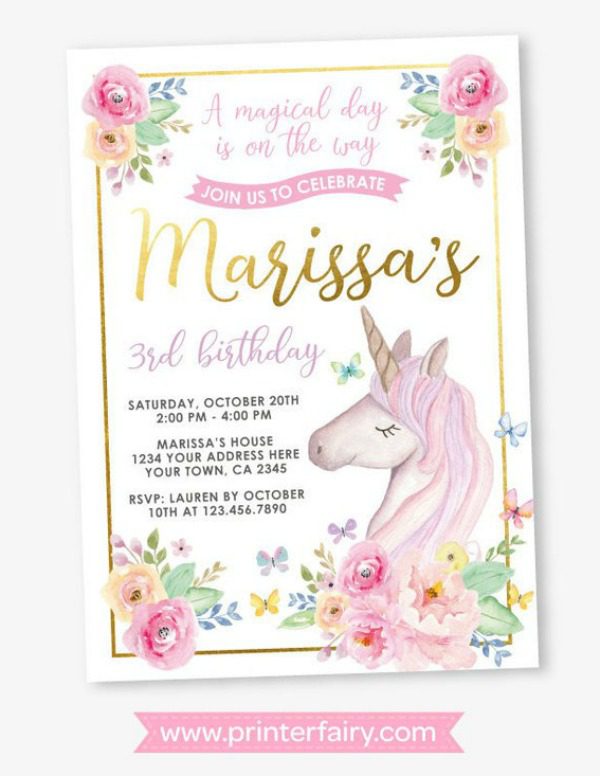 This unicorn invitation is another fabulous choice.
Your guests will fall under its spell as soon as they take it out of the envelope.
The watercolor unicorns are so beautifully illustrated that it's hard not to fall in love with it!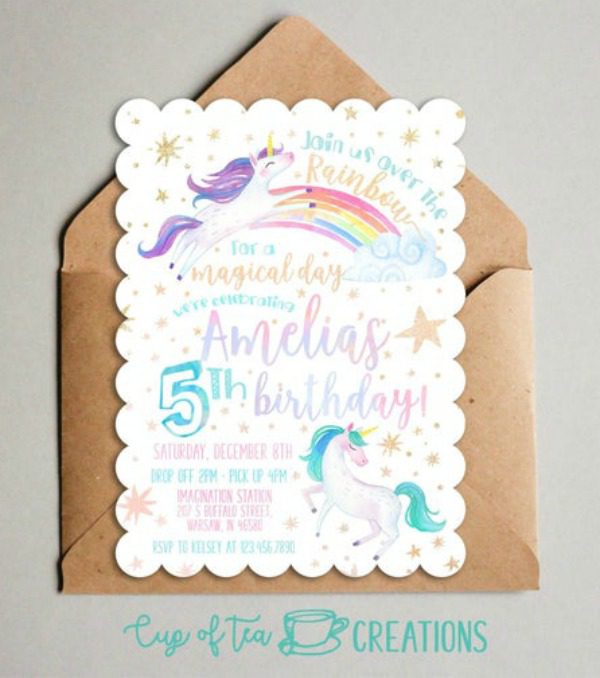 What could be more magical than a world full of unicorns and fairies?
Enter this enchanting place with the help of this delightful fairy and unicorn party invitation, which is beautifully illustrated and so colorful!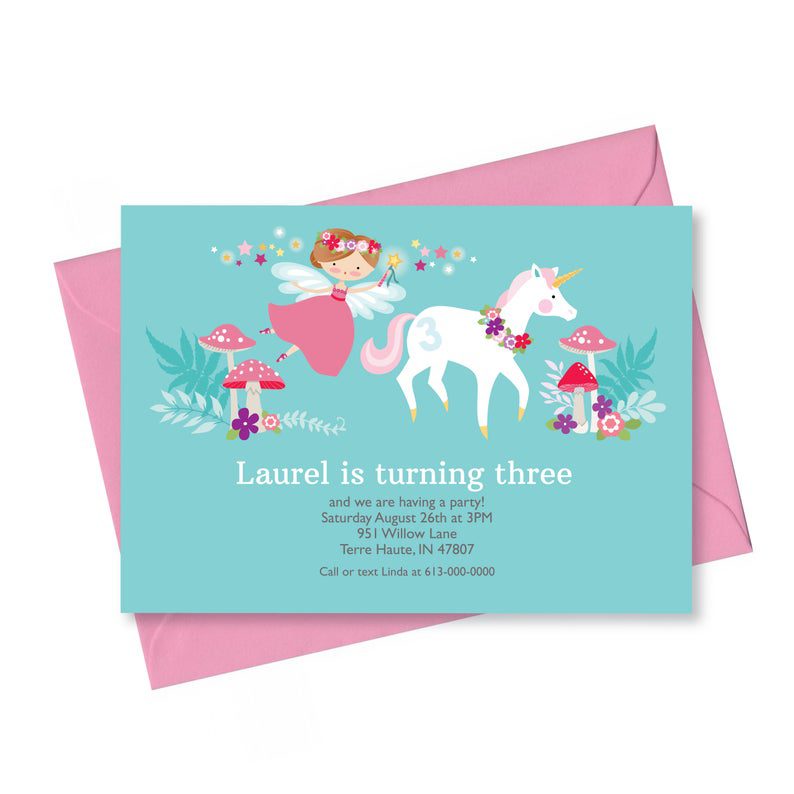 Another ever so popular party theme among girls are mermaid parties, so how about celebrating a birthday with both?!
This mermaid and unicorn party invitation joins the best of both worlds and is totally on trend!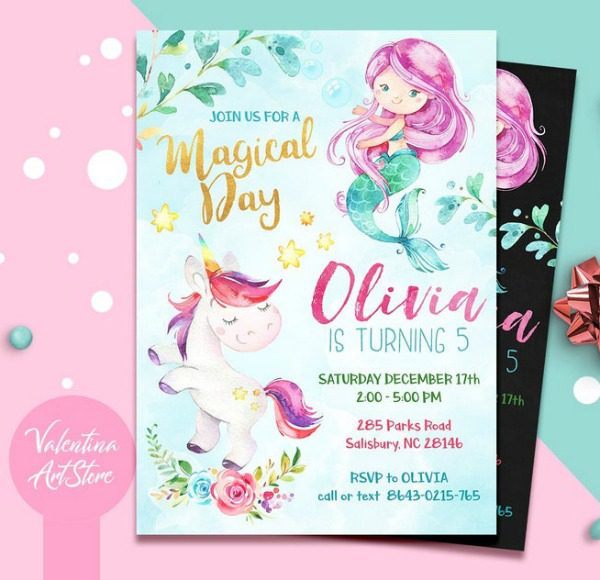 If your unicorn party is over the summer then what a great excuse to throw a pool party!
Your guests will be grabbing their bikinis and flipflop instantly once they've had a peek at this fantastic unicorn pool party invitation.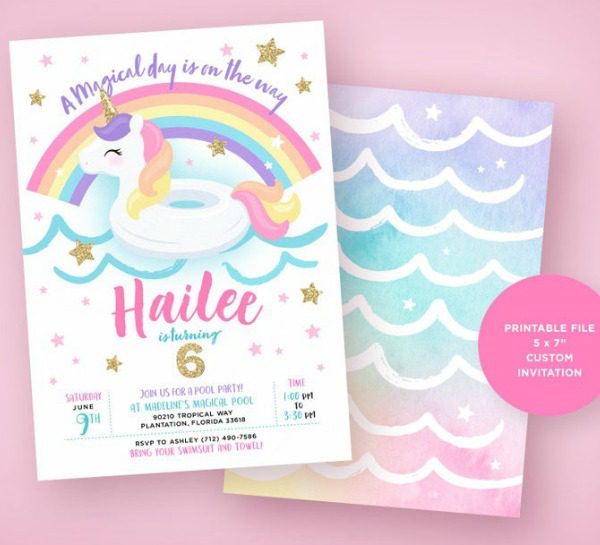 Narwhal's are the unicorns of the sea, so how about going for a different sort of unicorn party and making it a narwhal one instead?
Everything about this invitation is so cute! You've got to love the adorable face on the narwhal.

Another fab summer unicorn party theme would have to be an ice cream one!
This ice cream unicorn invitation is so irresistibly mouthwatering. Have you ever seen a more scrumptious ice cream?!

If your daughter has a sweet tooth then this donut unicorn party invitation may be just what you are looking for.
Who can resist a donut and a unicorn?!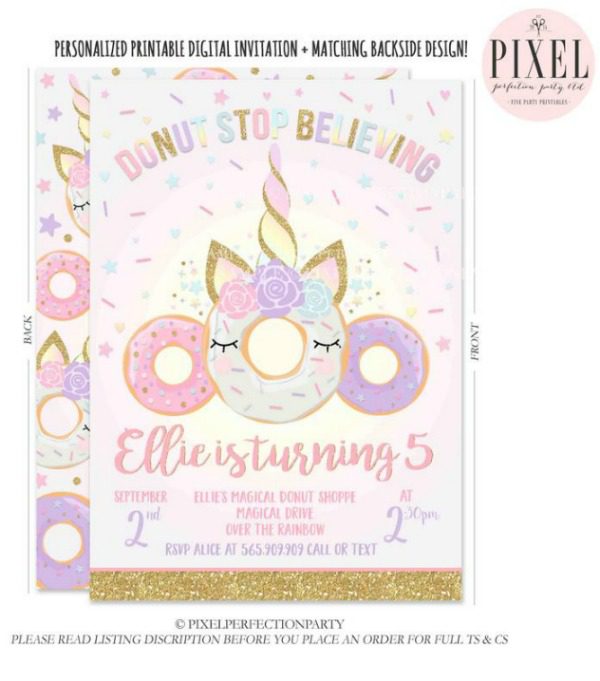 If you're looking for something a little different, but just as impressive, don't want to miss this unicorn birthday cake invitation.
The pastel-colored tiered cake looks delicious and is topped by a delightful unicorn.
I'm sure your guests won't have ever seen a prettier design.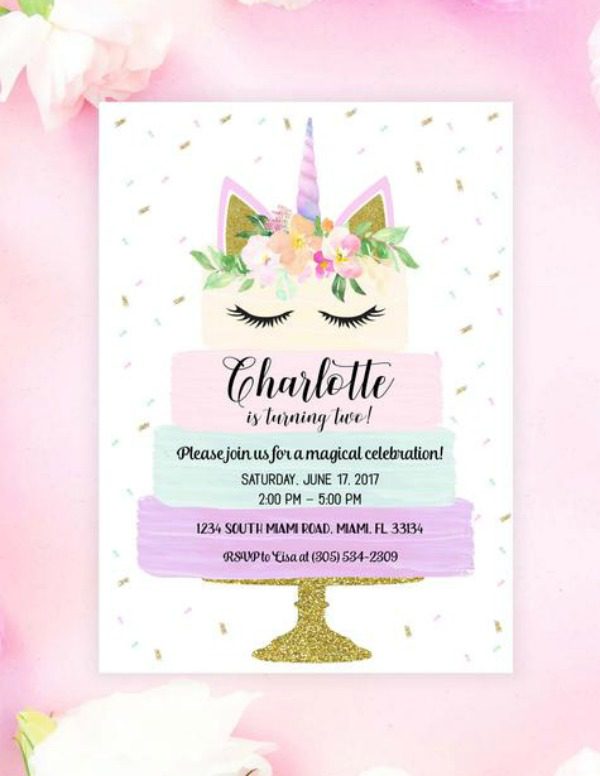 Rainbows and unicorns come hand in hand and this rainbow unicorn invitation has the best of both worlds!
The rainbow fills the backdrop with its lovely pastel colors while a white silhouette unicorn stands out and boldly delivers.
The pretty stars give the design such a magical touch!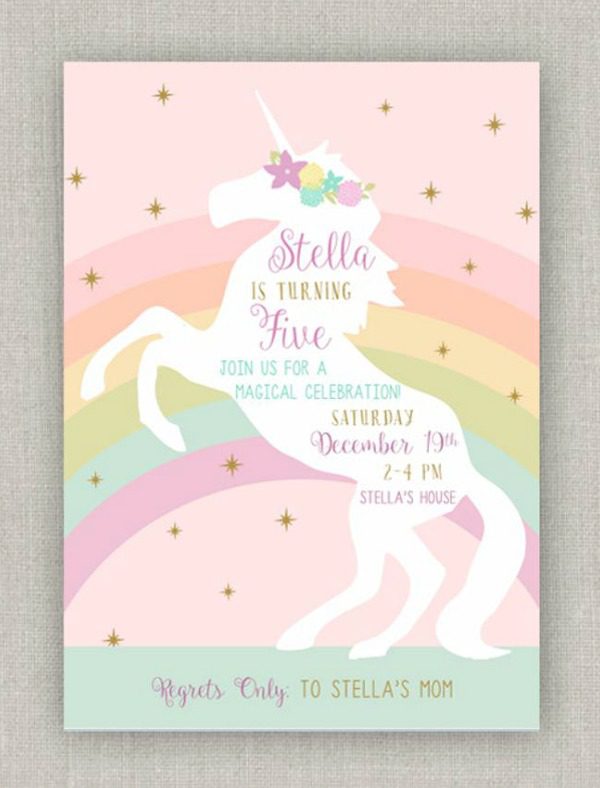 If you're planning more of a boho themed unicorn party then this invitation is one you won't want to miss.
This invitation, in shades of pink and purple,  just oozes whimsical and the feathered wreath surrounding the unicorn is amazing!

If you want something bolder, that will stand out and make a mark, then this bright pink unicorn party invitation is just what you need!
You can bet that the fabulous design will brighten up your guests day.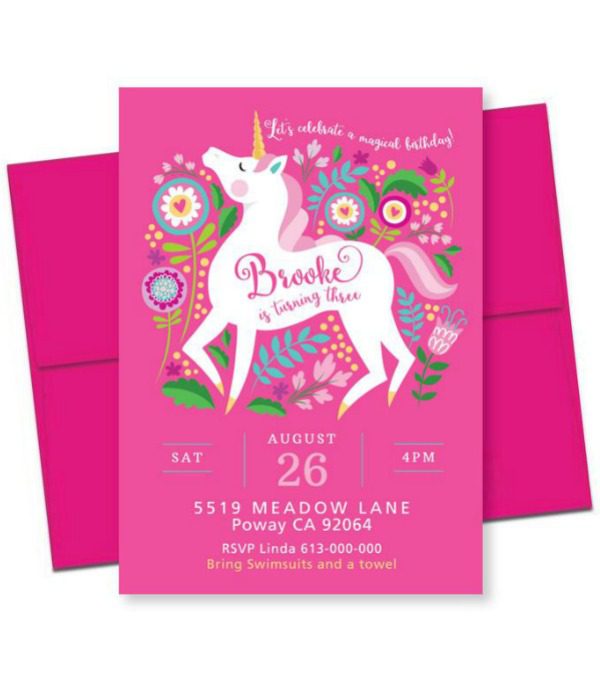 Unicorn parties are absolutely magical, so what a better way to set the mood than with a magical party invitation like this one?
The explosion of color, gold stars, and gold unicorn silhouette, transport you to a place where every little girl's dreams come true.

If you happen to be planning a unicorn birthday party for two then this twin party invitation is for you.
Have you ever seen cuter unicorns? The balloons give the invitation such a fun party feel.
If instead of planning a double unicorn party for twin girls, you're throwing a party for a boy and girl set of twins, we've found the perfect party invitation for you!
Treat your kids to a unicorn and dinosaur birthday party where each one can have their own theme and everyone is happy.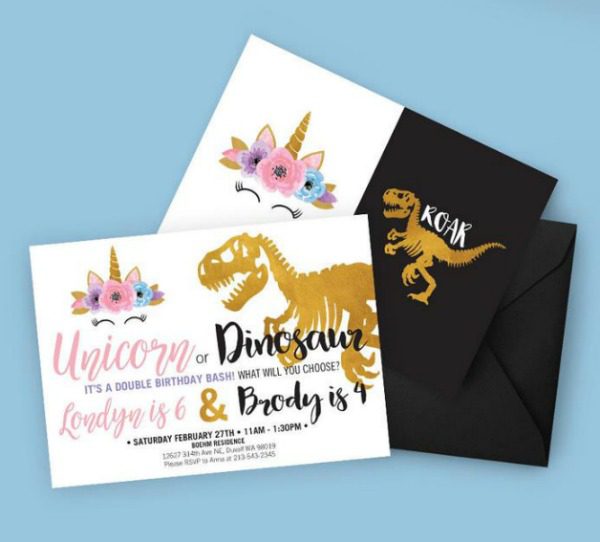 Unicorn parties aren't exclusive to birthdays.
Many young women choose it as their bridal shower theme, which is why we've picked out the prettiest unicorn bridal shower invitation we could find, to help ease your party preparations.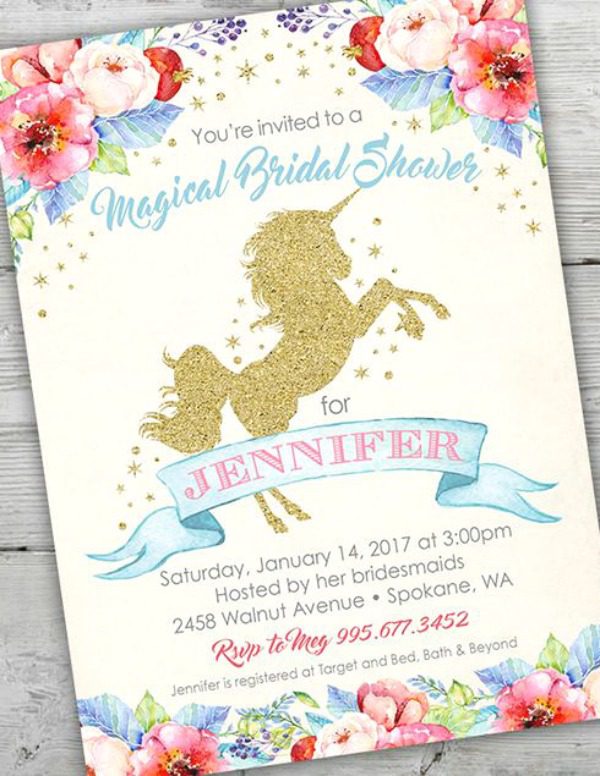 Unicorn parties are very popular as a girl baby shower theme too.
The beautifully illustrated unicorn on this invitation has such a serene and wise look on her face. She almost looks motherly among all the gorgeous watercolor flowers.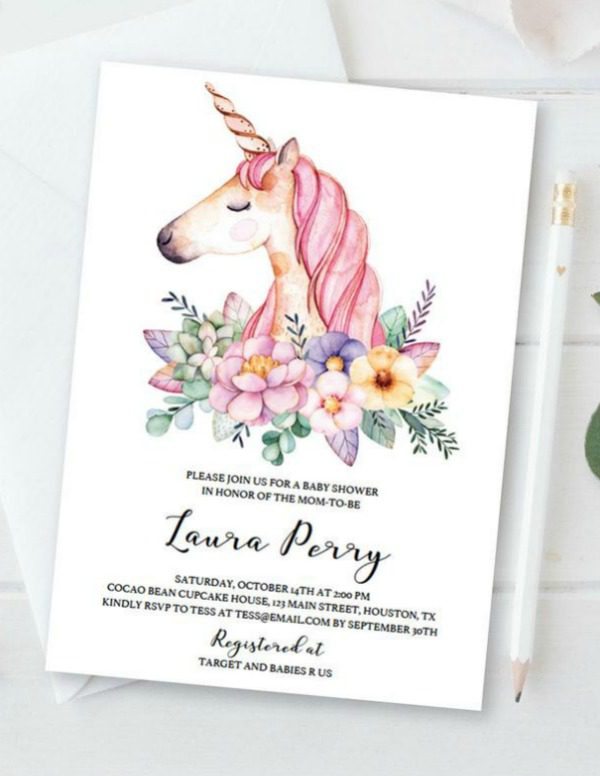 ** Some links are affiliate links and we may make a small commission if you click and buy.**
Need more unicorn party ideas and unicorn crafts?
Need free unicorn party printable decorations?
Need unicorn party food ideas?
For more inspiration, check out all the stunning unicorn parties on our site, and check out these unicorn party supplies from vendors with listings on Catch My Party!