Mary Poppins Returns has finally hit theaters everywhere and is just as delightful as the original Julie Andrews movie.
Do take your kids and treat them to a magical couple of hours. My 4 year old niece went with us to watch it and the look of pure delight on her face was priceless! It's a sight I will truly never forget.
If your child is a fan of the original movie and you're planning on throwing a practically perfect birthday party, then you won't want to miss the 12 most charming Mary Poppins party ideas we've rounded up for you from parties on Catch My Party.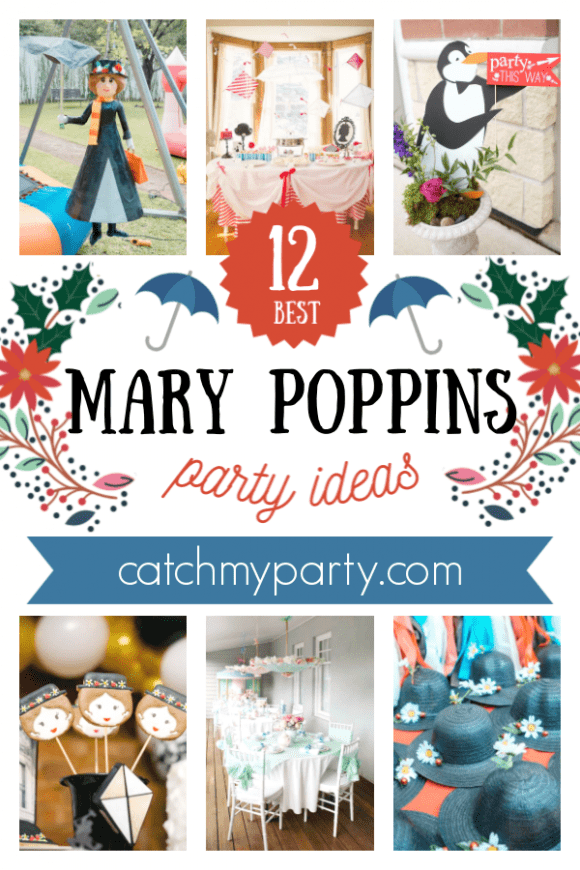 We've ideas for a Mary Poppins dessert table, a birthday cake,  a Mary Poppins hat party favors, Mary Poppins cookies, carousel cupcakes, and so much more!
The 12 Most Charming Mary Poppins Party Ideas!
Kites and umbrellas play a big party in the original Mary Poppins movie so it only seems fitting that they be used as party decorations framing this gorgeous 'Jolly Holiday' themed dessert table.
The stripy tablecloth, bowler hat and Mary Poppins silhouette are fantastic!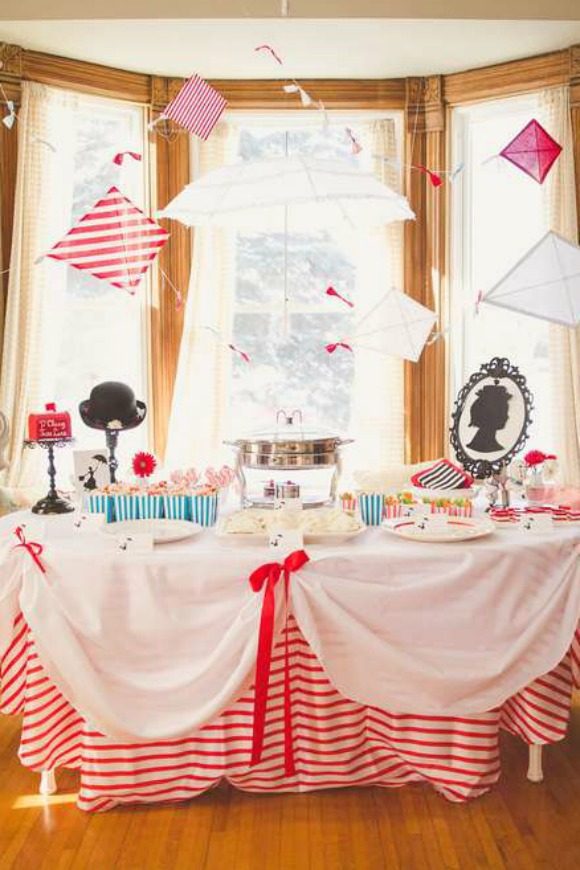 Can you believe this incredible Banks family home on Cherry Tree Lane birthday cake?!
It is absolutely gorgeous and perfectly topped with a fondant Mary Poppins and Big Ben. I love it!!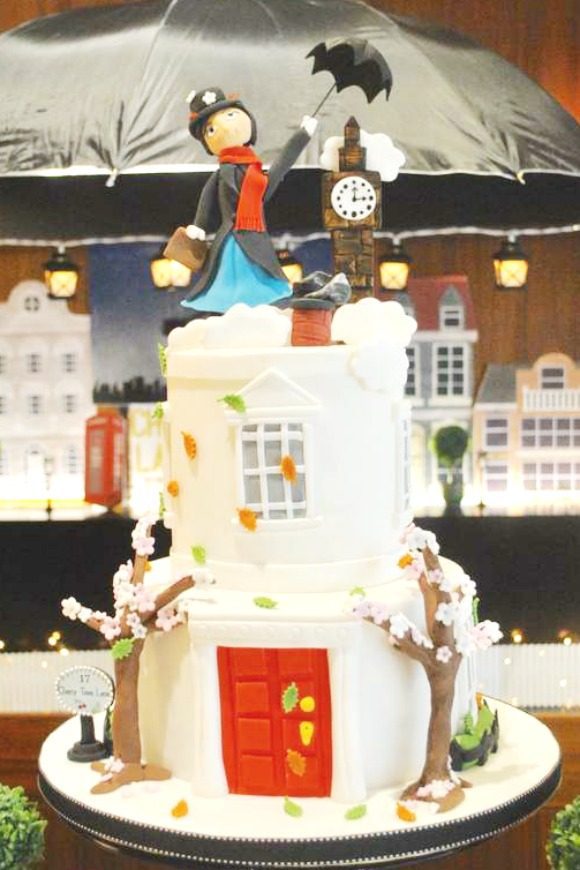 Everyone remembers when Mary Poppins, Bert, and the children jump into the chalk painting and race on carousel horses.
So topping a bunch of regular cupcakes with some gorgeously carousel horses are an easy way to transform cupcakes in to some Mary Poppins themed ones.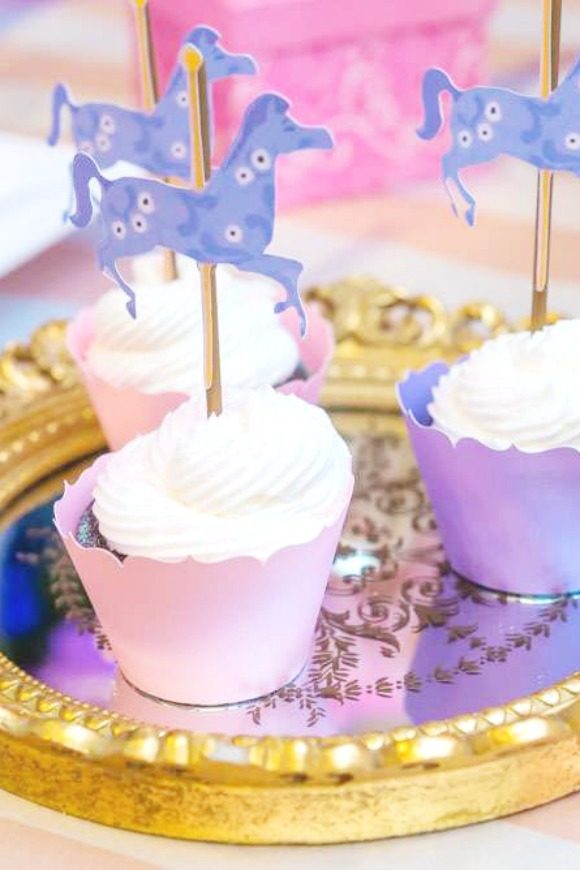 OMG! Take a look at these adorable Mary Poppins sugar cookies!
They are so cute and make an amazing party food for a Mary Poppins party.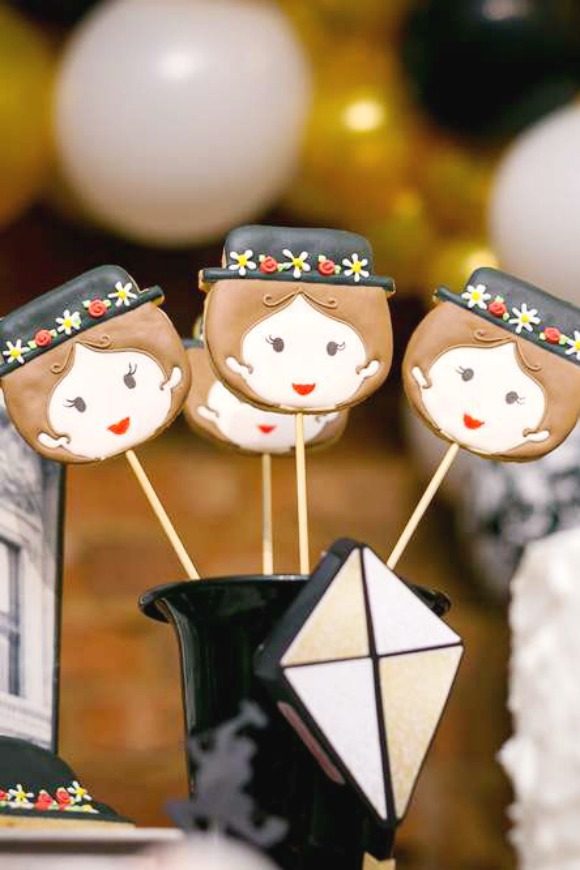 Make sure your guests know exactly where your party is with the help on a fun penguin holding on to a party sign.
You can bet the second your guest set eyes on them they'll be practicing their penguin dance moves.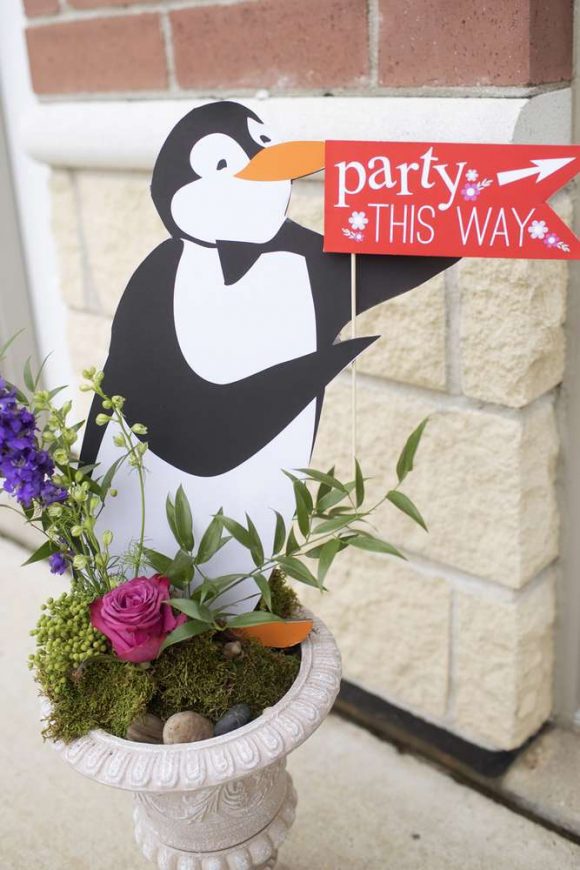 How about decorating your Mary Poppins birthday party with an amazing Mary Poppins party decoration made up of balloons?!
Your guests will think she really had made an appearance!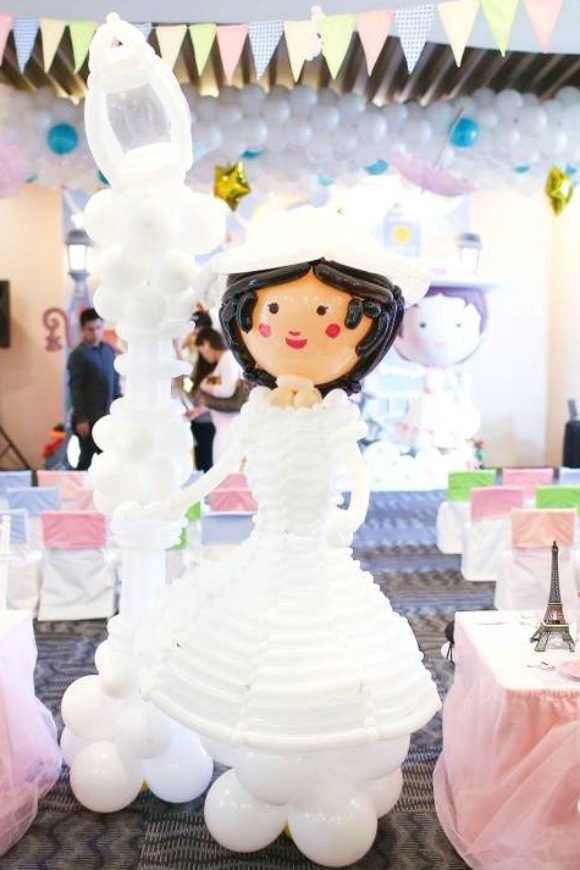 A typically English tea party is simply perfect for a Mary Poppins party.
These beautiful vintage tea party table settings and floral parasols hanging from the ceiling are breathtaking and so elegant.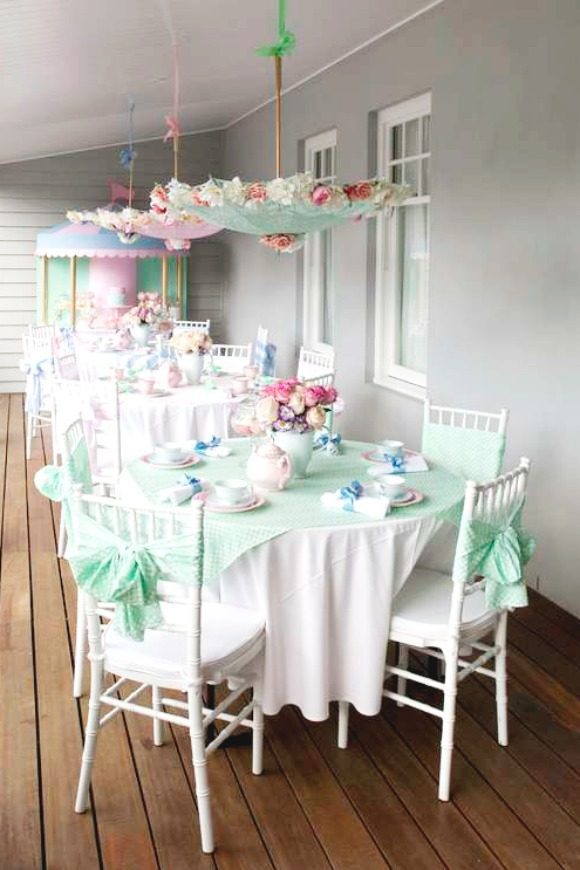 Add some fun to your table settings with a bunch of penguin seat covers like these.
They are a wonderful addition that will put a massive smile on the kids faces.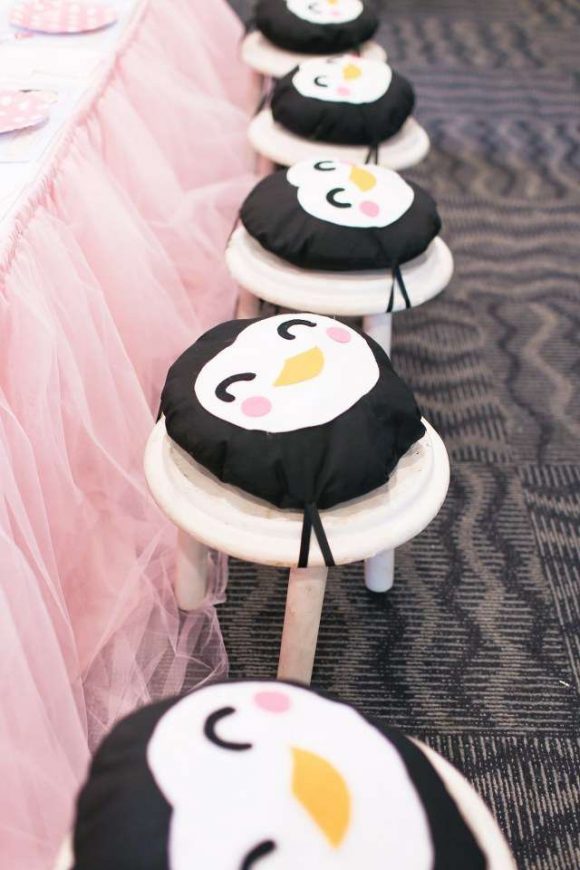 Not sure if Mary Poppins is going to be pleased to know that kids are bashing her to bits so they can collect candy, but this piñata is incredible!
It doubles up as such an amazing party decoration!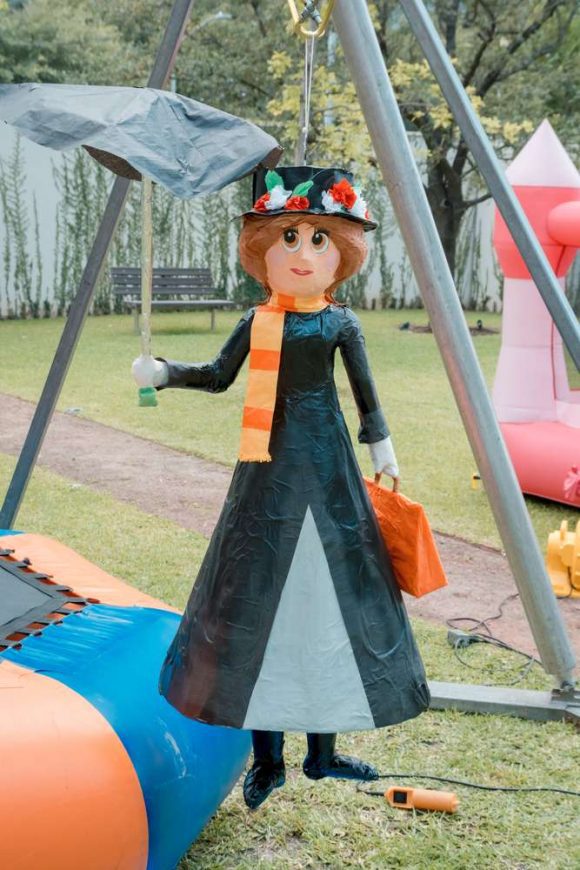 If you're looking for a fun Mary Poppins party activity look no further!
We've found this cool 'pin a bowtie on a penguin' party activity that will keep the children entertained.

The roof tops of London are the backdrop of the movie, so it only seems fitting to use them as the backdrop of your photo booth too!
Have kids dress up in fun props such as Mary Poppin's hats or Bert's cap for some cool photos.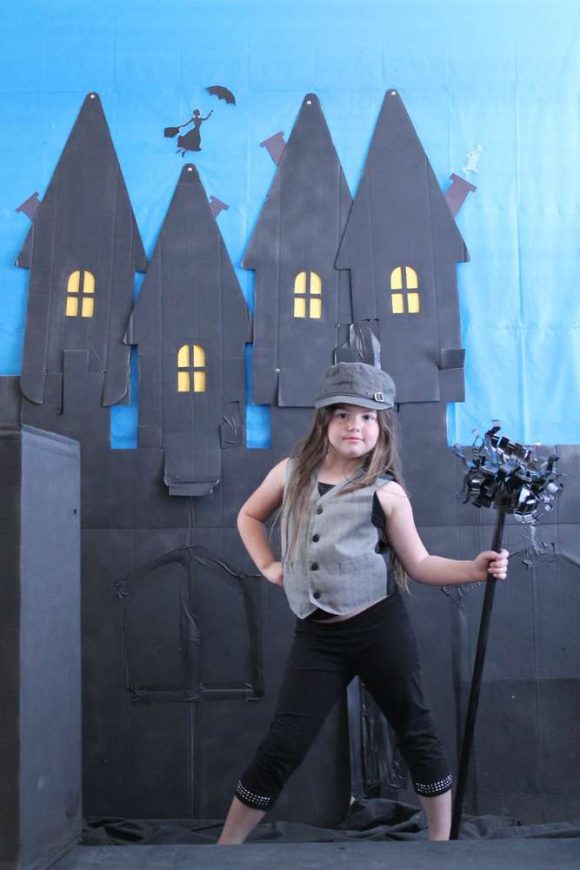 Your guests are going to love going home with their very own spit-spot Mary Poppins hat!
You can even have them decorate them themselves with flowers as a party activity.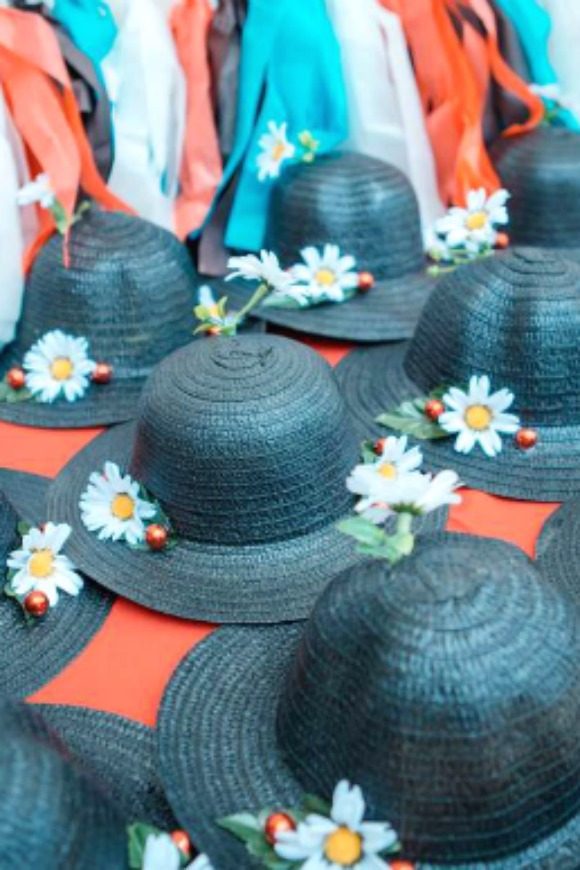 For more inspiration, check out all these amazing Mary Poppins parties on our site, and check out these Mary Poppins party supplies from vendors with listings on Catch My Party!
Need more Girl birthday party ideas?