Ready for 20 fabulous Minion cake ideas that will blow you away?
Despicable Me, and all the Minion movies, have catapulted the Minions to one of he most popular party themes on our site!
We have so many incredible Minion parties, jam-packed with awesome Minion party ideas, but if you are simply looking for some cake inspiration, look no further.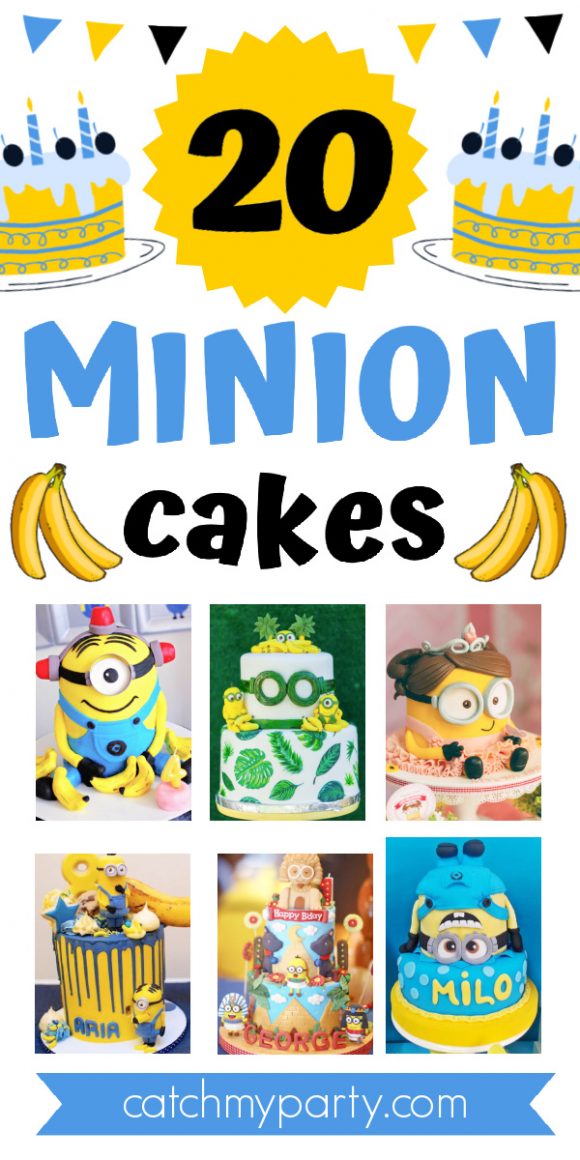 We've so many great ideas for Minions cakes. We've got cakes covered in Minions, cakes for girls, cakes for boys, and even a Minion baby shower cake!
20 Fab Minion Cake Ideas!
This boy-themed birthday cake is fantastic! What could be more on theme than a tiered cake with a large Minion top tier?
Covered with lots of yellow and blue fondant, this cake with a Minion wearing a blue party hat is a great option for a birthday boy.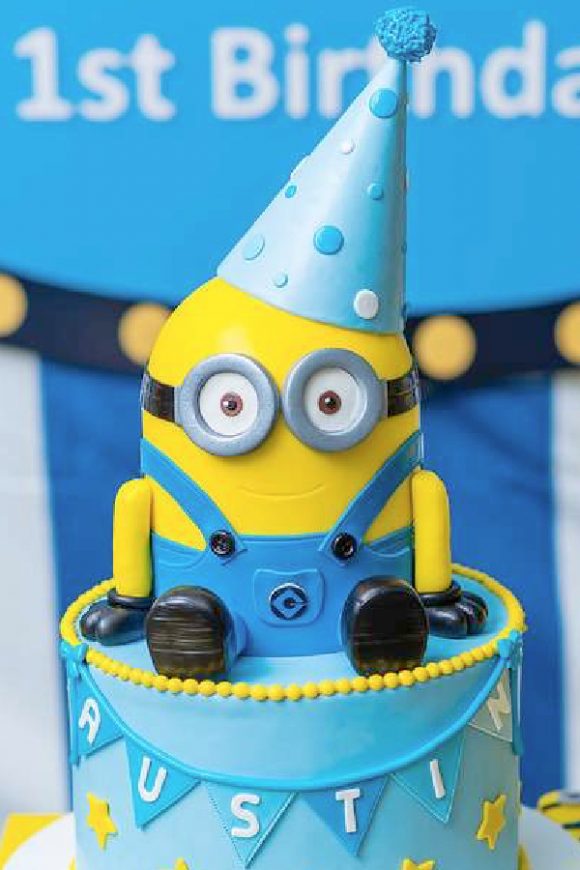 If on the other hand, you are planning a party for a girl then this next minion birthday cake is just what you need!
Similar to the previous cake, this one's top cake is a Minion girl in a party hat and braids, holding a delicious cupcake.
You won't get much cuter than this!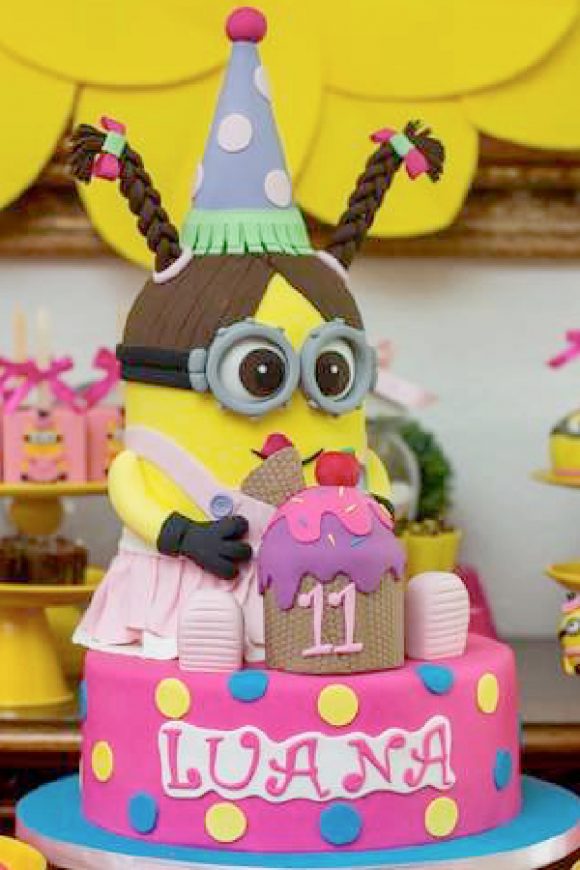 If you want to mix things up a bit and go for a more unconventional minions cake how about treating your guests to a fun Carmen Miranda-inspired one?
How cool is this fruit-packed fondant cake topper? I can't think of a better way to throw a summer party than with a tropical-looking cake like this one!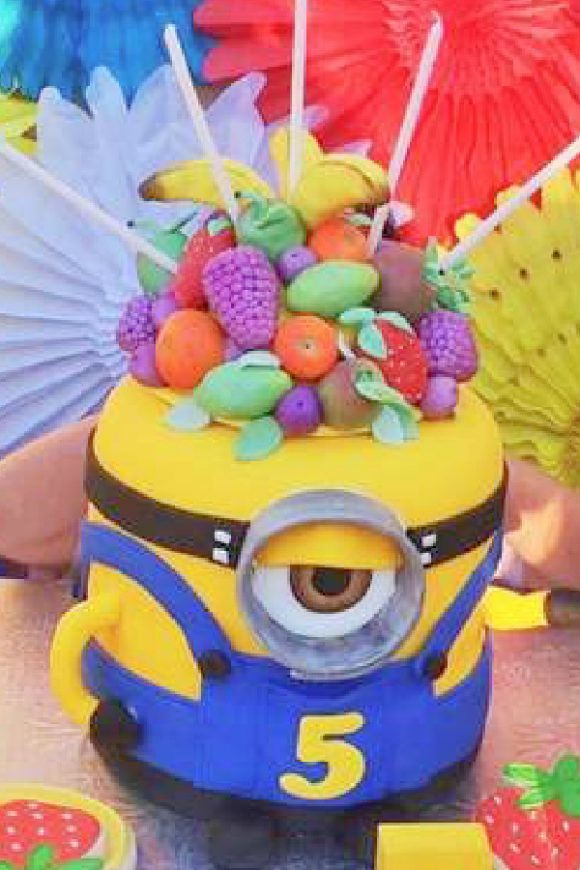 If you want something completely different check out this white fondant cake covered in tiny fondant Minions and bananas.
The sides of the cake are decorated with hand-painted leaves with also gives this cake a tropical vibe.
The glasses decorating the top tier are fab!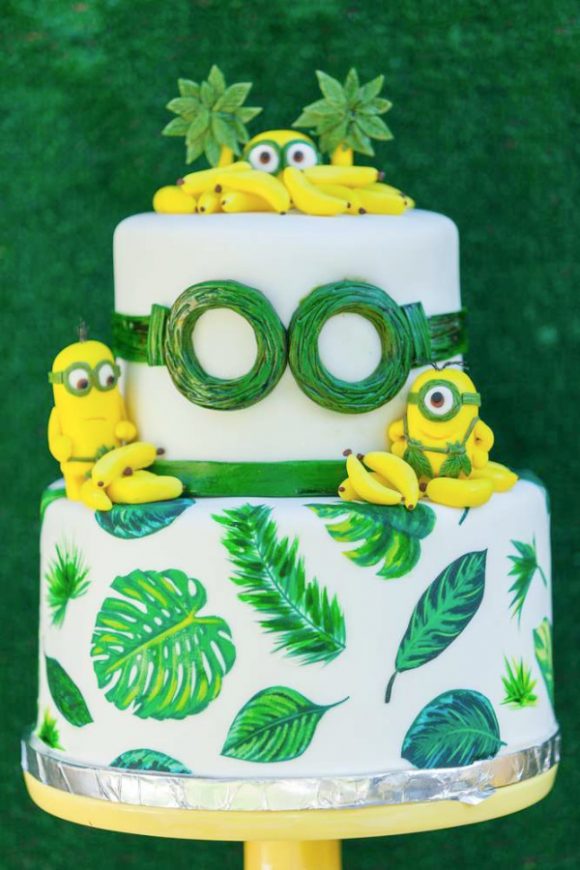 Another great Minion cake idea that works just as well for both boys and girls, and is similar to the previous ones, is this Minion in party hat cake.
What's fun about this one is that it's two cakes in one. You have the one cake which is a Minion looking longingly at a cute birthday cake.
Decorate with whichever colored hat and cake you wish, according to your child's favorite colors.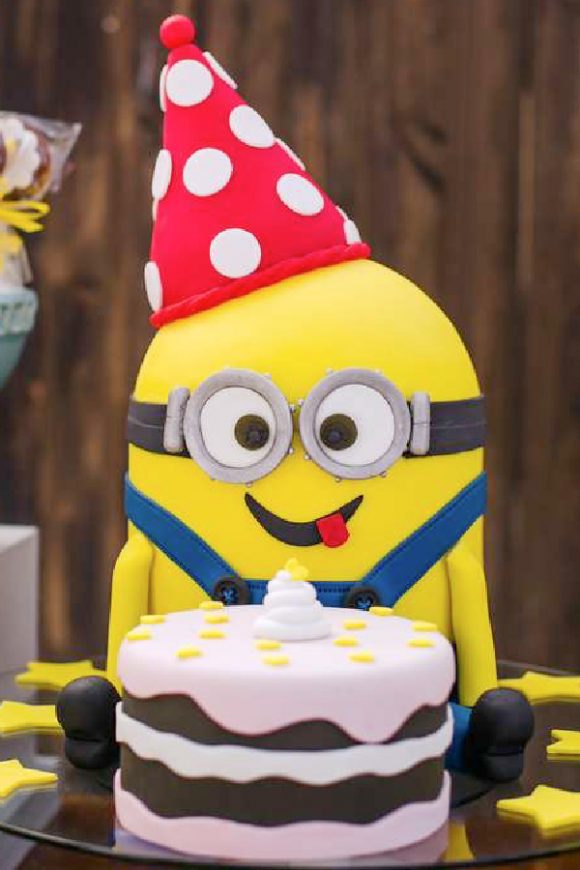 If you are looking for a show stopper then this Minion cake certainly does the trick!
Use licorice string for hair and fondant white eyes with their trademark goggles, to make your cake look exactly like a Minion
There's something so adorable about little Minion arms and legs! Love them!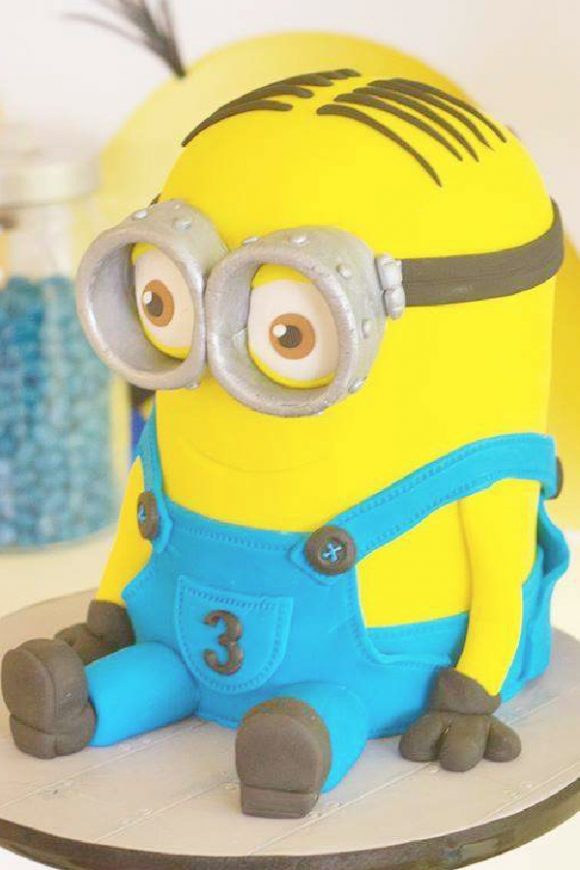 Just imagine what a hit a cake covered in Minions and characters from the Despicable Me will be at your party!
Your guests are gonna love all the cake layers and fondant decor, I can guarantee you!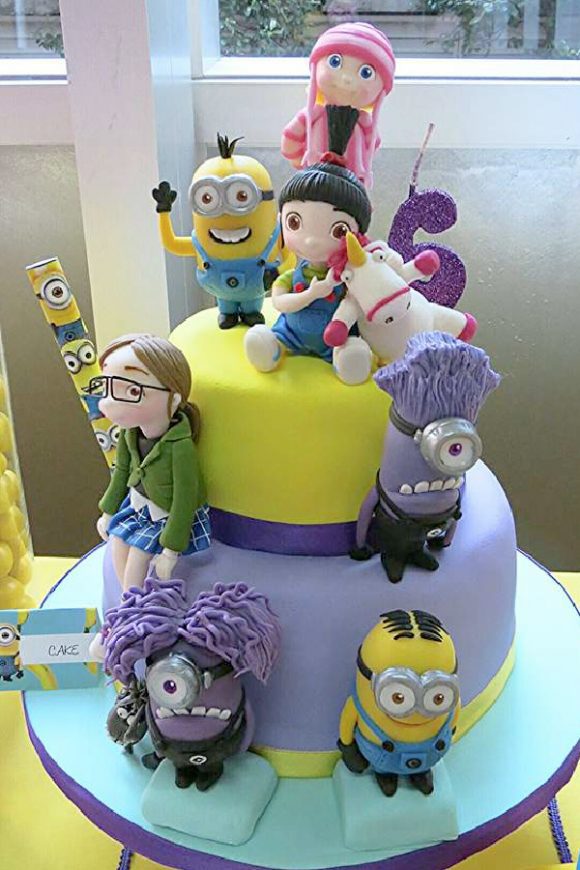 Kids of all ages enjoy both Minion and superhero movies so why not mix the two together and throw your kid a superhero Minions birthday party?
As you can imagine the cake can only be incredible! Top it was a bunch of Minions in superhero suits and you really can't go wrong!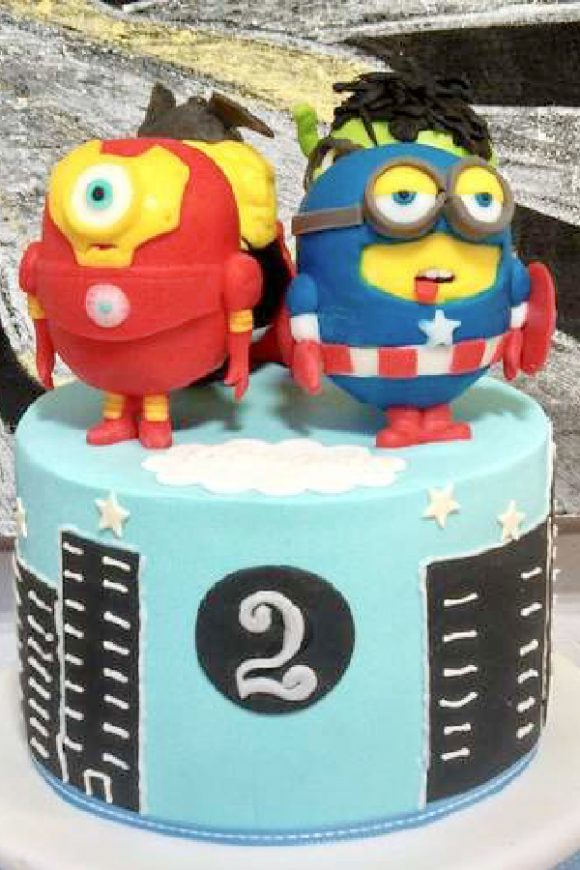 If you want to keep it simple this next idea is a great option.
A flat minion cake looks just as cool and is a lot less hassle to put together.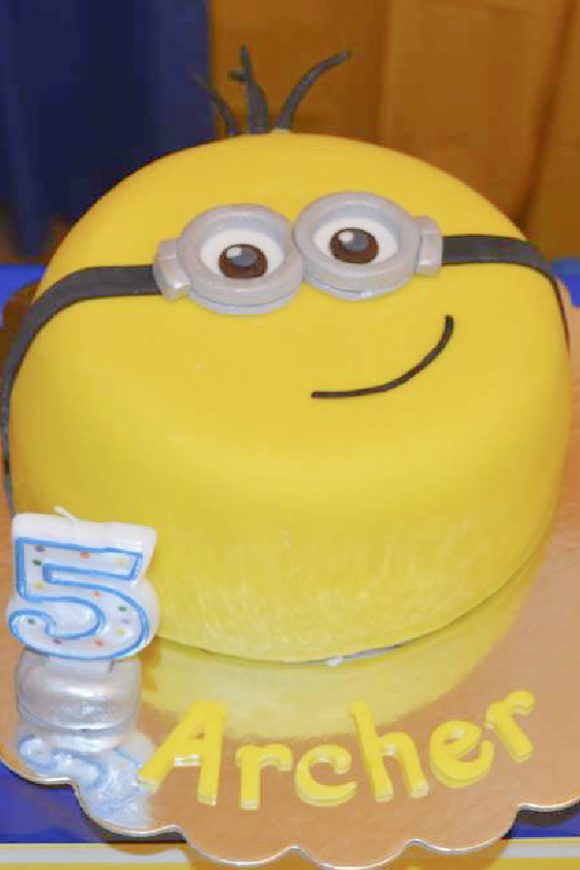 This has to be my favorite cake!
All princesses deserve a princess cake so how about dressing your girl Minion in princess overalls and a fondant crown?
This cake is definitely a showstopper and will make any dessert table pop!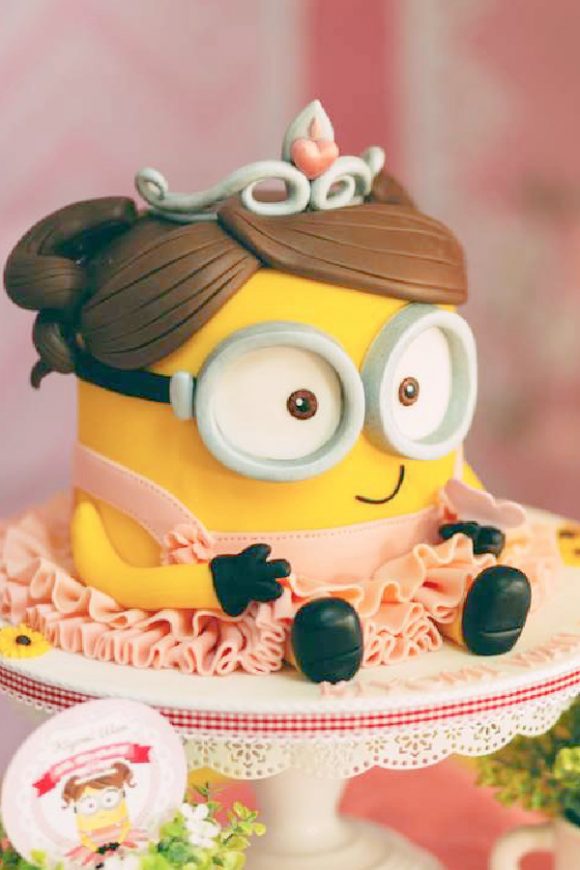 This entire cake is bonkers! Who would have thought an upside-down Minion on a cake will look this cool?
Made up of 3 different tiers the blue portion of the cake is decorated with pale blue fondant dots.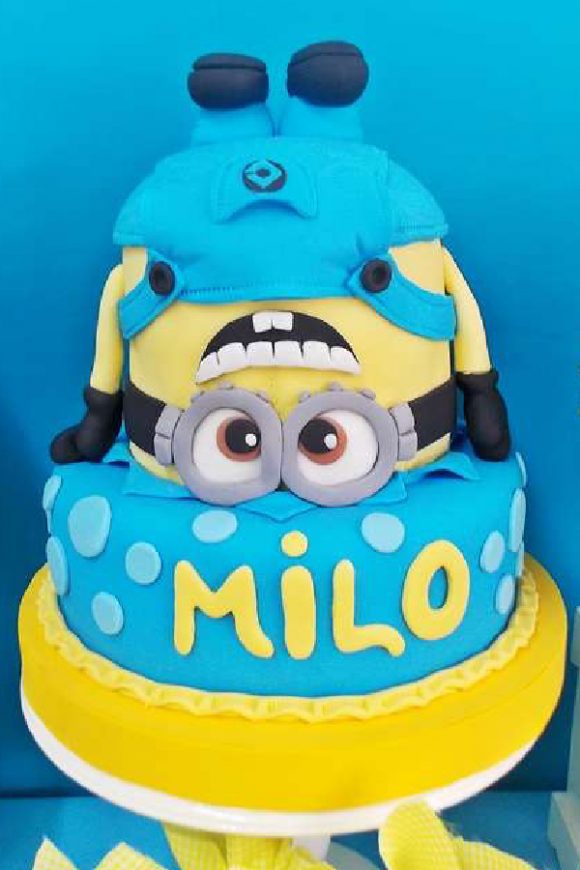 Another great way to impress your guests would be with this Egyptian-themed 1st birthday cake.
So much love and detail has gone into this meticulously decorated fondant cake full of Egyptian references.
The Egyptian Minions will have your guests in stitches!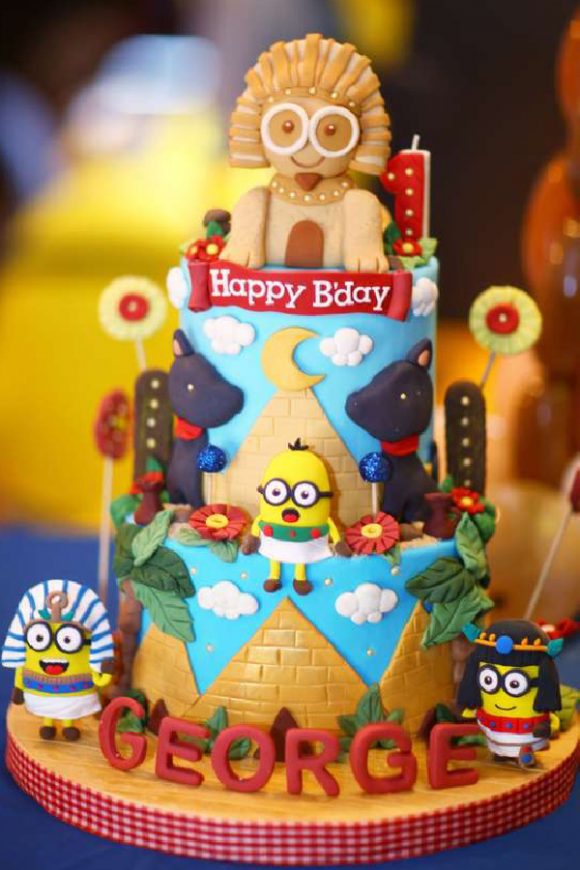 If you are still stuck for ideas then take a look at this next cake covered in little Minions!
It's another great example of keeping things simple. All you need is a basic tiered cake and a bunch of cute fondant Minions to decorate it with.
Who can resist a Minion on top of a birthday cake? He'll stand proud on any dessert table and blow all your guests away!
If you are looking for an innovative way to have an unconventional tiered cake, then this one is spot on!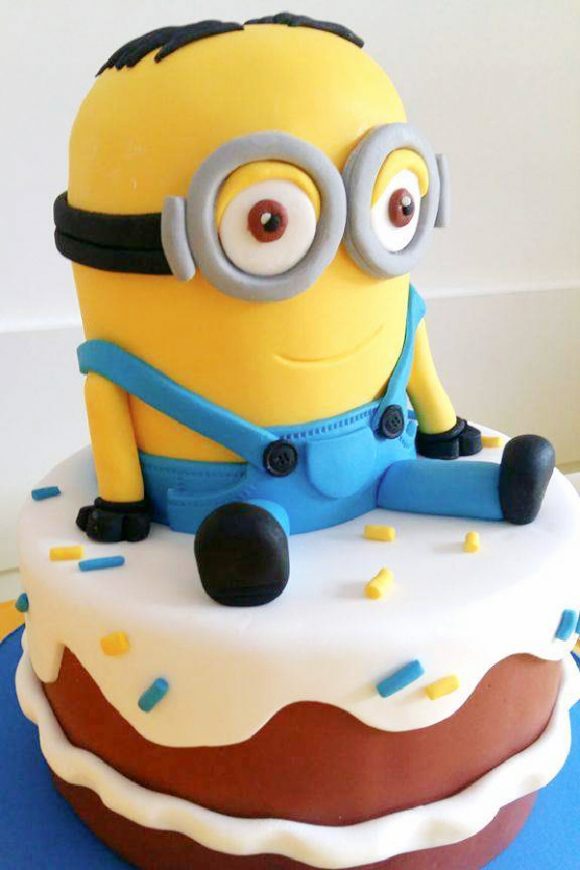 This next cake is so much fun!
There's not a Minion fan out there that would kill for a drip cake like this one, covered in candy and Minion macrons.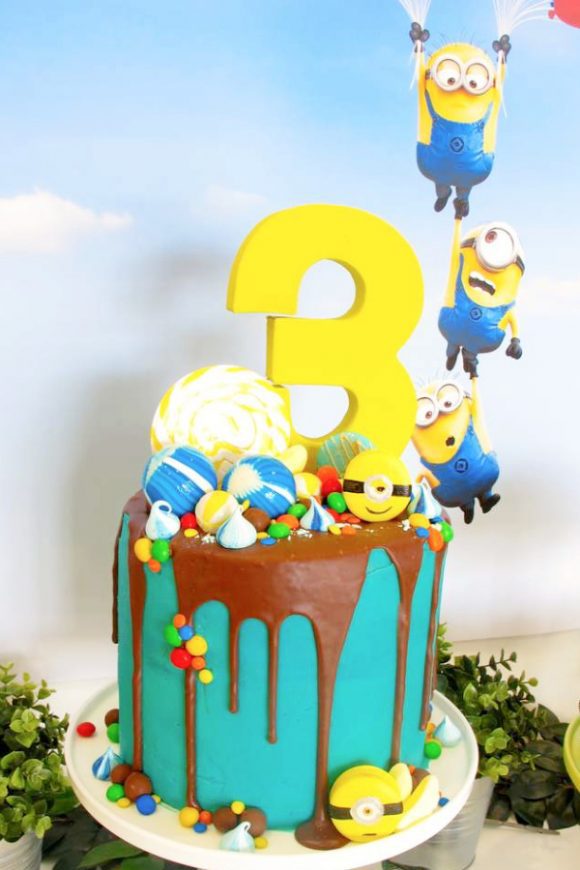 WOW! Now, this is one incredible minion birthday party!
Made up of a bunch of different layers this cake is totally on-theme!
The bottom two layers look like a Minion and to top it off is a fondant King Bob sits proudly overlooking the birthday party!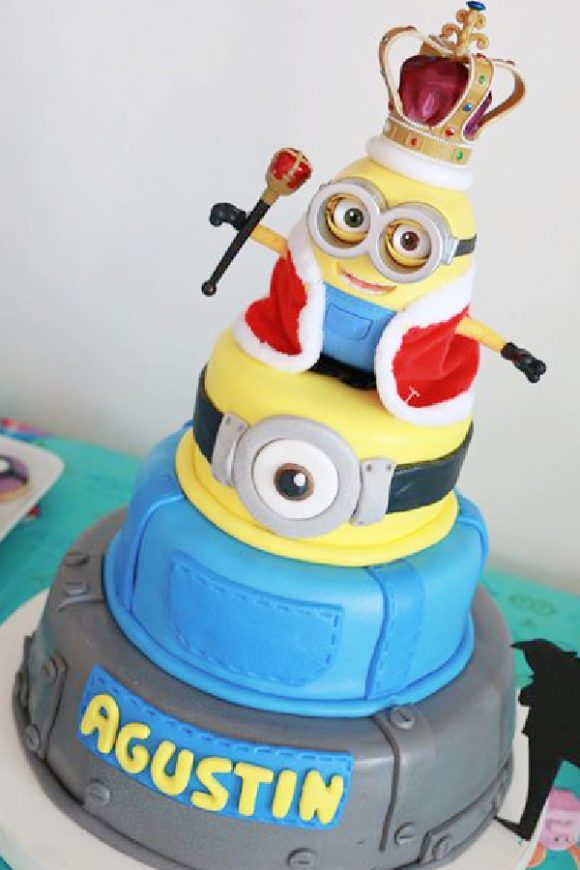 Another fun cake idea is this yellow drip cake with blue icing, covered with cookies, sprinkles, and some chocolate candy drops.
Finish it off with some fondant Minions and you're good to go!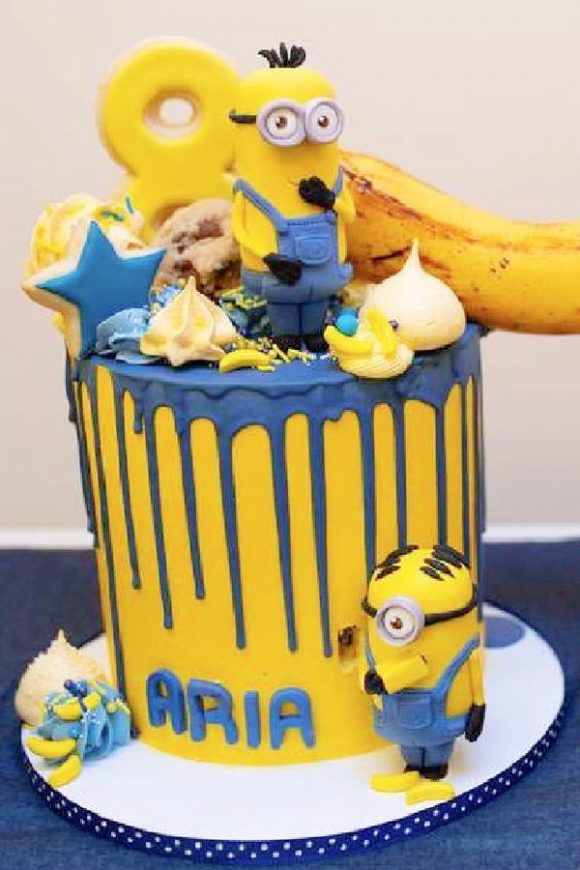 How about doing something a little different and going with an evil Minion birthday cake instead?

This purple Minion cake is a great pick if you want to steer away from what everyone is expecting.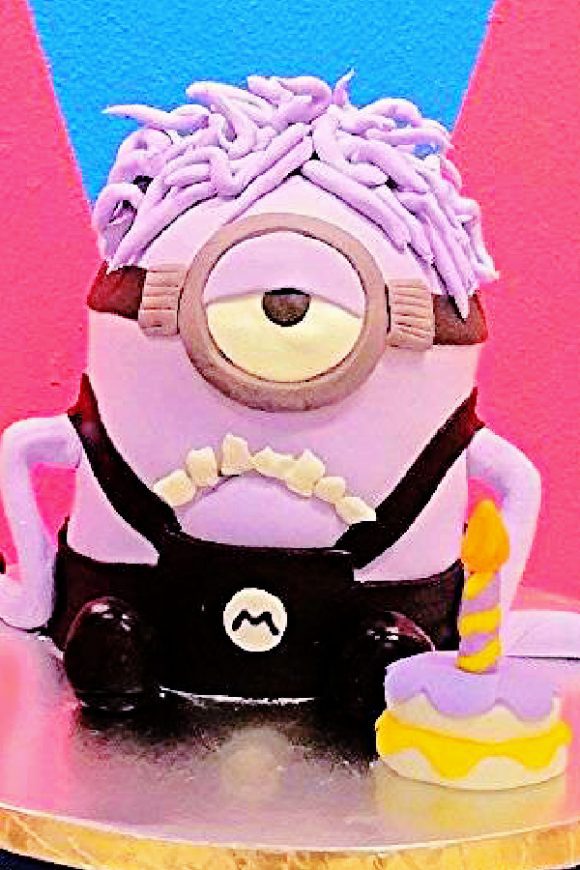 You don't want to miss this cute Minion cake!
Similar to previous ones, this one is decorated with a crazy red light headband and scattered with a bunch of little bananas!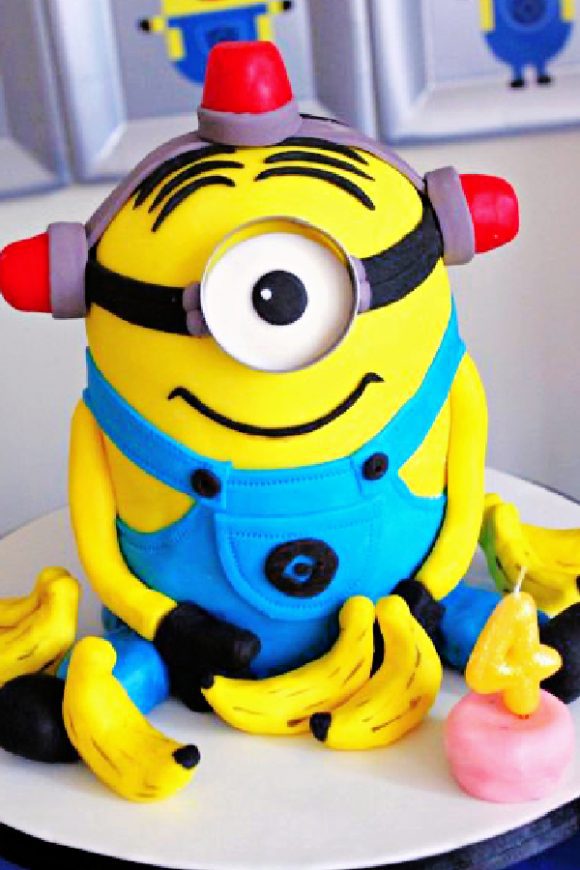 To finish off we have a cake suggestion that you could use for a 1st birthday or even a baby shower!
Similar to a bunch of previous Minion cakes, this one stands out because he has a pacifier in his mouth.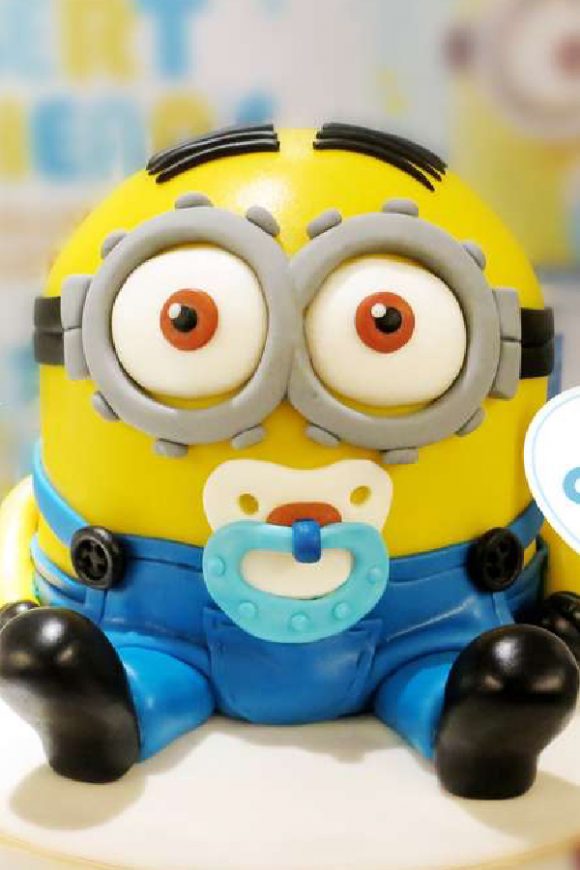 ** Some links are affiliate links and we may make a small commission if you click and buy.**
Need more Minion party ideas and crafts?
For more inspiration, check out all the stunning Minion birthday parties on our site, and check out these Minion party supplies from vendors with listings on Catch My Party!