Take your Mother's Day flowers up a notch with this quick and simple-to-make DIY Mother's Day photo vase.
Handmade gifts are always appreciated so much, especially by mothers. This is a really pretty idea for Mother's Day, so give it a whirl!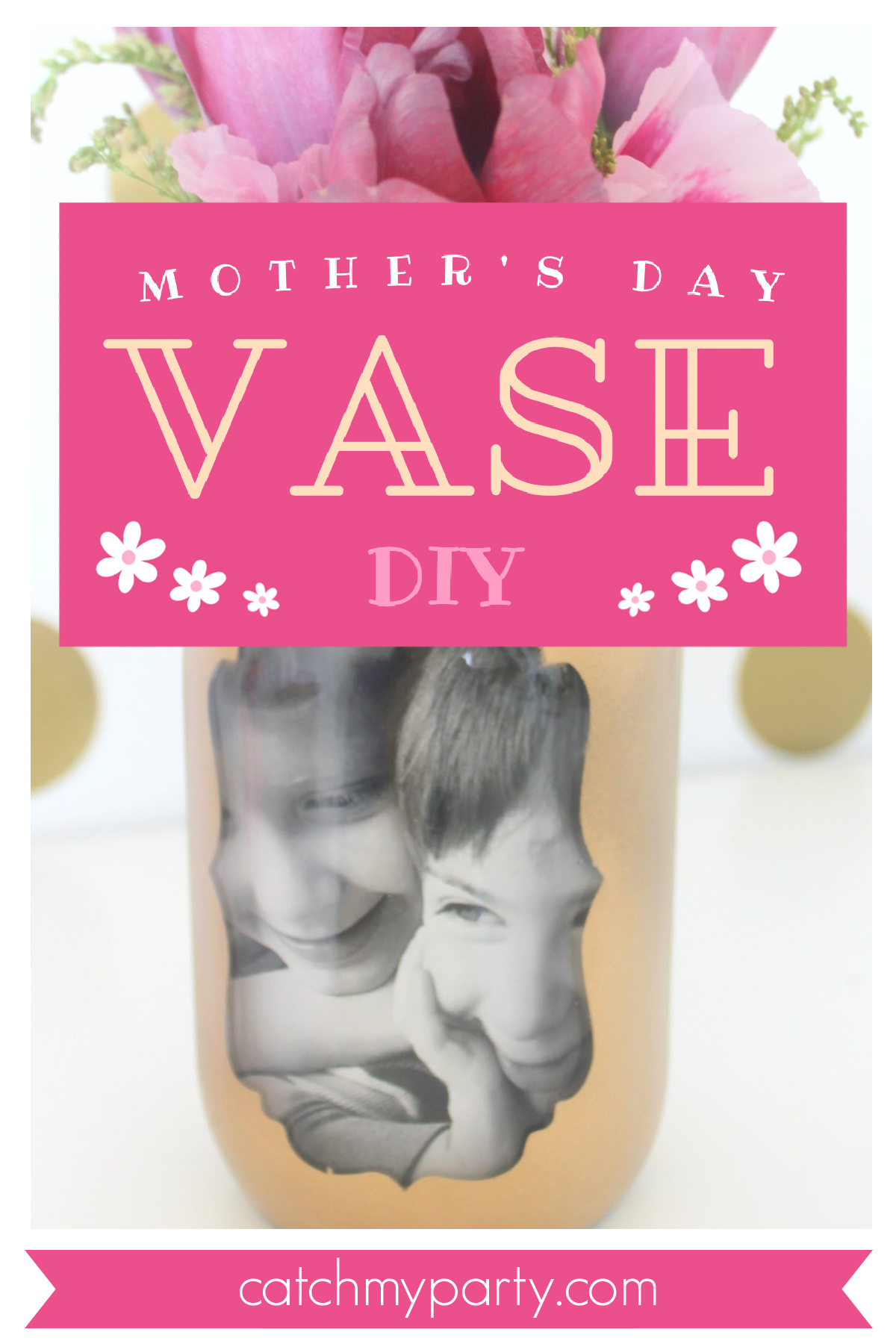 At Catch My Party, we are bursting with setup and gift ideas for Mother's Day – check out this upscale Mother's Day Dinner theme. What about a Mother's Day Garden Party or this fun "Mom! I love you so matcha" setup.
Our FREE Mother's Day Printable Cards and our FREE Mother's Day printable coupons aren't to be missed – we've got you covered this May.
So, back to the DIY…
Why You'll Love This Easy Mother's Day Photo Vase Craft
Personalization: This homemade gift allows you to personalize a gift for your mom with a special photo that is meaningful to both of you.
Creativity: This craft allows you to get creative and make something special for your mom that she will treasure forever.
Affordable: This craft is affordable and doesn't require a lot of expensive materials, making it accessible to everyone.
Sentimental value: A photo vase craft is a great gift that your mom can keep as a reminder of your love and appreciation for her.
Easy to make: One of the quickest Mother's Day crafts as its easy to make and can be completed in just a few steps, making it perfect for children or anyone who is short on time.
Fun activity: Making a photo vase craft can be a fun activity to do together as a family (and with kids of all ages) creating memories and bonding over the process.
Supplies
Quart-size mason jar: This is the main component of the photo vase, and you can choose a jar with a plain or decorative surface, depending on your preference.
Picture of your choosing: Choose a photo that holds special meaning to you and your mom, and print it in the size that fits your jar.
Gold spray paint: This is optional but adds a touch of elegance to the vase. Spray the lid and band of the mason jar with gold paint.
Sticker or label in size of your choosing: This will be used to cover the metal top of the mason jar, and you can choose a sticker or label that fits the size of your lid.
Flowers: Choose your mom's favorite flowers or a mix of colorful blooms that will complement the photo and overall design of the vase.
Ribbon: A ribbon can be tied around the neck of the jar to add a decorative touch and hold the flowers in place.
Tape and scissors: Use tape to attach the photo to the outside of the jar, making sure it is securely in place.
Small plastic cup or small glass: This will be placed inside the jar to hold the flowers and water, preventing them from touching the photo and potentially damaging it.
How To Make This Photo Vase Craft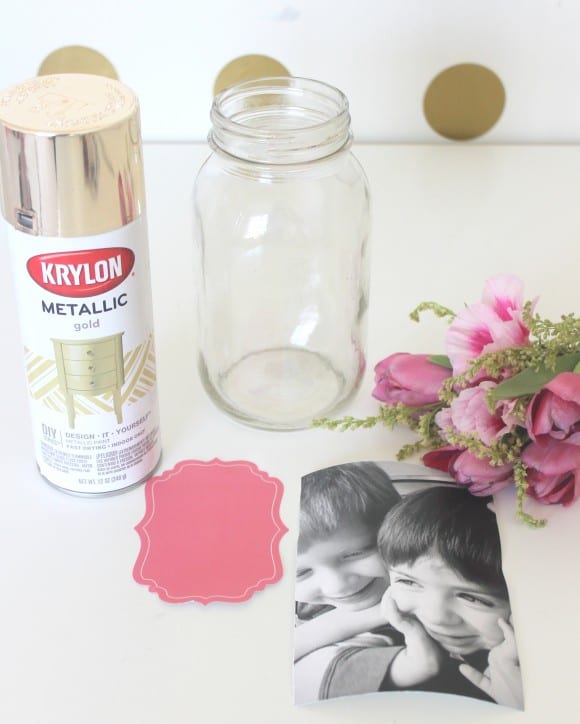 Step 1: Position the sticker
Begin by placing your decorative sticker on the front of your mason jar.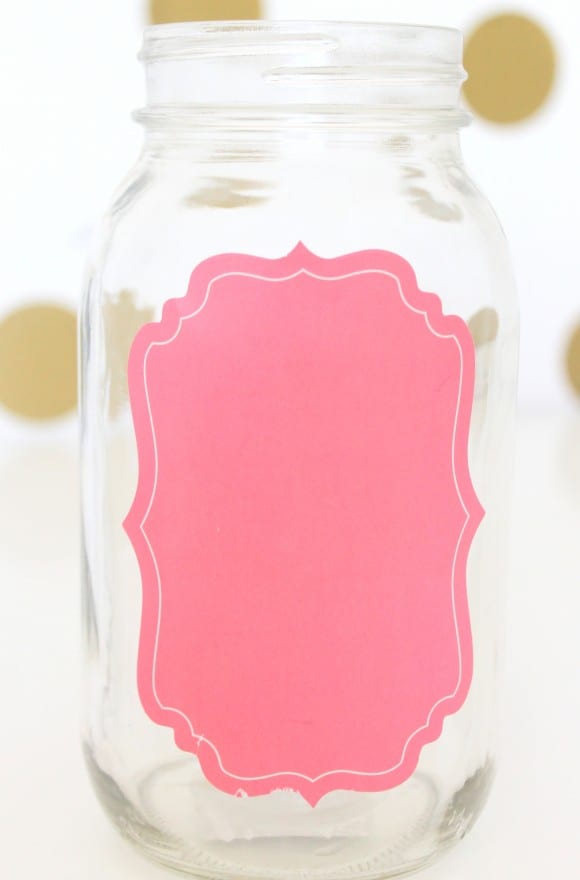 Step 2: Spray the jar
Spray paint your mason jar in the color of your choosing. We went with a chic metallic gold!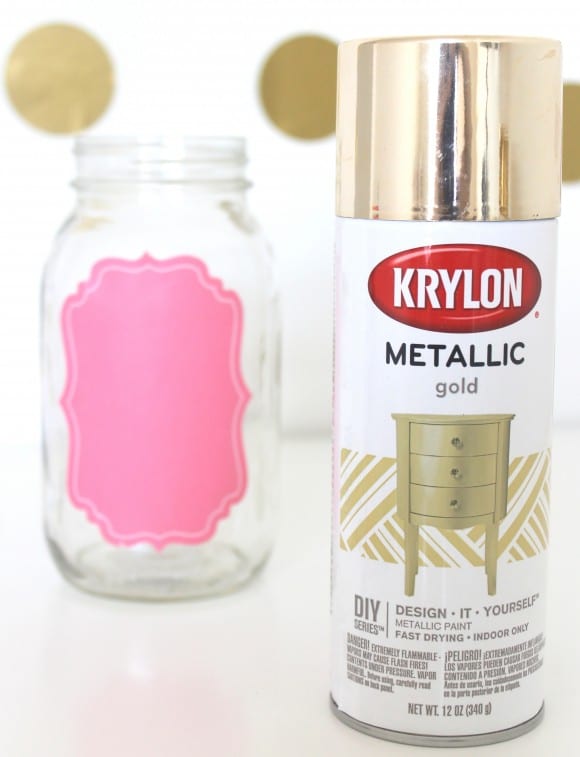 Step 3: Remove the sticker
Once the paint has dried, carefully remove your sticker.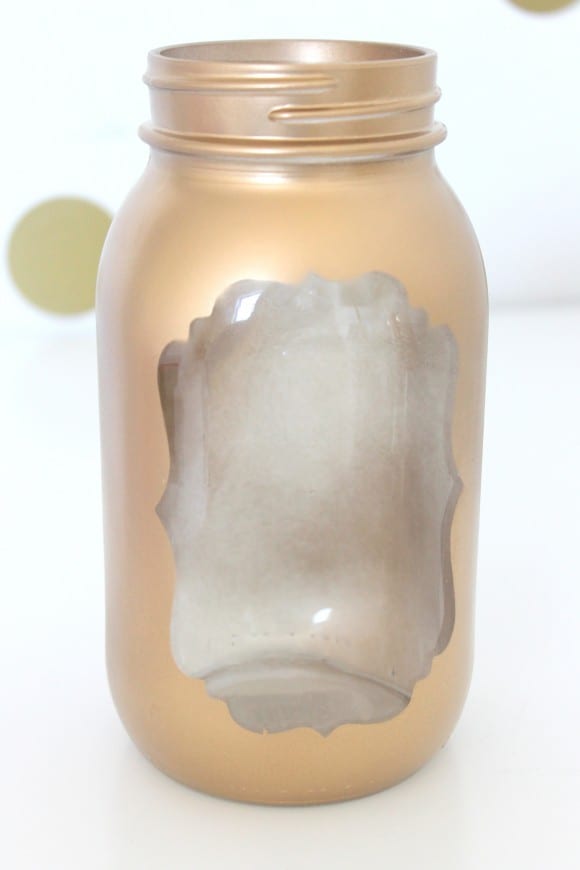 Step 4: Insert photo
Now it is time to place your photograph in the mason jar.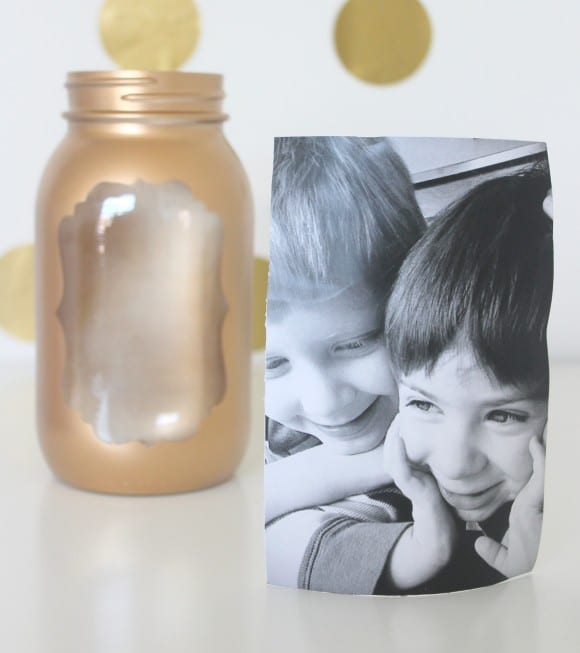 Align the photo properly within the given space and then tape in place.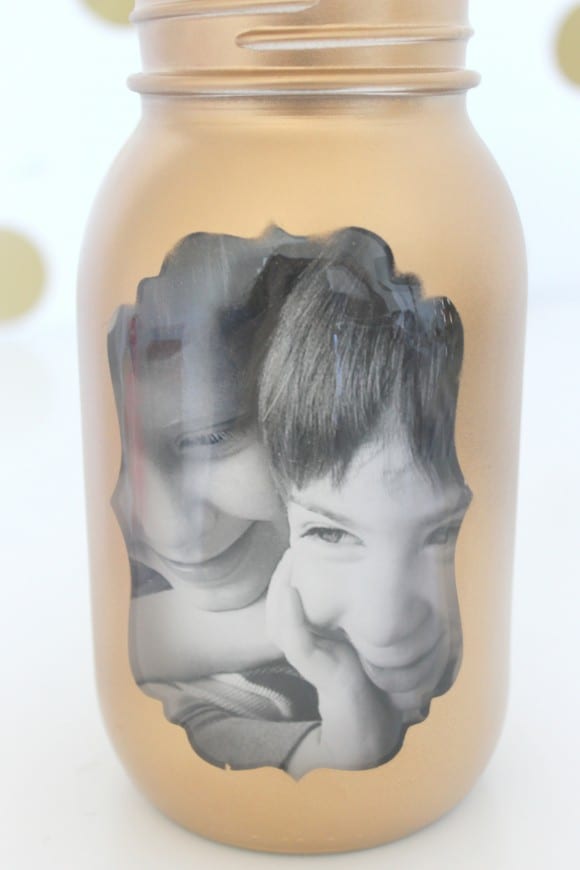 Step 5: Add the flowers
Next, fill your plastic cup or small glass with water and place into mason jar.
As an extra decorative touch, add a color-coordinating ribbon around the top of your mason jar.
Lastly, take your bouquet and arrange them in the cup of water within the Mason jar.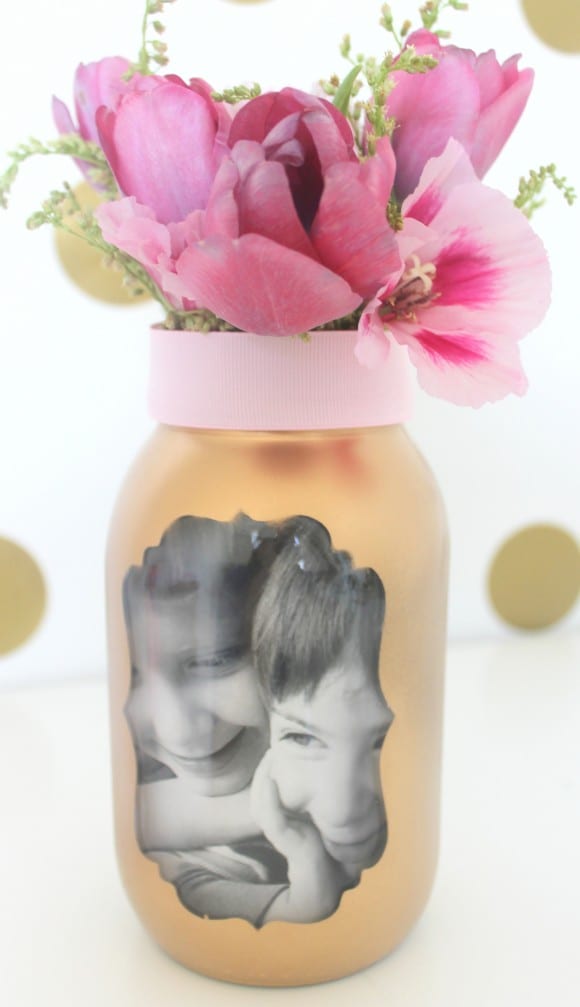 You now have a gorgeous memento that any mother is sure to love!
Tips and Substitutions
Use a clear or frosted jar: If you can't find a plain mason jar, consider using a clear jar instead. This will make the photo more visible and create a unique effect.
Choose a waterproof photo: To prevent the photo from being damaged, make sure to print it on waterproof paper or cover it with a waterproof sealant.
Customize the lid: Instead of using a sticker or label to cover the lid, you can also paint it with acrylic paint or use decorative washi tape to add a personal touch.
Experiment with different flower arrangements: Try different types of flowers, colors, and arrangements to create a unique and eye-catching design.
Add embellishments: Consider adding embellishments to the vase, such as glitter, beads, or sequins, to make it even more special.
Use alternative vases: If you don't have a quart-size mason jar, you can use any other type of vase or container that you have on hand. Just make sure it is sturdy enough to hold the weight of the flowers.
Use artificial flowers: If your mom is allergic to flowers or wants to create a vase that will last longer, you can use artificial or tissue paper flowers instead of real ones.
FAQs
How do I give my mom the best Mother's Day?
Creating a day with moments you know your mom would personally enjoy is the key. Start by writing down what your mom's favorite places, things, foods, and activities are…
How can I make my Mother's Day special day on a budget?
Making gifts and food from scratch rather than buying them fully will help save costs.
How do you make a vase out of a jar?
By removing the lid of a jar and decorating – an instant flower pot or vase!
Other Mother's Day Posts You'll Love
We hope you enjoyed making this lovely, decorative Mother's Day photo vase craft as much as we did!
For more inspiration, take a look at these gorgeous real Mother's Day celebrations on our site and our 9 collections of free Mother's Day printables!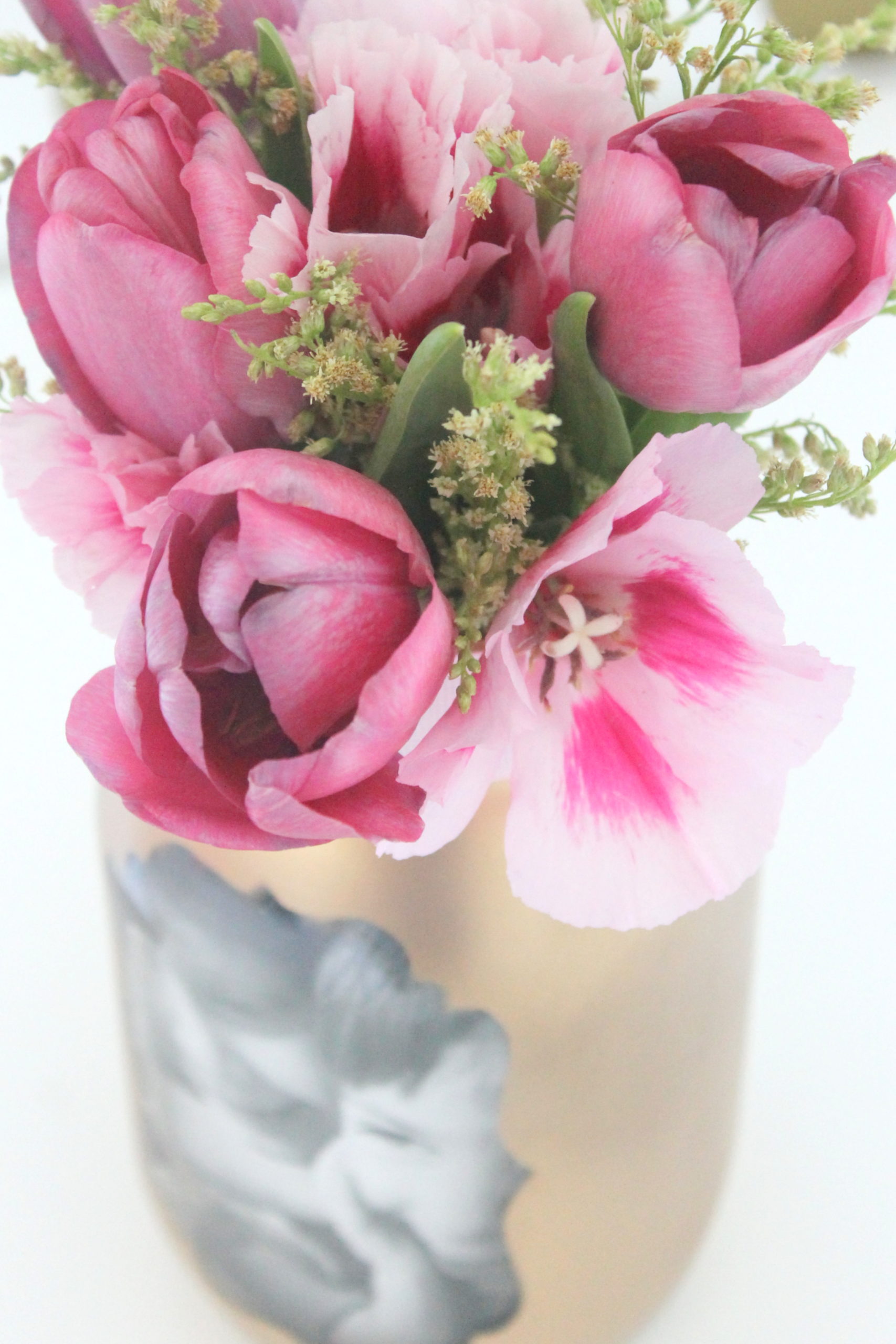 Equipment
Quart size mason jar

Picture of your choosing

Gold spray paint

Sticker or label in size of your choosing

Flowers

Ribbon

Tape

Small plastic cup or small glass
Instructions
Begin by placing your decorative sticker on the front of your mason jar.

Spray paint your mason jar in the color of your choosing. We went with a chic metallic gold!

Once the paint has dried, carefully remove your sticker.

Now it is time to place your photograph in the mason jar.

Align the photo properly within the given space and then tape in place.

Next, fill your plastic cup or small glass with water and place into mason jar.

As an extra decorative touch, add a color-coordinating ribbon around the top of your mason jar.

Lastly, take your flowers and arrange them in the cup of water within the Mason jar