Finally, finally. Now that my daughter and I have both recovered from being sick and I've returned from Bloggy Boot Camp, I'm finally able to post photos of my daughter's 4th mermaid birthday.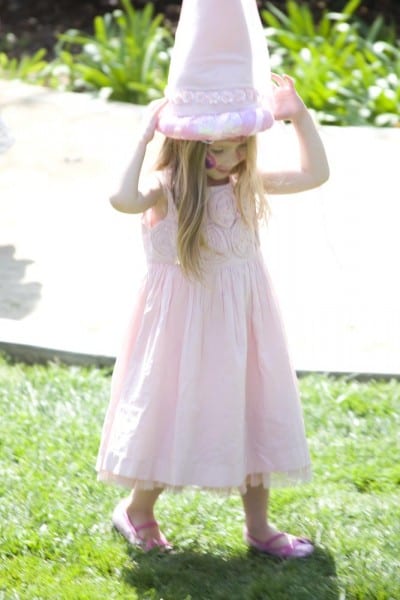 Here is my daughter with her fairy princess hat. She debated wearing a mermaid costume, but ultimately fell in love with this dress. The face paint was of her own design. Every Friday, the children at my daughter's preschool are able to paint their own faces, hence the face painting you'll see on the other little guests.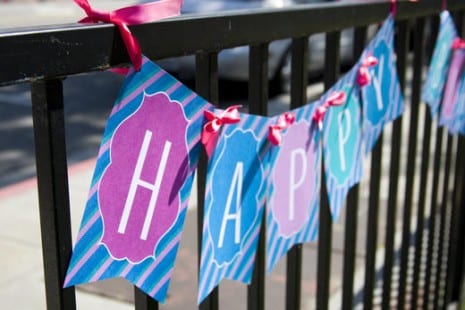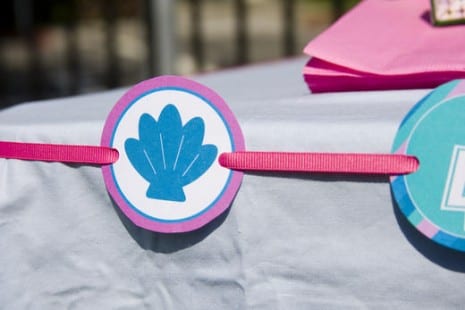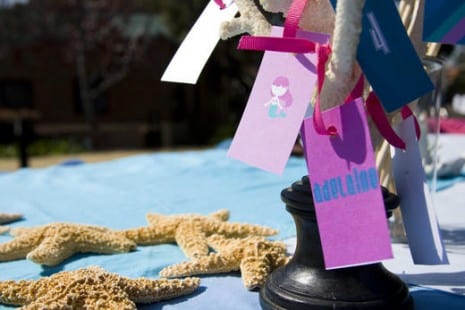 The beautiful printables are from Lindi of Love the Day. The birthday banner was a great decoration for the fence. I printed out Lindi's cupcake topper designs, strung them together, and used them as a border along the pizza table. Plus I decorated a coral centerpiece with hanging tags.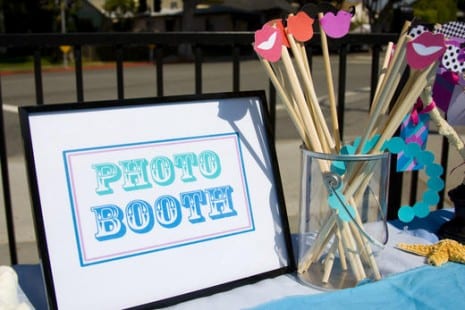 The awesome photo booth props are courtesy of Kelli from The Paper Dolls Shoppe and my homemade "photo booth" sign I printed out and put in a frame.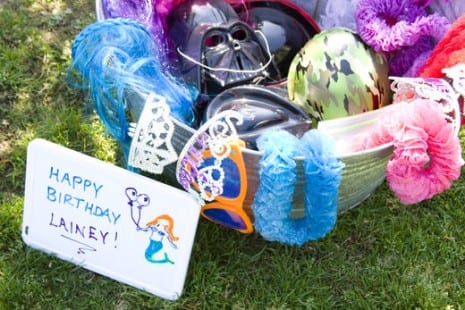 Here's the bucket of photo booth props. I decided to step out of our mermaid theme a bit and put together a collection  of fun hats, masks, tiaras, leis, sunglasses, boas, and colored hair. The kids had a blast with them and wore them throughout the party.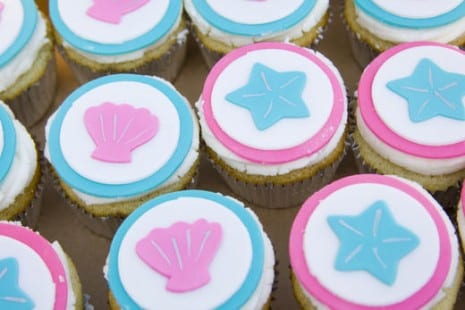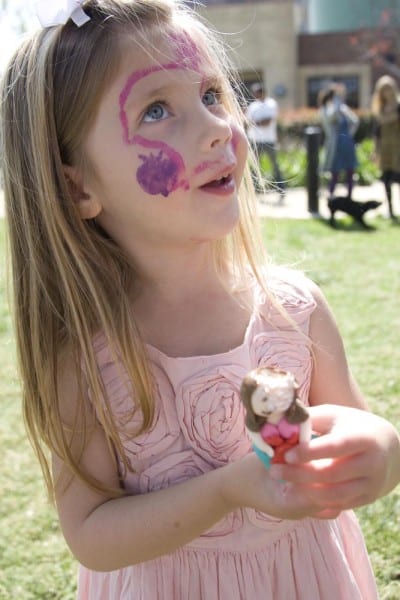 These are the insanely lovely fondant cupcake toppers from Charynn at Two Sugar Babies and were a nice surprise for the guests. And here's a pictures of the special mermaid cupcake topper (with a bite taken out of it) that Charynn made especially for my daughter's cupcake.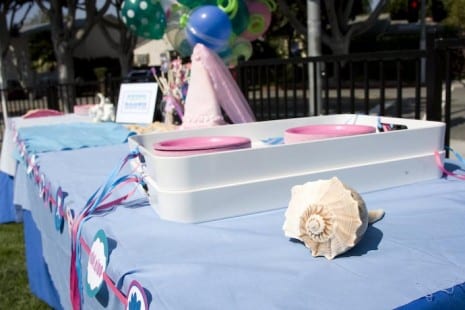 Here is what the table looked like before the pizzas arrived.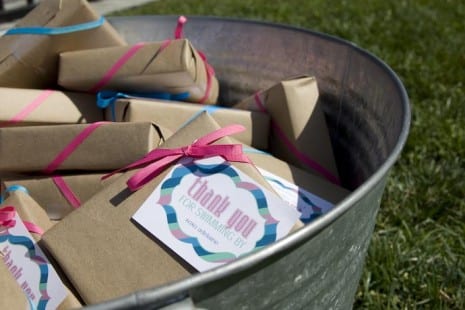 The bucket of favors: they were mermaid and pirate Shrinky Dinks with cute printable "thank you" favor tags from Lindi. I got a lot of good feedback from the parents on the favors. Nice take-home activity.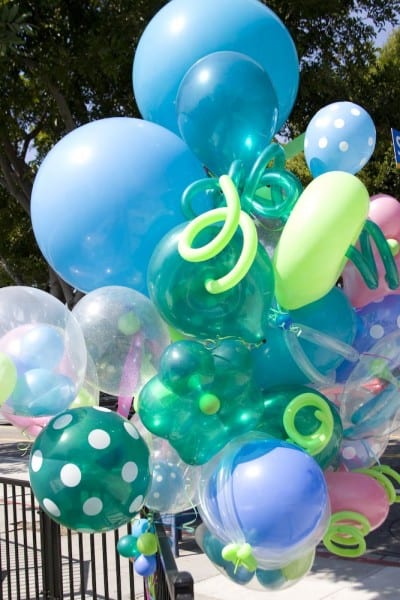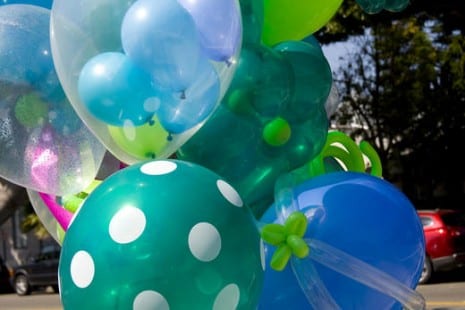 Here are the unbelievable balloon bouquets from Balloon Celebrations. Since the party was at a park and there was a lot of open space, we needed something "big" to make an impact and the balloons did just that!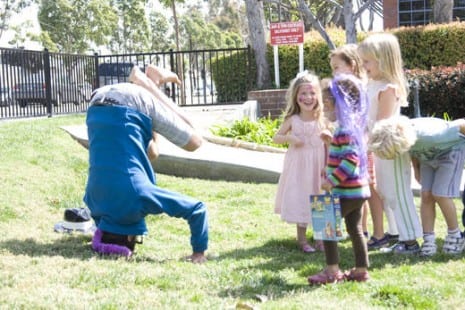 The entertainment — Goofy Gil and his friend Momo — kept everyone laughing.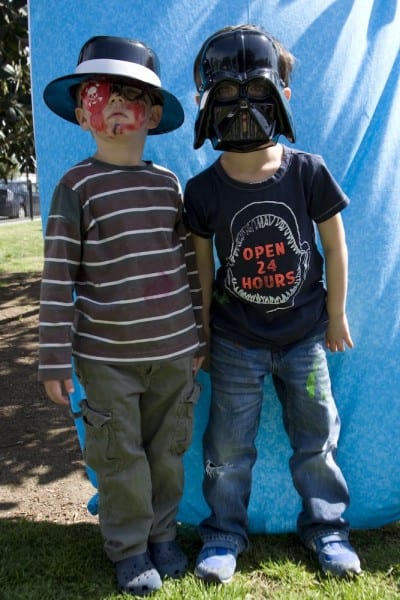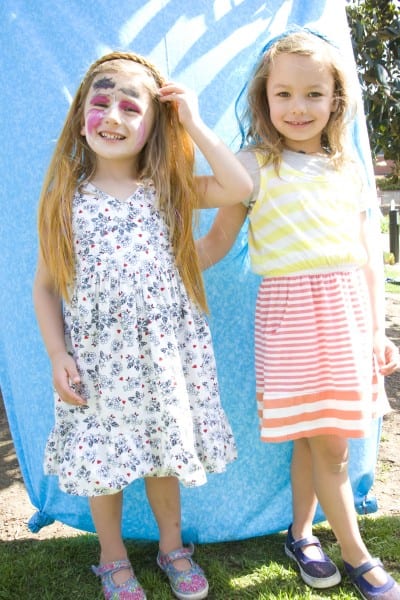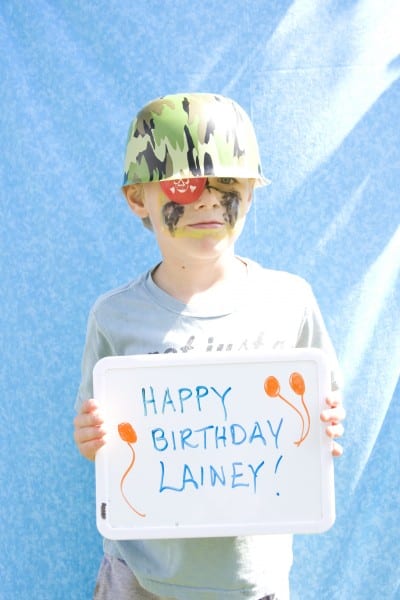 Some of the photo booth pics…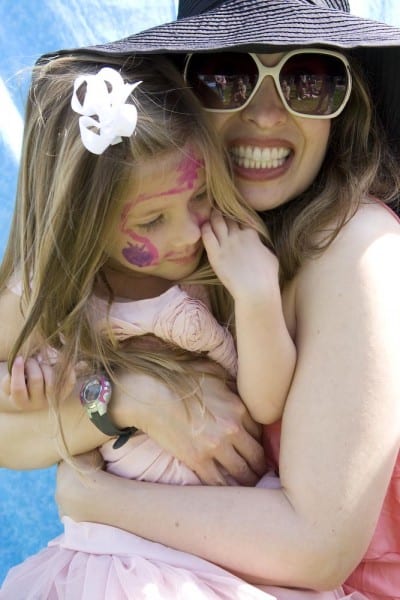 And finally… my delicious girl and me!!
So here are my lessons learned:
Serving just pizza and cupcakes worked better than expected. No one seemed to miss the healthy fruit or the decadent dessert table.
My photographer, Samantha Zachrich, was well worth it, and I loved working with her. Next time I will put together a shot list because of course after it was over, I realized I missed certain shots, like a group photo of all the guests, the pizza table, the cupcakes in their trays, etc.
Having someone there to help man the photo booth with the photographer was essential because 4-year-olds definitely need some wrangling. Also, I wish I'd gotten a bigger piece of fabric to hang up as the backdrop.
Keeping the party short to one and half hours was ideal. For most of the kids and parents it was just enough time, and for others we left them wanting more. Love that!
I still need to work on "flowing with it." This is definitely my hardest lesson. When the pizzas were almost late I got stressed. When the kids raided the photo booth props to wear during the party, I had to remind myself to breathe. And when my daughter became obsessed with the presents during the party (having never gotten so many from her friends before) I had to remember to laugh about it.
After it was all over, my daughter hugged me and said this was "the best party ever!" That is what made the whole day (and months of planning) worth it!!