I love celebrating New Year's Eve, especially with friends!
So when Party City asked me to style a New Year's Eve table, I jumped at the chance.
I wanted to fill my party with glitz, glam, and a fun bubbly bar! But I wanted to make sure the New Year's Eve champagne bar party ideas would be simple to implement and low stress.
So here's how I did it…
TABLE BACKDROP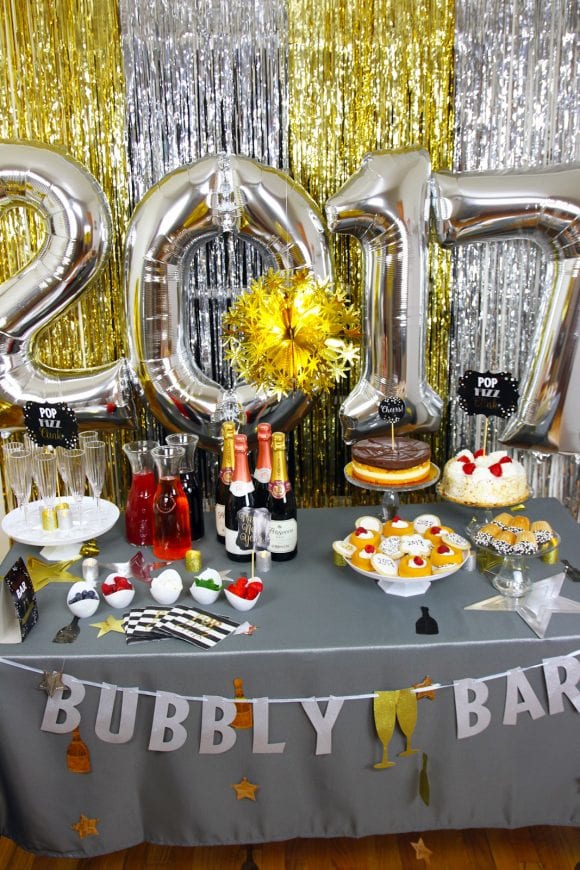 I hung alternating silver and gold doorway curtains on my wall using thin nails.
Then I blew up giant 2017 mylar balloons with helium, tied ribbons to the bottoms, and taped them to the floor.
But you don't need helium to do this. Just blow them up, tie a ribbon to the tops, and hang them from the ceiling.
BUBBLY BAR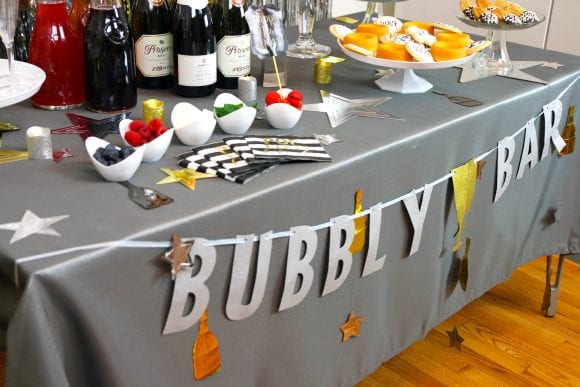 For the bubbly bar, I used this champagne bar decorating kit. It had everything I needed. It came with the "bubbly bar" garland, all the signs, and lots of the table decor.
I also added these gold & silver star decorations. Instead of hanging them. I laid them out on my table to add a touch of sparkle. I also used flameless gold and silver votives on my table to add some flickers of light.
I wanted one area of my bubbly bar to be for the champagne and fixings, and the other area for the desserts.
For the champagne, I put out both brut rose and prosecco. I recommend different types of champagne to give your guests a choice (plus I think the colors of the brut and prosecco look gorgeous together).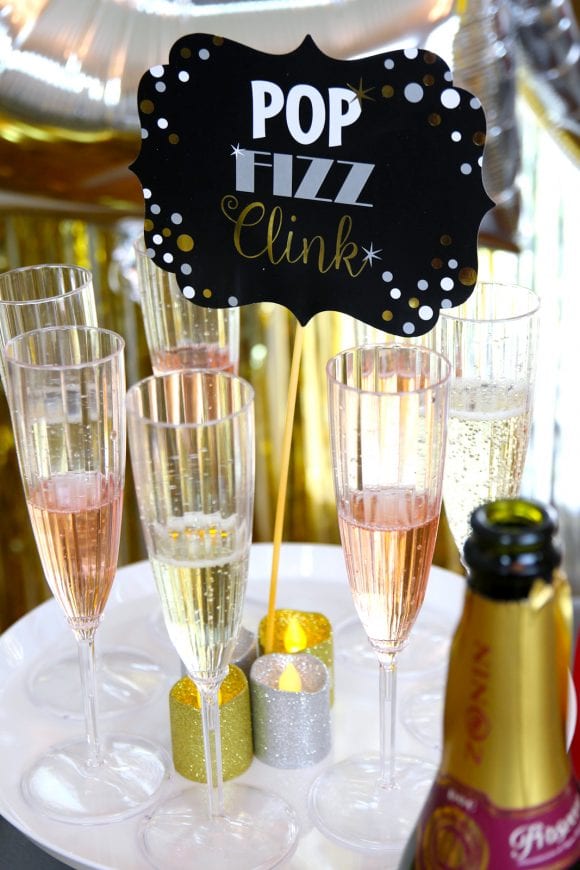 Next, I put out three bottles of juice (grape, orange, and strawberry punch), plus blueberries, sugar cubes (to go with the hard alcohol), raspberries, strawberries, and mint.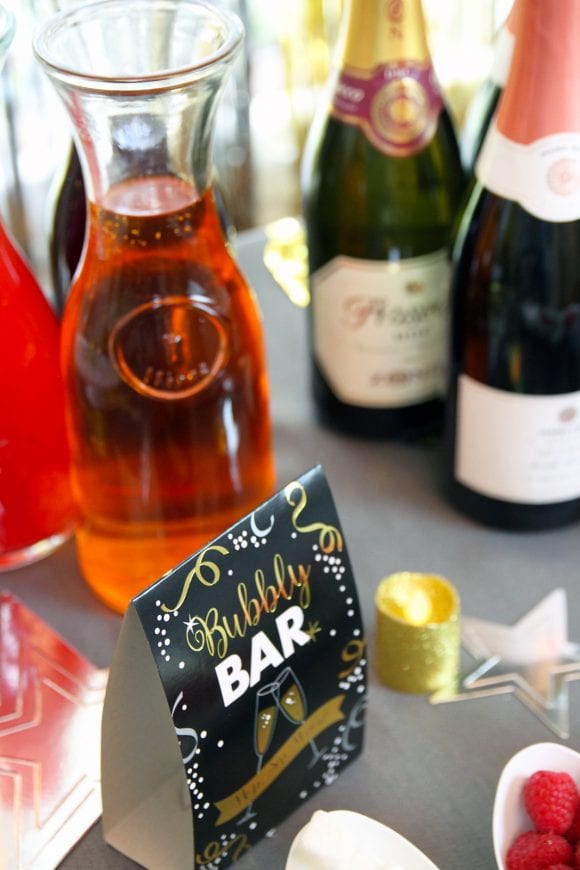 I used mini white plastic oval bowls to display my fixings!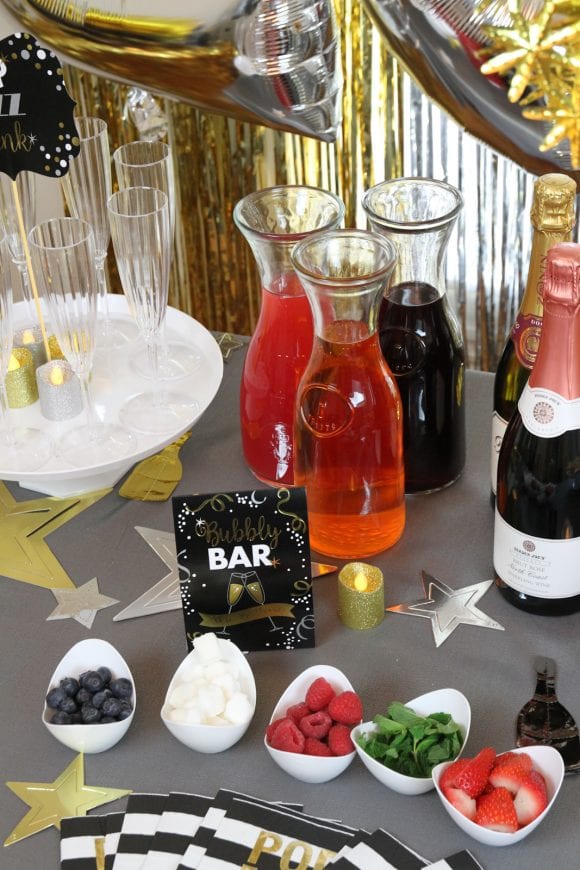 I recommend setting up an area for hard liquor. This is for those guests who want to add something a little more "exciting" to their champagne. I put these on a side table decorated with fun gold accents.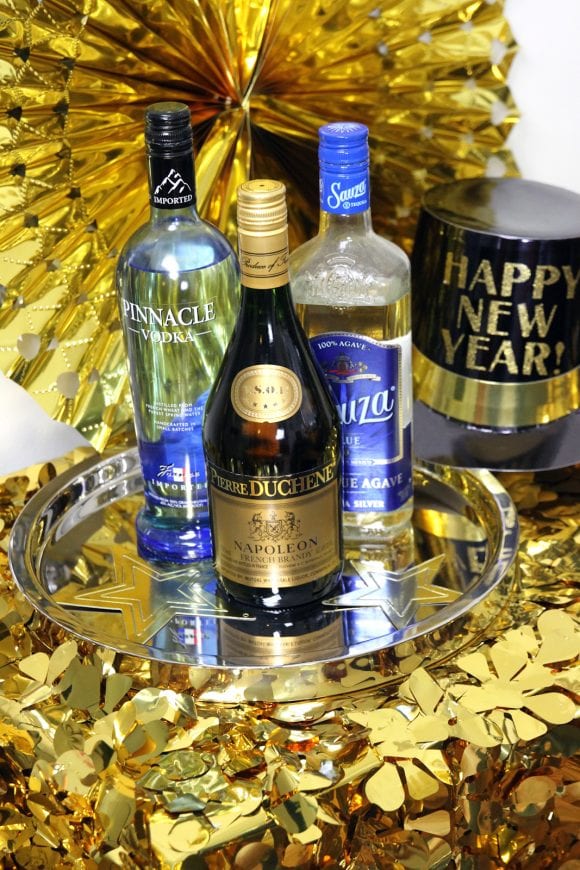 EASY DESSERTS
For desserts, I bought two cakes that I decorated with signs from the bubbly bar set. Cute, right?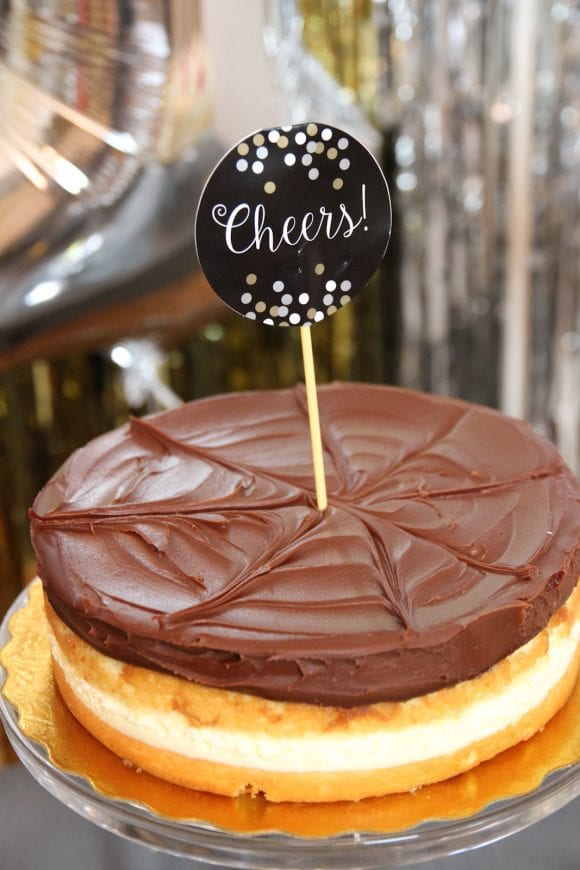 Here's the strawberry coconut cake.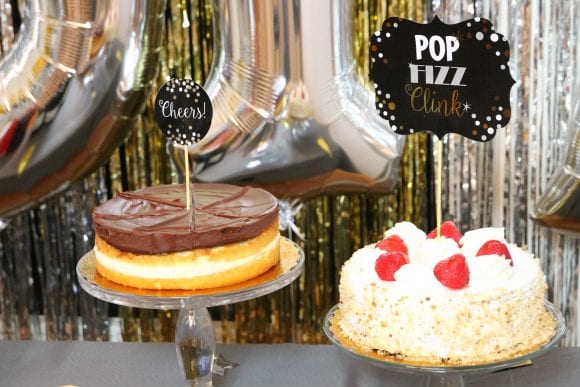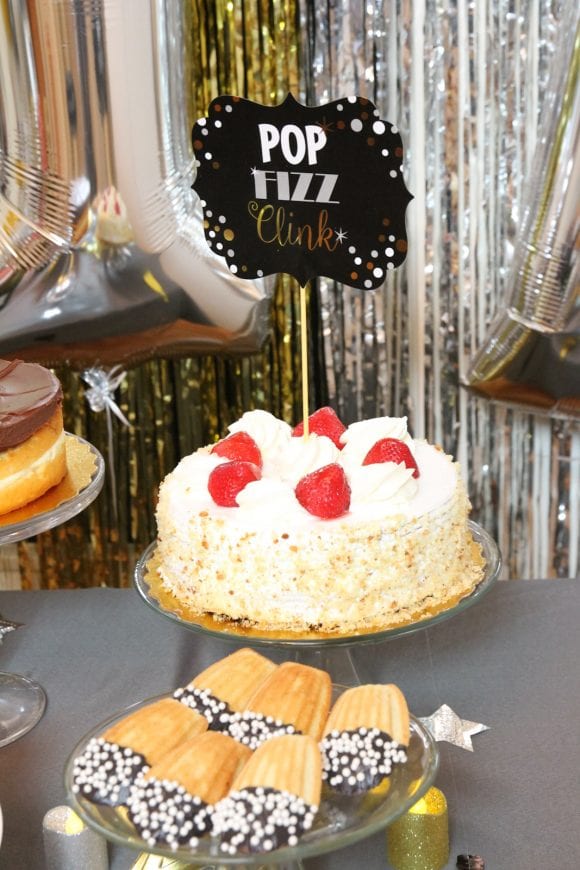 I bought madeleine cookies and dipped the edges in black candy melts, then sprinkled them with candy pearls.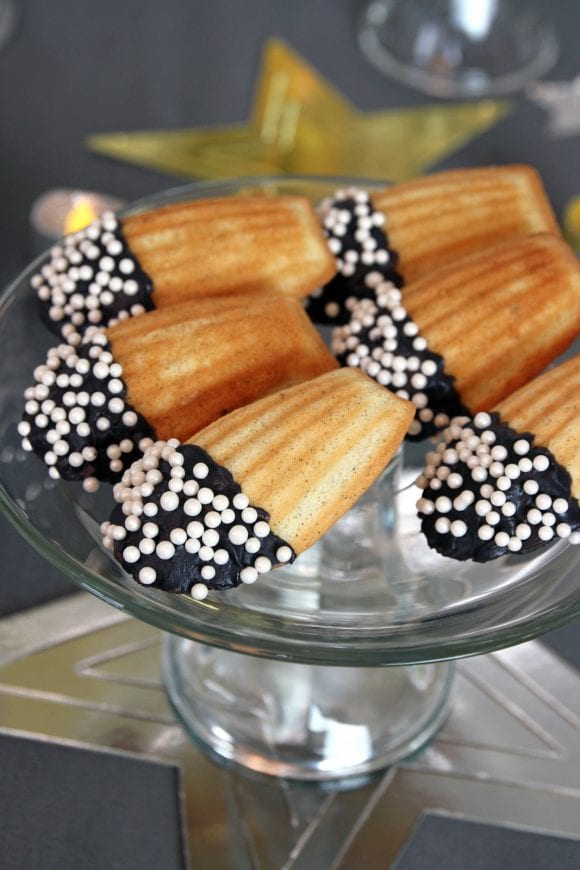 They were delicious and so easy to make.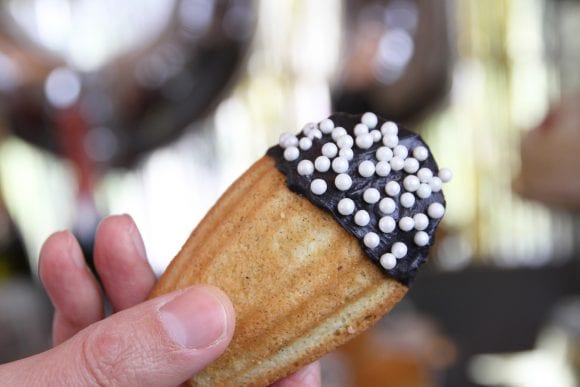 I bought little shortcakes and filled them with whipped cream and berries.
I also I made sugar cookies, covered them with cookie icing, and topped them with silver and gold sprinkles.
On a few of the cookies I used my black food marker to write "2017." I loved how they turned out.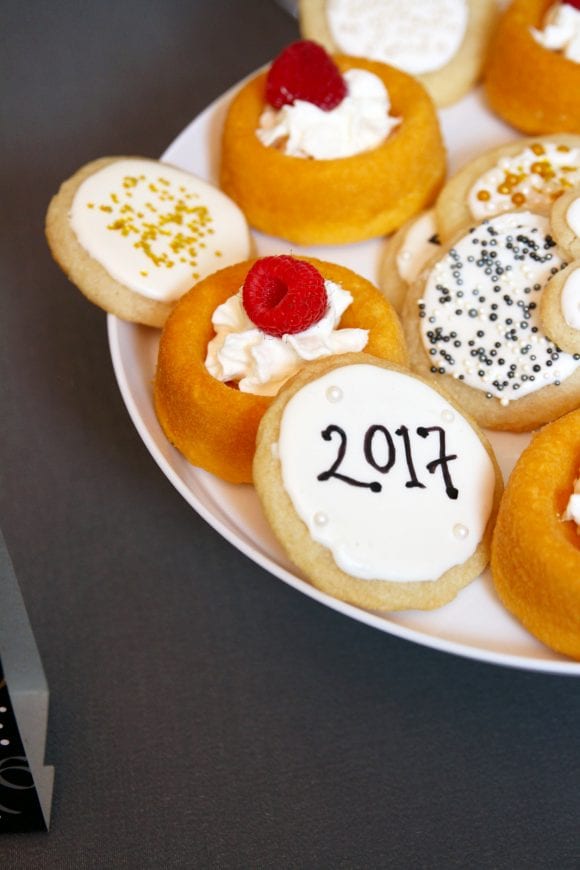 And so did my daughter, Lainey!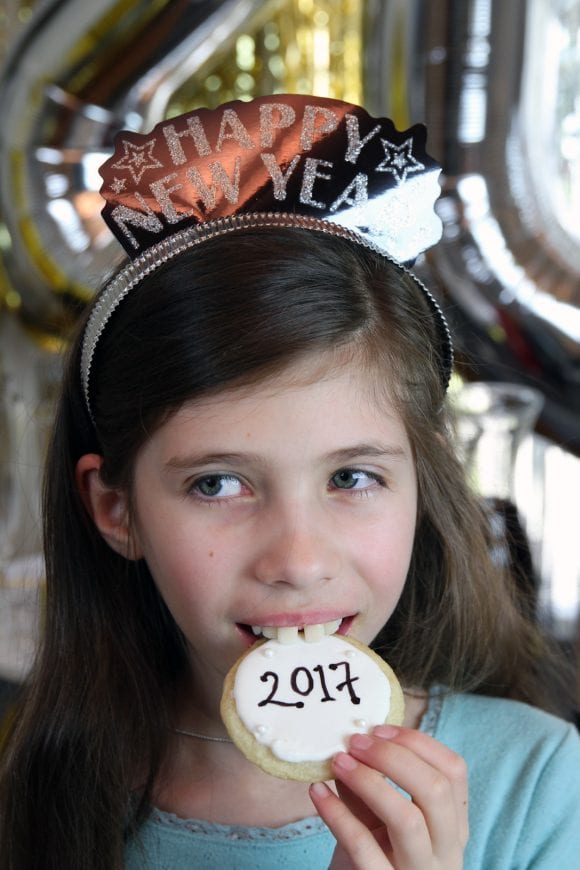 PHOTO BOOTH PROPS
No New Year's Eve party is complete without a photo booth and props!
This black, gold & silver New Year's party kit had everything! It came with hats, crowns, and noise makers. I just laid them out on my gold side table to let guests pick.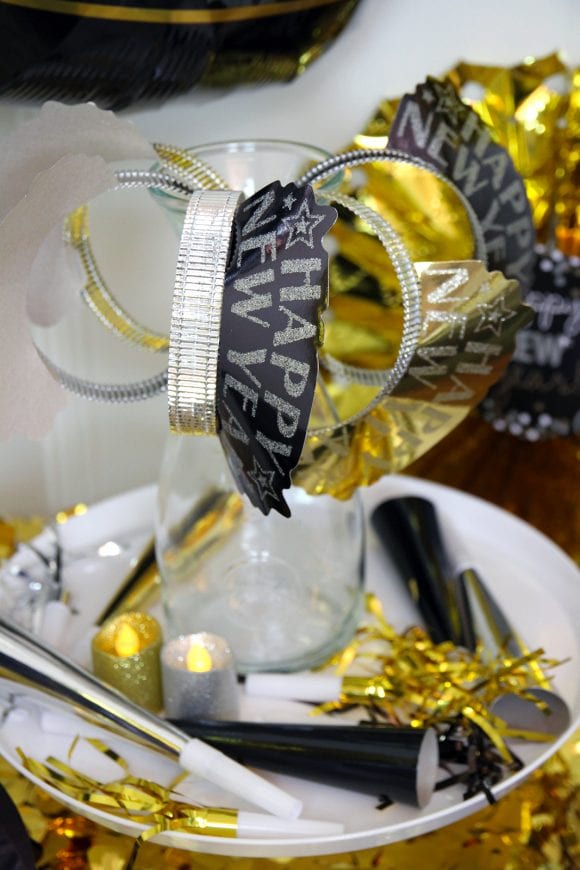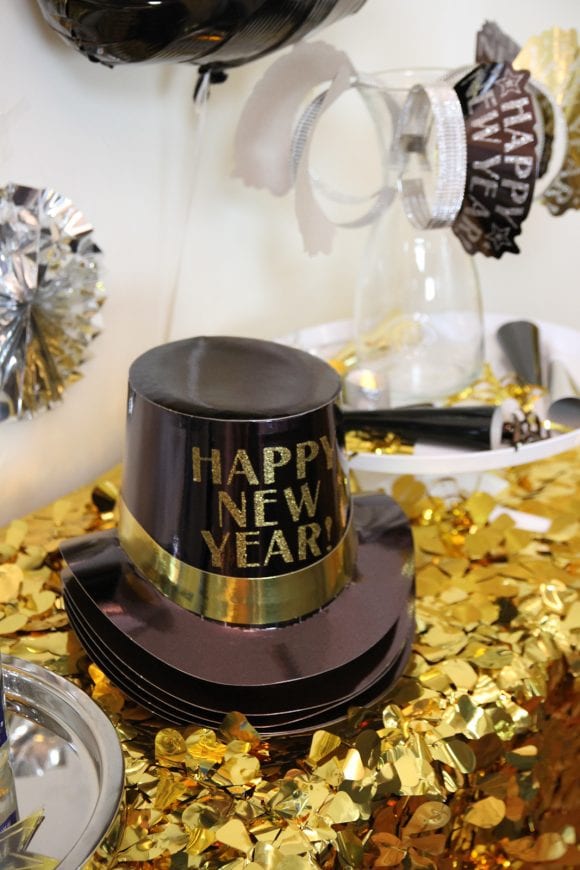 To create a glam photo booth, I just hung up some gold metallic floral sheeting. Then I put on a hat and started taking selfies.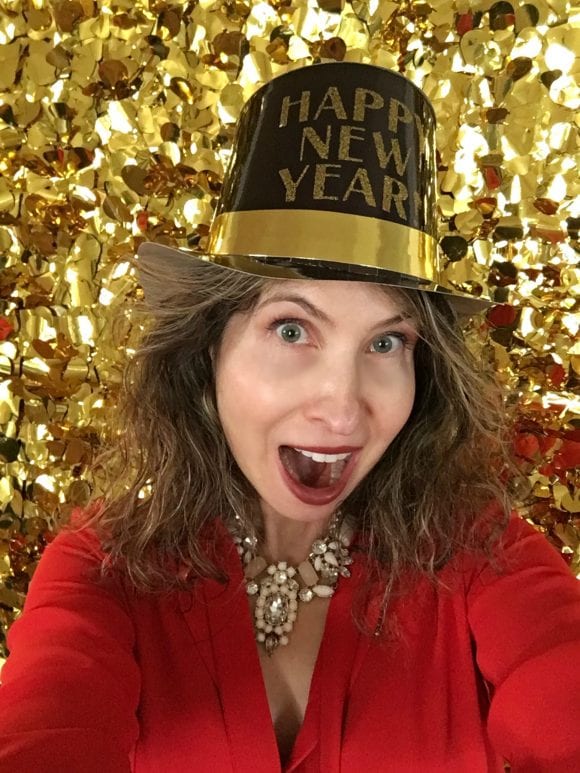 The fun of a champagne bar is letting your guests make their own cocktails just the way they like! I find that it adds a touch of whimsy to your party.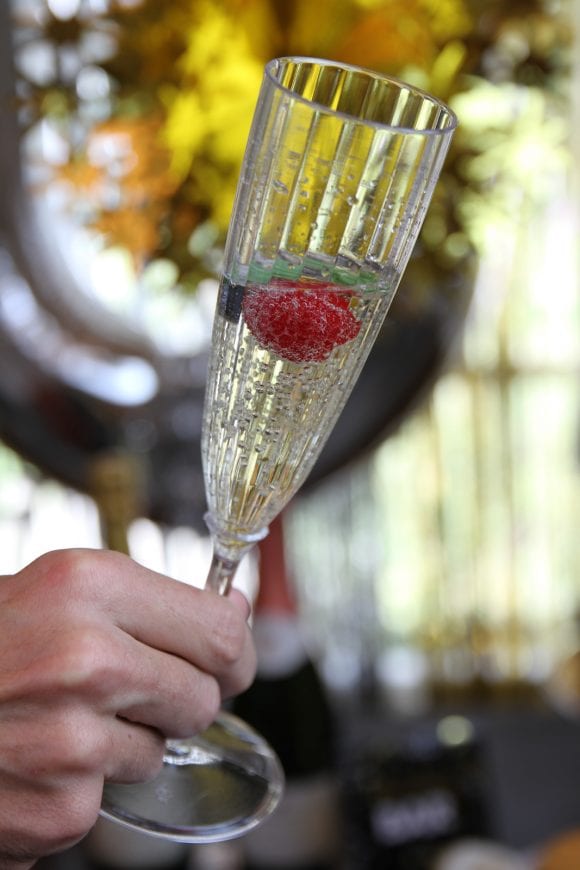 And if your guests are wearing hats while they're doing it… all the better!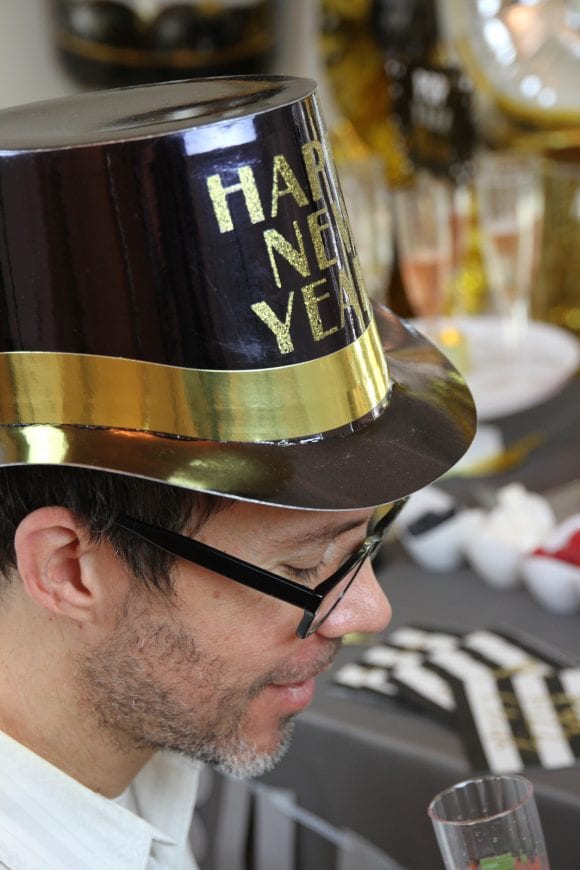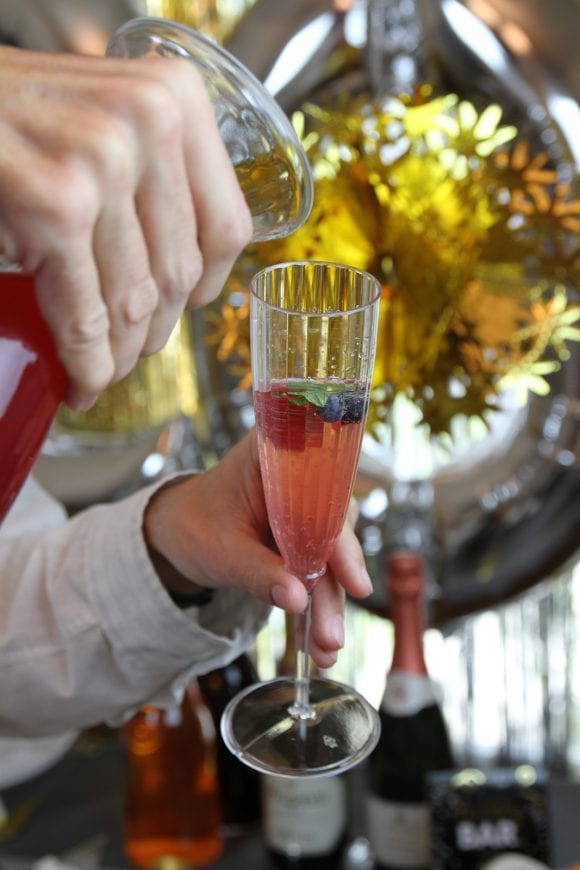 We're having friends over for New Year's Eve, so all these decorations are staying up in my house until the 31st.
I'm loving all the gold and silver in my dining room. I feel like I'm living with Elvis and Liberace. What an flamboyant way to ring in the New Year!
Party supplies I used:
If you throw a New Year's Eve party please add it to Catch My Party so I can show it off. Also, check out all that Party City has to offer. There's no party like a Party City party!
This post is sponsored by Party City, but all opinions, ideas, glitz and glam are all mine!