Pamela S from Party Starters throws the most beautiful parties. I was super excited when she added her newest, Aly's "I Love Art" Party, to our site . Gorgeous, right?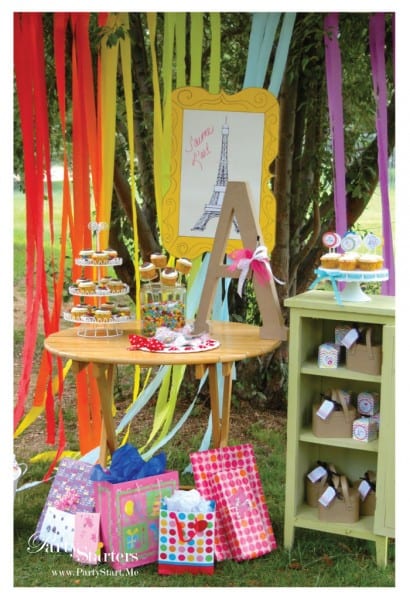 Then yesterday, I'm browsing through the photos saying lots of "oohs" and "ahhs" (which I honestly do — out loud — when I see parties I love), and all of a sudden my eyes stumble upon the number "$100" next to the budget. What?! No way. Definitely a typo.
I emailed Pamela, and guess what… no typo. She really threw this party for $100.
Well, of course I had to learn her secrets. So here are Pamela's top 5 money saving tips for throwing a kickass party…
HOMEMADE PARTY FAVORS – I made the play dough, water color paints, and crayons myself using inexpensive containers I found on clearance. (You're kidding me?!)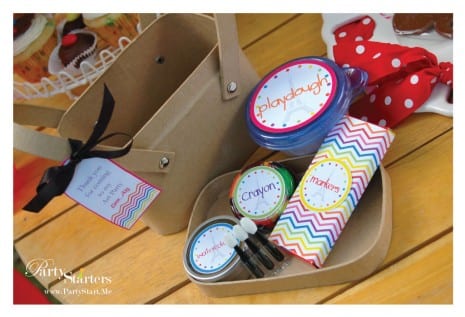 HOMEMADE DESSERTS – I made my own cupcakes (including the chocolate artist palette toppers) and cakepops with ingredients we already had on hand. Even if you use box mixes it is still less then having a bakery make these items for you.
VENUE -Having the party at a local park or at home saves a ton of money! You don't have to rent out an art studio to have a successful art party.
DECORATIONS -I was able to save money by creating my own decorations such as the printable labels and favor boxes. While I offer both finished and printable versions of Party Shapes in my shop, I suggest the printable version to save money.
Purchase one file and you can print as many labels as you need, blow them up and make larger circles for banners or signs. They work great not only for cupcake toppers, but also napkin rings, tags and favor embellishments.  You can make a $9 printable file go a long way!
ACTIVITIES – Find inexpensive activities like foam shape kits for large groups. I purchased a finger puppet kit meant for a classroom of kids on sale for only $5.
You can also use everyday items you have at home to create activities, like making paper plate artist pallets or paper bag puppets. The least expensive activity was simply being at the park and being able to play at the playground. Our friends were well entertained for more then 2 hours.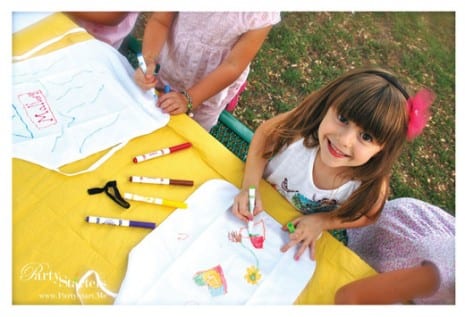 Pamela, thank you for all the tips. I threw my daughter's fourth birthday at a park and I thought it was so easy, and so much fun for the kids, I'll probably do it again for her fifth.
And I'm very impressed that you made your own art supply favors. Brilliant idea!
To learn more about Pamela, please visit her blog, Party Starters, and her Etsy shop. Plus, do take a look at the amazing parties she's added to our site. I promise, you will be impressed.