I'm always impressed by people who can throw amazing parties on the tiniest of budgets. I was a fan of Melissa N's Baseball BBQ when I first saw it, but then when I read she put it together for $100, I had to know more.
So here are Melissa's top 5 tips for how she saved money throwing her Baseball BBQ…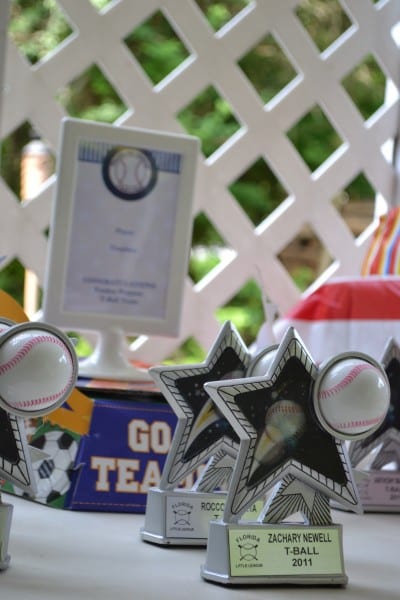 1.  REUSE – I use items over and over in different ways until they look too beaten up.  I use a lot of different containers and replace the tags on them or add ribbons depending on the theme or colors.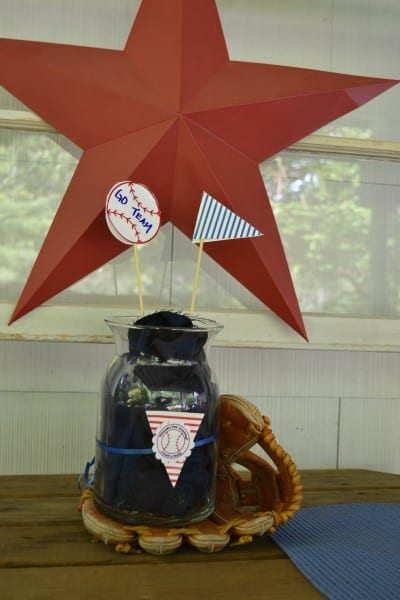 One can of chalkboard paint has gotten me through 5 parties so far!  I use them for signs and all sorts of decor!  The scoreboard for the baseball party is being reused for a 7th birthday party… just using some chalkboard paint to cover the last sign. (I use chalkboard markers on the boards and they tend to not all come off that easily, so I like to repaint them.)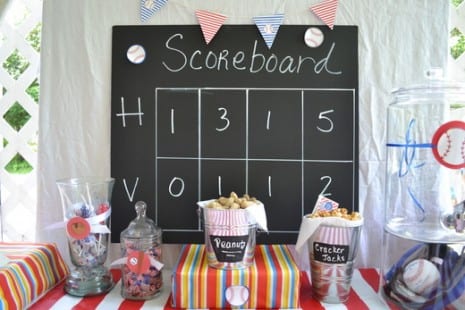 2.  RECYCLE – I save almost all glass jars and large plastic containers to use for parties. Just clean them out and put them into a box for future use.  I also find a lot of glassware at garage sales.  I used what baseballs we had at the house to make the glass jar centerpiece for the baseball party. Cost nothing!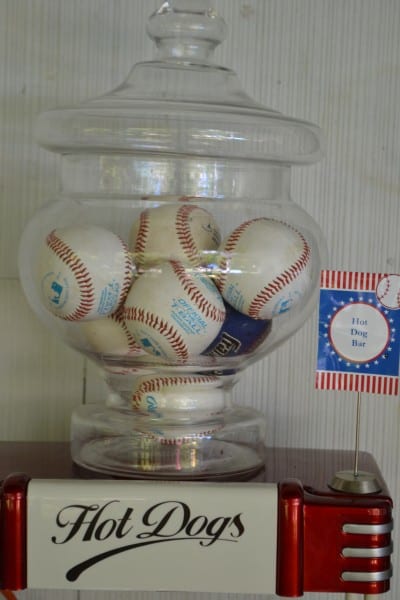 The green "turf" on the table was used at our Easter Egg Hunt and made a great covering for the baseball party also!  Cost was $8 and so far I have recycled it through two parties!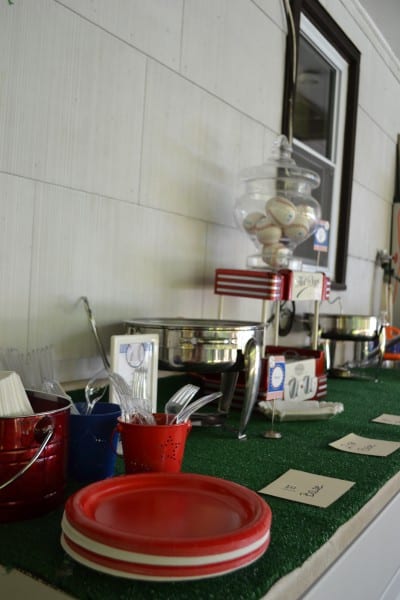 3.  DOLLAR TREE – Amazing what you can do with dollar store items!
4.  BUY ON CLEARANCE – Rummage through the clearance bins and dollar bins at Target, Party City, Walmart and more. I always buy anything in primary colors because they can always be altered with paint and other crafty items.
The striped table clothes that you see on the tables and on the main baseball table were purchased at Target on sale, and I am reusing them for 3 more up coming parties!  Big savings there!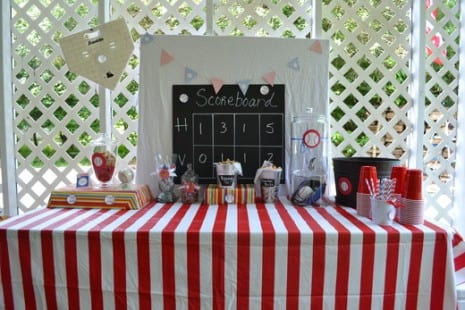 5.  RESEARCH way a head of time – I always use the Internet for research beforehand and using FREE printable (making sure to give credit back to the original blog or website).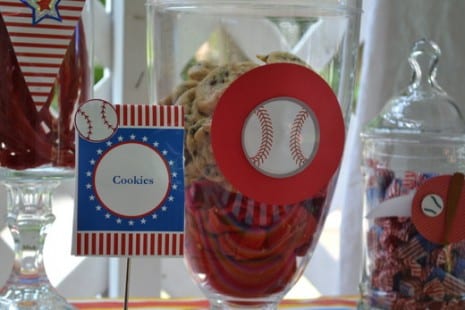 Thinking outside the box, and being creative with food also, the s'more pops were a big hit and easy and very economical to make!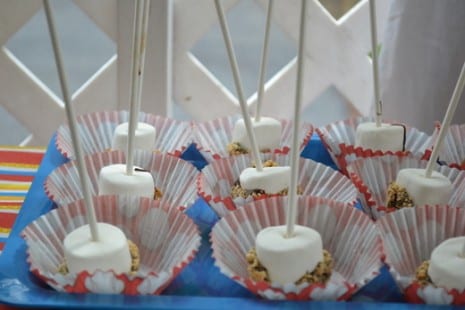 Thank you, Melissa, for these helpful money-saving ideas! My two biggest takeaways from this post are… Reuse anything and everything, and chalkboard paint is your friend. 🙂
Take a look at all the fabulous parties Melissa has added to our site. She is definitely an entertaining expert!