Melissa N from My Party Passion is a party aficionado. She's added thirty three parties to our site! The best thing about Melissa is she knows how to throw a great party on the tiniest of budgets.
She just recently threw her daughter a Pirate Party and made it look so easy.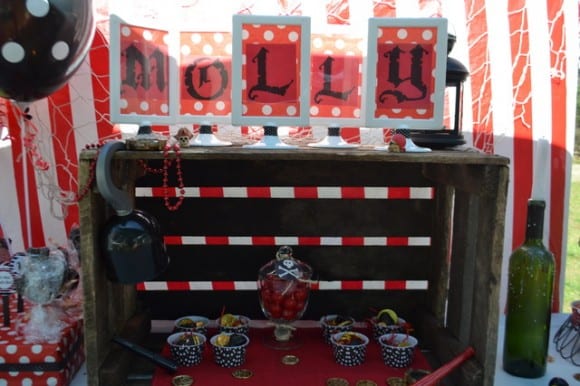 I asked Melissa to share her best kept secrets, and here's what she said…
Ahoy Buckeneers!  I love a good challenge!  Don't you?!   My "challenge" on this Pirate Party was the fact that I needed to STICK to a strict budget (not easy to do with my creative mind).  
My daughter is a lover of pirates, Izzy from Jake and the Neverland Pirates to be specific.   I knew that I wanted to have a quality party and less quantity (of children) which is something "we" don't do that often!  I told our daughter that she could invite 5 other girls (besides herself and her sister).  What I would love to share with you today are my top 5 Pirate Party Budget Challenges and their solutions!
1.  Challenge:  Cover the white plastic outdoor chairs for the party table
HIGH END:  White fabric pre-made chair covers (not in the budget).
BUDGET:    White plastic rectangle tablecloths from the Dollar Store (didn't break the bank). You only need 1 tablecloth per 2 chairs – cutting them in 1/2 – Solution! (I also splurged on 2 rolls of black crepe paper at the same store to tie around them.)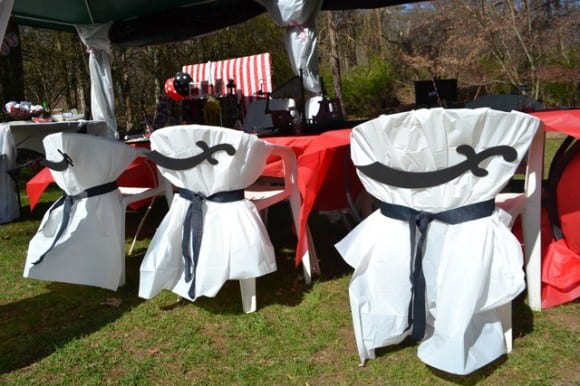 2.   Challenge – Venue drapery covering  to cover the green tents we had up
HIGH END:  Fabric Curtains or other fabric to use as curtains around the tents.
BUDGET:    Again using Dollar store tablecloths for the curtain effect.  Solution!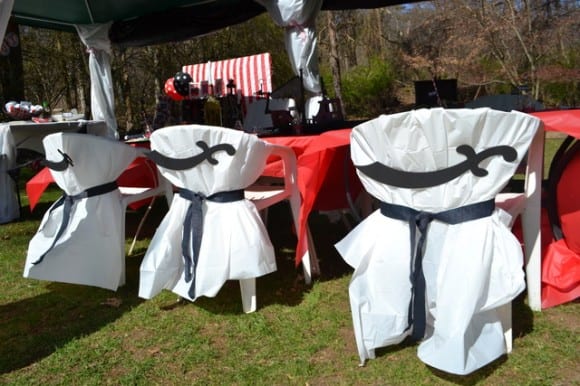 3.  Challenge – Find a cake the guests will eat and not waste
HIGH END:  Bakery made cake (my opinion  – so much cake gets wasted as the children really only eat the frosting).
BUDGET:   Store bought 1 layer cake used to make into Cannonball Cake Balls – sticking with a pirate theme, cannonballs seemed appropriate.  Chocolate and red chocolate melts. I used reusable Push Up Pop containers to showcase them.  Solution!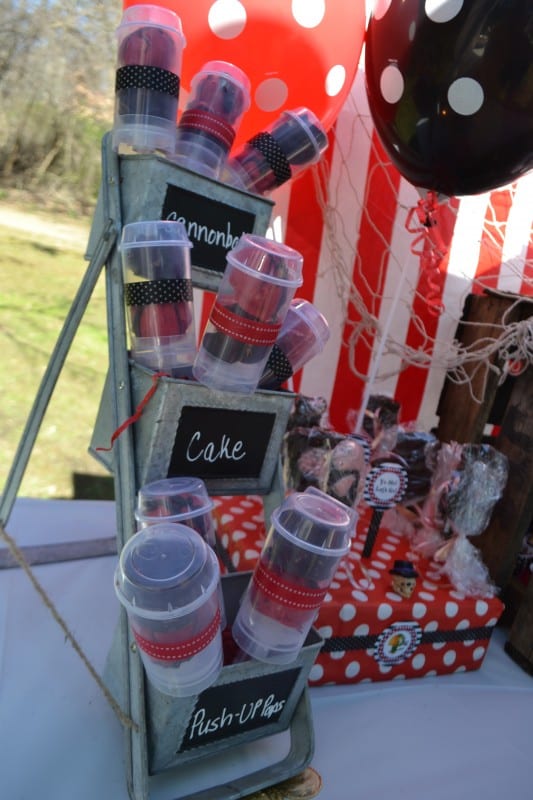 4.  Challenge – Quality goody bag items that will not be lost in the bottom of the Mini Van! 
HIGH END:  Fill with a lot of little trinkets that somehow end up at the bottom of the minivan never to be seen again – money wasted.
BUDGET:    I try to find something that goes with the theme that the guest will keep for a while. In this case I found bottlecap Izzy necklaces with the chain on Etzy – less than $ 3.00 per necklace.  The bags themselves I found at Hobby Lobby's after Christmas sale (red & white polka dots) for 80% off, less than $2.00 for 10 of them!  I would have spent more than that on little trinket stuff that would never be seen again.  Solution!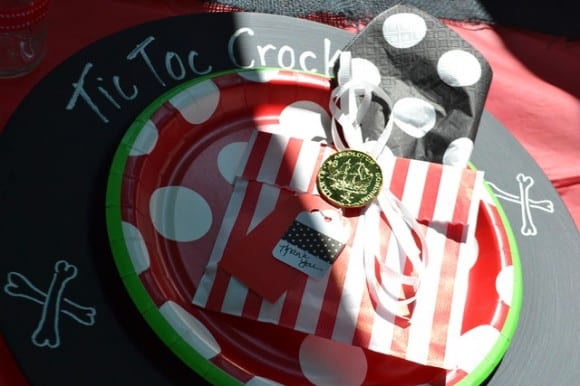 I also found the black medium size handled bags after Halloween for $0.28 each. Slap on a skull and crossbones sticker and you have a goody bag, or in my case a bag for the kids to put all their loot in (crafts, etc.).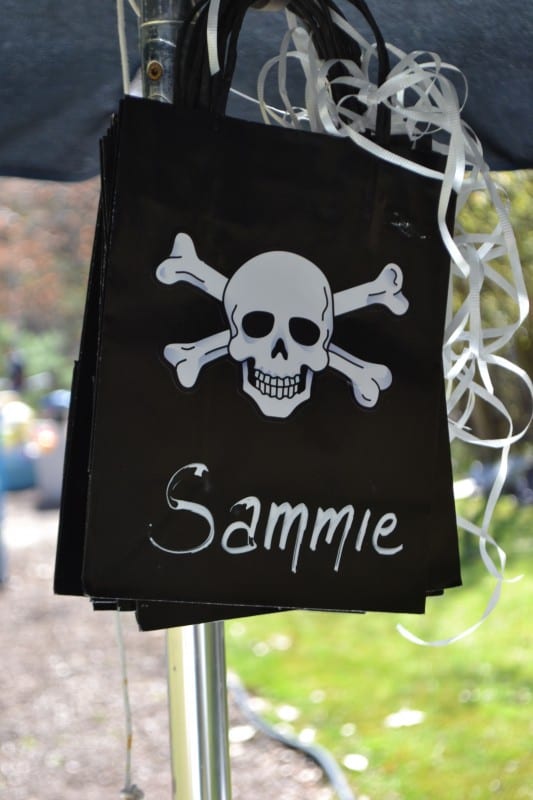 5.  Challenge – Craft that are higher end for less price
My advice on crafts, find something that can be showcased in your guests' own homes or something that they can keep and use to remember the party.  In this case, I rummaged thru the clearance rack at Michael's  and found these good sized pirate banks to be painted for $0.77 each!  They were behind a lot of other items and I had to search to find 8 that were not broken.  Success!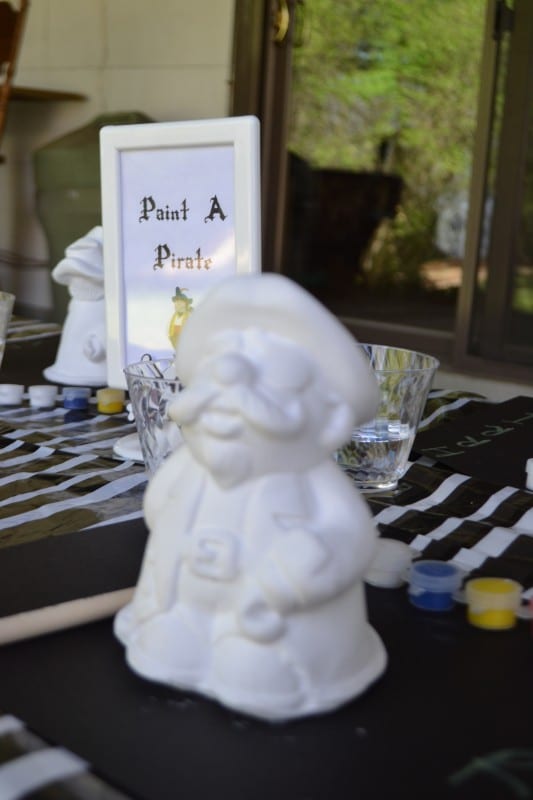 In short, don't be afraid to search out deals, bargains, clearance items, and Etsy for some great goody bag ideas! Use your local Dollar Store and find the after-holiday sales at the party stores to pick up generic colored items to be used for other parties!  
Thank you, Melissa, for these smart tips. A little common sense and ingenuity go a long way to throwing a great party.
Do check out Melissa's other fantastic parties on our site and her new blog, My Party Passion.