Melissa Newell from My Party Passion, is with a new picnic Party on a Budget post!
Spring has sprung Y'all! It's Me, Melissa – the Party on a Budget go-to-gal. With Spring comes more mini parties! Today, it's all about bugs… Ladybugs!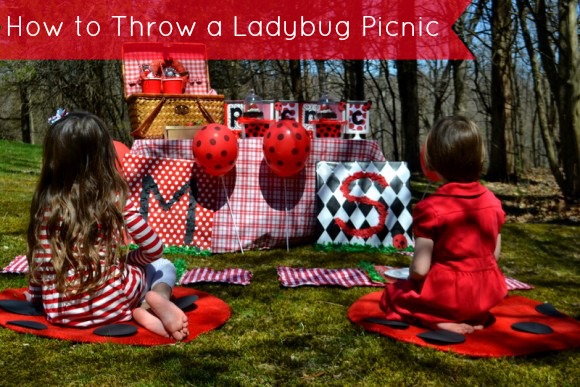 As with most of my Mini Parties on a Budget, it all starts with one item that gives me inspiration – usually from the dollar store. No exception here. This little plastic box with dots on it was the inspiration for this Mini Party.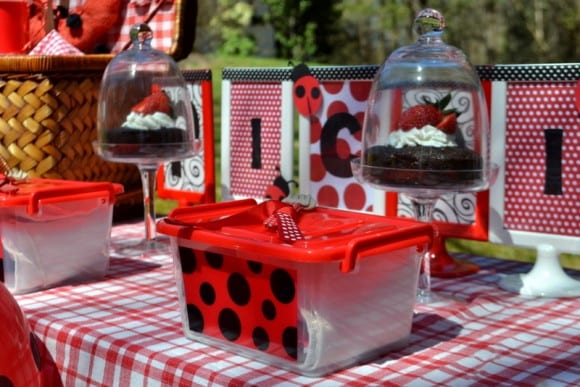 The other party supplies that I gathered, all came from my crafting closet or the recycle bin (still keeping it earthy here at My Party Passion)!
The Setting: Our front yard. The grass finally showed us its true beauty with lush green colors. The girls each had a "ladybug" rug to sit on – old rugs from IKEA that I put black paper dots on.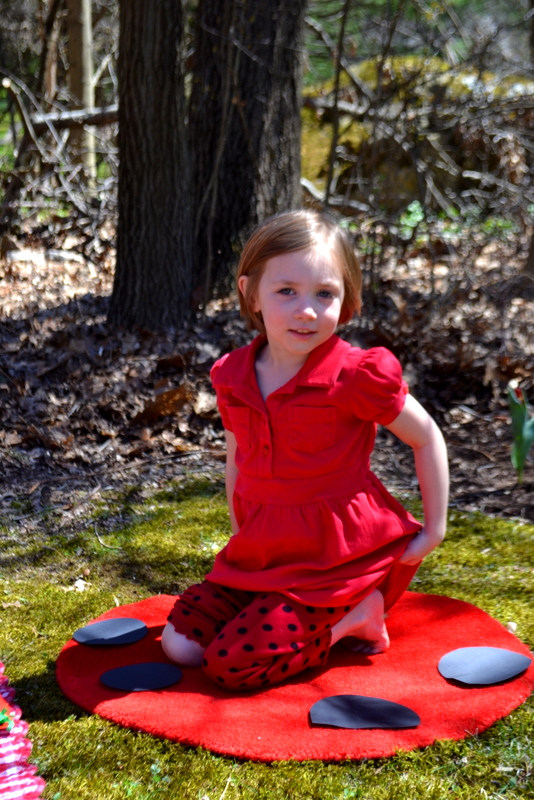 In front of them were two picnic themed table runners and homemade place mats (see HERE for a tutorial on how to make these from old gift bags).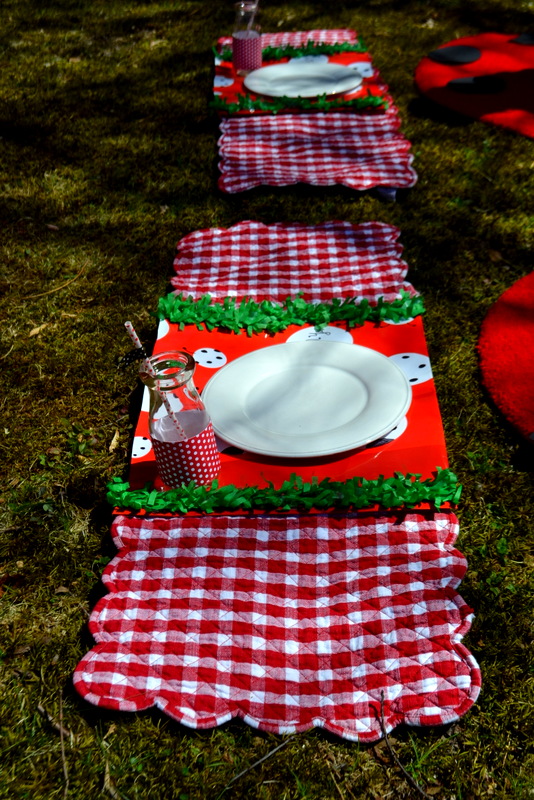 Each girl had their initial on a board (made from pizza boxes) that I made to go with the theme. I used old wrapping paper to cover them (bought after Christmas sale 2 years ago at a craft store) and tore crepe paper to create their initials. I cut out some ladybugs to scatter throughout the party – using my Silhouette SD Machine.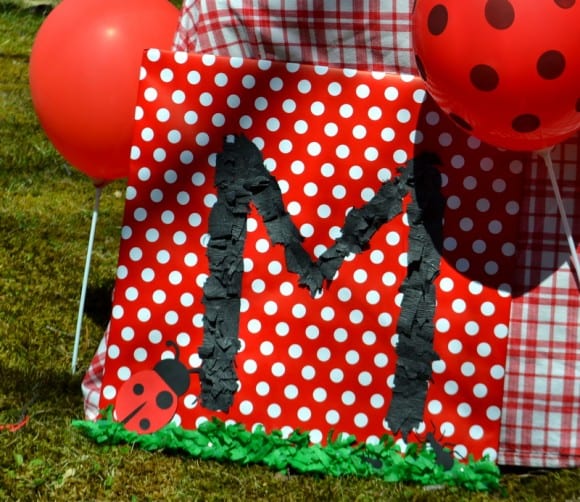 The "sweets" table was a fun to create using my white and red IKEA frames ($1 per frame – they paid for themselves long ago) and cutting out backgrounds from scrap paper. I made it simple and affordable. I had filled the plastic dotted boxes with a strawberry Special K bar and some strawberries for the girls. They also feasted on a chocolate fudge mini cake with whipped topping and strawberries. A few spotted balloons and a picnic basket finished this off.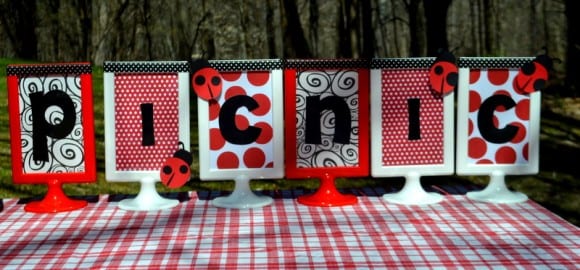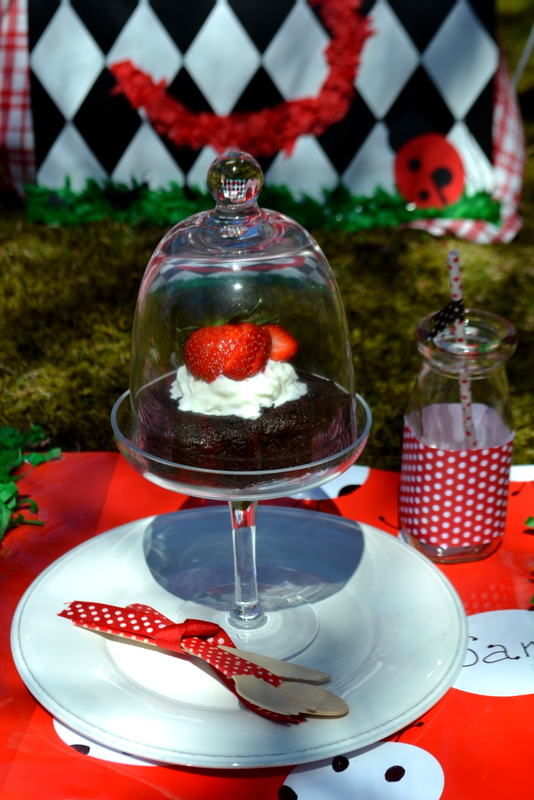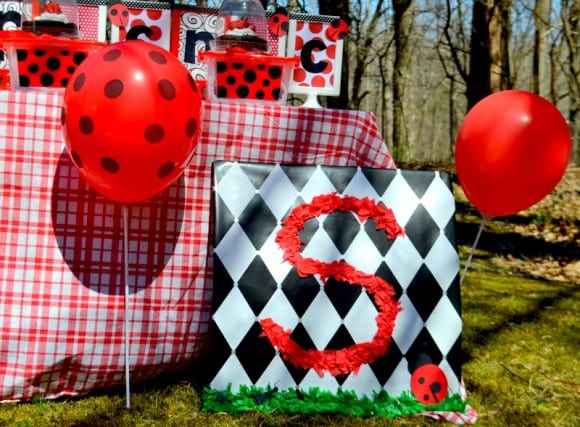 Goodies: Of course what would a party be without a little "take away goody." This time I found little mani/pedi kits in the shape of ladybugs at our local dollar store. These worked perfectly. Putting them into a little see-through bag with a personalized clip on them finished them off.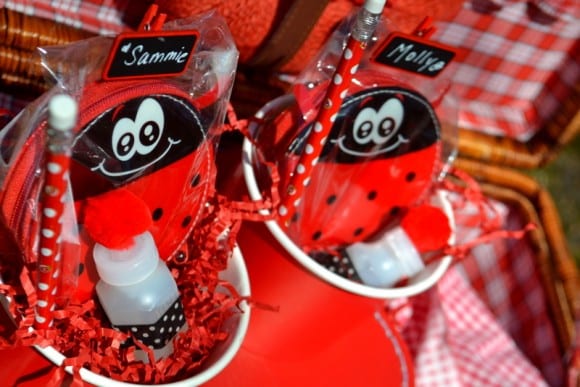 After the girls were done eating, they wanted their pictures taken with their "initial signs." For this, we went out back to our only flowering bush (at the time).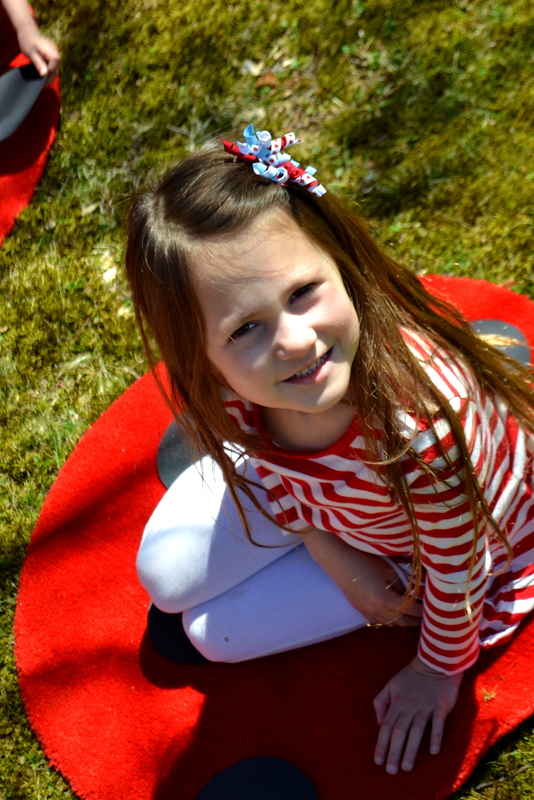 All in all the girls had fun and it cost me less than $10 for the entire party.
It's almost Memorial Day – are you celebrating with a party? Until next time – Party On Friends!
Thank you, Melissa, what an adorable way to enjoy the nice weather! To learn more about Melissa, visit her at My Party Passion.