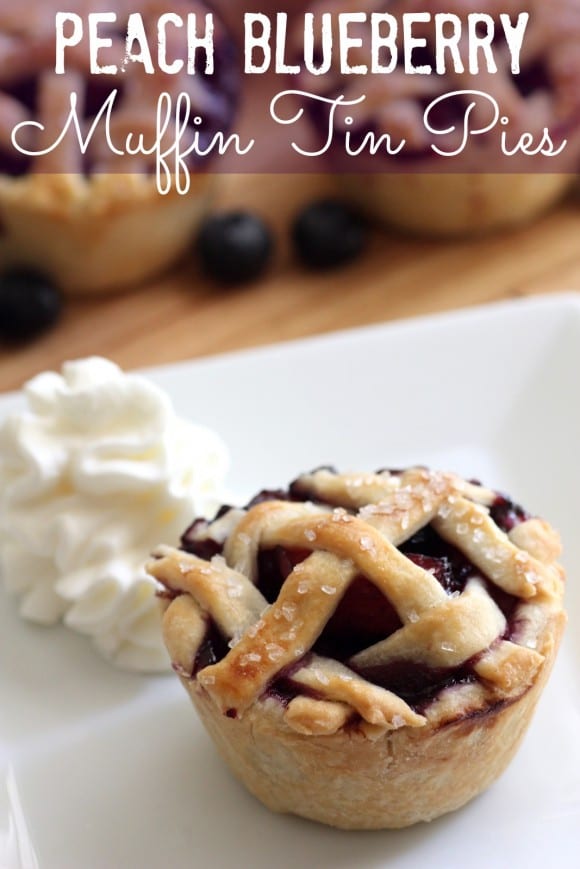 In these peach blueberry muffin tin pies, I knew I wanted to make something that incorporated all of the incredible summer fruit I'm seeing at the farmer's market.
But I didn't just want to make a big 'ol pie, I wanted to make mini pies I could bake in a muffin tin. I thought they'd be more portable and bite size, great for outdoor entertaining, plus aren't they darn cute?
Here are the peaches and blueberries I picked up at the farmer's market. What I love about summer farmer's market fruit, is not just how sweet everything is, but how complex the flavors. These peaches, for example, were definitely sweet, but they were also tangy and floral, and the blueberries were sweet, sour, and had a really nice crunch.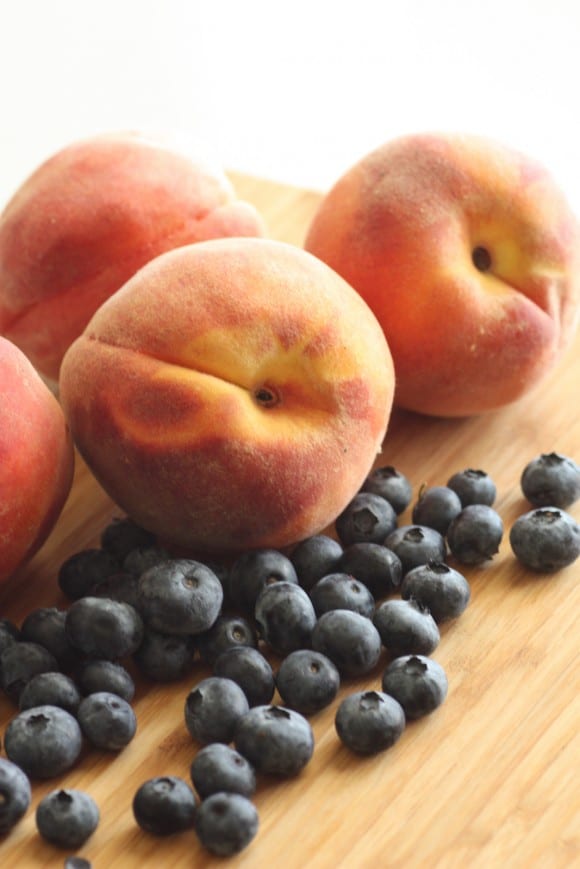 My trick to making them lighter in calories: To grease the pans, I used cooking spray instead of butter or Crisco, and, because the fruit was so rich and complex in flavor, I barely used any additional sugar. In fact, I used a touch of salt to bring out the sweetness.
PEACH BLUEBERRY MUFFIN TIN PIE RECIPE
Ingredients:
for the Crust
2 1/2 cups of flour
2 teaspoons of sugar
1 cup butter (2 sticks)
1/2 teaspoon of salt
1/2 cup cold water
for the Filling
4 large peaches
1 1/2 cups of blueberries (~6 oz container)
1/4 cup brown sugar
1/4 teaspoon salt
1/4 teaspoon vanilla
for the Assembly
1 large egg
1 tablespoon water
2 tablespoons coarse sugar
Directions:
We used the basic crust recipe from our Mini Cranberry Apple Pie Recipe. Check out that recipe for more detailed instructions and photos of the process.
Start by cubing the butter, and use a food processor to mix it with the flour, salt, and sugar for about 30 seconds until it has a breadcrumb texture.
In a chilled mixing bowl add 1/4 cup of cold water, and mix it with your hands. When the water is absorbed, add another 1/4 cup of cold water. That should be enough to pull the dough together. If it still seems crumbly work in another couple tablespoons of cold water.
With a floured work surface, knead the dough just a couple times to work into a nice smooth ball. Cover it in plastic wrap, and chill for at least 30 minutes.
Preheat the oven to 400F.
Heat the blueberries in a saucepan until they start to burst. Stir in the brown sugar, salt, and vanilla until it is dissolved. Set it aside and dice the peaches. We kept the skins on.
Roll out the pie dough and cut circles about twice as large as the muffin tin. Thoroughly spray the muffin tin with cooking spray. Push the dough down into the pan.
Stir the peaches into the blueberries and spoon into the muffin tin.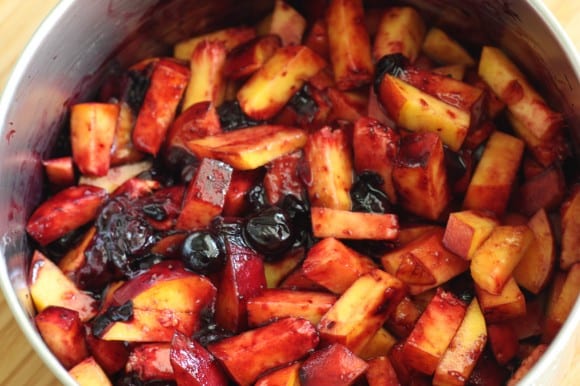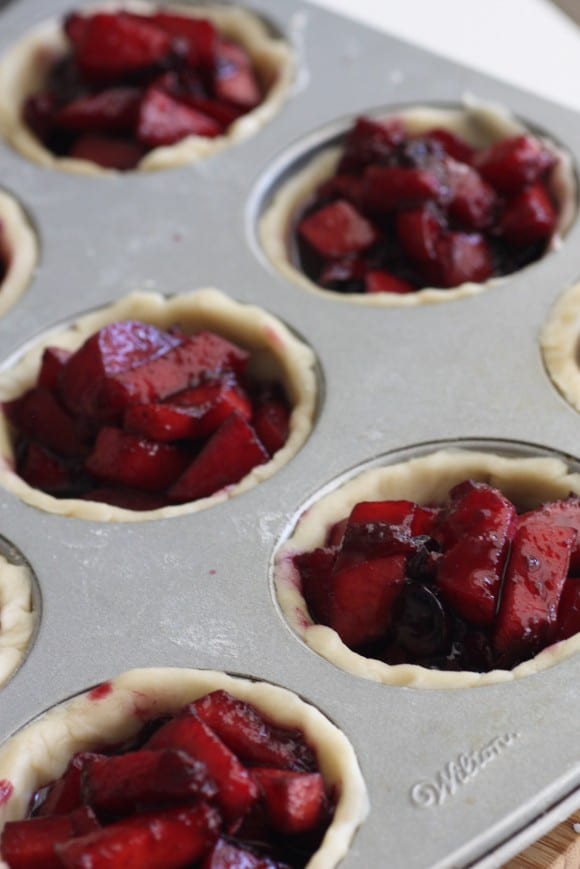 Roll the remaining dough out again, and using a pizza cutter to cut into 1/4 inch strips. Lay them across in a lattice pattern like this.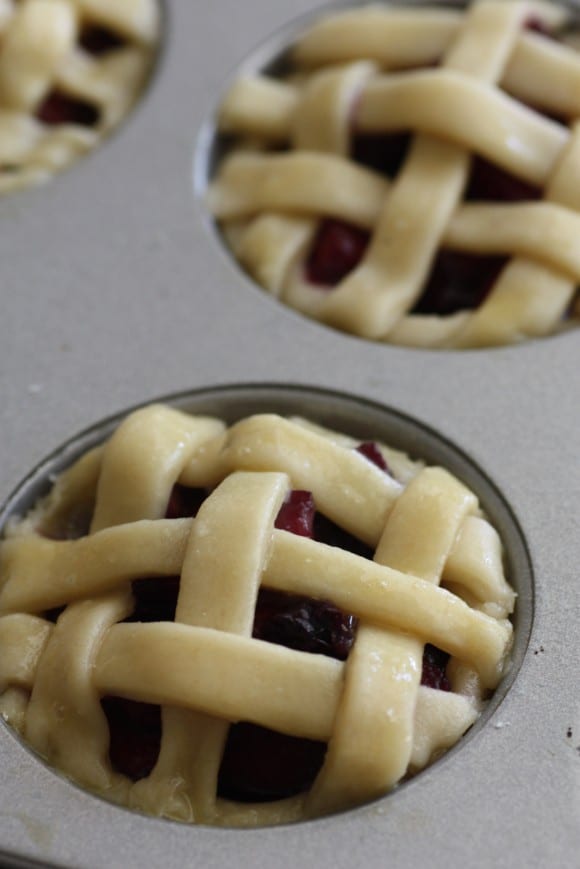 Beat an egg with 1 tablespoon of water and brush across the lattice. Sprinkle a pinch of sanding sugar over each pie.
Bake for 15-20 minutes. until the crust is a deep brown and the filling starts to bubble and you can't resist taking them out of the oven.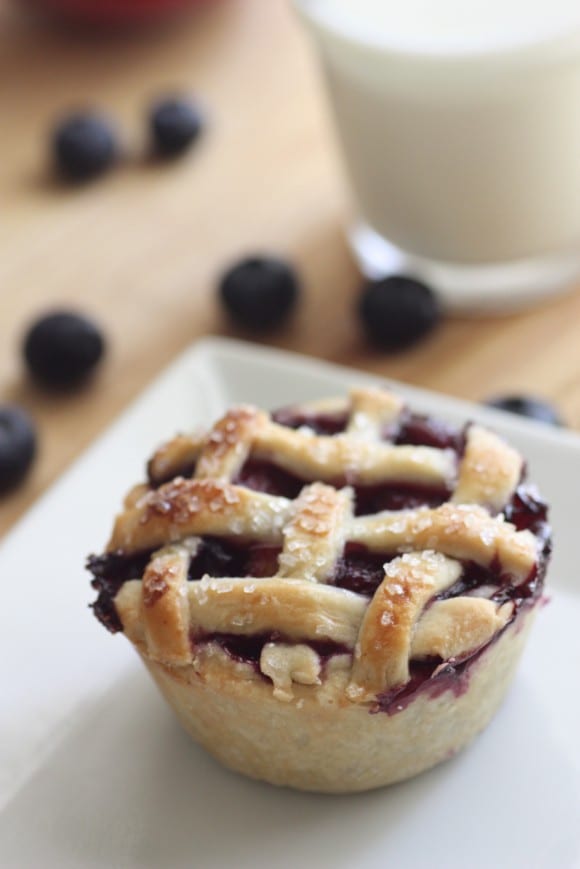 Then enjoy your delicious, light mini pies. They're perfect for summer entertaining, picnics, or just as a special treat. They're also the perfect size for little hands. And I promise , they won't last long…